Brown butter has an amazing nutty and fragrant aroma that can give a huge boost in flavor to your baked goods
Brown butter is simple to make but has a HUGE impact on your recipes. From savory to sweet. Use brown butter in place of regular butter to add a depth of flavor that takes a simple recipe to another level of delicious like in my brown butter frosting and brown butter cake.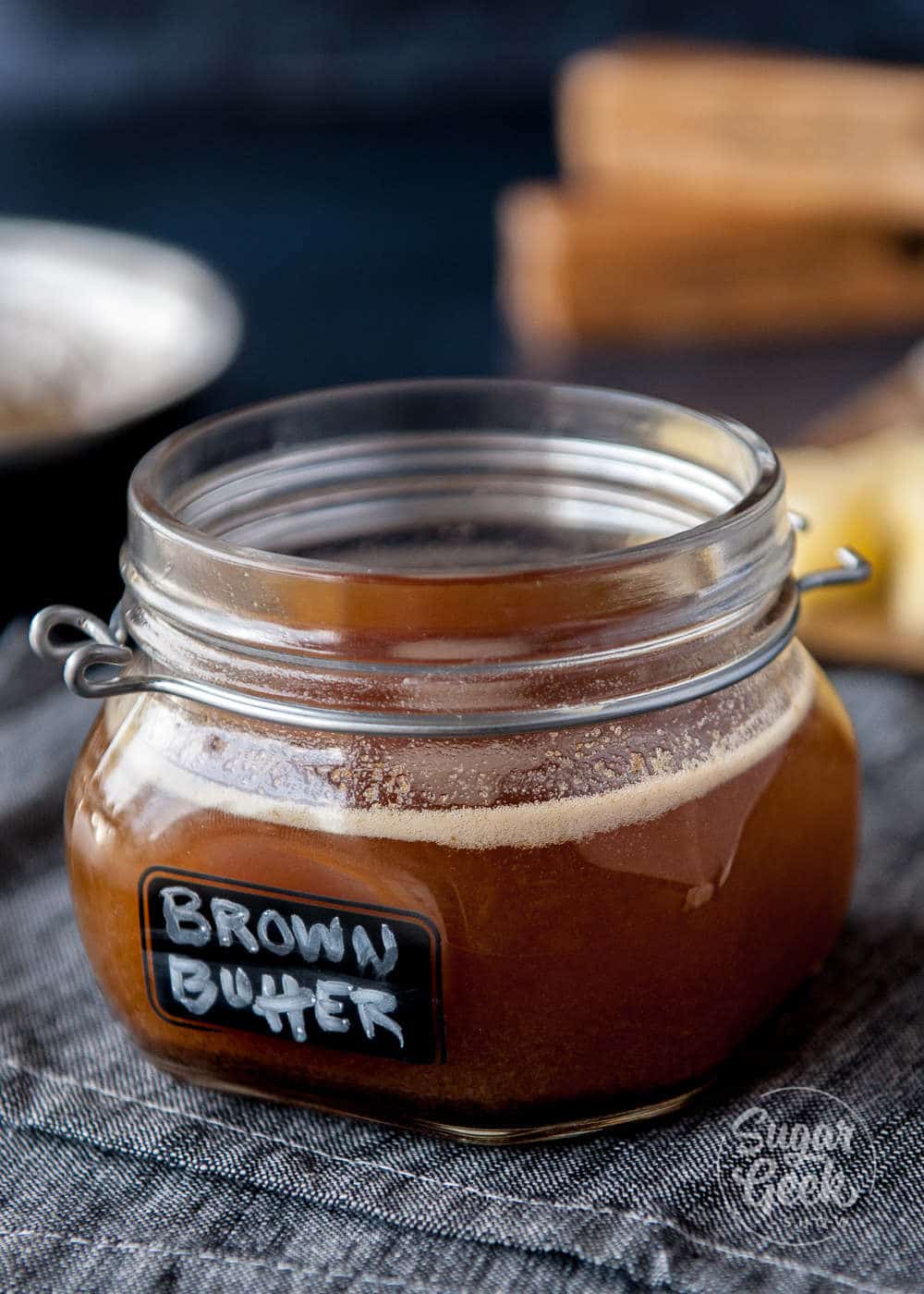 I like to brown a couple of pounds of butter at a time. It takes longer but it's worth it to have it on hand! I pour it into a container with a lid and let it get solid overnight.
Brown butter is never quite as solid as regular butter. You can replace half the butter in a recipe with brown butter without it adversely affecting it in any way but you add a ton of flavor!
Make sure you give it a stir before using it so you get all those yummy brown bits mixed in (flavor town).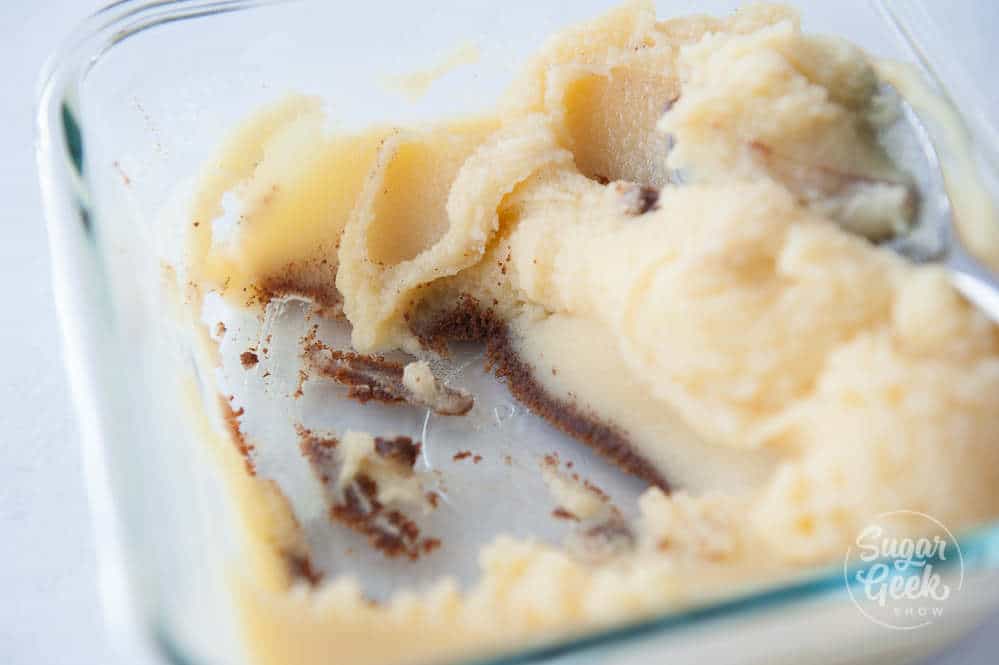 What kind of butter should you use to brown butter?
Fun fact, cheap butter has more water in it than say, European butter. So if you plan on browning cheap butter, you might end up with a very small amount of actual brown butter left after all the water evaporates.
So what's the difference between American butter and European butter? Usually fillers and water.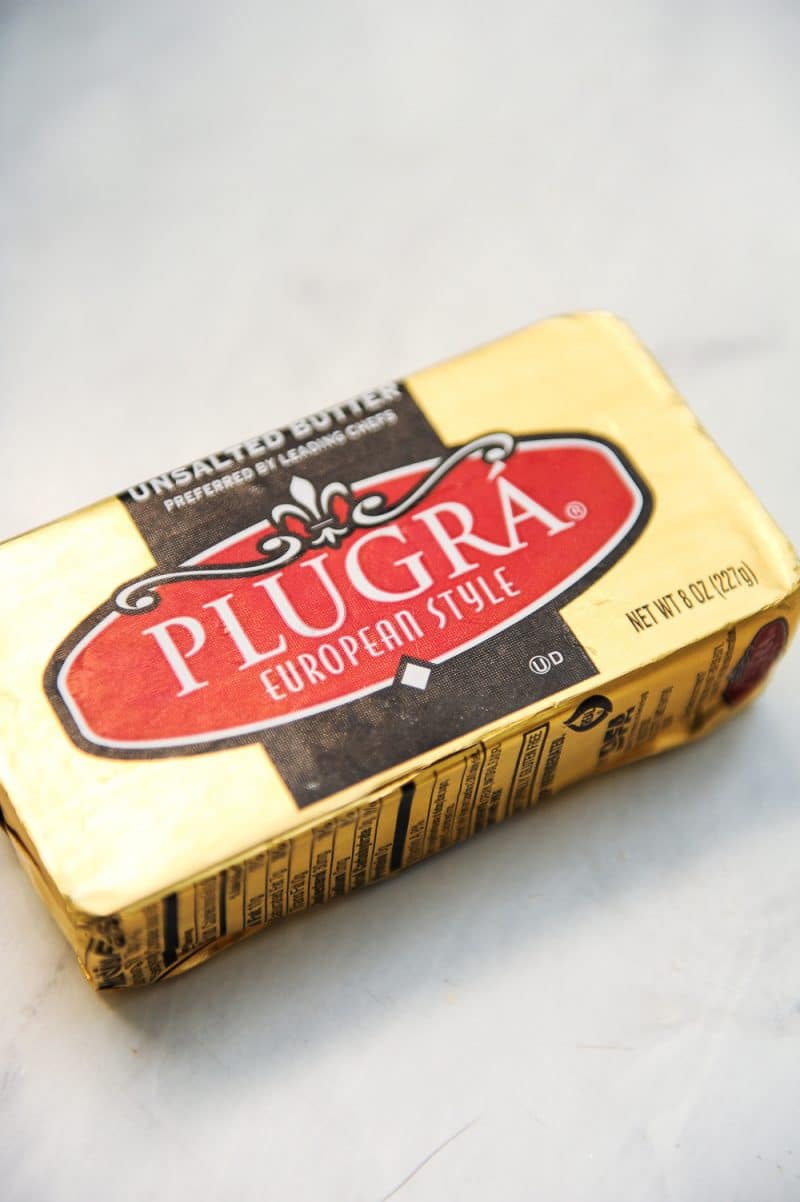 I prefer to use good quality butter like Plugra for browning because it has a high percentage of fat and very little water. I have also used Kerrygold and Darigold with much success.
You'll also want to use UNSALTED butter. This is really important because if you use salted butter, you'll end up with super-concentrated, very salty brown butter.
How to brown butter step-by-step
I was taught how to brown butter by my good friend Kelsey who often helps me of filming days. I was shocked at how easy it was. There's no magical trick to brown butter, it's really just a few simple steps.
Cut your butter into small cubes and place your butter in a lightly colored saucepan (so you can see when the butter is getting dark) and melt it on medium heat.
Use a whisk (I used a gravy whisk) to constantly whisk the mixture so the milk solids brown evenly.
At first, everything will be really foamy and it will be hard to see the butter. Occasionally I'll move the mixture off the heat to check the color.
After a few minutes, you should start to see little brown bits forming at the bottom of the pan and the mixture will be a pale yellow. It's not done yet!
When the butter is a rich, caramel color it's done. It should smell nutty and very aromatic and not black or burned smelling.
If it has burned, you can strain the liquids from the solids and it will be ok to use.
Pour the brown butter into a container with a lid and let it sit at room temperature overnight to set up. Mix it up before you use it in baked goods recipes.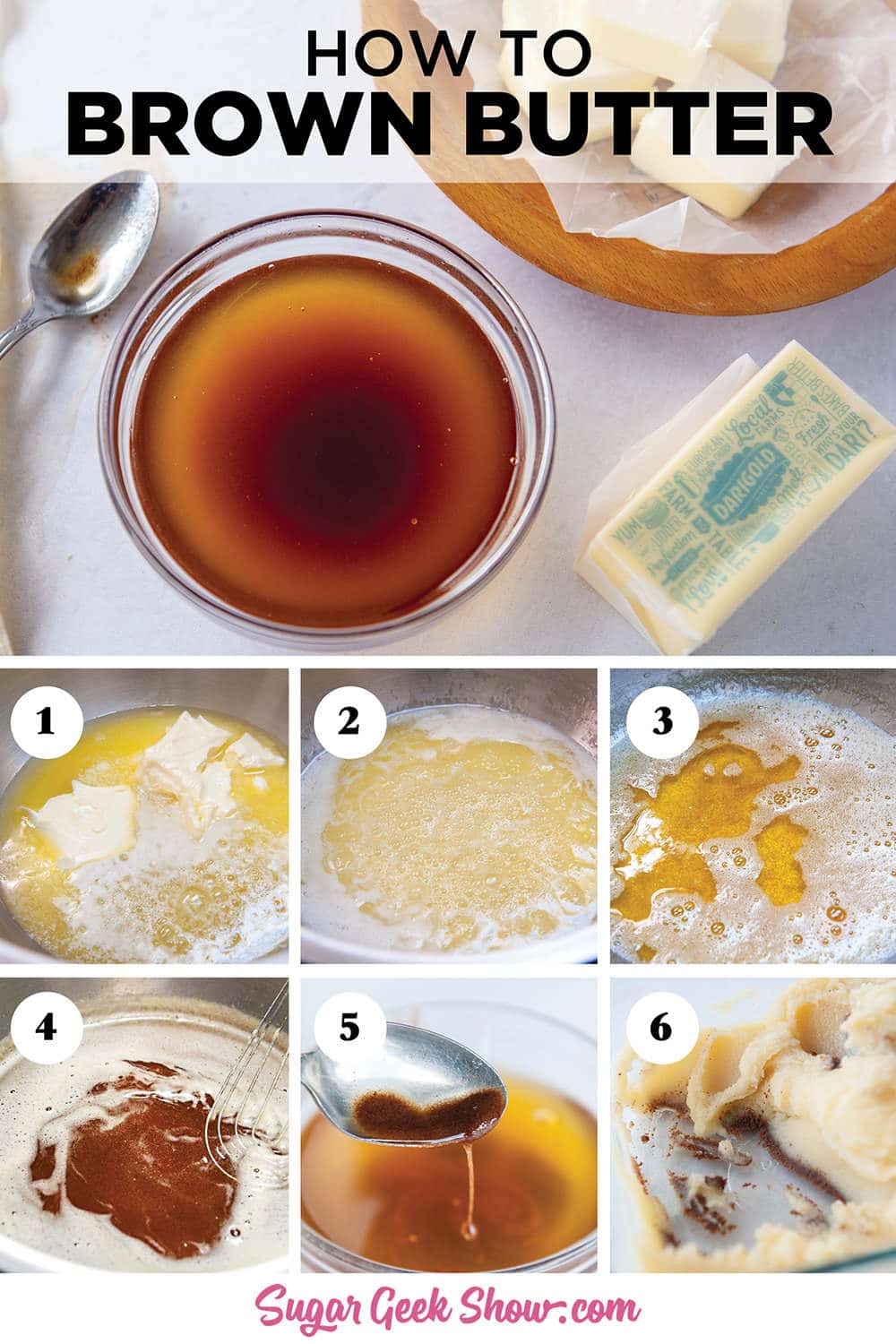 What's the difference between clarified butter, ghee, and brown butter?
Not that it really matters but they really are different.
Clarified butter is heated slowly over a long period of time until all the moisture is removed and the milk solids are strained out so only the fat remains. It is pale in color and often used for seafood
Ghee is similar to clarified butter, all the moisture is removed and the milk solids are strained out but it is cooked a little longer until it's a golden yellow, often used in Indian cooking
Brown butter is cooked to specifically toast the milk solids and they are not removed from the final product. The toasted milk solids are what gives brown butter an aromatic flavor. Brown butter is often used in baked goods or sauces to give an extra depth of flavor.
Why is brown butter so good?
Simply put, it's all about the Maillard reaction. The Maillard reaction is the process that food goes through when it browns. It actually goes through tons of chemical reactions and develops intense and dynamic flavor profiles.
The Maillard reaction is a chemical reaction between amino acids and reducing sugars that gives browned food its distinctive flavor. Seared steaks, pan-fried dumplings, cookies and other kinds of biscuits, bread, toasted marshmallows, and many other foods, undergo this reaction.
It is named after French chemist Louis-Camille Maillard, who first described it in 1912 while attempting to reproduce biological protein synthesis.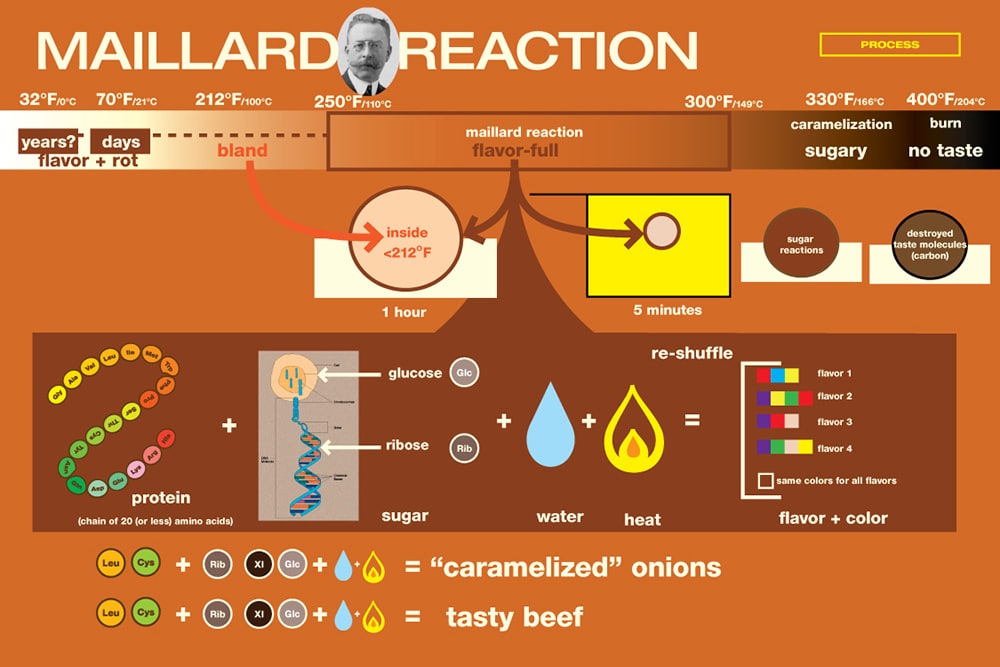 See those little brown bits at the bottom? That's where alllll the yummy flavor comes from!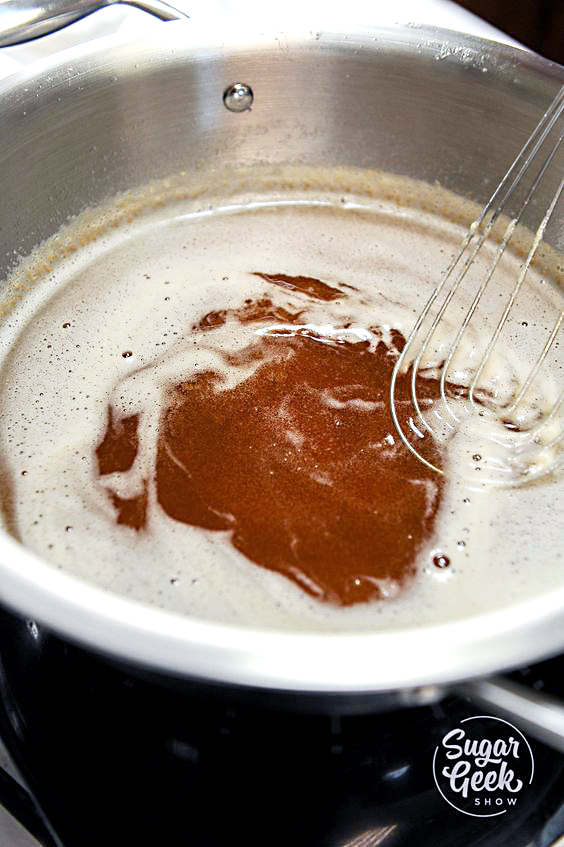 This is why a seared steak tastes so much better than a boiled one. Or why crusty fresh bread tastes so much better than a hot dog bun. That browning is pure flavor! When you mix that into your baked goods, it intensifies the browning flavor that you might only get on the outside of the baked good.
Brown butter makes food taste better! And now you know more than you ever wanted/needed to know about the Maillard reaction lol.
Recipe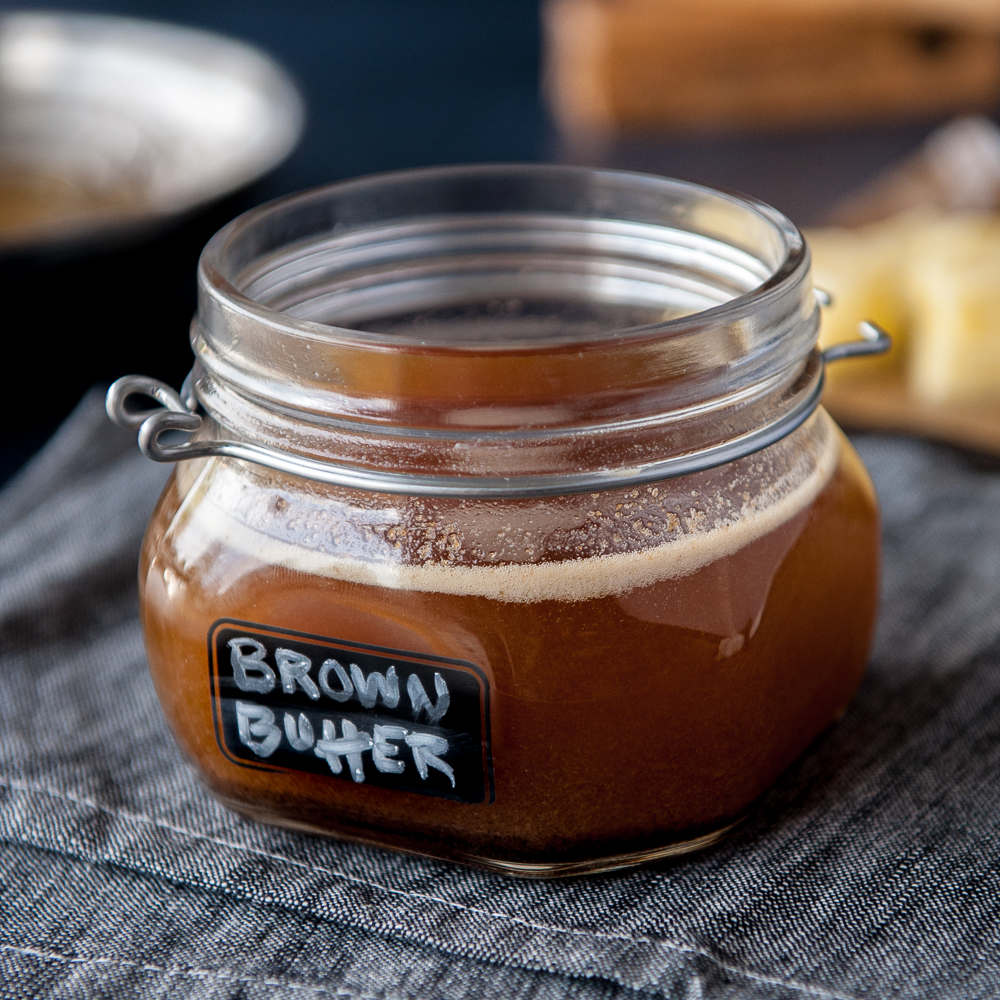 Equipment
Light-colored saucepan

Whisk
Instructions
Cut butter into squares and place into a stainless steel saucepan and melt on medium heat. 

Whisk gently. Butter will foam up.

You will begin to see the butter turning a yellow/brown color after a few minutes. Keep whisking.

Once it's a toasty brown (not black) and you can smell a nutty aroma, it's done.

Remove butter from heat and place in a heat-proof container to cool. 

Butter can be stored at room temperature for up to 5 days or in the fridge for 2 weeks. 
Nutrition
Serving:
1
oz
|
Calories:
271
kcal
|
Fat:
30
g
|
Saturated Fat:
19
g
|
Cholesterol:
81
mg
|
Sodium:
4
mg
|
Potassium:
9
mg
|
Vitamin A:
945
IU
|
Calcium:
9
mg