Vanilla Bean Buttercream That's Smooth, Creamy And Packed With Vanilla Beans Specks!
I love this vanilla bean buttercream. Not only does it taste amazing but it looks gorgeous! I love all those little specks of vanilla in the buttercream. This buttercream is super easy to make and comes together in a few minutes. It's super light and melts in your mouth like ice cream.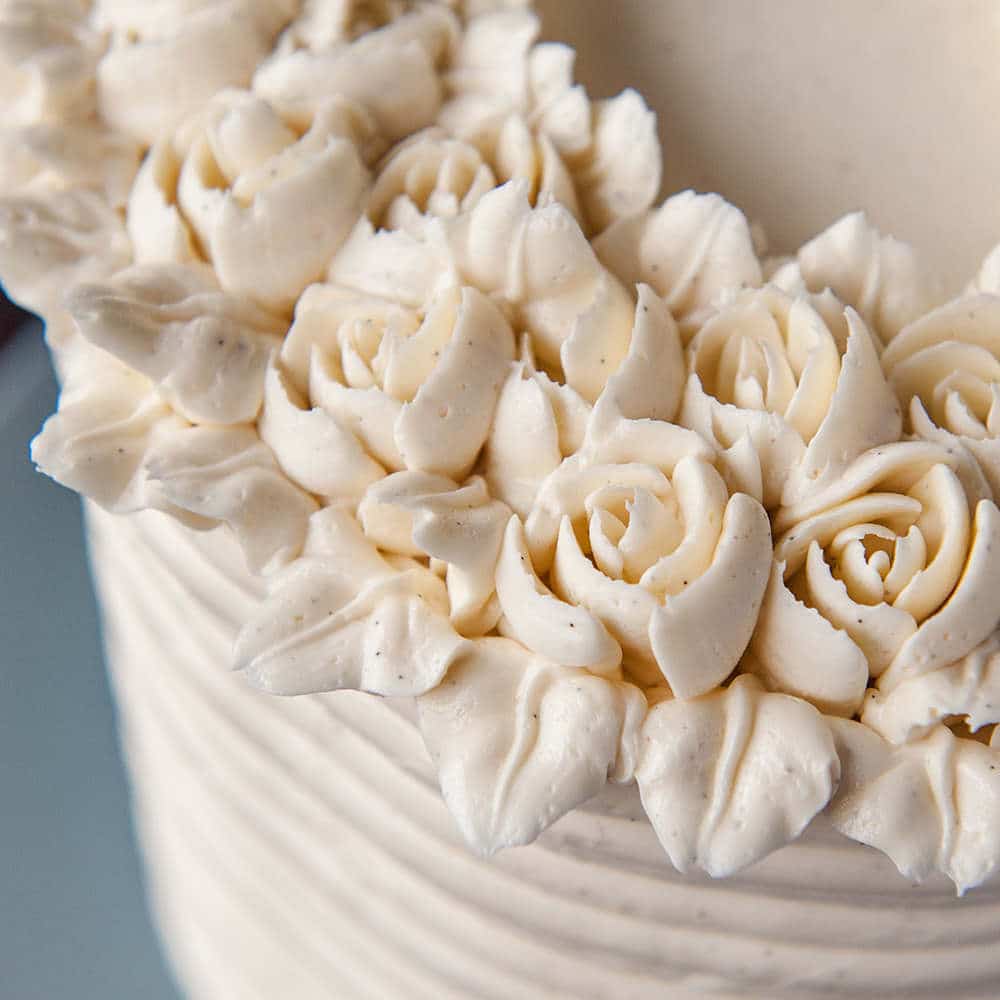 Why Is Vanilla So Expensive
Vanilla can be super expensive! A few years ago, storms completely decimated the vanilla bean crops. Driving prices through the roof to as high as $40 for one pod! Vanilla beans take a long time to mature so even though things are slowly returning to normal, vanilla bean prices can still be very high.
I used vanilla bean paste to make my vanilla bean buttercream because I found it on sale at Home Goods but you can also use fresh vanilla bean pods. Use whatever is the most economical for you.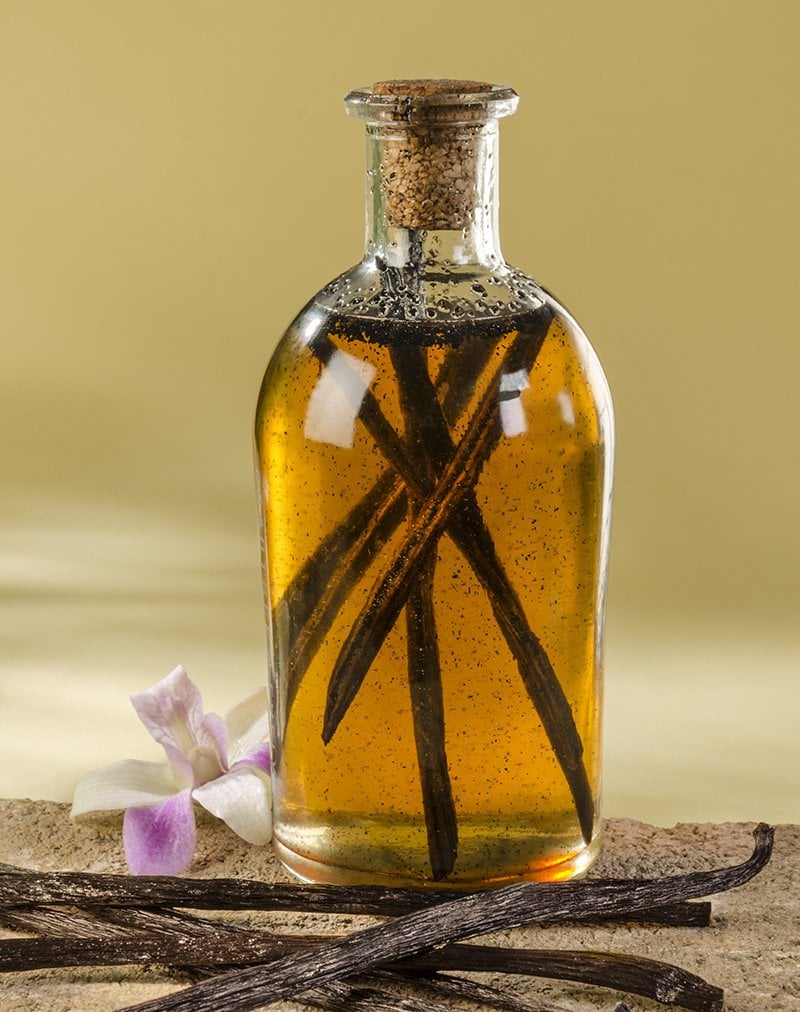 I actually buy my vanilla beans in bulk so that I can use some for buttercream, some for baking and some to make my own vanilla extract and you can even make your own vanilla bean paste. It's still expensive but if you can go in on an order with some friends, it's way cheaper than buying beans or extracts from the store.
Egg Whites In Buttercream?
This is a mock swiss meringue buttercream meaning that it tastes similar to swiss meringue buttercream but since we aren't making a meringue, it's not a true swiss meringue buttercream. I love how easy this is though. Because we are using pasteurized egg whites that have already been heat-treated, we can skip the sugar cooking part and get right to making our buttercream.
You can find pasteurized egg whites in the egg section on the top shelf. They are sold in a box and somewhere (usually very small) you'll see the word pasteurized. Don't worry about the part that says they aren't good for making a meringue, we aren't using them for that.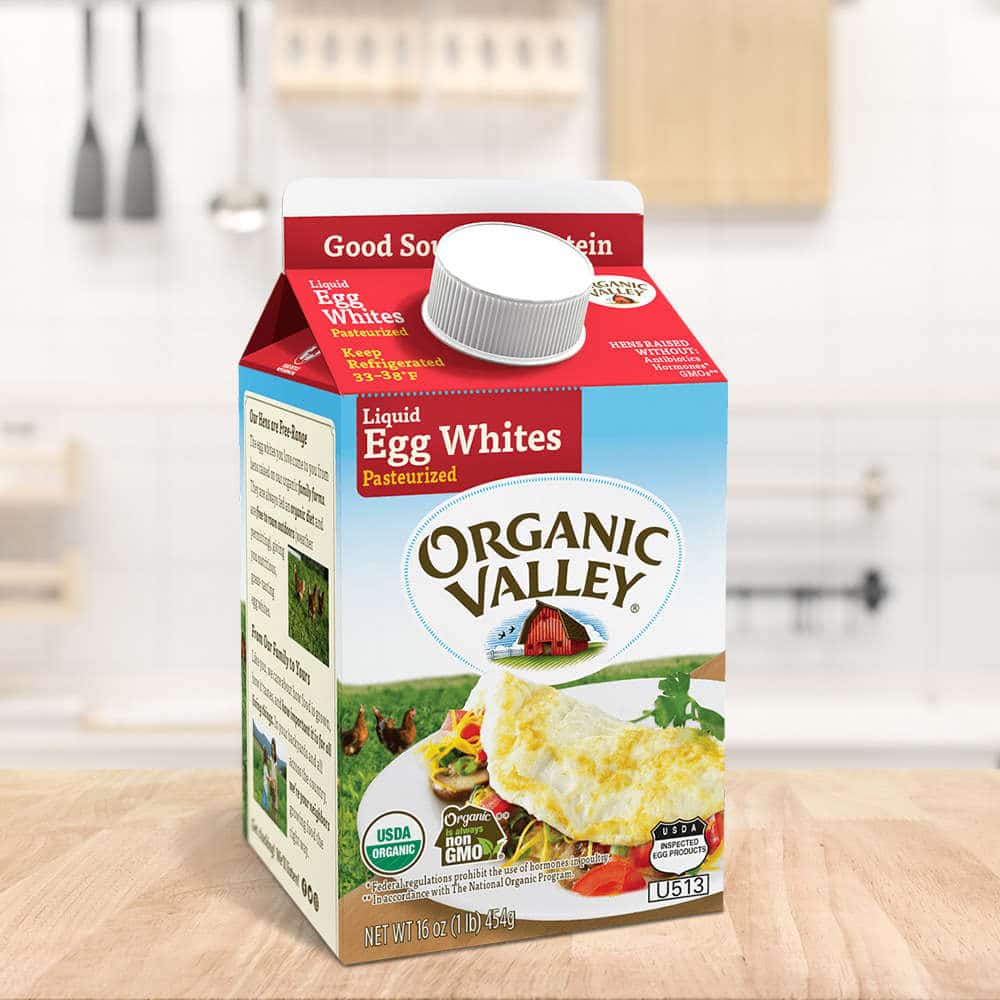 How Do You Use A Vanilla Bean?
You can use any kind of vanilla bean that you want or vanilla bean paste. If you use extract then you won't have those pretty specks in them. But if you do use a vanilla bean, you might be wondering how do you get the vanilla beans out of the bean?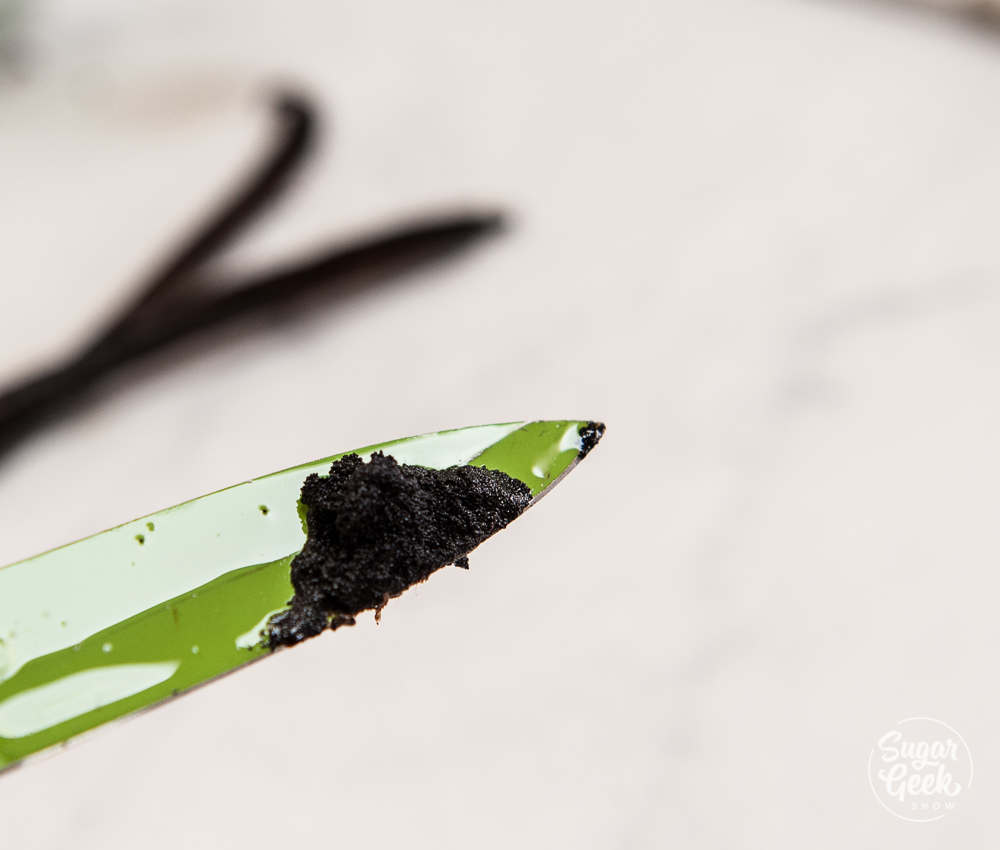 Lay your vanilla bean flat on the table
Use a small sharp knife or x-acto blade and starting cut a line through the skin from end to end (be careful of your fingers!)
Use your fingers to open the vanilla bean up.
Use a spoon or butter knife to scrape out alllll those beautiful vanilla seeds from the pod.
Scrape them into the buttercream and that's it! I love how those specs of vanilla look in the buttercream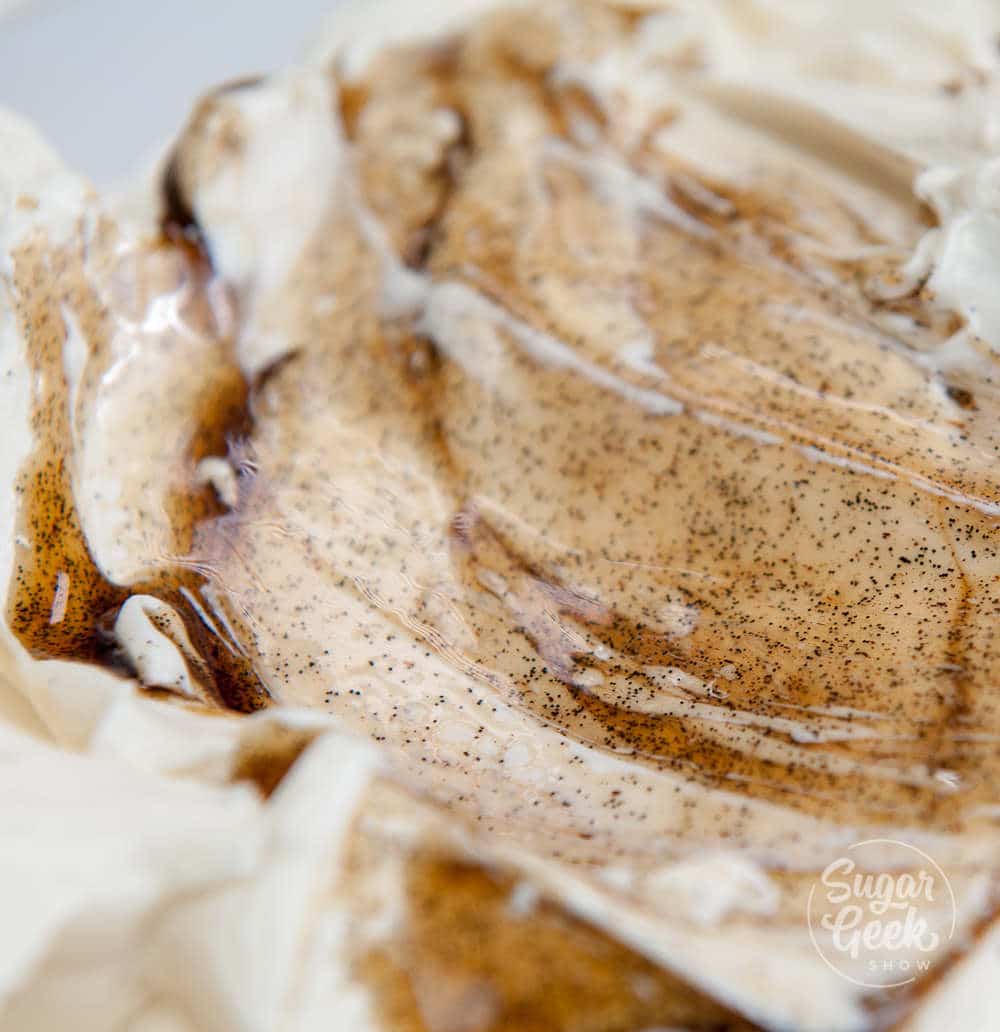 Pro-tip: I put my leftover pods into a jar of sugar with a lid. The pods flavor the sugar and make it vanilla flavored. Gotta use those vanilla beans as much as possible!
How To Make Easy Vanilla Bean Buttercream
This vanilla bean buttercream is just like my easy buttercream frosting recipe but with MORE vanilla power! Plus bonus bean specks! So cute! Here are some tips on how to make your vanilla bean buttercream super creamy and melt in your mouth delicious.
Start with the whisk to incorporate air and whip on high
Switch to the paddle attachment and mix on low 15 minutes to make it super smooth and get out air bubbles.
Taste! If it still tastes like butter, it needs to be whipped MORE.
You can switch out the vanilla bean for any extract that you like!
Add a TINY speck of purple food coloring to reduce the yellow appearance of the buttercream and make it appear more white.
Cake Batter and Frosting Calculator
Select an option below to calculate how much batter or frosting you need. Adjust the servings slider on the recipe card to change the amounts the recipe makes.
Choose a pan type
Choose a cake pan size
(based on 2" tall cake pan)
Choose a cake pan size
(based on 2" tall cake pan)
Choose a cake pan size
(based on 2" tall cake pan)
Cups of Batter Needed
8 cups
Cups of Frosting Needed
5 cups
Recipe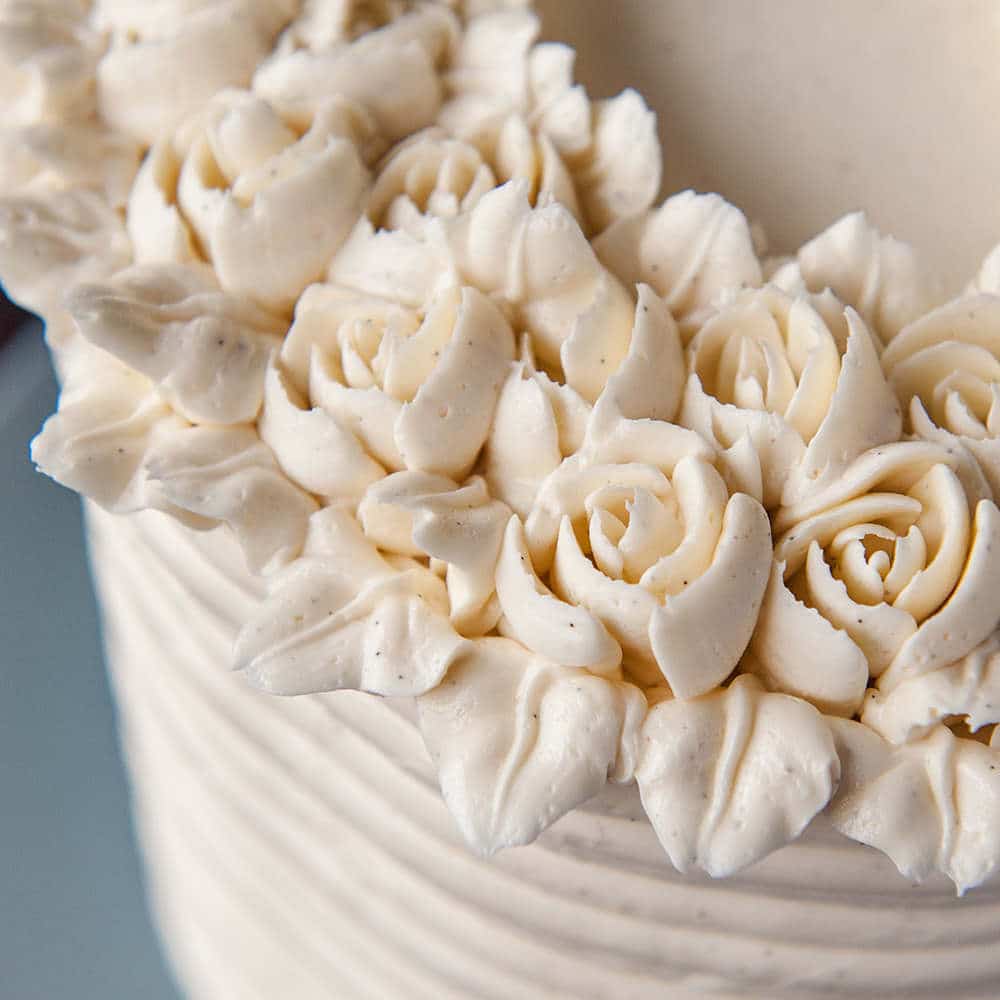 Servings: 8 cups
Calories: 849kcal
Equipment
Stand Mixer

Whisk Attachment

Paddle Attachment
Ingredients
24 oz unsalted butter room temperature. You can use salted butter but it will affect the taste and you need to leave out additional salt
24 oz powdered sugar sifted if not from a bag
1 whole vanilla bean or 1 tablespoon vanilla bean paste
½ teaspoon salt
6 oz pasteurized egg whites
1 TINY drop purple food coloring (optional) for whiter frosting
Instructions
Place egg whites and powdered sugar in a stand mixer bowl. Attach the whisk and combine ingredients on low and then whip on high for 5 minutes

Add in your butter in chunks and whip with the whisk attachment to combine. It will look curdled at first. This is normal. It will also look pretty yellow. Keep whipping.

Let whip on high for 8-10 minutes until it's very white, light and shiny.

Add in your vanilla and salt

Switch to a paddle attachment and mix on low for 15-20 minutes to make the buttercream very smooth and remove air bubbles. This isn't required but if you want really creamy frosting, you don't want to skip it.
Nutrition
Serving: 2g | Calories: 849kcal | Carbohydrates: 75g | Protein: 2g | Fat: 61g | Saturated Fat: 38g | Cholesterol: 162mg | Sodium: 240mg | Potassium: 18mg | Sugar: 74g | Vitamin A: 2055IU | Calcium: 18mg | Iron: 0.4mg