The best fresh apple cake recipe with brown butter cream cheese frosting and a salted caramel drip
This fresh apple cake recipe is perfectly spiced with chunks of real apple in each layer. Frosted with brown butter cream cheese frosting and a rich salted caramel drip. The perfect cake for fall.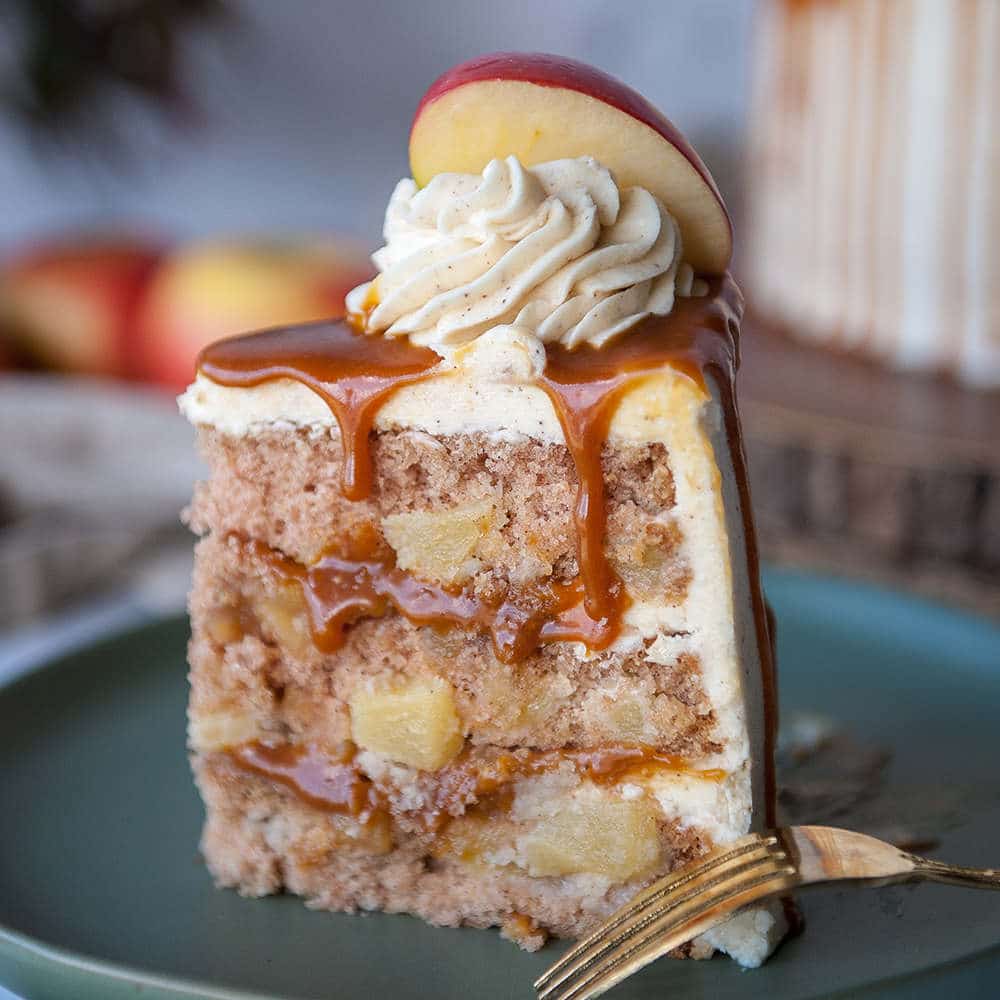 What are the best apples to use in an apple cake recipe?
You want to use apples that will hold their shape while baking. I cut my apples into small pieces so that they bake evenly with the cake batter.
The best apples to use for baking
Jonagold - Slightly tart, crisp, not too sweet and holds it's shape well after baking.
Honeycrisp - Crisp, sweet, holds it's shape well after baking.
Braeburn - Crisp, sweet and very juicy. Holds its shape well for baking.
Mutsu - Sweet, firm and great for baking
Pink Lady - Sweet, crisp and firm. Great for baking.
Granny Smith - A tart apple that holds its shape during baking. Not very sweet.
Cortland - Not too sweet, slightly tart. Softer than other apples but still holds its shape.
What is the best way to cut apples for a cake?
The star of this cake is the fresh apple chunks inside, so you want them to be visible, but not giant pockets of squishy apple inside your cake. I go for pieces about ¼ inch square. This is a little bit smaller than you'd make for apple pie.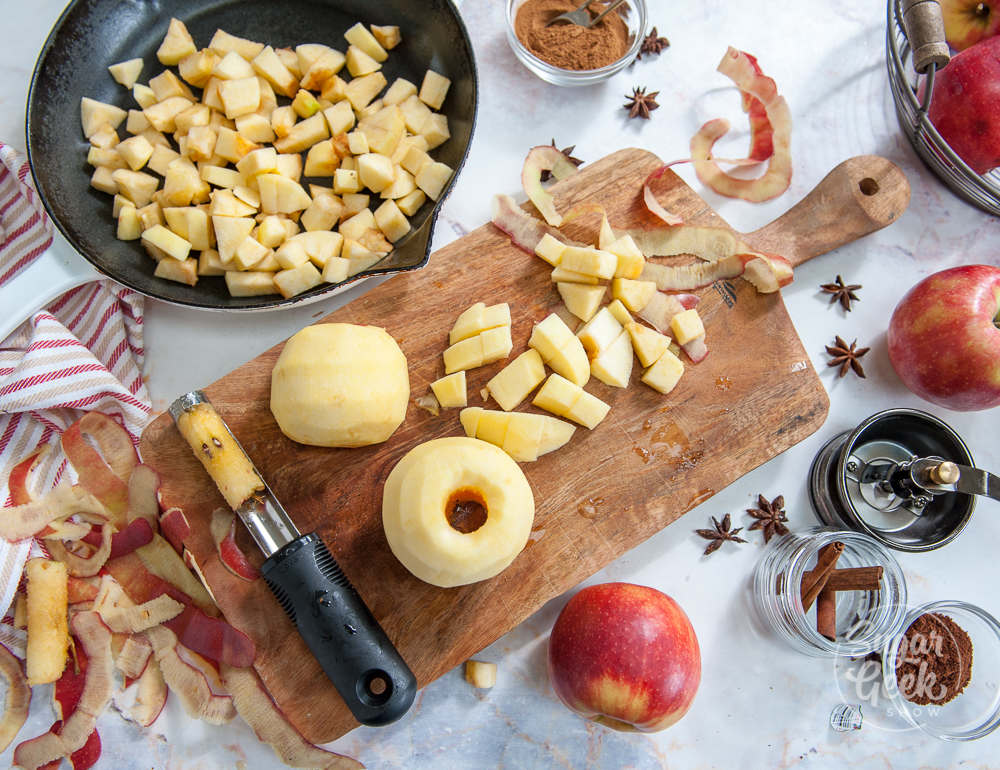 Tip: Chop your apples first so you don't have to mess with them when you're making your cake batter.
After peeling your apples you'll want to core them. Use this fancy apple corer or a good old fashioned knife!
Place your apple facing down on a cutting board. Press your apple corer firmly into the center of the apple and pull out the core. That's it! (Just be careful of your fingers.)
If you're using a paring knife, you can also just cut a square around the core to get it out. Just try to waste as little as possible!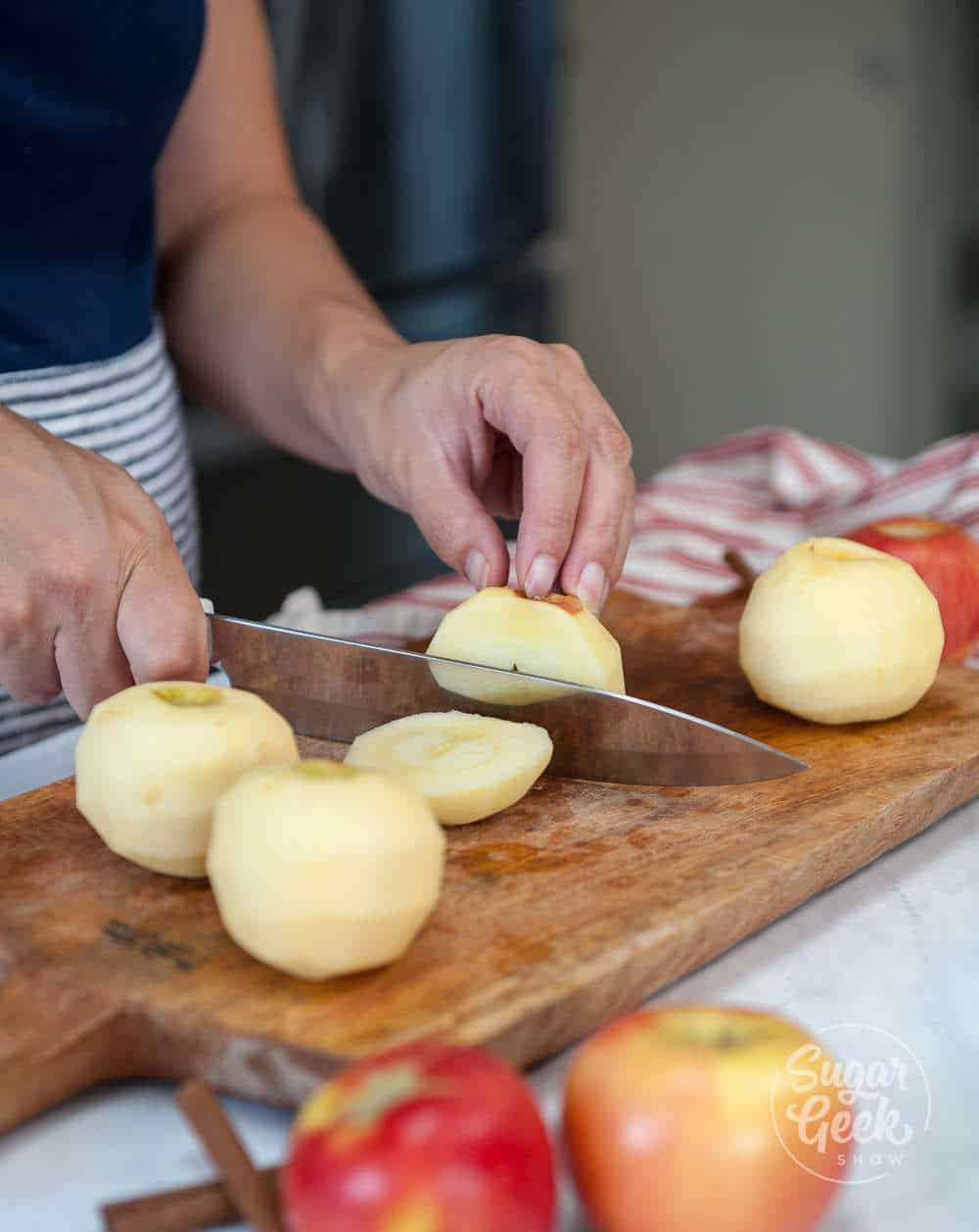 How to make a fresh apple layer cake
Apple cake is very moist and delicate. I like to work with chilled cake layers so they are easier to handle.
Place your first layer of cake onto a cake cardboard or onto a cake plate.
Spread a layer of frosting evenly onto the cake with an offset spatula. Try to keep the frosting an even thickness.
Place your second cake layer on top of the frosting and repeat the process.
Spread a thin layer of frosting all over the whole cake. This is called the crumb coat. Place the cake into the fridge to chill until the frosting hardens. About 20 minutes.
Frost the cake with more buttercream. I made my frosting nice and smooth but you could do a rustic finish if you like.
Drizzle your salted caramel over the top of the cake with a spoon.
Finish the cake with some piped rosettes of buttercream and some fresh apple slices soaked in water and lemon juice to prevent browning. I used a 1M piping tip.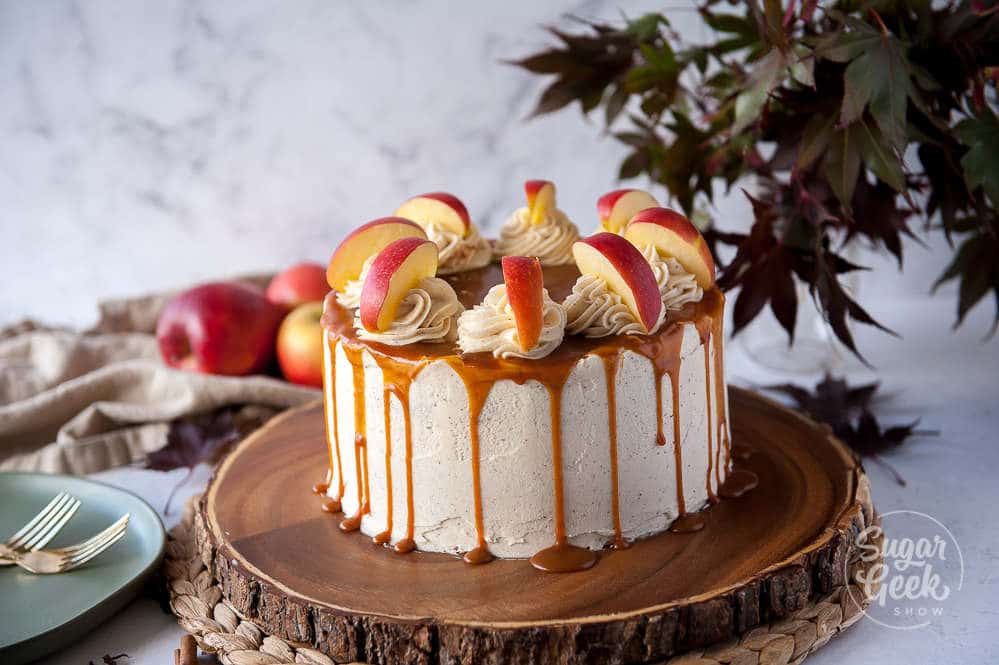 If you want to learn more about how to stack and fill a layer cake for the ultimate beginner, check out my how to decorate your first cake tutorial.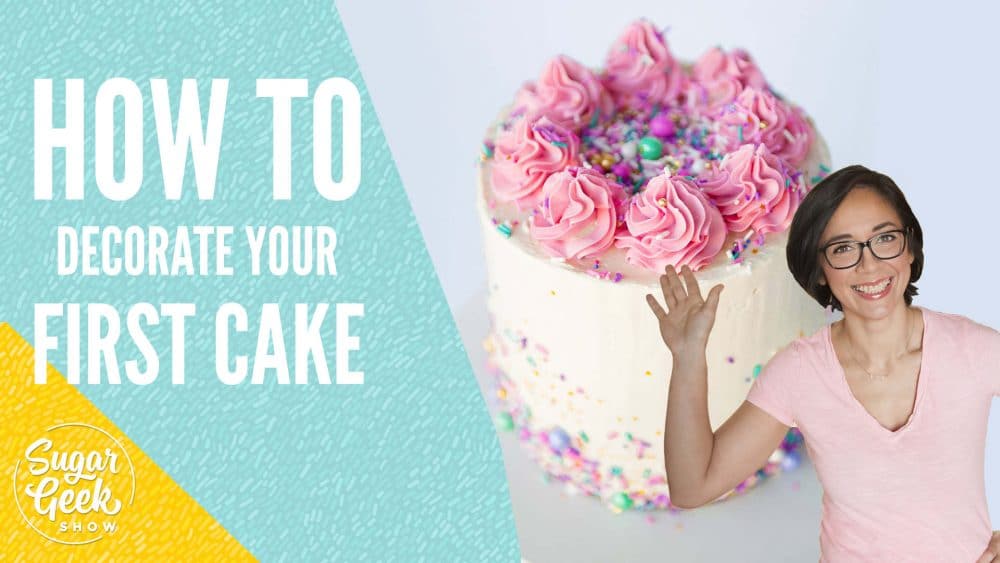 How long will an apple cake keep?
Apple cake is very moist and can be stored in an airtight container in a cool place for 2 to 3 days, or in the fridge for up to 5 days. In warm climates, it is better to store apple cake in the fridge to prevent molding. If refrigerated, take the apple cake out of the fridge 1-2 hours before eating so that it's at room temperature. A cold cake can taste dry.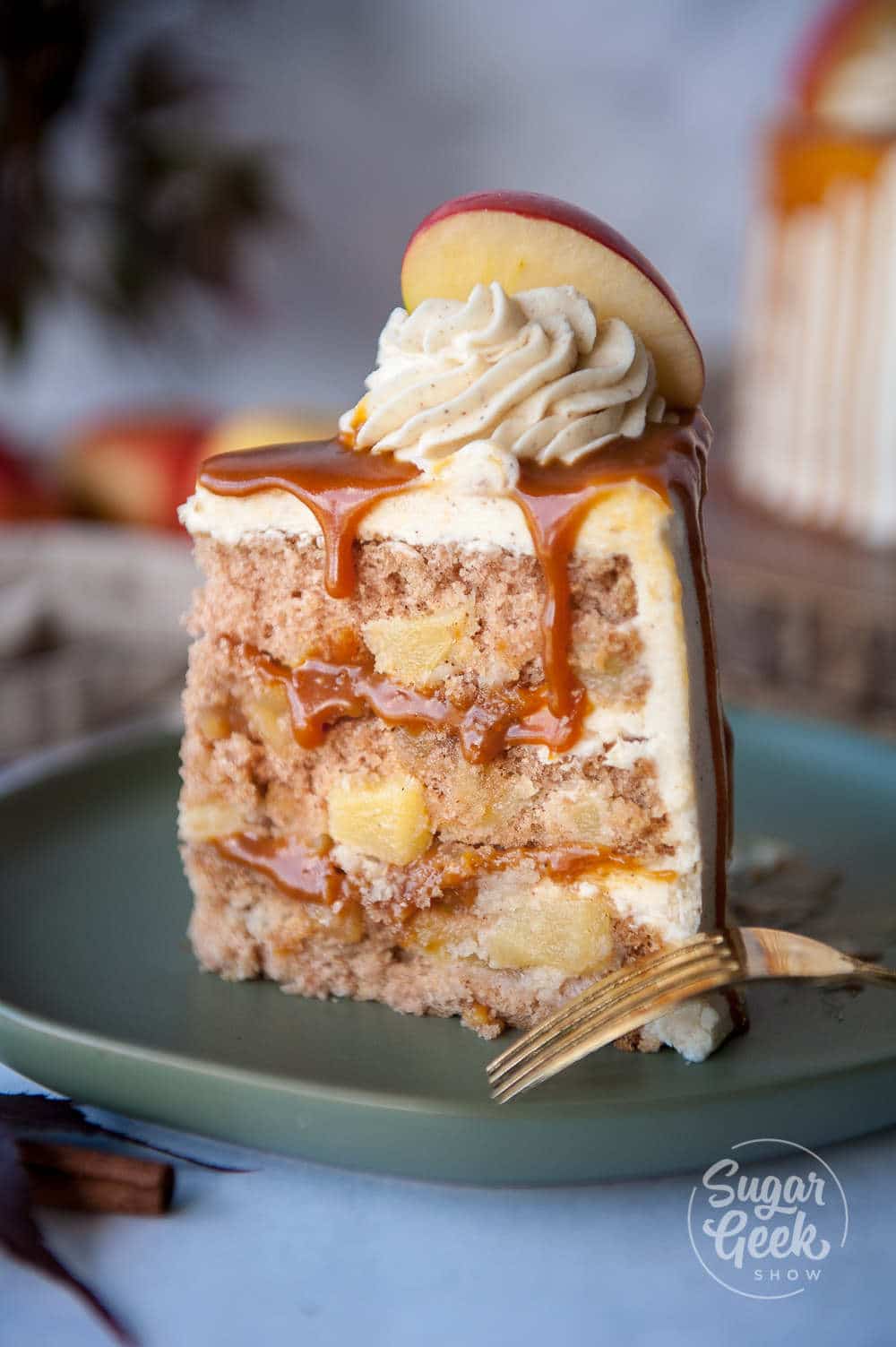 What frosting and fillings go well with apple cake?
Apple cake is basically a spice cake but with chunks of apples in it. Think warm fall flavors. I frosted this cake with Brown Butter Cream Cheese Frosting but regular cream cheese frosting or classic easy buttercream with a couple of teaspoons of cinnamon added would taste amazing as well!
If you wanted even more apple flavor, you could put apple filling inside the cake as well! Apple heaven! Just remember to pipe a dam of buttercream around the cake perimeter to keep the filling from oozing out.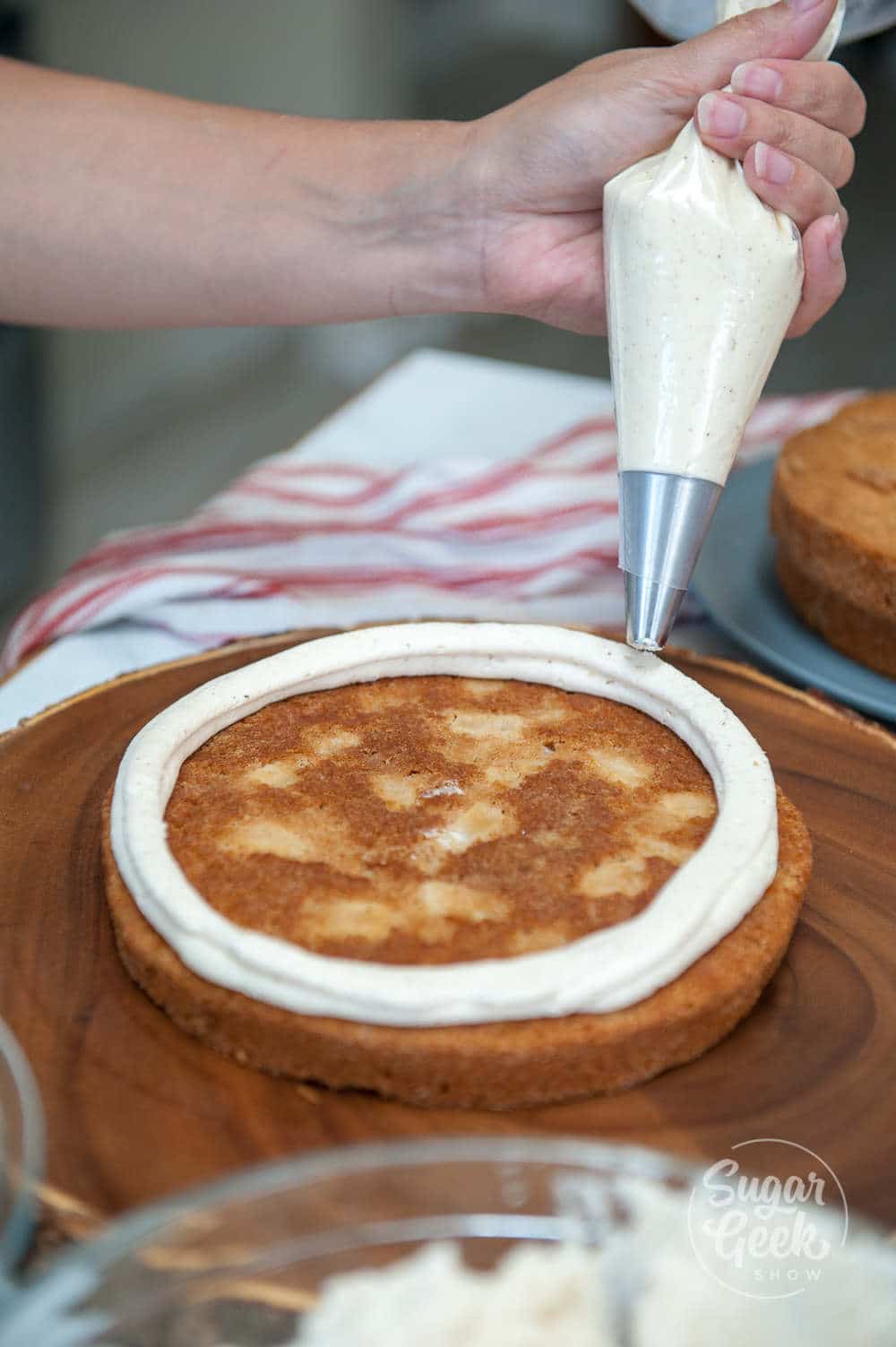 I topped this fresh apple cake with a drizzle of salted caramel sauce. What goes better with apples than caramel?
What kind of spices goes well in apple cake?
The great part about this cake is that you mix it up and use your favorite spices! Allspice, cinnamon, nutmeg, ginger, and cloves are great spices to use. If you want to use more or less of a certain spice you can adjust it to your taste.
Can this be made into cupcakes?
To make this apple cake recipe into cupcakes, reduce the applesauce to 4 ounces and omit the oil. I fill my cupcake liners about ⅔ of the way full with the cake batter then put in two pieces of apple. Bake at 350ºF for 20-25 minutes until the center of the cupcake is set. Let cool and frost as desired.
Easy apple cake
Do you want a delicious apple cake without all the fuss of layers? Try coating your apples in cinnamon in sugar and 2 Tablespoons of melted butter. Spread them evenly in the bottom of a 10" cake pan. Pour the apple cake batter over the top and bake for 35-40 minutes until the sides of cake start to pull away from the pan.
Let the cake cool 15 minutes then flip out onto a cake plate. You have yourself a yummy upside-down apple cake! Drizzle on some caramel or dust with powdered sugar and enjoy!
Looking for other fall cakes? Try these!
Cake Batter and Frosting Calculator
Select an option below to calculate how much batter or frosting you need. Adjust the servings slider on the recipe card to change the amounts the recipe makes.
Choose a pan type
Choose a cake pan size
(based on 2" tall cake pan)
Choose a cake pan size
(based on 2" tall cake pan)
Choose a cake pan size
(based on 2" tall cake pan)
Cups of Batter Needed
8 cups
Cups of Frosting Needed
5 cups
Recipe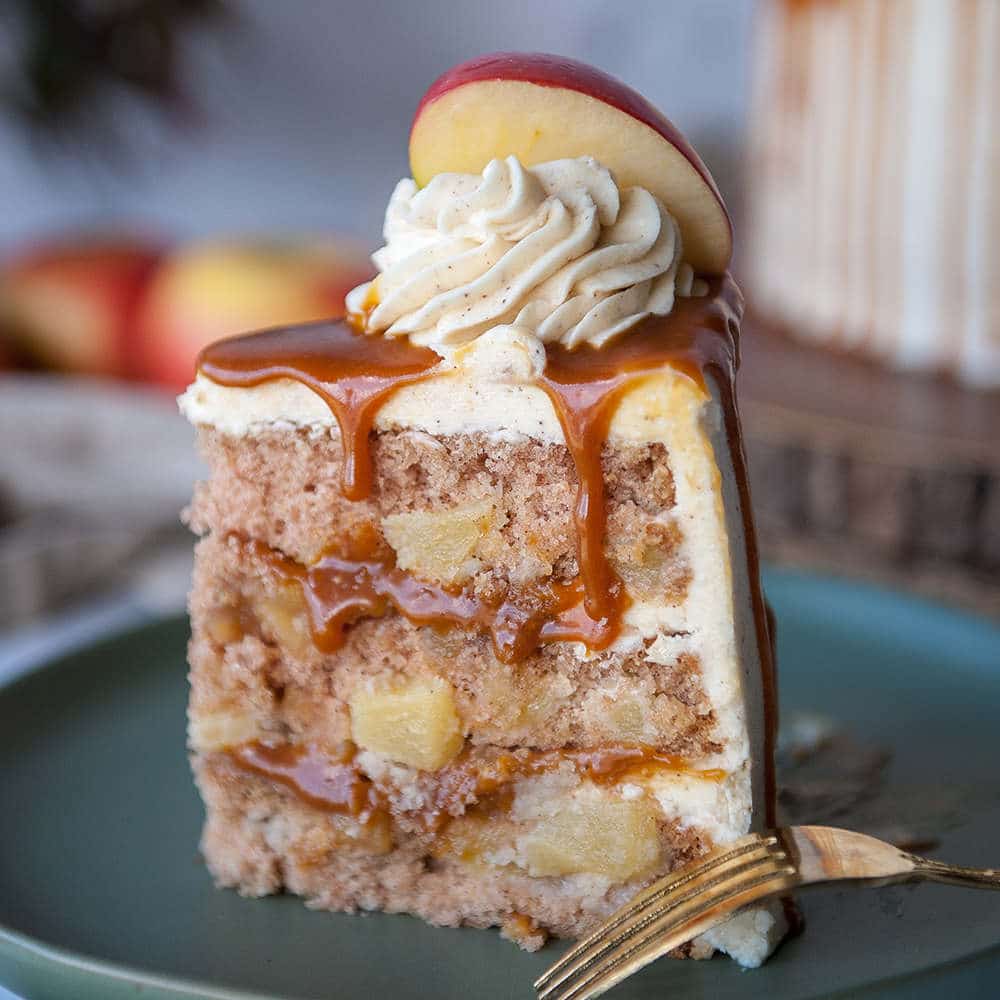 Servings: 24 servings
Calories: 425kcal
Equipment
apple corer

Knife

Electric Stand Mixer

Three, 8" Cake Pans
Ingredients
Apple Cake Recipe
½ lemon lemon juice squeezed over chopped apples to prevent browning
3 or 4 medium honeycrisp apples chopped in ¼ inch pieces
2 medium apples (optional) cut in wedges for decoration
10 ounces cake flour
1 teaspoon baking soda
½ teaspoon salt
¼ teaspoon ground ginger
¼ teaspoon ground nutmeg
1 ½ teaspoons ground cinnamon
⅛ teaspoon ground cloves
4 ounces unsalted butter room temperature
10 ounces granulated sugar
3 ounces vegetable oil
1 whole egg room temperature
1 teaspoon vanilla extract
8 ounces applesauce unsweetened
Brown Butter Cream Cheese Frosting
8 ounces browned butter room temperature
8 ounces unsalted butter room temperature
8 ounces cream cheese softened
2 teaspoons vanilla extract
¼ teaspoon salt
20 ounces powdered sugar
Caramel Sauce Drip
7 ounces granulated sugar
2 ounces water
3 ounces unsalted butter
4 ounces heavy cream
¼ teaspoon salt
Instructions
Apple Cake Instructions
IMPORTANT: Make sure all your ingredients are at room temp (see notes at the bottom of the recipe) 

Preheat oven to 350 F (177 C)

Peel the apples and core them using an apple corer or a knife.

Cut the apples into ¼ inch pieces and place into a bowl.

Squeeze ½ a lemon over the apples to prevent browning. Set aside

Sift together flour, baking soda, salt, ginger, nutmeg, cinnamon and cloves. Set aside.

Add butter to a stand mixer with the paddle attachment and cream until smooth.

Add sugar and oil to the butter and cream on medium until the mixture is white and fluffy.

Add egg and vanilla to the butter mixture and mix until combined.

While mixing on medium, add in dry ingredients in thirds and mix until combined

Fold in applesauce and chopped apples until combined

Grease three, 8 inch pans with cake goop or another type of pan release.

Bake layers at 350 for 30 minutes, or until a toothpick comes out clean. Layers will be thin.

Let cake rest in the pan until it's cool enough to touch, then flip out onto a wire rack.

Make sure to cool completely before stacking. (Wrap in plastic wrap and place in fridge or freezer to speed up the cooling process.)
Brown butter frosting instructions
Place softened butter in the bowl of your stand mixer with the whisk attachment and mix until smooth.

Add in your cream cheese and mix until smooth

Add in your browned butter and mix until smooth and creamy

Add in your powdered sugar one cup at a time while mixing on low until all the powdered sugar is added. Do not over-mix.

Add in your salt and vanilla until combined.
Caramel Drip
Place sugar and water in a medium-sized pot. Cover with the lid and bring to a boil on medium-high heat.

Remove lid and place a candy thermometer in the pot. Continue cooking the sugar until thermometer reads 350º (hard crack stage) or it's a deep golden brown color. Do not stir.

Remove the sugar from heat and slowly whisk in butter. Be careful, it will bubble up.

Whisk in cream and salt.

Let caramel cool completely before using it for the drip
Notes
Recipe Notes
Important Things To Note Before You Start
1. Bring all your ingredients to room temperature or even a little warm (eggs, buttermilk, butter, etc) to ensure your batter does not break or curdle. 
2. Use a scale to weigh your ingredients (including liquids) unless otherwise instructed (Tablespoons, teaspoons, pinch etc). Metric measurements are available in the recipe card. Scaled ingredients are much more accurate than using cups and help ensure the success of your recipe. 
3. Practice Mise en Place (everything in it's place). Measure out your ingredients ahead of time and have them ready before you start mixing to reduce the chances of accidentally leaving something out.
4. Chill your cakes before frosting and filling. You can cover a frosted and chilled cake in fondant if you wish. This cake is also great for stacking. I always keep my cakes chilled in the refrigerator before delivery for easy transporting. 
5. If the recipe calls for specific ingredients like cake flour, replacing it with all purpose flour and cornstarch is not recommended unless specified in the recipe that it's ok. Substituting ingredients may cause this recipe to fail. 
Nutrition
Serving: 1g | Calories: 425kcal | Carbohydrates: 54g | Protein: 2g | Fat: 23g | Saturated Fat: 15g | Cholesterol: 55mg | Sodium: 178mg | Potassium: 38mg | Fiber: 1g | Sugar: 44g | Vitamin A: 642IU | Vitamin C: 1mg | Calcium: 20mg | Iron: 1mg