This chocolate mousse recipe is decadent, rich, creamy, and light as a feather! So incredibly easy to make but looks and tastes like it came from a five-star restaurant! I like to serve mine on crumbled cookies for an added crunch! Best part? It only takes 25 minutes to make!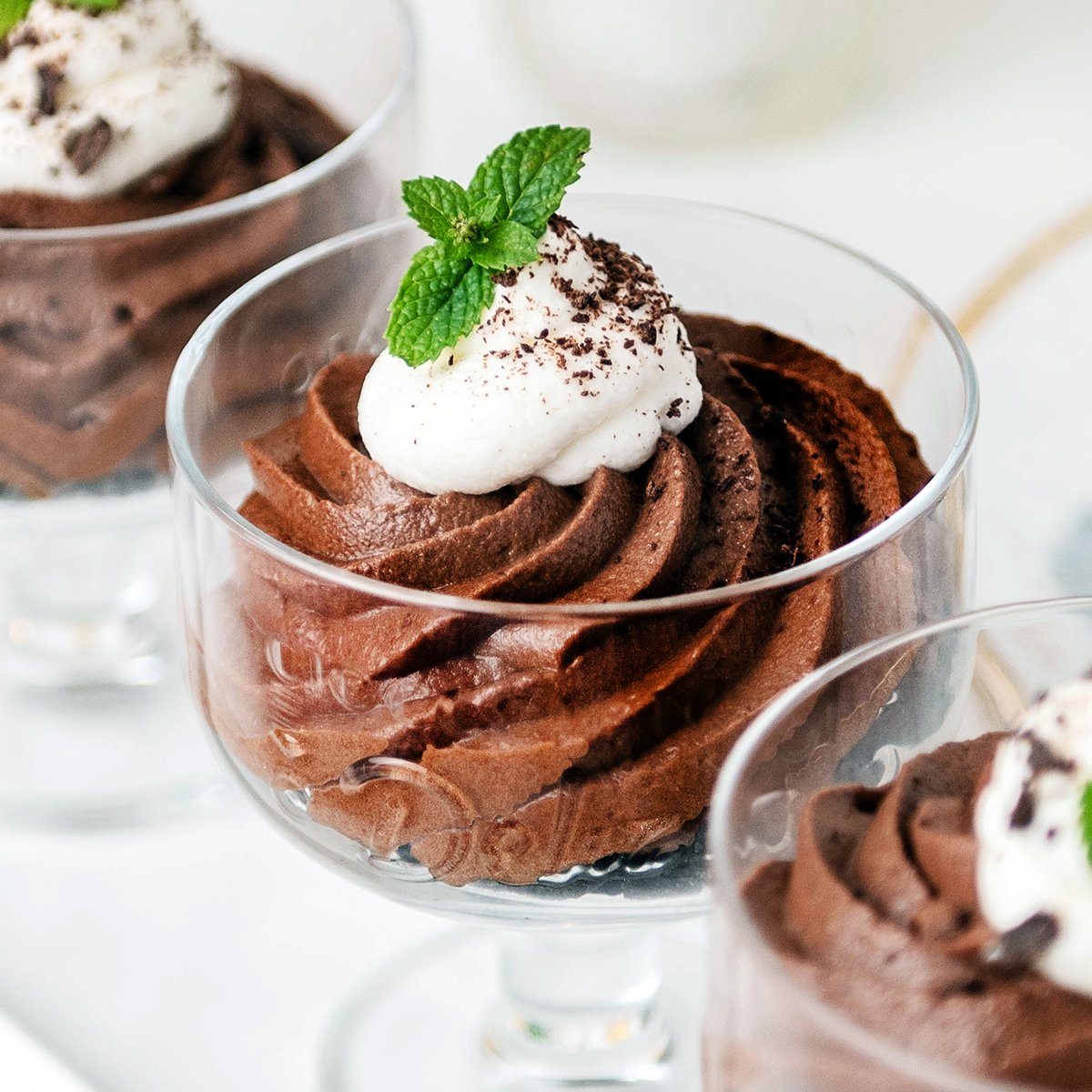 There are a lot of chocolate mousse recipes out there that don't use eggs but this recipe is very similar to a classic chocolate French mousse that uses eggs to not only thicken the mousse and stabilize it but adds a richness that you just can't get any other way. The main difference between this chocolate mousse and a traditional mousse is that I fold in whipped cream instead of whipped egg whites at the end. This makes the mousse much creamier, lighter, and melt in your mouth delicious!
What's In This Blog Post
Chocolate Mousse Ingredients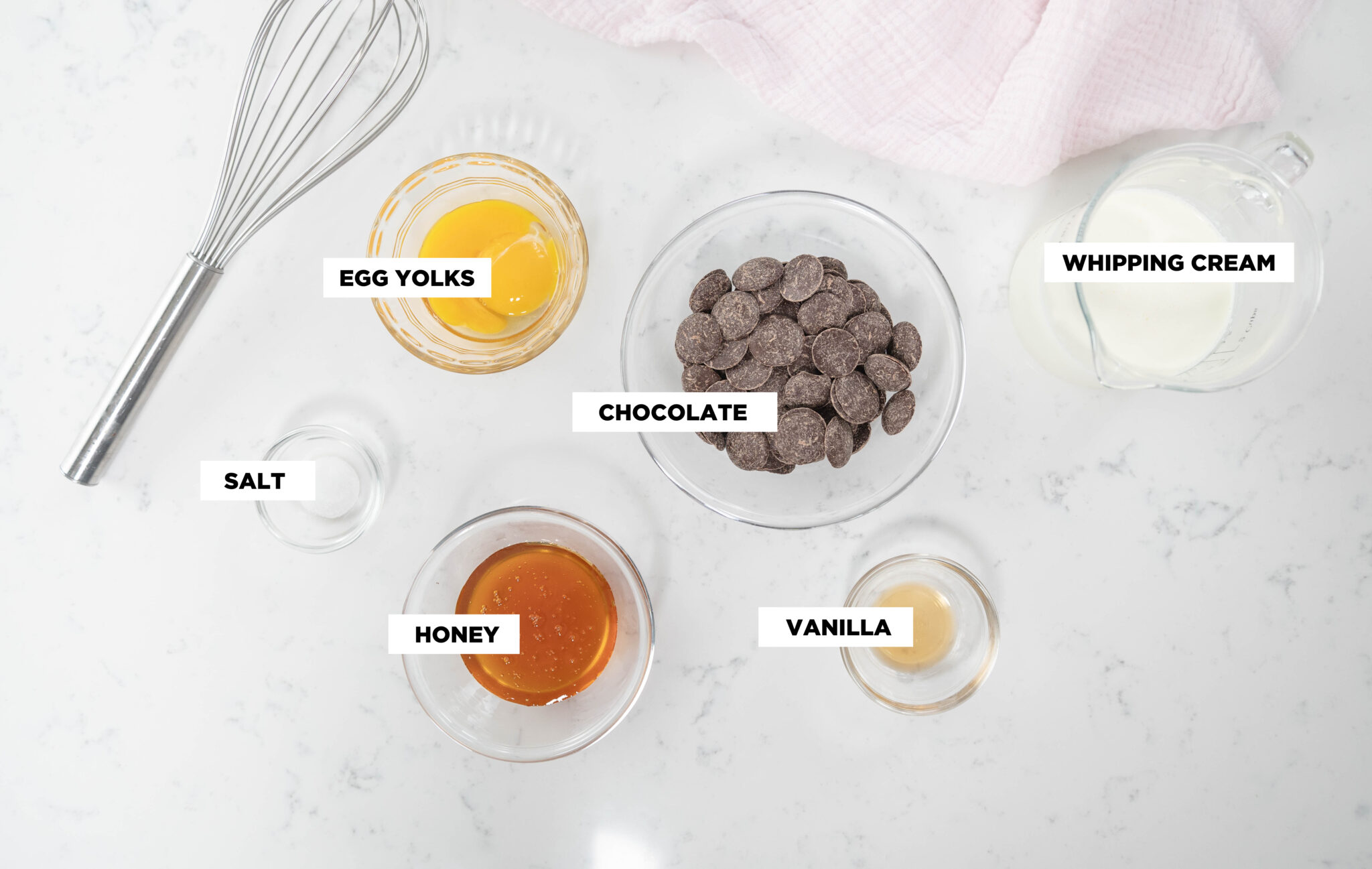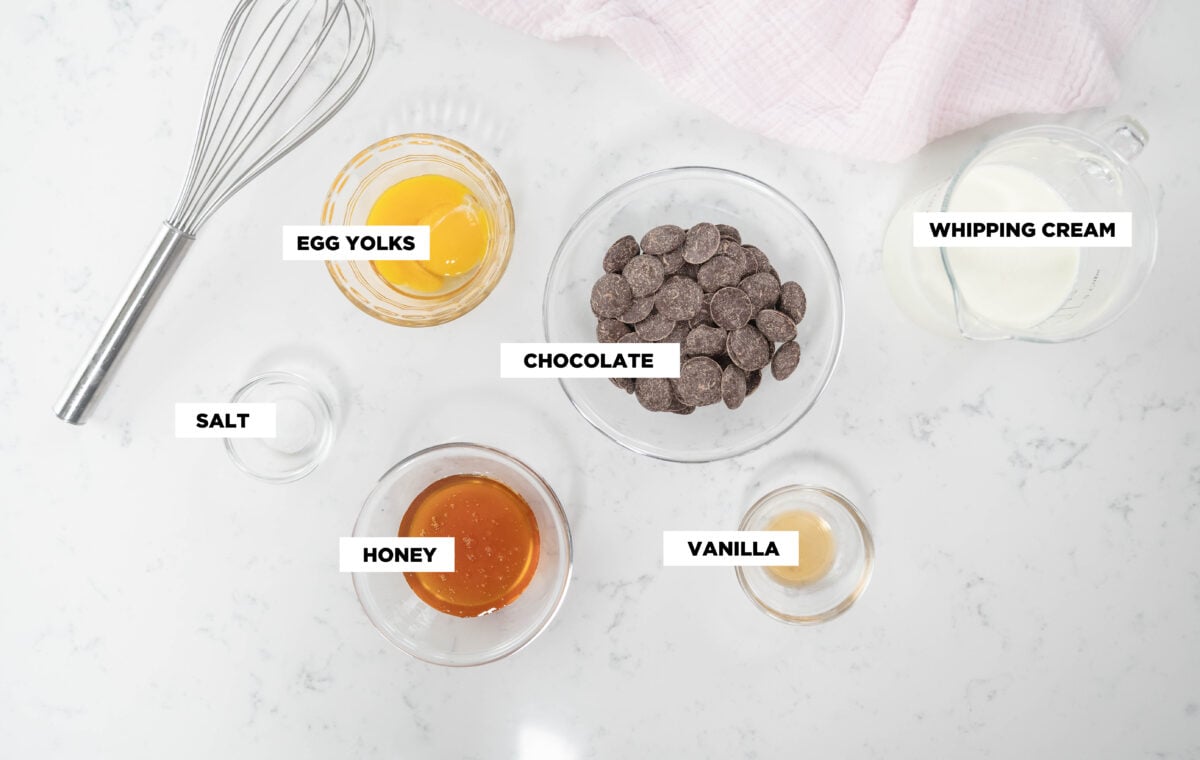 This recipe could not be simpler but with every simple recipe, quality ingredients matter!
Chocolate - Use the BEST chocolate you can get your hands on. I highly recommend using LINDT dark chocolate bars because they melt beautifully and taste delicious. I'd advise staying away from chocolate chips or candy melts because they won't melt properly and the taste will suffer.
Honey - We use pure local and organic honey for a rich and full bodied flavor! The better the honey, the better the taste! If you don't want to use honey, you can substitute corn syrup, glucose or even agave.
Whipping Cream - Make sure you're using whipping cream, not half and half. I prefer heavy whipping cream which is 40% fat and makes a very stable whipped cream.
Vanilla - Sometimes I use dark rum in this recipe which tastes delicious but you can use vanilla as well.
How To Make Chocolate Mousse Step-By-Step
Melt your chocolate. I melt mine in the microwave in 30 second increments (be careful not to burn it!) or you can melt it over a bain marie if you don't have a microwave.
Set your chocolate aside. I keep mine in the microwave to keep it warm.
Place your egg yolks into a large heat proof bowl.
Add your honey to a heavy bottom saucepan and heat it on medium-high until it begins to bubble.
Remove the honey from the heat and begin slowly pouring it onto the egg yolks while whisking constantly to avoid cooking your eggs. The heat from the honey will cook your eggs enough to be safe to eat.
Continue whisking until the eggs look light and foamy (ribbon stage).
Add in the rum and mix to combine.
Add ⅓ of your chocolate mixture to the egg mixture and fold together until combined.
Continue adding your chocolate in thirds until it's all added and is cohesive.
Add your whipping cream to the bowl of your stand mixer with the whisk attachment (or whisk using a hand mixer).
Whip your cream until it forms firm but soft peaks. The cream should not look curdled or too stiff. Under-mixing in this case is better than over-mixing.
Fold Add ⅓ of the whipped cream to your chocolate mixture and fold until combined. Be careful not to fold out all the air you've whipped in.
Continue folding in your whipped cream in thirds until everything looks cohesive.
I like to put my mousse in a piping bag with a 1M piping tip and pipe the mousse into cups with crushed cookies on the bottom.
Top with more whipped cream, shaved chocolate and a sprig of mint or even some fresh berries. So cute!

You can also use this mousse recipe to use in mirror glaze cakes, roll cakes or even in stacked cakes but you will have to keep the cake refrigerated.
FAQ
Does chocolate mousse have raw eggs?
The simple answer is yes, but the eggs are "cooked" by the hot honey. Not enough to make them into scrambled eggs but enough that they are safe to eat. Similar to a soft set egg.
What's the difference between chocolate mousse and pudding?
The main difference is how much air is whipped in. Chocolate mousse is very light and airy. Pudding does not have any air whipped in and is very dense and creamy.
Why is my chocolate mousse grainy?
Take care to fold your ingredients together carefully and slowly. Don't add your chocolate mixture too quickly to the whipped cream or you will get hard bits of chocolate in your final mousse. Never add the vanilla directly to the chocolate or it can seize the chocolate and cause it to go grainy.
Recipe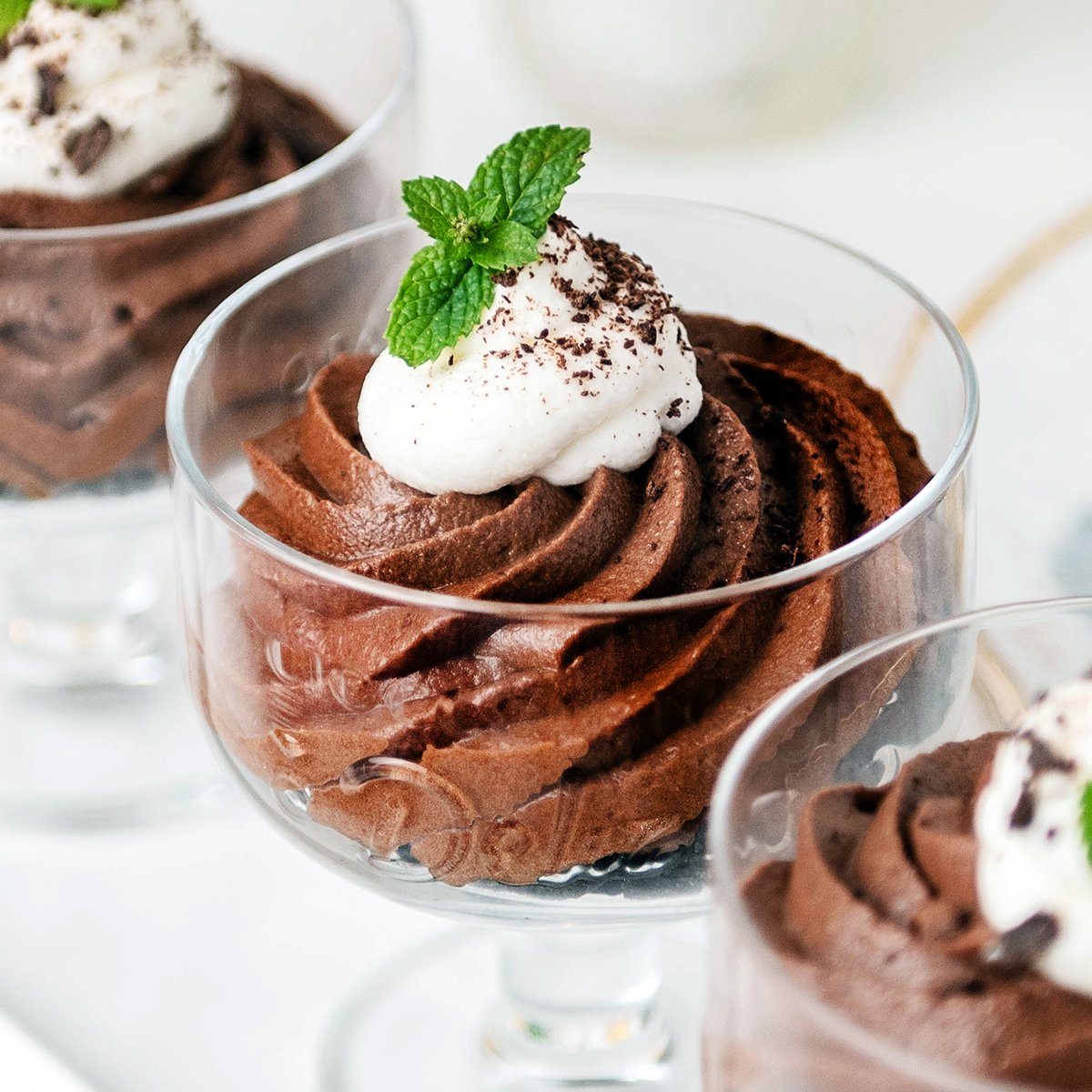 Ingredients
Chocolate Mousse Recipe
6

ounces

dark chocolate

3

ounces

honey

2

large

egg yolks

1

teaspoon

vanilla

or dark rum

11

ounces

heavy cream

½

teaspoon

salt
Instructions
Melt your chocolate in the microwave in 30 second increments or over a bain marie. Once your chocolate is melted, leave it in the microwave to stay warm while you prepare the other ingredients.

In a heavy bottom sauce pan, Bring the honey just to a boil and remove from the heat.

Place your egg yolks into a large heat proof bowl.

Slowly pour the hot honey into the egg yolks while whisking constantly to prevent the eggs from curdling.

Continue whisking the eggs until they are thick and foamy and reach the ribbon stage.

In the bowl of your stand mixer, whip the heavy cream to soft peaks. Set aside.

Add ⅓ of the melted chocolate to the egg/honey mixture and fold until combined.

Continue adding the chocolate mixture to the egg mixture in thirds until it's well combined. Be careful not to over-work the mixture and deflate all the air.

Add in the vanilla or the rum and fold to combine.

Add the whipped cream to the folded chocolate/eggs in thirds.

Fold with your spatula, working it around the bowl and through, folding the mousse over on itself until it comes together in a smooth evenly distributed chocolate color. There should be no streaks or chunks of chocolate.

If you plan to eat the mousse as a dessert, put it into a piping bag and pipe directly into the dessert cups (I piped mine over crushed oreos for added crunch), and then chill to set for about an hour.

Garnish your chocolate mousse with whatever you choose! I went with shaved chocolate, more whipped cream and a sprig of mint. So fancy!
Notes
Chocolate - Make sure you use the best chocolate you can find. It will give the most flavor to your recipe and you don't need much! I love using Lindt chocolate bars. You can change up the flavor really easily and the chocolate melts really well.
Honey - I like to use locally sourced clover honey because it has a ton of flavor but if you don't like honey, you can use corn syrup, glucose or agave. 
Whipping Cream - Make sure you're using whipping cream, not half and half. I like heavy whipping cream (40%) because it's very stable. 
Chocolate Shavings - I used a vegetable peeler on the edge of my chocolate bar to make the shavings. 
Egg Yolks - Fresh, cold eggs are the easiest to separate and farm eggs have more flavor. 
Storage - You can store chocolate mousse in the fridge, covered, for up to a week
This recipe will work best if your ingredients are all about the same temp. If your cream is too cold, it will seize the chocolate when you try to fold it and you will have chocolate chip mousse (not that it's a bad thing!). It worked best for me to keep the other components warm, by setting them in the microwave, while I worked on the next steps. It is also important to have everything ready to go, read through your steps a few times so you have an idea of what happens when. If you take too long between steps this can also affect the temperatures and therefore the final texture of your mousse. 
This recipe comes together really quickly, so even if the first try turns out to be practice, the great news is it is still delicious to eat, even if you don't love the look of it.
Nutrition
Serving:
1
serving
|
Calories:
105
kcal
|
Carbohydrates:
4
g
|
Protein:
1
g
|
Fat:
9
g
|
Saturated Fat:
5
g
|
Cholesterol:
38
mg
|
Sodium:
8
mg
|
Potassium:
70
mg
|
Sugar:
1
g
|
Vitamin A:
245
IU
|
Vitamin C:
0.1
mg
|
Calcium:
18
mg
|
Iron:
1
mg