Chocolate haupia pie is a Hawaiian dessert favorite
Haupia pie is a no-bake cream pie made with coconut milk. Half of the custard is layered into a flakey pie crust that has been baked and cooled. The remaining custard is mixed with chocolate and poured on top. The pie is chilled and then topped with stabilized whipped cream.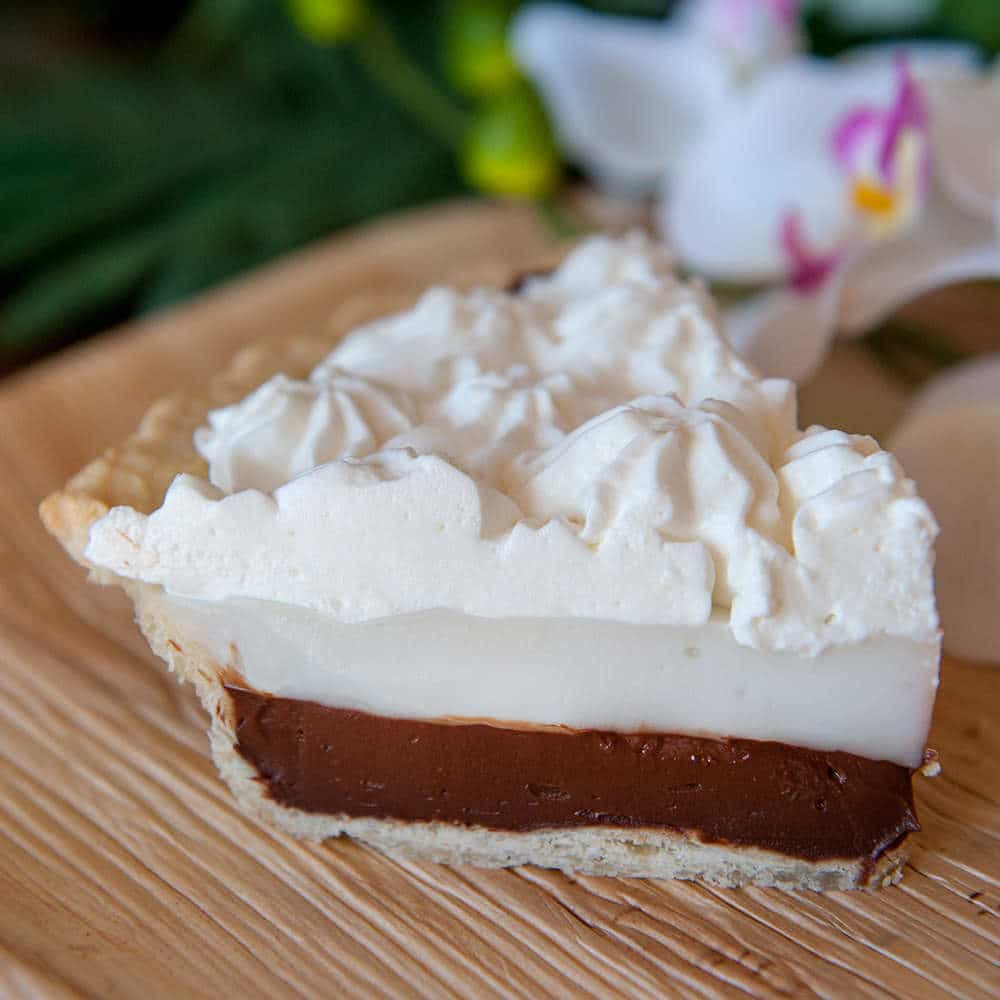 Want to learn more about the basics of making pie? Watch my pie crust tutorial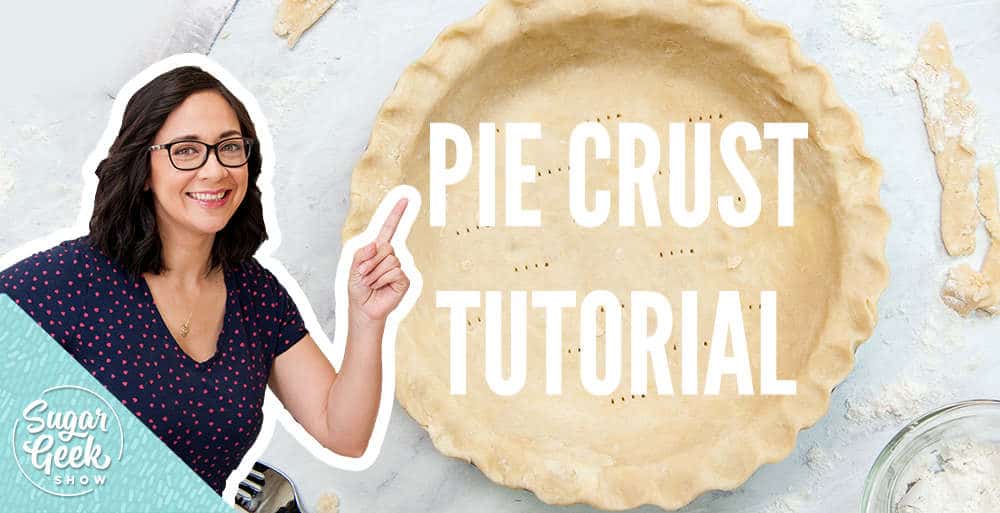 The first time I had haupia pie was on our recent trip to Oahu to visit my aunt and cousins I've never met before. My mom passed away when I was 19 so I didn't get a chance to ask her about her family history. It was really awesome to meet my Mother's sister and all her kids and their kids. My uncle served up some delicious burgers, POG and sweet rolls topped with a sticky sweet frosting.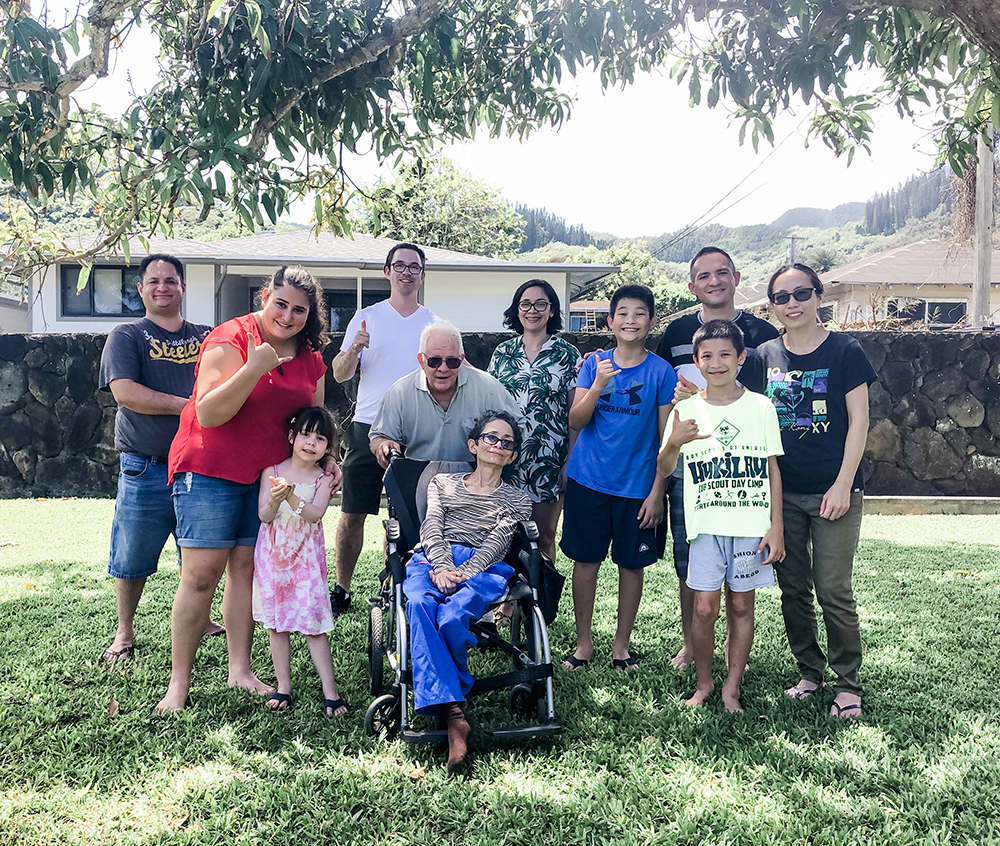 I was also 3 months pregnant with my son so I wanted to EAT ALL THE FOOD.  I asked my followers what places I should visit while I was there and overwhelmingly, Ted's Bakery was high up on the list.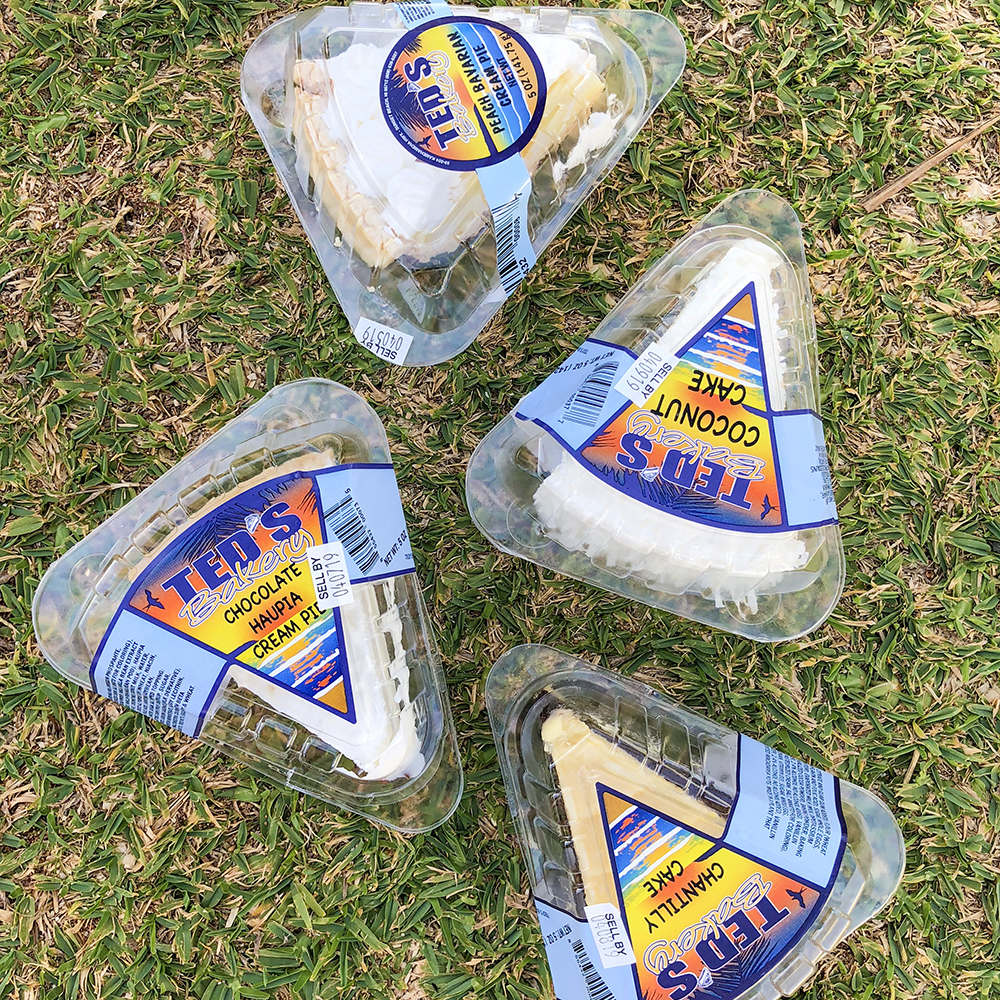 I had never had haupia pie but I had heard of it. I wasn't sure what to expect. I'll never forget sitting on the beach with my husband Dan as we took our first bite and I had a look of shock on my face. Omg it was so good! Creamy, slightly coconut-y and the crust was melt0-in-your mouth delicious.
Before I took my next bite, I knew I wanted to try and re-create it.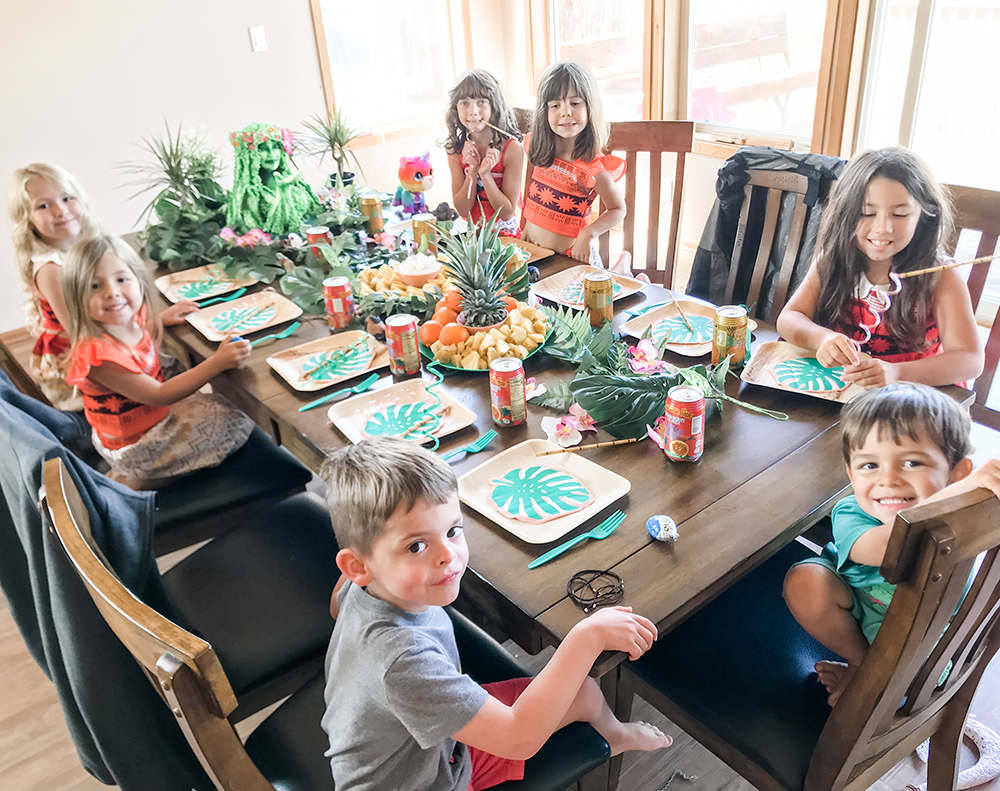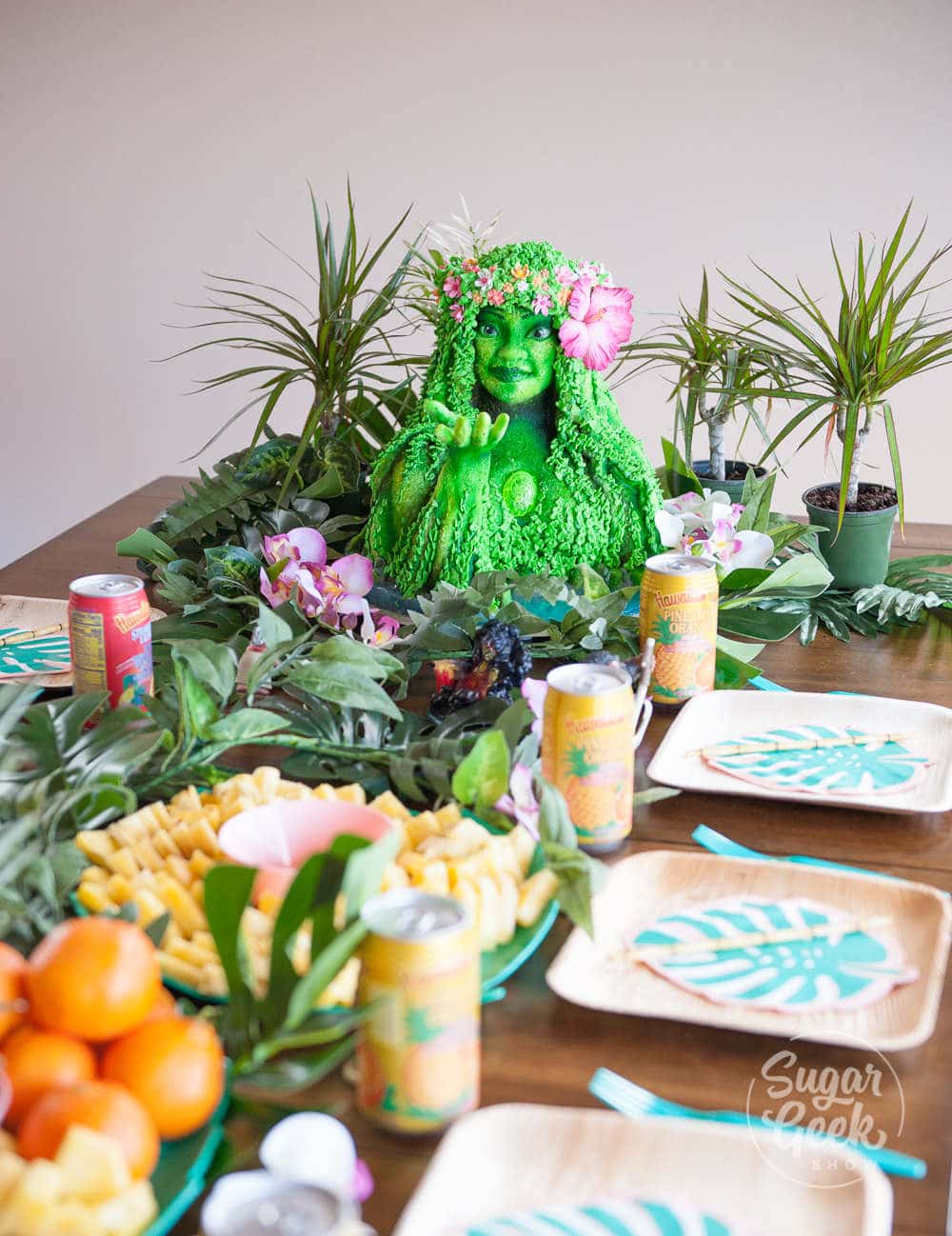 Since then, I have re-created this pie for Avalon's Moana themed 5th birthday party and for Thanksgiving. What can I say? I'm hooked on haupia pie!
What is haupia?
Haupia (how-pee-uh) is made from coconut milk, sugar, water and salt and traditionally thickened with arrowroot but modern recipes typically use cornstarch.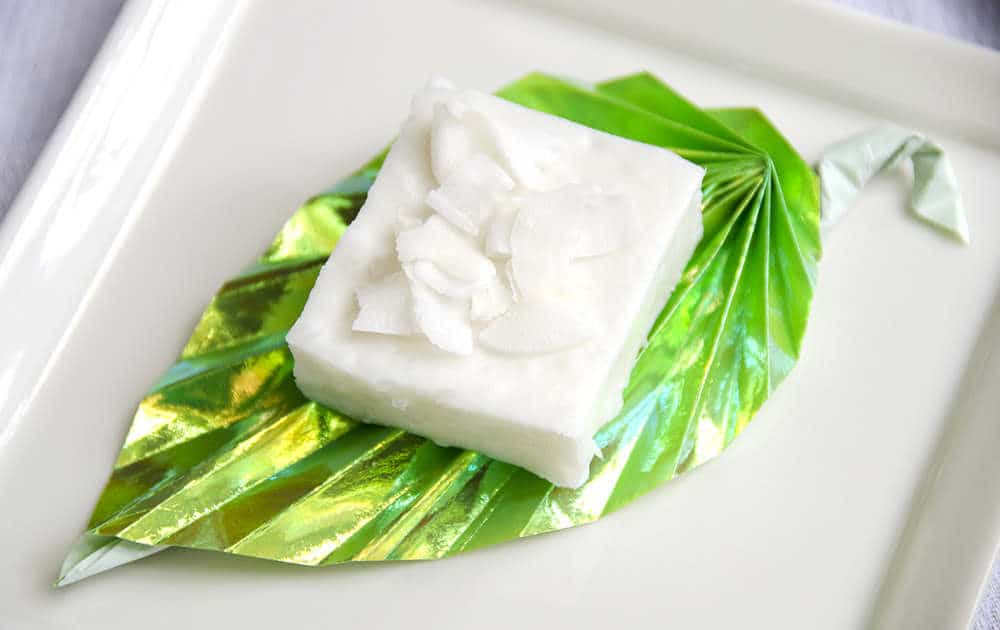 Haupia is often served at special events like luaus. It is usually chilled and then cut into cubes before serving. Technically it is a pudding but its texture is more like a gelatin dessert but gelatin is not traditionally used. If you do use gelatin, the dessert is not considered to be a true haupia dessert.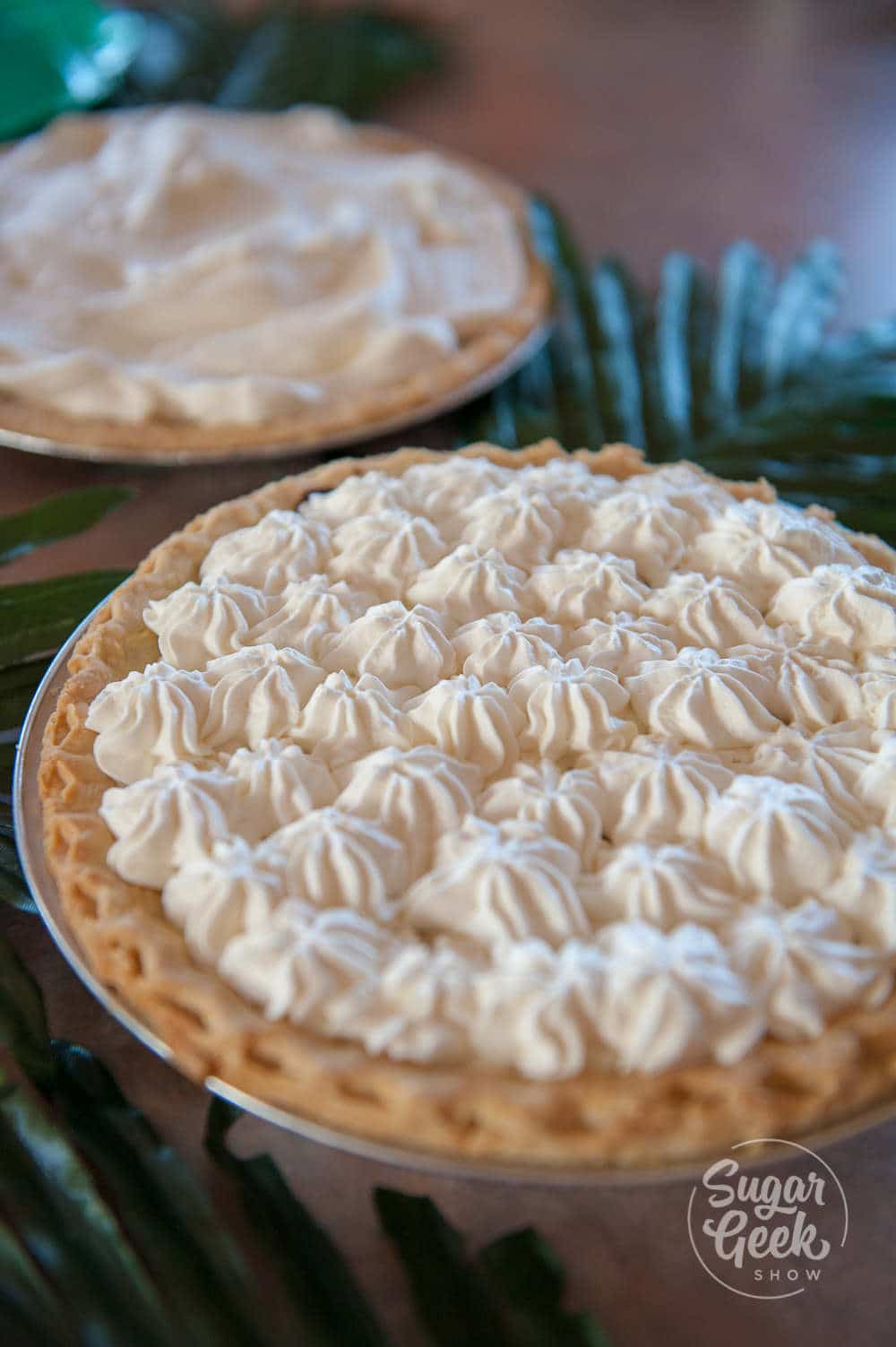 haupia has a creamy texture that is pure heaven for coconut lovers like me. Haupia can be very rubbery if too much cornstarch is added so care is needed to make sure the perfect amount of cornstarch is added for the perfect balance of firm and soft.
How to blind-bake the crust
Haupia pie is so super simple to make. It all starts with blind-baking a flakey pie crust. Pre-baking (blind-baking) the pie crust is necessary since haupia pie filling is not baked.
Let the chilled dough come to room temperature for 20 minutes
Roll out the dough ⅛" thick and place into your 9" pie plate
Trim off the excess dough but leave ¼" of dough all the way around to account for shrinking
Poke some holes in the bottom of the crust with your fork and flute the edges of the dough with your fingers if desired.
Brush the surface of the dough with egg wash (one egg whisked with 1 tablespoon of water) to promote browning and a shiny crust.
Freeze for 20 minutes.
Place some aluminum foil or parchment paper in the bottom of the pie and fill with pie weights.
Bake in the oven at 350ºF for 15 minutes.
Remove from the oven, carefully lift out the aluminum foil and weights.
Return the crust to the oven and bake for an additional 15 minutes or until a golden brown.
Let cool fully before filling
How to make the haupia pie
Prepare your coconut filling
Divide in half
Combine one half with the chocolate and stir until smooth
Pour the chocolate mixture into the cooled pie shell. Chill until firm
Pour the rest of the coconut mixture on top of the chocolate and smooth
Chill for one hour or overnight before topping with whipped cream and serving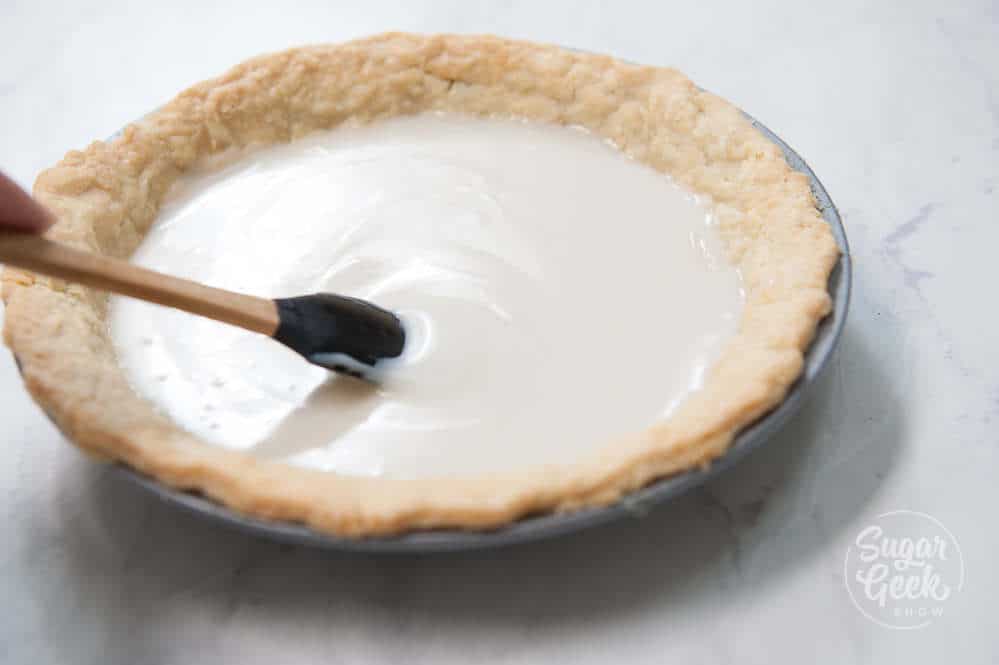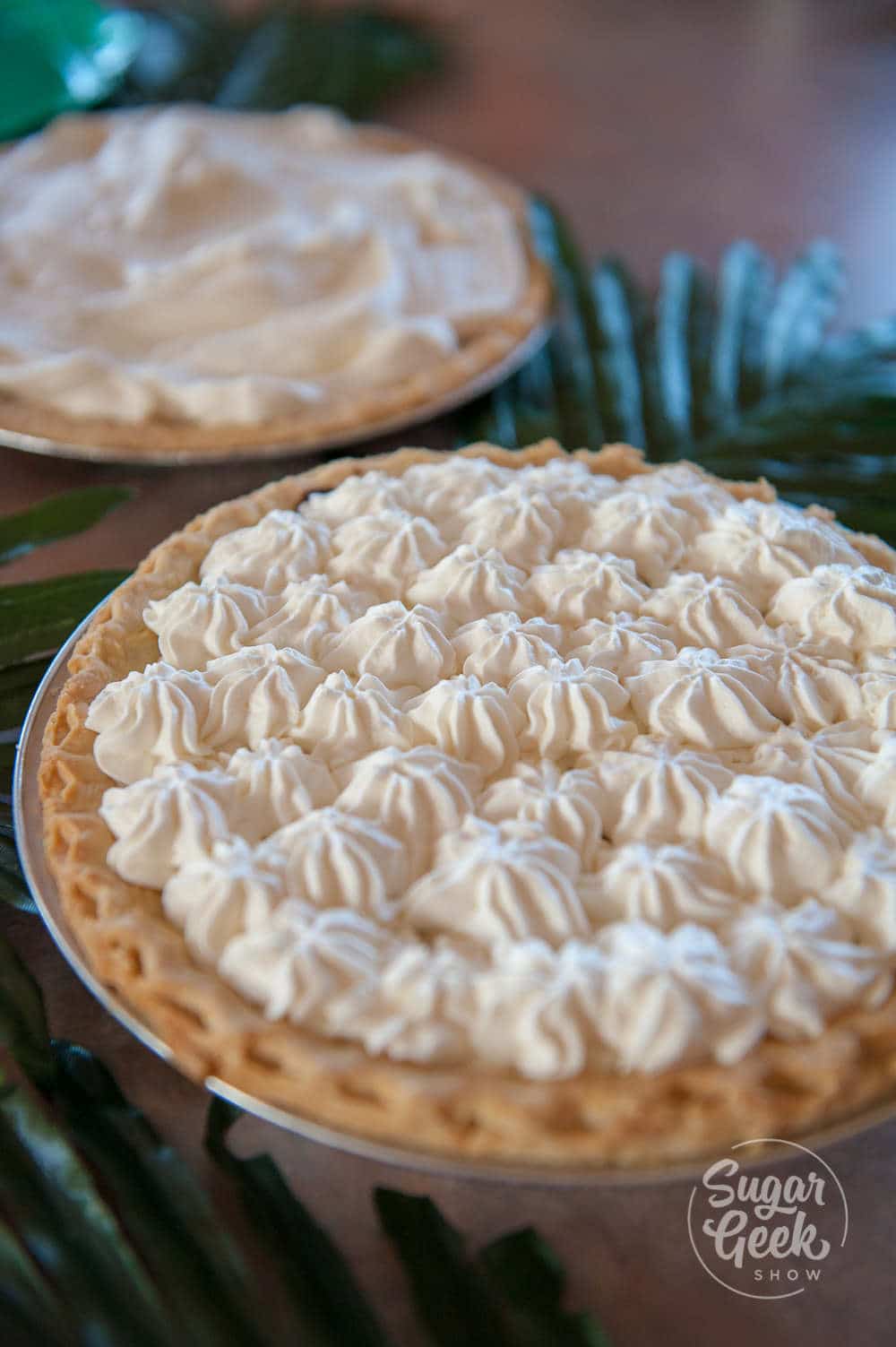 Recipe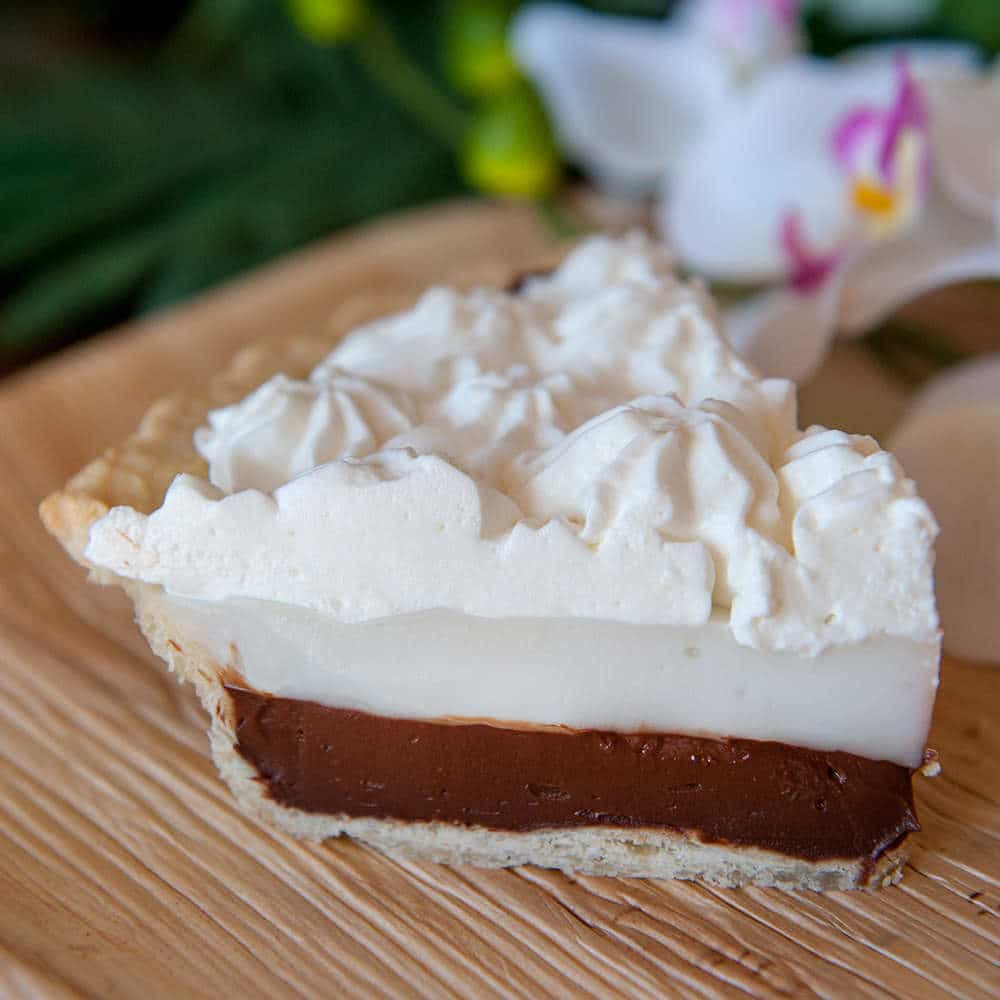 Ingredients
Flakey Pie Dough
10

ounces

all-purpose flour

¼

teaspoon

salt

8

ounces

cold butter

grated

2

ounces

ice water
Haupia Pie Filling
14

ounces

coconut milk

one can

8

ounces

water

or milk

2

teaspoons

coconut extract

7

ounces

granulated sugar

8

ounces

water

2

ounces

cornstarch

6

ounces

chocolate

good quality

1

teaspoon

vanilla extract
Whipped cream topping (optional)
12

ounces

heavy cream

2

ounces

powdered sugar

1

teaspoon

vanilla extract

2

teaspoons

powdered gelatin

3

Tablespoons

cold water

1

teaspoon

heavy cream
Instructions
Preheat the oven to 375ºF
For the flakey dough
Place the flour and salt into a medium-sized bowl

Grate your cold butter directly into the flour mixture

Toss the mixture until the butter is coated with flour

Add in the water in small amounts and mix with your other hand until the flour is almost all absorbed.

Flatten and wrap in plastic wrap. Let the dough chill for 30 minutes or overnight before using it. Let warm for 20 minutes or until pliable but still firm before rolling out.

Roll out dough ⅛" thick and place it into a 9" pie plate. Cut off the excess, leave ¼" of dough all the way around to account for shrinking.

Brush the surface of the pie with egg wash (one egg whisked with 1 tablespoon of water) to promote even browning and a shiny crust

Poke some holes in the bottom of the dough with a fork.

Freeze the pie for 20 minutes

Place some foil or parchment paper in the pie pan then fill to the top with pie weights or dried beans. Bake for 15 minutes.

Remove the foil carefully. Put the pie back in the oven for 15 minutes or until it's golden brown and has pulled away from the sides of the pie plate.
For the haupia pie filling
in a medium saucepan combine together the coconut milk, first quantity of water, coconut extract and sugar over medium-high heat until it begins to simmer.

Combine together the second quantity of water and the cornstarch and whisk to make a slurry

Once the mixture is simmering, reduce the heat to medium-low and add in the cornstarch mixture. Whisk constantly until thickened. About 3 minutes. Add in your vanilla and stir to combine.

Divide the mixture into two bowls.

Add the chocolate to one of the bowls and whisk until the chocolate is fully melted.

Pour the chocolate mixture into the cooled pie crust *note I accidentally did this backwards on my pie, don't do as I do, do as I say haha

Chill the crust with the chocolate filling for 15 minutes or until set

Pour the remaining coconut mixture on top of the cooled chocolate and put it back in the fridge to chill for at least an hour or overnight.
Stabilized whipped cream
Sprinkle your gelatin over the water and let bloom for 5 minutes. 

Melt gelatin for 5 seconds in the microwave. If not fully melted do another 3 seconds. You can tell gelatin is melted when there are no granules of unmelted gelatin visible.

After dissolving your gelatin, add in 1 teaspoon of heavy cream and mix. If your gelatin is too cold, heat again until it's melted (5 seconds).

In a cold mixing bowl, whip your heavy cream to soft peaks

Add in your powdered sugar and vanilla

Turn your mixer down to low and drizzle in your gelatin and mix until whipped cream forms stiff peaks. Pipe onto your pie as desired.
Video
Nutrition
Serving:
1
serving
|
Calories:
678
kcal
|
Carbohydrates:
87
g
|
Protein:
9
g
|
Fat:
35
g
|
Saturated Fat:
24
g
|
Cholesterol:
85
mg
|
Sodium:
116
mg
|
Potassium:
258
mg
|
Fiber:
2
g
|
Sugar:
43
g
|
Vitamin A:
673
IU
|
Vitamin C:
1
mg
|
Calcium:
52
mg
|
Iron:
4
mg