I think this is the perfect moist and fluffy vanilla cupcake recipe because it's everything you want a cupcake to be. Lots of flavor in a little bite. The buttermilk adds a wonderful tang and the cupcake is so moist, I may have eaten a couple without any frosting! If you like my white velvet buttermilk cake or my vanilla cake, you will love these cupcakes!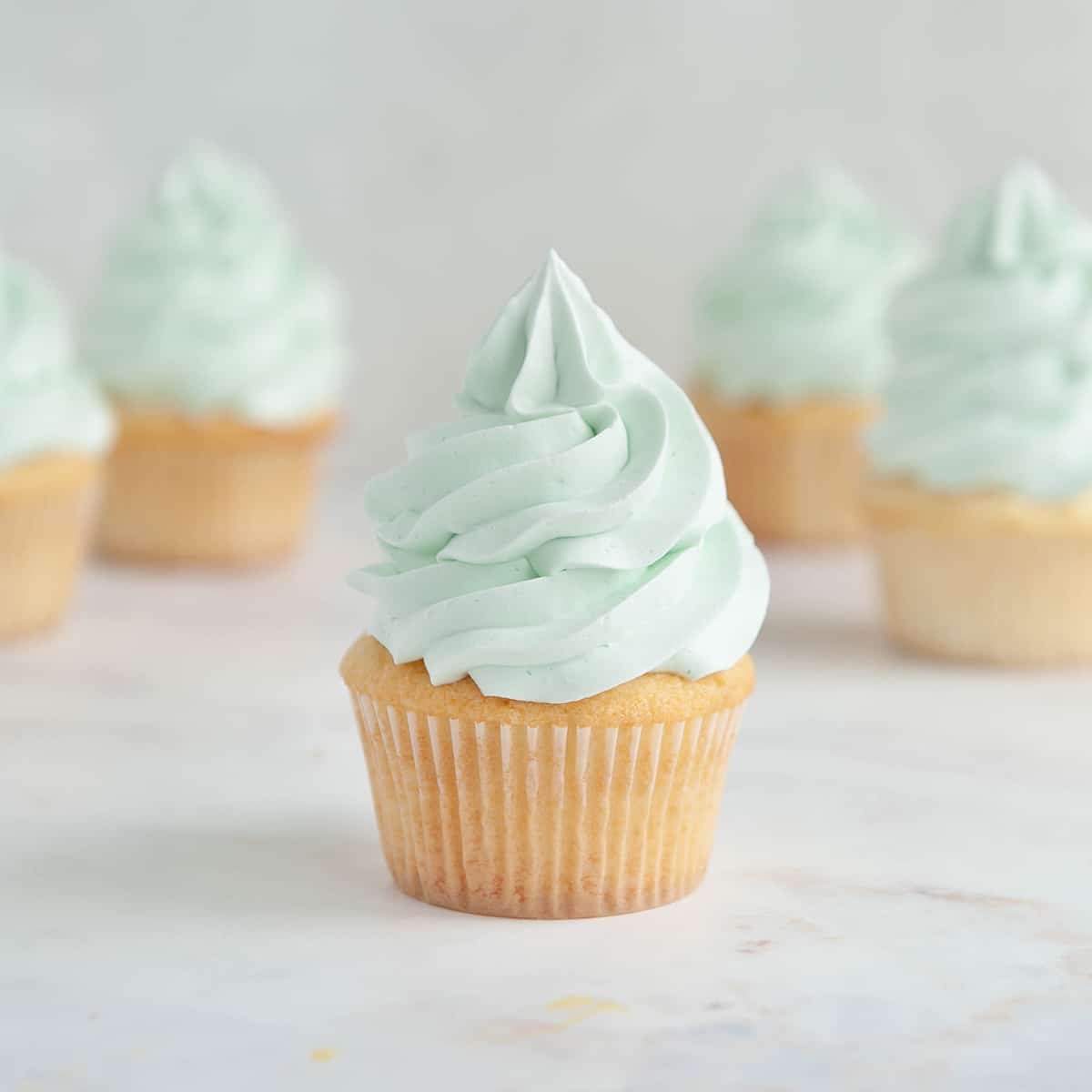 I seriously LOVE LOVE LOVE this vanilla cupcake recipe because it's so versatile! You can combine it with strawberry buttercream to make strawberry shortcake cupcakes. You can frost them with some yummy chocolate ganache or chocolate buttercream if fruit isn't your thing. For lemon lovers, try filling your cupcakes with some lemon curd in piping bag and topping with fresh stabilized whipped cream!
You can add spices to the batter and make them into spice cake or you add a little lemon zest and some blueberries. This is seriously the most versatile cupcake recipe. I love it! You can even add in sprinkles and make them funfetti cupcakes!
Ingredients Needed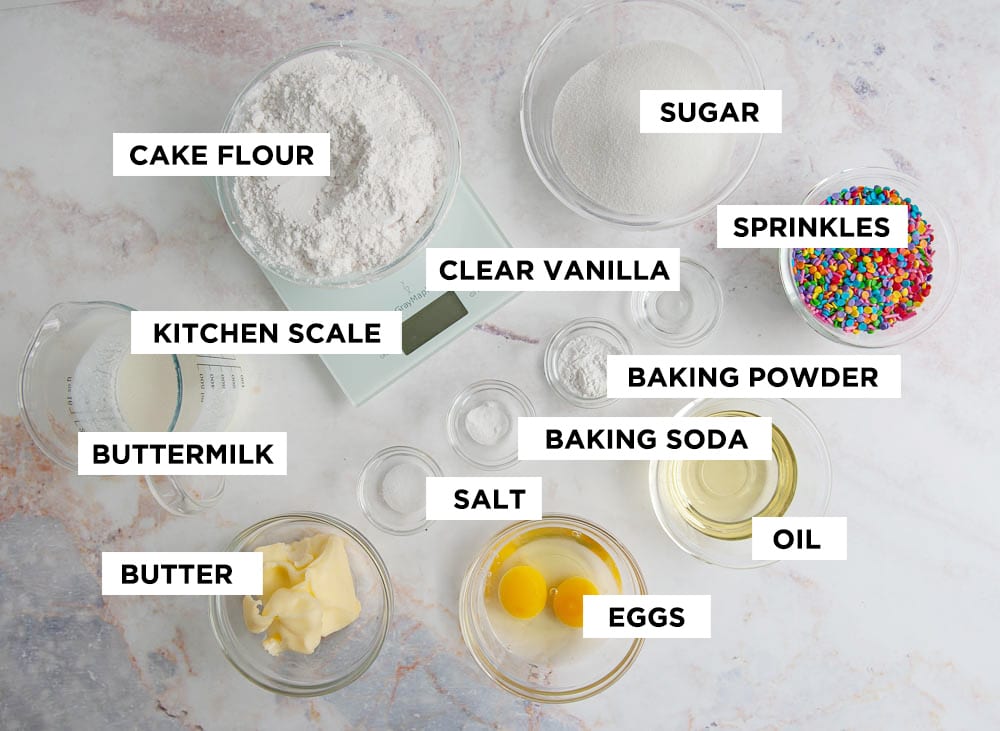 The buttermilk in this vanilla cupcake recipe also makes the cupcakes very moist. Buttermilk is acidic and actually breaks down the gluten in the flour, for a more tender cupcake.
Protip – A little bit of oil in this recipe helps keep the cupcakes moist but too much oil in a recipe will cause the wrappers to peel away from the cupcake. This can also happen from too much liquid in the recipe.
How To Make Moist Vanilla Cupcakes Step-By-Step
Be sure to check out the video below of my daughter Avalon showing how easy it is to make this vanilla cupcake recipe.
Make sure all your ingredients are at room temperature or even a tiny bit on the warm side. I warm my milk in the microwave for 30 seconds. The butter should be soft enough to live an indent in it when you press it but firm enough that it's still holding its shape. Place your eggs in a bowl of warm water for 5 minutes to warm them up.
I use a scale to measure all my ingredients so that the recipe turns out perfect every single time. Learn more about why I use a kitchen scale for my recipes in this blog post.
Step 1 – Preheat your oven to 350ºF and line two cupcake pans with paper cupcake liners. You can also bake one pan at a time if that's all you have.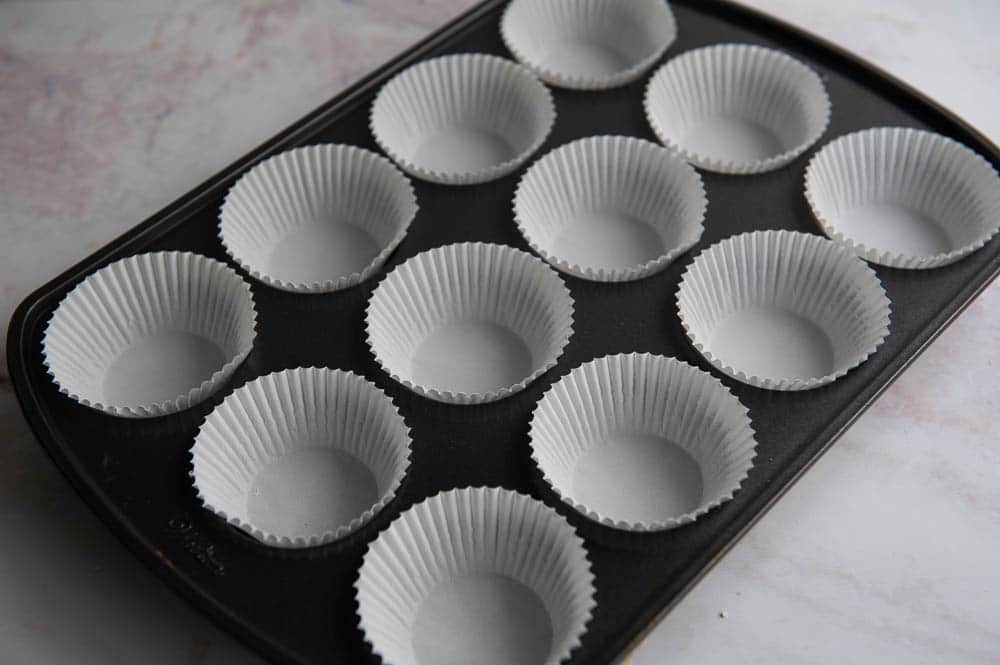 Step 2 – Add your vanilla to the milk and set it aside.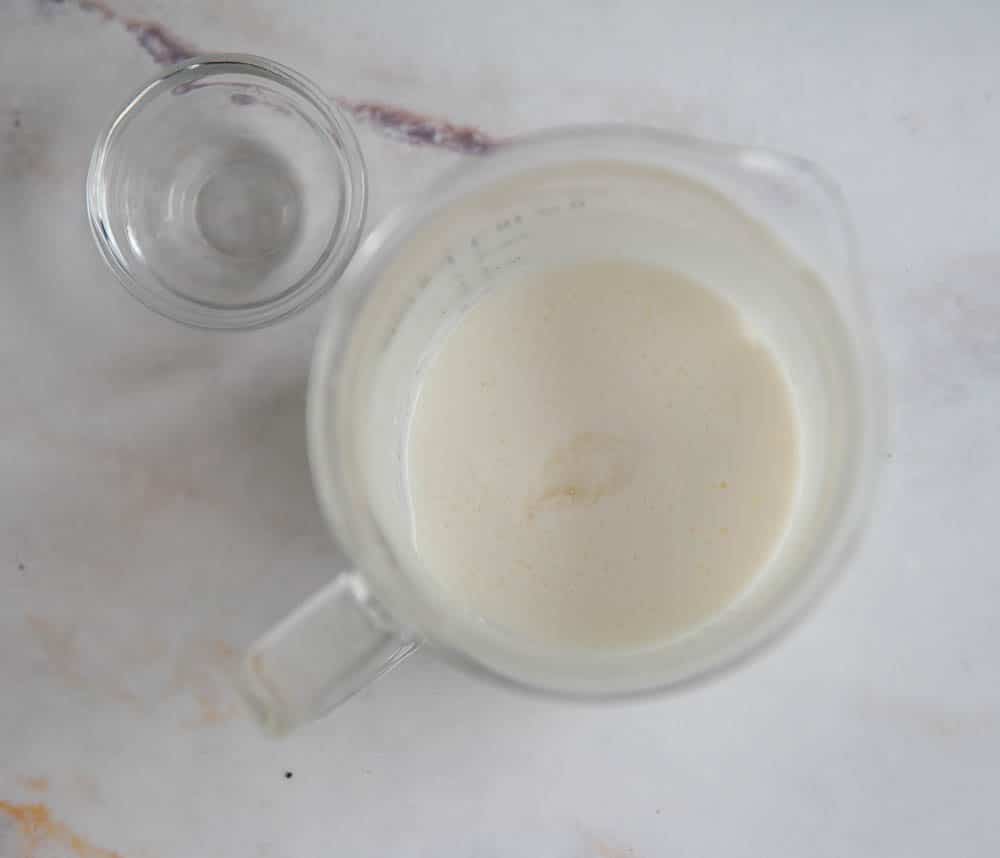 Step 3 – Combine the eggs with the oil and give them a gentle whisk to break up the eggs. Set them aside.
Protip – Use clear vanilla extract for that "classic grocery store cake" flavor. Use real vanilla extract for a true vanilla flavor or even vanilla bean! One vanilla bean = 2 tsp vanilla extract.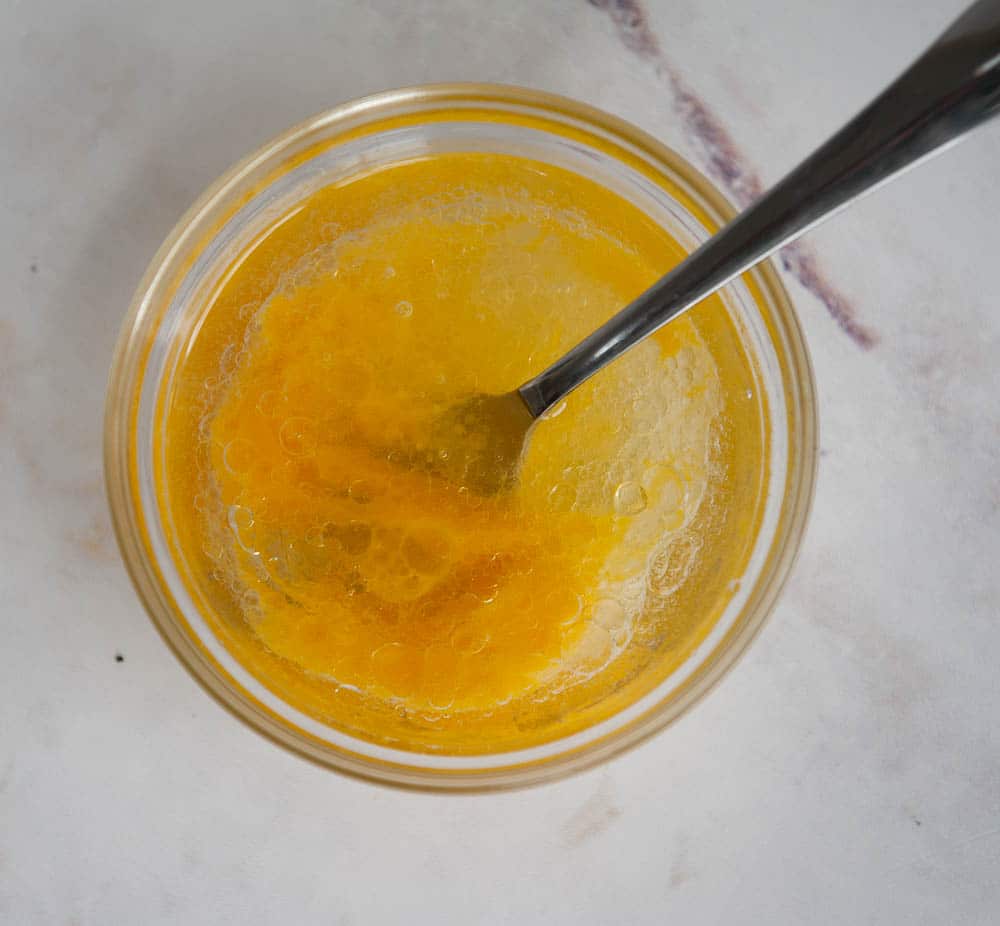 Step 4 – Combine the flour, sugar, baking powder, baking soda, and salt in the bowl of your stand mixer with the paddle attachment attached.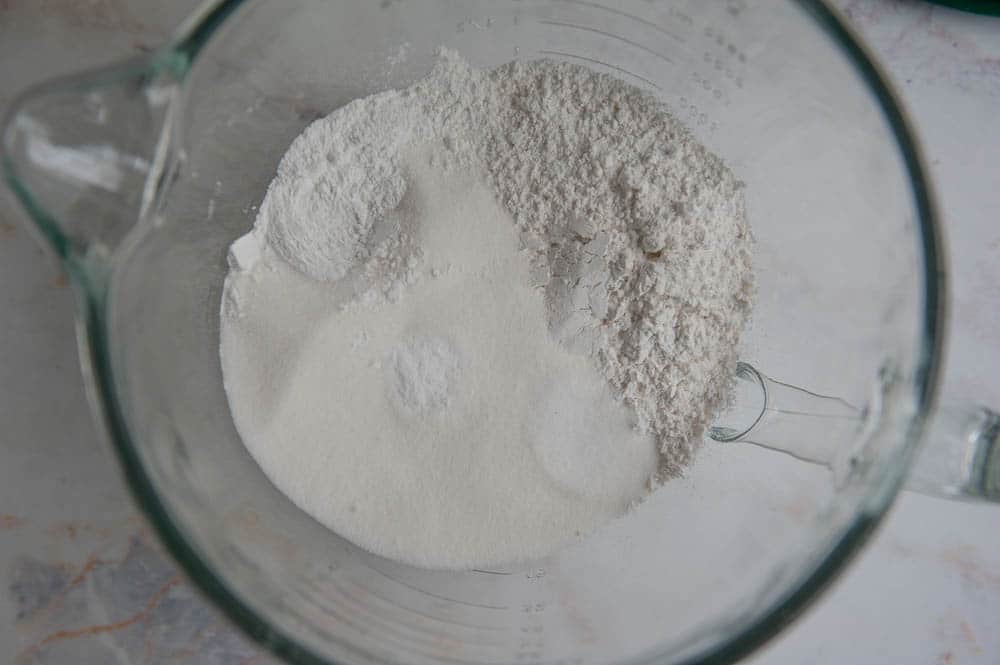 Step 5 – Add in your softened butter and mix on low until the flour mixture resembles a sandy texture. Depending on how soft your butter is, this might take a minute or two.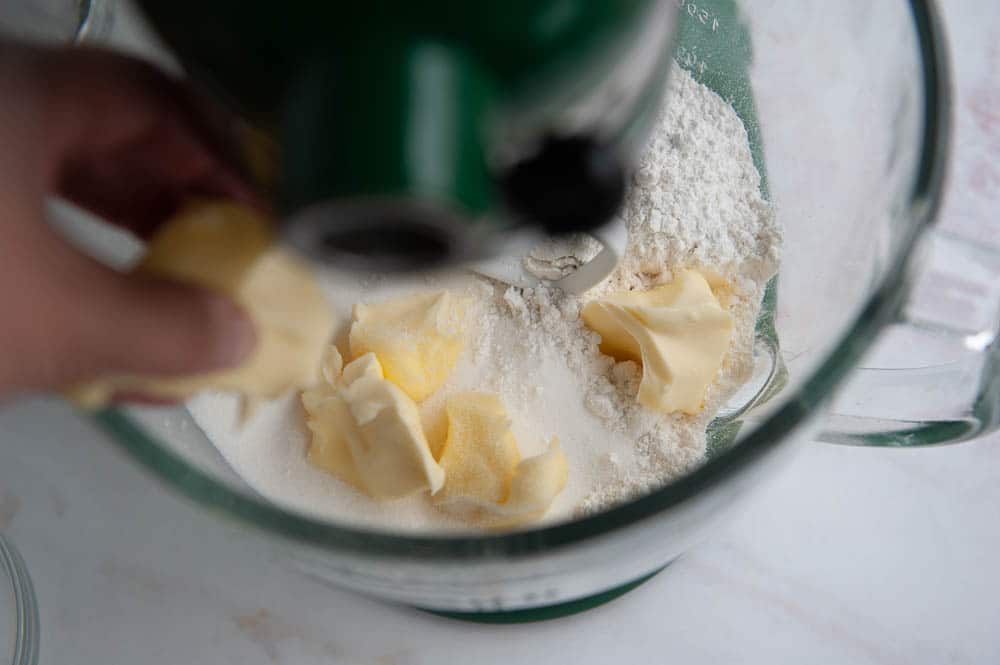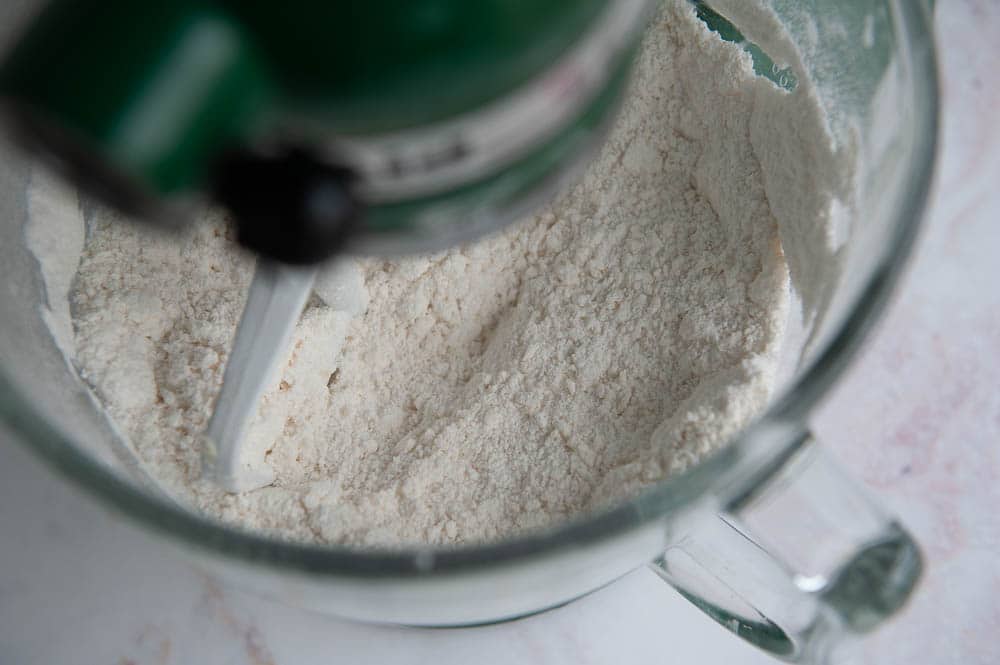 Step 6 – Add in the milk mixture and increase the speed to medium (speed 4 on a KitchenAid, speed 2 on a bosch). Mix for 1 1/2 minutes to develop the fluffy structure of the cupcake. The batter will go from being yellow to a fluffy white. You can use a hand mixer for this step if that's all you have.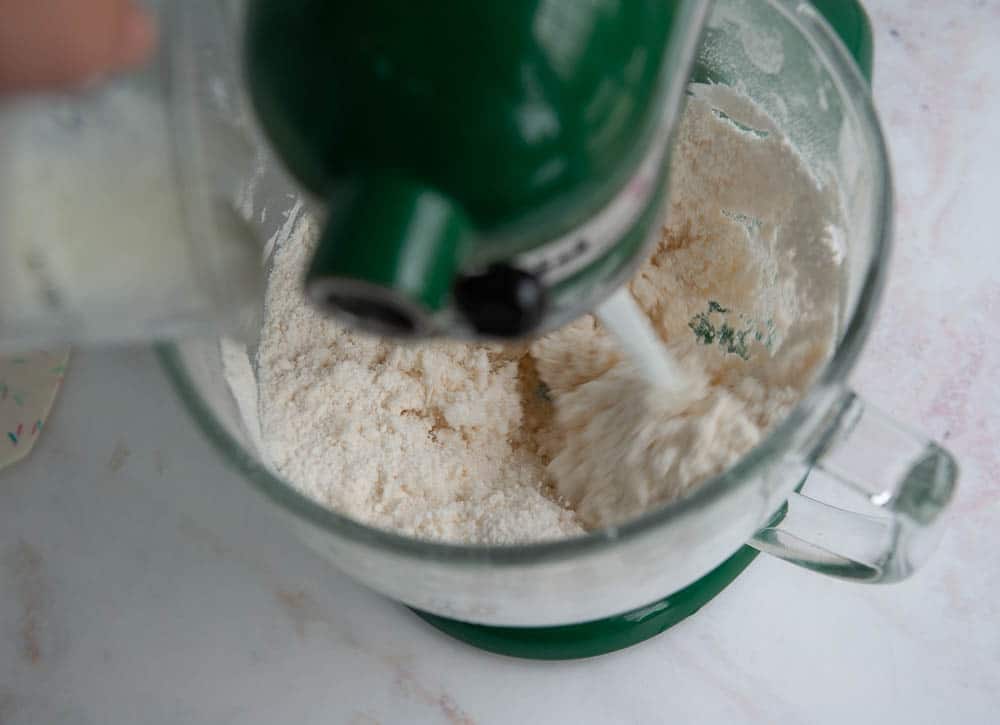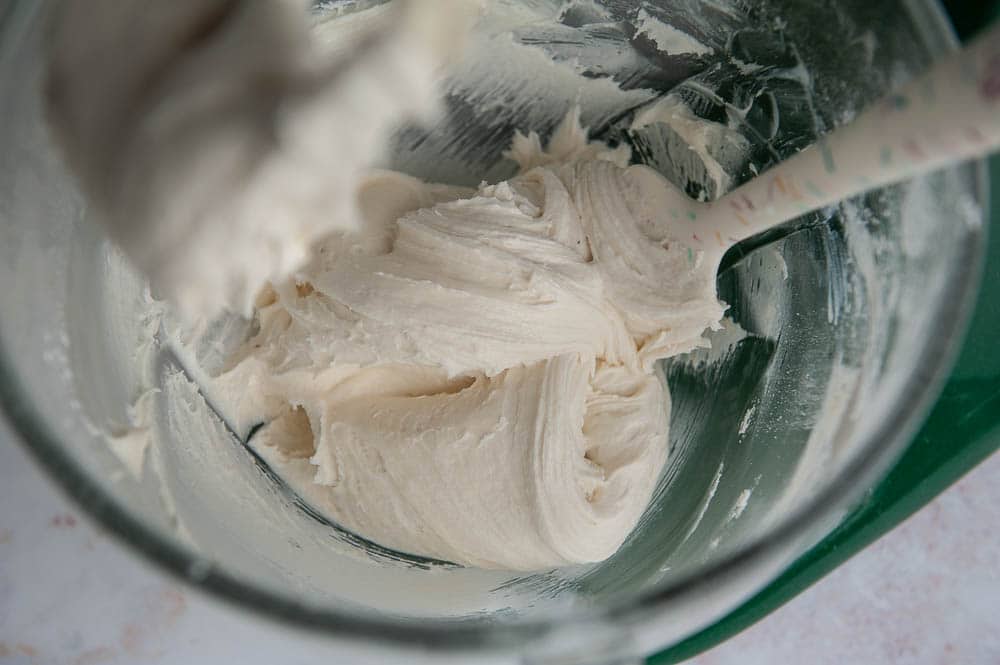 Step 7 – While mixing on low, add in 1/3 of your egg mixture. Let it combine fully then add in half of the remaining mixture, let it mix in fully then add in the rest. Mix until just combined.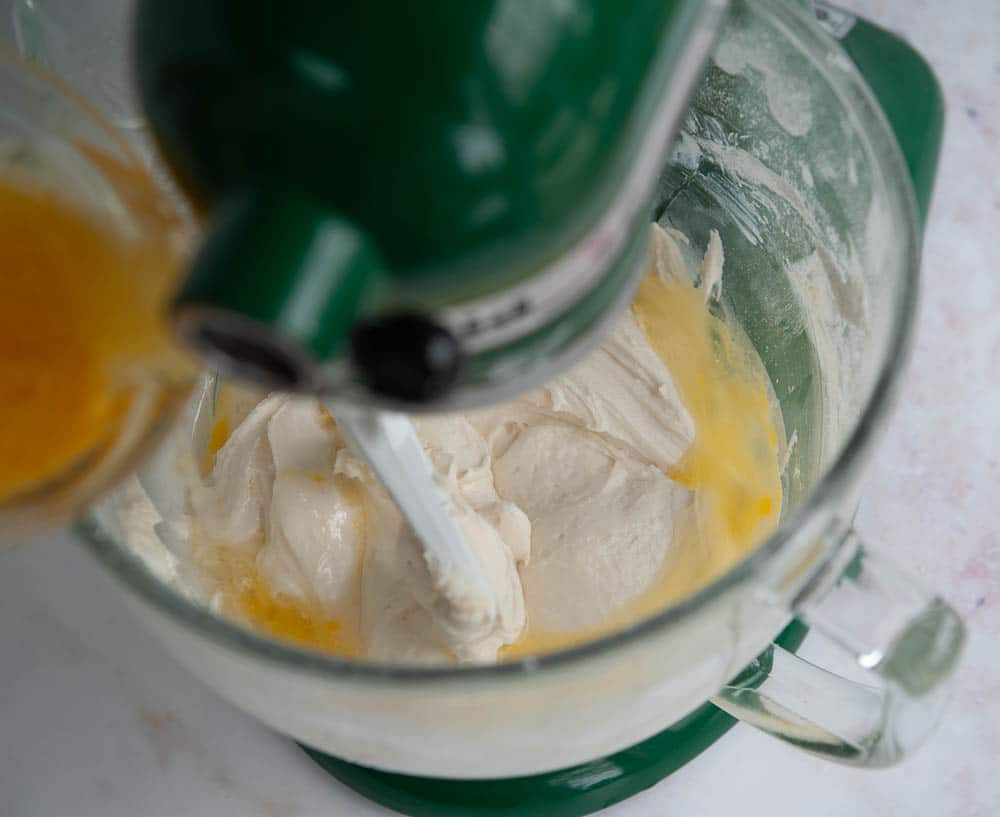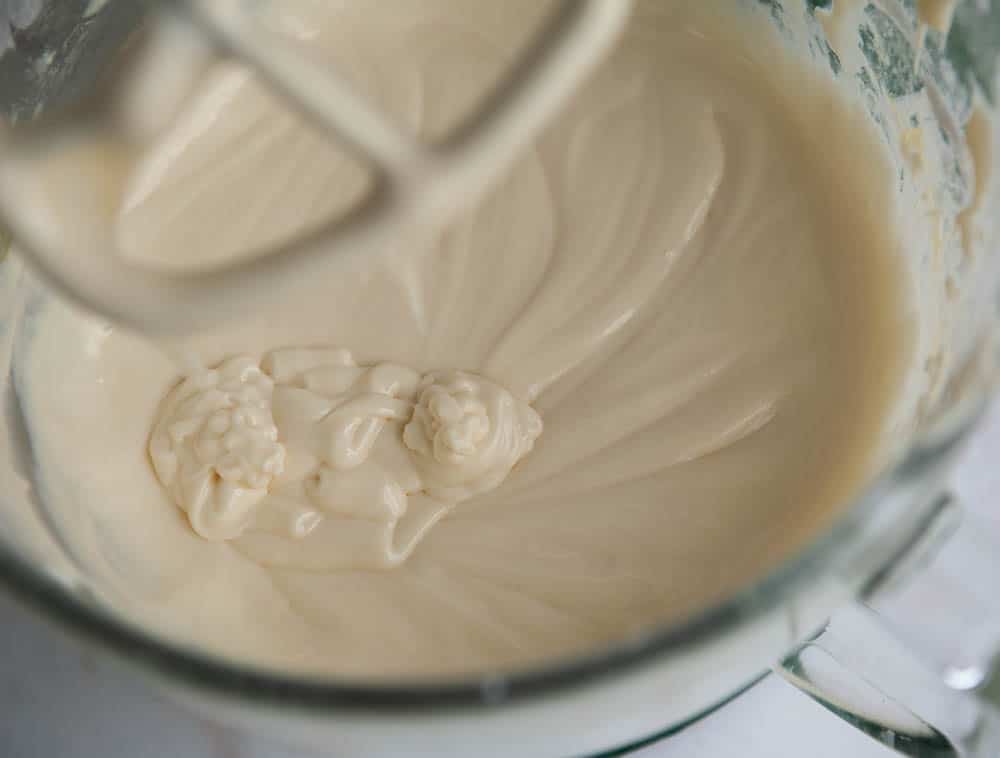 Step 8 – Fill your cupcake liners 2/3 of the way full for the best rise. I use my kitchen scale to measure my batter. 1.5 ounces of batter per cupcake liner is perfect for my oven and elevation but I have mixed results in other ovens so find out what works best for you and stick with it. Baking at a high elevation? Check out my high altitude baking hacks.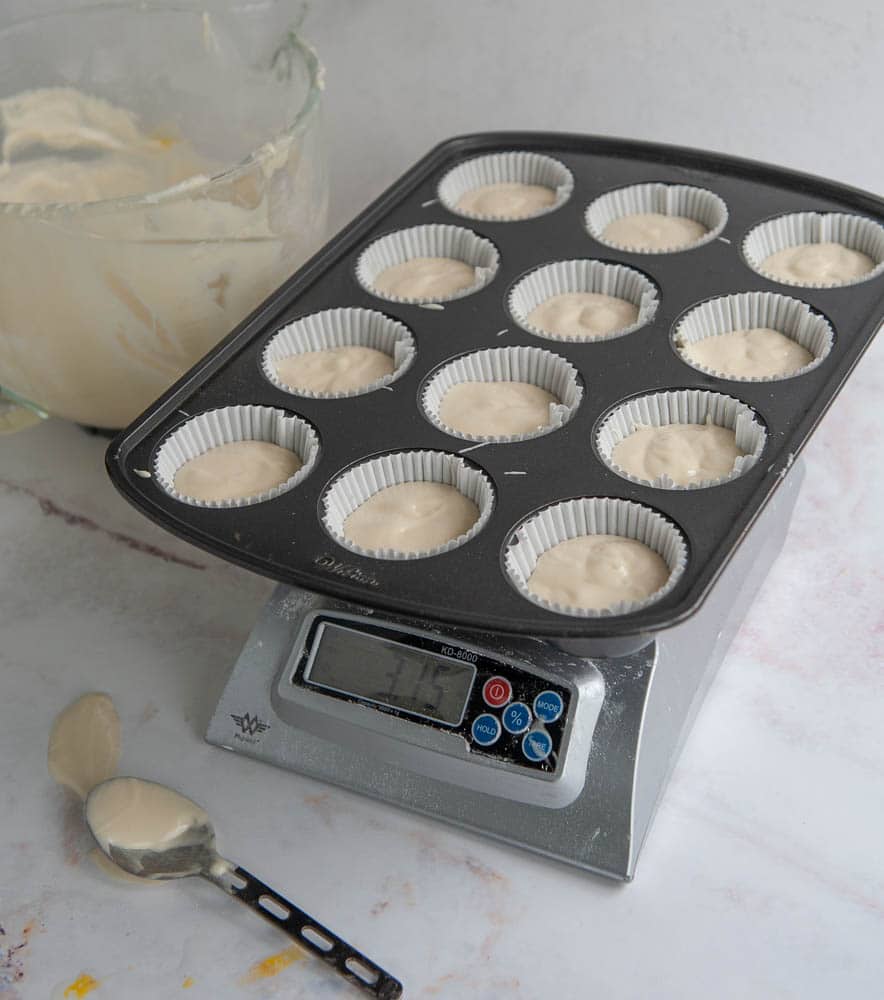 Step 9 – Bake your cupcakes for 15-16 minutes or until they are just starting to turn golden brown and the center of the cupcake springs back when you lightly touch it with your finger. I rotate my cupcakes halfway through baking for even browning.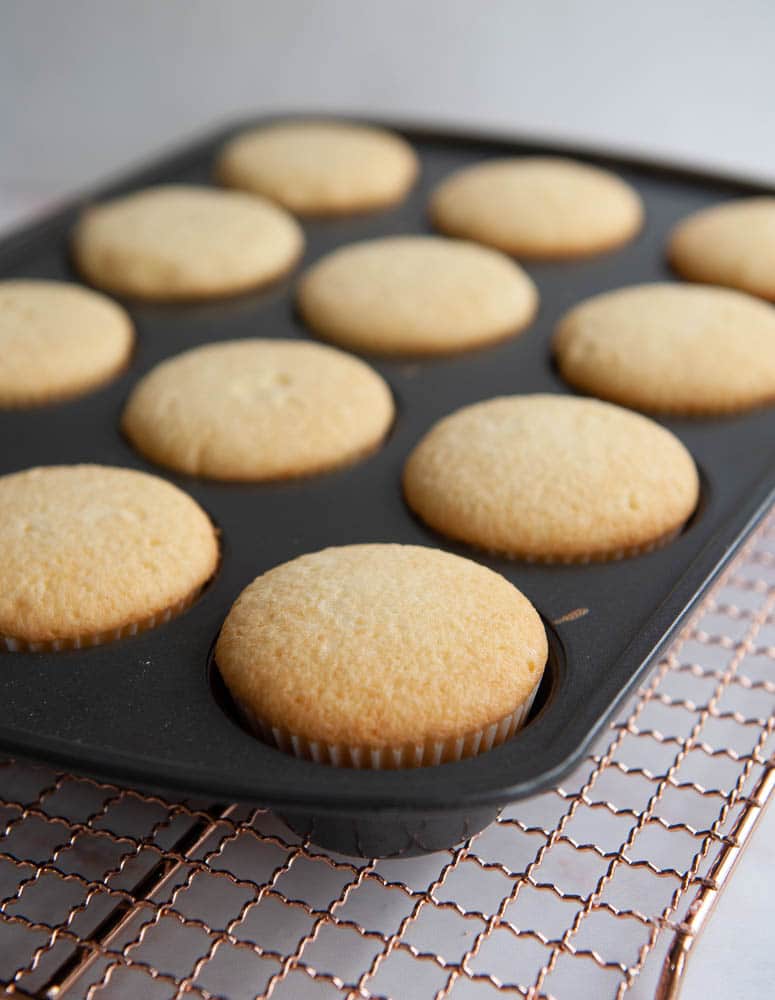 Step 10 – Let your cupcakes cool for five minutes then move them to a cooling rack to fully cool before you frost them! I love using my easy buttercream frosting but you can use any kind of frosting that you like! I used a piping bag and 15mm star piping tip.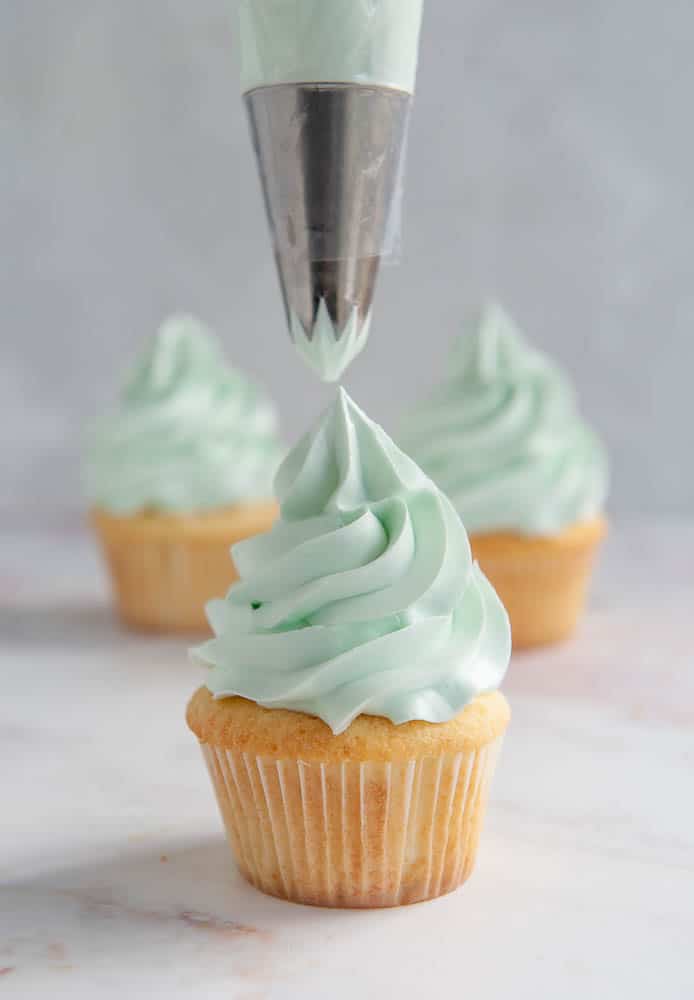 Tips for success and FAQ
Why are my cupcakes flat? You might be baking at too low of a temperature. Baking at 350ºF makes the cupcake nice and fluffy and set's the dome. Baking at too low of a temperature will make your cupcakes flat. Not sure what your oven temperature is? You can get an oven thermometer to calibrate the temperature of your oven.
How do you make a fluffy vanilla cupcake recipe? The secret to fluffy cupcakes is enough baking powder to really get that high rise and higher oven temperature to create a lot of lift and to set the dome of the cupcake. Too much liquid in your cupcakes or over-filling your liners can cause them to collapse.
Why do my cupcake liners pull away after baking? It could be that your recipe has too much liquid, oil, or that your liners are not grease-proof. Your liners can also pull away if you are storing your cupcakes in a closed container and the moisture causes them to pull away.
Can you add flavor to this vanilla cupcake recipe? You can easily change the flavor of these cupcakes from vanilla to lemon or spice by replacing the extract and adding in things like spices or zest. You can also add in up to 1/4 cup of any dry ingredient like sprinkles, crushed Oreos, or fruit without changing the recipe.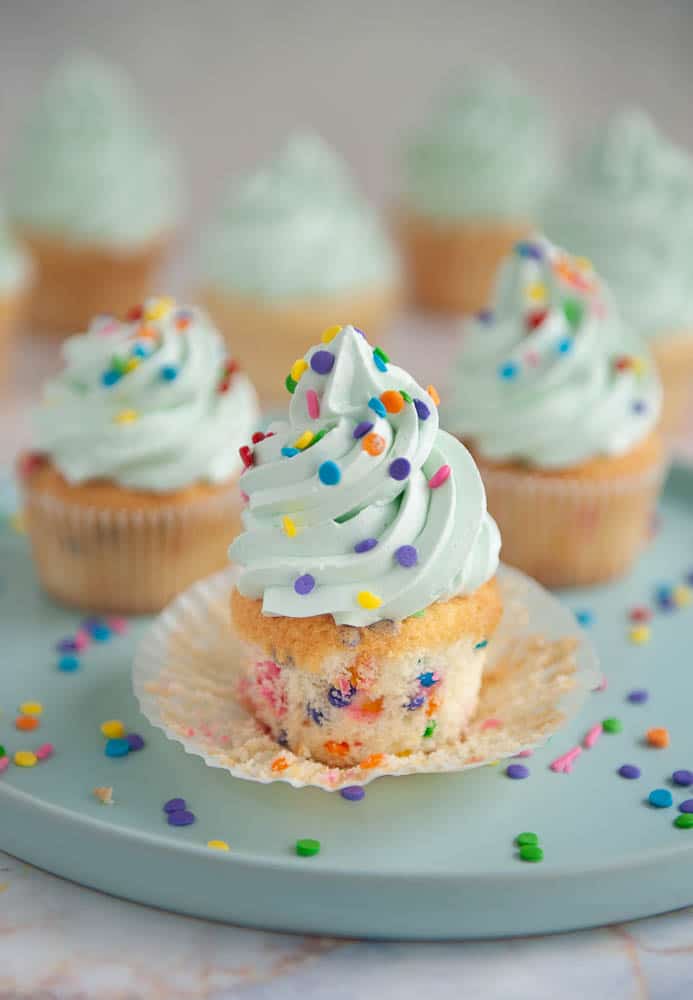 Why are my cupcakes sticky? If you cover your cupcakes with plastic wrap or put them in a container before they are completely cooled, condensation will collect on top of the cupcake and make it soggy.
Why do my cupcakes shrink? Cupcakes can shrink from over-mixing your batter, over-baking or too much fat/liquid in the recipe
Can you freeze cupcakes? Cupcakes can be frozen in ziplock bags for up to 6 months.
Related Recipes
Easy Buttercream Frosting
Chocolate Buttercream Frosting
Chocolate Ganache
White Velvet Cake
Chocolate Cupcakes
Did You Make This Recipe?
Leave a rating and tell me how it went!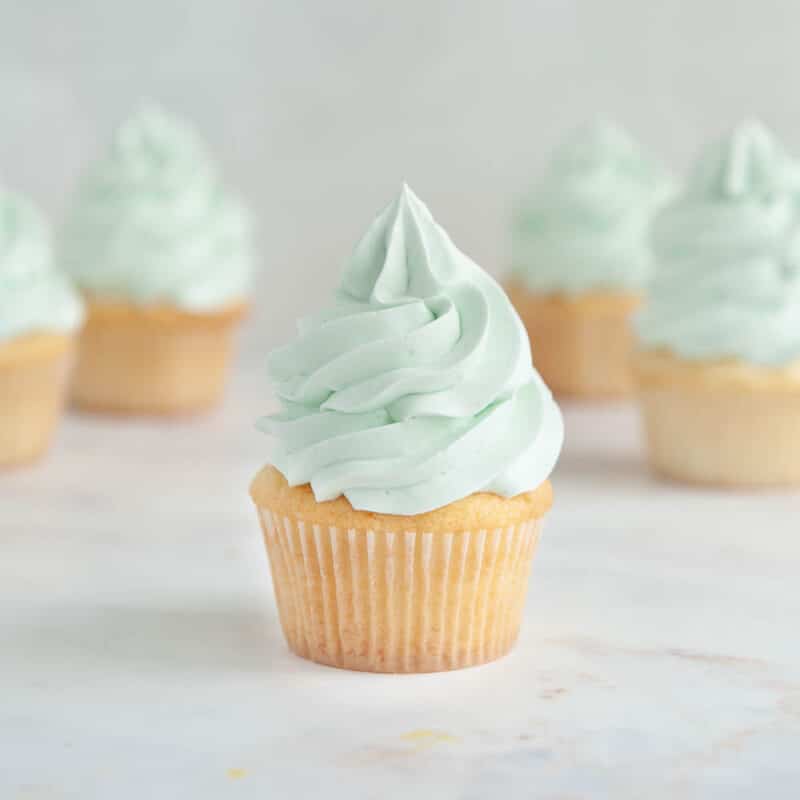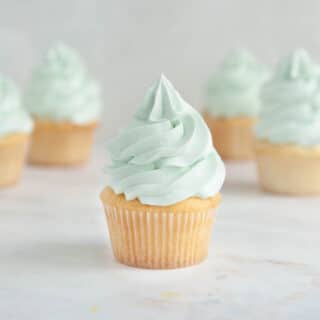 Moist & Fluffy Vanilla Cupcake Recipe
These amazing vanilla cupcakes get their flavor and velvety texture from buttermilk. A moist and fluffy cupcake that is great for any special occasion. This recipe makes about 24 cupcakes with vanilla frosting. 
Print
Rate
Never Miss A Cake
Ingredients
10

oz

(

284

g

)

cake flour

9

oz

(

255

g

)

granulated sugar

1/2

tsp

(

1/2

tsp

)

salt

2

tsp

(

2

tsp

)

baking powder

1/4

tsp

(

1/4

tsp

)

baking soda

2

large

(

2

large

)

eggs

room temperature

4

oz

(

114

g

)

vegetable oil

5

oz

(

142

g

)

buttermilk

room temperature or slightly warm

4

oz

(

114

g

)

butter

unsalted and softened

2

tsp

(

2

tsp

)

vanilla
Vanilla Frosting Recipe
24

ounces

(

680

g

)

unsalted butter

softened

24

ounces

(

680

g

)

powdered sugar

2

teaspoons

vanilla extract

1/2

teaspoon

salt

6

ounces

(

170

g

)

pasteurized egg whites

1

tiny

drop purple food coloring

(optional for whiter frosting)
Equipment
Stand Mixer

Paddle Attachment

Whisk Attachment
Instructions
Vanilla Cupcake Recipe
NOTE: It is SUPER IMPORTANT that all the room temperature ingredients listed above are room temperature and measured by weight so that the ingredients mix and incorporate correctly.

Heat oven to 350º F

Prepare your cupcake pan with cupcake liners

Combine the buttermilk and vanilla and set aside

Combine the oil and eggs. Whisk to break up the eggs. Set aside. 

Combine flour, sugar, baking powder, baking soda and salt and butter in the bowl of a stand mixer with the paddle attachment. Mix on low to combine until the mixture resembles coarse sand. 

Add in your milk mixture and let mix until dry ingredients are moistened and then bump up to med (setting 4 on my KitchenAid) and let mix for 1 1/2 minutes to develop the cupcake's structure. If you don't let your cake mix on this step your cake could collapse. 

Scrape your bowl and then reduce speed to low. Add in your egg mixture in three batches, letting the batter mix for 15 seconds between additions. 

Scrape down the sides again to make sure everything is incorporated the pour into prepared cupcake liners 2/3 full or 1.5oz batter per cupcake. Bake 16-20 minutes until the edges just begin to brown and the center bounces back when you touch it. Rotate the pan halfway through baking.

Let cupcakes cool fully before frosting
Vanilla Frosting Recipe
In the bowl of your stand mixer with the whisk attachment, whisk egg whites and powdered sugar on high for 1 minute

Reduce speed to low and add in your vanilla, salt and softened butter.

Increase speed to high and let the frosting whip until it's light, white and fluffy. Give it a taste, if it still tastes buttery, keep mixing. This can take 10-15 minutes. It might look curdled, keep mixing.

Add in optional purple food coloring. Switch to the paddle attachment and mix on low for 15 minutes (optional) to remove air bubbles and make your buttercream super smooth.
Notes
For the best rise, fill your liners 2/3 with cupcake batter or 1 1/2 ounces per cupcake
Make sure all your ingredients are at room temperature before mixing your batter (milk, butter, eggs). 
Preheat your oven to 350ºF for 30 minutes before baking to give your cupcakes a good rise and set the dome. 
Baked cupcakes can be frozen for up to 6 months. 
Nutrition
Serving:
1
cupcake
|
Calories:
209
kcal
(10%)
|
Carbohydrates:
25
g
(8%)
|
Protein:
2
g
(4%)
|
Fat:
11
g
(17%)
|
Saturated Fat:
7
g
(35%)
|
Cholesterol:
16
mg
(5%)
|
Sodium:
198
mg
(8%)
|
Potassium:
93
mg
(3%)
|
Sugar:
14
g
(16%)
|
Vitamin A:
195
IU
(4%)
|
Calcium:
40
mg
(4%)
|
Iron:
0.2
mg
(1%)