The perfect vanilla cupcake recipe makes a cupcake that is light, fluffy, moist and has a perfect dome
I think this is the perfect vanilla cupcake recipe because it's everything you want a cupcake to be. Lots of flavor in a little bite. The buttermilk adds a wonderful tang and the cupcake is so moist, I may have ate a couple without any frosting!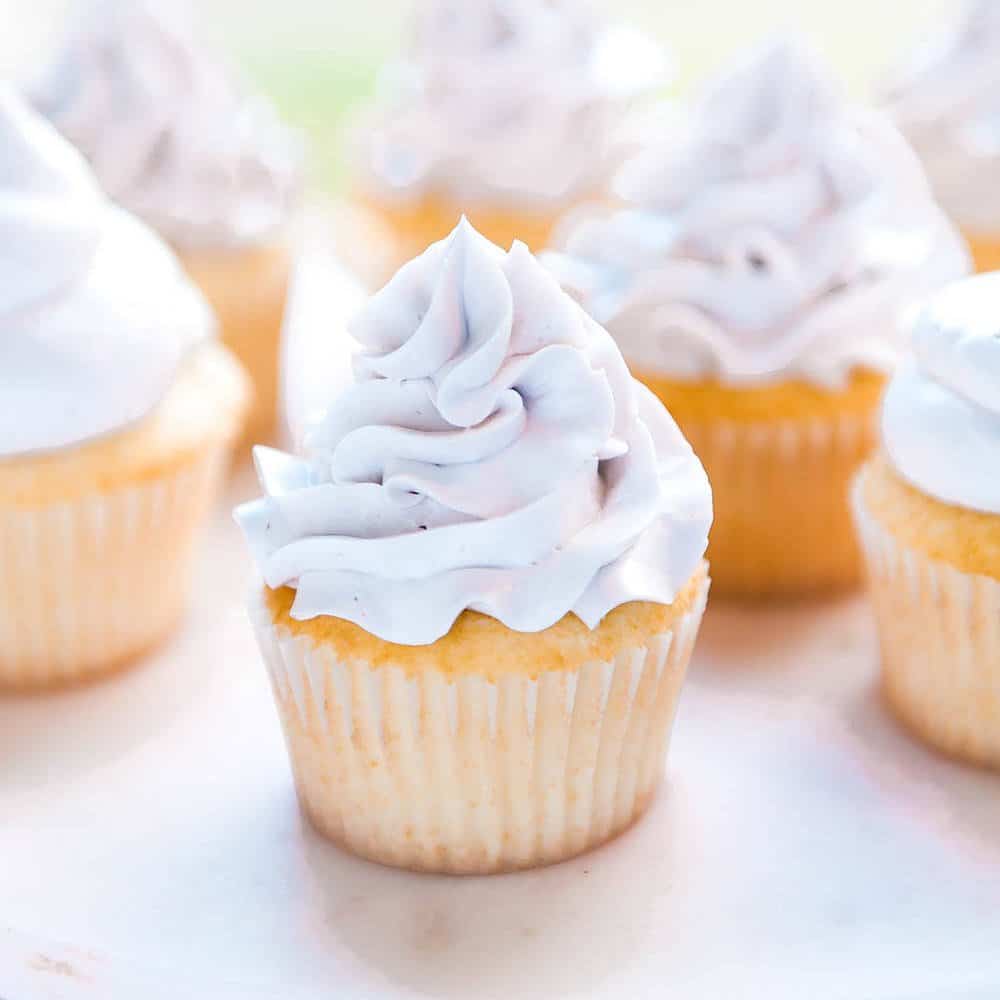 Why this is the best vanilla cupcake recipe ever!
I seriously LOVE LOVE LOVE this vanilla cupcake recipe because it's so versatile! You can combine it with strawberry buttercream to make strawberry shortcake cupcakes. You can frost them with some yummy chocolate ganache or chocolate buttercream if fruit isn't your thing. For lemon lovers, try filling your cupcakes with some lemon curd in piping bag and topping with fresh stabilized whipped cream!
You can add spices to the batter and make them into spice cake or you add a little lemon zest and some blueberries. This is seriously the most versatile cupcake recipe. I love it!
How to make moist vanilla cupcakes
The best way to make your cupcake recipe moist is the addition of a little oil. Oil keeps your cupcakes from drying out but if you add too much oil it can cause your liners to pull away from the cupcake after baking.
The buttermilk in this vanilla cupcake recipe also makes the cupcakes very moist. Buttermilk is acidic and actually breaks down the gluten in the flour, for a more tender cupcake.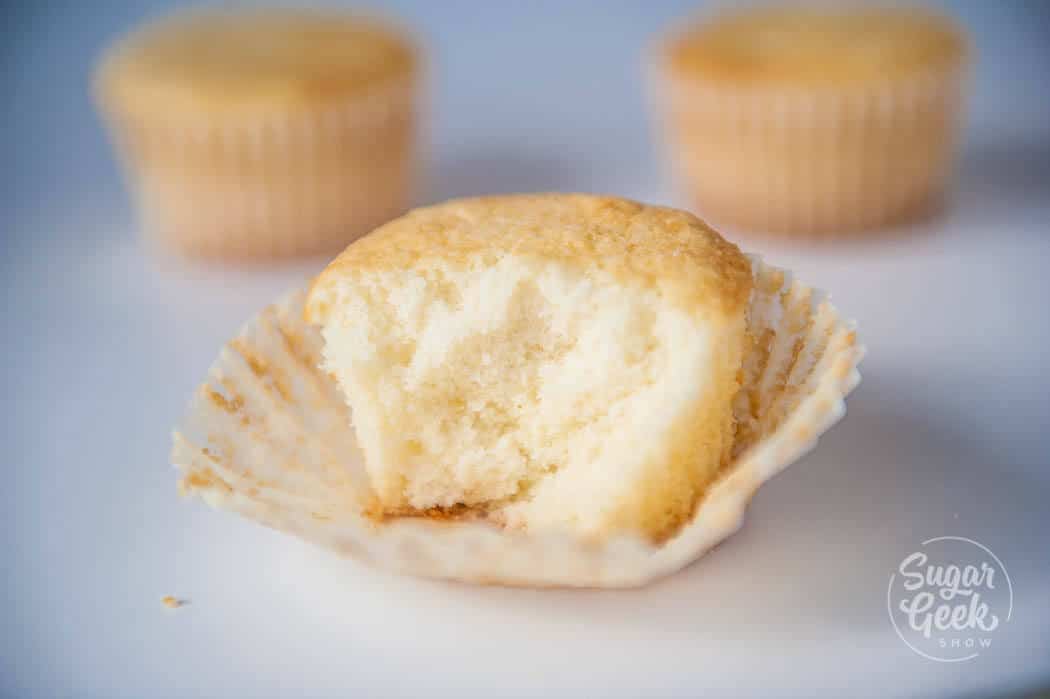 How to make a fluffy vanilla cupcake
If your vanilla cupcake recipe is too dense, the problem might be that your leavening (baking powder and soda) are off. Make sure they aren't expired. Following the mixing method is also super important. If you're used to making boxed mix cupcakes you might only be familiar with the one bowl method but most scratch made recipes require a specific type of mixing for the ultimate fluffy cupcake. My vanilla cupcake recipe uses the reverse mixing method.
Common cupcake problems and how to solve them
Why are my cupcakes flat? You might be baking at too low of a temperature. Try baking for 5 minutes at 400ºF then lowering the oven to 325ºF. This helps the cupcake develop a big dome before it sets.
Why do my cupcake liners pull away after baking? It could be that your recipe has too much oil or that your liners are not grease-proof. Your liners can also pull away if you are storing your cupcakes in a closed container and the moisture causes them to pull away.
Why are my cupcakes sticky? If you cover your cupcakes with plastic wrap or put them in a container before they are completely cooled, condensation will collect on top of the cupcake and make it soggy.
Why do my cupcakes shrink? Cupcakes can shrink from over-mixing your batter, over-baking or from leaving them in the pan for too long after baking.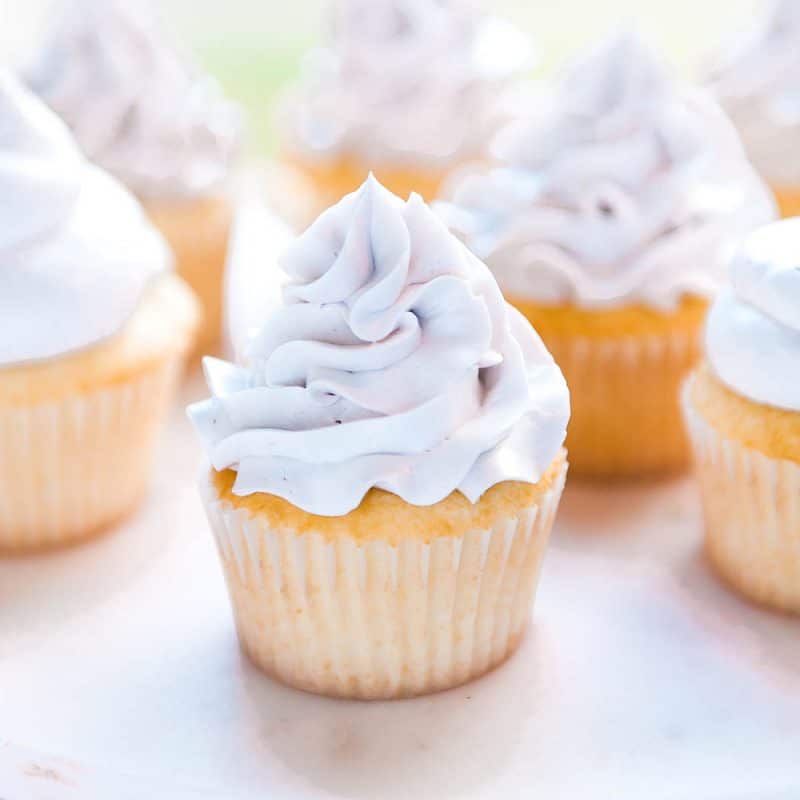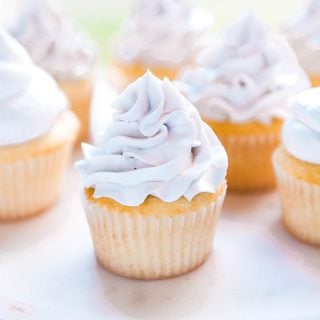 Vanilla Cupcake Recipe
These amazing vanilla cupcakes get their flavor and velvety texture from buttermilk. A moist, tender cupcake that is great for any special occasion. This recipe makes about 24 cupcakes.
Ingredients
10

oz

cake flour

10

oz

granulated sugar

1

tsp

salt

3

tsp

baking powder

1/2

tsp

baking soda

4

large

egg whites

room temperature

3

oz

vegetable oil

8

oz

buttermilk

room temperature or slightly warm

5

oz

butter

unsalted and softened

2

tsp

vanilla
Instructions
NOTE: It is SUPER IMPORTANT that all the room temperature ingredients listed above are room temperature and measured by weight so that the ingredients mix and incorporate correctly.

Heat oven to 350º F/177º C.

Prepare your cupcake pan with cupcake liners

Combine flour, sugar, baking powder, baking soda and salt in the bowl of .a stand mixer with paddle attachment. Mix 10 seconds to combine.

Combine egg whites, vanilla and 1/2 cup of milk in a measuring cup and whisk to combine. Set aside

Combine remaining milk and oil in a separate measuring cup and set aside.

Add your softened butter to the dry ingredients and mix on low until mixture resembles a coarse sand (about 30 seconds).

Add in your milk/oil mixture and let mix until dry ingredients are moistened and then bump up to med (setting 4 on my kitchenaid) and let mix for 1 1/2 minutes to develop the cakes structure. If you don't let your cake mix on this step your cake could collapse.

Scrape your bowl and then reduce speed to low. Add in your egg white mixture in three batches, letting the batter mix for 15 seconds between additions.

Scrape down the sides again to make sure everything is incorporated the pour into prepared pans. Bake 18-21 minutes until a toothpick inserted into the center comes out cleanly.

Let cupcakes cook fully before frosting
Nutrition Facts
Vanilla Cupcake Recipe
Amount Per Serving (1 g)
Calories 209
Calories from Fat 99
% Daily Value*
Total Fat 11g 17%
Cholesterol 16mg 5%
Sodium 198mg 8%
Potassium 93mg 3%
Total Carbohydrates 25g 8%
Protein 2g 4%
* Percent Daily Values are based on a 2000 calorie diet.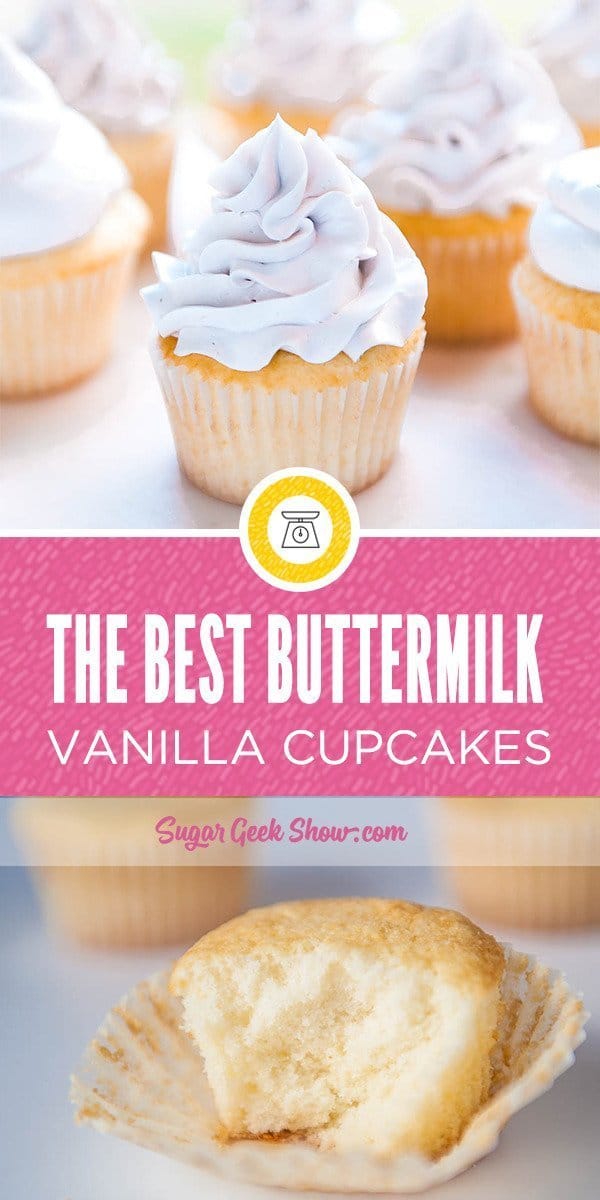 April 28, 2019