Strawberry buttercream recipe made with fresh, ripe strawberries and a hint of lemon makes a silky smooth buttercream packed with strawberry flavor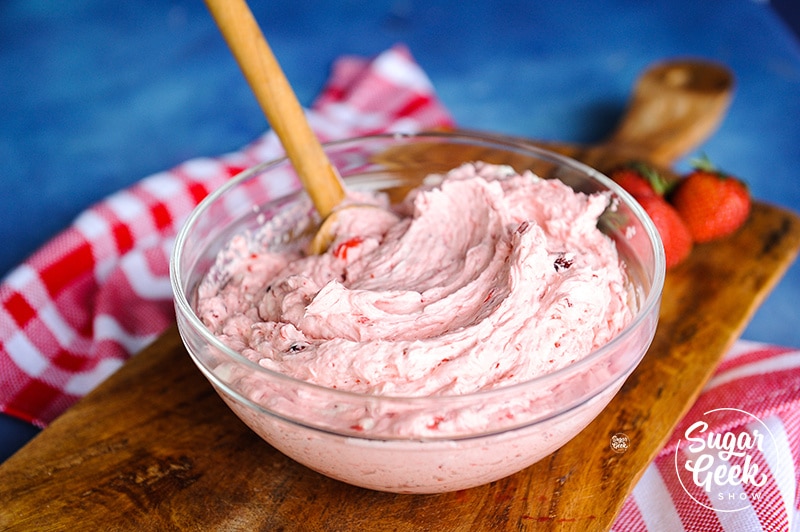 I love a strawberry buttercream recipe is made from fresh strawberries! When strawberries are fresh, juicy and warmed by the sun, there's nothing like it! You can harness this flavor by growing your own, going to a you-pick strawberry farm or you can buy frozen strawberries. Frozen strawberries are usually picked at the peak of ripeness (is ripeness a word) and then flash frozen to seal in that flavah. You can freeze strawberries yourself or you can even can them. Something I definitely want to try at some point!
To make a strawberry buttercream recipe successfully, the best way to start is with some yummy strawberry puree. The best strawberry puree is made from fresh strawberries or frozen that have been reduced so that there is not as much liquid in the strawberries but you still get all that delicious strawberry flavor. I like to add in some lemon zest to up that strawberry zing.
You got yourself some delicious, sweet, packed with strawberry flavor buttercream! This strawbery buttercream recipe pairs so well with so many cake flavors! Lemon cake, vanilla cake, even chocolate cake.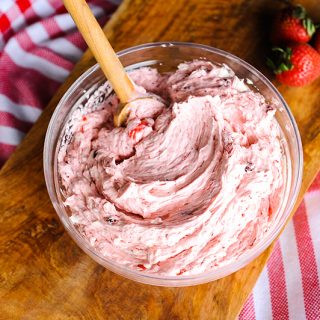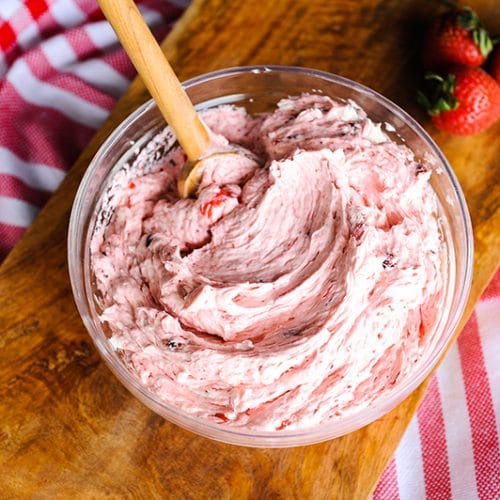 Fresh Strawberry Buttercream
Strawberry buttercream made with fresh strawberries that is sweet, juicy and so easy to make!
Ingredients
1

cup

strawberry puree

https://sugargeekshow.com/recipe/strawberry-reduction-recipe/

1

recipe

easy buttercream

https://sugargeekshow.com/recipe/easy-buttercream-recipe/

1

tsp

lemon zest
Instructions
Combine 1 cup strawberry puree with 1/4 cup of buttercream. Slightly melt in microwave for 15 seconds util buttercream begins to melt but isn't fully melted

Stir strawberries and buttercream together to create an emulsion

Combine the mixture with the remaining buttercream and add in lemon zest.

Because this buttercream has fresh fruit in it make sure it stays refrigerated. Store excess buttercream in the fridge or freeze for up to 6 months. Defrost buttercream in the fridge and re-whip before use.
February 27, 2018