Swiss meringue buttercream is not as sweet as regular American buttercream, very light and creamy
Swiss meringue buttercream is made from whipping up egg whites with sugar to make a thick meringue and then whipping in butter. This buttercream is extremely light, fluffy and not very sweet and goes really well with chocolate cake or vanilla cupcakes.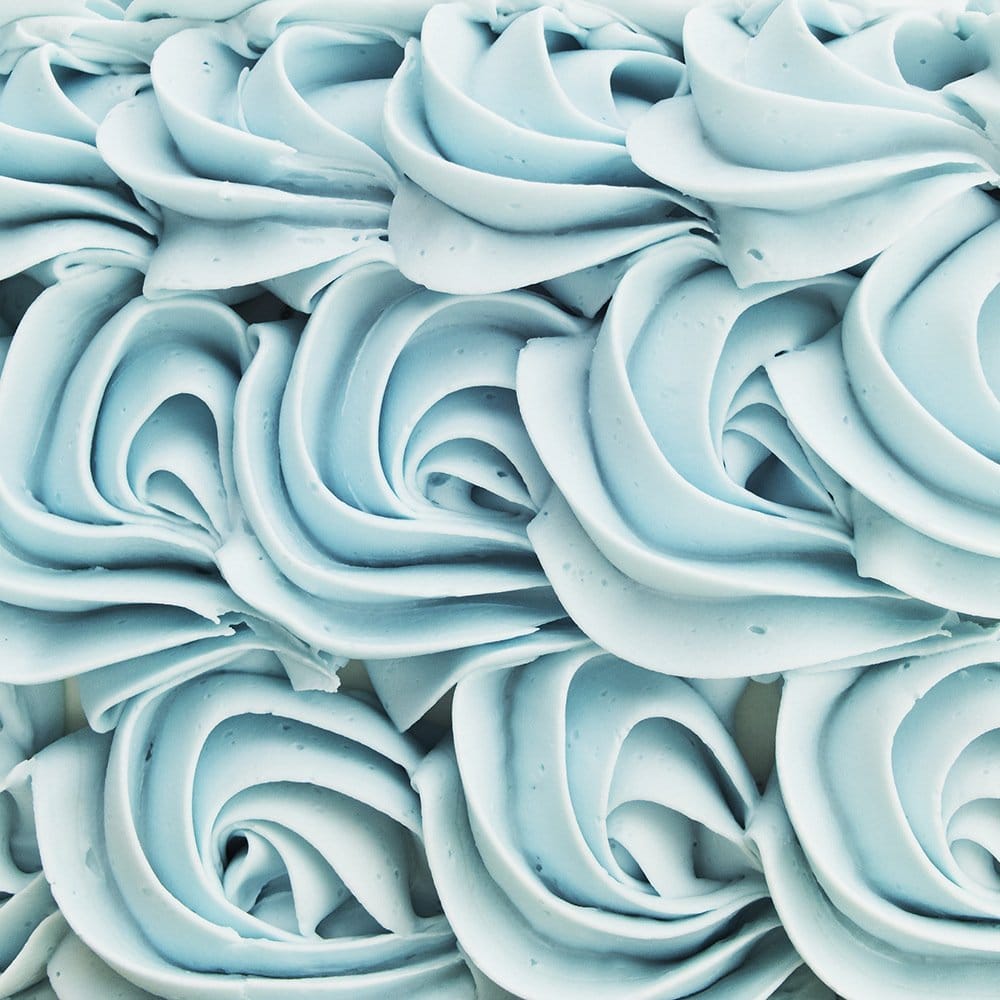 Swiss meringue buttercream was the first buttercream I learned to make in pastry school and I wish I had a photo of my face when I had my first taste. Up until that moment I had only experience American buttercream made with shortening (yuck). I could never get the buttercream smooth and wondered what I was doing wrong!
After trying Swiss meringue buttercream I was totally hooked! I used it as my main frosting for all cakes, cupcakes and wedding cakes in my cake decorating business. It was my secret weapon to hooking brides who had husbands who "didn't really like cake". That and my homemade marshmallow fondant recipe.
How do you make real Swiss Meringue Buttercream?
Making Swiss meringue buttercream is not hard but it can be time-consuming. It requires heating egg whites with sugar over a double boiler until the sugar dissolves. Then whipping the egg whites into a meringue and then whipping in butter. If you're in a hurry, try out my easy buttercream frosting recipe which does not require any heating of the egg whites because of the pasteurized egg whites (already heat treated). Leave a comment below if you JUST learned what pasteurized means lol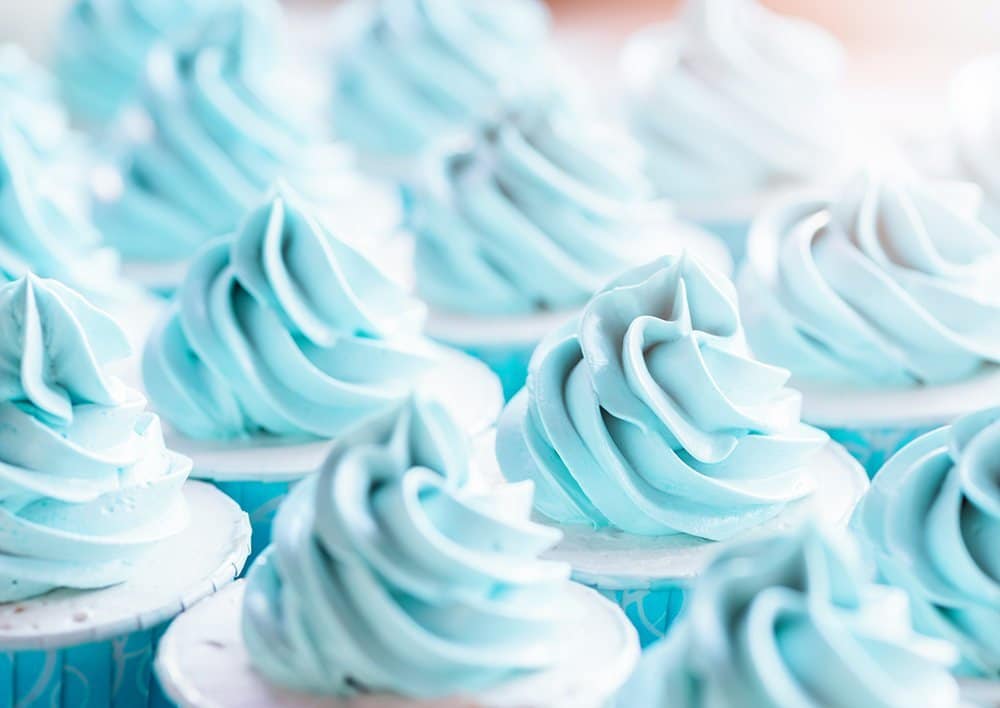 Mix together egg whites, sugar and salt in the bowl of a stand mixer.
Place bowl over a pot of barely simmering water. About 2 inches. Water should not touch the bottom of the bowl.
Whisk egg whites every 30 seconds or so to distribute heat evenly. Mixture is ready when it reaches 110ºF or when you can no longer feel any grains of sugar in the egg white.
Remove from the heat and attach to your mixer with the whisk attachment. Whip on high for 10-15 minutes or until you reach stiff glossy peaks.
Pour your meringue out into a shallow dish and pop into the fridge for about 10 minutes to cool the meringue. If you don't cool the meringue it will melt your butter. Then you'll have buttercream soup.
Once your meringue is cooled, put it back in your stand mixer bowl with the whisk attachment.
Turn the mixer onto med/low and add in your (softened) butter in chunks until it's all combined.
Add in your vanilla and salt. If you're flavoring your buttercream or making it chocolate, now is the time to add those flavorings.
Bump up the speed to med/high and whisk until your buttercream is WHITE and fluffy. It shouldn't taste buttery.
*note: you might have a slight yellowish tinge depending on the brand of butter you use. You can counteract a yellow tint by adding in a drop or two of violet food color gel.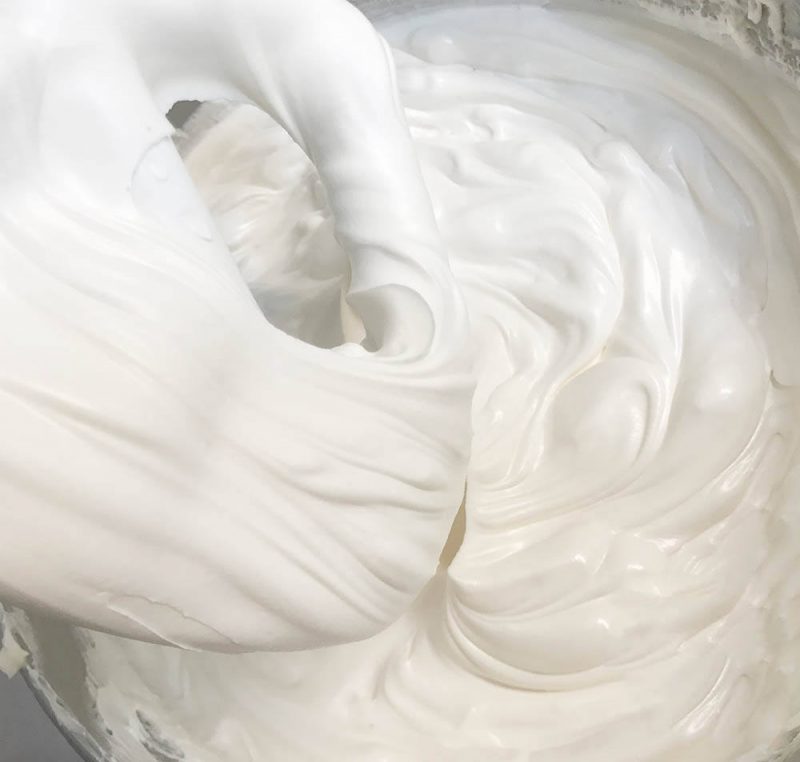 Frequently Asked Questions About Swiss Meringue Buttercream
Can you use Swiss meringue buttercream under fondant? Yes you can! Swiss meringue is very stable and makes a great base for using under fondant. I always refrigerate my buttercream cakes first before covering to prevent bulging.
What's the difference between Italian buttercream and Swiss meringue buttercream? Italian buttercream is very similar to Swiss meringue but it is more stable. It's more stable because it involves boiling sugar to hard crack stage and then drizzling it into your whipping egg whites. This makes the meringue very firm.
Will Swiss meringue buttercream melt? Although Swiss meringue buttercream is more stable than using whipped cream, it is still susceptible to high heat. It's main ingredient is butter after all and butter WILL become very soft at around 80ºF and will melt fully at 90º. So it WILL melt but so will any buttercream.
Can you put Swiss meringue buttercream in the fridge? Yes, absolutely. You can refrigerate cakes with buttercream on them, you can store buttercream leftovers in the fridge for up to a week and you can freeze leftover buttercream for 6 months. Make sure you bring buttercream back to room temperature and re-whip to get it nice and fluffy again before you use it.
How long can you leave Swiss meringue buttercream out? Swiss meringue buttercream is ok to be left out for hours and hours. After about 8 hours it can get spongy though and loose it's smoothness so it's best to refrigerate if you're not going to use it and then re-whip it. Cakes that are frosted in Swiss meringue buttercream can be left at room temperature for two days!
Can you make Swiss meringue buttercream chocolate? Yes you can by adding in 1/4 to 1/2 cup of your favorite cocoa powder. Just whip it in at the end.

Cake Batter and Frosting Calculator
Select an option below to calculate how much batter or frosting you need. Adjust the servings slider on the recipe card to change the amounts the recipe makes.
Choose a pan type
Choose a cake pan size
(based on 2" tall cake pan)
Choose a cake pan size
(based on 2" tall cake pan)
Choose a cake pan size
(based on 2" tall cake pan)
Cups of Batter Needed
8 cups
Cups of Frosting Needed
5 cups
Did You Make This Recipe?Leave a rating and tell me how it went!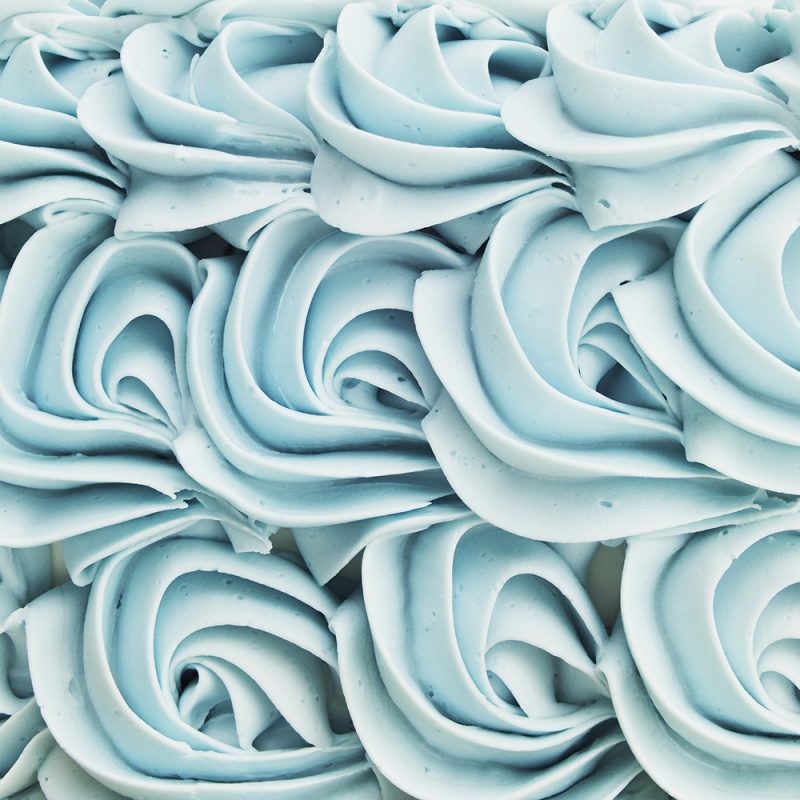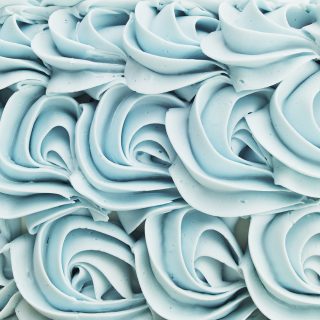 Swiss Meringue Buttercream (SMBC)
Swiss meringue buttercream is a very stable, light, and fluffy buttercream that is not too sweet. It's easy to make and amazingly delicious! The texture is smooth and silky, and it melts in your mouth. The perfect compliment to your cakes and cupcakes! 
Print
Rate
Never Miss A Cake
Serves: 8 cups
Calories: 141kcal
Ingredients
Swiss Meringue Buttercream Ingredients
8 ounces (227 g) fresh egg whites about 8
16 ounces (454 g) granulated sugar
24 ounces (680 g) unsalted butter room temperature. You can use salted butter, but it will affect the taste and you need to leave out additional salt
2 teaspoons vanilla extract
1/2 teaspoon salt
Instructions
Making Swiss Meringue Buttercream
Notes
Important Things To Note Before You Start
Bring all your unsalted butter to room temperature.
Use a scale to weigh your ingredients (including liquids) unless otherwise instructed (Tablespoons, teaspoons, pinch etc). Metric measurements are available in the recipe card. Scaled ingredients are much more accurate than using cups and help ensure the success of your recipe. 
Practice Mise en Place (everything in it's place). Measure out your ingredients ahead of time and have them ready before you start mixing to reduce the chances of accidentally leaving something out.
Chill your cakes or whatever you are decorating with your buttercream before you begin frosting and filling. 
Making this buttercream is not hard, but it can be time-consuming. This buttercream requires heating egg whites with sugar over a double boiler until the sugar dissolves, and then whipping the egg whites into a meringue (and then whipping it into butter). If you want an easier recipe that skips heating the egg whites, check out my mock-SMBC recipe for easy buttercream.
Nutrition
Serving: 4oz | Calories: 141kcal (7%) | Carbohydrates: 9g (3%) | Fat: 11g (17%) | Saturated Fat: 7g (35%) | Cholesterol: 30mg (10%) | Sodium: 34mg (1%) | Potassium: 11mg | Sugar: 9g (10%) | Vitamin A: 355IU (7%) | Calcium: 4mg