Pink champagne cake that is light and fluffy with a touch of sweetness from real champagne!
Pink champagne cake is a great cake to use for any celebration. There is just something about those pink layers of cake that scream celebration! I made this pink champagne cake for New Years Eve but it's really a great flavor of cake for any time. Paired with my easy buttercream frosting, it's sure to please anyone!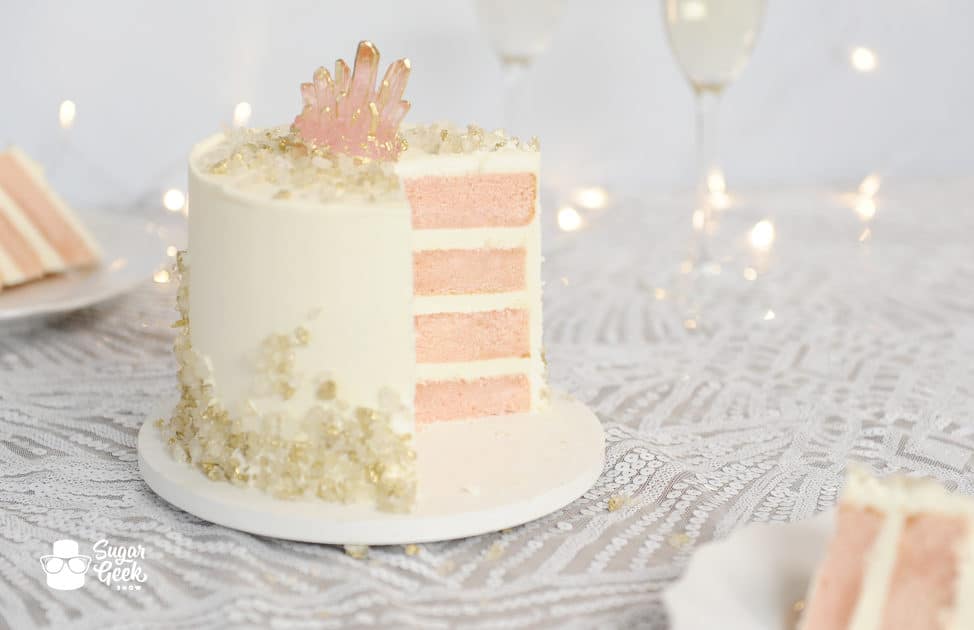 What does pink champagne cake taste like?
Well, funny you should ask. Pink champagne cake tastes like… Champagne! While to many it doesn't taste exactly like picking up and drinking a glass of fancy champagne, it does have a distinct taste that has a notes of sweet vanilla flavor with a bit of tangy-ness mixed in.
What filling should I use with a pink champagne cake?
Pink champagne cake is pretty versatile as far as fillings go but it does traditionally pair best with fruit fillings and a light buttercream like my easy buttercream frosting. It also pairs well with strawberry and white chocolate buttercream.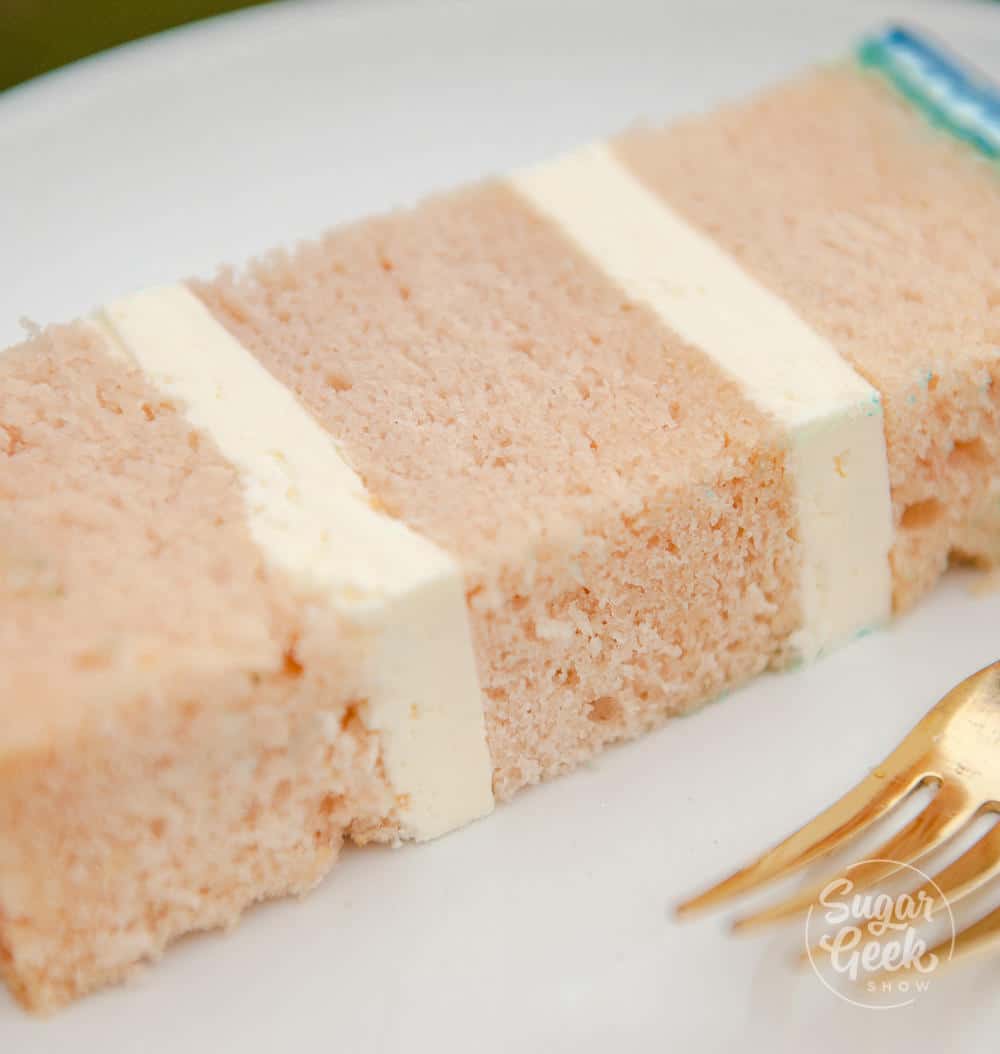 Does a pink champagne cake have alcohol in it?
Without getting into the science of it all, the answer is yes. When you are baking 6″ or 8″ layers, the cake will retain about 10% of the alcohol content. 10″ cakes or larger the alcohol will bake out. If you are concerned about having any alcohol remain in your cake, you can use a pink champagne flavoring instead of real pink champagne. I use Lorann Oils Sparkling Wine Flavoring.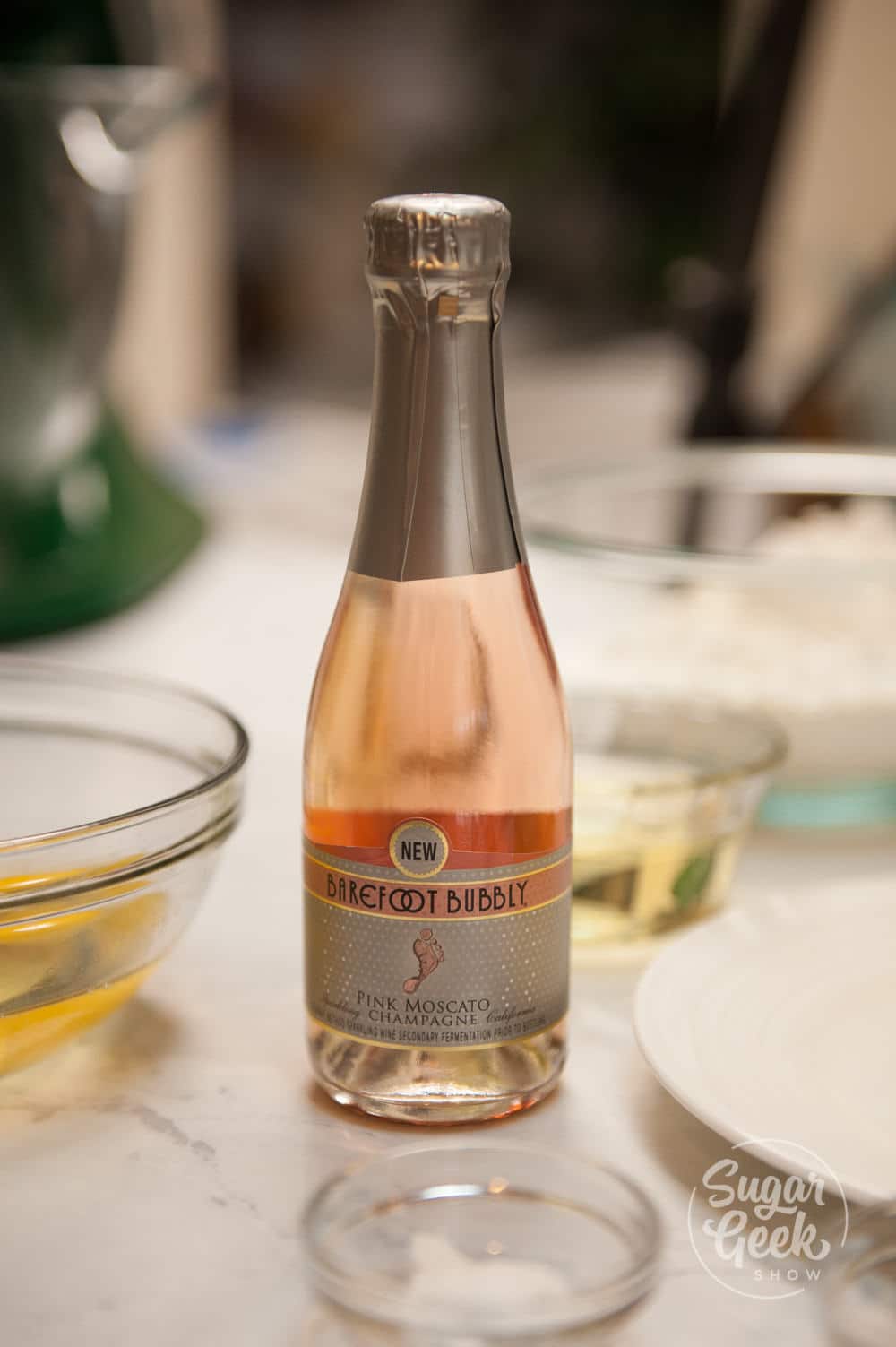 Pink champagne cake is no new recipe but finding a good one can be challenging. First of all, have you ever had a pink champagne cake that actually tasted like champagne? Probably not.
I have been tweaking my old pink champagne cake recipe for the last few months in anticipation for a big New Years Eve party and I don't wanna brag (ok I'm gonna brag a little) but this is the most DELICIOUS and moist pink champagne cake ever and is packed full of real champagne flavor!
You wanna know the secret?
Sparkling wine loran oils candy flavoring. (affiliate link)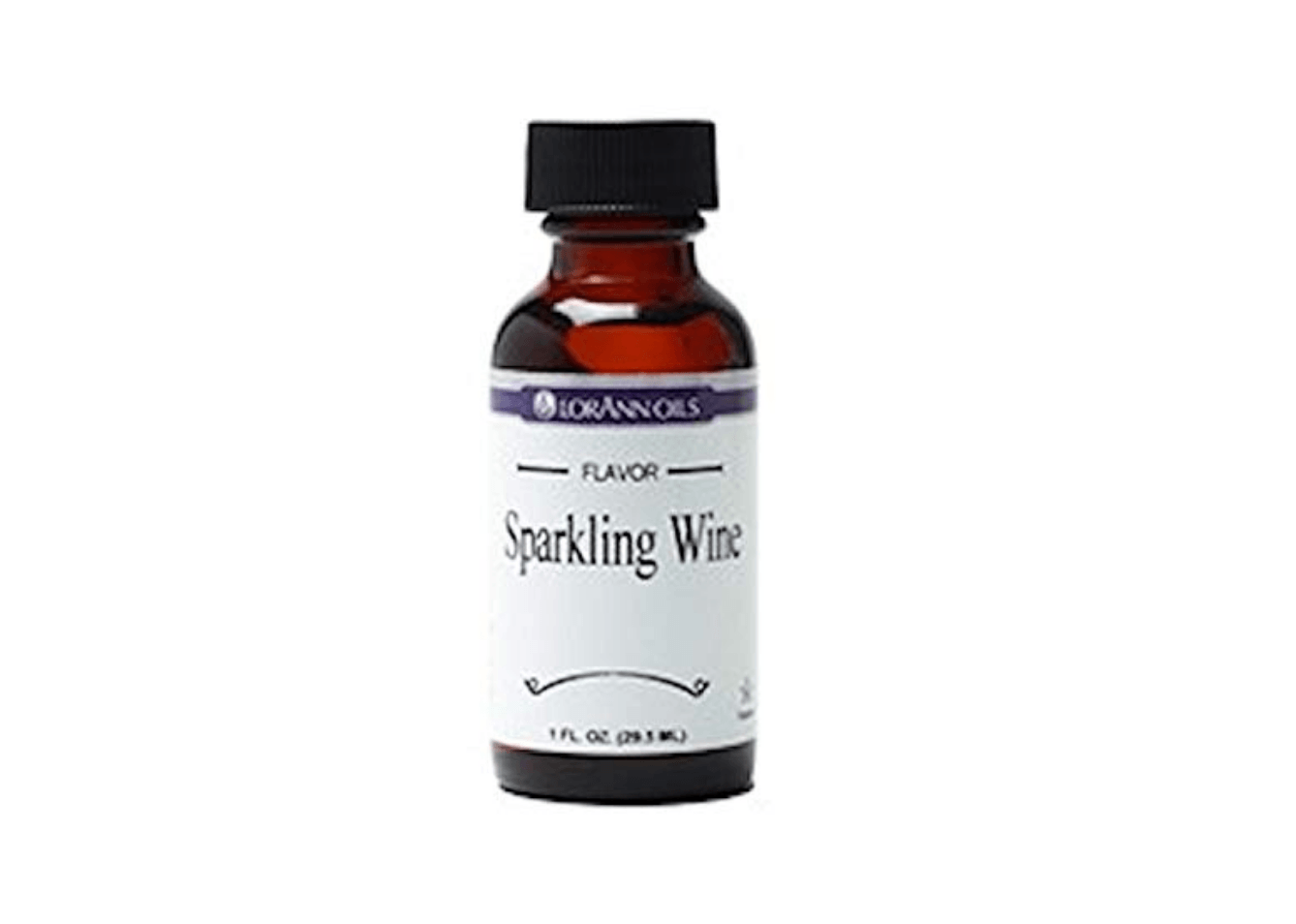 Talk about a "OH DUH" moment! When you bake with straight champagne, all the flavor bakes out along with the alcohol so this bit of flavoring is key to that special taste!
Best part is that the oil is not too expensive and you only need a few drops. If you plan on making lots of champagne cake though I would recommend going ahead and buying the big bottle.
How To Decorate Your Pink Champagne Cake
Of course you can decorate your champagne cake any way you like but this is how I decorated mine!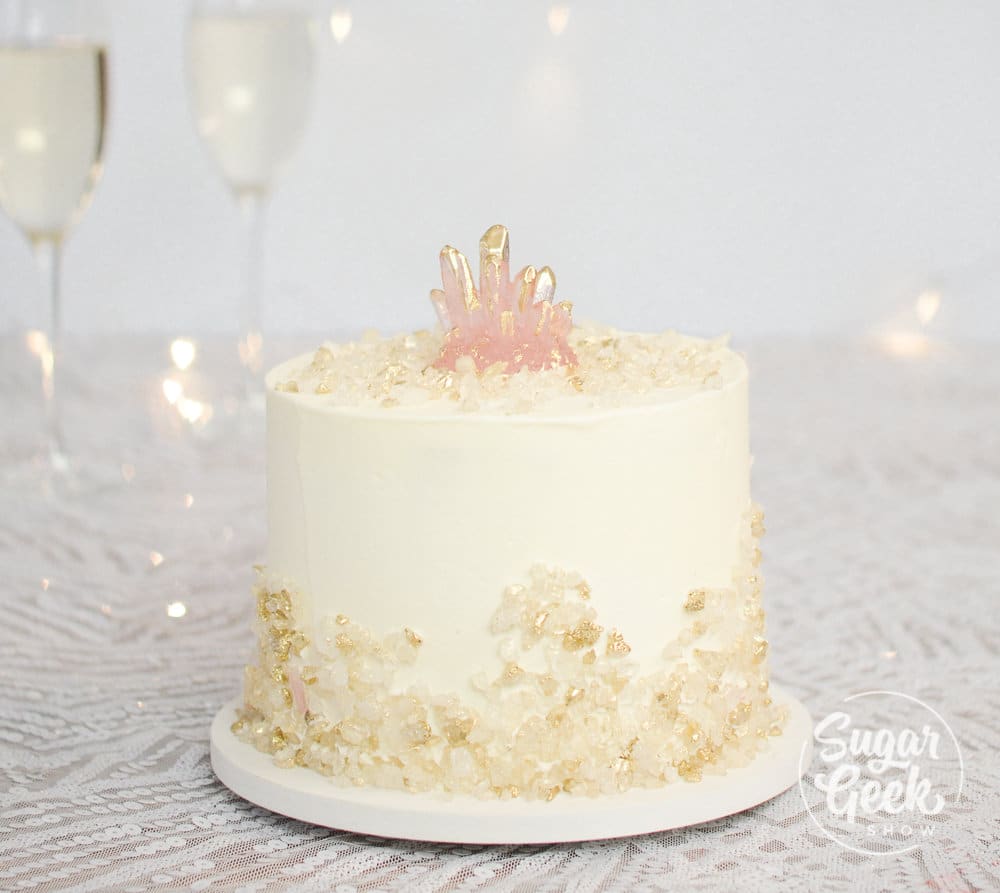 First I combine about a tsp of Truly Mad Plastics super gold with 1/4 tsp of everclear (or you can use vodka or lemon extract). It should resemble paint consistency. I put a couple of drops of the gold into a bowl of rock candy so they are sort of roughly coated. Pick up the cake in your left hand and scoop up handfuls of the rock candy with your right and press it onto the sides of your cake all around the bottom edge, let the excess fall back into the bowl.
Next I color some clear simicakes isomalt a light pink by melting it down and adding one tiny dab of electric pink food color with a toothpick. Pour the melted isomalt into a medium crystal mold and let cool completely. You can put it in the fridge to make this go faster. Once the mold feels cold, it's safe to take out your candy crystal.
Once the crystal is set, I painted the edges with some more gold.
Place the crystal on top of your cake and sprinkle on some more rock candy! All done!
If you make this recipe, please let me know what you think!
Ps, I think that the best buttercream to pair with this cake is the white chocolate buttercream recipe and some fresh strawberries!

Cake Batter and Frosting Calculator
Select an option below to calculate how much batter or frosting you need. Adjust the servings slider on the recipe card to change the amounts the recipe makes.
Choose a pan type
Choose a cake pan size
(based on 2" tall cake pan)
Choose a cake pan size
(based on 2" tall cake pan)
Choose a cake pan size
(based on 2" tall cake pan)
Cups of Batter Needed
8 cups
Cups of Frosting Needed
5 cups
Did You Make This Recipe?Leave a rating and tell me how it went!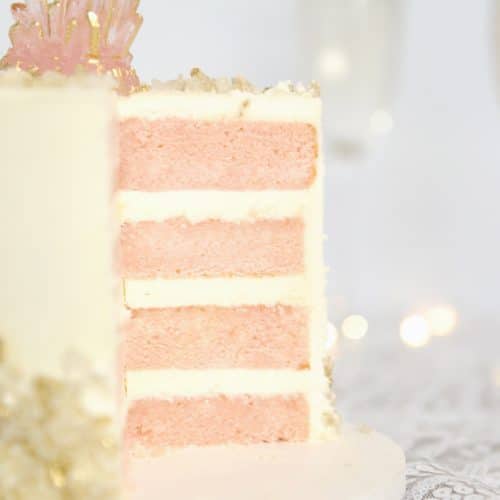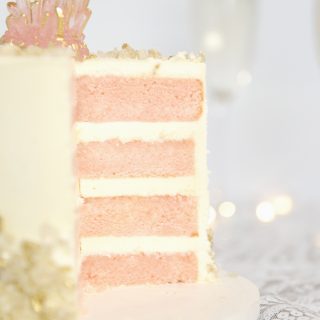 Pink Champagne Cake
When you need a special cake for a special occasion, nothing says party like pink champagne. Combine this delicious cake with fresh strawberries and white chocolate buttercream for the ultimate dessert.
Print
Rate
Serves: 60 oz
Calories: 794kcal
Ingredients
12 oz (340 g) AP Flour
10 oz (284 g) sugar
8 oz (227 g) unsalted butter
2 tsp (2 tsp) baking powder
1/4 tsp (1/4 tsp) baking soda
1/2 tsp (1/2 tsp) salt
1 tsp (1 tsp) vanilla extract
1 tsp (1 tsp) sparkling wine candy flavor (optional) affiliate link: https://a.co/74ZOSgf
4 (4 ) large eggs room temp
6 oz (170 g) champagne room temp
2 oz (57 g) vegetable oil
1-2 drops (1-2 drops) electric pink food color
Easy Buttercream Frosting
8 oz (227 g) Pasteurized Egg Whites
32 oz (907 g) Unsalted Butter
32 oz (907 g) Powdered Sugar
1/2 tsp (1/2 tsp) salt
1 tsp (1 tsp) vanilla
Instructions
Preheat oven to 350F. Make sure all of your ingredients (champagne, eggs, butter) are at room temperature

Place butter in a stand mixer with the paddle attachment and mix on low until smooth and creamy. Sprinkle in sugar and turn up to medium and let mix until very light in color and fluffy (about 8-10 mins)

Combine your flour, salt, baking powder, baking soda and sift. Set aside

Combine your champagne, oil, food color and flavorings. Whisk to combine and set aside

Once your sugar is ready, add in your eggs ONE AT A TIME. Letting mixture mix for one full minute after each egg is added before adding the next egg.

Add in 1/3 of your flour to your butter/egg mixture and once combined, add in 1/2 of your liquid, then flour, then liquid, then flour. Let mix just until everything is combined.

Divide into two 8" round pans. Bake for 25-30 mins until a toothpick comes out clean. 

Let cakes cool in the pan for 15 minutes then flip out onto a cooling rack to cool another 15 minutes or so. Wrap in cling wrap and chill overnight before frosting or place in the freezer for about 1 hour before frosting and decorating your cake
Easy Buttercream Instructions
Place egg whites and powdered sugar in the bowl of your stand mixer with the whisk attachment attached and whip on high for 5 minutes

Start adding in your butter (softened) in chunks while it's whipping until all the butter is added. Add in your salt and vanilla

Continue whipping until buttercream does not appear curdled and is fluffy and white

(OPTIONAL) switch to the paddle attachment and mix on low for 10-15 minutes to remove bubbles from the frosting. Frosting will be soft and this is normal.
Nutrition
Serving: 4oz | Calories: 794kcal (40%) | Carbohydrates: 91g (30%) | Protein: 9g (18%) | Fat: 43g (66%) | Saturated Fat: 28g (140%) | Cholesterol: 190mg (63%) | Sodium: 455mg (19%) | Potassium: 293mg (8%) | Fiber: 1g (4%) | Sugar: 47g (52%) | Vitamin A: 1105IU (22%) | Vitamin C: 0.2mg | Calcium: 108mg (11%) | Iron: 3.5mg (19%)