How To Make A Wedding Cake
Everything I wish I had known when I made my first wedding cake back in 2009. From the tools to the techniques! I'm re-making my first wedding cake disaster and showing you how to make a wedding cake successfully the first time around.
I recommend you read the whole blog post before you start making your wedding cake and be sure to check out the video tutorial at the end of this post.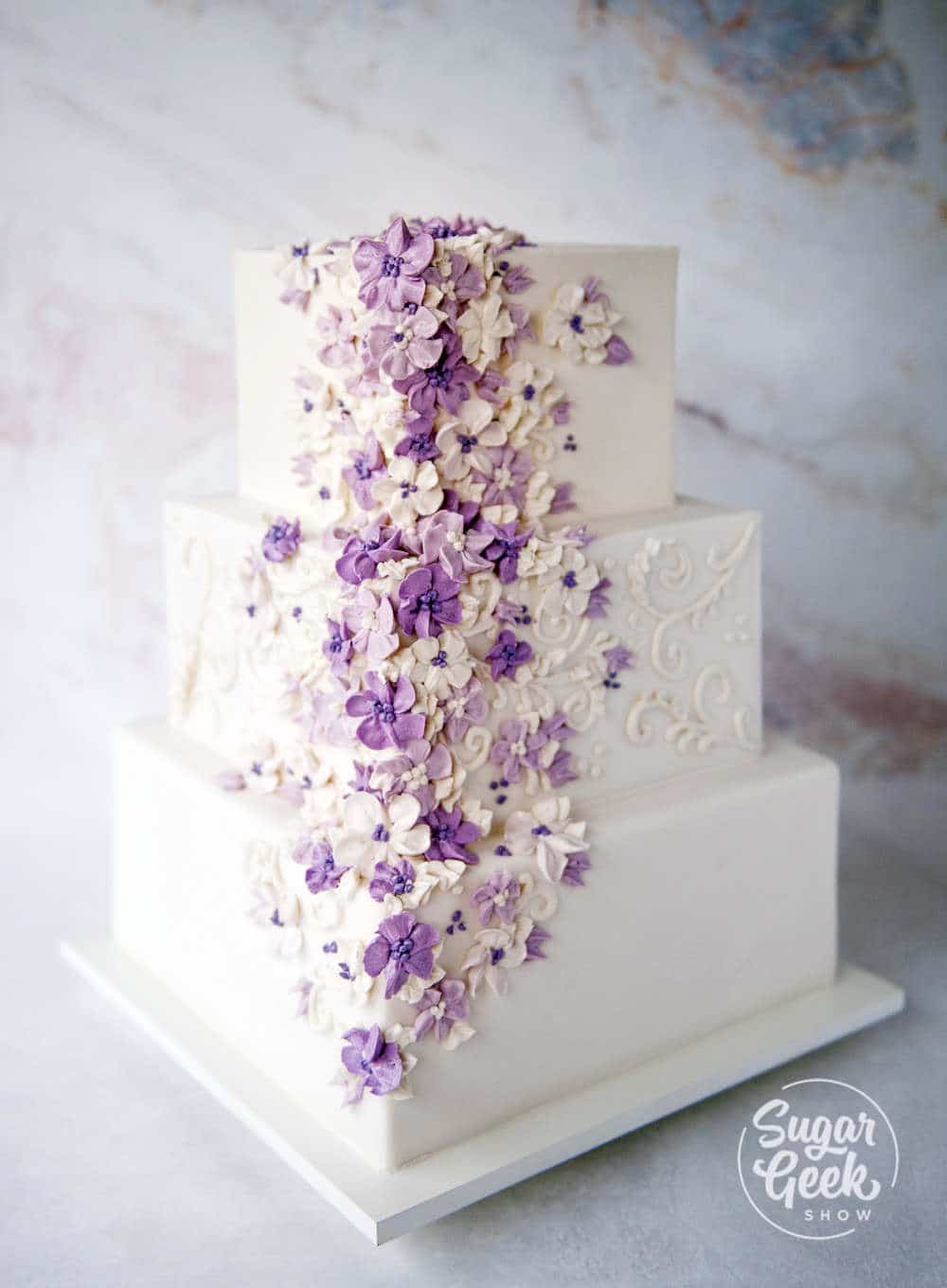 My First Wedding Cake Disaster
I was actually proud of this cake when I made it. It was the first wedding cake I ever made back in 2009! The cake was a 12"-10"-8." The 12" cake cracked because I didn't level the layers so I baked a new one. Then I proceeded to stack the new cake WARM! You can imagine what happened next. Yep, it cracked again. UGH!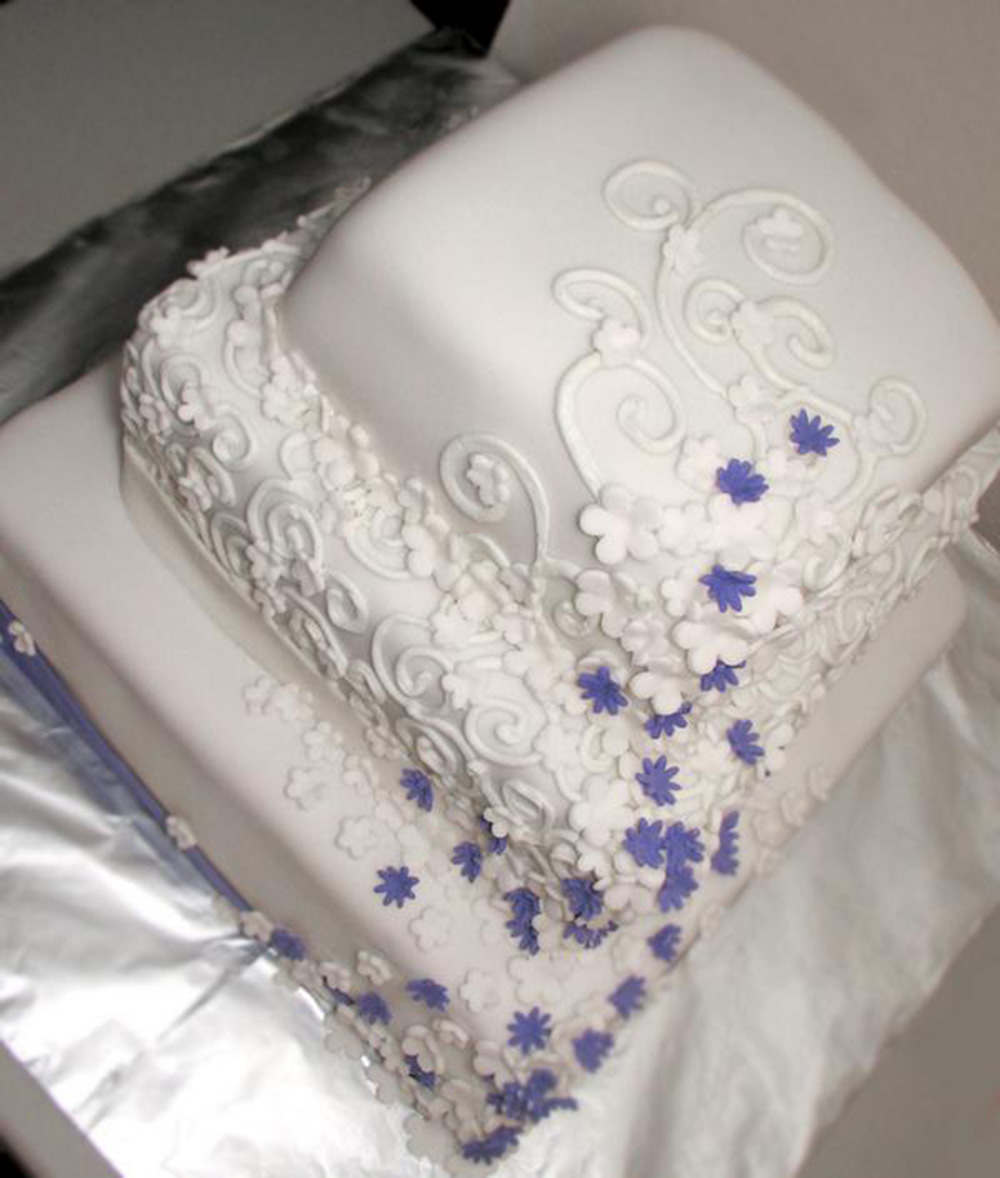 Then Dan drove this unchilled wedding cake for two hours to an outdoor beach wedding. Bumps and turns and car vibrations led to that bottom tier turning into a warm crumbly mess.⁠⁠ Needless to say, this cake did not do so well. OH the things I wish I knew when I was a beginner!
I had no idea about how to stack and frost a cake. How to get sharp corners or chill my cakes and definitely not how to cover square cakes in fondant as you can see by my lopsided mess. ⁠The worst part was that I KNEW it looked bad but I didn't know how to fix it.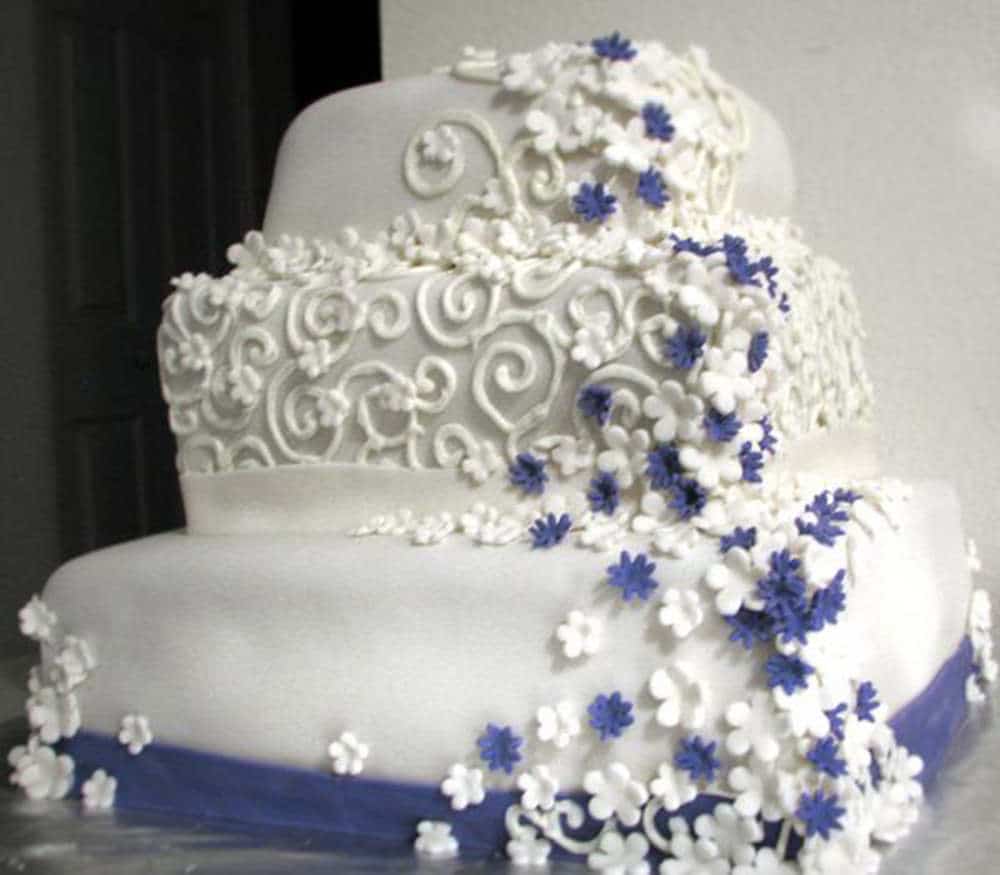 ⁠If you struggle with any of these things, this is the blog post for you.
Recently I posted a picture on social media of this first wedding cake to show that everyone starts from somewhere. People were joking saying that I should remake it, so I took that challenge!
There are so many things that I wish I would have known back then. There was no social media for me to learn from, only books! Books that would say, "stack your layers, frost, and make it smooth." I had no idea what that meant and why my cakes didn't match the photos in the books. But that didn't stop me haha!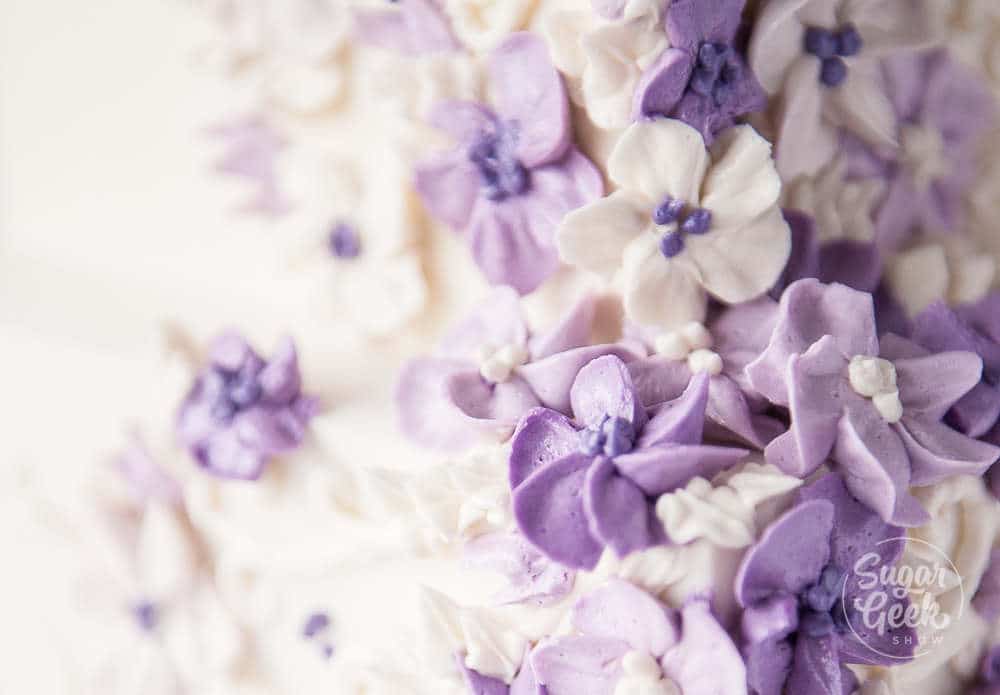 Wedding Cake Timeline
When I'm baking wedding cakes for a Saturday delivery, I will typically start baking on Wednesday, and then get everything crumb coated and frosted on Thursday, so then I have all Friday to decorate.
I always try to get my cakes fully decorated the day before they are due so that if I run into problems, I have time to fix them. Here is my rough timeline for decorating a wedding cake.
On Tuesdays, I also look at my cake orders for NEXT week to see if I need to order anything online.
Tuesday – Review my cake design to see if I need to order anything and make my shopping list.
Wednesday – Grocery shopping for supplies, make my frosting and fondant.
Thursday – Bake my cakes, chill them in the freezer, fill them and get them crumb-coated and resting in the refrigerator.
Friday – Apply the final coat of buttercream to the cakes and store them in the refrigerator. Make buttercream flowers and put them into the freezer. Assemble and decorate the cake.
Saturday – Deliver cake. Obviously, if your cake is due on another day you can adjust this timeline.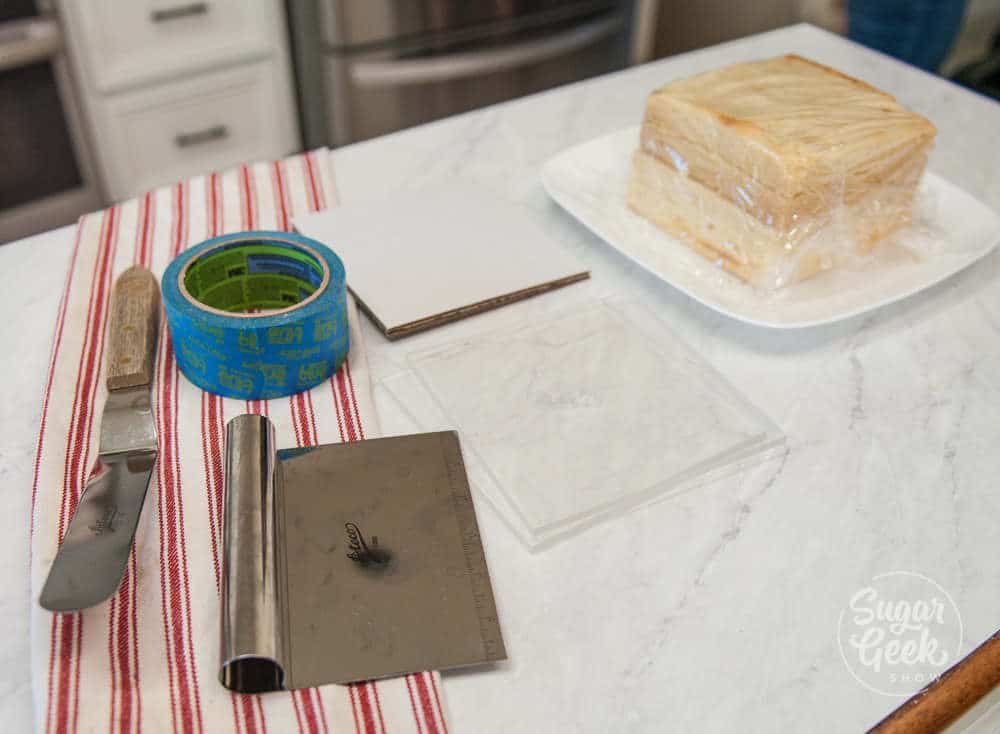 What You Need To Make A Wedding Cake 
This is what I used to make this wedding cake. Of course, if you're working off your own design, you might need different sized boards, colors or amounts of frosting/cake.
Edible Materials
I covered my cakes in fondant using the paneling method but you can also use the one-piece method.
White cake layers, baked, chilled and wrapped (I made two double batches of my white cake recipe to get two 10", two 8" and two 6" square layers. All 2" tall.
10 lbs of white fondant (I made two batches of my LMF Marshmallow Fondant or you can use any store-bought fondant you like. I prefer Renshaw Americas brand.
Easy buttercream frosting (I made two double batches of frosting)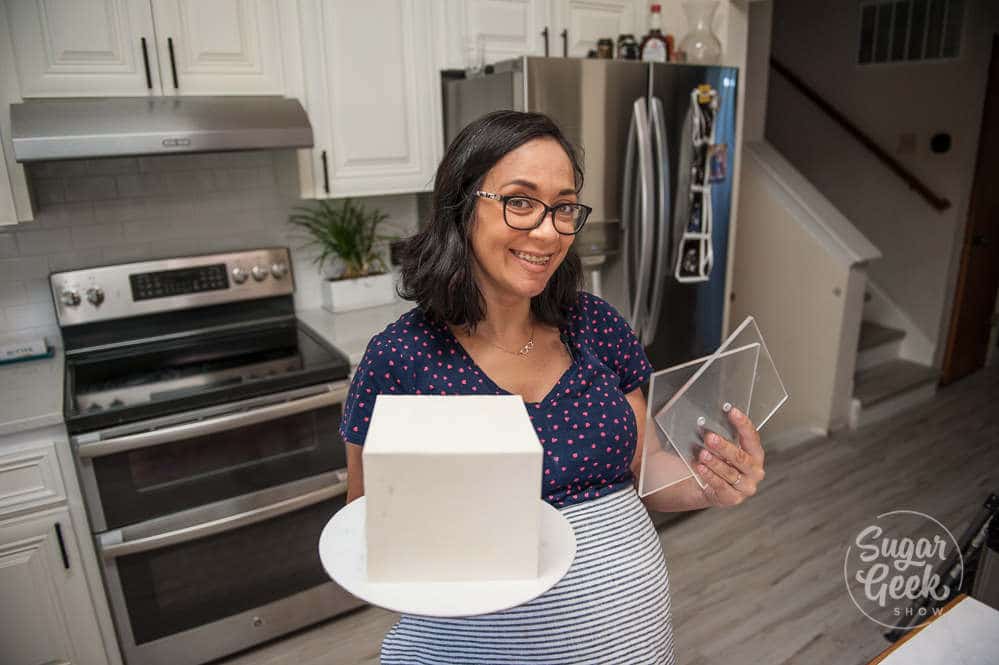 Recommended Tools 
I used acrylics to get my cakes really square but it's optional. You can also try frosting your cakes with the upside-down method which I used for years but takes a little bit longer.
10", 8", and 6" square cake pans, 2" tall. I have magic line pans.
Parchment paper
10", 8", and 6" square acrylics (optional)
Brand new razor blade
Square cake cardboards (If you're using acrylics, cut your boards to be 9.5" X 9/5,"  7.5" X 7/5," and 5.5" X 5.5")
Large serrated knife
Offset spatula
Bench scraper
Thick plastic milkshake straws
12" wooden cake board or cake drum (I like cake boards avare) Do not use flimsy cardboard to support your 3 tiered cake or it could crack and collapse)
Piping tips for buttercream flowers - #4 round, #366 small leaf tip, #104 petal tip
Flower Nail
Turntable extender (optional but makes it easier to frost large layers)
Fondant Smoothers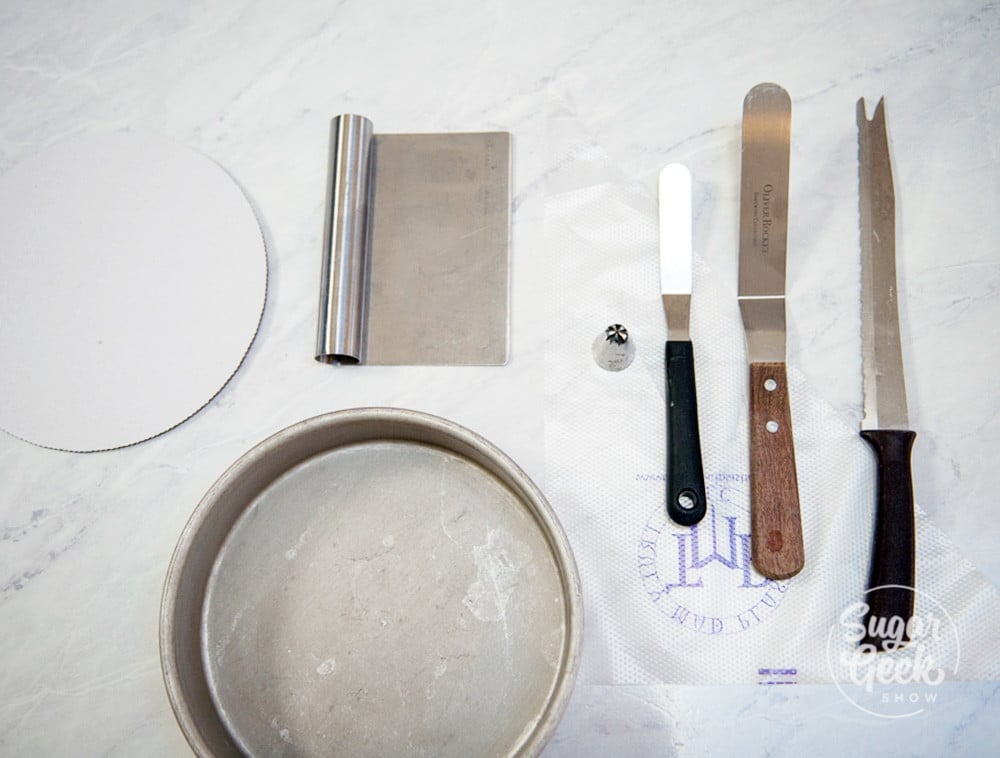 How To Bake Wedding Cake Layers
I'm using my white cake recipe but any of my cake recipes can be used instead. Some basic rules for baking wedding cake layers successfully.
Use good quality cake pans. I like fat daddio or magic line to ensure evenly baked cakes with straight edges.
Box mix may be easier to use but it's so light and fluffy it falls apart really easily. If you want to use box mix, try WASC which has butter added and makes the cake denser and more like homemade.
I fill my pans about ¾ of the way full and I like to weigh each pan to be sure they all have the same amount of cake batter so they bake evenly and end up the same height.
After you bake your cakes, let them cool for 10-15 minutes in the pan before flipping them out onto a cooling rack to cool all the way. Then wrap them in plastic wrap and either chill overnight in the fridge or flash freeze for one hour before applying the crumbcoat.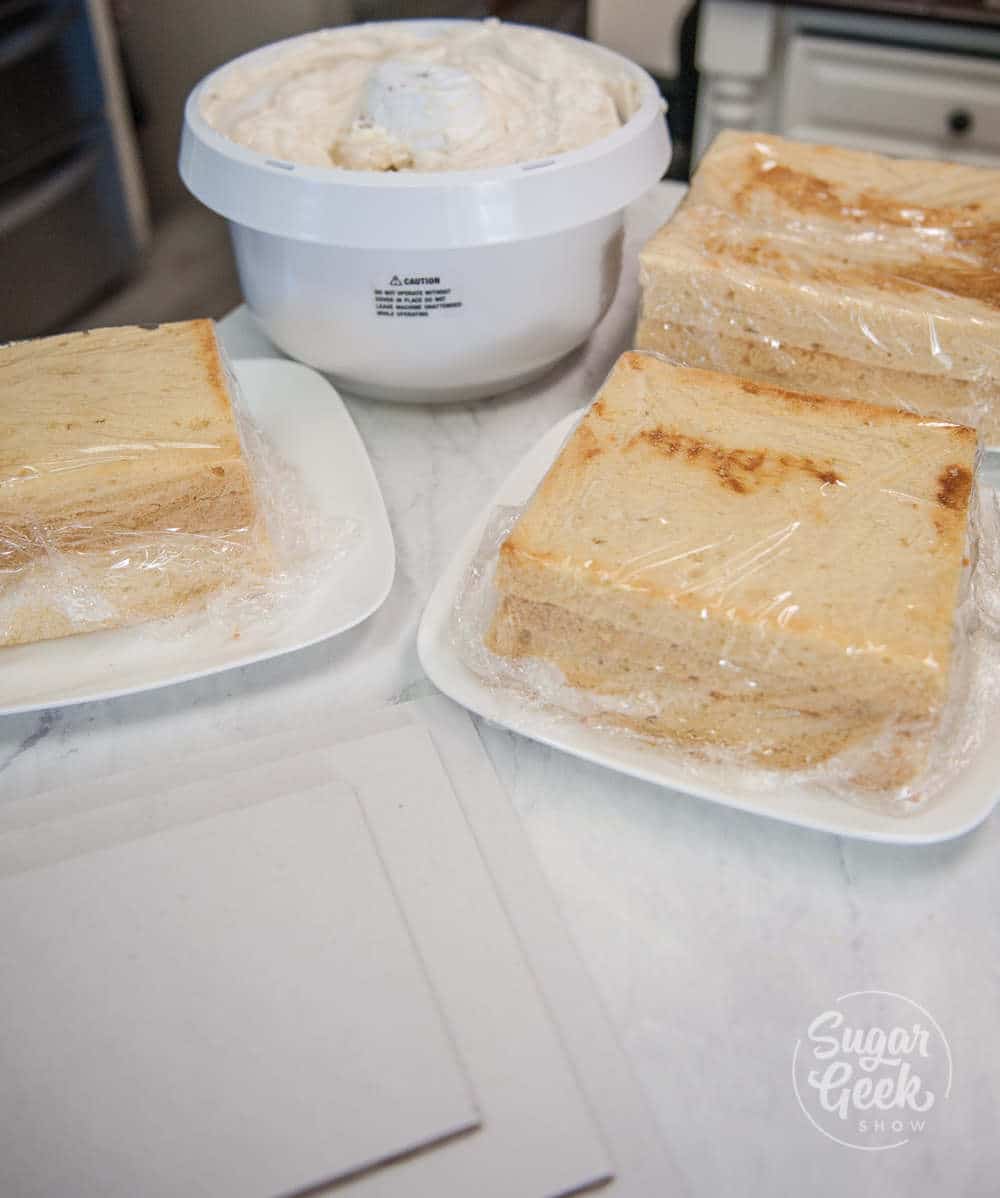 How To Frost A Wedding Cake Layer
Getting a nice final layer of buttercream can take longer than you think. Give yourself lots of time to frost all of your layers and give a proper amount of time to chill. When you're still learning, it could take up to an hour per tier. Don't worry, you'll get faster with practice.
Keep your cakes stored in the fridge. Once your cakes have buttercream on them they are protected from drying out so don't worry if they need to be in the fridge for a few days.
Trim the brown edges off the sides, top and bottom of your chilled cake layers.
Tort your 2" cake layer in half length-wise with a serrated knife.
Place your first cake layer on the cardboard round, adhere with a small dollop of buttercream.
Add buttercream on top of the cake layer and smooth with an offset spatula. Your buttercream should be about ¼" thick. Try to keep your frosting layer an even thickness. Continue with the rest of your cake layers.
Cover your cake layer in a thin layer of buttercream for the crumbcoat. The crumbcoat seals in all the loose crumbs of your cake. Store in the fridge to chill until firm or overnight.
Apply your final layer of buttercream and store the cake tier in the refrigerator to chill.
Do you want to know more about the basics of making your first cake? Watch my tutorial on how to decorate your first cake.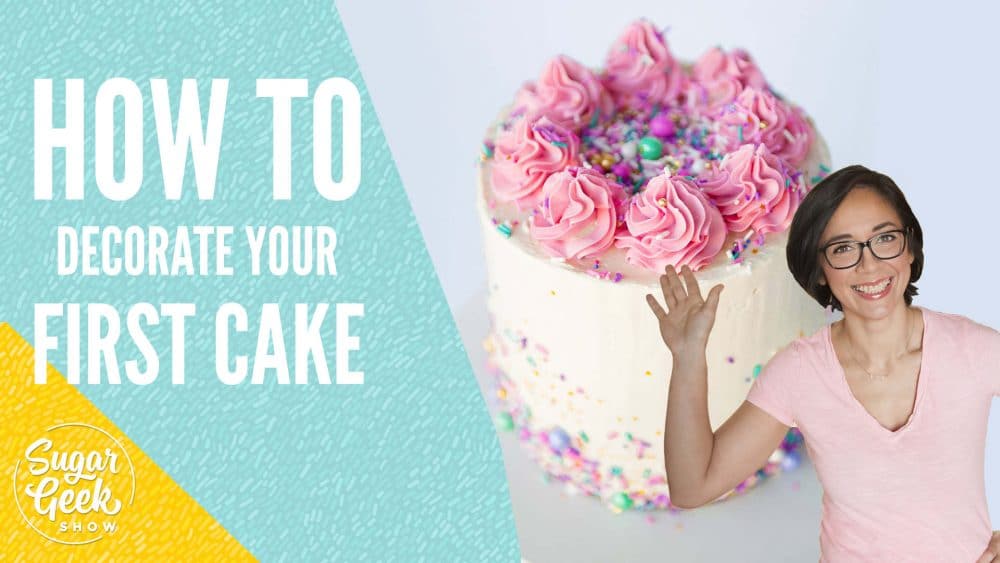 How To Cover A Wedding Cake Tier In Fondant
For all of my high-end wedding cakes, I will use my homemade LMF marshmallow fondant recipe or Renshaw America's fondant. Both of these are super easy to work with, and they taste really good!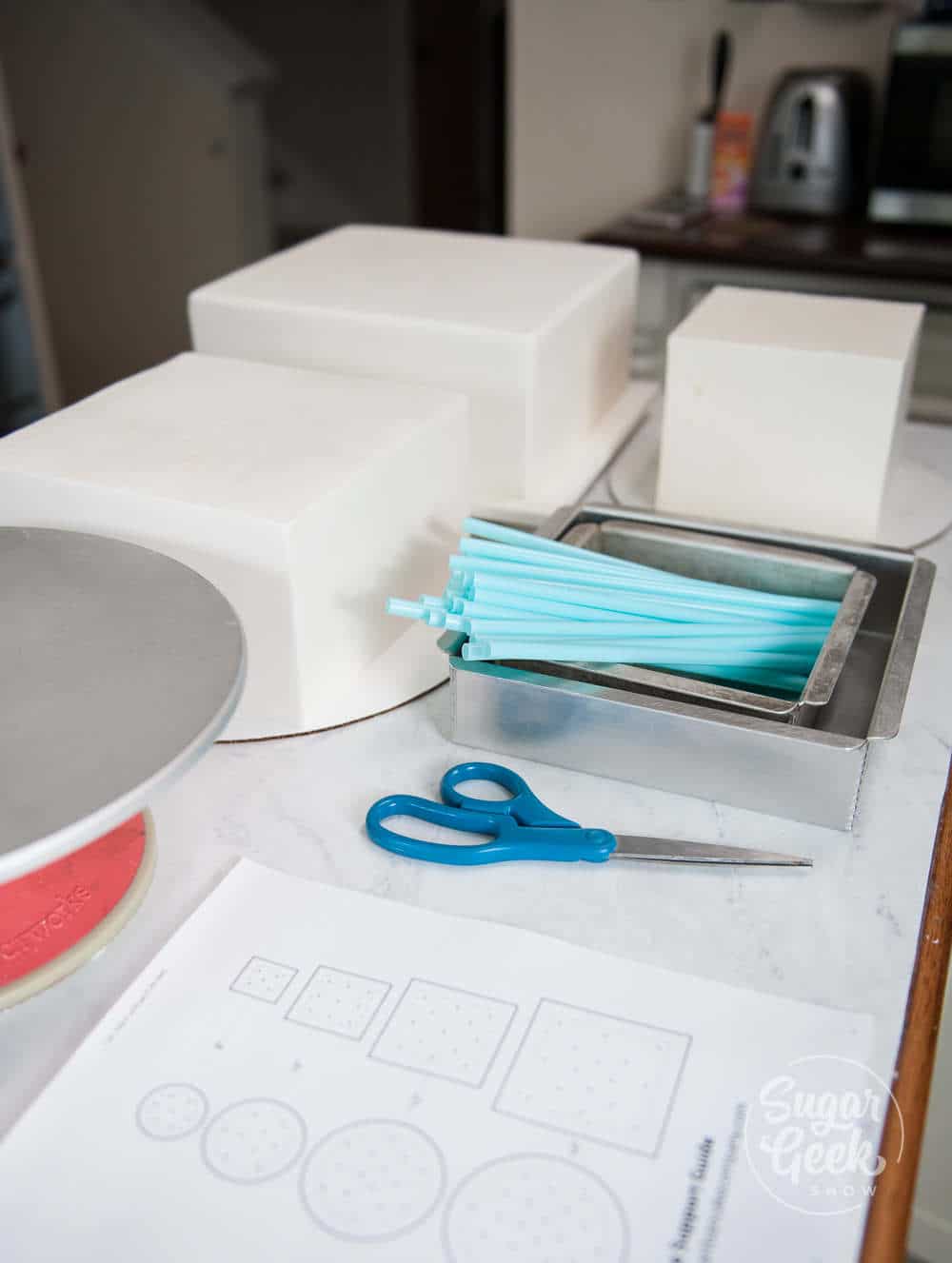 Tips for successfully covering a cake in fondant
Work with a chilled cake and work quickly. If you have too much sweating on the fondant, use a cornstarch poof to lightly dust the surface.
Use fondant smoothers to get out wrinkles and imperfections.
Always condition your fondant before rolling it out to reduce tearing and elephant skin.
Decide if you want to panel your cake or cover in one piece of fondant.
Store fondant covered cakes in the fridge.
How To Store Your Wedding Cake Tiers
Chill your fondant covered cakes in the fridge. I store mine in a regular residential fridge with adjustable shelving and no freezer. The thermostat is set to the warmest cool setting so that my cakes stay chilled but not SUPER cold. This reduces condensation when you take them out of the fridge.
When you take them out of the fridge they might get condensation on the surface but just let them dry naturally. Condensation won't hurt the cake.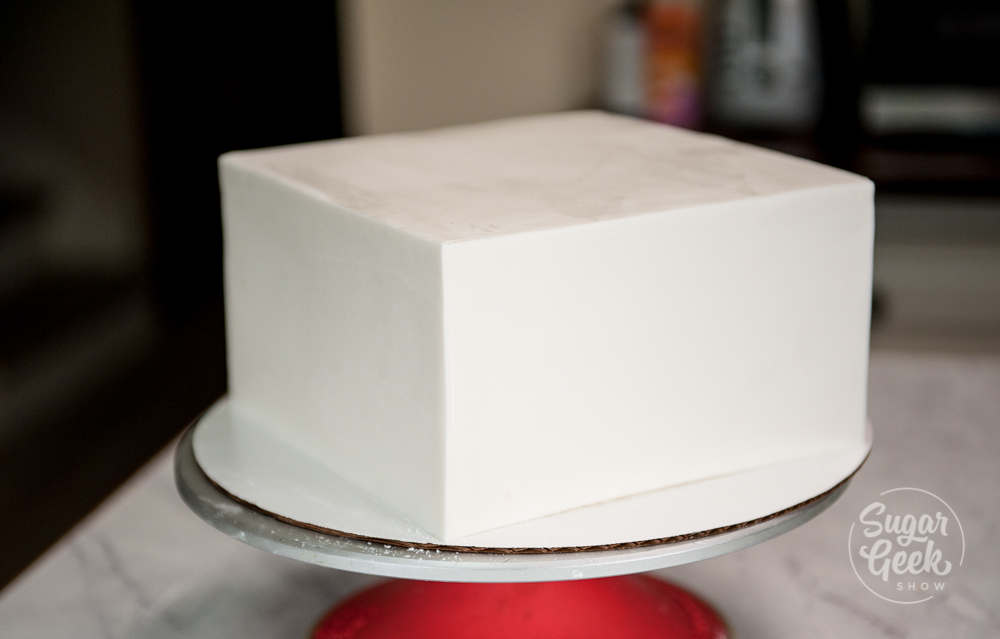 Things you can do to reduce sweating: 
Put your cake in a cardboard box and put that into the fridge so that when you take it out, the condensation rests on top of the cardboard and not on your cake. You can also have a fan blowing across the top of your cake, and let the water on your cake evaporate faster.
Just DO NOT touch your fondant or mess with it when it's sweating.
Delivering a chilled cake is much easier and safer to transport than an unchilled cake. It will look much cleaner, neater and will be easier to stack.
Assembling Wedding Cake Tiers
If a cake is three tiers or less, I will stack the cake at home before delivery. I know I can lift a three-tier cake by myself and it saves me time on delivery.
Sometimes, my cake design also requires me to stack the cake first before I can decorate so I have no choice.
Make sure you think about this aspect when you're in the design process. You may need to change your design if you have to assemble on site.
Make sure your cake tiers are level, chilled and there is a cake cardboard under each tier.
Place a cake pan that is the same size as your second tier on top of the bottom tier and trace an outline.
Insert a thick milkshake straw into the center and mark where it's level with the top of the cake with your finger. Trim the straws to the proper heights.
Use my cake support guide to make sure you insert the straws in the proper place.

[optin-monster slug="va1x8kos43tbagyon5k3"]

Stack cakes by lifting the edge with your offset spatula first to get your hands under the tier, then carefully life up and place on top of the straws.
Fill in any gaps between the tiers with a line of buttercream.
Optional: Use a dowel through the center of all your cakes to keep the cake from tipping over. Sharpen the end of a ½" wooden dowel. Push the dowel down through the top cake tier all the way until it reaches the bottom cake board. Trim off the excess. Hide the hole on top with buttercream.
Want to learn how to make a round wedding cake? Watch my marbled wedding cake tutorial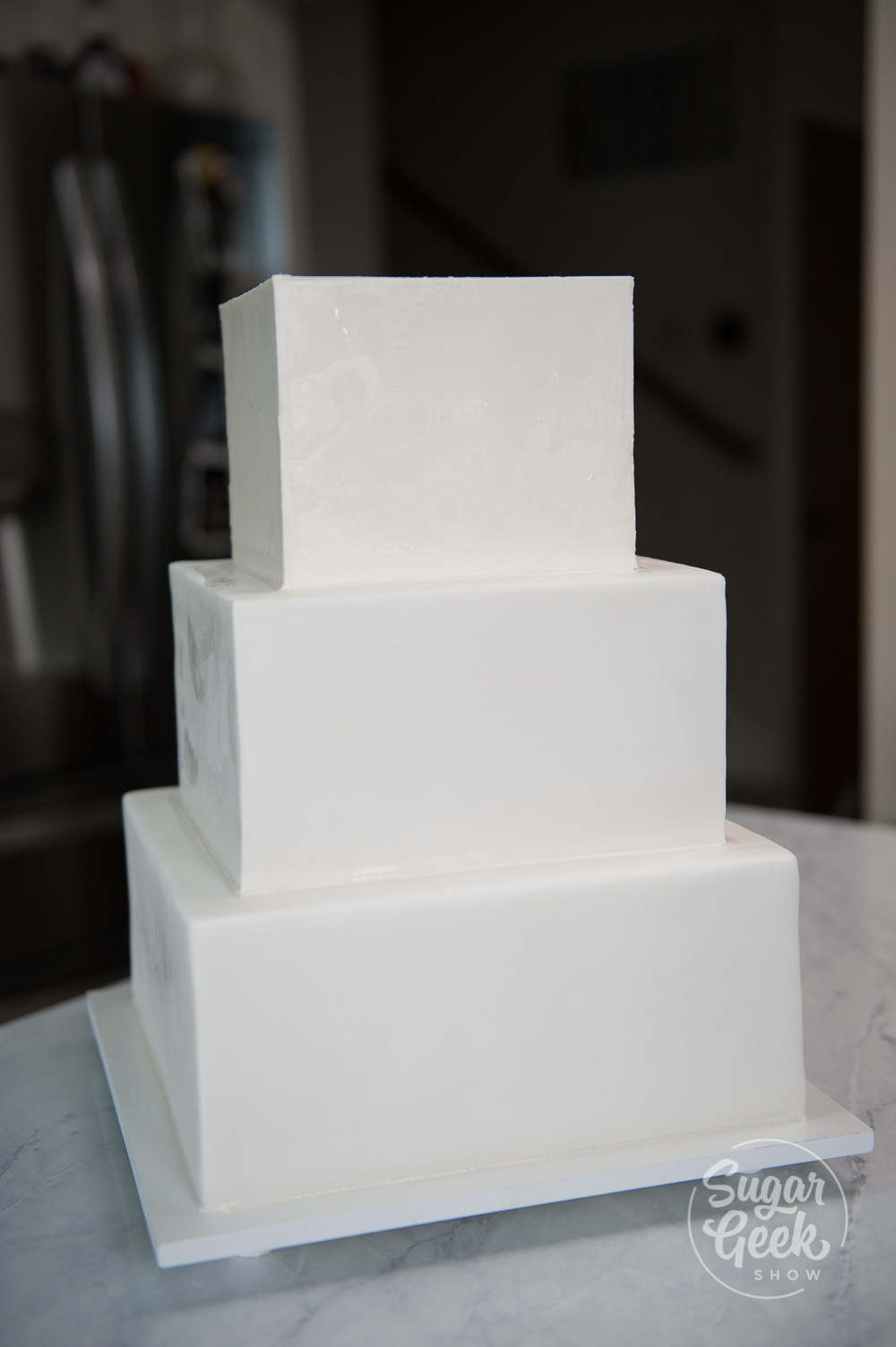 Decorating Your Wedding Cake
There are a lot of ways you could decorate a wedding cake. I'm trying to make a similar design to my first cake so I'm making buttercream flowers.
I made my buttercream flowers in the morning and then stuck them in the freezer until I need them.
After my cake is stacked, I'm going to decorate the cake. The middle tier is covered in some piped buttercream swirls using the #4 round piping tip.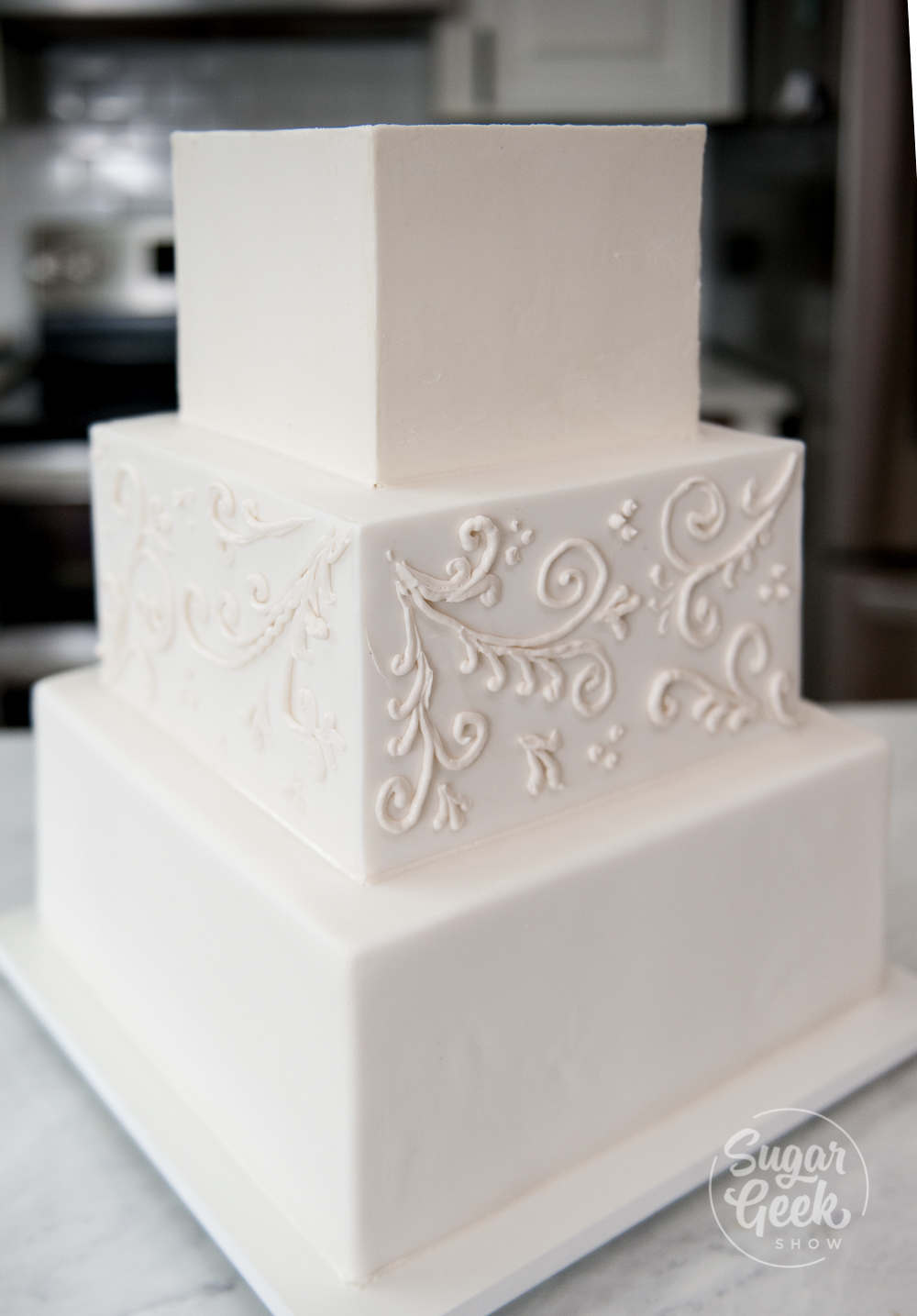 I applied my frozen buttercream flowers to the cake with a dab of buttercream. I tried to create the same flow of flowers down the corners of the cake. Alternating the dark flowers with lighter flowers.
Once my cake is completed, I put the whole thing back in the fridge to stay chilled.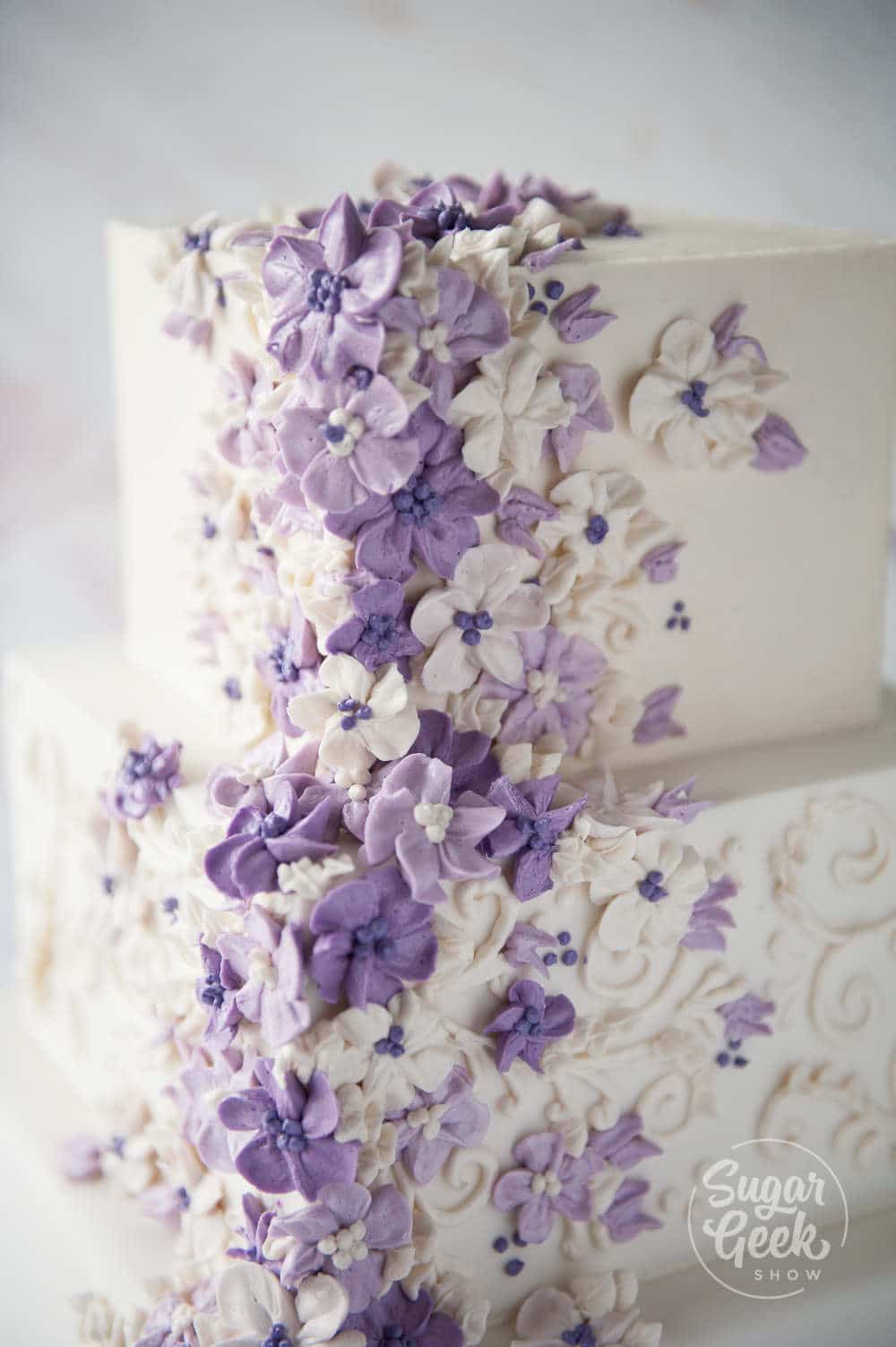 Delivering A Wedding Cake
Delivering a cake can be the most stressful part of the whole process. Cakes are the safest being transported on a flat level surface. Do not hold a cake on your lap. It's virtually impossible to keep the cake level and the heat of your body will warm up the cake.
Cakes should be well-chilled before delivery and delivered in a very cold, air-conditioned vehicle.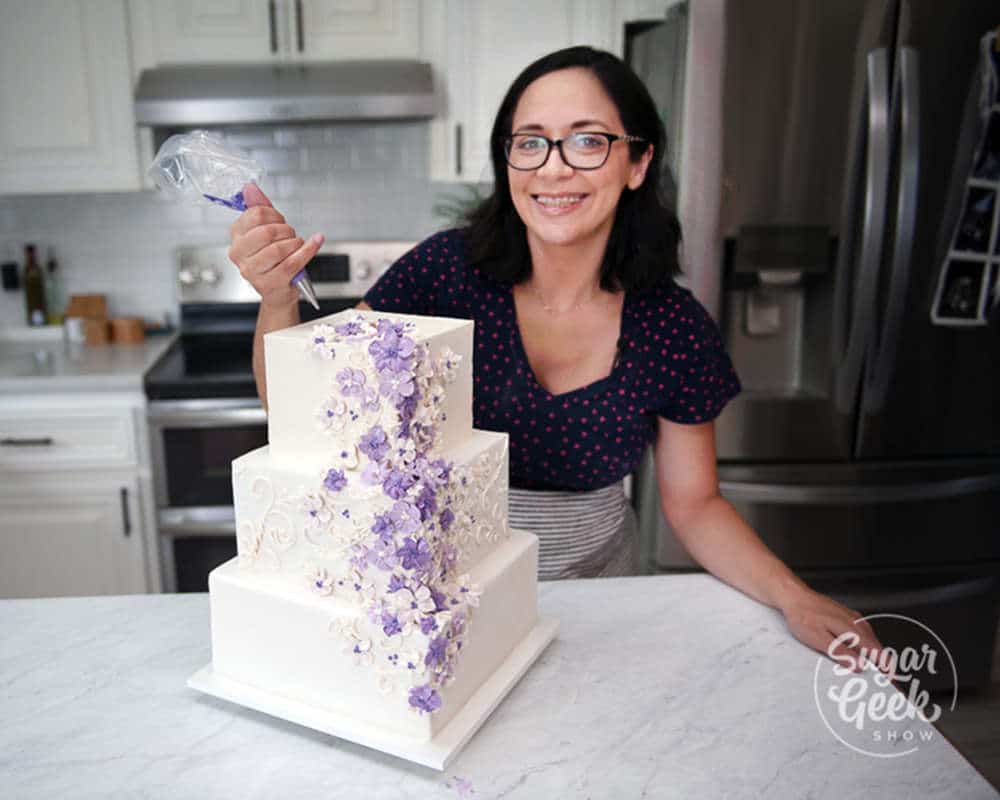 I used to deliver my cakes in homemade delivery boxes but now I use a cake safe which has an added bonus of a central dowel system which prevents cakes from falling over during delivery.
If stacking your cake on-site, give yourself plenty of time (at least an hour) to get the cake assembled, gaps filled and decorations applied. When I have to put fresh flowers on a wedding cake, it can take me an hour just to prep the flowers that the florist has left for me.
Don't deliver too early. You want the cake to be sitting at room temperature for a few hours because the butter in the cake is hard from being refrigerated. Hard butter doesn't taste good. But if you drop off the cake in a hot room and it's been 8 hours, the cake can droop and sag. I shoot for 1-2 hours before the ceremony and advise against leaving a cake in warm environments.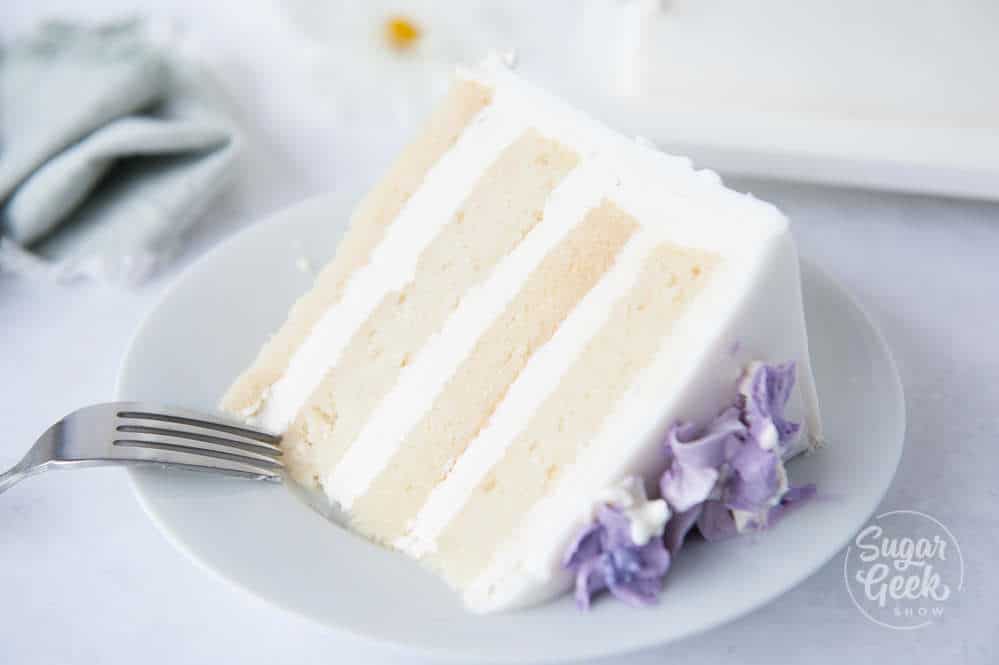 WHEW, I know that was a ton of information but making a wedding cake is not as simple as some articles make it sound. When I was first trying to learn how to make a wedding cake, everything I read made it sound so easy but when problems arose, I realized I didn't have all the information I needed for success.
I hope this long post didn't discourage you from making a wedding cake. As you can see, I was no expert when I tried my first cake but you get better. Anyone can make a beautiful wedding.