How to cover a square fondant cake and keep those sharp corners
How to make a flawless square fondant cake! If you've watched my how to cover a square buttercream cake tutorial then you might be wondering how to cover that square cake in fondant! Don't worry, I've got you covered. In this tutorial, I'm going to show you exactly how I cover a square buttercream cake in one piece of fondant while keeping those sharp corners intact.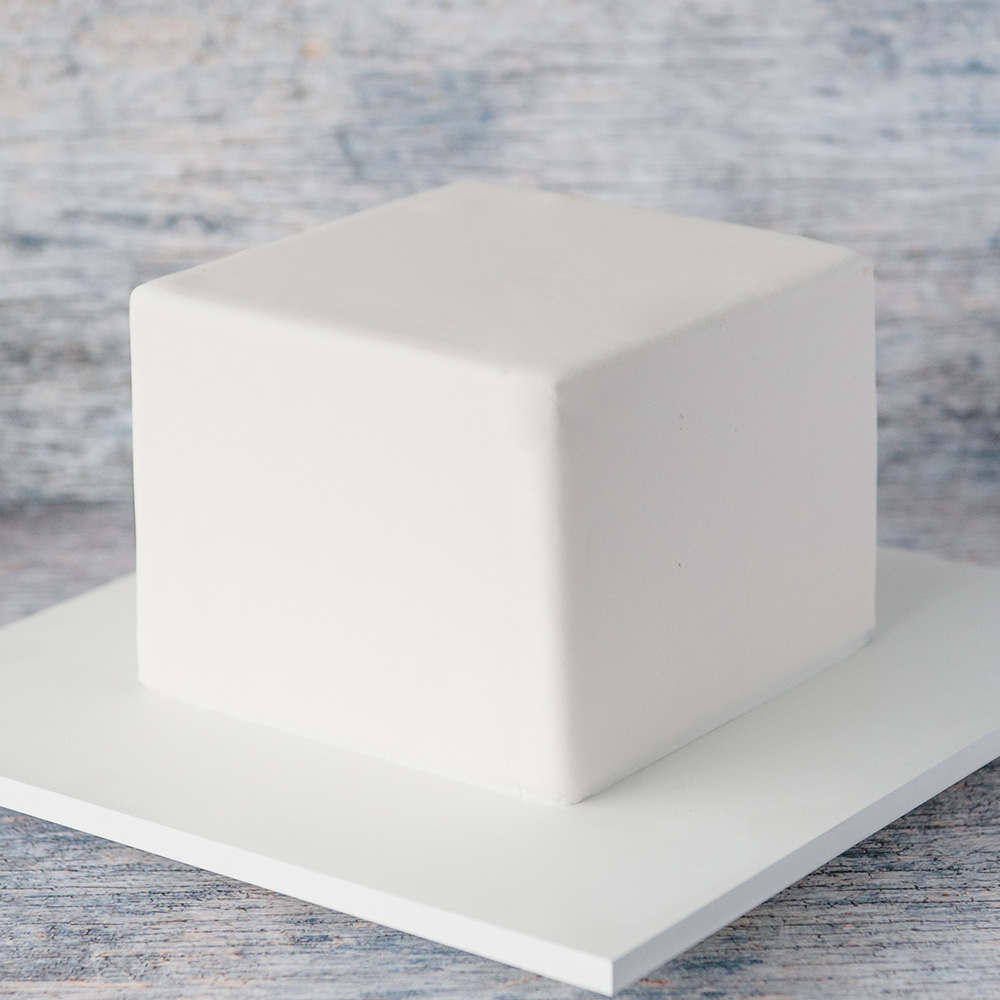 How to cover a square fondant cake
The first thing you need is a nicely chilled square cake. It can be buttercream or ganache but the colder your cake and the colder your room, the better this will go.
Measure the width of your cake and multiply by three. This will tell you how big your fondant needs to be.
Roll out your fondant to 1/16" thick. I use a cornstarch poof and a rolling pin. Try to keep your fondant pretty round.
Roll your fondant up onto your rolling pin or a large PVC pipe (washed and dried) and unroll onto the square buttercream cake
Smooth out any bubbles under the top of the fondant
Make sure the fondant is attached all the way around the top edge and the bottom of the fondant is resting on the turntable, not hanging or it can cause the fondant to tear.
Press the fondant onto the corners first, being careful not to pull or distort the fondant.
Once all your corners are done, you can press the fondant flat against the sides.
Trim the excess fondant off, leaving about 1" of fondant all the way around the base.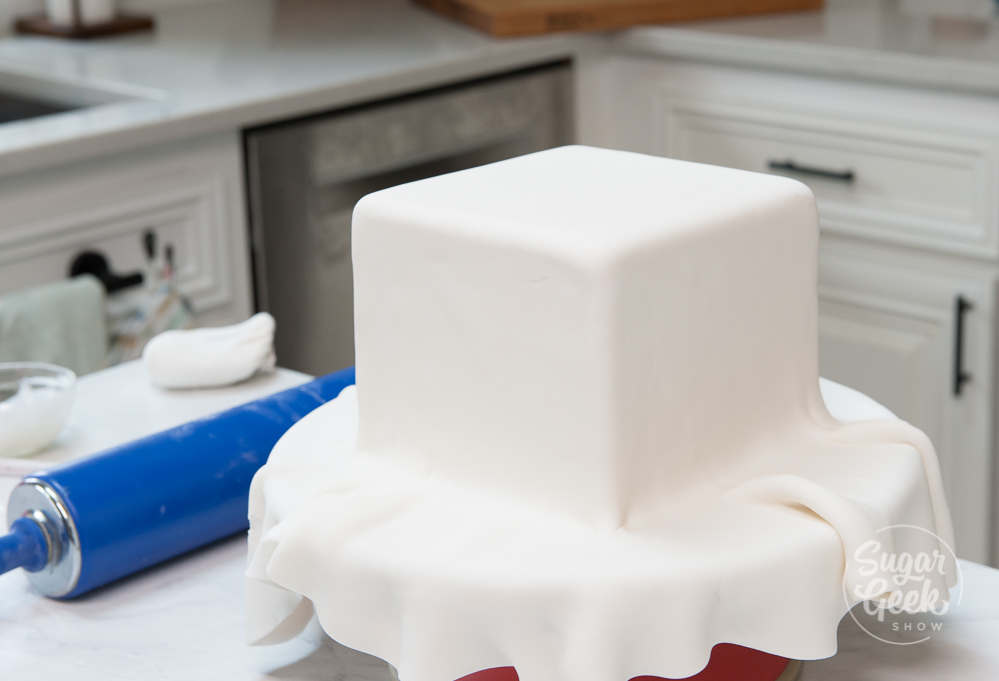 How to get sharp edges on a square fondant cake
Place a piece of parchment paper on top of the square cake and then a cake board or cutting board depending on how big and heavy your cake is.
While sandwiching the cake firmly between the bottom cake board and the top, turn the whole cake over carefully. Don't worry, the cake is chilled and this won't hurt the cake.
Use your fondant smoother to work the sides of the fondant up until the cover the cake board.
Use your fondant smoother to refine the top edges and corners of the fondant against the cake board and sharpen them. Depending on how sharp you want them, this could take a while.
Cut the excess fondant off the top edge of the cake and turn the cake back over.
That's how I get my super sharp edges on a square fondant cake! If you live in a super hot area, it is recommended that you use white chocolate ganache or American buttercream. This is so that your cakes do not get soft while you are covering them.
Be sure to watch my video on how to cover a cake in fondant. If you have any questions, just let me know in the comments!