How to make a square buttercream cake with super sharp edges and buttercream corners that don't sag and stay super sharp!
I'm not going to lie, I hate making square cakes! They are so time-consuming and require so many sharp edges and straight lines. So not my thing! But of course, sometimes the square cake cannot be avoided.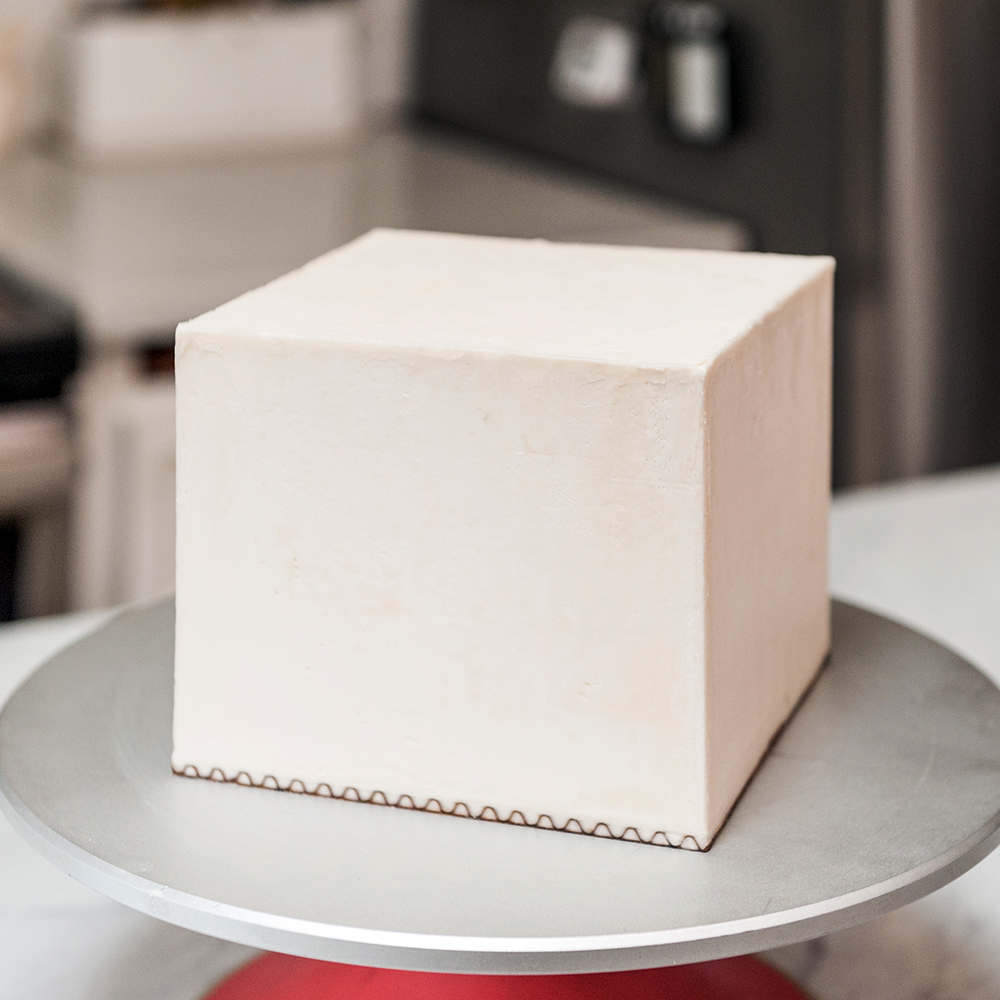 This is my system for making square cakes without breaking down into a puddle of tears.
Straight edges, sharp corners, minimal frustration.
Tools for making square cakes
*This post contains affiliate links which means that I may get paid a few pennies with purchase. This does not affect the price for you.
Bench scraper with a curved handle
Turntable extender (or large cake board. See upside-down technique video)
Vegetable shortening
Parchment paper
Cake board (I'm using ¼ sheet that I will cut down to 6")
x-acto blade
Cake already baked and chilled
I know there might be some people reading this who aren't professional cake decorators, so I'm going to try and break down this info for the true newbie. When I was first starting out cake decorating I found it very frustrating that I couldn't find any info on how to learn new techniques like making a square cake.
Sure, if you've been doing this for years in a bakery, you won't need to do this method. But what if it's your first time? Or what if you're struggling and need a new plan of attack for an upcoming cake.
How to frost and fill a square cake
Start by baking your cakes, chilling them and trimming them if desired. Trim your cake board into a 6"x6" square using a ruler and an x-acto blade. Then stack and fill your cakes and crumb coat them.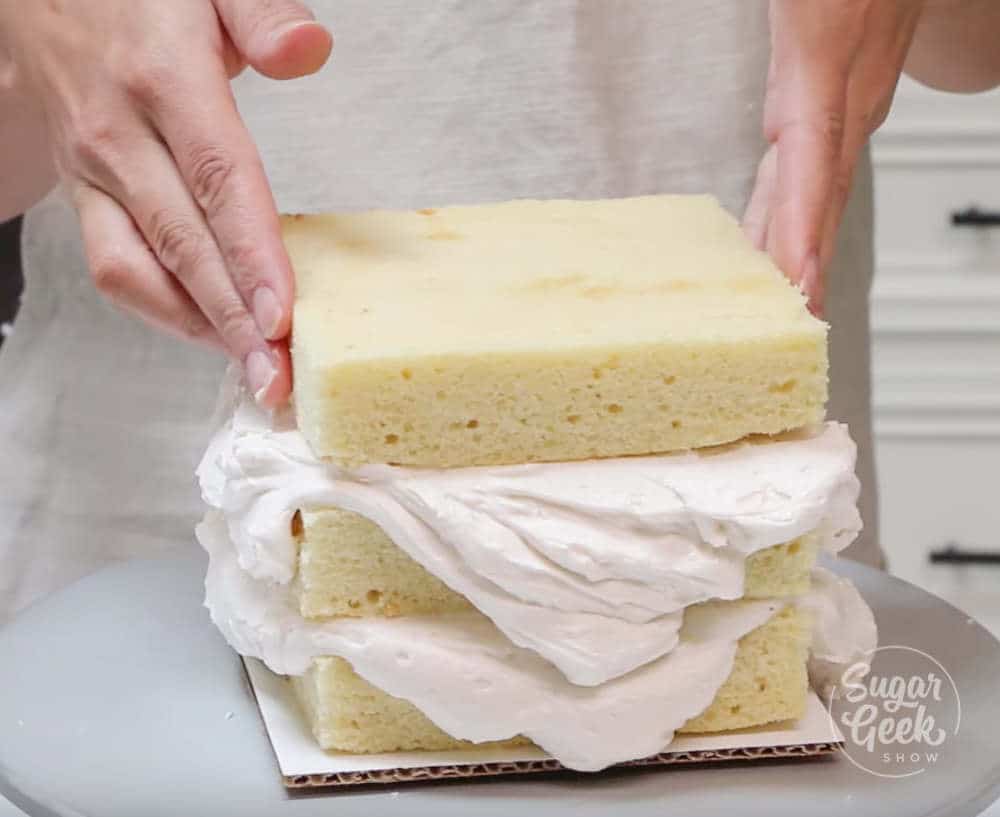 I like to chill my cakes in the fridge over-night because I usually bake, cool, frost, fill and chill in one day but you can also freeze for an hour or so if you're in a hurry. Do not freeze solid. If you need more info on stacking and filling cakes, check out my beginner video on how to make your first cake.
Once your square cake is chilled, you can start the process of building up those sharp corners.
Rub a thin amount of vegetable shortening on the turntable extender mounted on the turntable and place some parchment paper on top.
Spread an even layer of buttercream on top of the parchment paper about ½" thick
Place your chilled cake, upside-down, onto the buttercream. Press to make sure you have a good connection on all sides to the buttercream.
Optional: Use a level to make sure your cake is level (see video)
Build up the sides of your cake with buttercream
Scrape down the excess with your bench scraper. It's VERY important to keep your bench scraper flat against the turntable to avoid accidentally curving the sides. This is why I prefer the ATECO bench scraper.
Refine the corners by bringing your bench scraper up to the corner and scraping back towards the middle of the cake. Repeat with each corner.
Chill the whole cake in the freezer for 15-20 minutes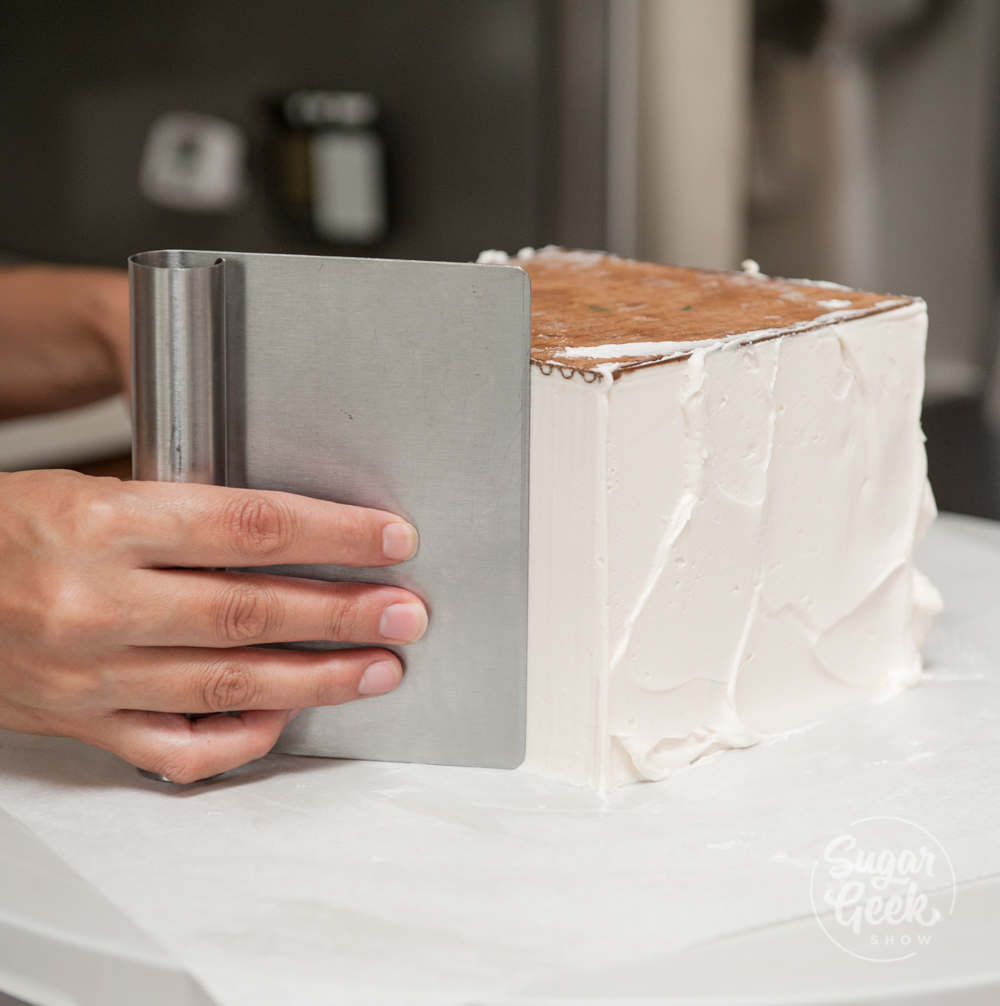 How to get sharp edges on your square cake
After your square cake is chilled, flip it back over. Don't worry, this won't hurt the cake.
Remove the turntable extender and the parchment paper
Clean up the edges with a warm bench-scraper. I put mine under hot water and then dry it with a towel. This final pass smoothes out any bubbles and cleans up rough edges.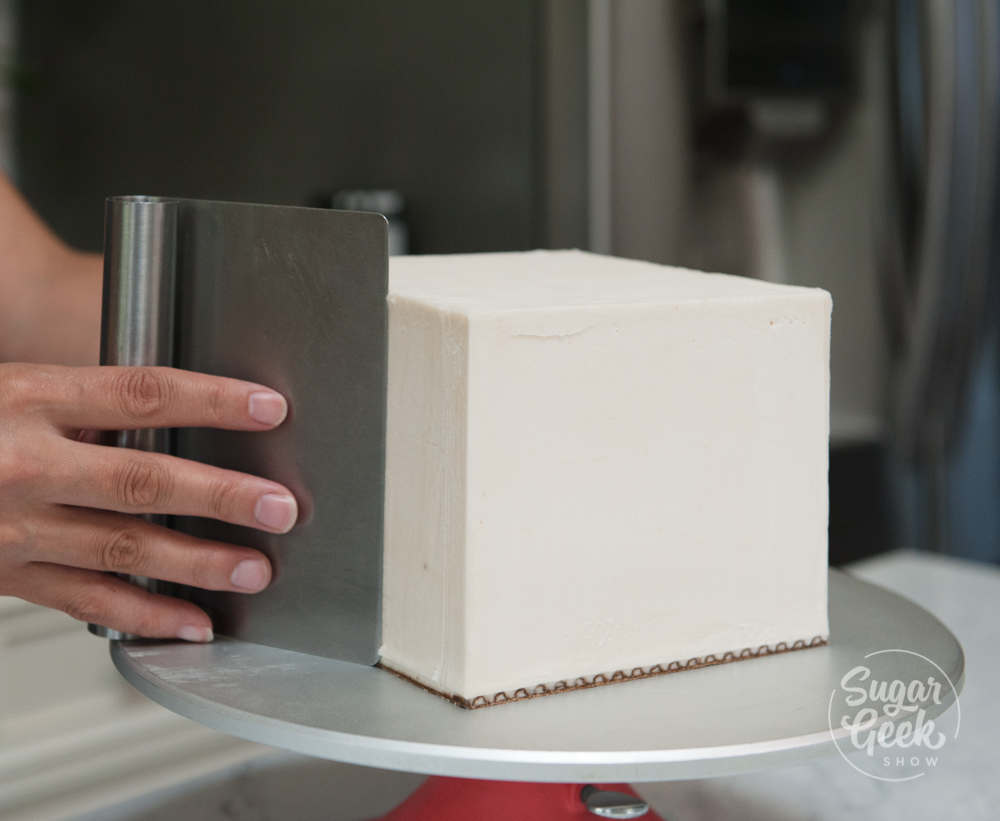 Now your square cake is ready to panel, to cover in fondant or to just decorate!
I'm not going to lie, this process takes time but at least at the end of the process, you have a nice square cake!
Need more visuals? Watch my video on how to make a square cake with sharp buttercream edges.