Easy Buttercream Frosting That's Not Too Sweet, Super Creamy and Easy To Make
Super easy buttercream frosting recipe! Technically a mock swiss meringue buttercream that requires no heating of the egg whites. Light, creamy, and not too sweet. It's my go-to recipe for all my cakes and cupcakes. It pipes beautifully and works well under fondant.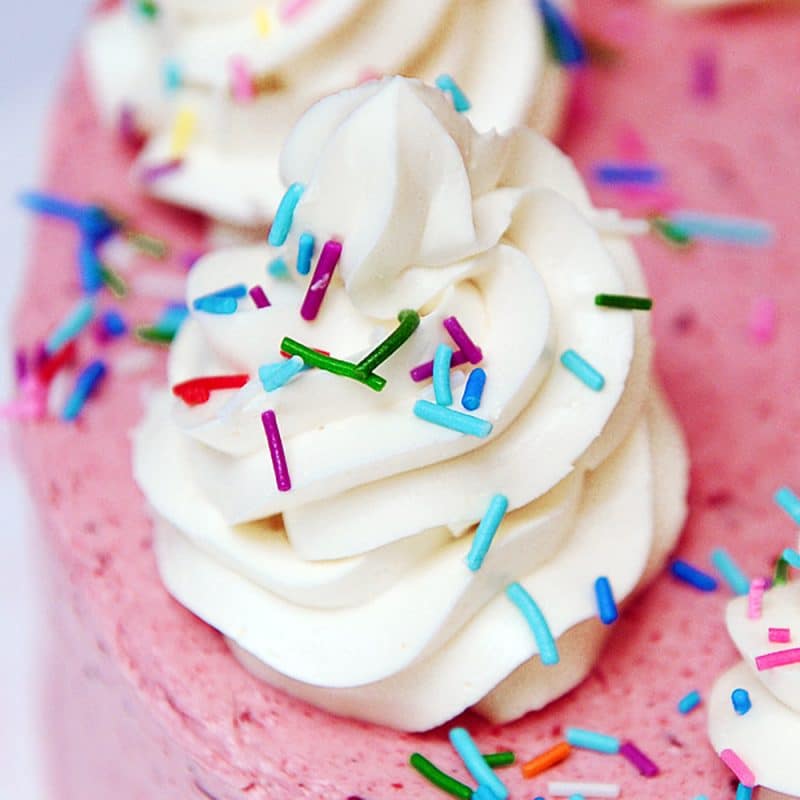 The first buttercream I ever made was from an old Wilton recipe book. Powdered sugar, shortening, and vanilla. I struggled SO hard to get my edges smooth and crisp like the photos I saw in the fancy cake decorating books but I always ended up with mega cake fails.
It wasn't until I went to pastry school in 2010 at Oregon Culinary Institute that I first heard of other kinds of buttercreams. I'll never forget the day we made Swiss Meringue Buttercream and we had to frost our cake by holding it in one hand and icing the cake with a spatula in the other. NO turntable!
I was like, there is no way this is going to work. But I lifted that cake up and began frosting as my chef instructed and I could not BELIEVE how smooth it went onto my cake!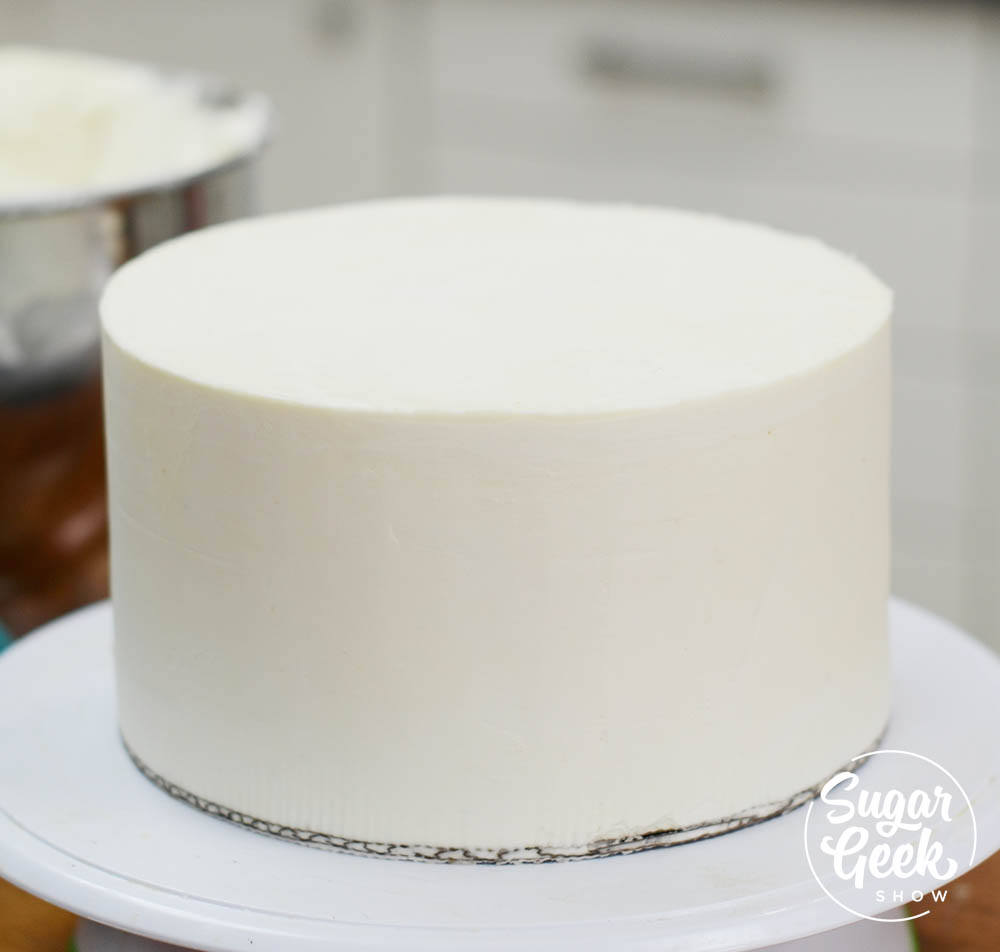 Then I tasted it…
OMG pure heaven!
Not too sweet, super silky, melt on your tongue goodness!! For the next 6 years I only made SMBC for my cakes which involves a lot of heating of egg whites, whipping, cooling and repeat. I WISH I had this recipe back then! It's so much easier!
How much easy buttercream frosting do I need?
*NOTE: this recipe has been updated to make less buttercream for the average home baker, if you want the bowl to be full, double the recipe)
This easy buttercream frosting recipe makes a LOT (12 cups) which basically fills the bowl of a standard KitchenAid mixer. The reason for this is because when your mixing bowl is filled to the top, it's easier to get all the air bubbles out. You can freeze leftover buttercream or store it in the fridge for a week. Just bring to room temp and mix with the paddle a few minutes to make it creamy again before use.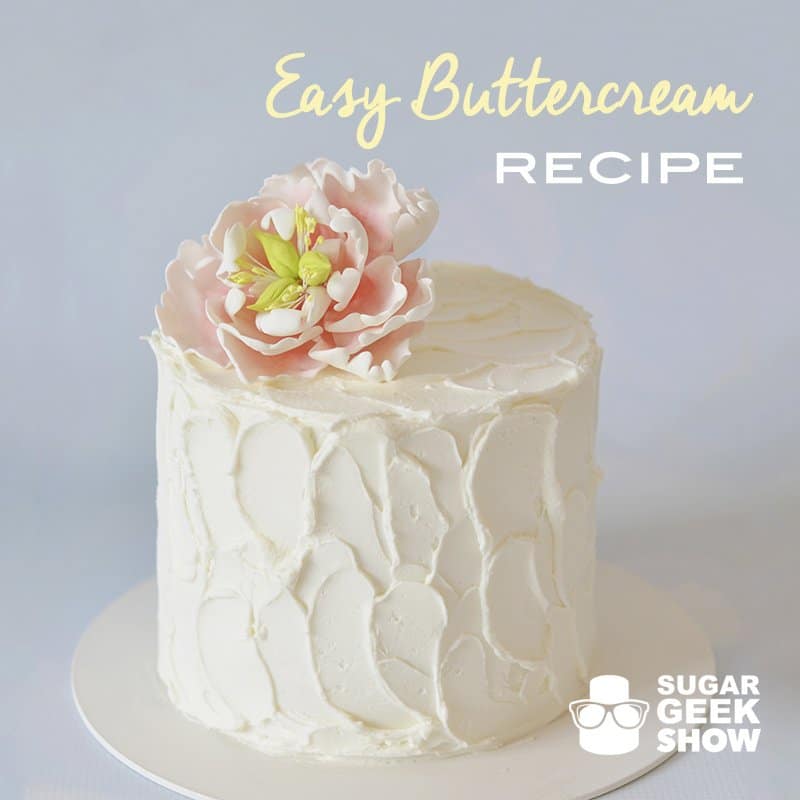 This buttercream frosting is the recipe I WISH I had when I was making 5 wedding cakes a weekend. Now it's the only buttercream frosting I use and my clients love it. Way better than the super sweet frosting I was used to seeing on cakes.
Easy buttercream frosting using pasteurized egg whites
This is the easiest buttercream frosting you'll ever make! The key ingredient is pasteurized egg whites. Pasteurized egg whites have been heat-treated to kill potentially hazardous bacteria without actually cooking the egg. The same process is used in milk to make it safe to drink. Because we are using pasteurized egg whites, there is no need to heat the egg whites like you do with traditional swiss meringue buttercream recipes (hence the time-saving aspect of this recipe!)
Pasteurized egg whites usually come in a box or a bag and are in the egg section of the grocery store. They will say pasteurized right on the box. If you can't find pasteurized egg whites then you can use regular egg whites but will have to use my swiss meringue buttercream recipe instead so that you can heat treat the egg whites first.
How to make easy buttercream frosting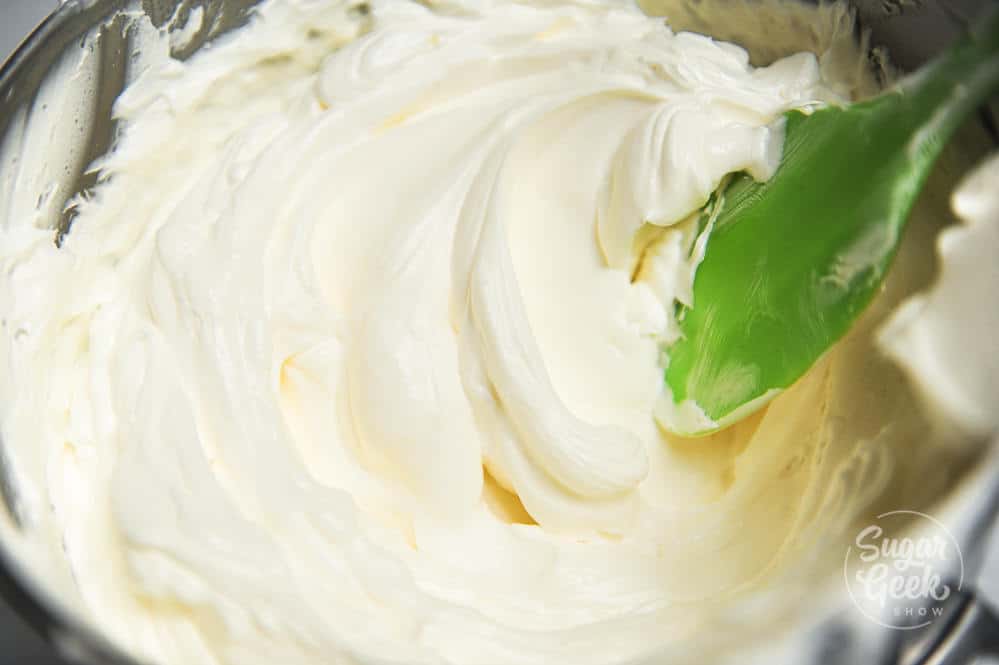 Place your egg whites and powdered sugar in the bowl of your stand mixer and whisk on low to combine. Increase speed to high and whip 5 minutes.
Reduce speed to medium and start adding in your softened unsalted butter in small pieces until all the butter has been added
Add in salt and vanilla (or other flavorings if you wish)
Increase speed to high again and whip until light in color and fluffy (it will look curdled at first, just let it keep mixing)
Once your buttercream is smooth you can switch the paddle attachment and let mix on low for 15 minutes to reduce bubbles in the buttercream (optional)
To increase the whiteness of your buttercream, add one drop of violet food color to counteract the yellow in the butter and use clear vanilla extract instead of brown.
How long does easy buttercream frosting last?
Because of the large amounts of sugar in buttercream frosting, it can be left at room temperature for 2 days but I always recommend you refrigerate leftover buttercream when not in use to extend the life of the buttercream. If you are not going to use buttercream for more than a week you can freeze it for 6 months or more.
To use frozen or refrigerated buttercream, let come to room temp then mix on low with the paddle attachment to make it creamy again. Do not whip or you can incorporate too much air.
If your buttercream frosting has been sitting at room temperature for more than a day, mix with paddle attachment before use. Buttercream tends to get spongy after 24 hours and looses it's creamy texture.
Is this easy buttercream frosting good for using on wedding cakes?
Yes! I love using this buttercream frosting for my wedding cakes. It can even be covered with fondant. Always chill your cakes before covering in fondant.
When I make my cakes, I keep them refrigerated for stability. Once the cakes are delivered, the buttercream comes to room temperature and is soft enough to enjoy. Hard buttercream is not great to eat. Learn to make this semi-naked wedding cake on the membership site.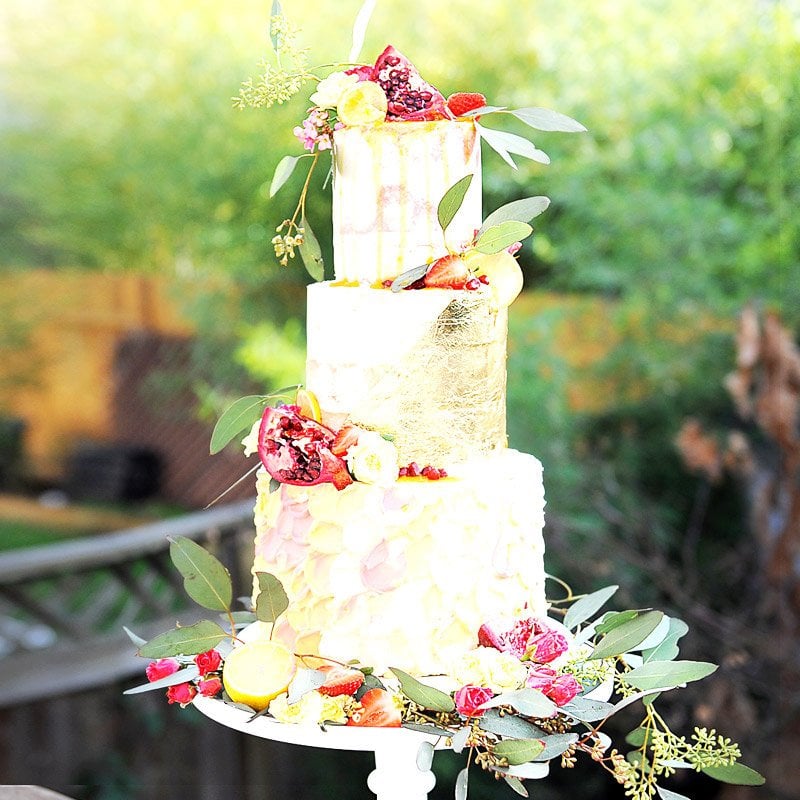 What Kind Of Butter Is Best For Easy Buttercream Frosting
Any chef will tell you that a recipe is only as good it's ingredients. Buttercream frosting is made of only a few ingredients. Egg whites (basically no flavor), sugar (sweetness but no flavor to speak of), butter and vanilla. Butter and vanilla is where you get your flavor from so the better your butter and vanilla, the better your buttercream frosting will taste.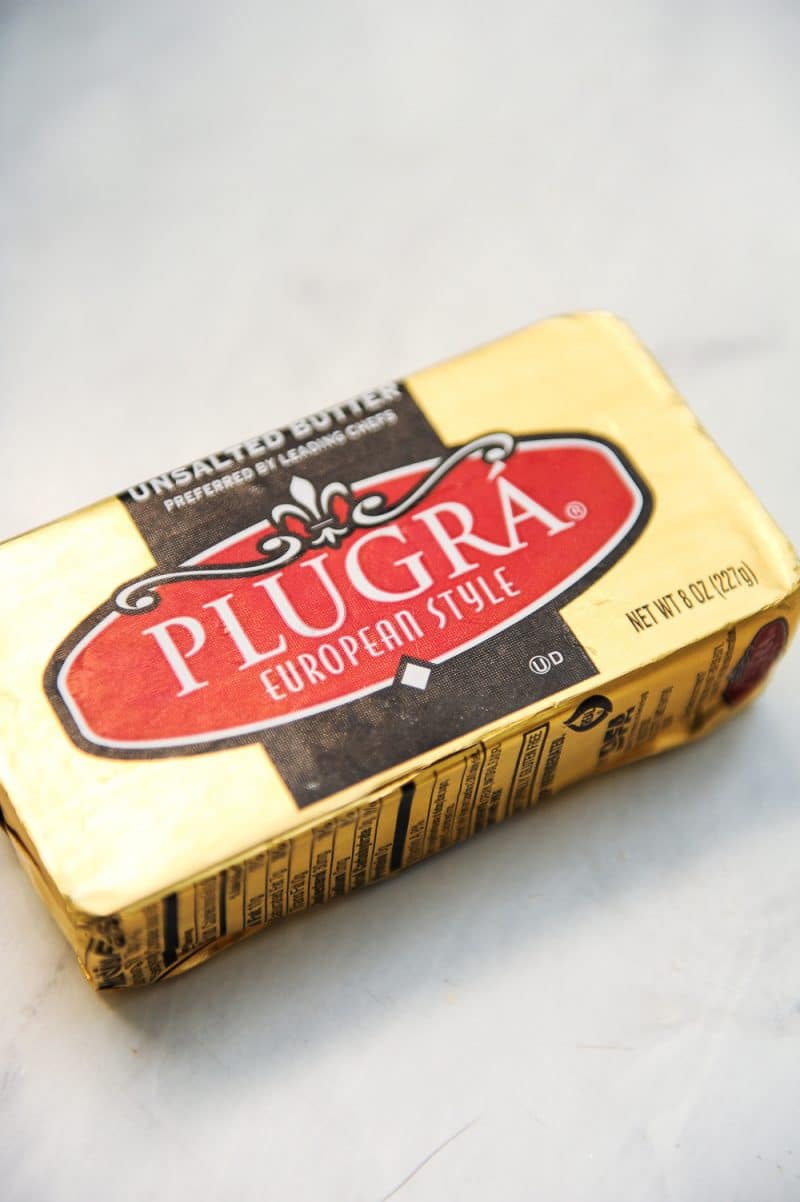 Now if you're like me and you're making tons of buttercream frosting for huge cakes, you don't want to go full on plugra (the best butter ever) because it get's expensive really quick but if you try to go super cheap and use really low-quality butter or shortening, you're going to taste that greasy aftertaste in your mouth. Not good.
There is a debate about whether or not you should use salted or unsalted butter for your buttercream frosting and I have seen people do both. I personally prefer to use unsalted butter so that I can control the amount of salt in my buttercream frosting. The amount of salt in one lb of salted butter is in my opinion much too strong for a batch of easy buttercream.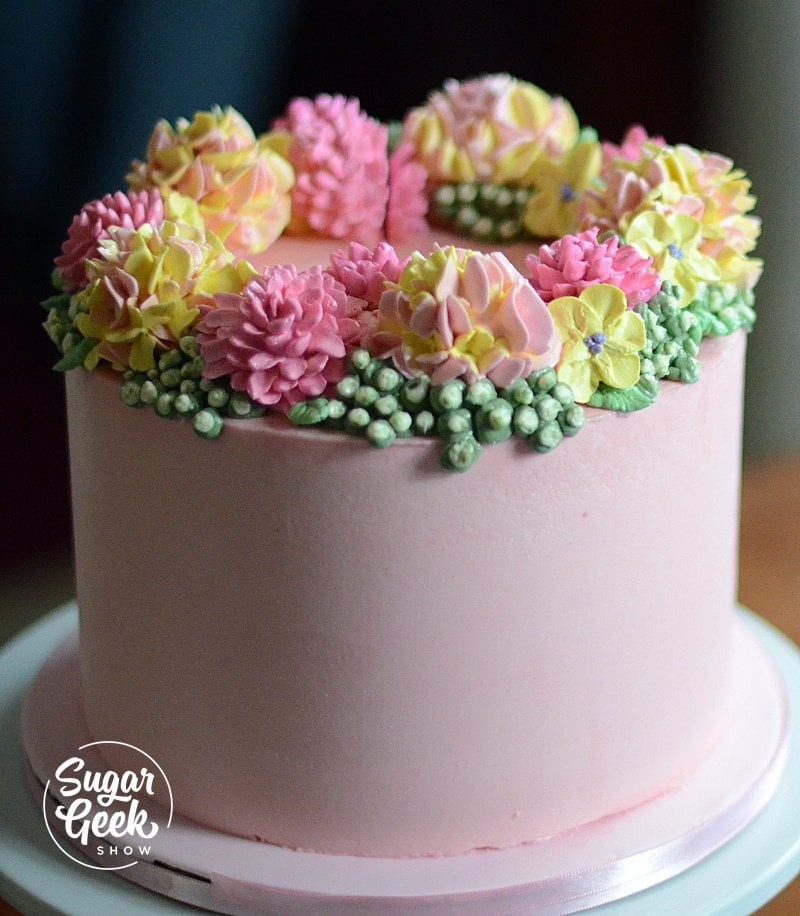 Learn how to make beautiful piped buttercream flowers and sharp edges using acrylic disks from guest instructor Danette Zamora Short.
What Kind Of Flavoring Do You Use For Easy Buttercream Frosting
Same thing with the vanilla. Vanilla is SUPER expensive right now thanks to a vanilla bean shortage so you have to be smart about. You might not want to go putting a vanilla bean into every batch but it don't go leaving it out all together.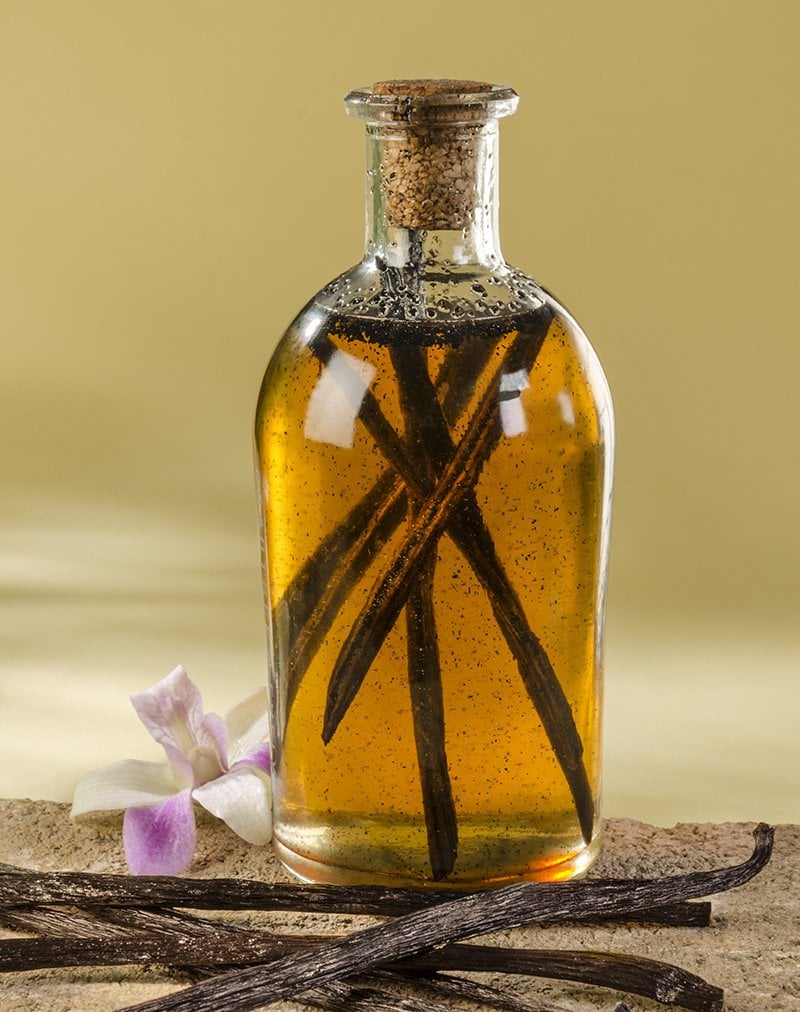 I get my vanilla from Costco and get a pretty decent deal. You can also supplement your vanilla with almond extract or you can try making your own vanilla extract from vanilla beans.
You can use any type of flavoring for your easy buttercream frosting, Emulsions and extracts that are not "artificial" will always taste better.
Chocolate Easy Buttercream Frosting
You can make chocolate buttercream frosting into a delicious chocolate version by adding in about 1/4 cup of your favorite cocoa powder. I like dutched cocoa powder because it has a nice rich chocolate flavor.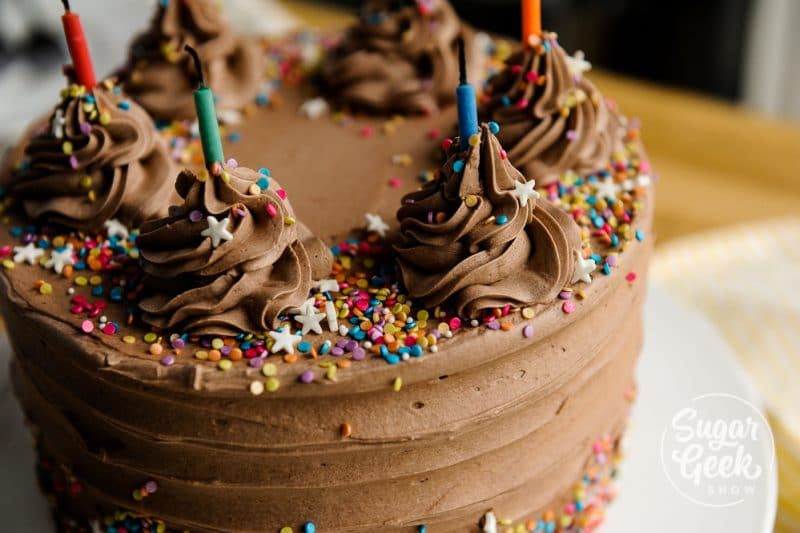 You can also make a white chocolate buttercream frosting by adding melted white chocolate into the buttercream frosting. This makes a SUPER stable buttercream frosting that is a combination of buttercream and white chocolate ganache.
Pro-tip! Most buttercream frosting that uses real butter will look a little yellow at first. This is normal! To counteract that yellow tint you can add a TINY drop of purple food coloring. I know it sounds crazy but it really does work and makes your yellow buttercream look really white!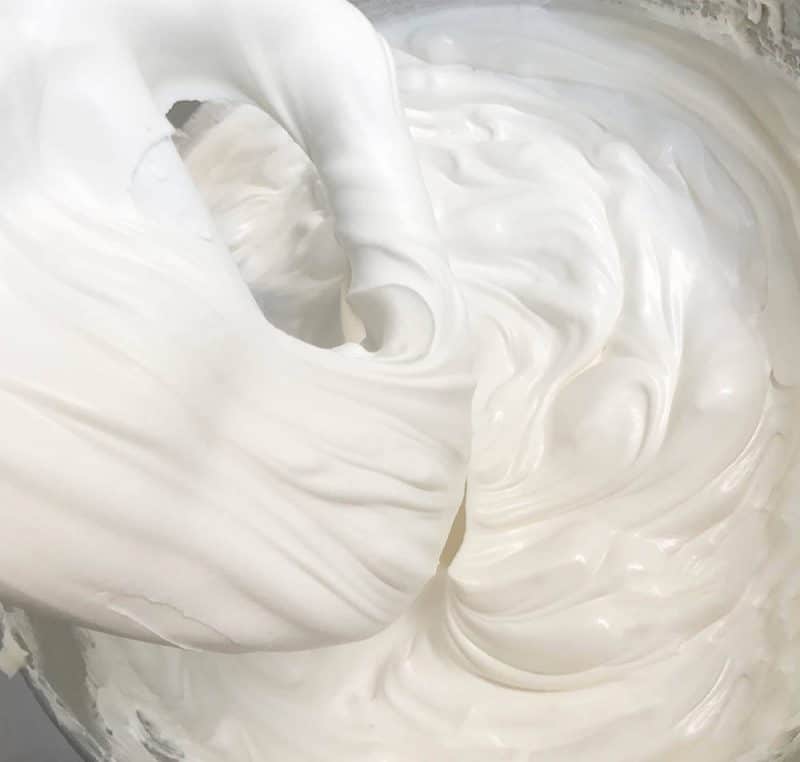 Tips & FAQ
Why is my easy buttercream splitting?
The buttercream splits because it's too cold. Take out 1/4 cup of the buttercream and melt it in the microwave until it's just melted and then whip it back in. That little bit of warm butter helps it all come together again.
My buttercream is too soft, what can I do?
Buttercream is soft or firm depending on how warm it is. If it's too soft, it could be your butter was too soft when you added it in or the mixer warmed it up. Put the buttercream in the fridge for 20 minutes then whip it again and it should firm back up.
You might also like these buttercream recipes and tutorials
How to make buttercream flowers
Ermine frosting (similar taste to easy buttercream but no eggs)
Swiss Meringue Buttercream (same taste but uses regular egg whites, not pasteurized)
Did You Make This Recipe?
Leave a rating and tell me how it went!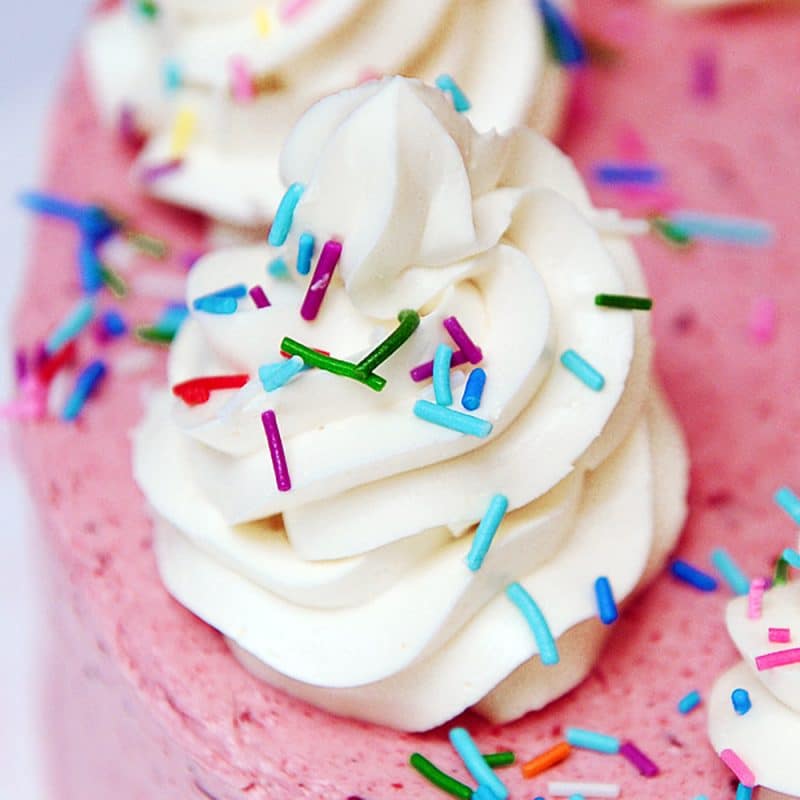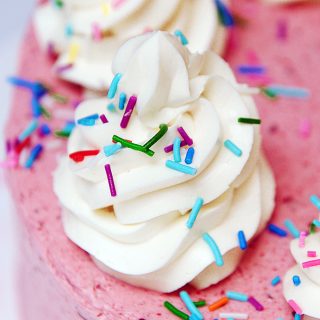 Easy Buttercream Frosting
Delicious, rich and easy buttercream frosting recipe that anyone can make. This is not a crusting buttercream. It is meringue based so it has a slight shine and chills nicely in the fridge. Takes 10 minutes to make and is fool-proof! Light, fluffy and not too sweet.

Print
Rate
Ingredients
16

oz

(

454

g

)

unsalted butter

room temperature. You can use salted butter but it will affect the taste and you need to leave out additional salt

16

oz

(

454

g

)

powdered sugar

sifted if not from a bag

1

tsp

vanilla extract

1/4

tsp

salt

4

oz

(

113

g

)

pasteurized egg whites

room temperature

1

TINY drop

(

1

TINY drop

)

purple food coloring

(optional) for whiter frosting
Instructions
Place egg whites and powdered sugar in a stand mixer bowl. Attach the whisk and combine ingredients on low and then whip on high for 5 minutes

Add in your butter in chunks and whip with the whisk attachment to combine. It will look curdled at first. This is normal. It will also look pretty yellow. Keep whipping.

Add in your salt and vanilla extract

Let whip on high for 8-10 minutes until it's very white, light and shiny.

Switch to a paddle attachment and mix on low for 15-20 minutes to make the buttercream very smooth and remove air bubbles. This isn't required but if you want really creamy frosting, you don't want to skip it.
Nutrition
Serving:
2
oz
|
Calories:
849
kcal
(42%)
|
Carbohydrates:
75
g
(25%)
|
Protein:
2
g
(4%)
|
Fat:
61
g
(94%)
|
Saturated Fat:
38
g
(190%)
|
Cholesterol:
162
mg
(54%)
|
Sodium:
240
mg
(10%)
|
Potassium:
18
mg
(1%)
|
Sugar:
74
g
(82%)
|
Vitamin A:
2055
IU
(41%)
|
Calcium:
18
mg
(2%)
|
Iron:
0.4
mg
(2%)