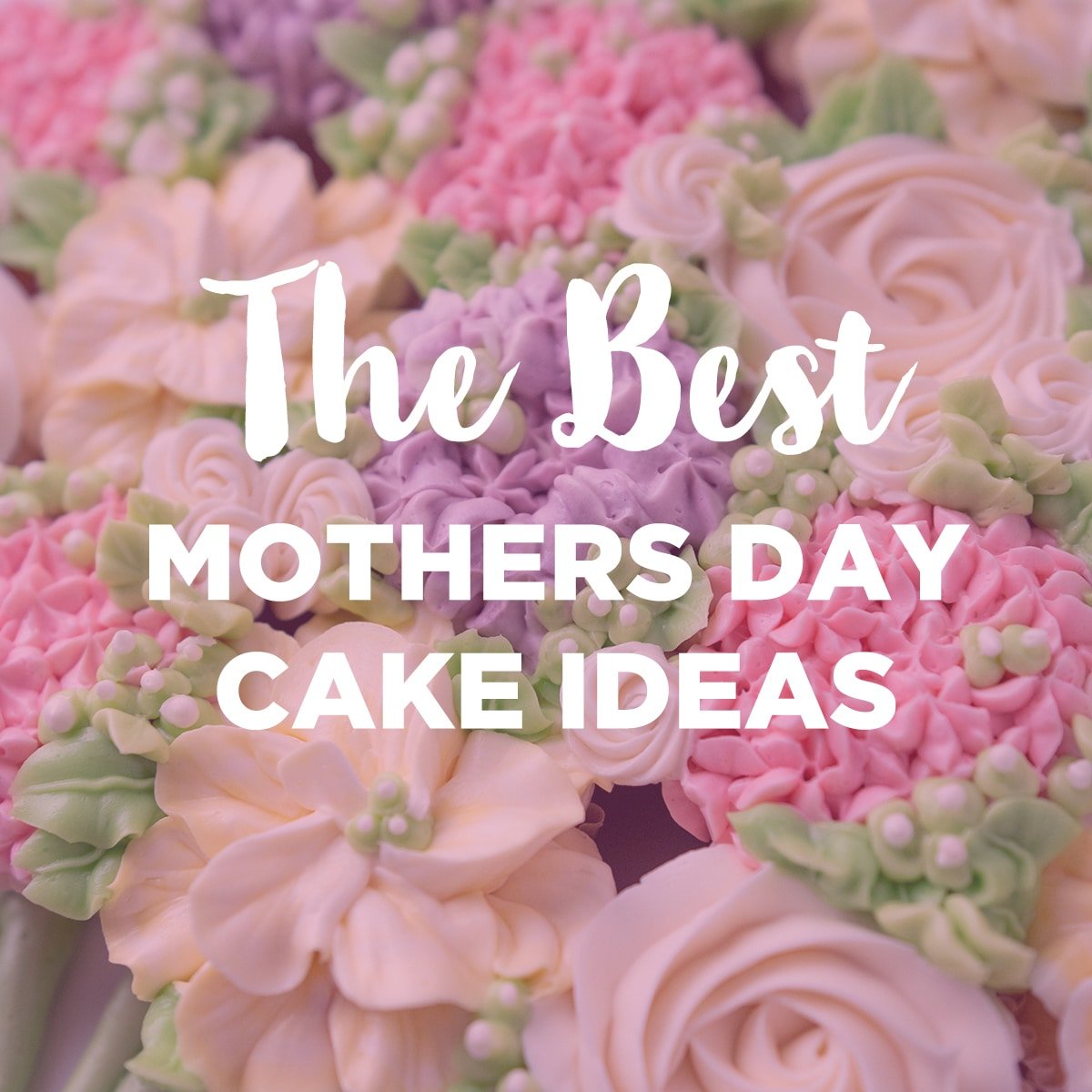 These are the best Mother's day cakes to make for Mom on her special day. From a simple moist pound cake, classic carrot cake with lots of cream cheese frosting, easy bundt cake, layered chocolate cake, or a show-stopping cake with layers of sweet frosting, this blog post covers them all. Even if you've never made a cake before, you'll find the best Mother's day cake ideas right here.
I'm going to start with some super easy cake recipes for beginners and slowly work our way towards more complicated layered cakes and desserts. Use the table of contents below to look through the different types of cakes you can make or just scroll down and prepare to blow Mom away with your amazing baking skills this year!
Pound Cake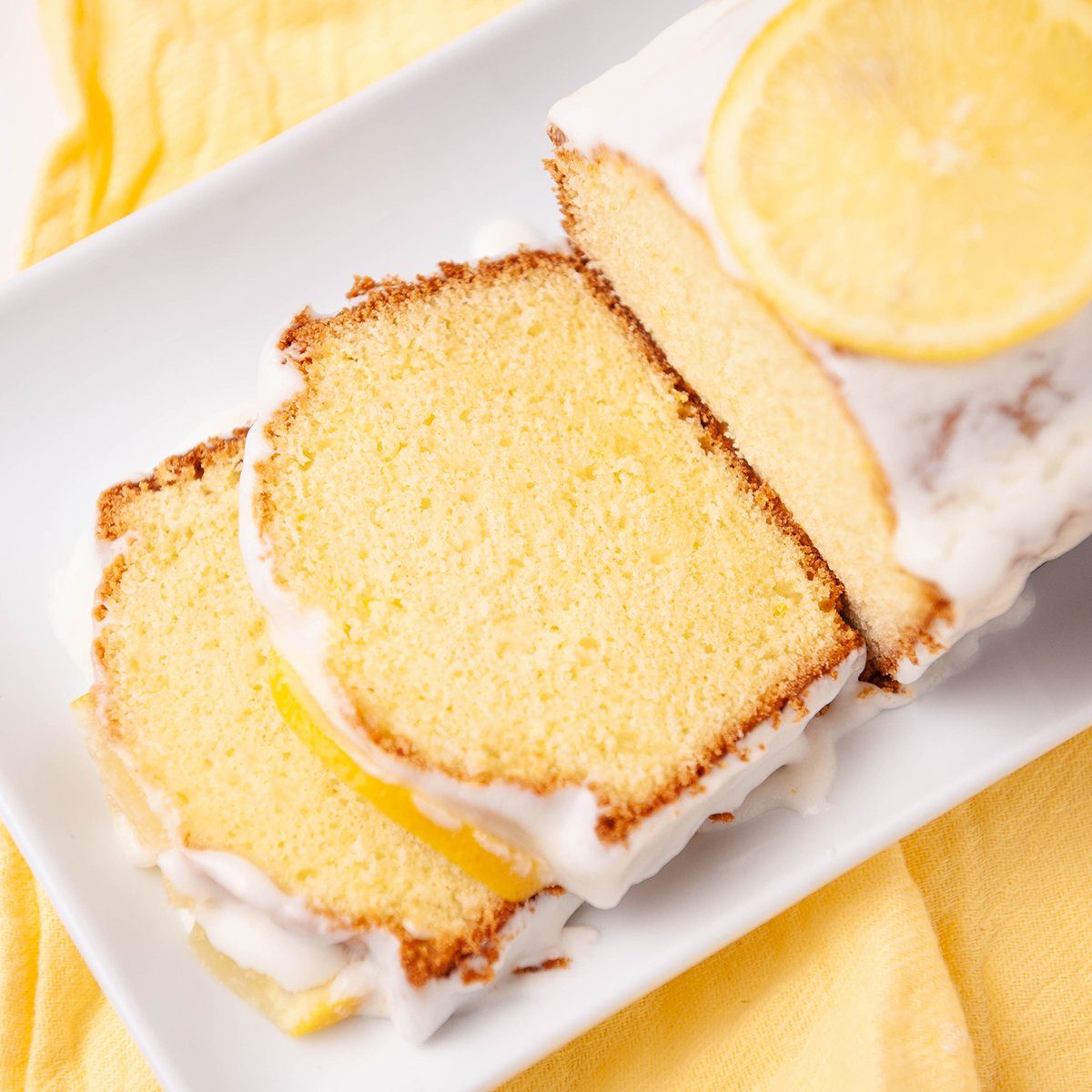 A classic moist lemon pound cake is always a favorite and pretty darn easy to make. Top with a nice glaze and some fresh edible flowers or fruit and you've got the perfect Mother's day brunch dessert.
Mom's Blackberry Sponge Cake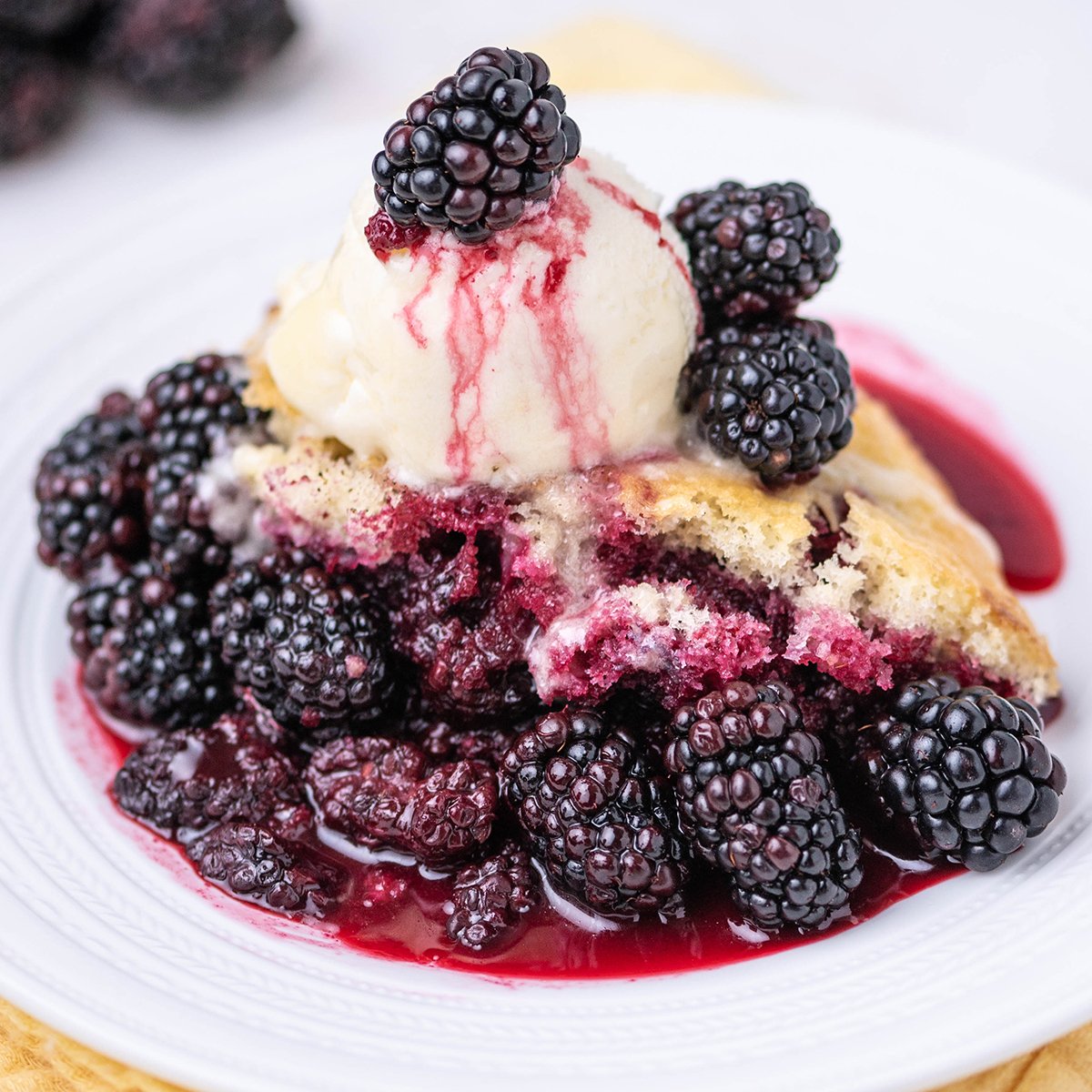 I have to start this off with my own mom's favorite dessert. We not only made this blackberry sponge cake for Mother's day but it was a pretty common dessert growing up, especially during the summertime when fresh blackberries were in abundance. This cake is really more like a cobbler but I had to include it for nostalgia's sake.
Bundt Cake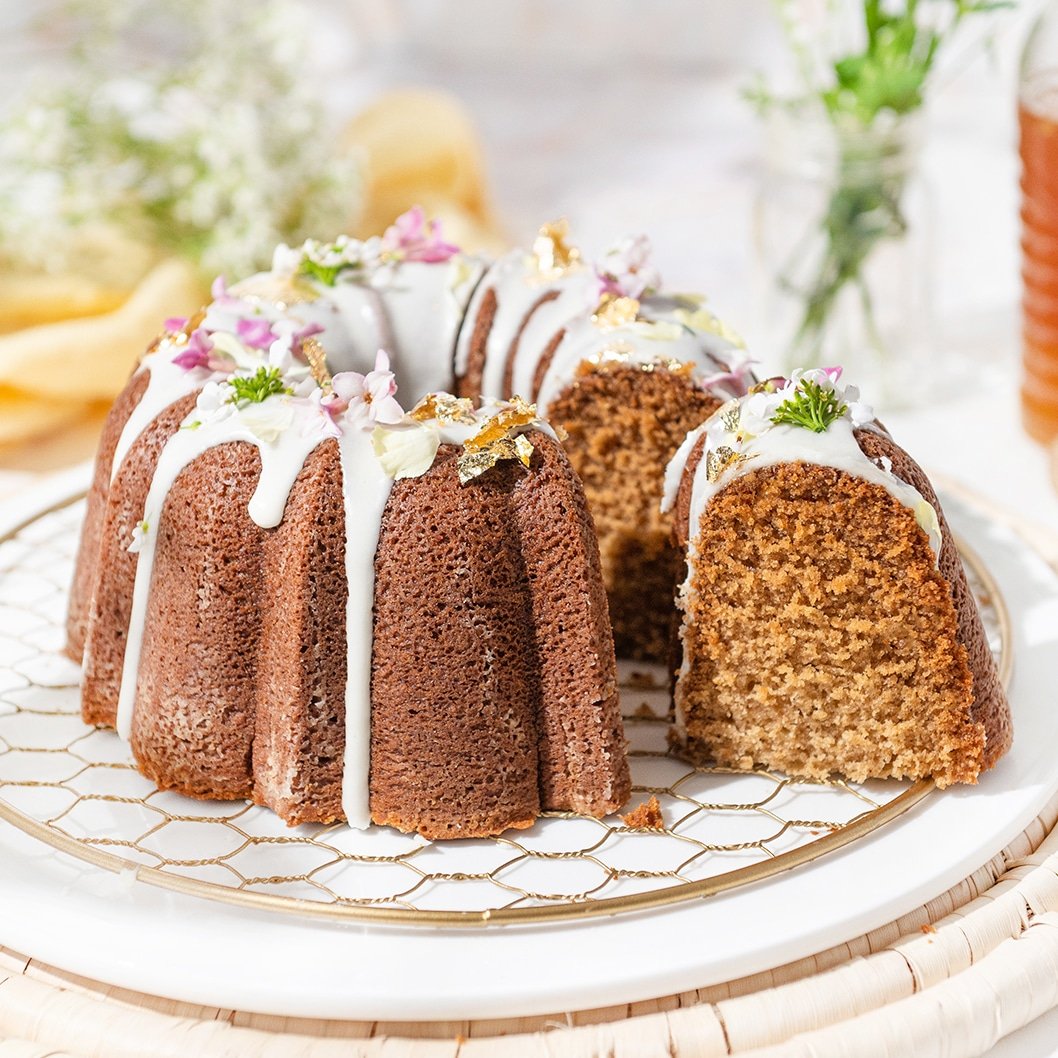 I love a beautiful bundt cake! There's just something so satisfying about them. I've got a TON of bundt cake recipes on the blog but I especially love the chocolate bundt cake (for the chocolate lover) or the honey bundt cake which is SUPER moist cake.
Sheet Cake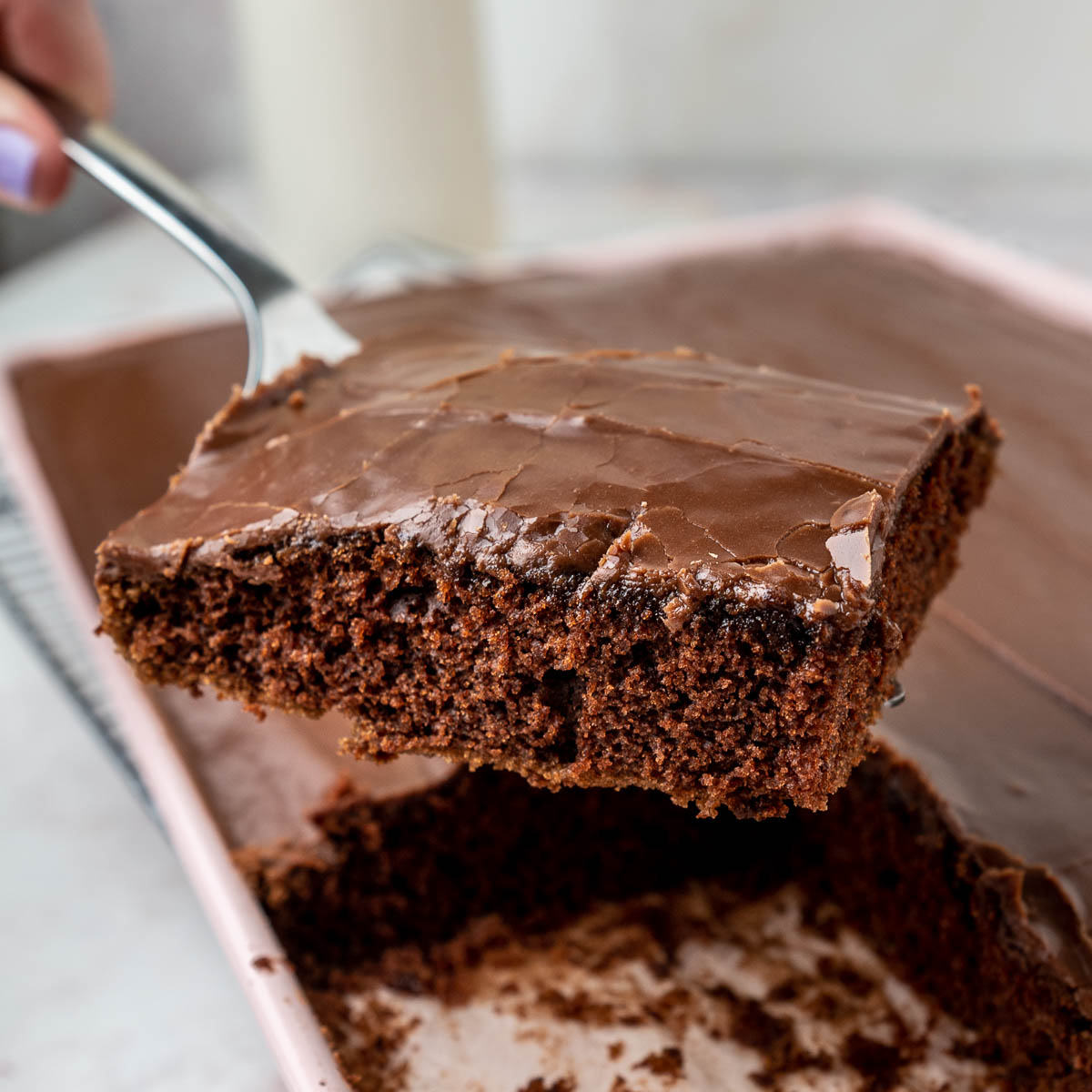 Don't underestimate the power of a pretty sheet cake! They are seriously coming back in style and could not be easier to make. You COULD use a box mix and I won't judge you but you might want to check out my WASC (White Almond Sour Cream) recipe that makes a simple box mix taste a MILLION times better but is still super easy to make. If you like piping on cakes this is the perfect cake to practice some easy borders or buttercream flowers and even write a nice message in the center! looking for a chocolate sheet cake? Check out my classic Texas sheet cake recipe.
Blueberry Pancake Cake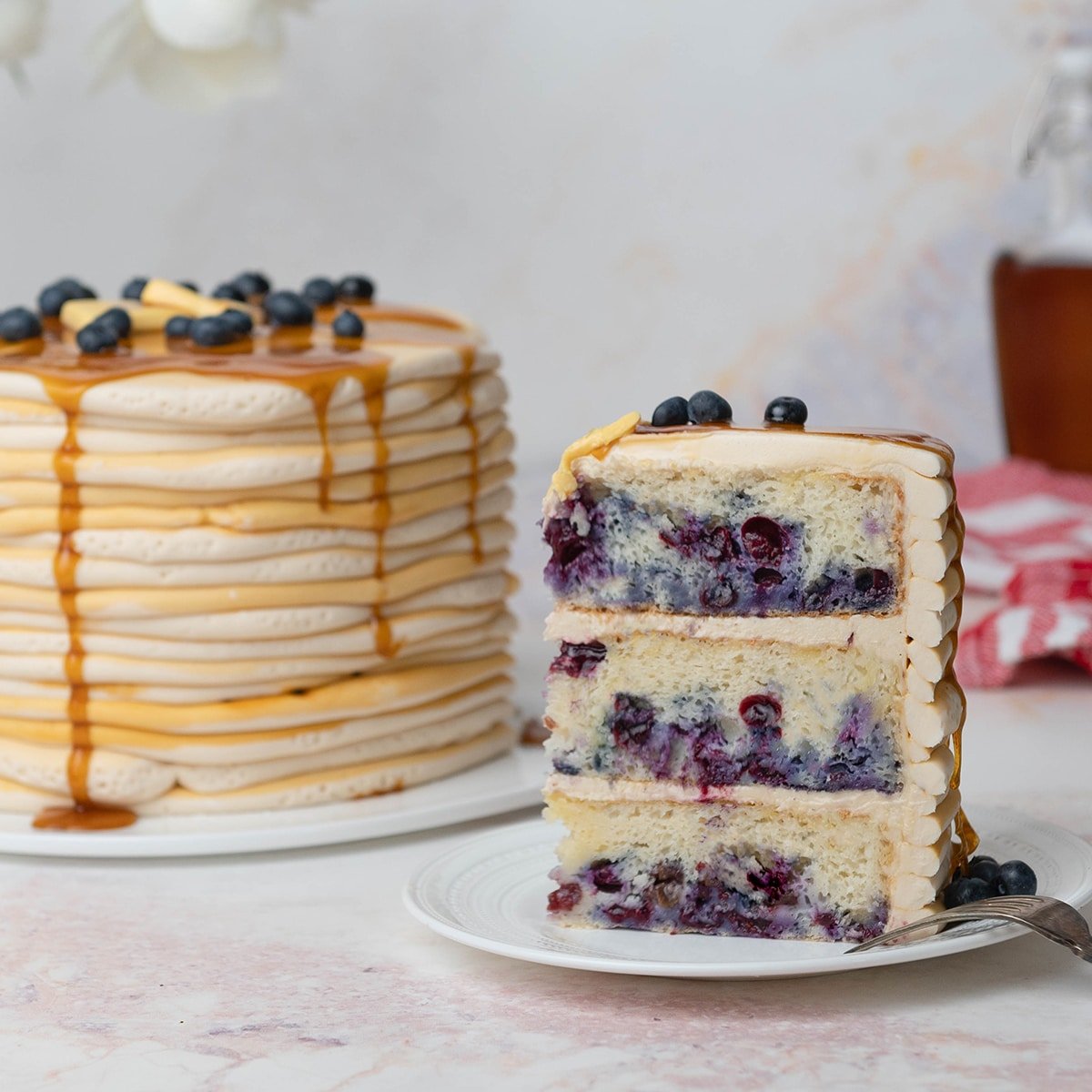 This is a great cake for kids to make for Mom. All you need is your favorite pancake mix and some blueberries. Mix it all together and bake it in a cake pan! Top with some whipped cream and fresh berries and serve it to Mom breakfast in bread style. Don't forget the coffee!
If you're in a practical joker mood you can also dress your blueberry pancake cake up to look like an actual stack of pancakes using my pancake cake tutorial! Pretty easy to do and fun!
Olive Oil Cake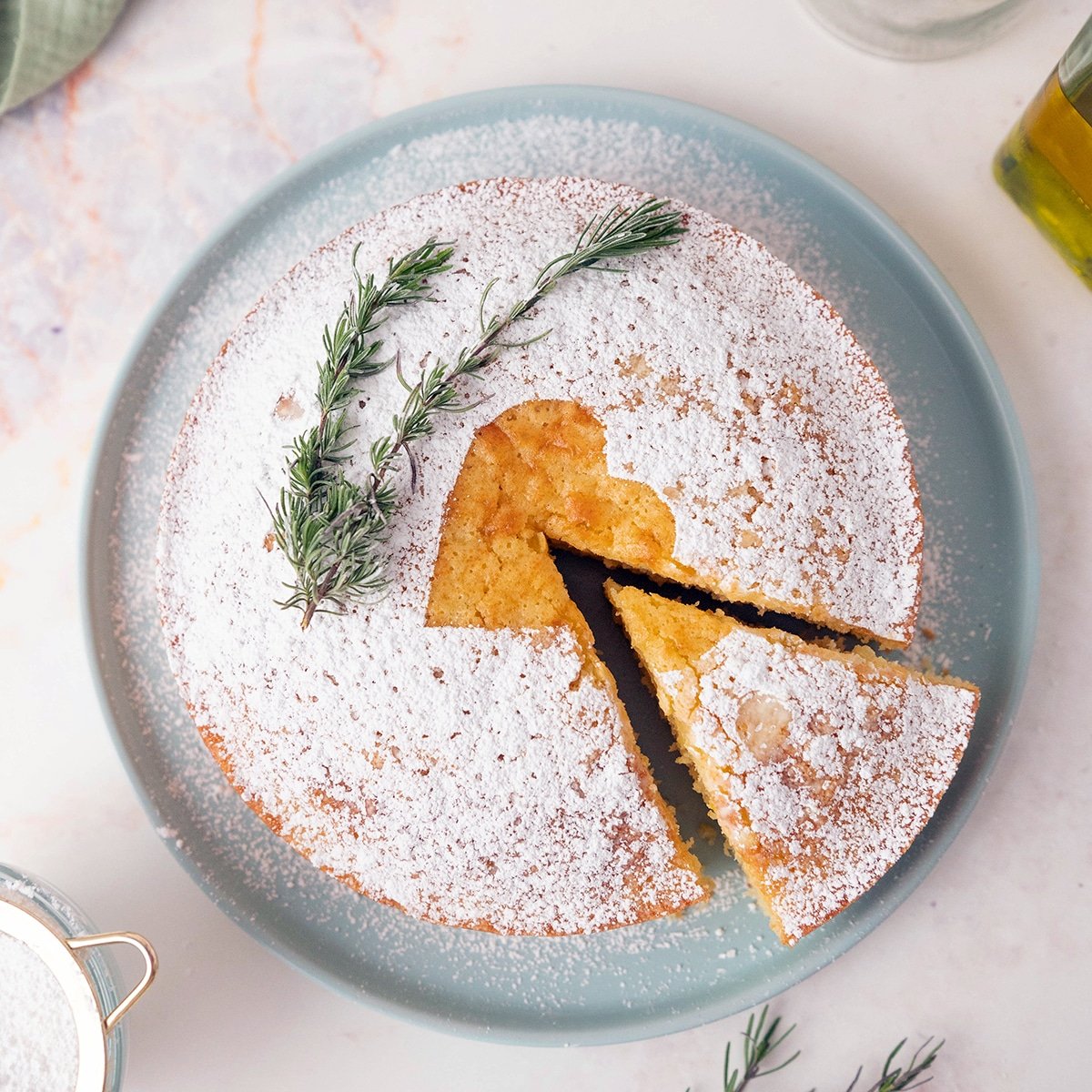 This cake might sound a little strange to you but olive oil cake is actually quite delicious and a beautiful cake to serve at a Mother's day dinner. The texture is light and extremely moist. I like to serve this cake straight from the pan or transfer it to a pretty cake plate. Be careful, you might just eat the entire cake all by yourself.
Carrot Cake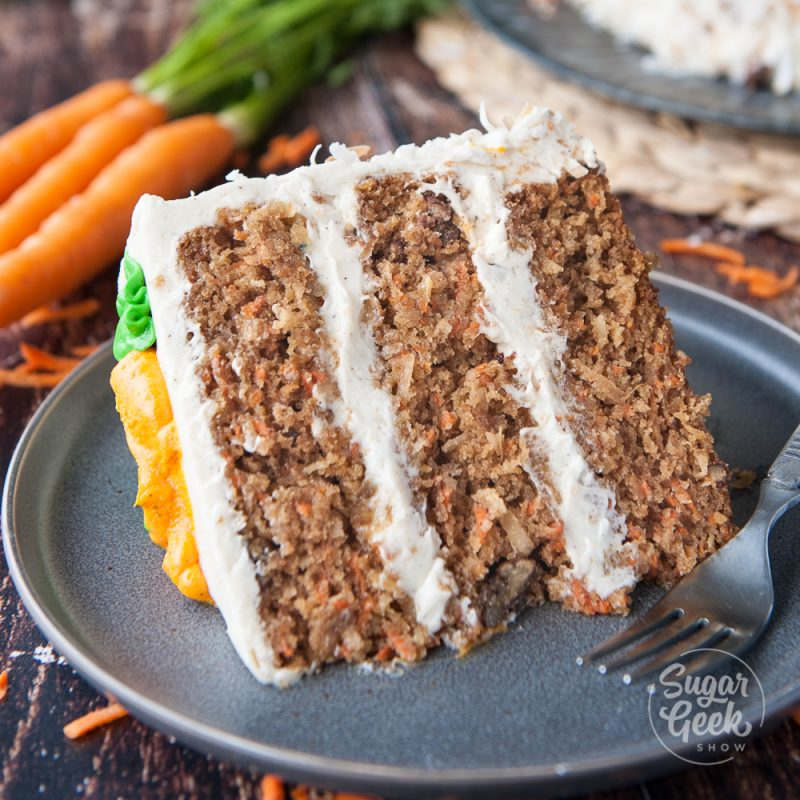 I absolutely LOVE LOVE carrot cake. Every time I see it on the menu I have to try it. This is my favorite carrot cake recipe and has tons of freshly grated carrots, toasted pecans for crunch (you can leave them out if you don't like them), and of course lots and lots of delicious cream cheese. Even though this is a layered cake, it's fairly easy to make and the frosting is nice and rustic.
Rich Chocolate Cake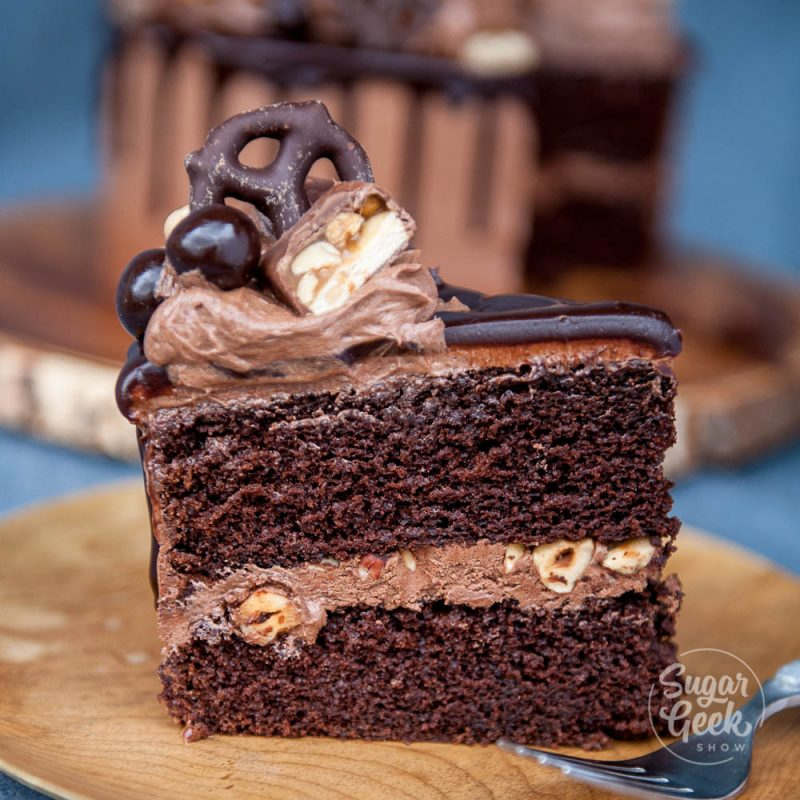 This is my favorite chocolate cake recipe! It's a one-bowl method so it's easy to make. Frost it with my favorite rich chocolate ganache recipe and some fresh strawberries and you've got the perfect gift for your chocolate-loving mama.
Red Velvet Cake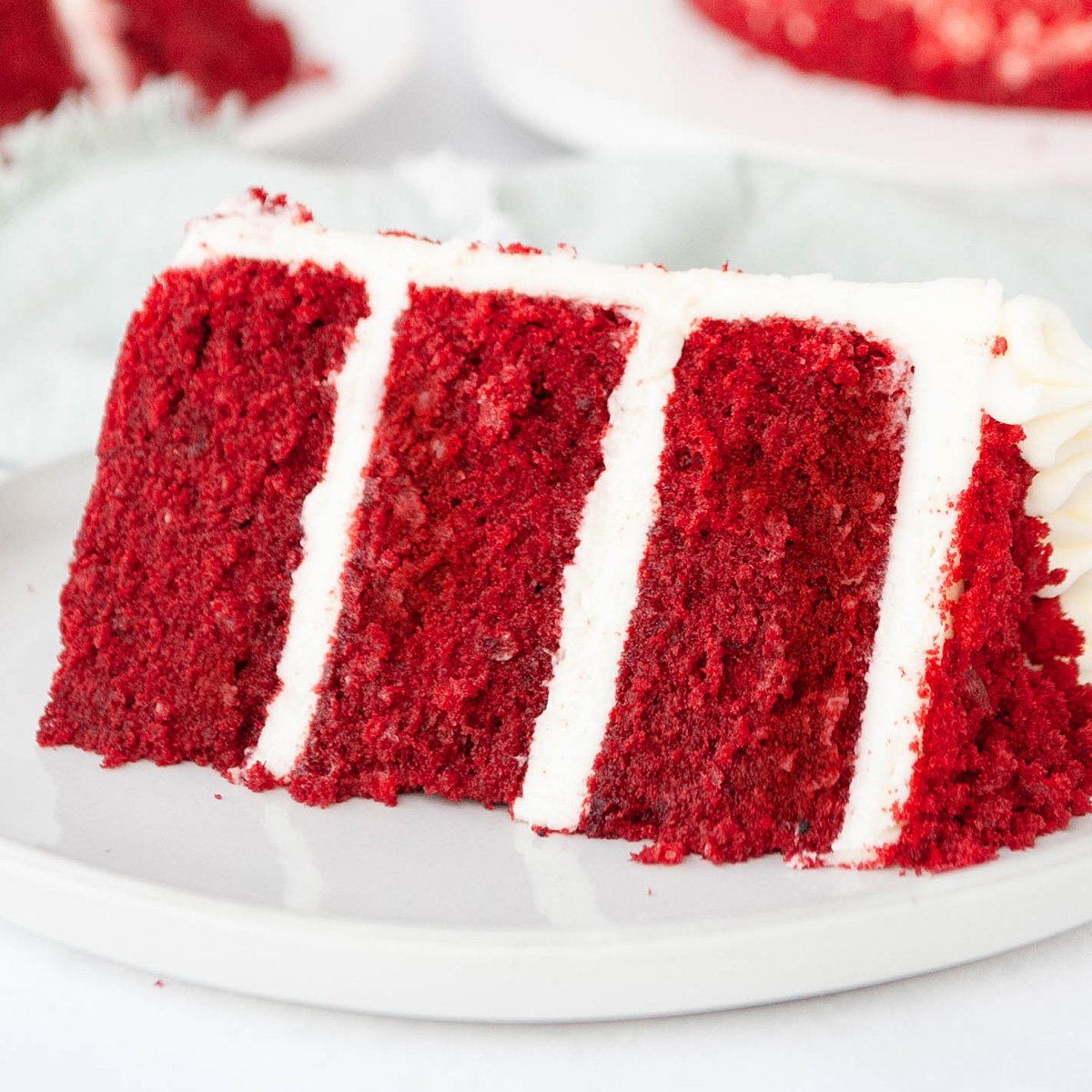 This classic Southern red velvet cake has always been one of my favorite flavors for a Mother's day dessert. This beautiful cake only takes one bowl to make and is frosted with a smooth and creamy cream cheese frosting. The secret to this classic southern recipe is of course, buttermilk!
Coconut Layer Cake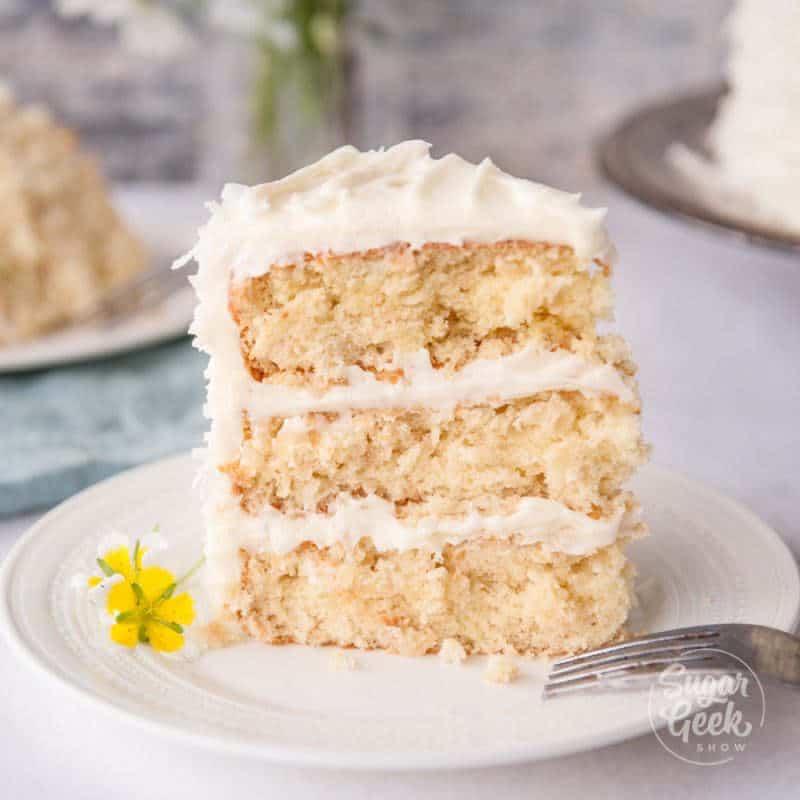 Coconut cake makes a truly show-stopping cake! Super moist layers of cake with generous layers of frosting and lots of shredded coconut. If your mom loves coconut she will love this cake.
Pink Velvet Cake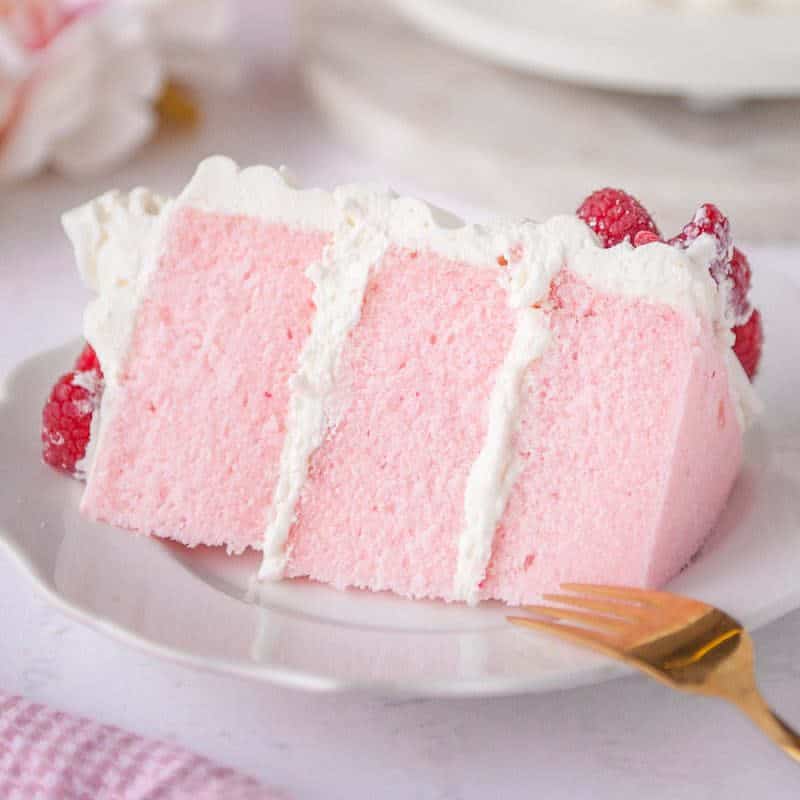 One of the most (if not the most) popular cake recipes on the blog. This pink velvet cake is a very light and delicate cake that isn't too sweet with stabilized whipped cream between those cute pink layers.
Berry Chantilly Cake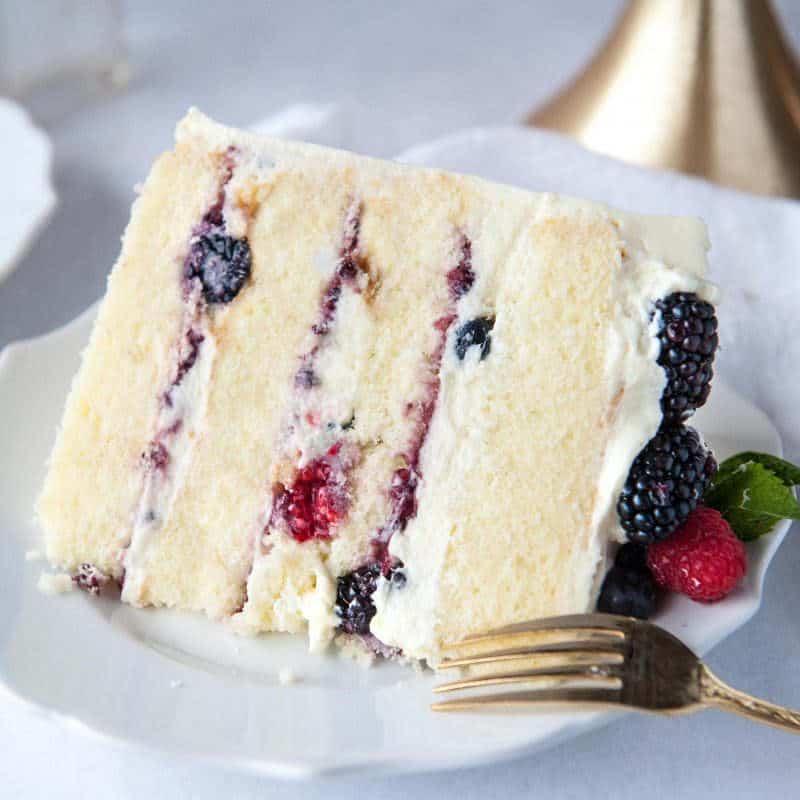 Is mom obsessed with the berry chantilly cake from whole foods? Well, you COULD just go buy another one or impress her with this homemade version!
Strawberry Cake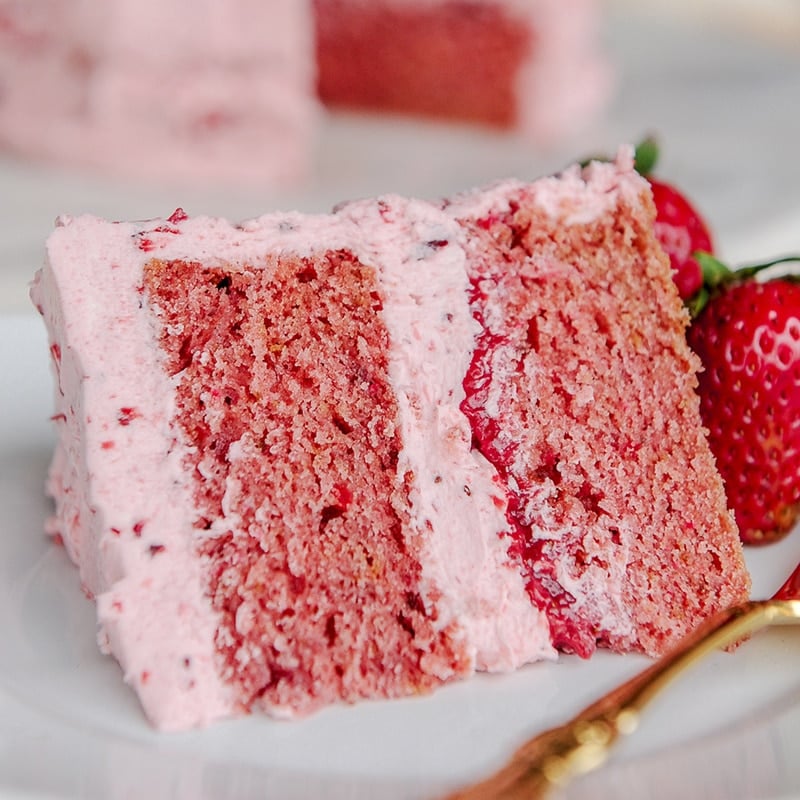 This fresh strawberry cake has an incredibly moist texture and is made with fresh strawberries and fresh fruit. It takes a bit more work since you have to make the strawberry puree first but the cake has such a bright flavor, it's definitely worth it!
Lemon Cake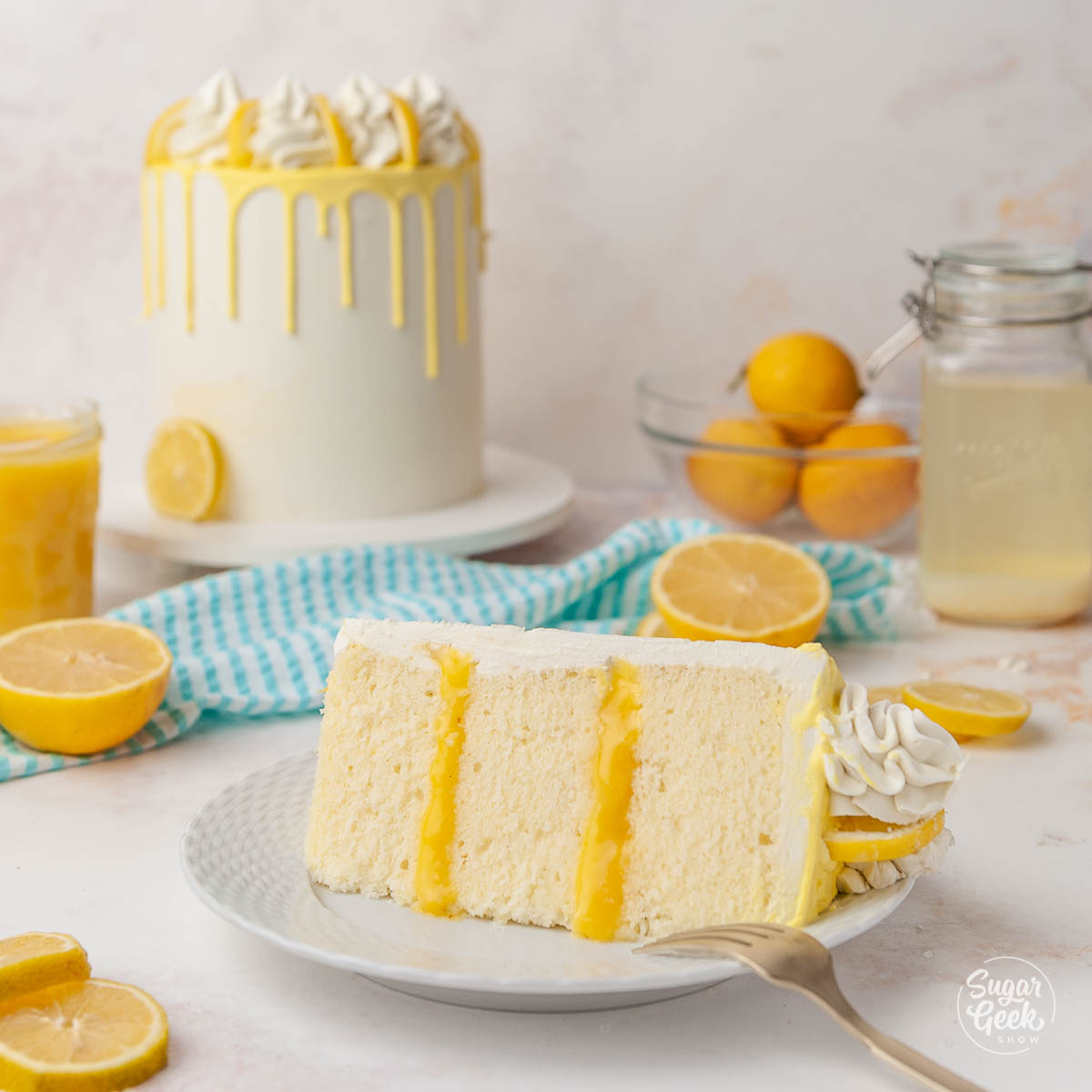 I looooove this lemon velvet cake filled with fresh lemon curd! It uses lots of lemon zest and lemon oil so you have a truly natural flavor. It's also easy to turn into a lemon raspberry cake by folding in some fresh raspberries or a lemon blueberry cake. This is one of the moistest cakes I have ever had.
Rose Cake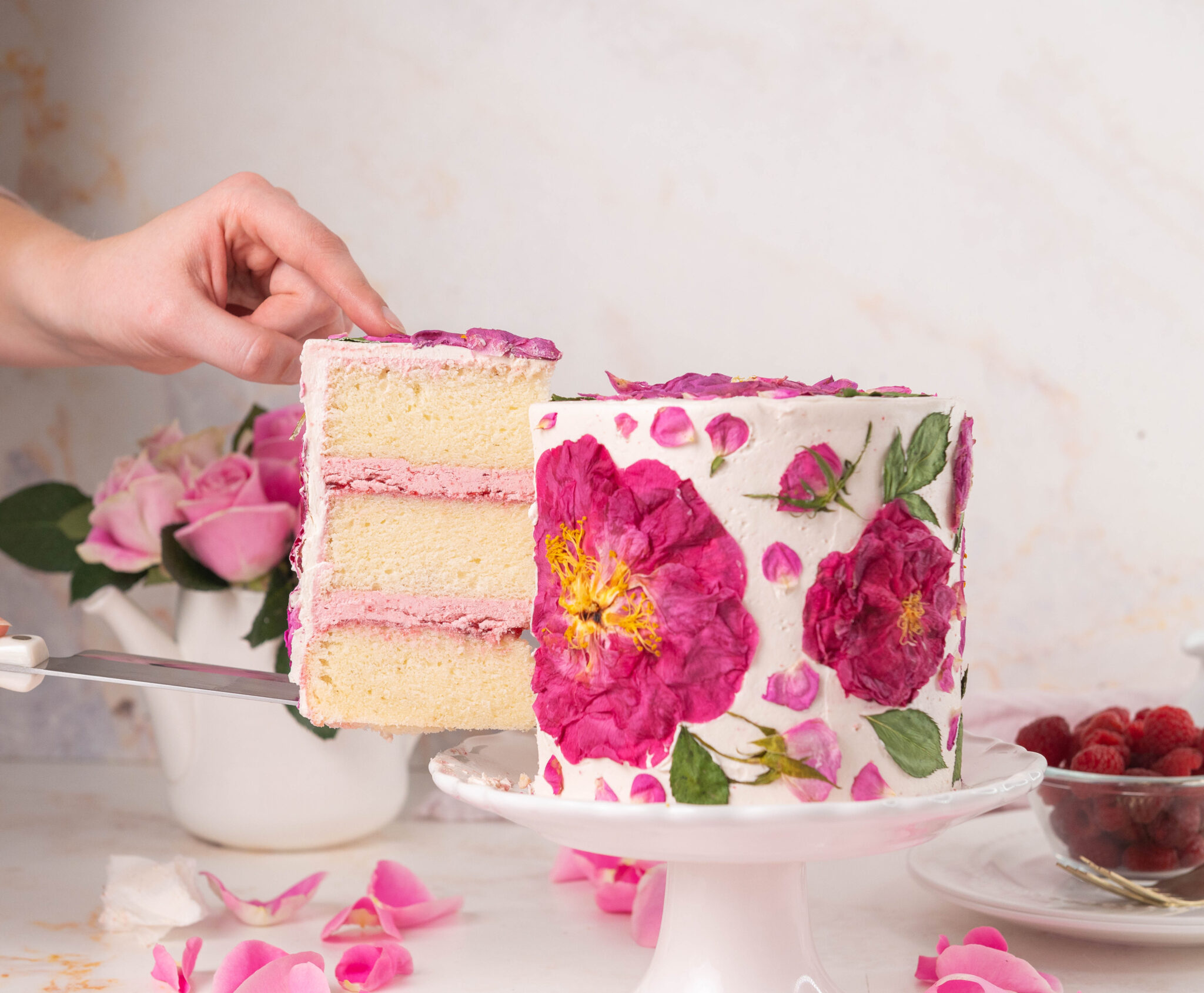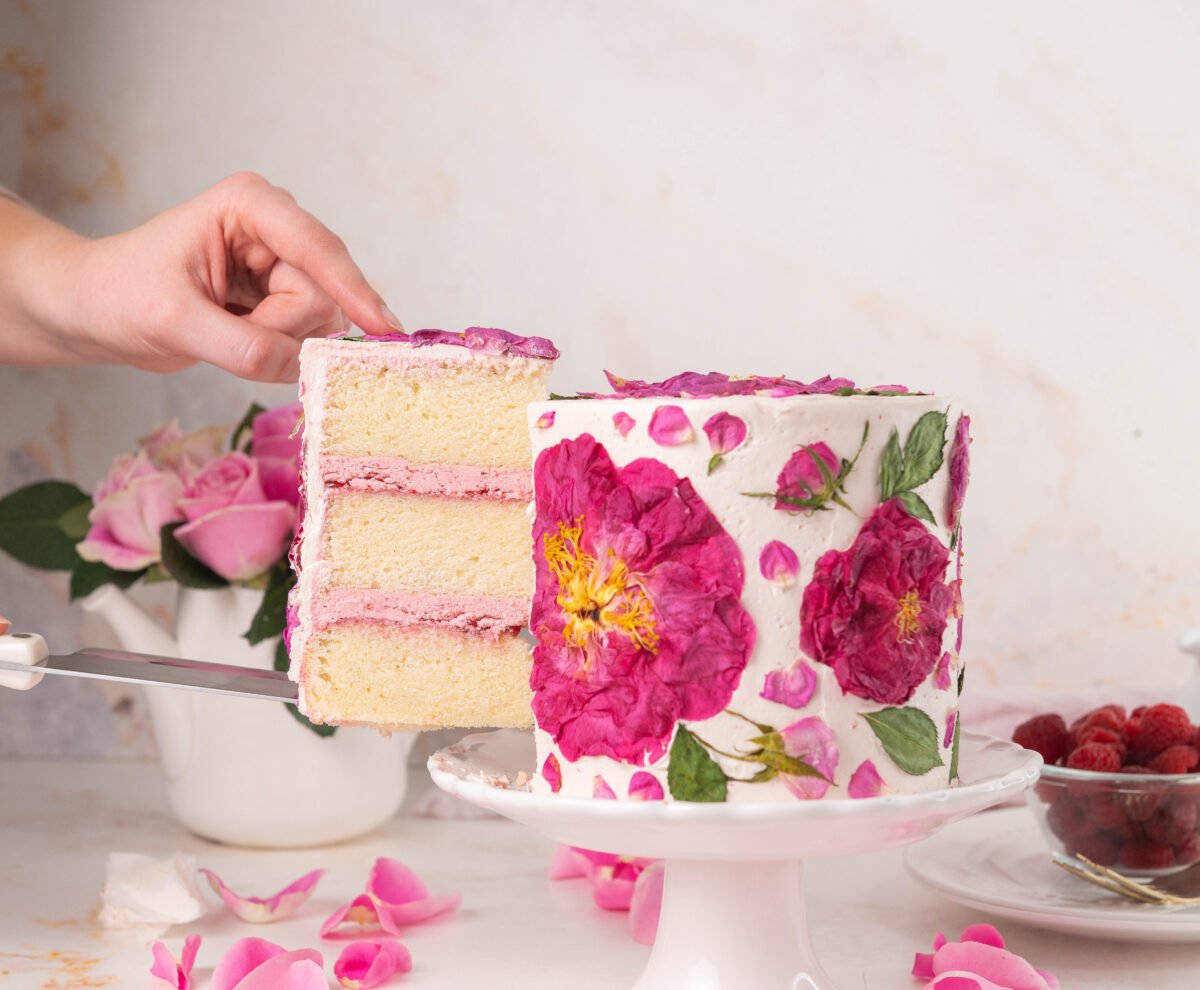 This rose cake may look complicated but it's actually really easy to add edible flowers to your Mother's day cake. Just make sure you source them from a place that hasn't sprayed them with pesticides (aka mom's garden).
Flower Bouquet Cupcakes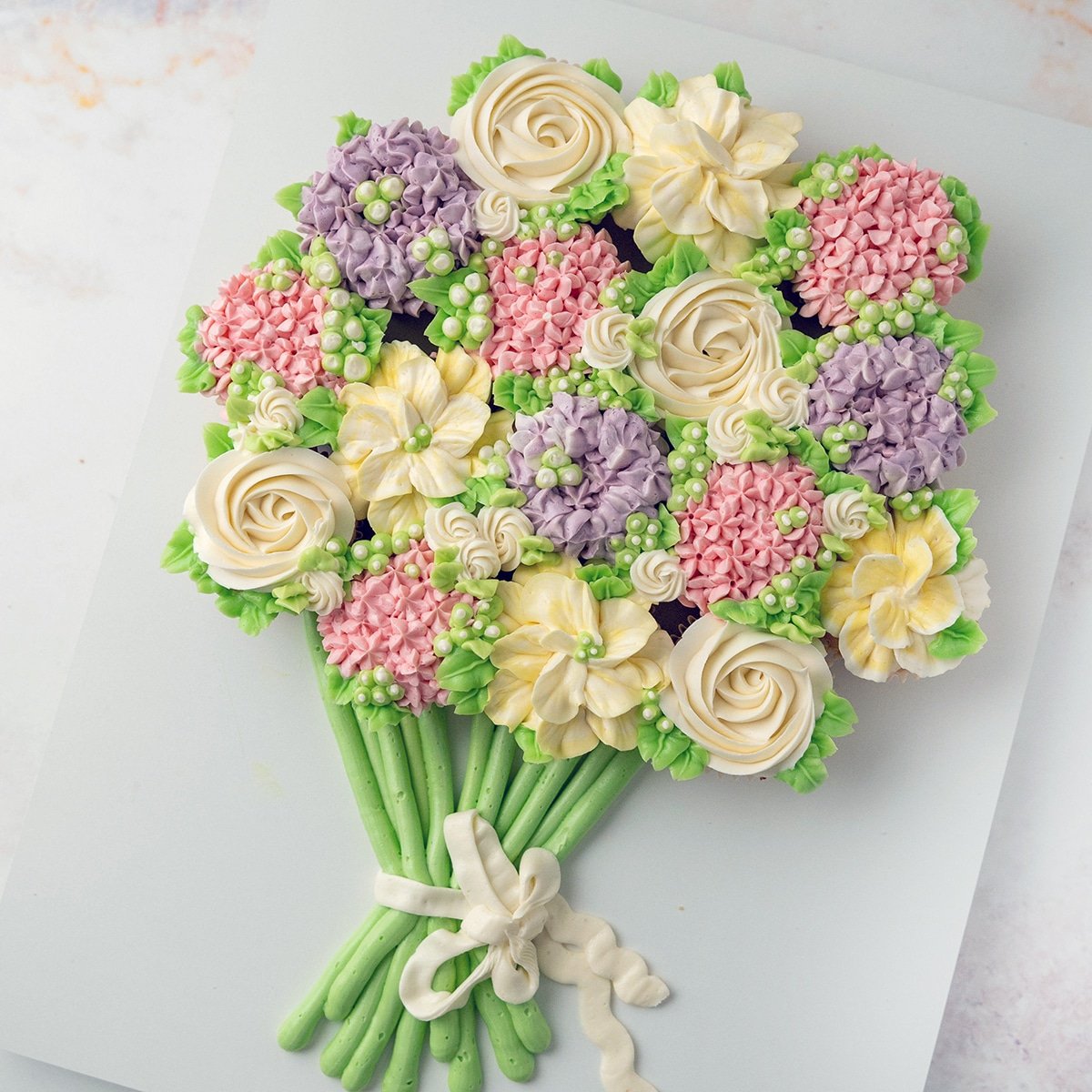 Ok again, not really a CAKE but still a super cute idea and if you love to pipe buttercream flowers, this is really a fun one! Plus what could be easier to serve? Learn how to make this beautiful cupcake bouquet with buttercream flowers here.
Angel Food Cake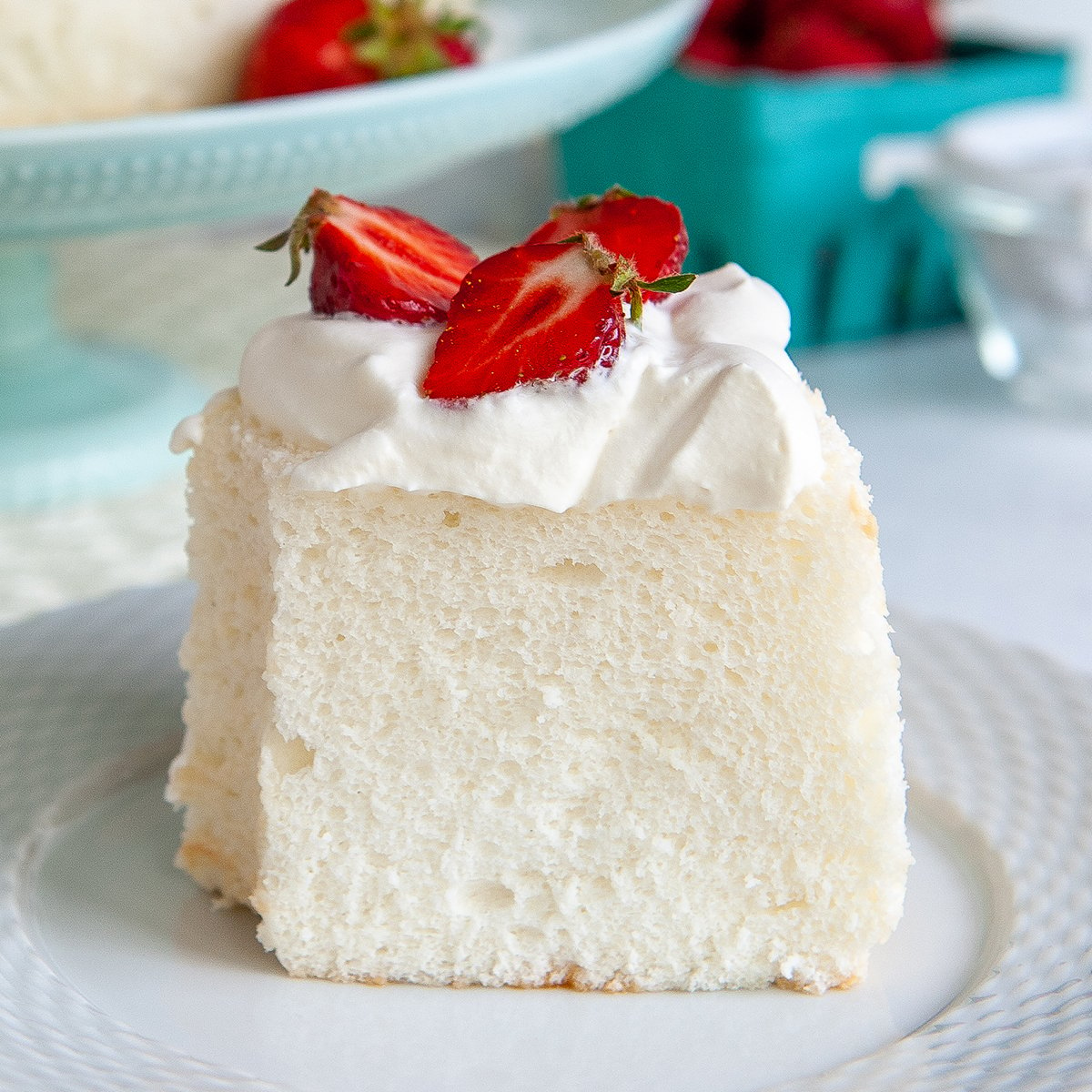 The lightest, fluffiest, and most beautiful Mother's day cake in my opinion. Nothing looks prettier than fresh strawberries on top of that snow-white cake. Angel food cake is a type of sponge cake and is a little trickier but totally doable! The sweetness of the strawberries and whipped cream is all you need with this light and fluffy cake.
German Chocolate Cake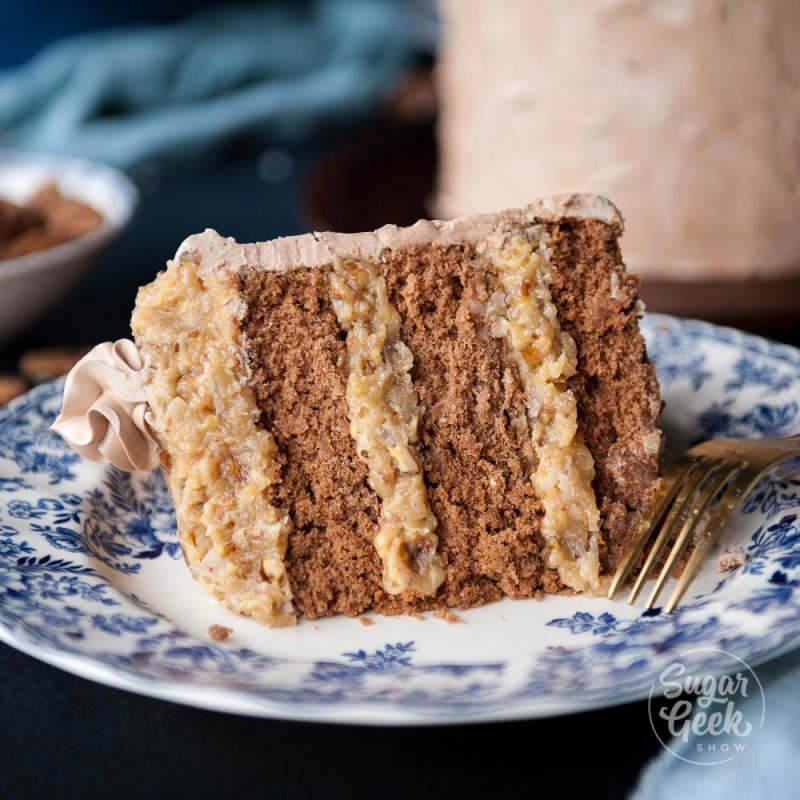 The first time I made this German chocolate cake I was surprised that the chocolate flavor is not that strong. This is a lighter chocolate cake but the homemade coconut pecan filling is truly the star! This is a family favorite in my house.
Mirror Glaze Cake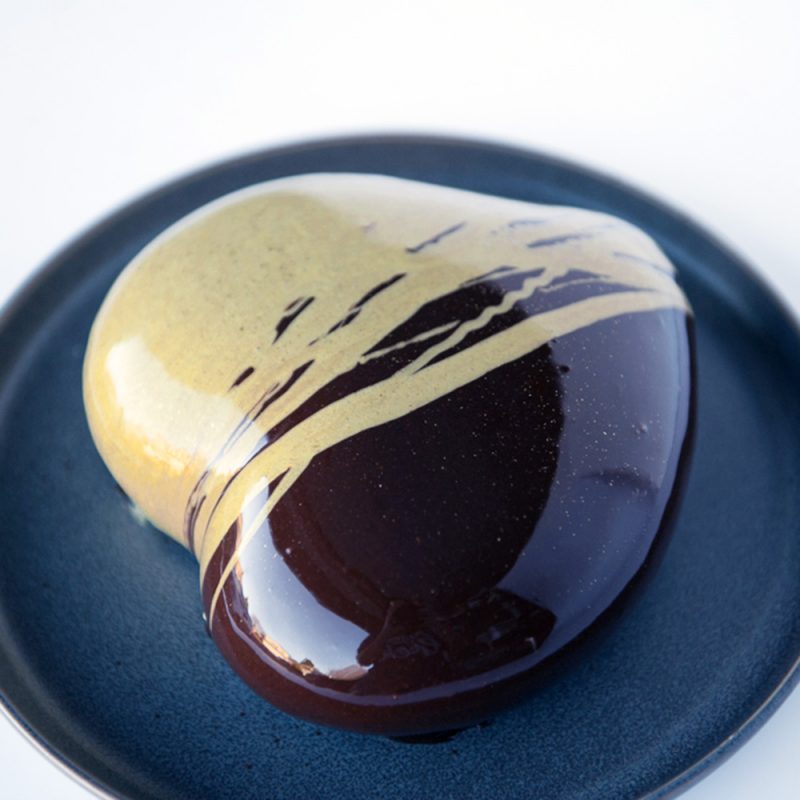 Nothing says I really know what I'm doing in the kitchen like a mirror glaze cake! These cakes are mostly mousse and topped with a beautiful shiny glaze.
Cheesecake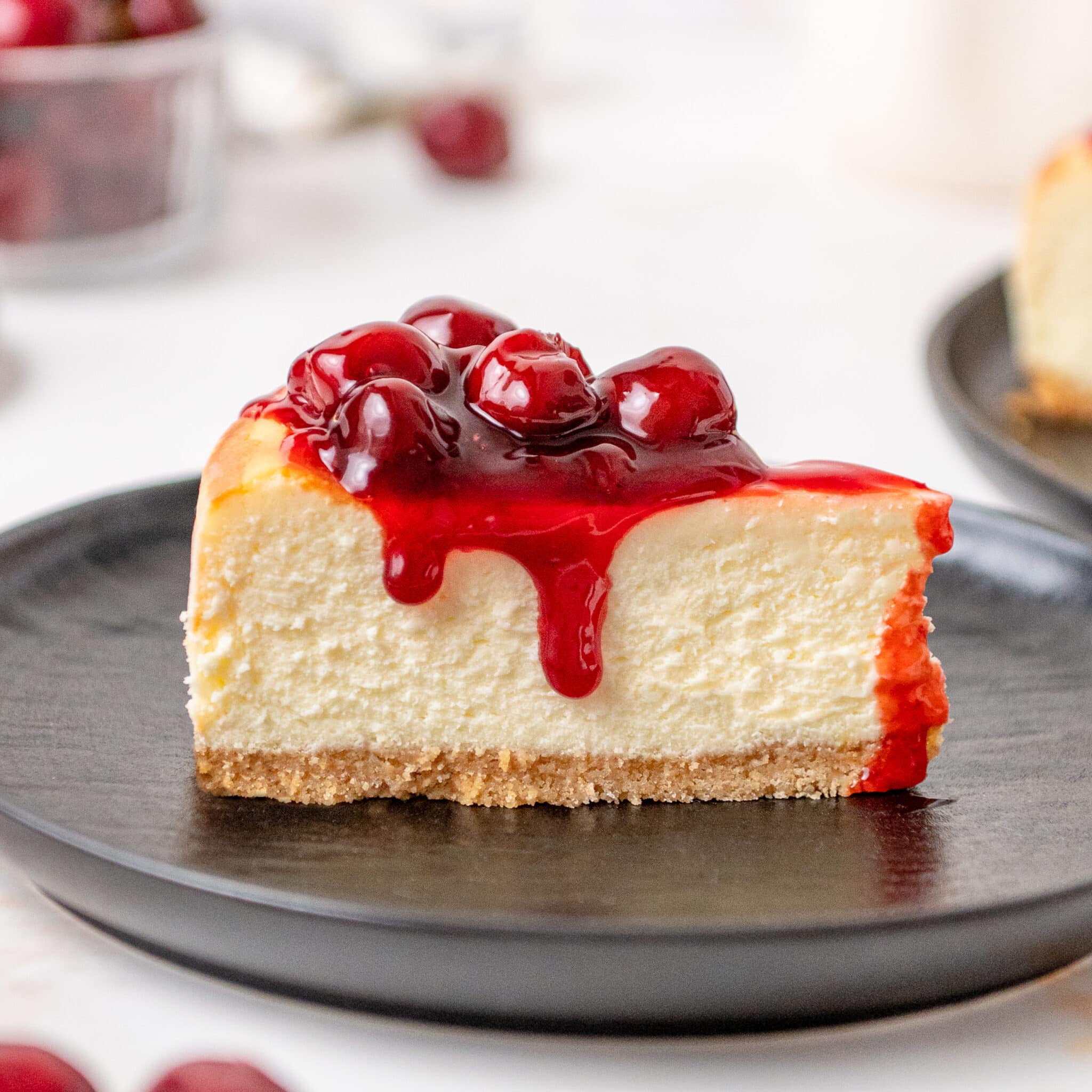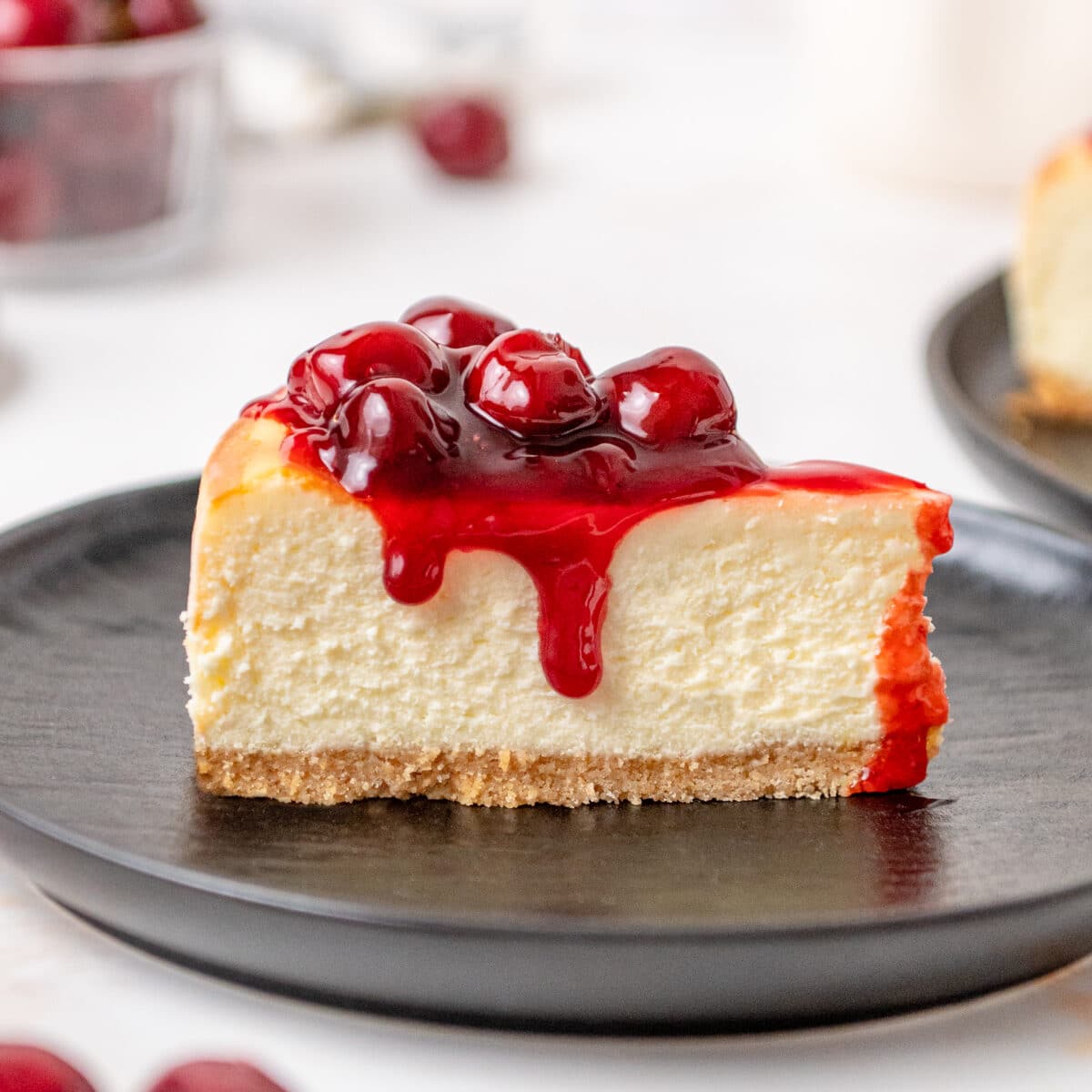 Is cherry cheesecake technically a cake? Well, either way, I know I love cheesecake and would absolutely LOVE someone to make me one! If you're not into cherries, you can always go with my classic cheesecake recipe with the PERFECT texture.
Ice Cream Cake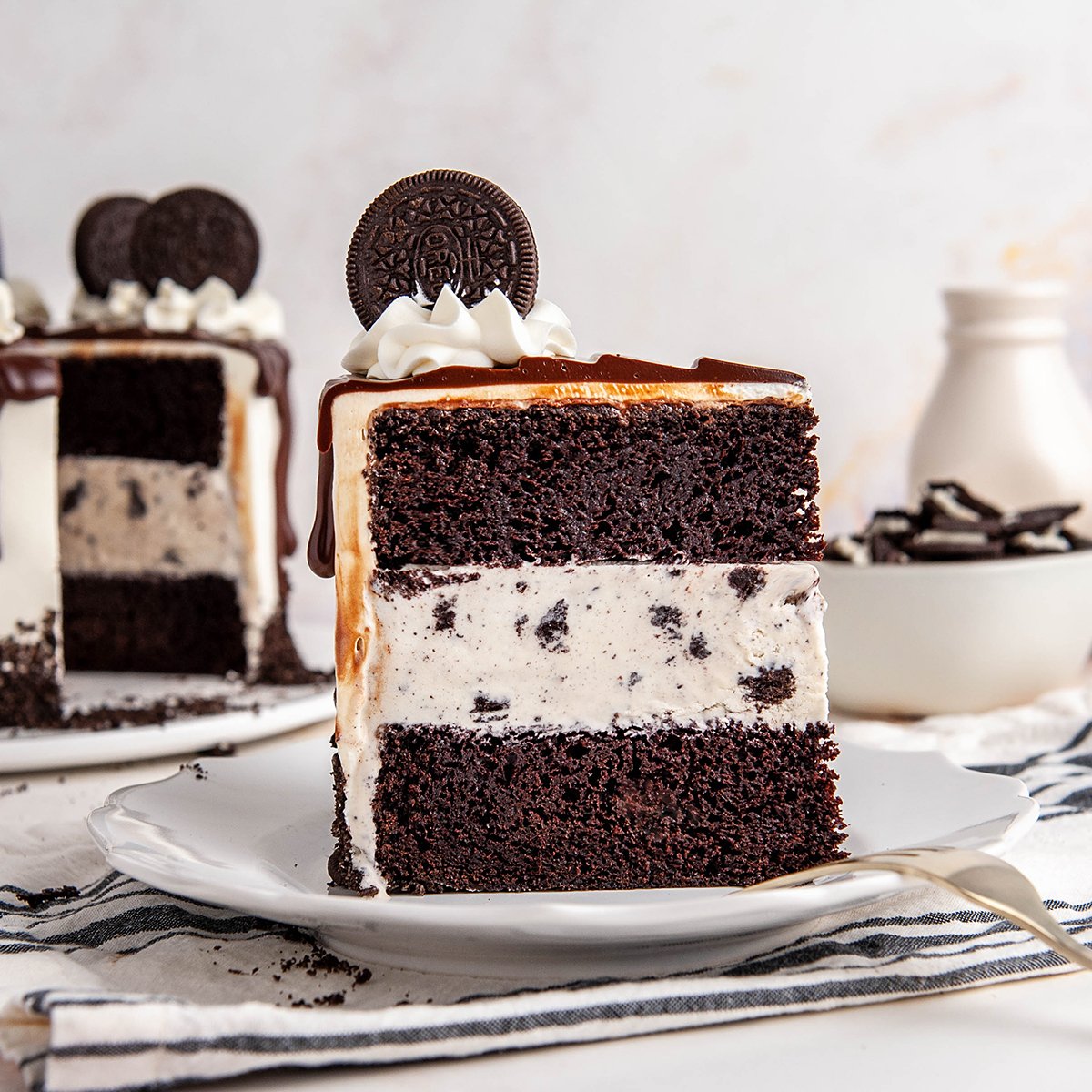 You may not immediately think of this ice cream cake for Mother's day but it's a really fun cake to make for a family celebration. Use your favorite cake and ice cream to make it your own.
Flourless Chocolate Cake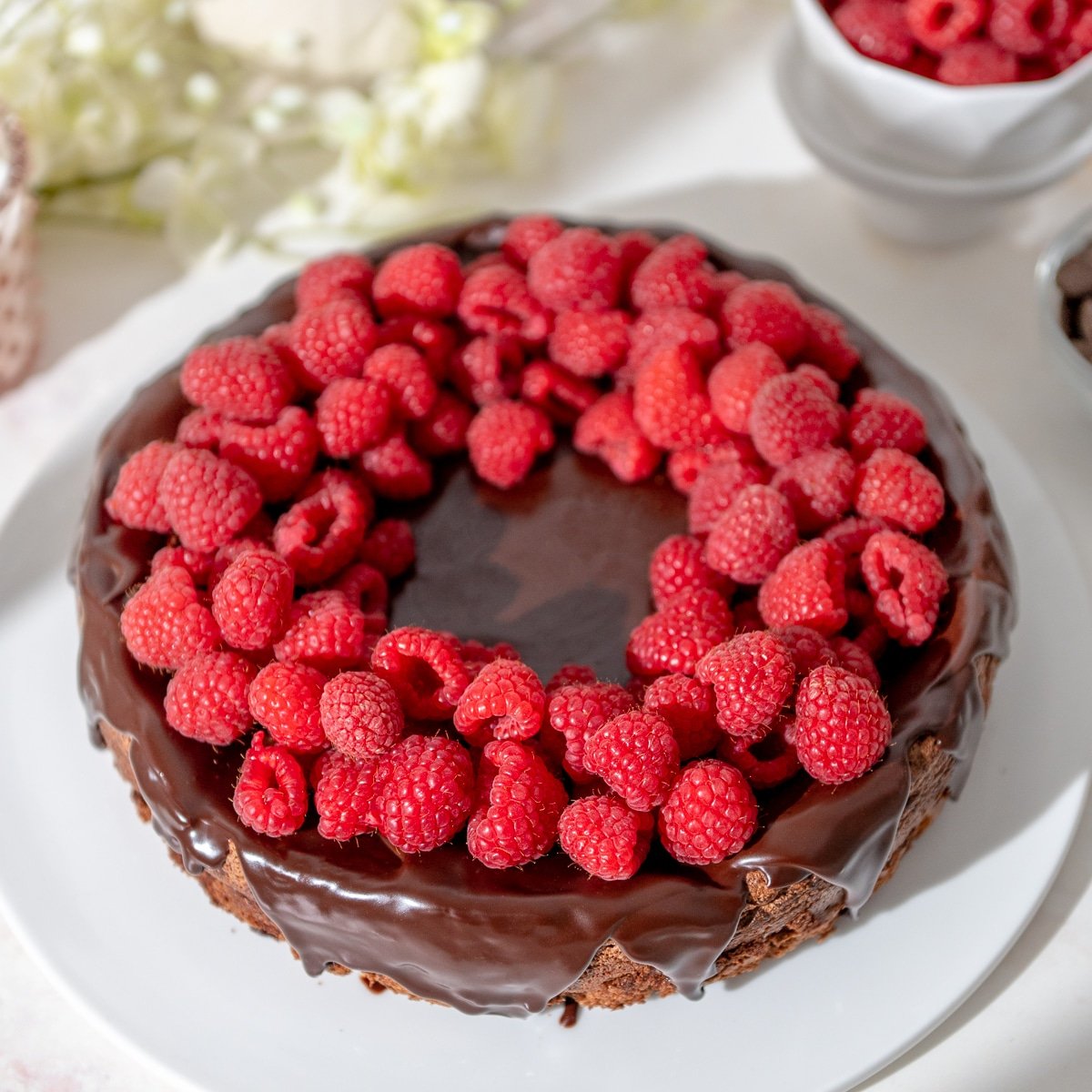 Need a gluten-free cake for Mother's day? This is a fantastic decadent flourless chocolate cake with no gluten!
Tiramisu Cheesecake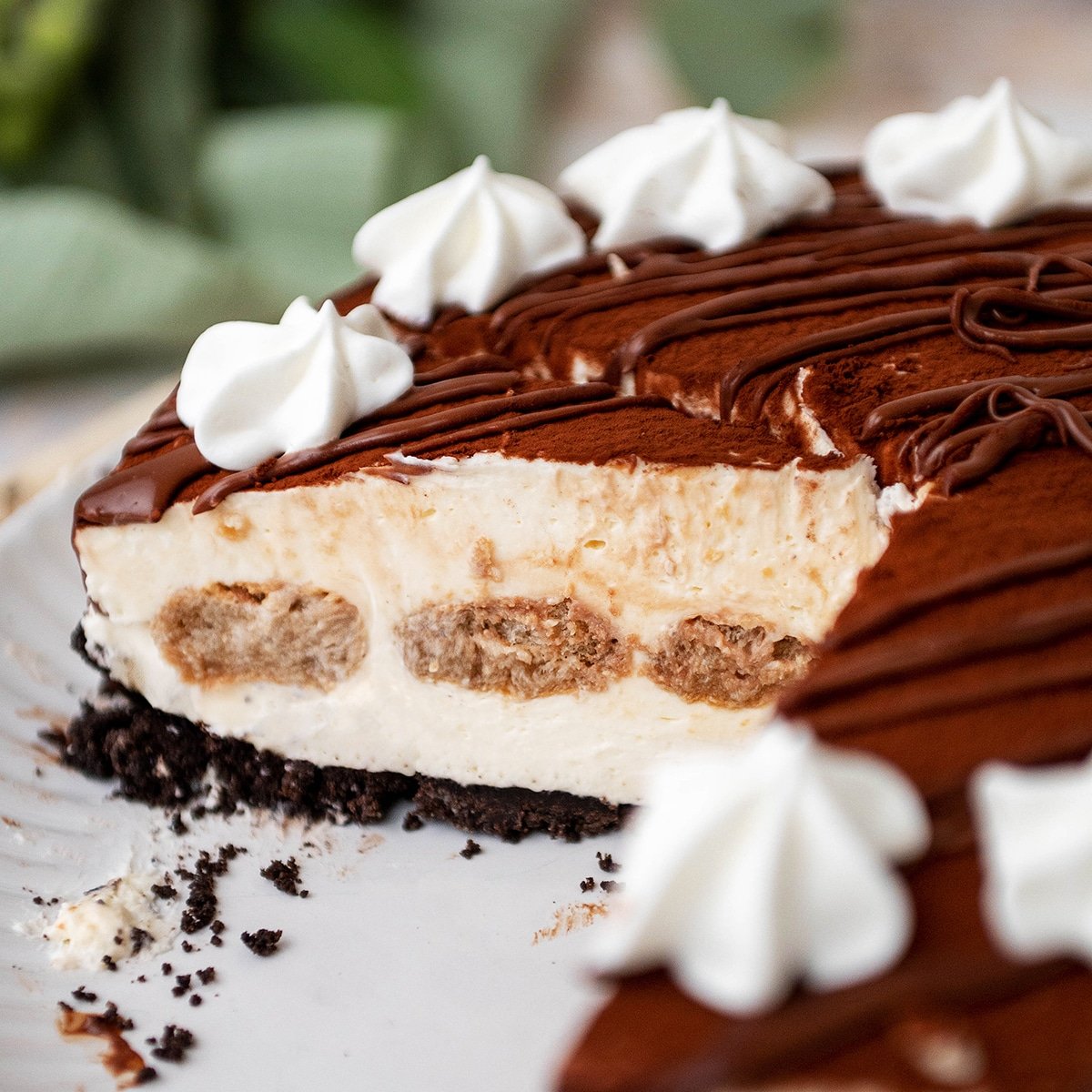 If you love tiramisu, then this is a great option! A twist on the classic dessert and in my opinion, much easier to make! This is a great dessert to make in advance and keeps well in the fridge. This makes a big cheesecake, enough for the whole family to enjoy
Charlotte Cake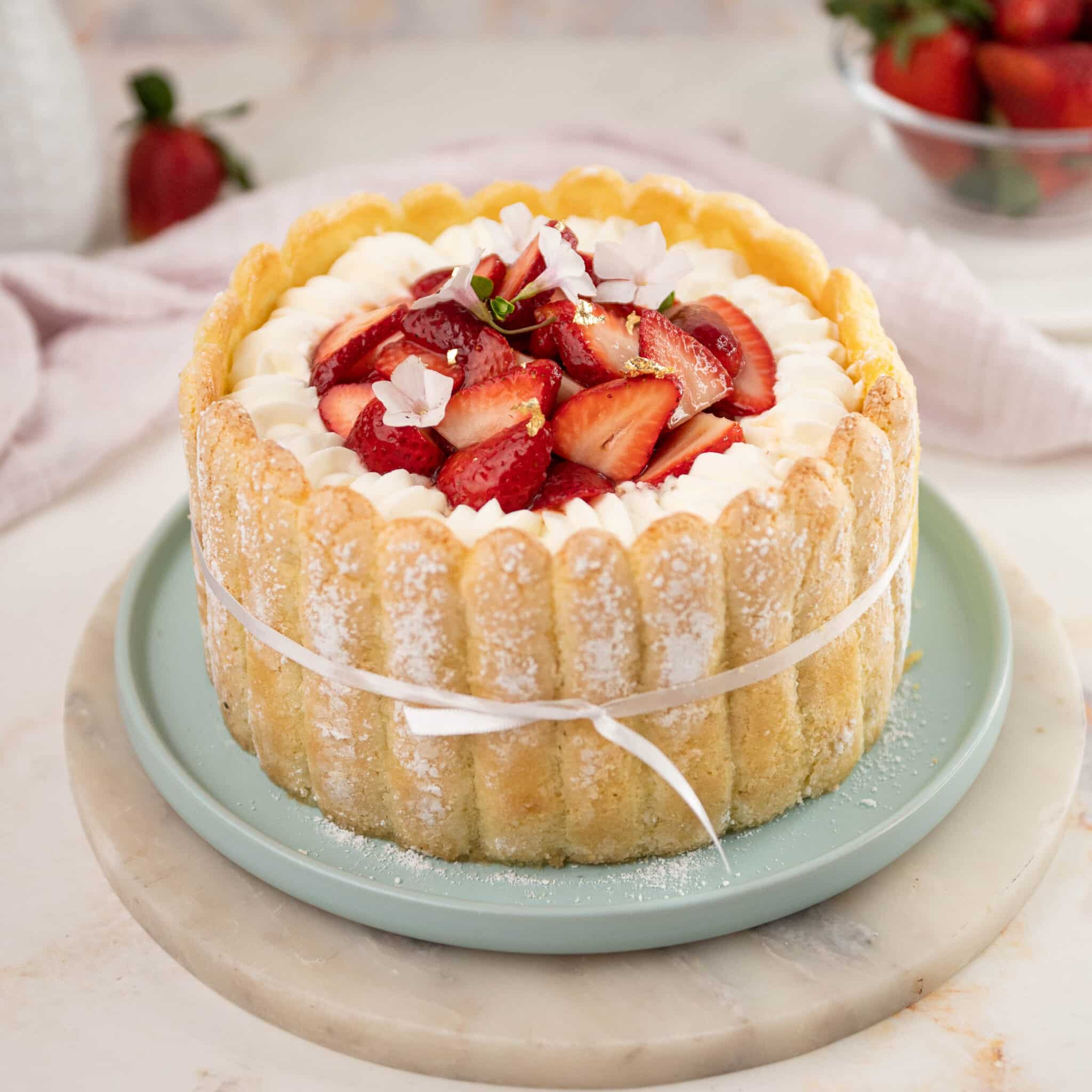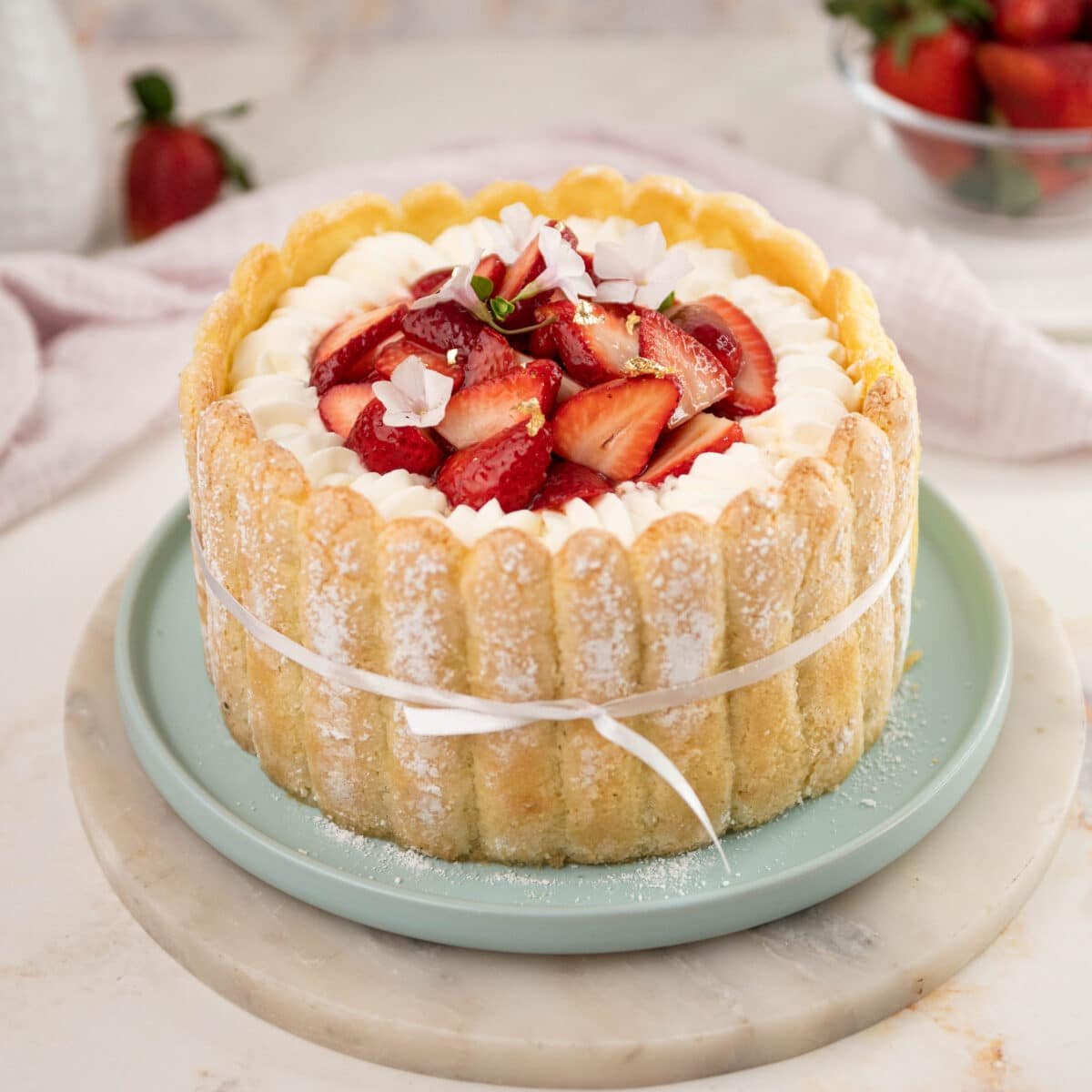 Another beautiful cake that is really visually stunning is the classic Charlotte cake. The lady fingers can be a bit hard to make if you haven't ever done it before but if you're nervous you can also use pre-made ones as well but of course, the homemade ones will taste divine!
Lunchbox Cakes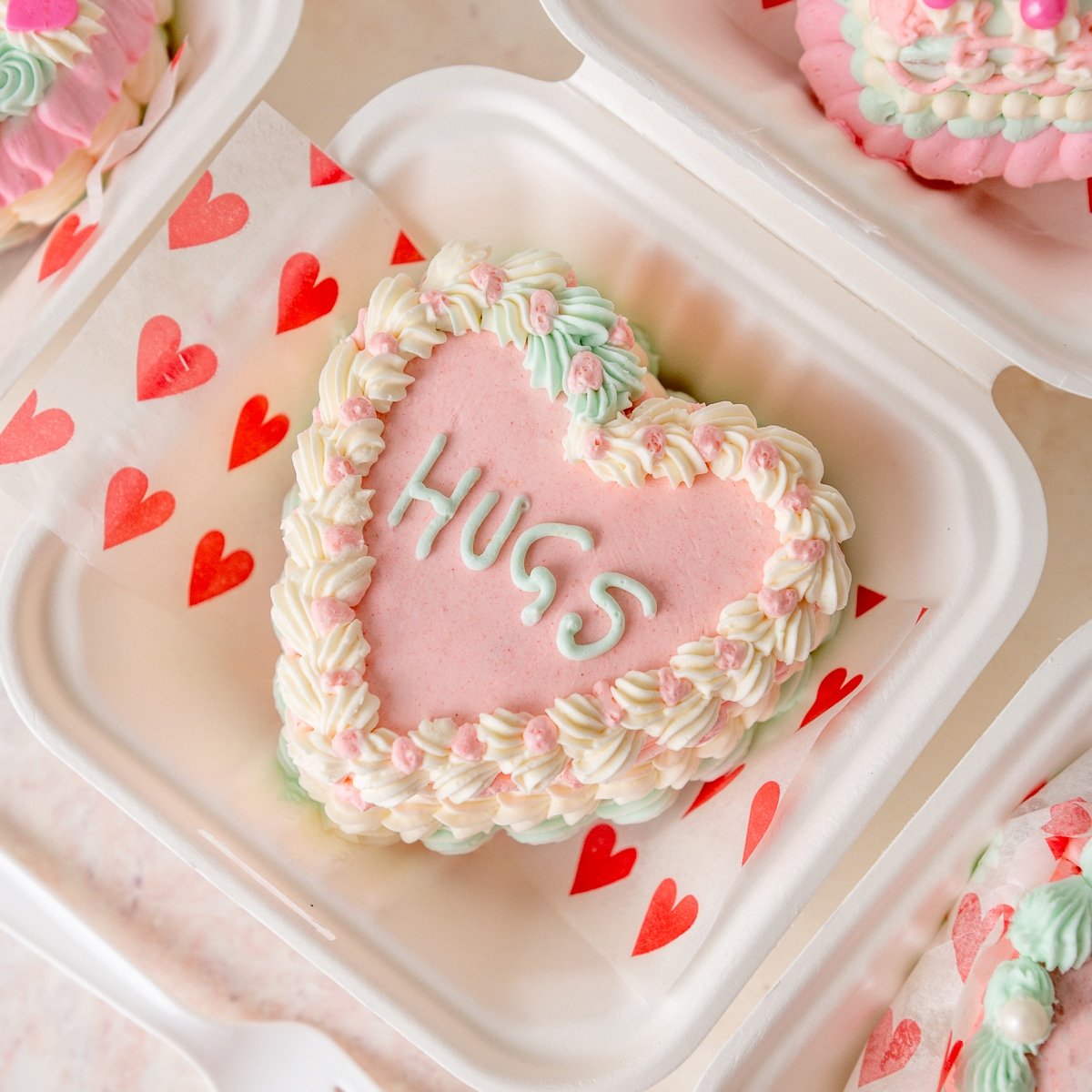 I'm obsessed with the lunchbox cake trend. Not only are these tiny gorgeous cakes adorable but they are perfect to slip into mom's lunchbox to brighten up her day.
Vintage Piped Cake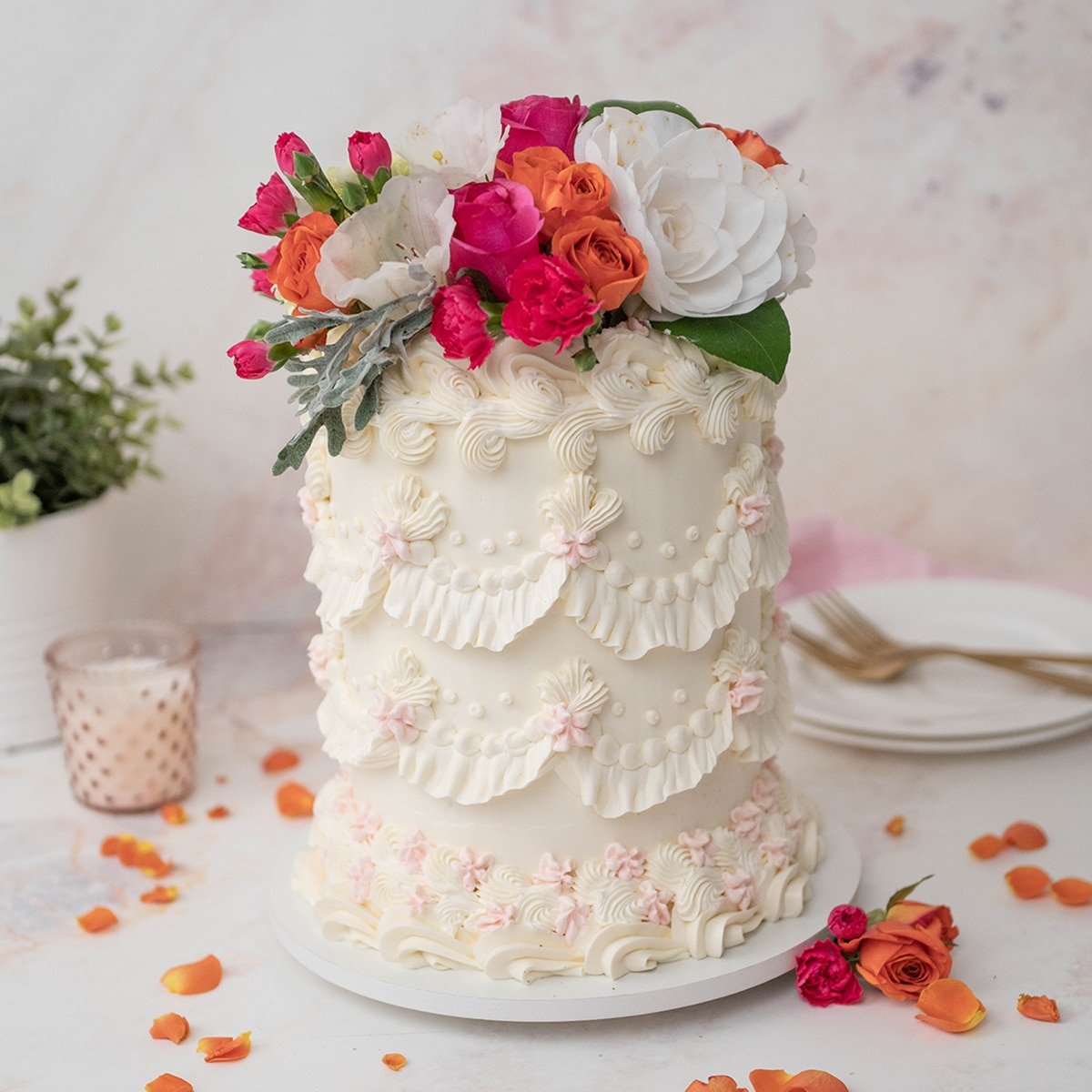 Ok if you want to get REALLY fancy you can't go wrong with these over-the top over-piped vintage cakes that almost look like tiny wedding cakes! If you're a caking pro or just really know your way around an offset spatula, this might be the perfect cake to make.
Did I miss your favorite? tell me in the comments what you're making for Mother's day!