Smooth and creamy classic cheesecake recipe with a buttery graham cracker crust
How to make a classic cheesecake recipe with a perfectly creamy center, zero cracks, and the perfect crunchy graham cracker crust! Don't be intimidated by cheesecake! The hardest part is waiting for it to bake and cool before you devour it!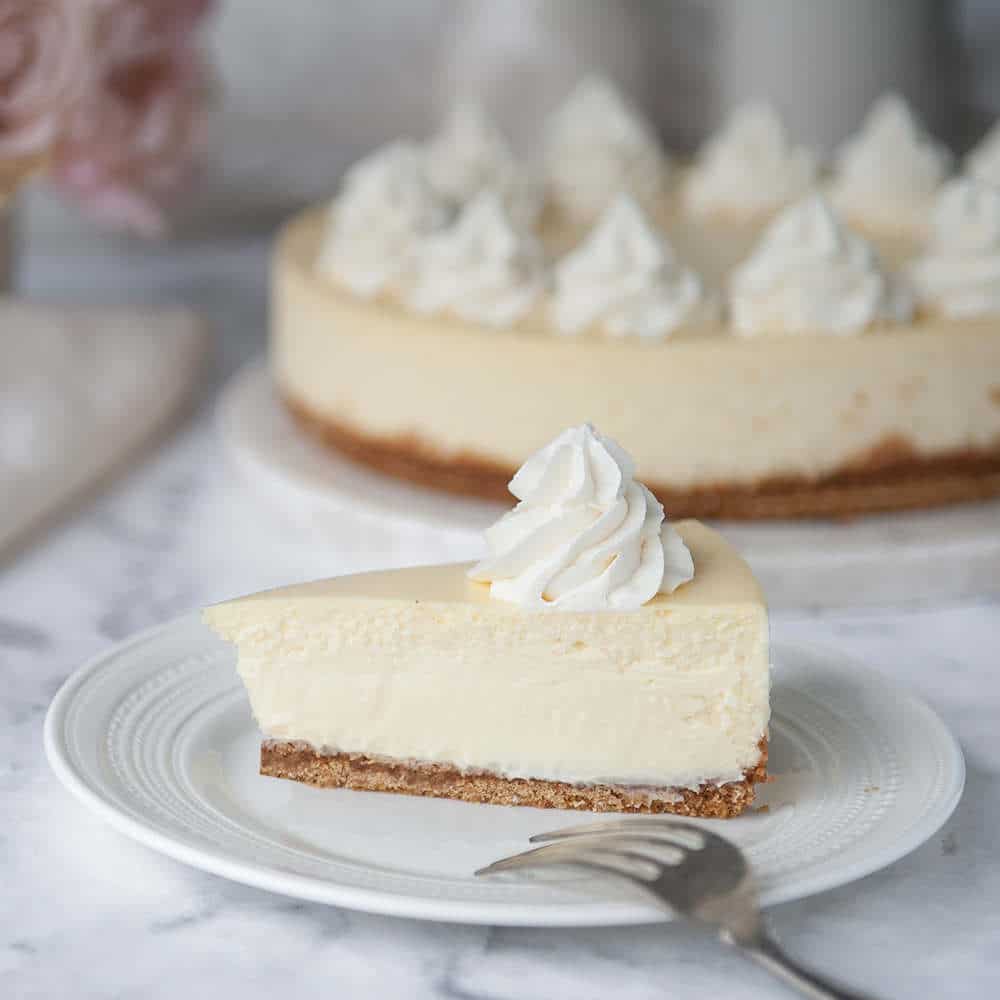 Top this classic cheesecake recipe with chocolate ganache drip, caramel sauce or even raspberry filling! I love a classic cherry filling or strawberry filling with my cheesecake. But I'm more of a fruit lover. You can also top cheesecake with lemon curd, apple filling or berry filling! The flavor possibilities are endless!
How do you make a cheesecake?
Here are the main steps to making a cheesecake. We will go into more detail about these steps later but here's an overview. You will need one 9" springform cheesecake pan for this recipe.
Preheat your oven to 350ºF.
Take your cream cheese out of the fridge and unwrap it so it can come to room temperature. Place eggs in a bowl of warm water to warm them up. Pour cream and sour cream into a measuring cup and let come to room temperature.
Prepare your graham cracker crust, bake for 5 minutes and then let it cool.
Decrease the oven temperature to 335º
Wrap your cheesecake pan in two layers of heavy-duty aluminum foil. Fold-down the edges so they are out of the way.
Place a large cookie sheet or ½ sheet pan on the bottom rack of the oven.
Place the wrapped cheesecake into the pan and then fill the pan ¾ full of hot water.
Bake for 60 minutes or until the internal temperature reaches 150F (don't open the door at all) then after 60 minutes turn off the oven and crack the door open. Let the cheesecake cool down slowly in the oven for another 60 minutes to prevent cracking.
Do you have to do a water bath?
The reason for a water bath is to stop the sides of the cheesecake from cooking faster than the center. The water also keeps the oven nice and moist so that the top of the cheesecake doesn't dry out and crack.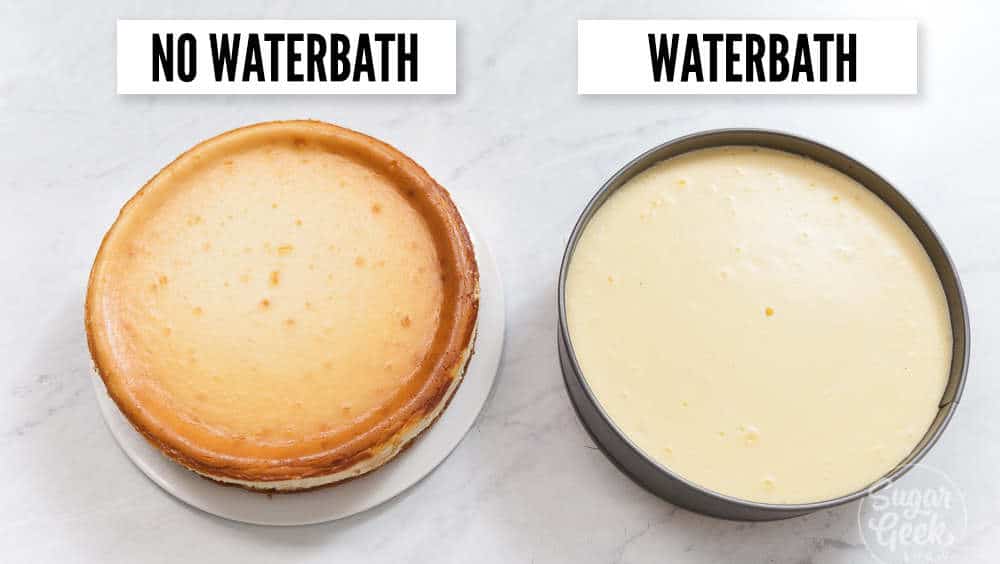 Let's say you're totally freaked out about doing the water bath thing. Totally understandable. The good news is you don't have to do a water bath. Just be aware that your cheesecake will end up with a little brown on the top. The brown will not affect the taste at all.
Move the oven rack to the bottom of the oven and place a sheet pan on top. Fill ¾ of the way full with hot water. Move the other oven rack to just above the sheet pan.
Prepare your cheesecake batter according to the recipe and pour it into your cooled crust.
Place your cheesecake onto the oven rack above the water and set your timer for 60 minutes. Do not open the oven at all during this time.
After 60 minutes, check the internal temperature to make sure it's reached 150ºF. Increase the baking time if needed. Then, turn off the oven and crack the door. Let your cheesecake cool for another 60 minutes in the oven. Letting the cheesecake cool this way prevents cracking.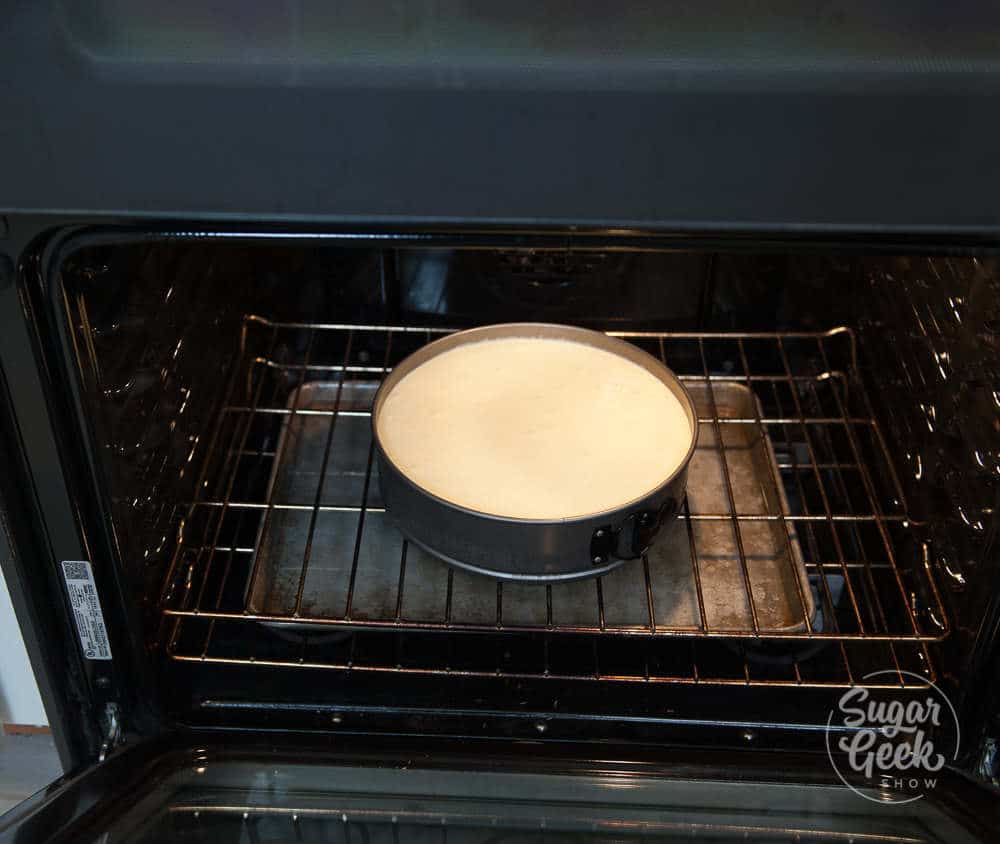 Why did my cheesecake crack?
There are a few reasons a classic cheesecake recipe might crack.
Too much air was incorporated into the batter - Make sure you mix your ingredients on low. The idea is to incorporate as little air as possible so that your cheesecake is creamy and doesn't puff up while baking.
Drastic temperature change - Taking a cheesecake from a hot oven to a cold kitchen can cause it to deflate too quickly, causing cracks. Letting your cheesecake cool in the oven after you turn it off prevents cracking. Don't worry, even if you get cracks, the cheesecake will still taste delicious!
The oven was too hot - If your oven is too hot, it can cause your cheesecake to rise too much and then deflate. Hot ovens can also cause your cheesecake to brown too much on top.
Over-baking - You might be tempted to just bake your cheesecake for extra time to make sure it's really done in the center but over-baking your cheesecake can cause the eggs in the batter to shrivel up and cause major cracking. The texture will also be really rubbery instead of creamy.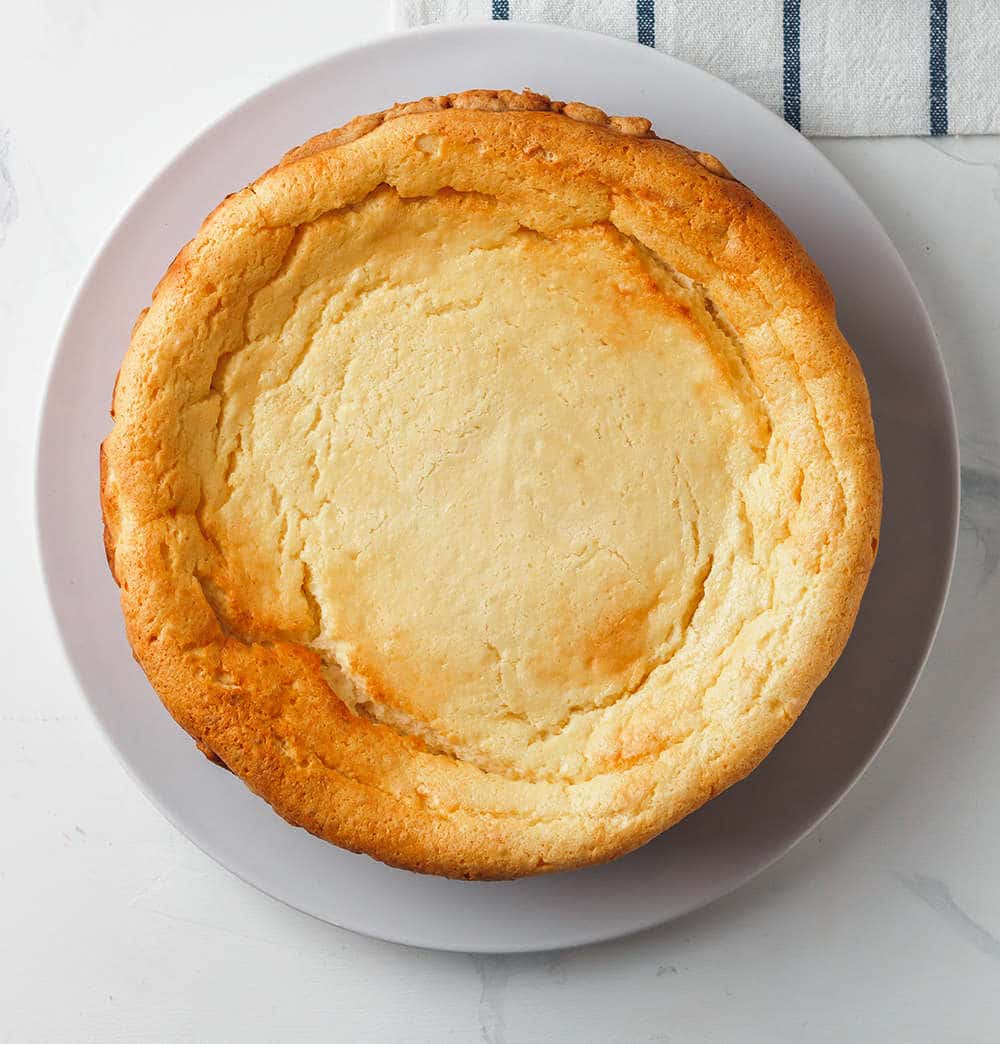 How do you know when your cheesecake is done?
Most people say that your cheesecake is done when the edges are set and the center has a slight wobble. Unless you know what you're looking for, this can be confusing.
Eating an under-cooked cheesecake can be unsafe (consuming raw eggs) as well as not holding its shape when cut.
To avoid this, you can use a thermometer to check the center. When it reads 150ºF, the cheesecake is done. Do not test the cheesecake before 60 minutes has passed.
Give the cheesecake a slight tap and note how much it jiggles. Now you will know what to look for the next time you bake a cheesecake and you won't have to test it.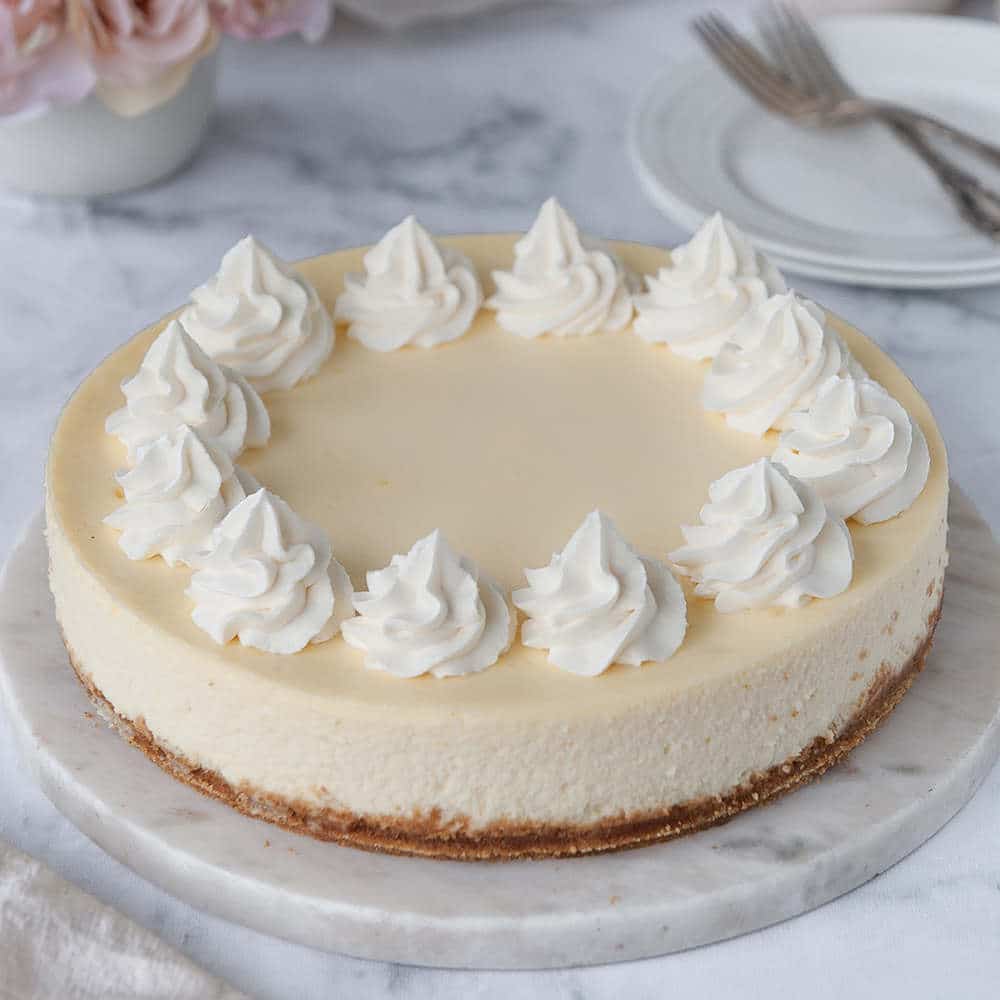 What's the difference between New York-style cheesecake and a classic cheesecake recipe?
This is a classic cheesecake recipe. It's light, creamy and not too sweet. New York-style cheesecake is denser than classic cheesecake.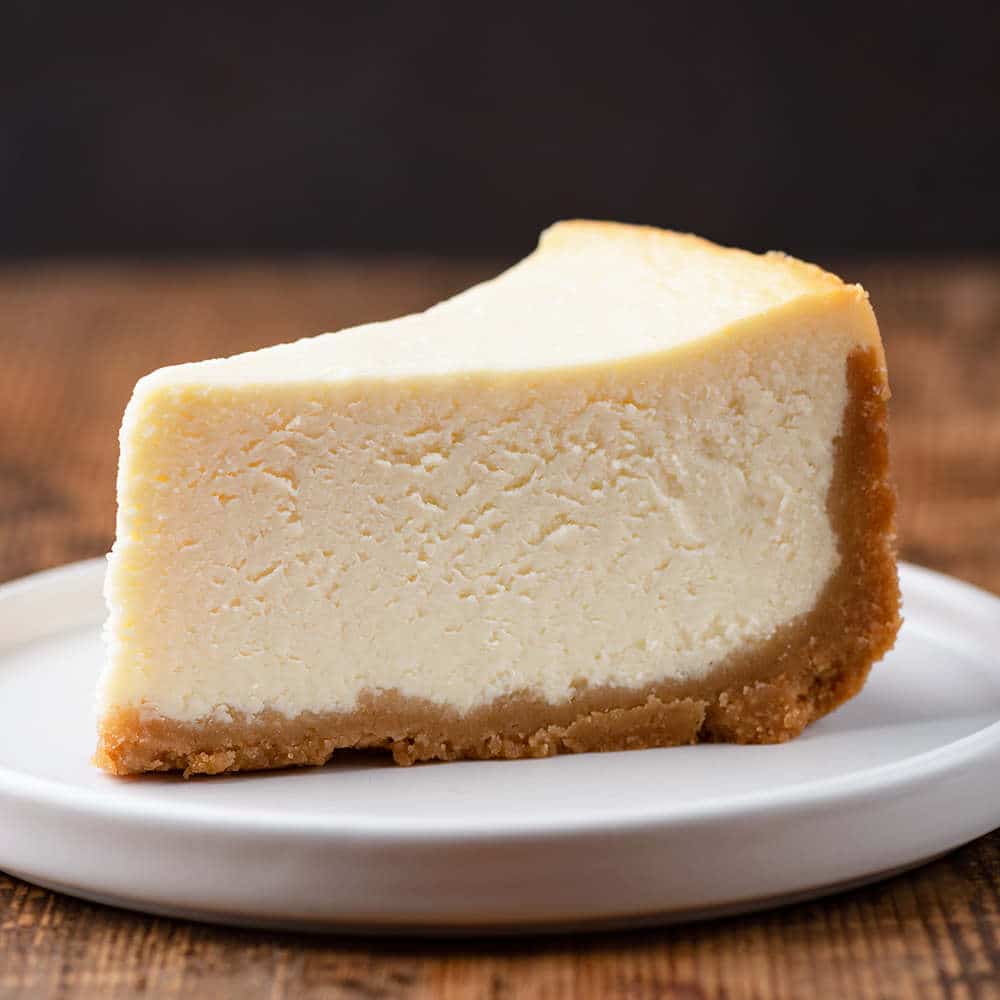 If you love New York-style cheesecake, you can easily convert this recipe by adding in ¼ cup of flour, the zest of one lemon and 2 teaspoons lemon juice to the cheesecake batter.
Can you make a classic cheesecake recipe without a springform pan?
Yes, you can! When I was in pastry school, we had to make 6 cheesecakes every day to serve in the restaurant. We made our cheesecakes in regular cake pans.
Place a piece of parchment paper in the bottom of the pan before you bake your graham cracker crust.
Fill your pan with batter (you may need to cut the recipe in half if using a regular cake pan) and then bake as usual.
After your cheesecake has cooled, put it into the freezer overnight.
Take the cheesecake out of the freezer and use a creme brulee torch to lightly warm the outside edges of the pan or dip the pan in some hot water for about 2 minutes to loosen the cheesecake from the pan. Do not get any water on the inside.
Turn the pan upside down and the cheesecake will slide right out. Because the cheesecake is frozen, it won't get damaged.
Place it onto a plate in the fridge to defrost fully and then serve!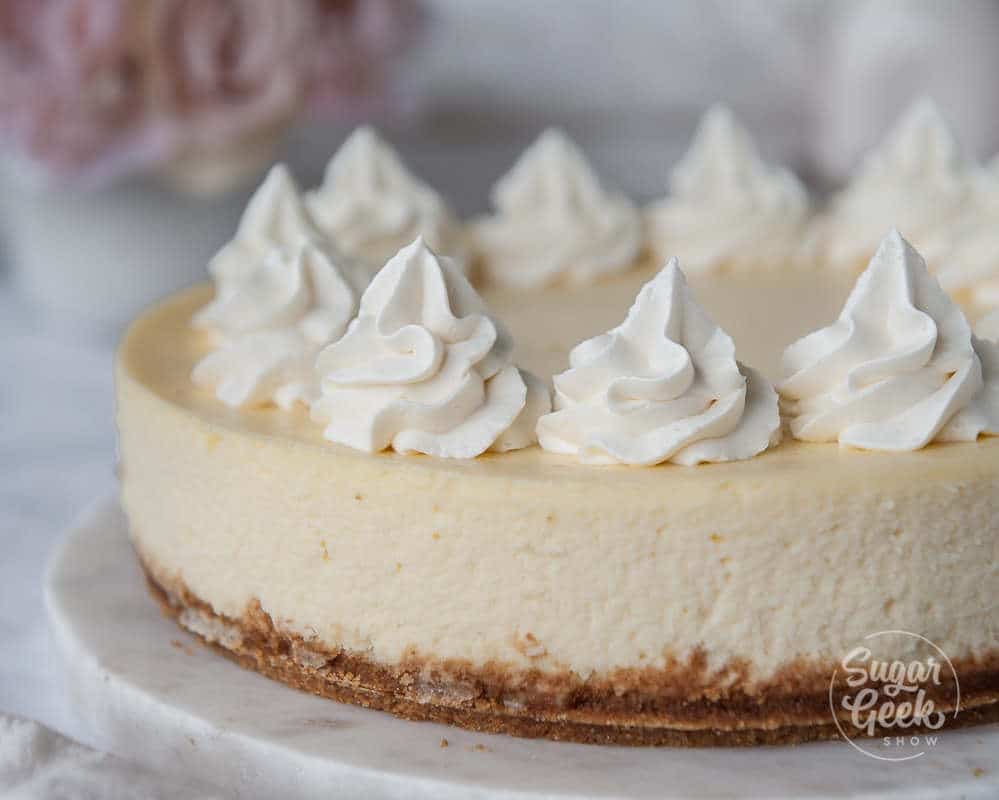 How long does cheesecake last?
Cheesecake can be stored in the fridge for 4-5 days and still be good to eat. Although in my house, it never lasts that long.
Want more cheesecake recipes? Check these out?
Mini cheesecake hearts
Cherry Cheesecake
Recipe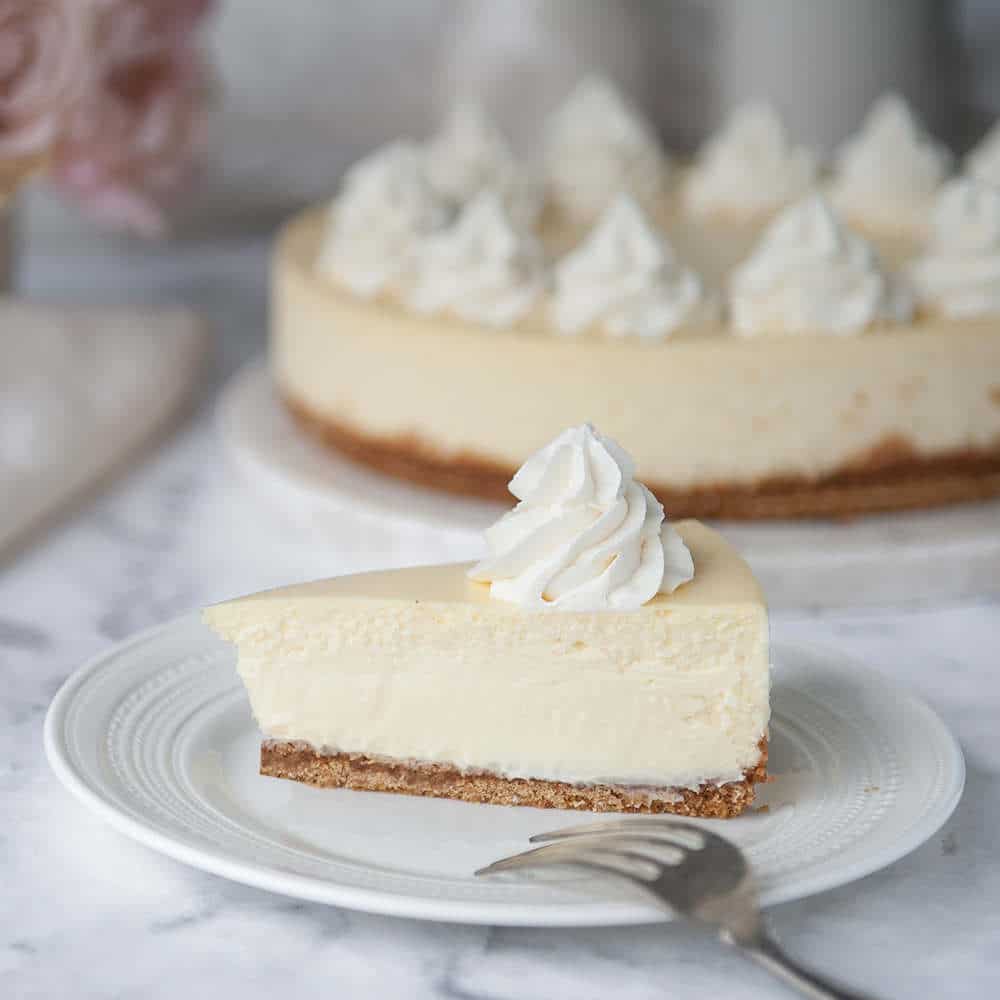 Equipment
Stand mixer with paddle attachment

9" springform pan with removable bottom

Large pan for waterbath
Ingredients
For The Cheesecake Crust
8

ounces

graham crackers

crushed

4

ounces

unsalted butter

melted

4

ounces

granulated sugar
For The Cheesecake Filling
48

ounces

cream cheese

softened to room temperature

13

ounces

granulated sugar

¼

teaspoon

salt

1

Tablespoon

vanilla extract

3

ounces

heavy cream

room temperature

3

ounces

sour cream

room temperature

6

large

eggs

room temperature
Instructions
For the graham cracker crust
Preheat your oven to 350ºF

Combine your graham crackers, melted butter and sugar together in a bowl and mix by hand until blended

Place your parchment paper into the bottom of your springform pan then place your graham cracker filling on top.

Press the graham cracker filling flat with a flat measuring cup. Compress it well so that your crust holds together after it's baked. I don't like to bring my crust up the sides but you can if you want. You might want to double the recipe if you're going to do that.

Bake your crust for 5 minutes then remove it from the oven and let it cool while you prepare the cheesecake filling
For the cheesecake
Reduce your oven temperature to 335ºF

Place the cream cheese in the bowl of your stand mixer with the paddle attachment and cream on LOW until smooth and lump-free, then add in your sugar and continue creaming on low until blended and smooth.

Scrape down the sides of the bowl two or three times to ensure NO lumps are in the mixture, these will not come out once you add in the eggs. .

Add sour cream and heavy cream, vanilla and salt and blend on low until smooth.

Add eggs one at a time on low, waiting until they are completely blended before adding the next. Scrape the bowl after each addition.

Wrap two layers of tin foil around your pan and fold down the top edges. Make sure there are no tears or holes.

Move your oven rack to the lowest spot in the oven. Place the cheesecake pan into a large cake pan and into the oven. Fill the pan so that its ¾ of the way full. Bake for 60 minutes. DO NOT open the oven door for at least 60 minutes or risk cracking your cheesecake.

Test your cheesecake. When your cheesecake is done, it will have a slight wiggle in the center when you tap the side and the sides will be set. You can also use a thermometer to take the temperature of the center. When the center reads 150ºF it is done. Add more time as needed to reach the right temperature and then make note of how long it took to reach that temperature so you know how long to bake next time.

Turn your oven off, crack the oven door open, and let cheesecake cool in the oven for 1 hour. (This helps prevent cracking.)

Remove the cheesecake from the water bath carefully (it should be cool enough to take out with your hands) and refrigerate overnight before serving. (Or at least 6 hours)

Run a knife around the outside of the cheesecake to separate it from the pan, or use a kitchen torch to lightly warm the outside. Remove from the springform pan and serve.
Notes
*Note* if you don't have a second oven rack, you can place a cooling rack in the water and place your cheesecake on top so it's not in the water. You can also wrap your cheesecake pan in aluminum foil to prevent water from getting inside.
Nutrition
Serving:
1
serving
|
Calories:
773
kcal
|
Carbohydrates:
60
g
|
Protein:
12
g
|
Fat:
55
g
|
Saturated Fat:
30
g
|
Cholesterol:
264
mg
|
Sodium:
587
mg
|
Potassium:
244
mg
|
Fiber:
1
g
|
Sugar:
49
g
|
Vitamin A:
2061
IU
|
Calcium:
157
mg
|
Iron:
2
mg