This really is the best cherry cheesecake I've ever had! The secret is making the cherry topping yourself which is crazy easy and only takes a few minutes. Pile plump cherries on top of creamy, fluffy cheesecake with buttery graham cracker crumbs, and you've got yourself one impressive-looking dessert. This cherry cheesecake is super easy to make and requires NO water bath.
*note: This post contains affiliate links to products I like which means I may make a few cents if you purchase but there is no added cost to you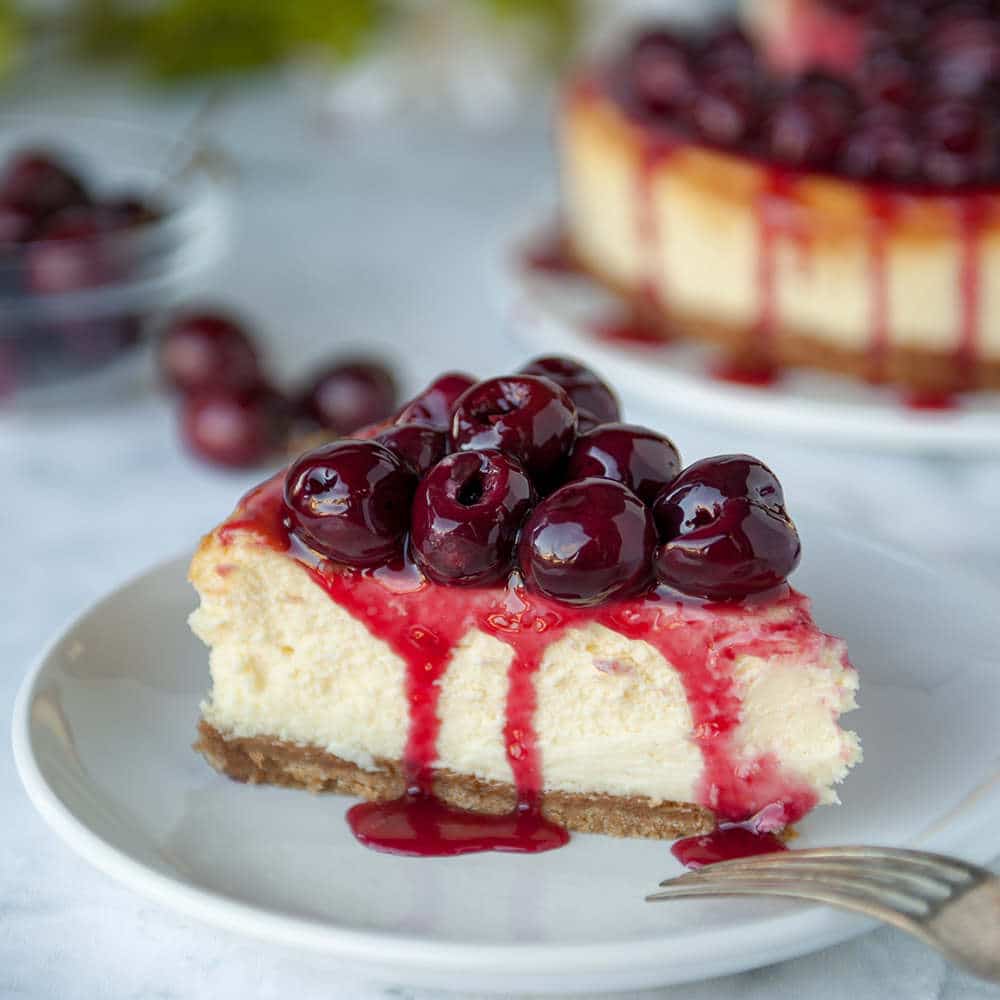 How to make homemade cherry cheesecake
The first thing we need to do is make our cheesecake. This is a two-day job which might sound intimidating but 99% of that time is spent waiting for the cheesecake to cool down.
You see, cherry cheesecake isn't really a cake at all. It's more like a custard tart. The cream cheese is combined with eggs and baked until the eggs are just set but not fully cooked (150ºF).
But those eggs are very delicate after baking. The custard needs to cool down for at least 6 hours (24 hours preferably) for the cheesecake to be fully set and solid enough to cut.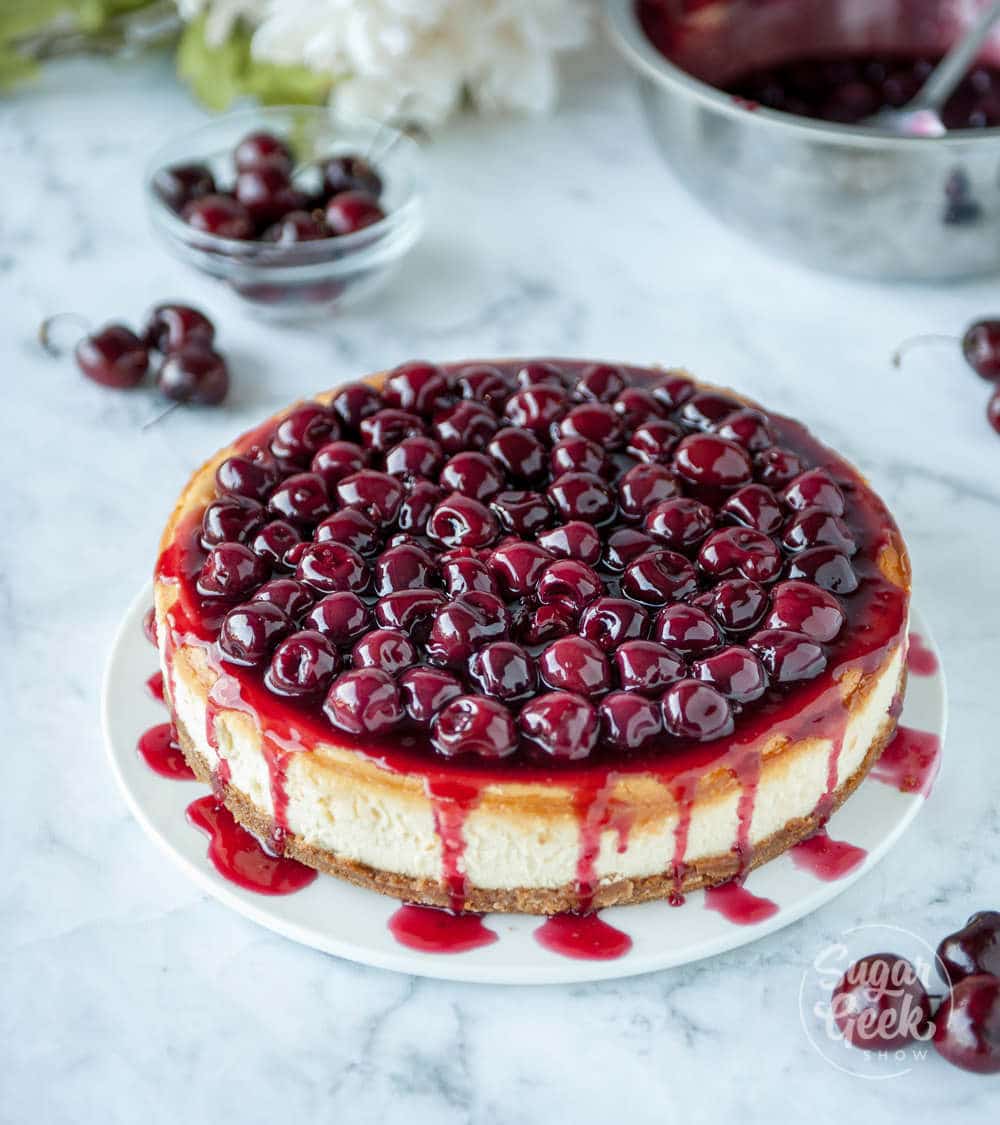 For this cheesecake, we are using a 9″ springform pan which is a pan made especially for making cheesecakes. The sides unlatch, making it easy to remove from the base.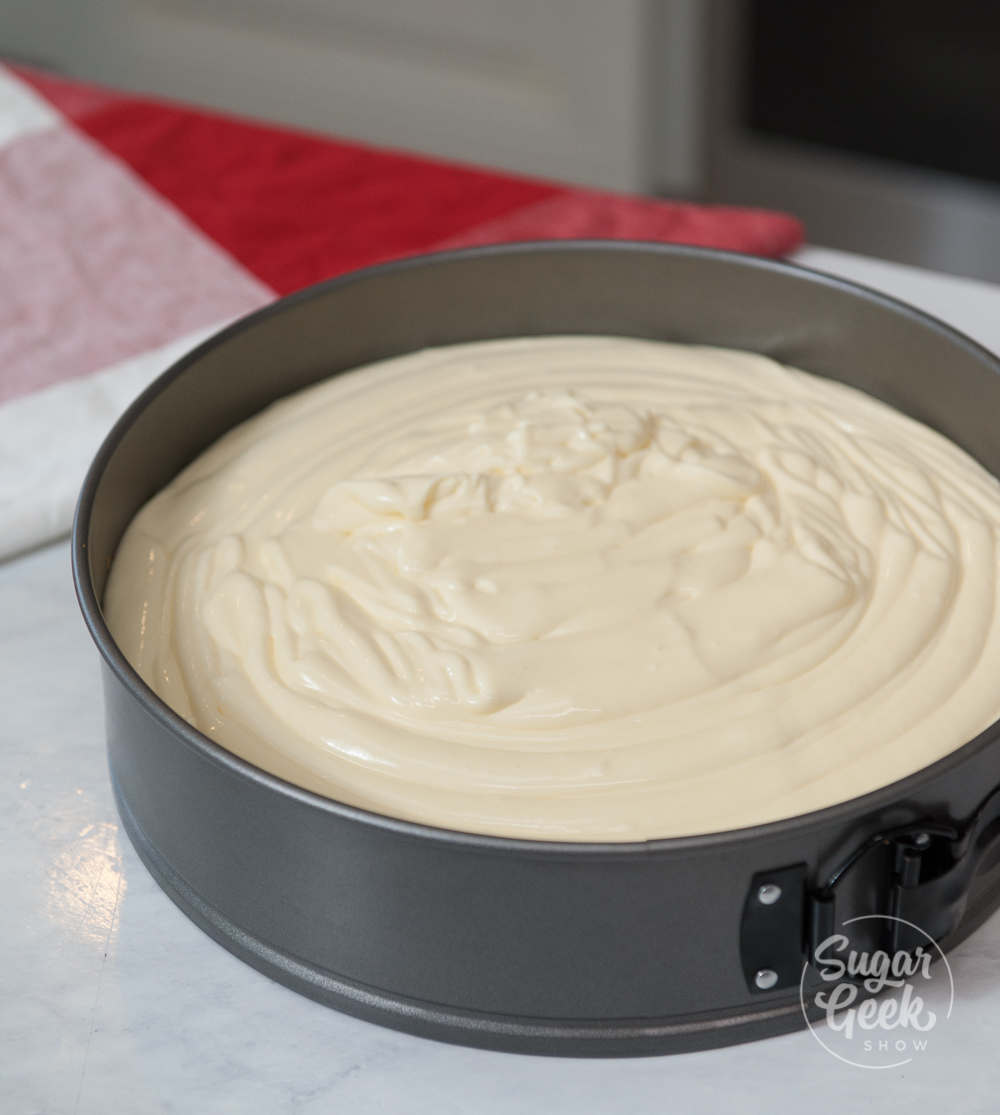 Steps for making a cherry cheesecake
Prepare your graham cracker crust and then set it aside to cool.
Mix together your cheesecake batter and pour it into the pan. Make sure your cream cheese and eggs are at room temperature.
Place a large cookie sheet or cake pan in the bottom of your oven and fill 3/4 full with water
Move your second oven rack to just above the water bath and place your cheesecake on top of the rack.
Bake at 335ºF for 60 minutes then turn off the oven and crack the door. Let the cheesecake cool in the oven for another 60 minutes. Then transfer to the refrigerator to cool overnight.
Prepare your cherry filling either the day before or the day of. Pour the filling on top of the cheesecake and serve!
How to avoid a cracked cheesecake
There are four things that can cause a cheesecake to crack which can be a real bummer. But the good news is, cracks are only hard on the eyes, the cracks don't affect the taste at all. And since we're covering this cheesecake with cherries, no one will ever know!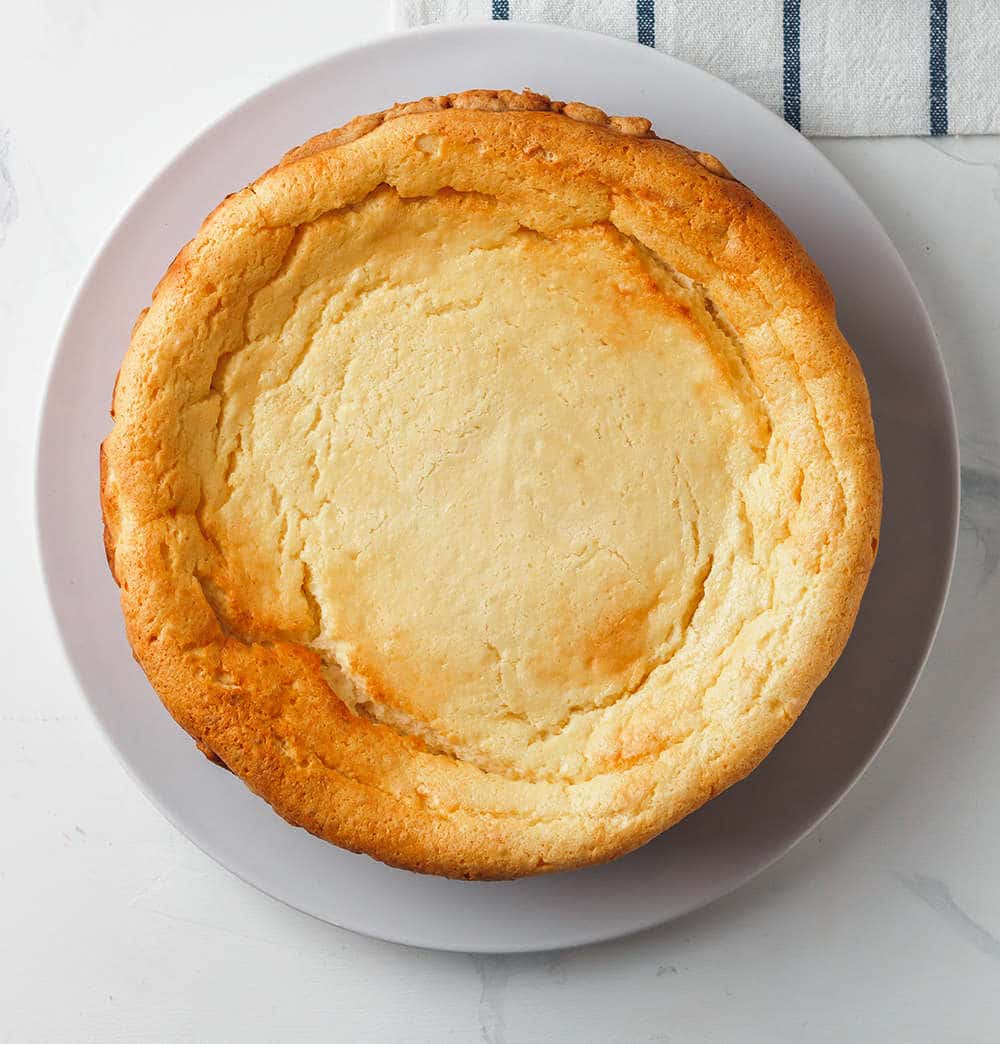 Too much air incorporated into the batter – You want to avoid getting air into the batter. Always mix at the lowest speed and stop mixing as soon as the eggs are combined.
Oven too hot – Make sure your oven is not too hot and your cheesecake is as far away from the top element as possible. Hot temperatures cause the cheesecake to inflate too much and then shrink when removed from the oven, causing large cracks.
Drastic temperature change – Your cheesecake will puff up a tiny bit while baking and that is normal. If you remove it from the oven right after it's finished baking, it could deflate too quickly and then crack. That's why you leave it to cool slowly in the oven with the door cracked.
Over-baking – If you over-bake your cheesecake, the eggs will contract and cause the cheesecake to shrink and crack. The texture will also suffer and be very rubbery instead of creamy.
How do you know when a cheesecake is done baking? 
The cheesecake is done when the edges are set but the center is still jiggly but not watery. That can sound a little confusing I know. You can also use a thermometer to check the temperature. The center should read 150ºF at which point you turn off the oven, crack the door and let the cheesecake cool down slowly. This slow cooling keeps the cheesecake from cracking.
Give the cheesecake a little tap at the 150ºF stage so you can see how much it jiggles. Then you will know what to look for next time without having to use a thermometer.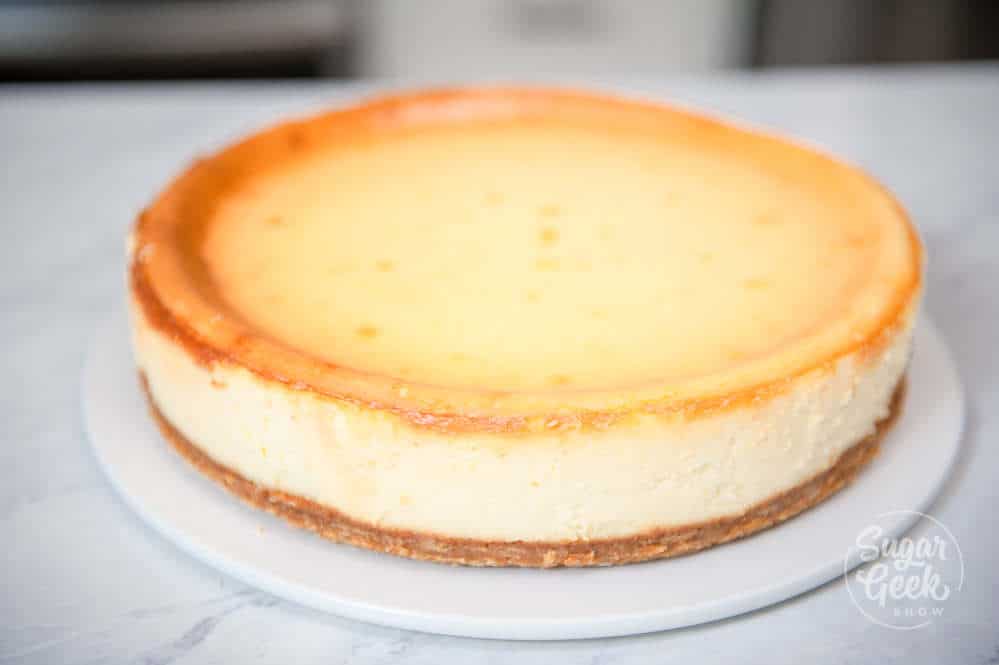 How do you make a homemade cherry topping for cherry cheesecake?
Start with some beautiful fresh cherries! I was lucky enough to find these gorgeous cherries at Costco but fresh in-season cherries would be amazing! You'll need 2 pounds.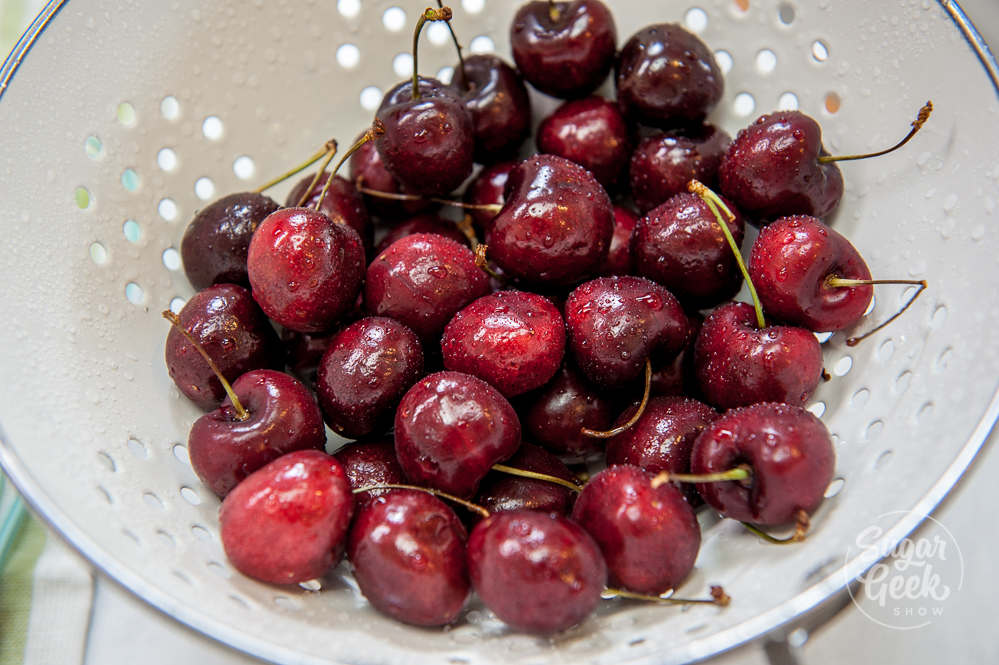 To thicken my homemade cherry topping, I'm using something called ClearJel. It's similar to cornstarch but stays super glossy and resists getting chunky like regular cornstarch can the second day.
ClearJel is often used by pie makers and bakeries. You can find it online. If you don't want to use ClearJel, you can use cornstarch. Cornstarch is stronger than ClearJel so cut the amount in half if you're substituting for cornstarch (for instance: 2 Tablespoons ClearJel = 1 Tablespoon cornstarch).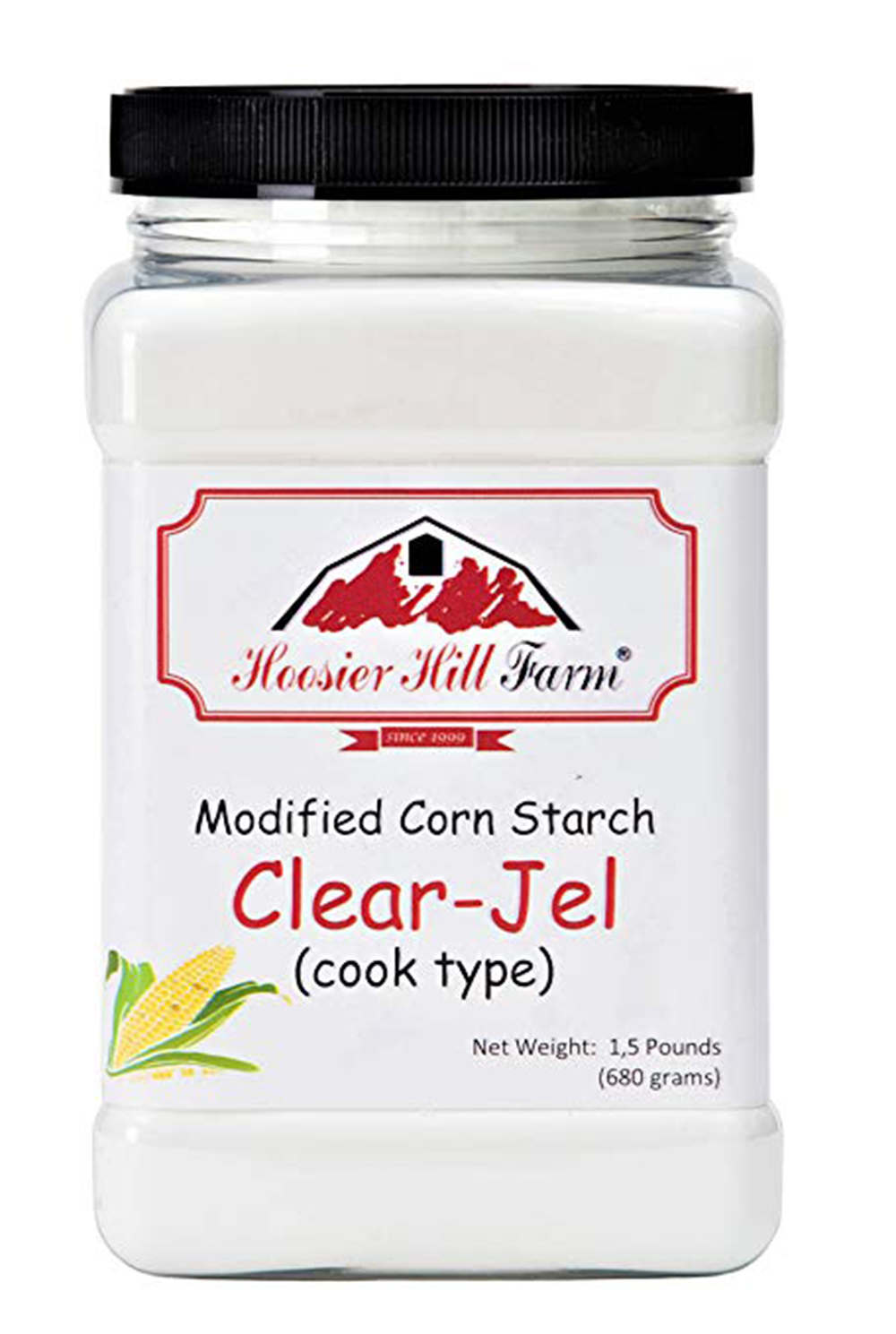 Use a cherry pitter to remove the cherry pit or you can cut each cherry in half and remove the pit but who's got time for that? The cherry pitter makes this job super easy.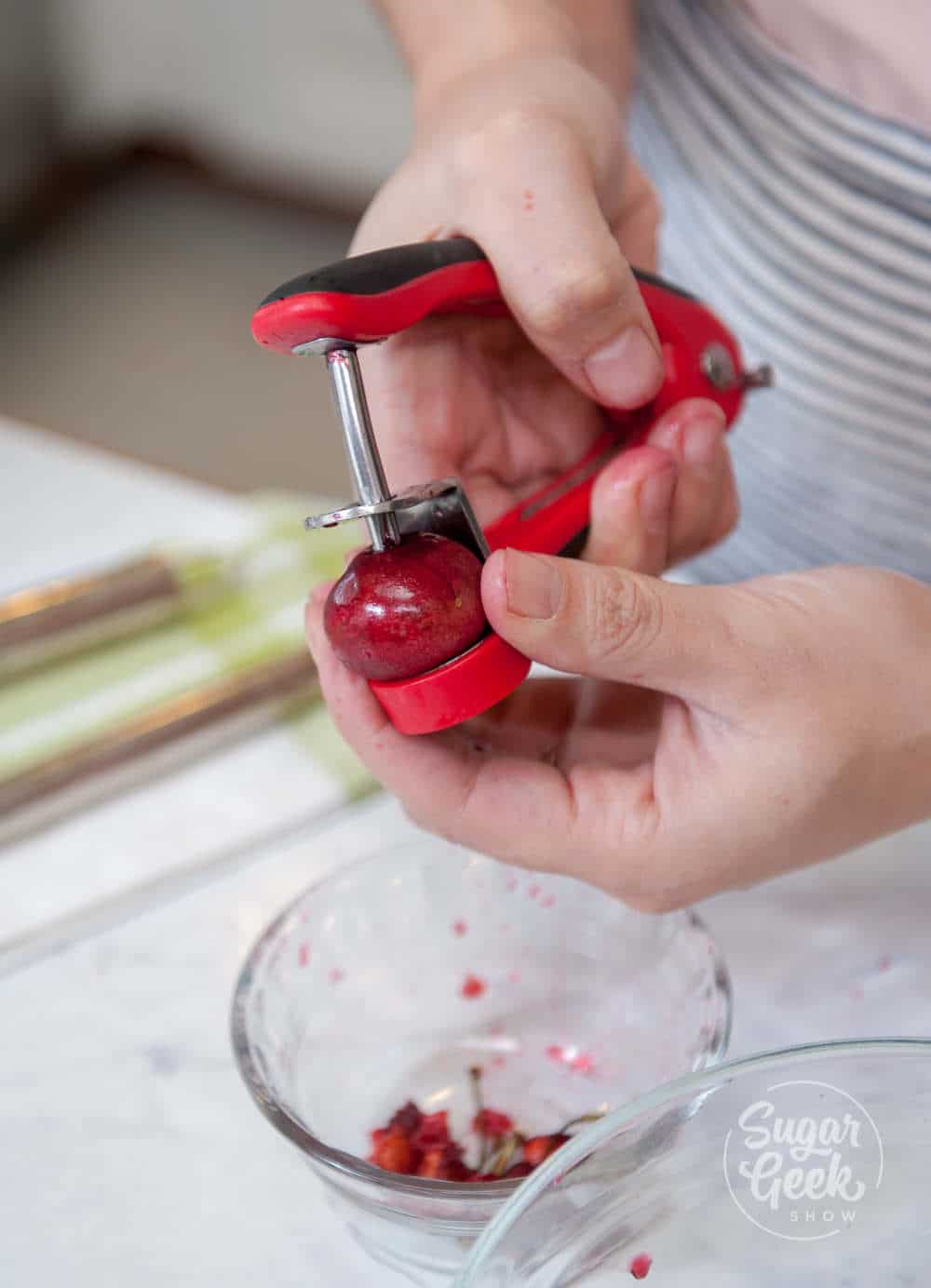 Combine the cherries, sugar, and first measurement of water in a pot and bring it to a simmer. Whisk together the second measurement of water, lemon juice, lemon zest, and ClearJel.
Pour into the simmering cherry mixture and stir until thickened. About 1 minute. Then let it cool before pouring on top of your cheesecake! Look how shiny and gorgeous this cherry topping is!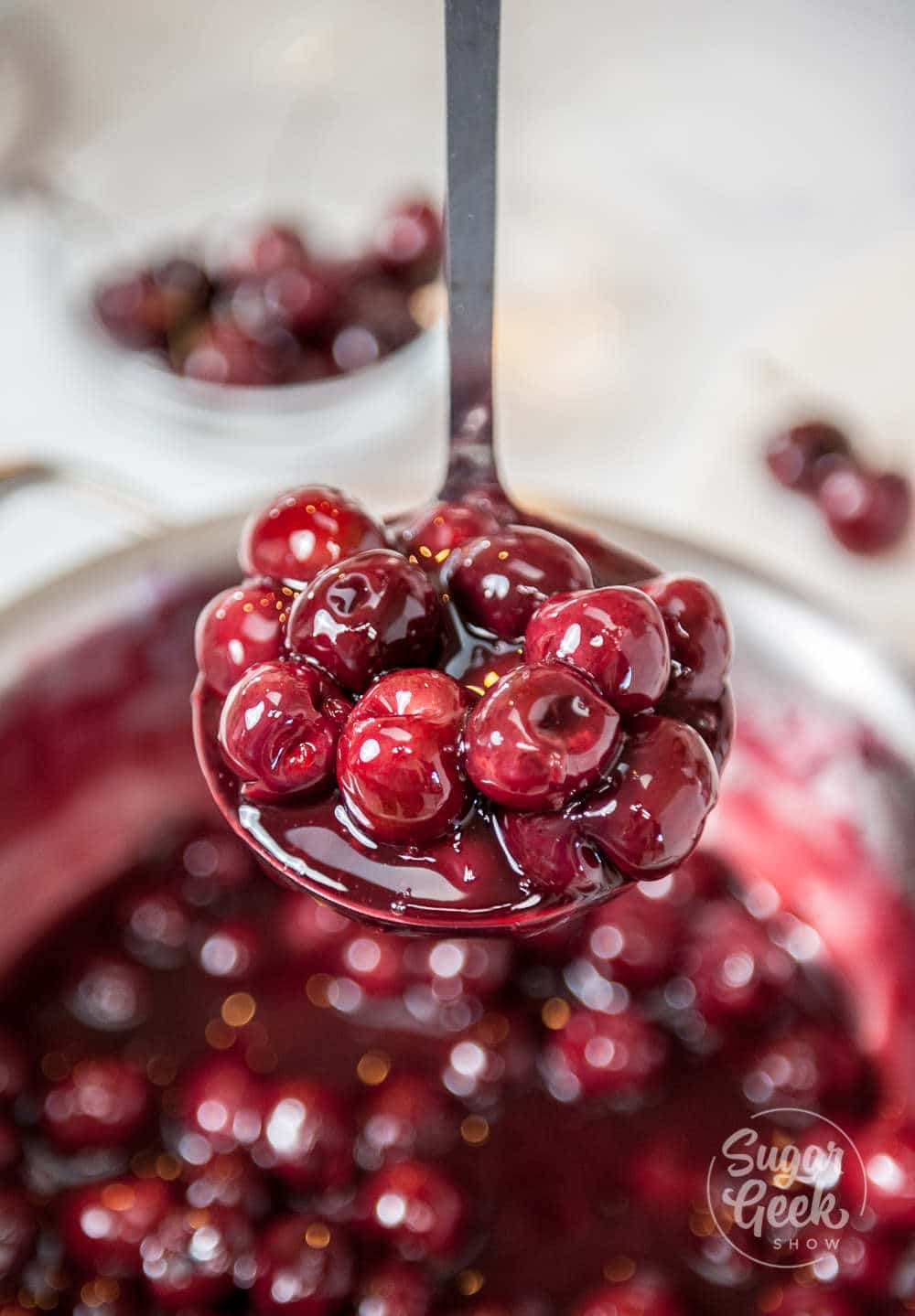 You can store leftover cherry cheesecake in the fridge for 5-7 days. I keep mine covered in plastic wrap to keep it from drying out.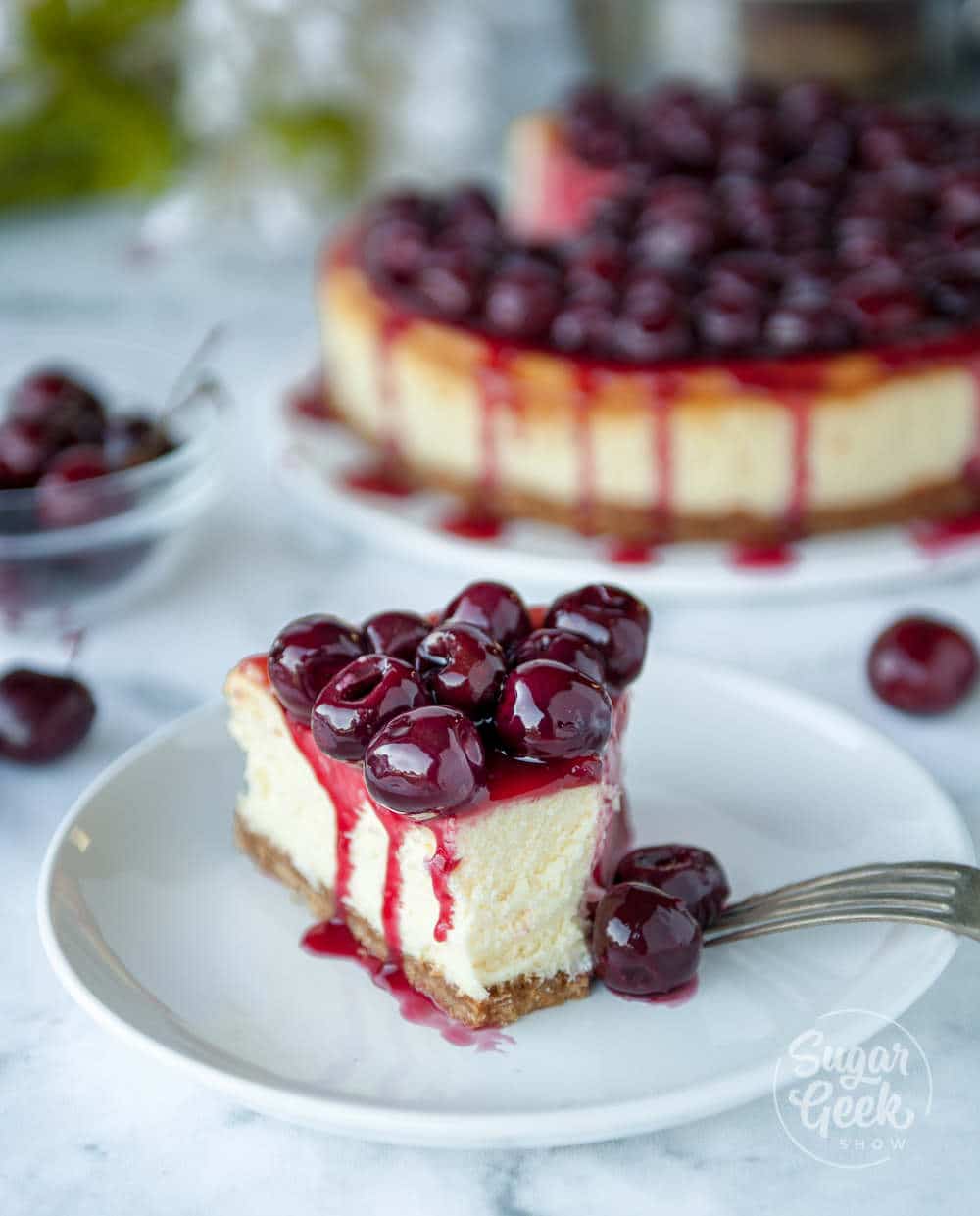 Other Recipes You May Like
Did You Make This Recipe?
Leave a rating and tell me how it went!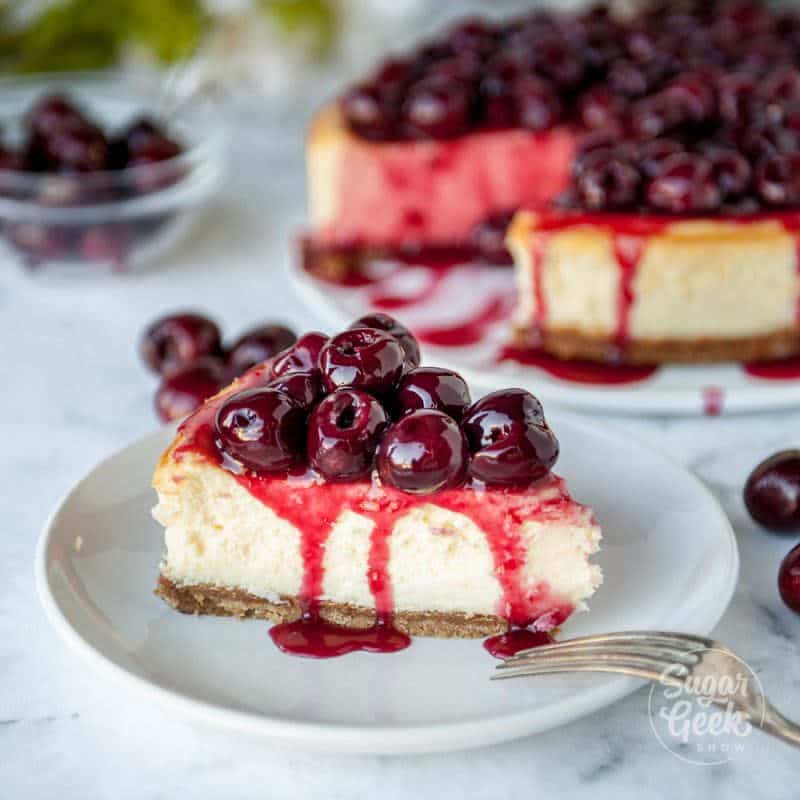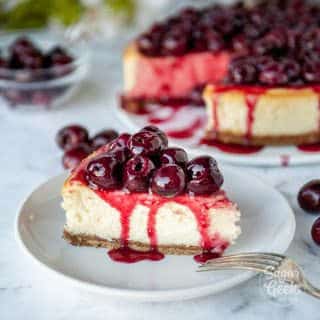 Ingredients
For The Cheesecake Crust
8

ounces

(

227

g

)

graham crackers

crushed

4

ounces

(

113

g

)

unsalted butter

melted

4

ounces

(

113

g

)

granulated sugar
For The Cheesecake Filling
48

ounces

(

1361

g

)

cream cheese

softened to room temperature

13

ounces

(

369

g

)

granulated sugar

1/4

teaspoon

salt

1

Tablespoon

vanilla extract

3

ounces

(

85

g

)

heavy cream

room temperature

3

ounces

(

85

g

)

sour cream

room temperature

6

large

eggs

warmed to room temperature
For The Cherry Topping
32

ounces

(

907

g

)

fresh red cherries

pitted

8

ounces

(

227

g

)

granulated sugar

8

ounces

(

227

g

)

water

1

Tablespoon

fresh lemon juice

1

Tablespoon

lemon zest

5

Tablespoons

ClearJel

or 3 Tablespoons Cornstarch

2

ounces

(

57

g

)

cool water

1/4

teaspoon

salt
Equipment
Stand mixer with paddle attachment
Instructions
Preheat your oven to 350ºF. Move the bottom oven rack to the lowest place in the oven. Place the second oven rack in the middle of the oven.
For The Graham Cracker Crust
Combine together the crushed graham crackers, melted butter, and sugar in a mixing bowl.

Place a parchment round in the bottom of your cheesecake pan (optional) to prevent sticking

Pour your graham cracker mixture on top of the parchment round and spread evenly. Press down firmly with a flat measuring cup to compress the crust

Bake for 5 minutes at 350ºF and then let cool
For The Cheesecake Filling
Place a sheet pan on the bottom rack and fill it 3/4 of the way with hot water. Your cheesecake will sit above the water.

Place your room temperature cream cheese into the bowl of your stand mixer with the paddle attachment. Beat the cream cheese on low until extra smooth and no longer lumpy.

Sprinkle in your granulated sugar while mixing on low until combined. The cream cheese and sugar being smooth will make your cheesecake texture extra creamy.

Add in your room temperature sour cream and heavy cream while mixing on low.

While mixing on low, add in your room temperature eggs one at a time, letting each one combine fully before adding in the next. Add in the salt and vanilla extract.

Once you can't see any more visible egg in the batter, stop mixing. You don't want to incorporate too much air into the batter.

Pour your cheesecake mixture into your cooled graham cracker crust.

Bake cherry cheesecake at 335ºF for 60 minutes (do not open the door). Then turn off the oven and crack the oven door open. Let the cheesecake cool inside the oven for 60 more minutes.

Then remove the cheesecake and place it into the fridge to cool for 6 hours or ideally, overnight.
For the Cherry Topping
Combine together your cherries, water, salt and sugar in a large saucepan and bring to a simmer over medium-high heat, while stirring occasionally

Combine together your ClearJel, lemon juice, 2 ounces water, and lemon zest to make a slurry

Add your ClearJel to the simmering mixture and cook for 1 minute while stirring constantly until thickened.

Let the cherry pie filling cool before placing it on top of your cooled cheese cake. Add some whipped cream, ice cream, or your favorite toppings to serve!
Notes
*Note* if you don't have a second oven rack, you can place a cooling rack in the water and place your cheesecake on top so it's not in the water. You can also wrap your cheesecake pan in aluminum foil to prevent water from getting inside.
Important Things To Note Before You Start
1. Bring all your ingredients to

room temperature

or even a little warm (eggs, buttermilk, butter, etc) to ensure your batter does not break or curdle. 
2. Use a scale to

weigh your ingredients

(including liquids) unless otherwise instructed (Tablespoons, teaspoons, pinch etc). Metric measurements are available in the recipe card. Scaled ingredients are much more accurate than using cups and help ensure the success of your recipe. 
3. Practice Mise en Place (everything in it's place). Measure out your ingredients ahead of time and have them ready before you start mixing to reduce the chances of accidentally leaving something out.
Nutrition
Serving:
1
serving
|
Calories:
635
kcal
(32%)
|
Carbohydrates:
59
g
(20%)
|
Protein:
9
g
(18%)
|
Fat:
41
g
(63%)
|
Saturated Fat:
23
g
(115%)
|
Cholesterol:
198
mg
(66%)
|
Sodium:
478
mg
(20%)
|
Potassium:
183
mg
(5%)
|
Fiber:
1
g
(4%)
|
Sugar:
51
g
(57%)
|
Vitamin A:
1545
IU
(31%)
|
Vitamin C:
1
mg
(1%)
|
Calcium:
117
mg
(12%)
|
Iron:
1
mg
(6%)