Mini cheesecake hearts are a fun and easy way to customize individual cheesecakes
I love making mini cheesecake hearts for special occasions like Valentine's Day or Mother's Day. Mini cheesecake hearts are made with my cream traditional cheesecake recipe but with a brownie bottom instead of a graham cracker crust.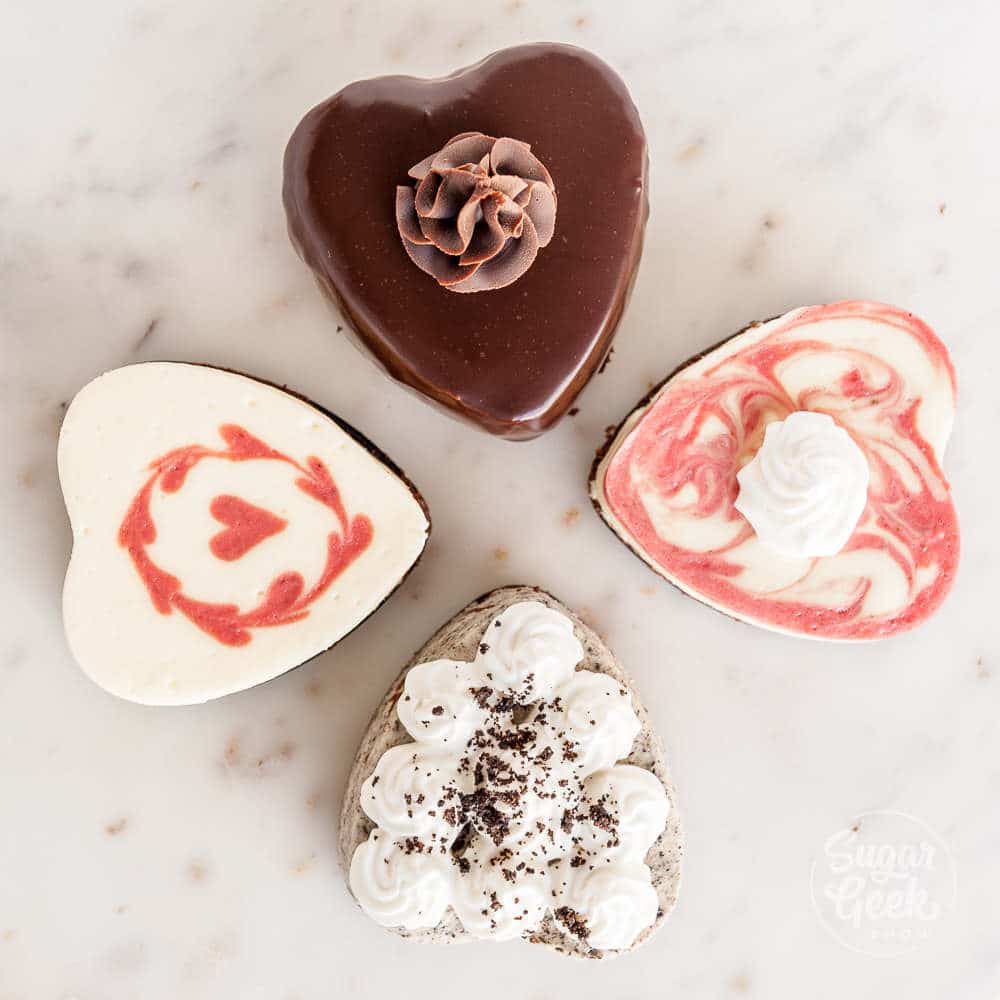 Each mini cheesecake heart can easily be customized with flavors so everyone can get what they want!
Today I'm going to show you how to make four different mini heart cheesecakes using one recipe! I am also using these mini heart cheesecake pans so if you don't have some, you might want to get these!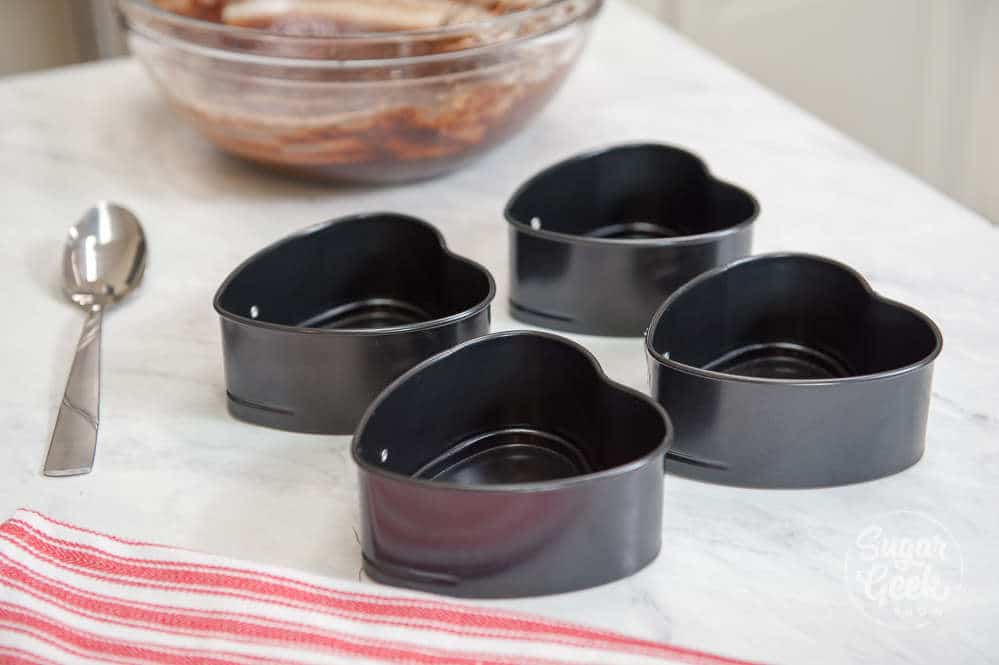 How to make mini heart cheesecakes
Making the mini cheesecake hearts is pretty simple. Just follow these steps.
Brownie Layer - Mix the brownie layer up and bake in your mini heart cheesecake pans, be careful not to overbake them. I didn't line my pans with parchment paper because I served my cheesecake hearts on the removable bottom but if you want to remove the cheesecakes after baking then be sure to place some parchment on the bottom of the pan. You can cut the parchment into a heart shape using the bottom of the pan as a guide. Let the cheesecakes cool after baking.
While your brownie layer is baking and cooling, make your cheesecake filling. Divide the filling evenly between four bowls. You can now customize the flavors. I chose to make one cheesecake chocolate by adding in some cocoa powder. Another cheesecake oreo by mixing in some crushed oreo crumbs and another strawberry marble by swirling in some strawberry puree. The options are endless!
Bake your mini cheesecake hearts in a water bath. Make sure the pans are wrapped well with one or two layers of aluminum foil to prevent water leaking in. A water bath keeps the cheesecakes from over-baking around the edges and turning brown.
Once your cheesecakes have reached an internal temperature of 150ºF they are done. Crack the door of your oven and let the cheesecakes cool in the oven for 60 minutes to prevent the tops from cracking.
Once the mini cheesecake hearts are cool, place them into the freezer to freeze overnight.
How to remove mini cheesecakes from the pans
After your cheesecakes are cool you want to remove them from the pan. The freezing helps them to keep a smooth side and not to crack. I use a kitchen torch to warm the side of the pan just until you see a little moisture forming on the inside of the pan.
Use a small knife to carefully slide between the cheesecake and pan in any places it's not releasing.
Carefully remove the outside piece of the mold and lift out your cheesecake.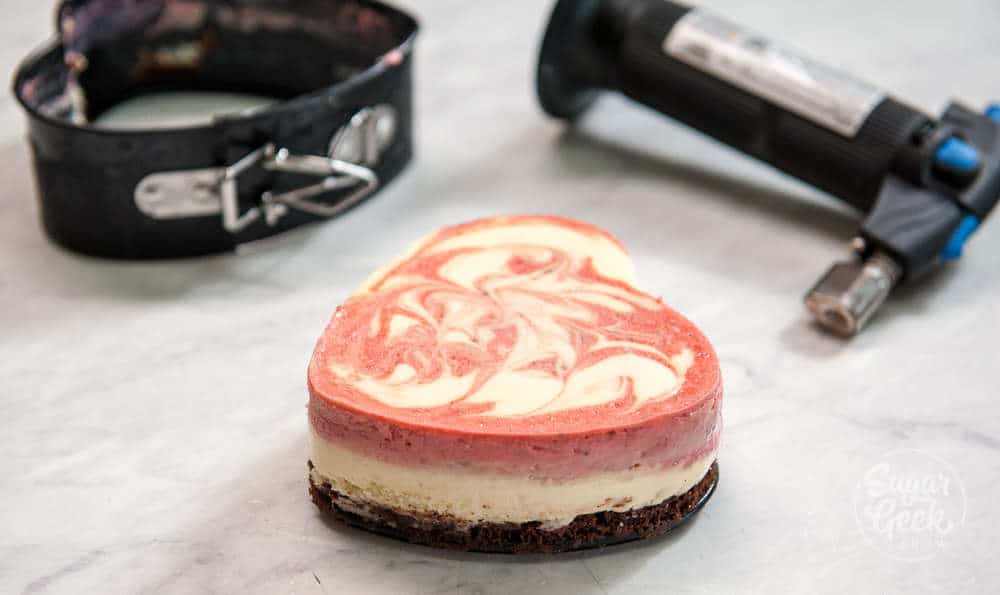 How to decorate mini cheesecake hearts
Once your mini cheesecake hearts are chilled you can decorate them!
For my chocolate cheesecake heart, I decided to glaze it with chocolate ganache glaze so it was really shiny. Place your frozen cheesecake on a small cooling rack or on an upside-down bowl and then glaze liberally. Don't forget a pan underneath the cheesecake to catch the glaze.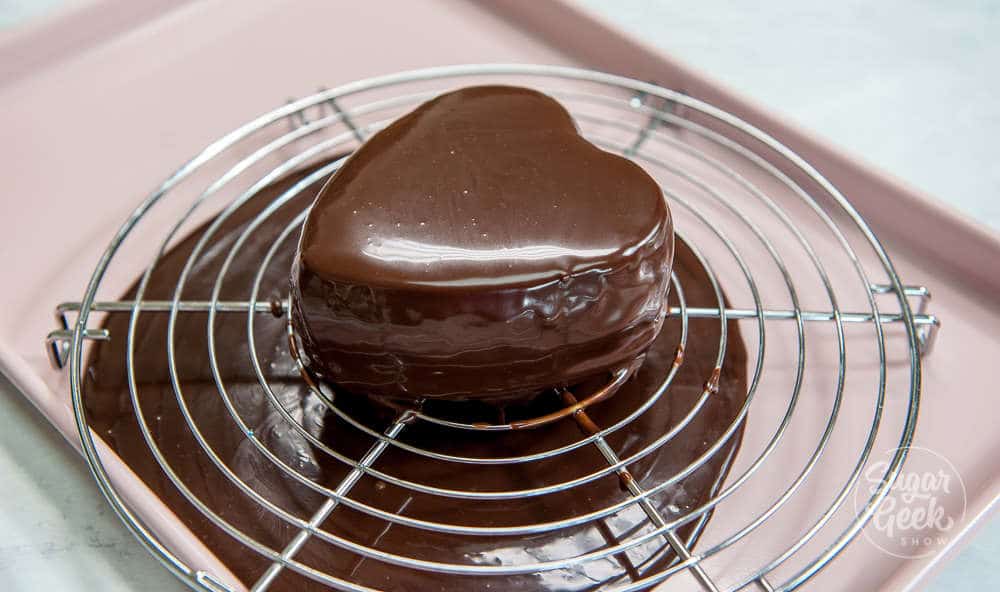 I used the leftover ganache glaze to pipe a little ganache swirl on top for chocolate overload! I wanted to add a chocolate-covered strawberry as well but restrained myself from going to the store to buy one strawberry haha.
For the other mini cheesecakes I just added a little stabilized whipped cream but you can add more strawberry sauce, sprinkles, fresh fruit, anything you want!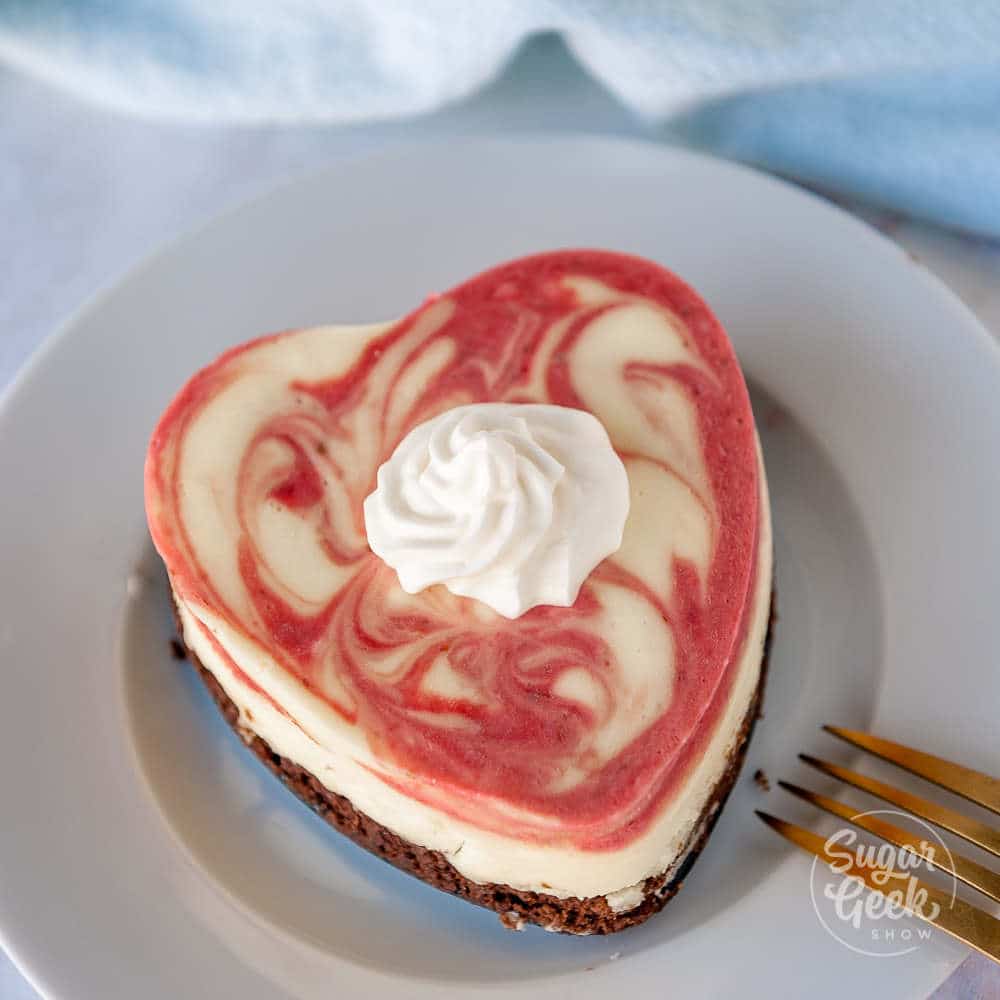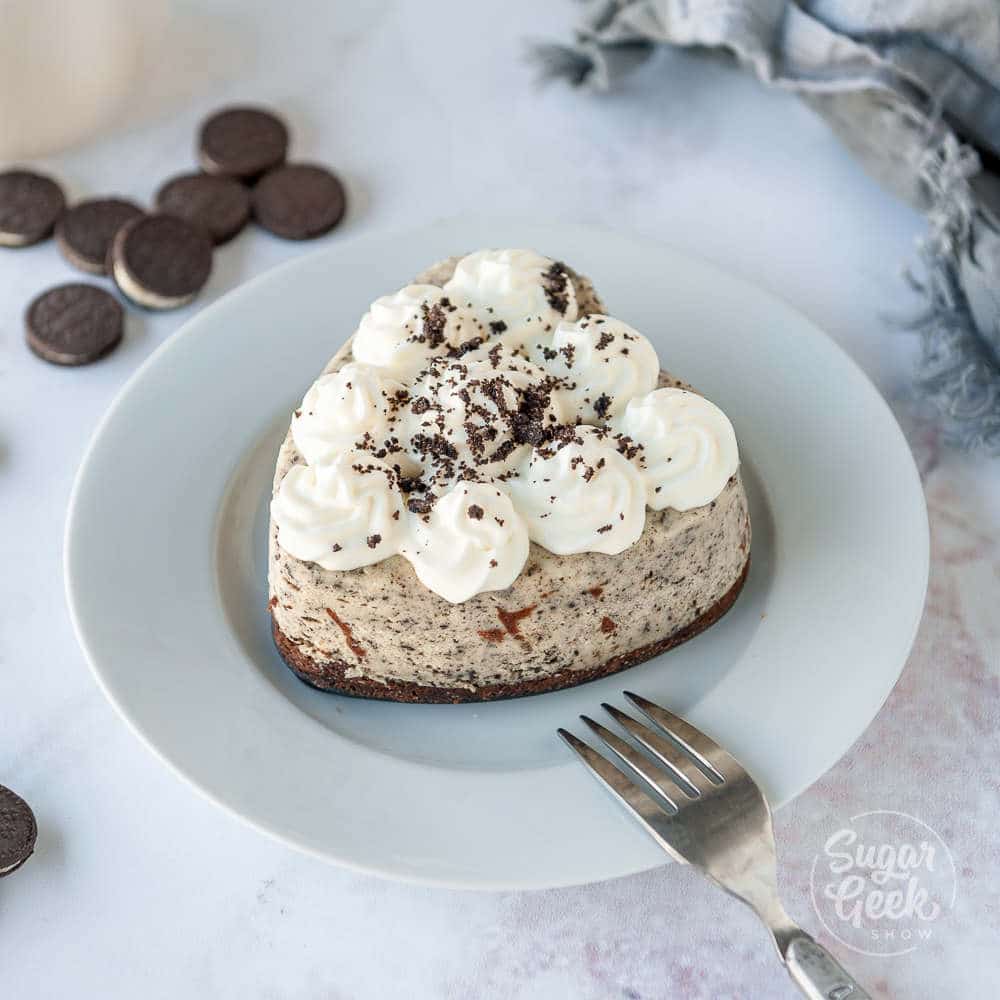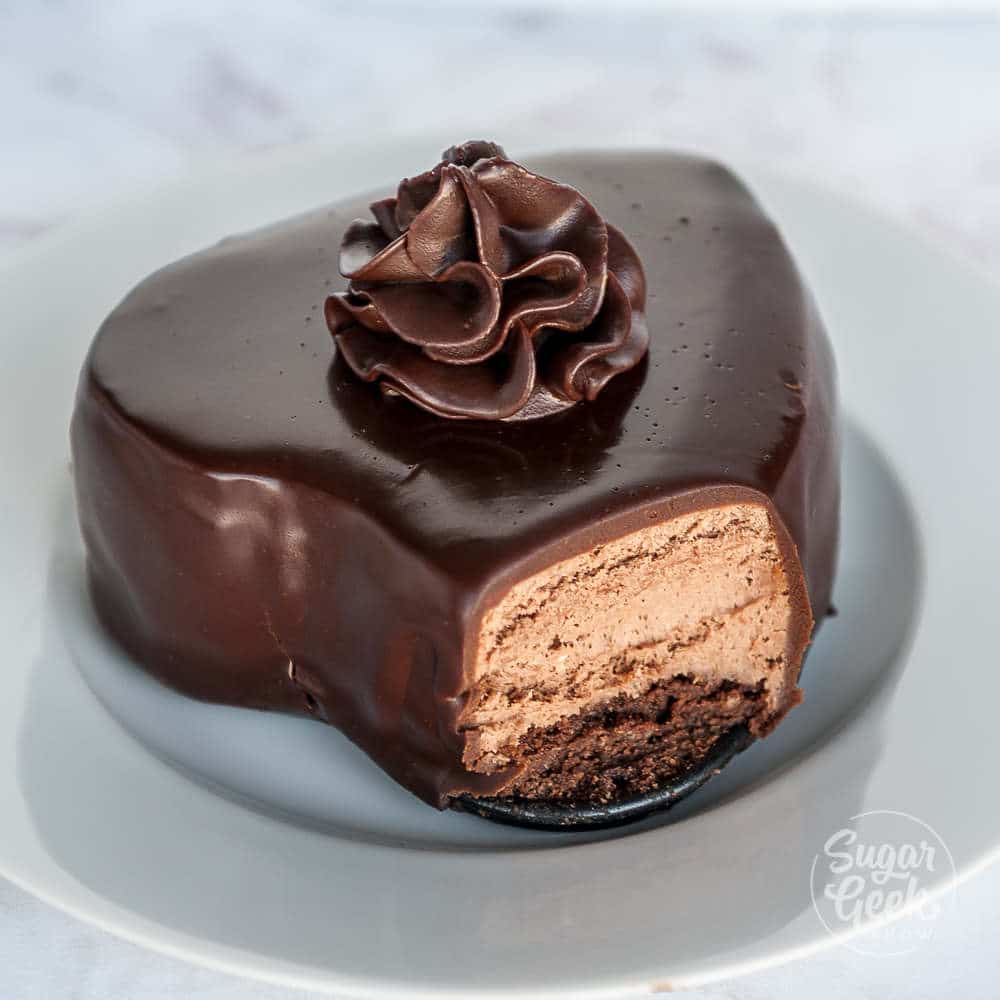 To see a full step-by-step tutorial of how I made these mini cheesecake hearts be sure to watch the video in the recipe card below.
These mini cheesecake hearts are the perfect dessert for Valentine's day.
Want more Valentine's Day recipes?
Cherry cheesecake
Chocolate Mirror Glaze Heart
Marble Valentine's Day Cookies
Cream Tart
Recipe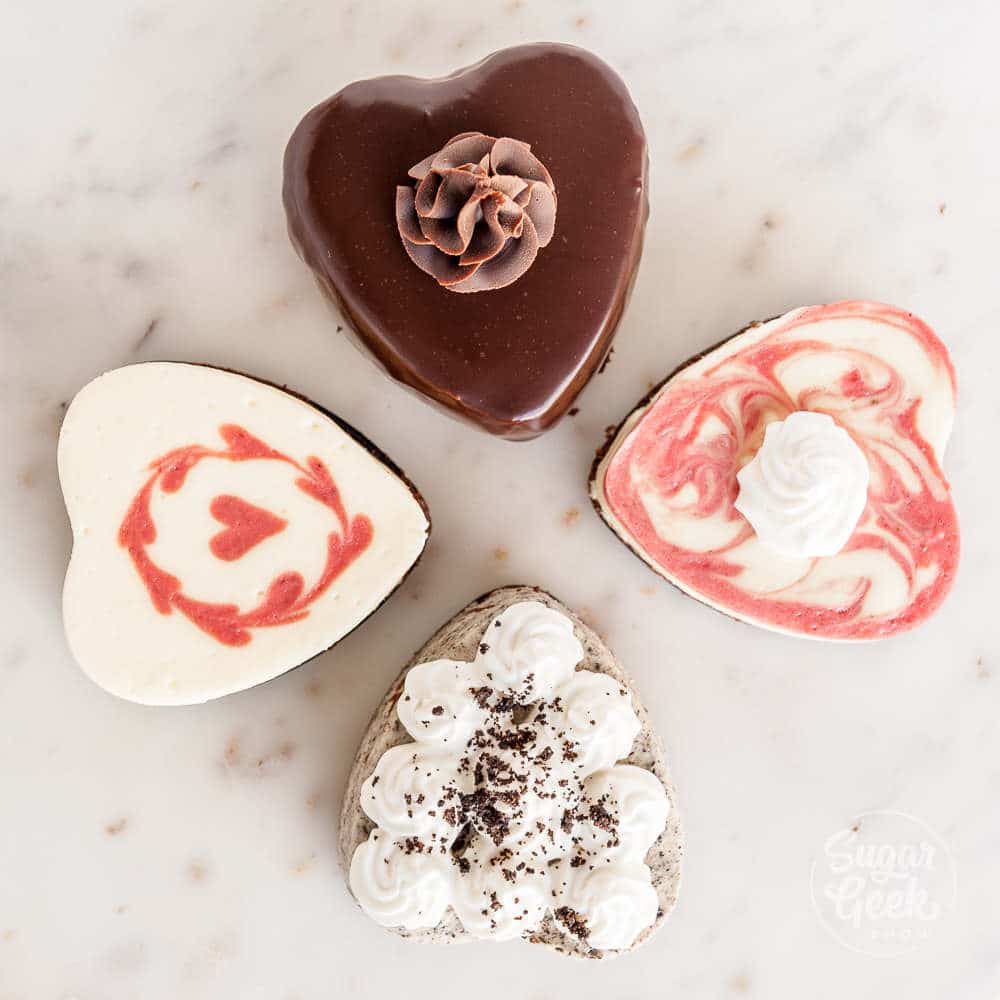 Equipment
Mini heart cheesecake pans

Kitchen torch

Aluminum foil

Large pan for the water bath
Ingredients
Brownie Batter
4

ounces

unsalted butter

room temperature

2

ounces

chocolate

dark, semi-sweet or milk

2

large

eggs

room temperature

3

ounces

granulated sugar

2

ounces

brown sugar

1

ounce

cocoa powder

sifted

2.5

ounces

 all purpose flour 

or cake flour for a more tender brownie

1

teaspoon

vanilla extract

½

teaspoon

salt
Cheesecake Batter
24

ounces

cream cheese

room temperature

6

ounces

granulated sugar

⅛

teaspoon

salt

½

tablespoon

vanilla extract

2

ounces

heavy cream

room temperature

2

ounces

sour cream

room temperature

3

large

eggs

room temperature

2

ounces

semi-sweet chocolate

melted

2

ounces

strawberry Puree

cooled

1

ounce

oreo cookies

crushed
Chocolate Ganache Glaze (make on day 2)
4

ounces

heavy whipping cream

4

ounces

semi-sweet or dark chocolate

1

ounce

unsalted butter

softened
Strawberry Puree
4

ounces

strawberries

fresh or frozen

1

Tablespoon

sugar

1

teaspoon

lemon juice
Instructions
Brownie Layer Instructions
Preheat your oven to 350ºF and line cheesecake pans with parchment paper on the bottom (or you can serve them on the pan.) No need to grease the sides.

Melt your butter and chocolate together in a heatproof bowl over simmering water or in the microwave. Let cool until it no longer feels hot to the touch.

Whisk together your sugar, salt, vanilla and eggs in a bowl until just combined.

Sift together the flour and cocoa to remove lumps and then set aside.

Add your melted chocolate mixture to the egg mixture and whisk until just combined.

Add your chocolate egg mixture to the flour mixture and stir gently until just combined and no flour lumps are visible. Do not over-mix

Divide your batter into the pans. Place the pans in the center of the oven and bake until a toothpick comes out from the center with a few sticky moist crumbs. It's better to under-bake than over-bake because it will go back in the oven with the cheesecake.

Bake at 350 for 14-15 minutes. Remove from the oven and let cool while you prepare your cheesecake batter.
Strawberry Puree
Blend strawberries until smooth (or you can blend after you cook, it doesn't matter)

Place in a medium saucepan with the sugar and heat until the sugar dissolves. Add in the lemon juice and let cool
Plain Cheesecake Batter Instructions
Reduce the oven temperature to 335ºF.

Use the paddle attachment to blend together the cream cheese and sugar until smooth and lump-free.

Scrape down the sides of the bowl two or three times.

Add sour cream and cream, and then mix on low until smooth.

Add eggs one at a time while mixing on low, scrape the bowl after each addition and mix until just combined and smooth.

Divide the cheesecake batter into four bowls.

For the oreo cheesecake batter, add your oreo crumbs to the bowl and stir until combined. Pour into the pan over the brownie batter

For the plain cheesecake with hearts, fill your cheesecake pan with plain batter. Place the strawberry coulis into a squeeze bottle or piping bag. Make a ring of dots (see video for more details) and then drag a toothpick through the dots to make a ring of hearts. Pipe another heart in the center.

Combine one ounce of cheesecake batter with 2 ounces strawberry coulis and blend together. Spoon the plain cheesecake batter into the pan over the brownie layer, alternating with the strawberry batter. Marble the two together with a toothpick or skewer.

For the chocolate cheesecake, combine the cheesecake batter with the sifted cocoa powder and combine until smooth and then pour into your cheesecake pan over the cooled brownie.

Wrap each pan in two layers of tin foil (if you haven't yet) and place into a large sheet pan.

Move the bottom oven rack to the lowest place in the oven. Place the sheet pan with cheesecakes onto the rack. Using a measuring cup, fill the pan halfway with hot water.

Bake for 35-40 minutes or until the cheesecake has a jiggle in the center while tapping on the side of the pan. DO NOT open the oven door, or your cheesecake could crack.

After 35 minutes, crack the oven door open and let cool for 1 hour. Remove the cheesecakes from the water bath and place into the freezer overnight.

After your cheesecakes are frozen, you can use a kitchen torch to lightly warm the sides of your pan and then release the cheesecakes without damaging them.

Glaze your chocolate cheesecake and use the leftover glaze to pipe a chocolate rosette using a small star tip and piping bag

I decorated the rest of my cheesecakes with stabilized whipped cream but you could do anything you like

Let cheesecakes defrost in the fridge overnight or for at least 6 hours before serving.
Nutrition
Serving:
1
serving
|
Calories:
1755
kcal
|
Carbohydrates:
132
g
|
Protein:
26
g
|
Fat:
130
g
|
Saturated Fat:
75
g
|
Cholesterol:
617
mg
|
Sodium:
1095
mg
|
Potassium:
732
mg
|
Fiber:
6
g
|
Sugar:
104
g
|
Vitamin A:
4506
IU
|
Vitamin C:
17
mg
|
Calcium:
315
mg
|
Iron:
6
mg