Homemade cherry filling tastes WAY better than canned and is made with only six ingredients and 10 minutes
You can make your own cherry filling from scratch using fresh or frozen cherries. Heat them up with some sugar, a touch of lemon and some cornstarch to thicken those juices and you've got the best cherry filling you've ever tasted! Use this cherry filling to top your cherry cheesecake, make a cherry pie or use with German chocolate cake!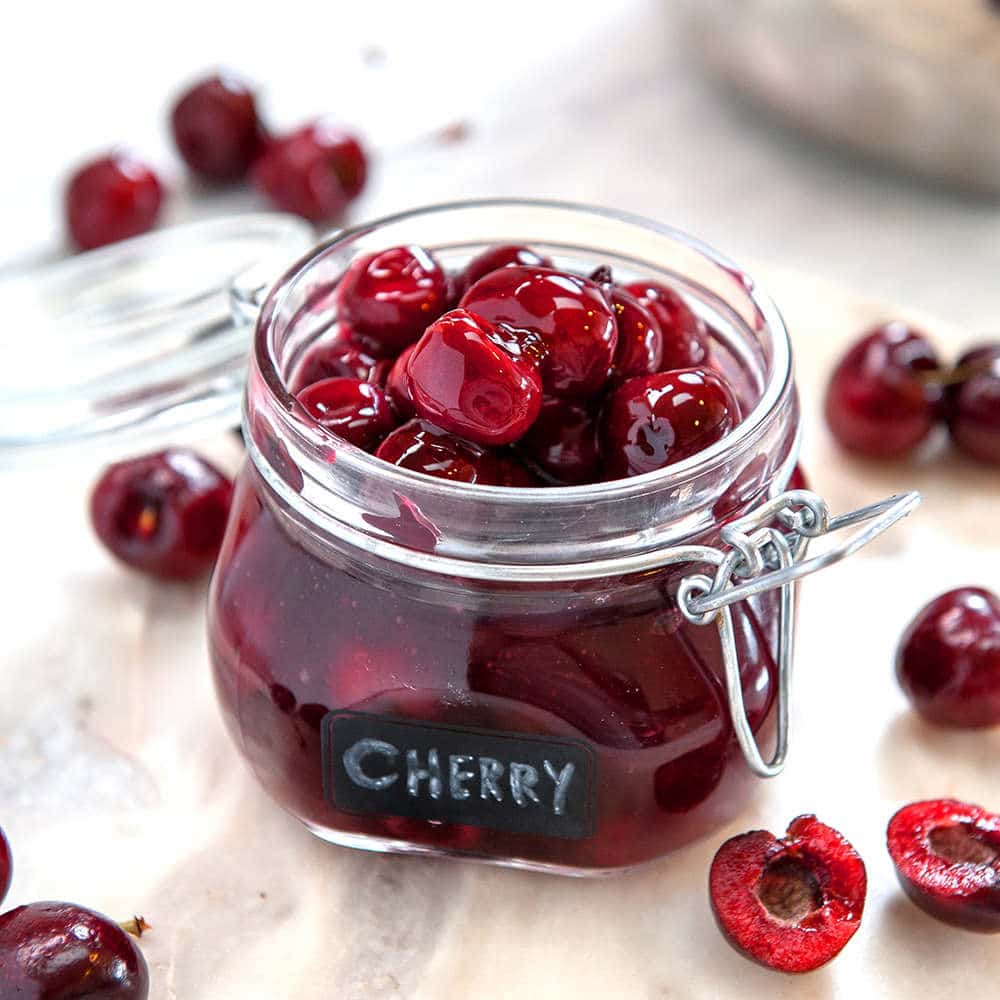 Here in Oregon, we have the MOST amazing cherries. We're really lucky that way. My favorite cherries are Rainier cherries! They are sweet and tart and taste so amazing right off the tree.
But I love all cherries. When I see any kind of cherry at the grocery store or at the farmers market, I really cannot resist! I'll eat and eat until I make myself sick.
So when I saw these beautiful red cherries at Costco, I had to buy them, but the container was 2 pounds! That's a lot of cherries! Even for me.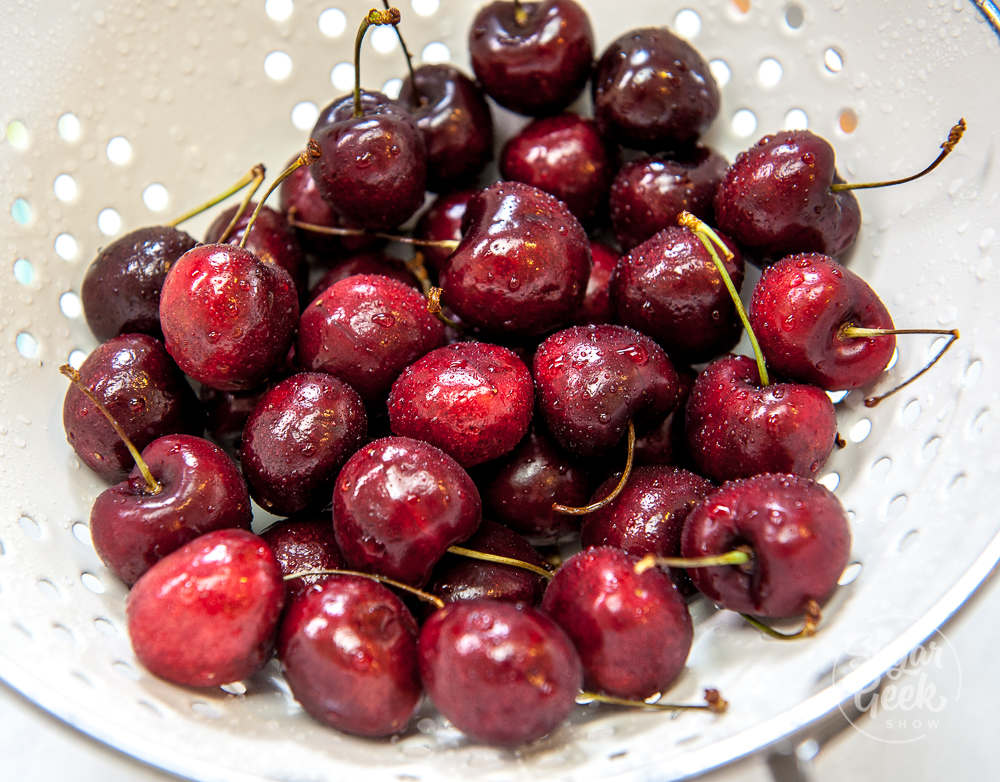 So I decided to eat my fill and make the rest into a yummy cherry filling so I can use it later. I'm using fresh cherries but you can definitely do the same thing with frozen cherries.
What cherries are best for cherry filling?
You can use any kind of cherry for a cherry filling. Much like making apple filling, you should use whatever you have and adjust your sugar content to match. If you're using sour cherries for sour cherry pie, then you'll want to add more sugar. If you're using sweet cherries, then you'll use less sugar.
What ingredients do you need for cherry filling?
The only thing you need for cherry filling is cherries, sugar and a thickening agent for the juice but I've added in a couple of other ingredients that really bring out the flavor of those cherries!
Cherries - Any kind will do, I'm using black cherries that I got from my grocery store
Sugar - Sweetens the filling but you could totally leave it out if you want to keep your cherry filling sugar-free. Or you can replace sugar with honey or a sugar-free substitute like Swerve.
Water - A little extra water makes the filling saucier but you don't have to add it if your cherries are really juicy. Sour cherries tend to be juicier than sweet cherries. You're looking for about a cup of liquid.
Lemon zest - I put a little lemon zest in all my berry recipes. Lemon brings out the flavor of cherries and makes them taste fresher.
Salt - just a dash of salt to bring out the flavor, not to make the filling salty
ClearGel or Cornstarch - If you haven't made many fillings then you've probably never heard of ClearGel. It's basically a better cornstarch. It stays really clear and super shiny so your filling will look more like canned cherry filling. Cornstarch works great too but the color is a little cloudier and the filling doesn't stay as smooth. If you plan on making a lot of fruit fillings, you should order some ClearGel and give it a try! I just love how beautiful and shiny the cherry filling looks. *make note of the difference in measurement in the recipe for ClearGel and cornstarch.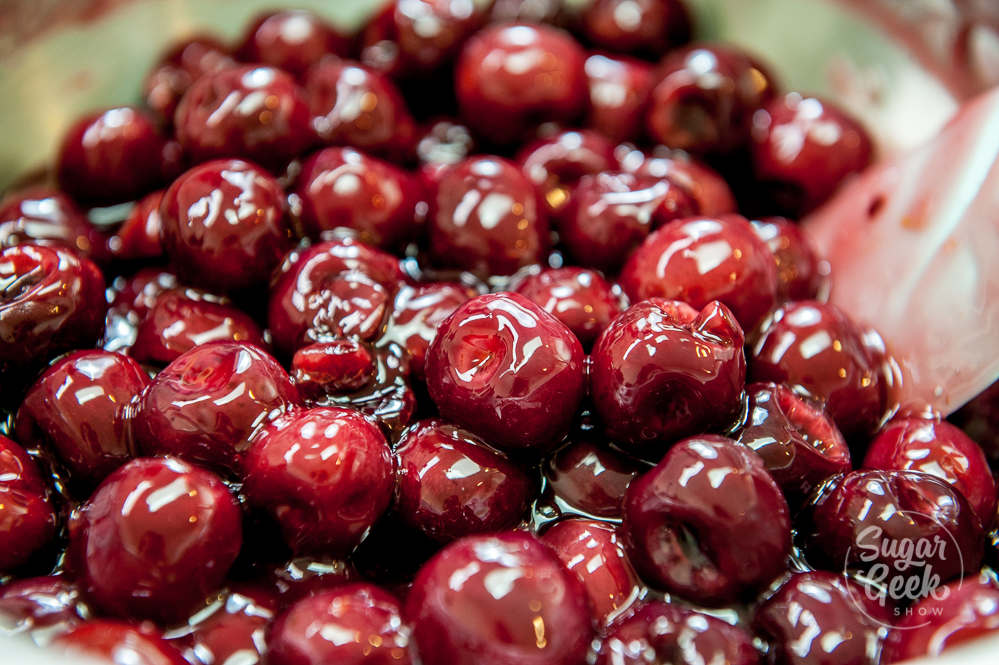 How to pit cherries
I like to use a cherry pitter to get the pits out of my cherry. It makes short work of the task and feels very satisfying. Nothing like taking the days aggressions out on some cherries! I use this cherry pitter but you can find them in most kitchen stores.
Pitting cherries is messy business though so wear an apron or don't wear your favorite white t-shirt.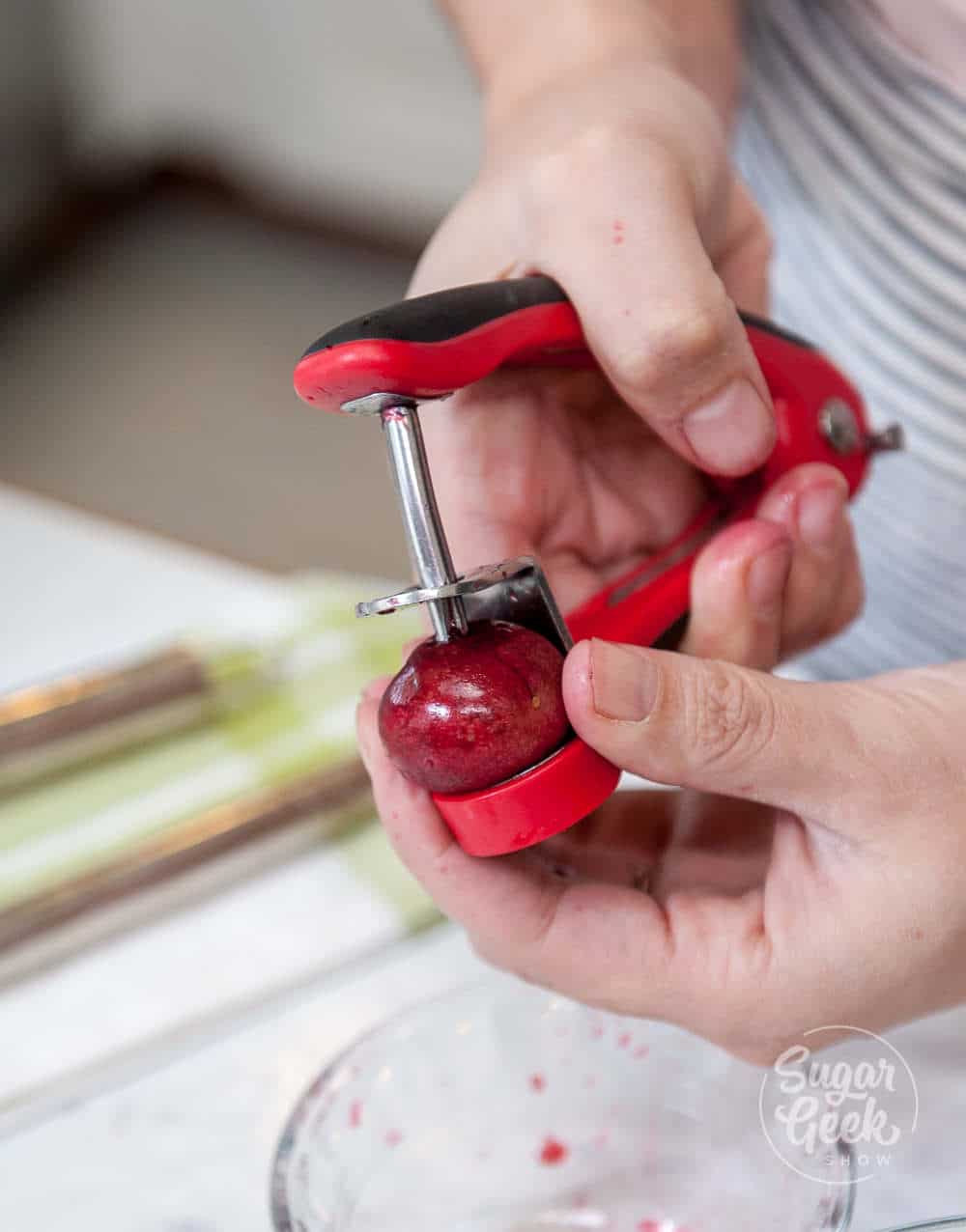 If you don't have a cherry pitter, you can pit cherries with a wine bottle and a chopstick. Take off the cherry stem and place the cherry in the opening of the wine bottle on its side. Use the chopstick to push through the side of the cherry and push the pit out.
The bottle conveniently catches the cherry pit!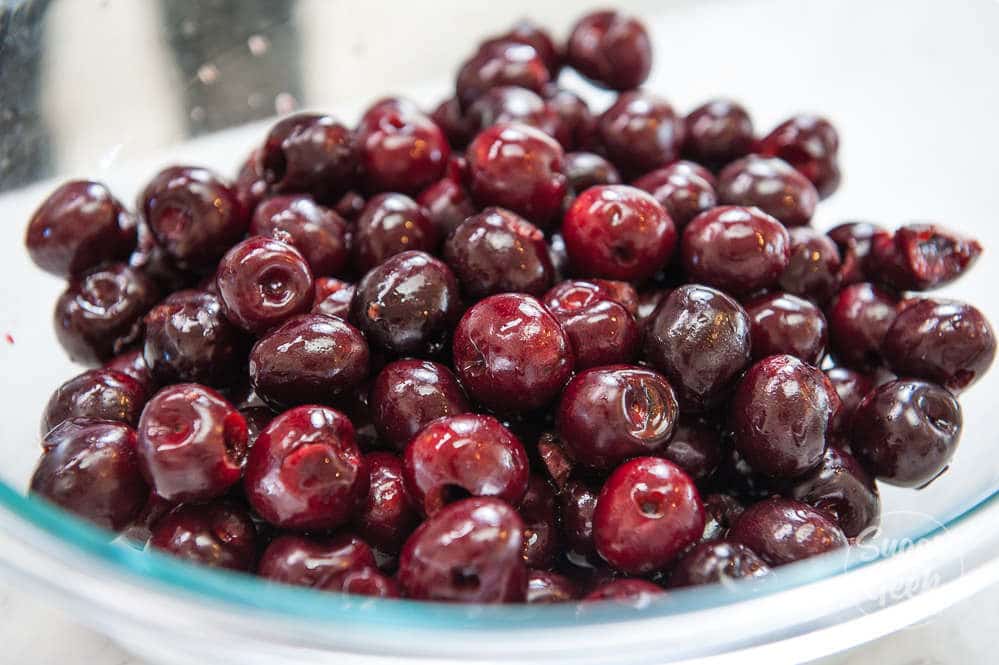 How to make cherry filling
If you've stuck with me this far, then I'm sure you're ready to just get to the good part. Making the cherry filling! It could not be simpler.
All you have to do is combine your pitted cherries, water (or juice), and sugar in a saucepan over medium-high heat. Bring them babies to a simmer.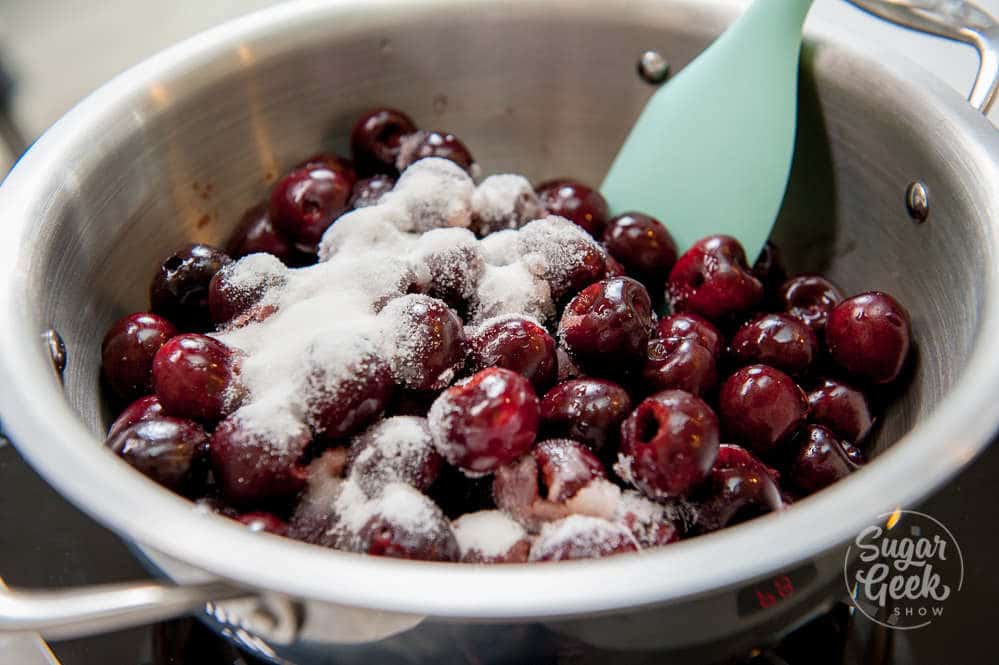 Reduce your heat to medium and combine that ClearGel (or cornstarch) with the second measurement of cold water, lemon zest, and juice. Mix it up to make a slurry. You can't just add cornstarch straight to hot liquid or you'll get lumps. Dissolving it in cold water first and then adding it to hot liquid ensures a silky smooth filling.
Pour the cornstarch slurry into the hot cherries and stir for 1-2 minutes until the mixture thickens. It will thicken even more when it's cool so don't worry if it doesn't look thick enough.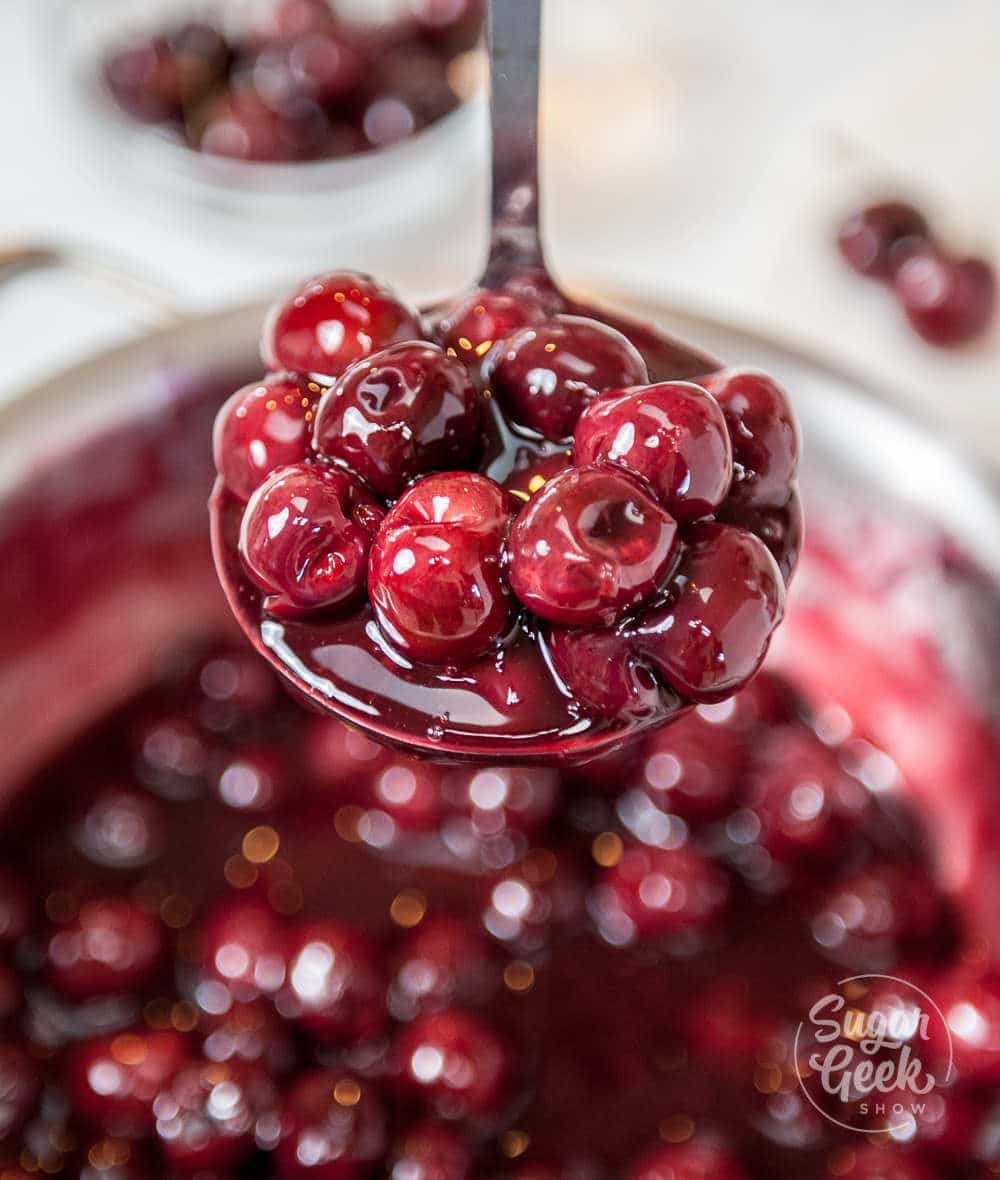 This cherry filling is freaking delicious. I'm not gonna lie! It can be used for so many things! Cheesecake, cherry pie, hand pies, ice cream topping, cake filling, waffles, pastries, cobbler... do I need to go on?
You can also freeze or can cherry filling if you buy a whole bunch of cherries at the farmers market and then panic because now you have 20 pounds of cherries that you can't explain. *cough*...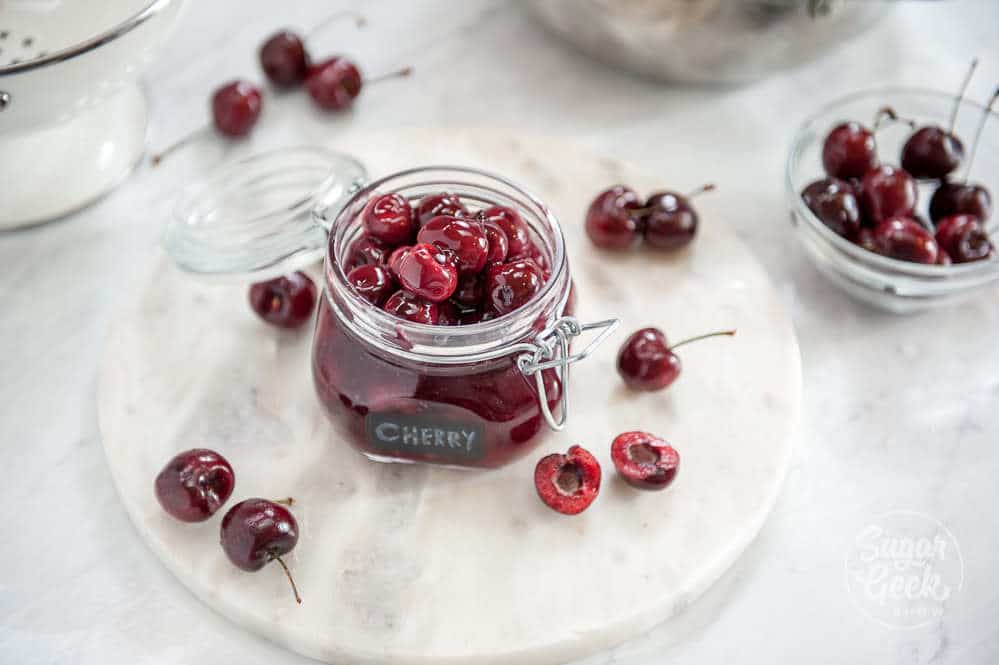 Love this recipe? You might like this!
Cherry cheesecake
Banana split cake
Stabilized whipped cream
Recipe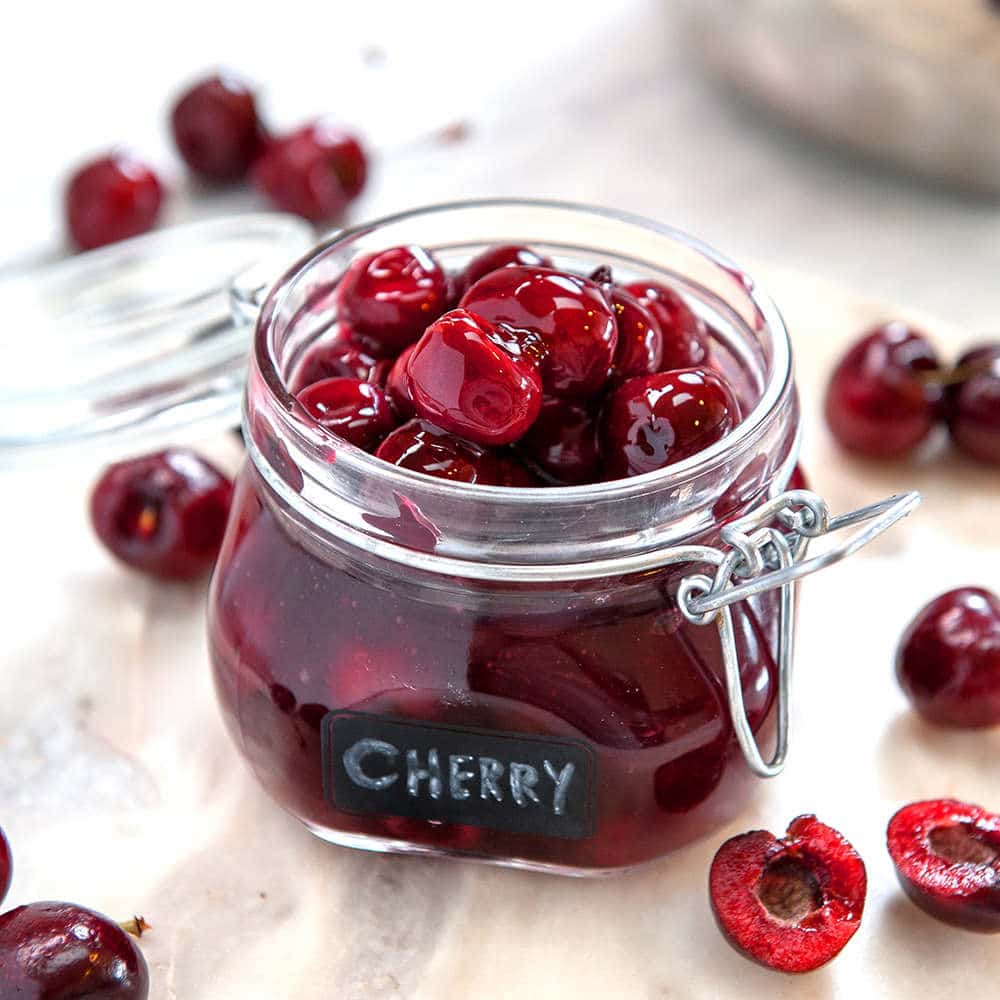 Ingredients
32

ounces

cherries

pitted

8

ounces

water

8

ounces

granulated sugar

¼

teaspoon

salt

5

Tablespoons

ClearJel

or 3 Tablespoon cornstarch

1

Tablespoon

fresh lemon juice

1

small

lemon zest

2

ounces

cold water

to mix with the cornstarch
Instructions
Combine together your cherries, water, salt, and sugar in a large saucepan and bring to a simmer over medium high heat, while stirring occasionally

Combine together your ClearJel, lemon juice, 2 tablespoons water, and lemon zest to make a slurry

Add your ClearJel to the simmering mixture and cook for 1-2 minutes until thickened. The mixture will continue to thicken as it cools

Cherry filling can be kept in the fridge for one week or frozen for 6 months or more
Nutrition
Calories:
364
kcal
|
Carbohydrates:
93
g
|
Protein:
2
g
|
Fat:
1
g
|
Saturated Fat:
1
g
|
Sodium:
150
mg
|
Potassium:
503
mg
|
Fiber:
5
g
|
Sugar:
86
g
|
Vitamin A:
145
IU
|
Vitamin C:
19
mg
|
Calcium:
29
mg
|
Iron:
1
mg