Southern coconut cake made with toasted coconut and coconut cream cheese frosting!
This southern coconut cake is full of delicious coconut flavor thanks to toasted coconut, buttermilk and a dash of extract. It pairs perfectly with coconut cream cheese frosting!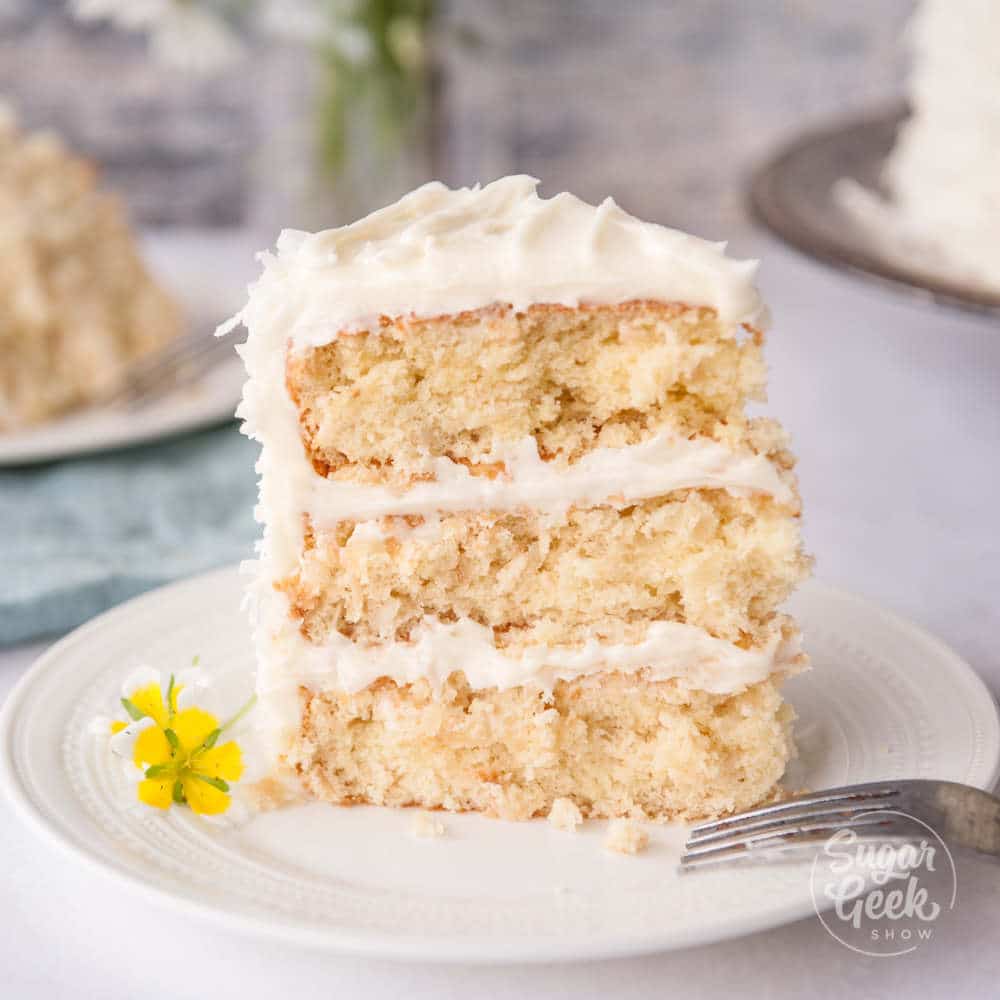 I recently went on a trip to Memphis, TN with some of my favorite bloggers with the pure intention to eat our way through the city. Every single day was planned around where we were going to eat.
Now, of course, I had my share of some amazing Memphis style BBQ from Central BBQ. Some epic fried pickles from BB Kings, and the most amazing fried chicken I have ever had from Gus's Famous Fried Chicken.
But there was one place that REALLY stood out for me and that was the Commissary BBQ in Germantown. This was a good 20-minute drive from our air BnB on Main street but boy was it worth it!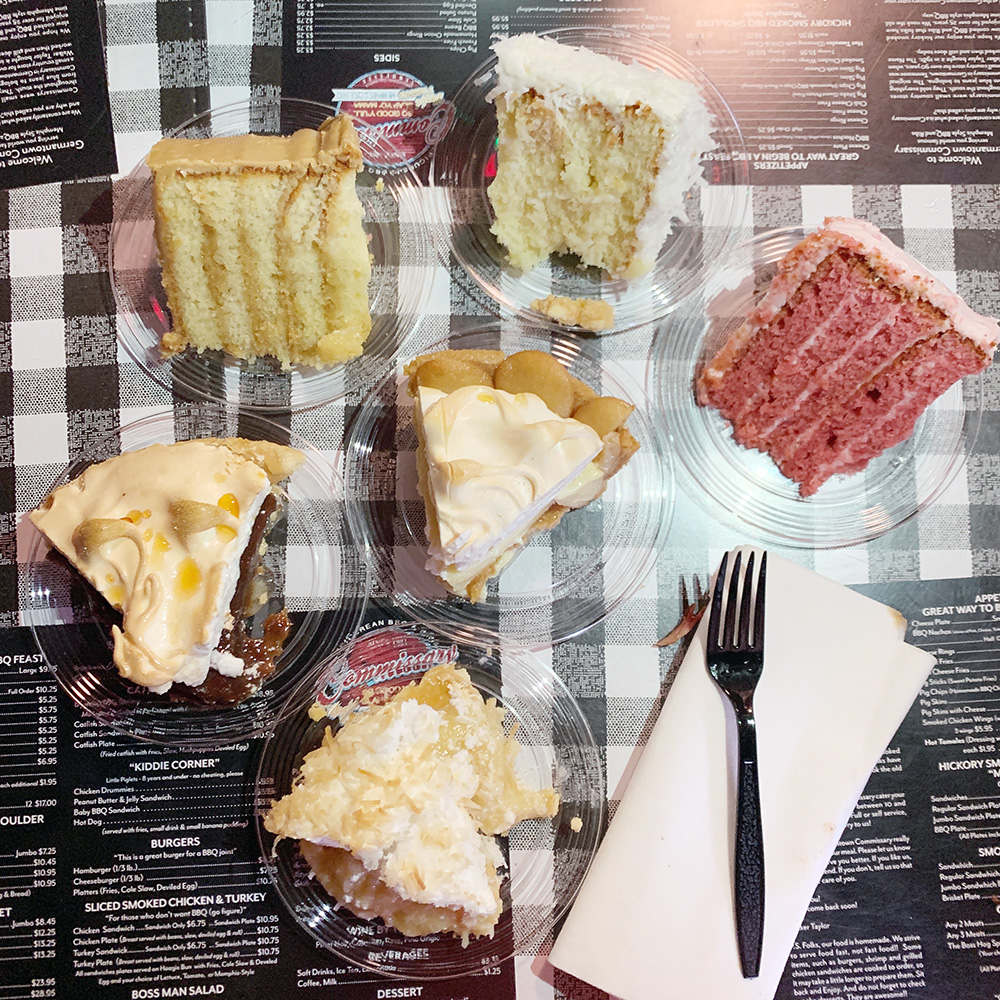 This place is KNOWN for its cakes and pies so we did the logical thing and ordered one of each.
To my great surprise, I fell in love with the coconut cake! Previously I always paired my coconut cake with regular buttercream but this cake was covered in a sweet cream cheese frosting and more coconut on the outside.
This cake was moist, not too sweet and just delicious! We were all fighting over the last bite!
I was inspired to adapt my old coconut cake recipe to this one so I can have this delicious southern coconut cake whenever I want!
Start by toasting your coconut flakes
To make my coconut cake, start by toasting your coconut first. It's easy to burn so do this before you do anything else!
Spread your coconut flakes evenly on a baking sheet.
Bake 3 minutes in the oven at 350ºF and then stir. The edges always brown faster!
Another 1-2 minutes should do it. I don't like to make mine TOO brown, just enough to crisp the coconut up. Toasting coconut brings out the flavor of the coconut and actually has a better mouthfeel and adds a deeper coconut flavor to the cake.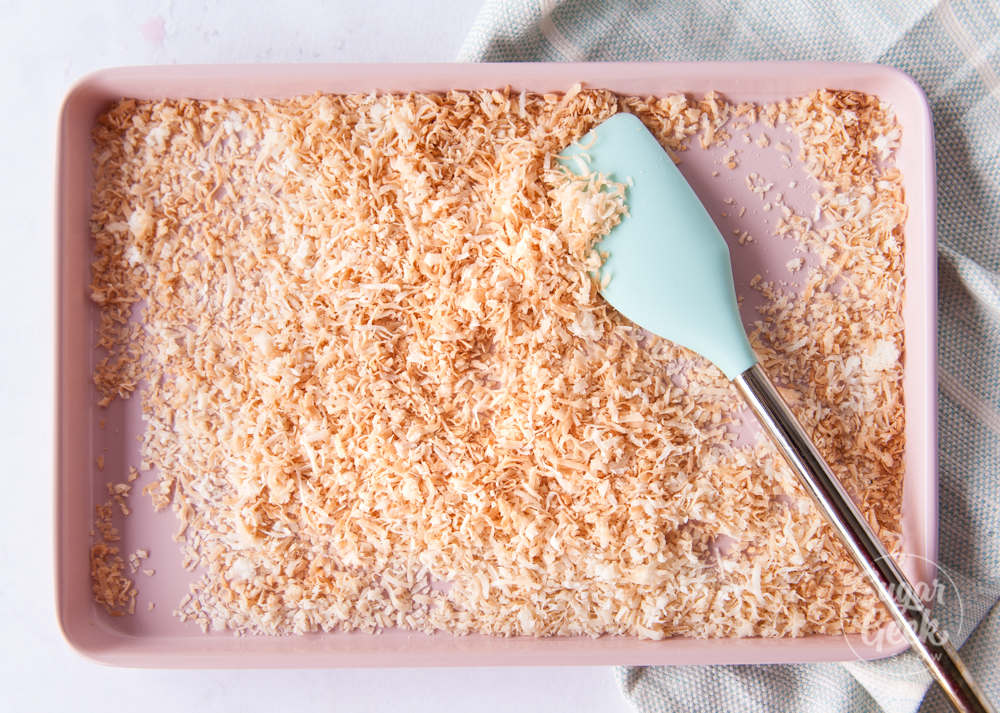 How to make the coconut cake batter
Now you can make your cake batter. Make sure you're cold ingredients (milk, butter, eggs) are all softened to room temp or even a little warm to prevent the batter from curdling.
Whisk together your flour, baking powder, baking soda, and salt and set aside.
Whisk together your buttermilk, coconut and vanilla extract and set aside
Cream the softened butter until smooth, then sprinkle in your sugar and then the oil. Whip on high until light and fluffy. It should look white.
Add in your egg yolks one at a time, letting each combine fully before adding the next.
Add in 1/3 of your dry ingredients mixture, then 1/2 of the liquids, then dry, then liquid, ending with the last bit of dry. Mix only until combined. Do not over-mix.
How to fold the meringue into the cake batter
After your batter is made, you can whip up your egg whites to firm but moist peaks. This meringue is going to add some extra lift and fluffiness to our coconut cake. Make sure you don't over-whip the egg whites. If they look dry and crumbly, you've gone too far.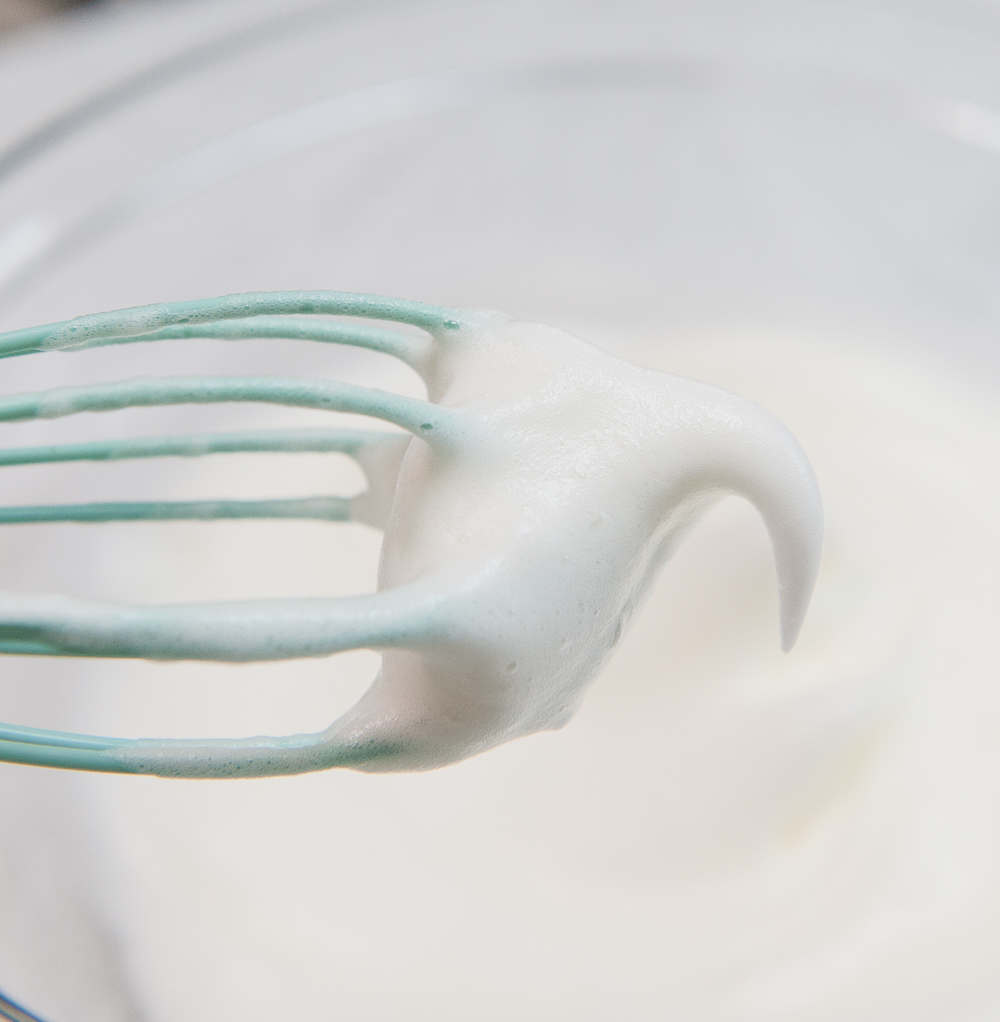 Add about 1/3 of the whites to the batter and fold it in gently by moving your spatula around the outside edge of the bowl, between the batter and the egg whites.
Lift the cake batter from the bottom and fold it over onto itself. This is how you fold.
Rotate the bowl a quarter turn after each fold.
Add in the rest of your meringue and continue folding until just combined. Do not over-mix.
Fold in your toasted coconut and divide into three 8″ cake pans prepared with cake goop or another preferred pan release.
Now bake your cakes at 350ºF for 25-30 minutes or until a toothpick comes out clean. Let cool completely before frosting
How to make a coconut layer cake
If you need more info on how to make a layer cake, I highly suggest my video on how to make your first cake.
Torte (cut in half length-wise) if desired.
Spread about 1/4″ frosting on top of your cake layer
Repeat with remaining layers.
Frost entire cake with a thin layer of frosting and freeze or chill 15 minutes.
Finish cake with a final coat of frosting. I used a bench scraper to make the sides straight and spoon to add a nice swirl to the top of the cake.
Coat the sides of the coconut cake with fresh coconut flakes (I preferred not to toast them for the outside of the cake).

A good recipe for coconut cupcakes?
This recipe works great for cupcakes and is very light! This recipe makes approximately 24 cupcakes. Bake at 350 degrees for 15-18 minutes until set in the middle. It can be easy to burn these cupcakes because of the sugar content so watch them closely. If they are over-baked they can taste dry.
Best filling for coconut cake?
The best thing about coconut cake is that it pairs with SO many different flavors. The traditional filling for coconut cake is something light and creamy like this coconut cream cheese frosting.
If you're feeling extra adventurous you can fill your coconut cake with some coconut custard which is basically like a pudding, lemon curd or even raspberry filling.
Cake Batter and Frosting Calculator
Select an option below to calculate how much batter or frosting you need. Adjust the servings slider on the recipe card to change the amounts the recipe makes.
Choose a pan type
Choose a cake pan size
(based on 2" tall cake pan)
Choose a cake pan size
(based on 2" tall cake pan)
Choose a cake pan size
(based on 2" tall cake pan)
Cups of Batter Needed
8 cups
Cups of Frosting Needed
5 cups
Did You Make This Recipe?Leave a rating and tell me how it went!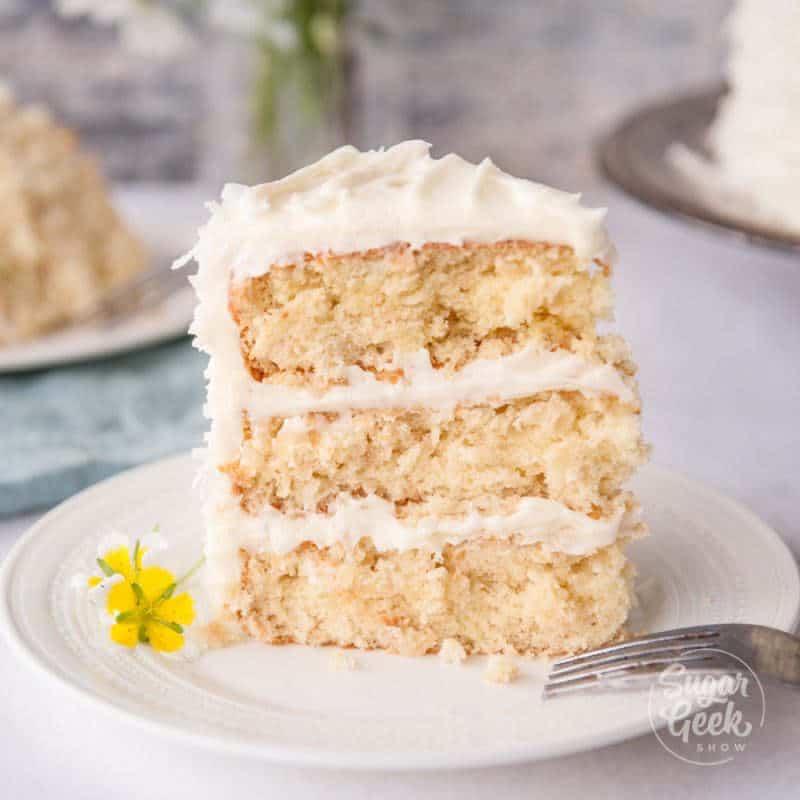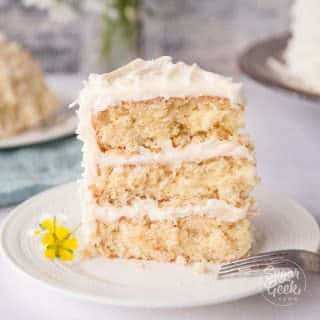 Southern Coconut Cake With Cream Cheese Frosting
Moist layers of fresh coconut cake filled with cream cheese frosting. This coconut cake has real coconut flavor built right into the cake with toasted coconut flakes, coconut milk and a touch of coconut extract.
Print
Rate
Never Miss A Cake
Serves: 10 cups
Calories: 545kcal
Ingredients
Coconut Cake Ingredients
11 oz (312 g) AP flour (all purpose)
1 tsp (1 teaspoon) baking powder
1/2 tsp (1/2 tsp) baking soda
1/2 tsp (1/2 tsp) salt
4 oz (114 g) unsalted butter room temperature
14 oz (397 g) granulated sugar
4 oz (113 g) vegetable oil
5 large (5 large) egg yolks room temperature
5 large (5 large) egg whites room temperature
1/4 tsp (1/4 teaspoon) cream of tartar
1 tsp (1 tsp) vanilla extract
2 tsp (2 teaspoon) coconut extract
8 oz (227 g) buttermilk room temperature
6 oz (170 g) sweetened flaked coconut toasted until lightly browned
1 oz (28 g) sweetened flaked coconut toasted (for garnish)
Cream Cheese Frosting
16 ounces (454 g) cream cheese cut into cubes and softened
8 ounces (227 g) unsalted butter softened
1 teaspoon (1 teaspoon) coconut extract
1/2 teaspoon (1/2 teaspoon) salt
36 ounces (1020 g) powdered sugar sifted
Equipment
Stand mixer with whisk and paddle attachment
Instructions
Coconut Cake Instructions
NOTE: It is SUPER IMPORTANT that all the room temperature ingredients listed above are room temperature and not cold so that the ingredients mix and incorporate correctly.

Adjust an oven rack to the middle position and preheat to 350ºF/176ºC. Prepare three 8"x2" round cake pans with cake goop or another preferred pan release.

Spread your coconut flakes evenly onto a cookie sheet pan and bake for 2-3 minutes or until they JUST start to turn brown around the edges. Stir the coconut and bake for 1-2 minutes more until lightly golden. Watch closely or it could burn. Remove from the oven and let cool.

Whisk together the flour, baking powder, baking soda and salt in a medium bowl. Set aside.

Add the oil, coconut extract and vanilla extracts to your buttermilk

Place egg whites in a mixing bowl with the whip attachment. Whip on med-high. Add in cream of tartar. Whip until firm but moist peaks form. Set aside

Add butter to stand mixer with the paddle attachment and beat at medium-high speed until smooth and shiny, about 30 seconds. Gradually sprinkle in the sugar, beat until mixture is fluffy and almost white, about 3-5 minutes.

Add egg yolks, one at a time to the mixture, beating well after each until combined.

With the mixer at the lowest speed, add about a third of the dry ingredients to the batter, followed immediately by about a third of the milk, mix until ingredients are almost incorporated into the batter. Repeat the process 2 more times. When the batter appears blended, stop the mixer and scrape the sides of the bowl with a rubber spatula.

Fold in your whipped egg whites and toasted coconut gently.

Divide the batter evenly between the prepared pans. Smooth the tops with a rubber spatula. Bake cakes until they feel firm in the center and a toothpick comes out clean or with just a few crumbs on it, about 25-30 minutes.

Transfer pans to a wire rack and let cool for 10 minutes. Invert cakes onto the rack and pop cakes out of pans. Cool completely before frosting.
Cream cheese frosting
Place softened butter in the bowl of your stand mixer with whisk attachment and cream on low until smooth. Or you can use a hand mixer!

Place softened cream cheese in the bowl with butter in small chunks and blend on low until smooth and combined

Add in sifted powdered sugar one cup at a time until combined

Add your coconut extract and salt, blend on low until smooth

Scrape the mixture into a bowl and whisk in coconut and vanilla extract. Whisk to combine. Cover with plastic wrap and refrigerate until cold, at least 2 hours.
Notes
IMPORTANT: Make sure all your ingredients are at room temp and you're using a scale to measure. Substituting ingredients may cause this recipe to fail. (see notes at the bottom of the recipe)
Important Things To Note Before You Start
1. Bring all your ingredients to room temperature or even a little warm (eggs, buttermilk, butter, etc) to ensure your batter does not break or curdle. 
2. Use a scale to weigh your ingredients (including liquids) unless otherwise instructed (Tablespoons, teaspoons, pinch etc). Metric measurements are available in the recipe card. Scaled ingredients are much more accurate than using cups and help ensure the success of your recipe. 
3. Practice Mise en Place (everything in it's place). Measure out your ingredients ahead of time and have them ready before you start mixing to reduce the chances of accidentally leaving something out.
4. Chill your cakes before frosting and filling. You can cover a frosted and chilled cake in fondant if you wish. This cake is also great for stacking. I always keep my cakes chilled in the refrigerator before delivery for easy transporting. Learn more about decorating your first cake. 
5. If the recipe calls for specific ingredients like cake flour, replacing it with all purpose flour and cornstarch is not recommended unless specified in the recipe that it's ok. Substituting ingredients may cause this recipe to fail. 
Cake flour is a soft, low protein flour of 9% or less. 
Cake flour sources: UK - Shipton Mills Cake & Pastry Flour
Nutrition
Serving: 1serving | Calories: 545kcal (27%) | Carbohydrates: 56g (19%) | Protein: 5g (10%) | Fat: 34g (52%) | Saturated Fat: 24g (120%) | Cholesterol: 135mg (45%) | Sodium: 138mg (6%) | Potassium: 151mg (4%) | Fiber: 2g (8%) | Sugar: 43g (48%) | Vitamin A: 822IU (16%) | Vitamin C: 1mg (1%) | Calcium: 44mg (4%) | Iron: 1mg (6%)