Toasted coconut cake that is super light, fluffy and perfect for a special occasion
This coconut cake is full of delicious coconut flavor and is paired perfectly with creamy coconut filling and light and fluffy easy buttercream. This is the kind of coconut cake that REAL coconut lovers will flock to (me being one of them).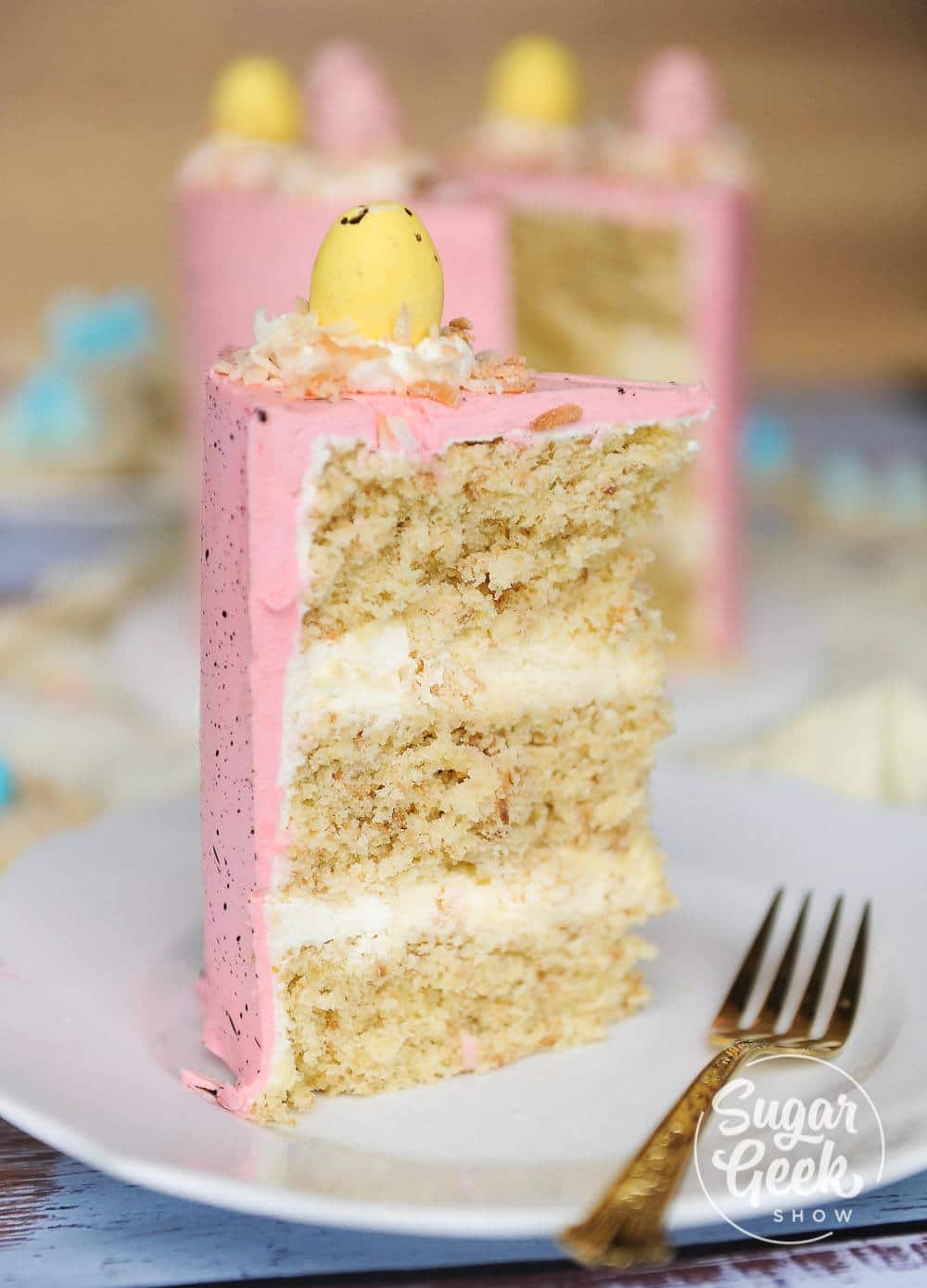 One of the first REALLY good cakes I ever had from a bakery was a coconut cake with lemon curd filling. I thought wow, that's a really odd combo but whatever! It's my birthday! Bring on the cake! I loved the combination of tart lemon curd and coconut, it quickly became a favorite.
Since then, my beloved bakery has stopped making this cake (*sob) so I decided to make one for myself! The best part is this coconut cake pairs with SO many different types of fillings. Sometimes I do lemon curd or blood orange curd, sometimes coconut cream or if I really just need my coconut cake fix, I go with straight up homemade whipped cream. Always a winner.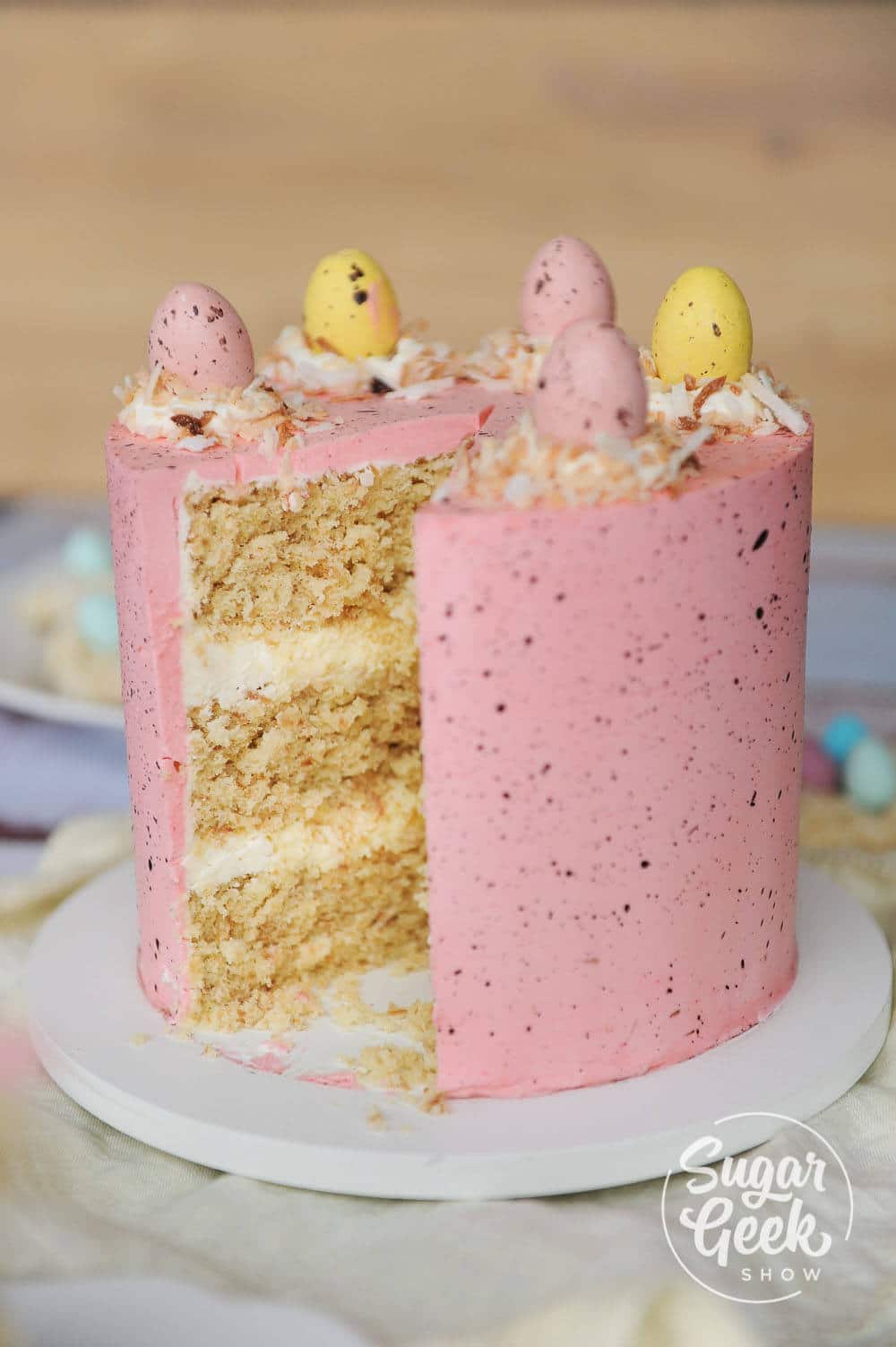 Homemade coconut cake (easy)
People get really nervous about making cakes from scratch thinking that recipes are finicky. The truth is that it's probably the way you are measuring that is your problem. For some INSANE reason (in my opinion) most American recipes are written in cups. The rest of the world goes by weight. Usually ounces or grams.
Just for fun. Go measure a cup of flour and then weigh it. Now measure it again and weigh it. I bet it wasn't the same both times right? Even trickier, is if you google how much does a cup of flour weigh, you'll get mixed results.
The only TRUE way to bake a cake from scratch is to use a scale. You can get a scale at most department stores for a few dollars. I use one made to weigh heavier batches of ingredients. Best part? Less mess. One bowl for dry, one for wet. Once you start using a scale to measure your ingredients you'll wonder why you ever did it any other way!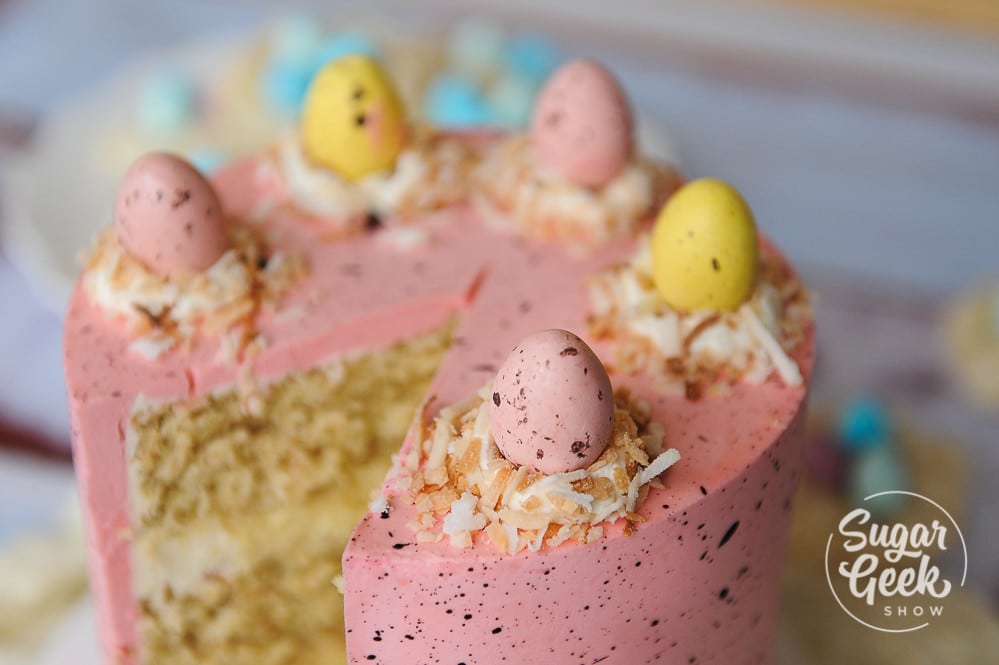 Southern coconut cake recipe
What makes a cake southern? Usually if it involves buttermilk, you've got yourself a southern recipe. Not sure why it only applies to southern recipes though. I kinda feel like every cake I've ever had with buttermilk was far superior to regular recipes. I might need to do a buttermilk white cake recipe comparison to my beloved vanilla cake recipe and compare.
This cake get's it's true flavor from the toasted coconut and the acidity from the buttermilk.
Coconut cake with coconut milk?
If you wanted to replace the milk in this recipe with coconut milk you totally could and I'm sure you would get even more coconut flavor packed into this cake. I prefer to go with a more subtle coconut flavor and contrast that with creamy fillings and buttercream.
I have even considered making a chocolate coconut cake recipe for the future with toasted almonds because I have always loved Almond Joy candy bars!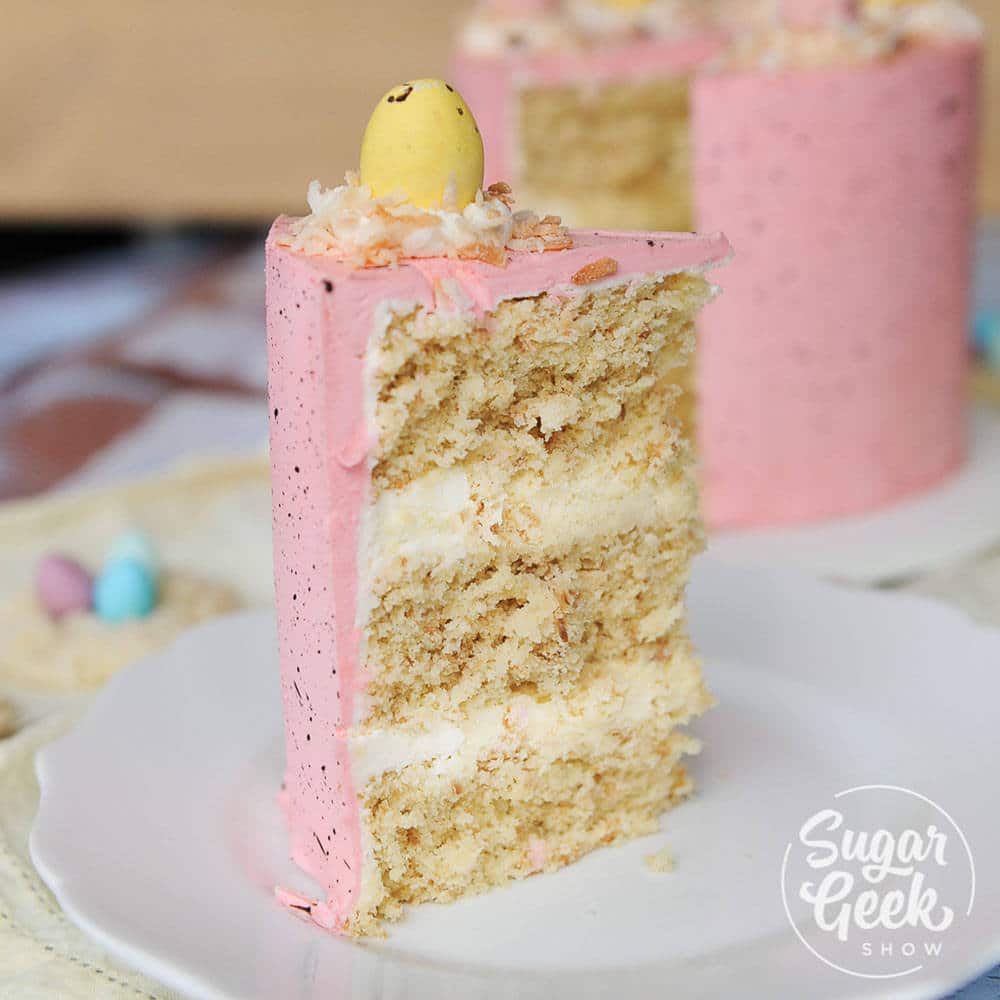 A good recipe for coconut cupcakes?
This recipe works great for cupcakes and is very light! It makes approximately 24 cupcakes. Bake at 350 degrees for 15-18 minutes until set in the middle. It can be easy to burn these cupcakes because of the sugar content so watch them closely. If they are over-baked they can taste dry.
Best coconut cake recipe
I have tried many different types of coconut cake recipes and they very greatly depending on your taste preferences. I am a cake decorator by profession so I tend to like a firmer cake because it's better for stacking cakes but in this case, it's all about the texture and flavor.
I love this cake because it' is SUPER light and fluffy. Like a coconut cake cloud of deliciousness.
The key is the egg whites that are whipped up and then folded into the batter. The other secret ingredient to successful coconut cake is buttermilk. The slight acidity cuts down the toughness of the gluten in the flour and provides a super tender cake that is perfect for pairing with lots of delicious fillings and flavors or just eating warm right out of the oven (not that I would ever do that)
Best filling for coconut cake?
The best thing about coconut cake is that it pairs with SO many different flavors. The traditional filling for coconut cake is something light and creamy. If you're feeling extra adventurous you can fill your coconut cake with some coconut custard which is basically like a pudding.
Still need more? Watch this video on how to make coconut cake!
Looking for other delicious cake recipes?
Check out my famous white cake recipe, strawberry buttercream or cinnamon toast crunch cake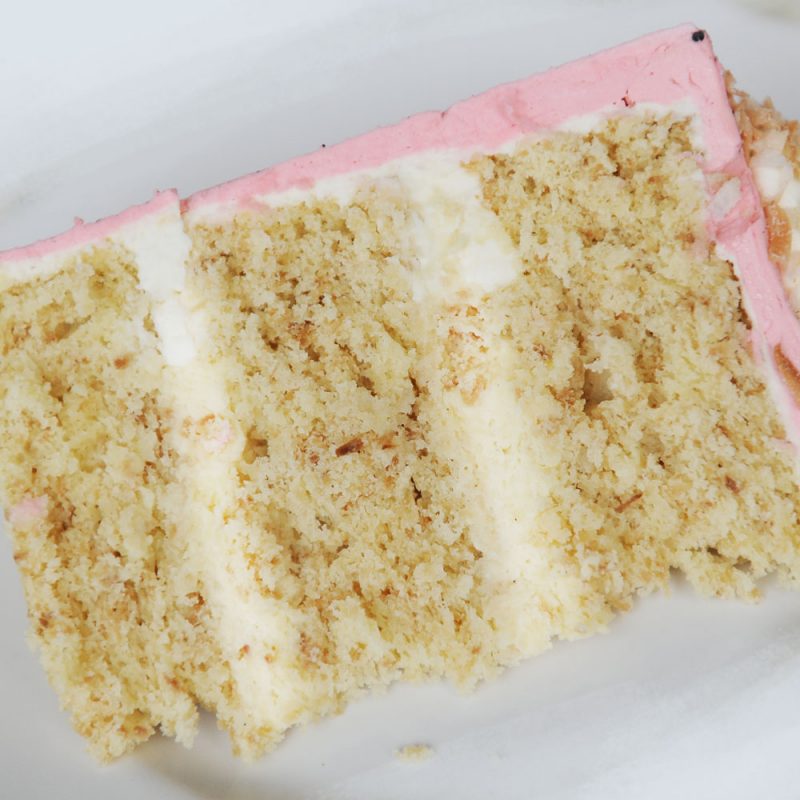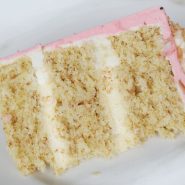 Coconut cake recipe
This coconut cake is super light, fluffy and fully of coconut flavor! Pairs well with fruit fillings or creamy frostings like my coconut cream filling. This recipe is enough batter to make three 6"x2" cakes or two 8"x2" cakes
Ingredients
Coconut Cake Ingredients
11

oz

AP flour (all purpose)

1

tsp

baking powder

1

tsp

baking soda

1/2

tsp

salt

4

oz

unsalted butter

room temperature

14

oz

granulated sugar

3

oz

canola oil

5

large

eggs

separated, room temperature

1/4

tsp

cream of tartar

1

tsp

vanilla extract

1 1/4

tsp

coconut extract

1/4

tsp

almond extract

8

oz

buttermilk

room temperature

6

oz

sweetened flaked coconut

toasted until lightly browned
Instructions
Coconut Cake Instructions
NOTE: It is SUPER IMPORTANT that all the room temperature ingredients listed above are room temperature and not cold so that the ingredients mix and incorporate correctly.

Adjust an oven rack to the middle position and preheat to 350ºF/176ºC.

Grease two 8" cake pans with cake goop or pan preparation of choice

Place egg whites in a mixing bowl with the whip attachment. Whip on med-high. Add in cream of tartar. Whip until firm but moist peaks form. Set aside

Whisk together the flour, baking powder, baking soda and salt in a medium bowl. Set aside.

Add butter to stand mixer with the paddle attachment and beat at medium-high speed until smooth and shiny, about 30 seconds. Gradually sprinkle in the sugar and add the oil, beat until mixture is fluffy and almost white, about 3-5 minutes.

Add egg yolks, one at a time to the mixture, beating well after each until combined.

Add the coconut, vanilla and almond extracts to your buttermilk

With the mixer at the lowest speed, add about a third of the dry ingredients to the batter, followed immediately by about a third of the buttermilk, mix until ingredients are almost incorporated into the batter. Repeat the process 2 more times. When the batter appears blended, stop the mixer and scrape the sides of the bowl with a rubber spatula. Fold in the toasted coconut.

Fold in your whipped egg whites gently.

Divide the batter evenly between the prepared pans. Smooth the tops with a rubber spatula. Bake cakes until they feel firm in the center and a toothpick comes out clean or with just a few crumbs on it, about 35-40 minutes.

Transfer pans to a wire rack and let cool for 10 minutes. Invert cakes onto the rack and pop cakes out of pans. Cool completely before frosting.
Recipe Video
Recipe Notes
Watch this video on how to make the yummiest toasted coconut cake ever!
Nutrition Facts
Coconut cake recipe
Amount Per Serving
Calories 924
Calories from Fat 387
% Daily Value*
Total Fat 43g 66%
Cholesterol 199mg 66%
Sodium 587mg 24%
Potassium 371mg 11%
Total Carbohydrates 123g 41%
Protein 12g 24%
* Percent Daily Values are based on a 2000 calorie diet.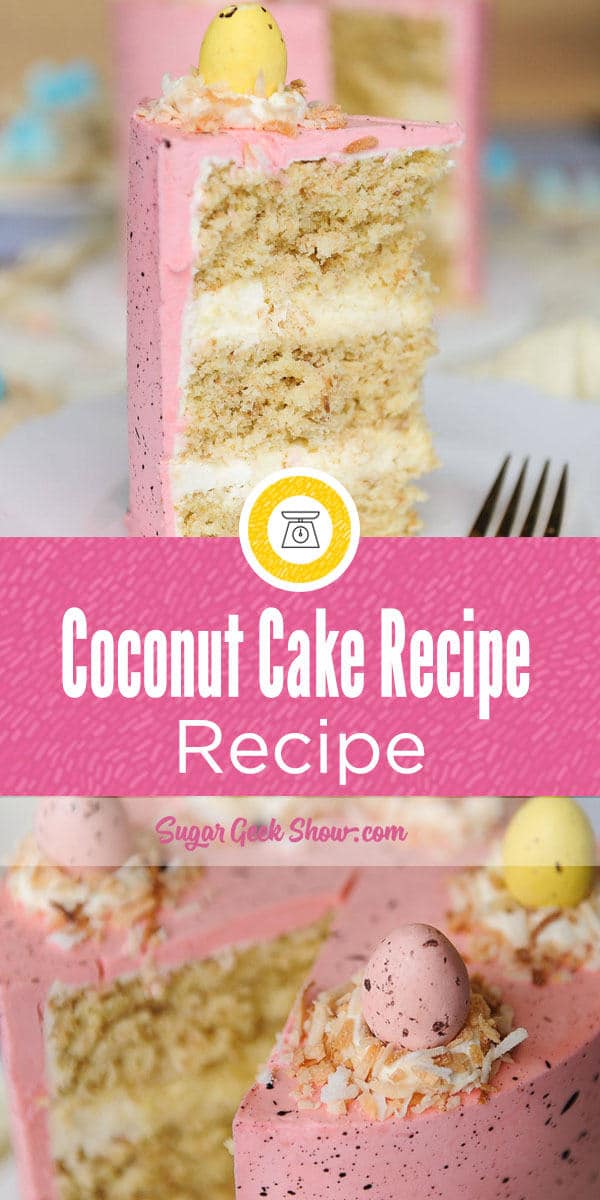 January 1, 2019