A Pancake Cake That Looks Like A Stack Of Pancakes, Tastes Like Pancakes But It's A Cake!
The pancake cake might be the most meta cake of all time. It's a cake that looks like a pancake and tastes like a pancake but is technically a cake. Or is it? What really makes a cake a cake anyway? I wonder the same thing about cupcakes. If it doesn't have any frosting is it just a muffin?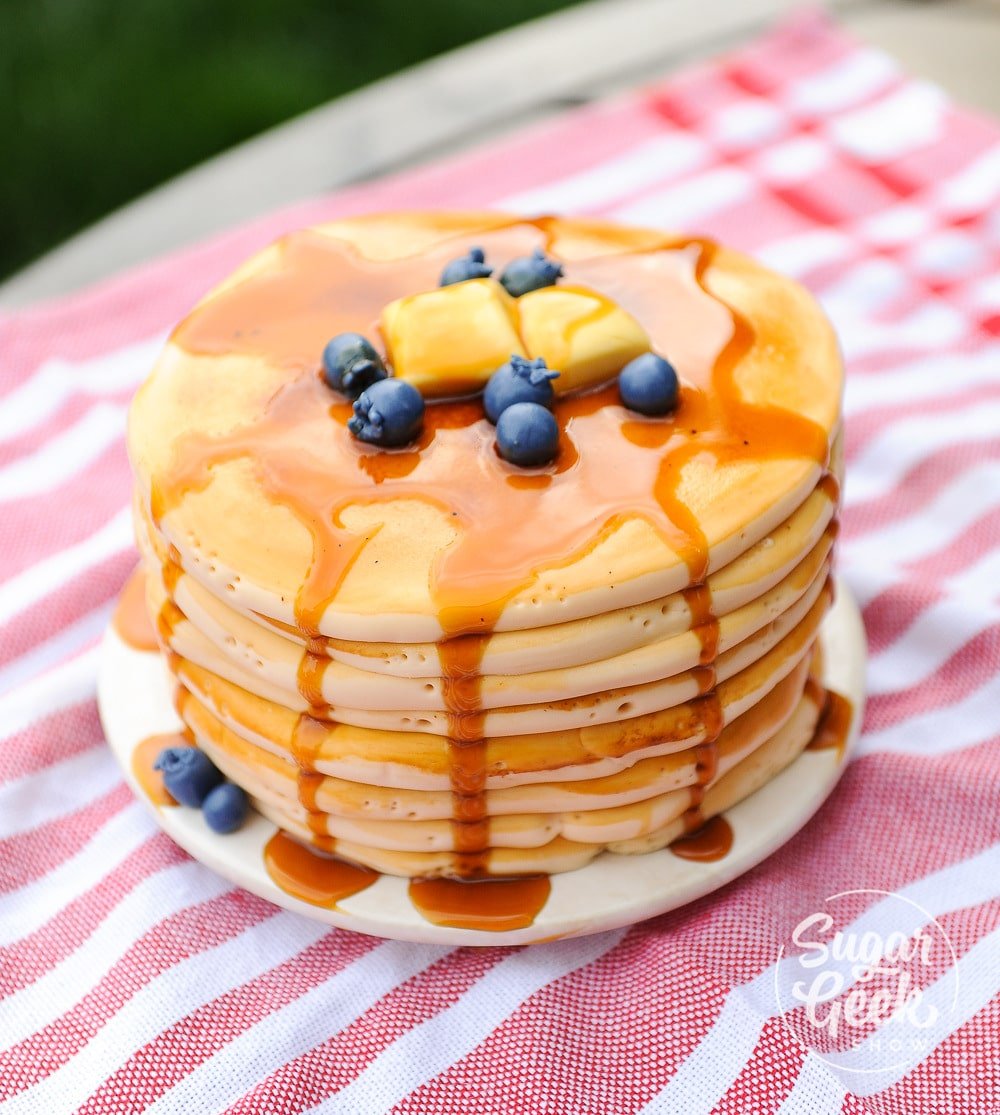 Pancake Cake Ideas
A while back I did a full-on breakfast in bed tutorial complete with stack of pancakes and gravity defying syrup bottle. I couldn't very well call myself a cake decorator though if I just made it look like pancakes, I had to make it taste like pancakes too.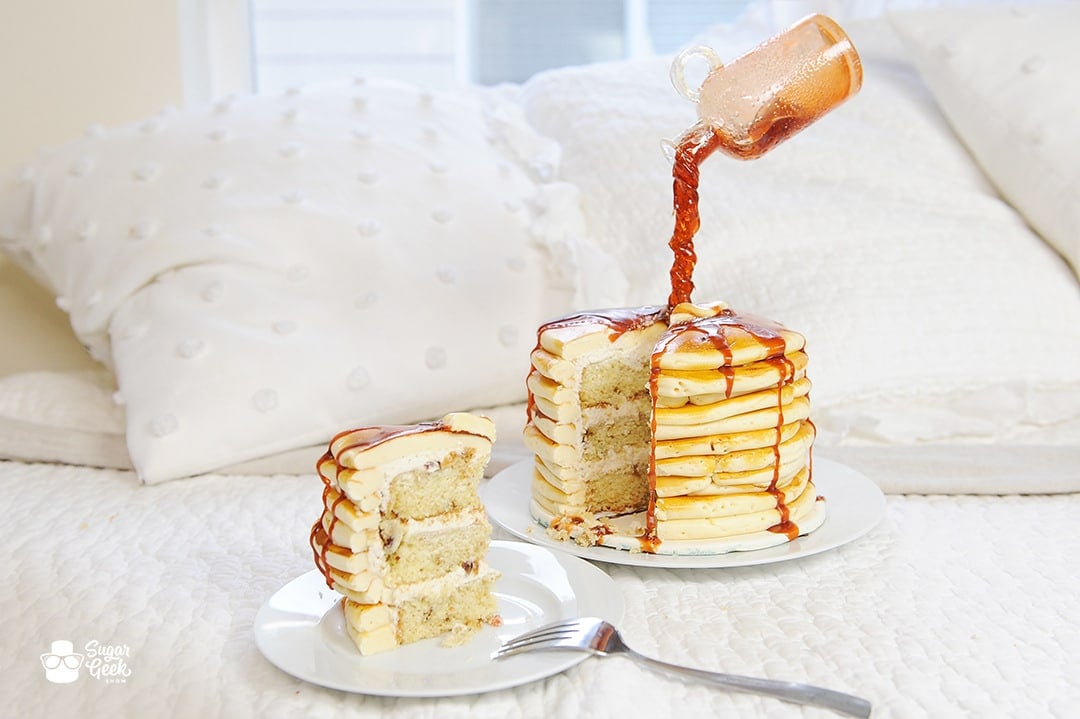 I had so much fun making this cake, I included it in an episode of Ridiculous Cakes on Food Network as part of a GIANT foodie. The cake was made for my friend Krissy's celebration of the launch of her food blog, Self Proclaimed Foodie.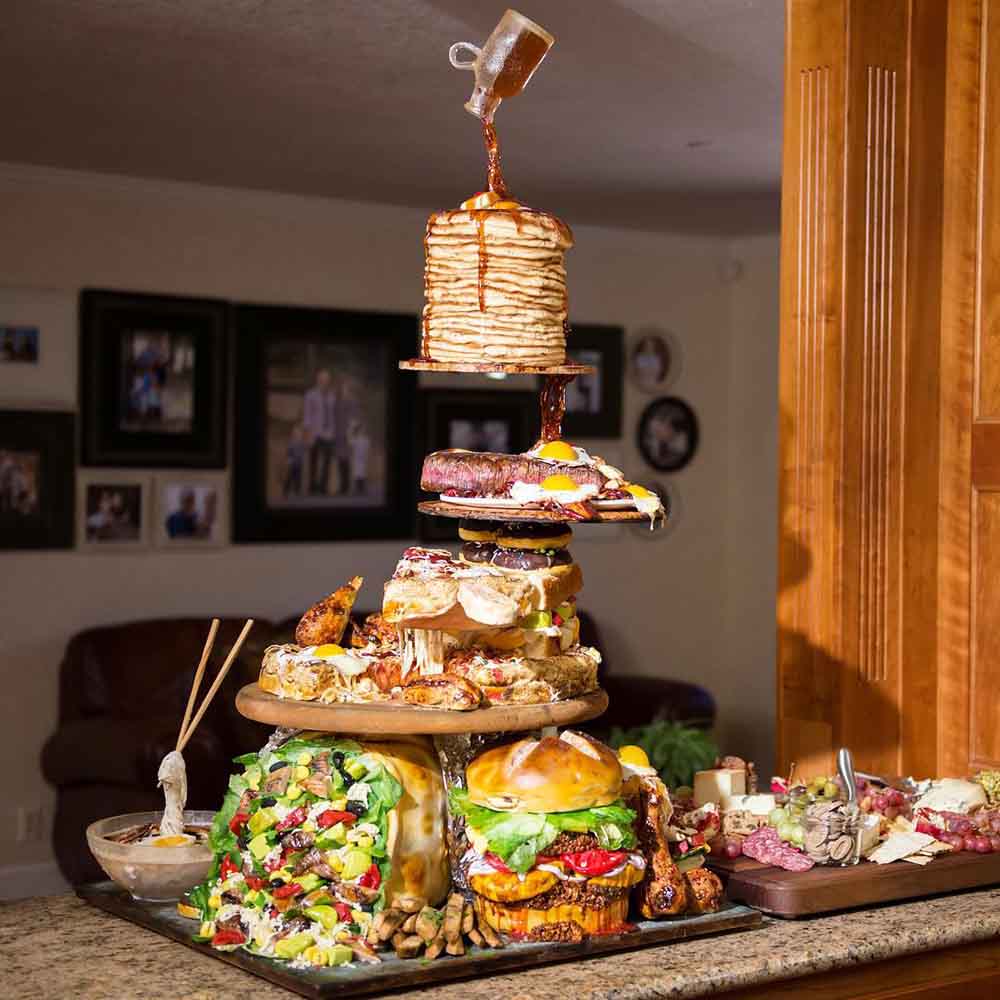 Getting the "pancake flavor" was super hard and I experimented with a ton of "pancake" flavored cake recipes that I found online and so many of them where fails. I didn't want to just use Bisquick pancake mix.
When I think of biting into a pancake I am reminded of butter, maple syrup and that little softer, lighter than air pancake texture. Just for fun, I threw in some candied bacon!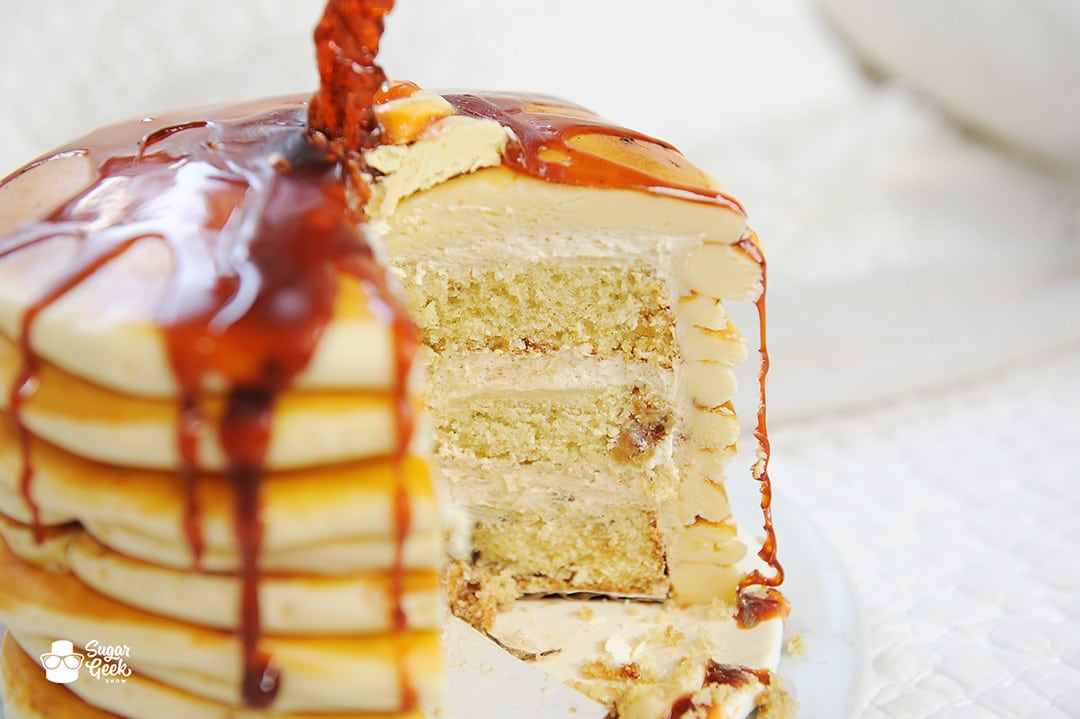 So let's get this straight. This is a cake, that looks like pancakes, but isn't pancakes, it's actually a cake, but it tastes like pancakes...
Mind explosion.
How To Make A Pancake Birthday Cake
You don't have to get super fancy to make your own pancake birthday cake! All you need is three six inch cakes, crumb coated. Don't worry about stacking perfectly or making them really smooth.
For frosting you can't go wrong with easy buttercream flavored with a teaspoon of maple flavoring extract or you can make the salted caramel buttercream. A little bit more work but sooooo tasty!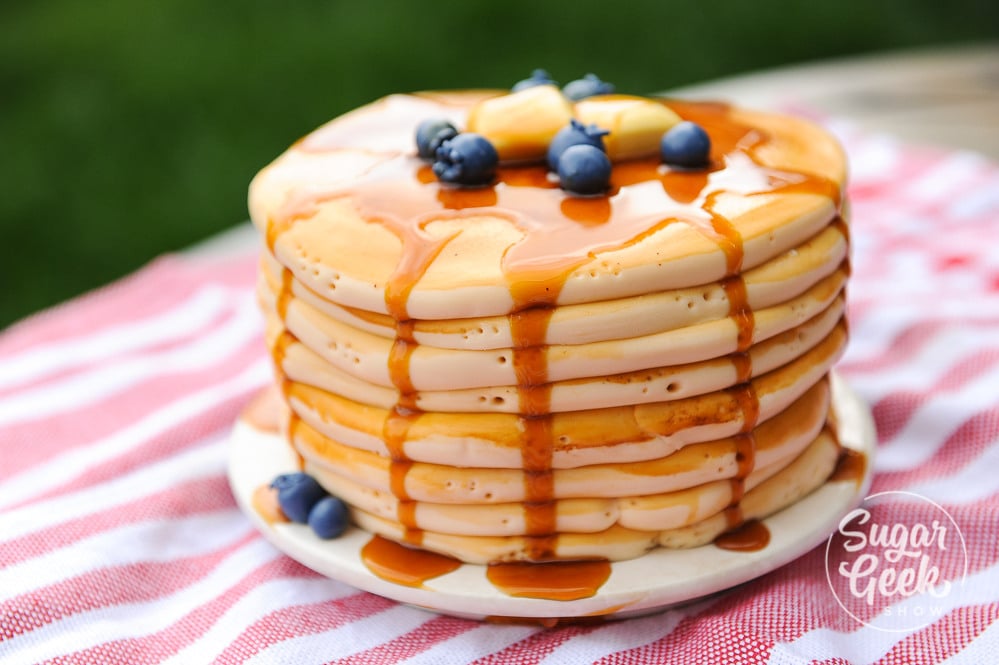 After you crumb coat your cake, chill it in the fridge so it doesn't slip and slide around during decorating.
For the pancake illusion, simply roll out some snakes of ivory fondant. Make the snake about and inch thick. Cut the snake in half with a knife or a pizza cutter so it's flat on one side. Wrap the snake around the cake.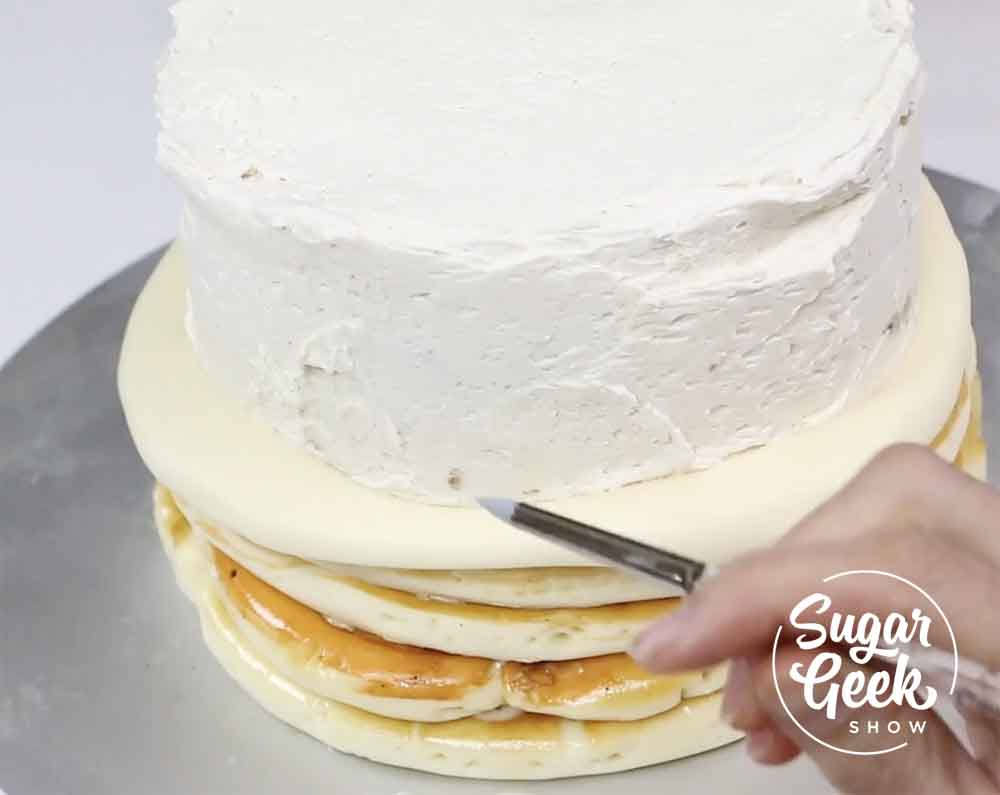 I like to texture the sides with a few holes and dots to give it a realistic bubbly texture. Before putting the next snake on top, paint the surface with a mixture of ivory food color and alcohol. Use a scruffy brush that wouldn't be fit for much else.
I also try to make each pancake layers a little bit different and lopsided. Try not to make them too perfect.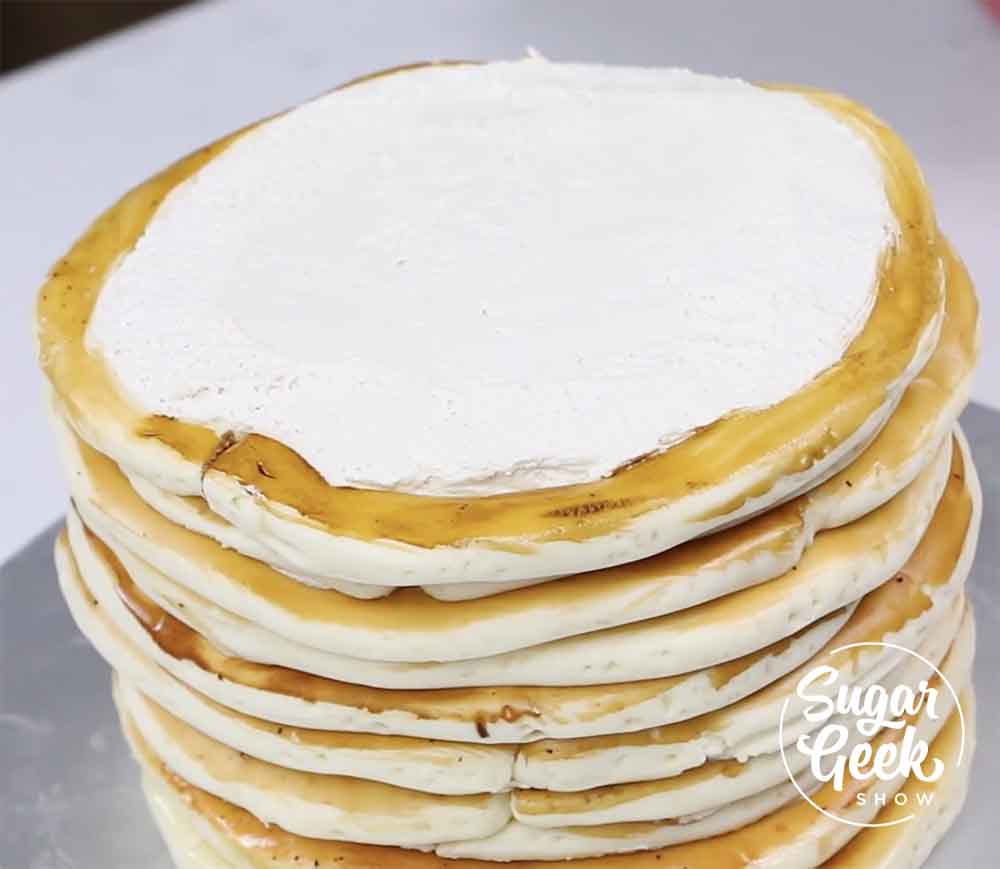 Once you get to the top, smooth out the buttercream a bit so the top is level. Then roll out a big piece of your ivory fondant and cover the top. I like to hang one side over the edge like it's barely holding on and the whole stack is about to topple over!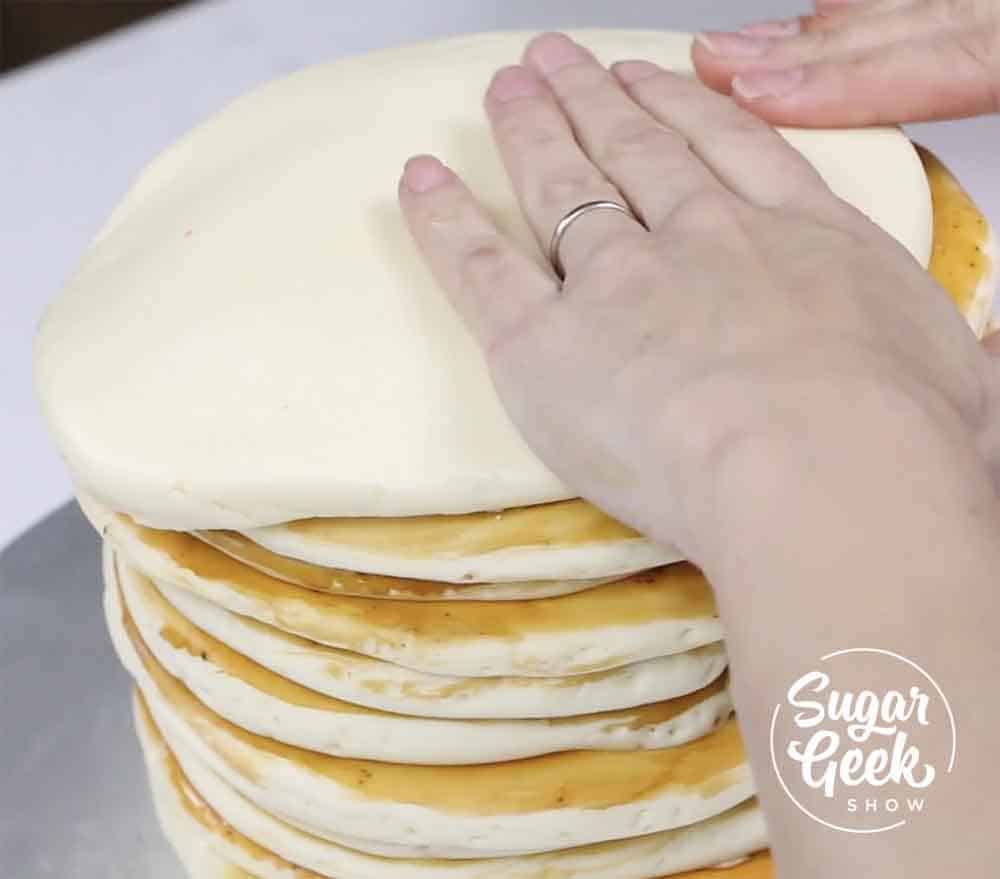 Once the final layer is on, paint the top of the fondant with the same ivory food color mixture. If you're feeling really adventurous, you can make some really realistic syrup using my real gummy recipe and coloring it with some ivory and warm brown food color. Or you can use decogel colored the same way if you don't want to make your own.
I like to torch a few spots on the pancakes for some "crunchy" spots. Plus I just really like using my creme brulee torch lol.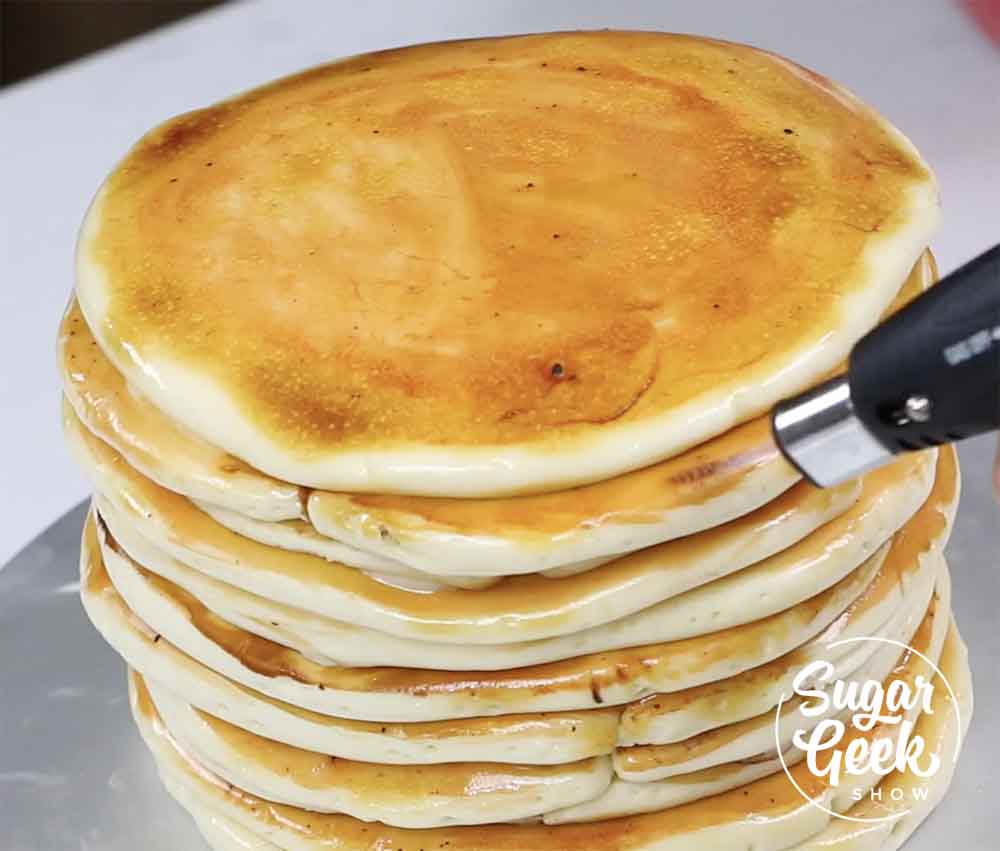 I made two pats of butter but coloring fondant with some yellow and a touch of ivory and cut it into two small squares. If you want to make blueberries, you can color some fondant royal blue with a touch of purple. Roll it into a ball and use a modeling tool to texture the end to look like a blueberry.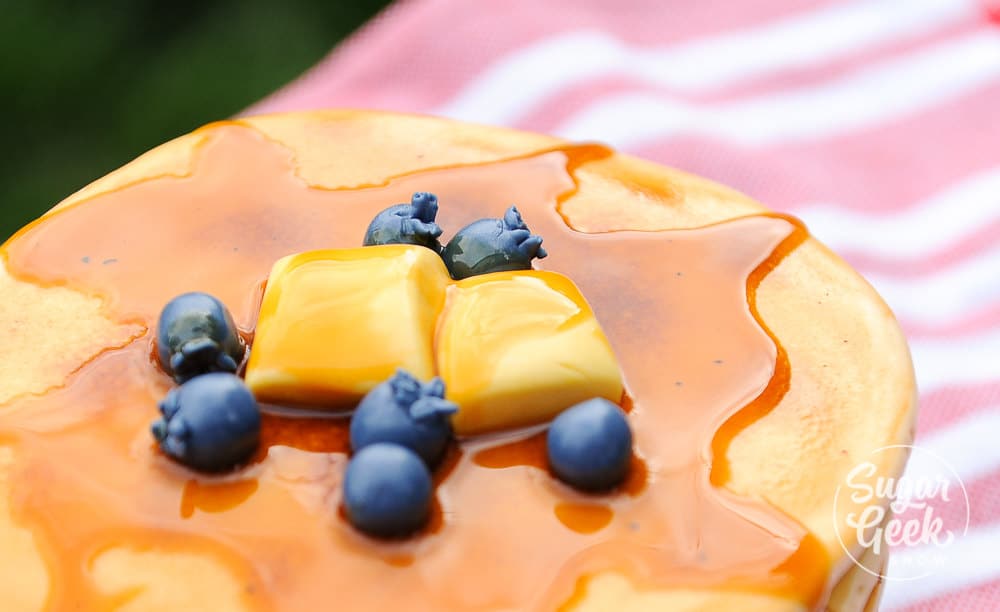 Place your finished stack of pancakes in the fridge to get chilly before you drizzle the syrup. The cold will help the gelatin set quickly.
If any of the syrup drips off the edge, just cut off the excess and put it back in the container to use later.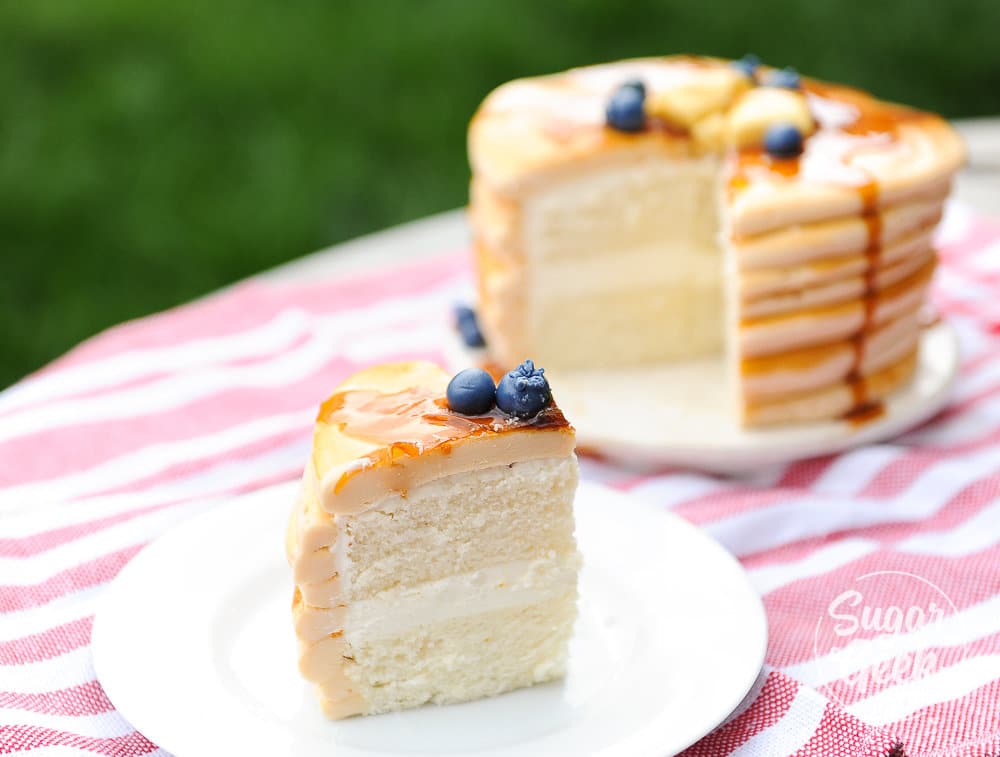 That it! Making a pancake cake is super fun and easy to do. A great birthday cake idea for the pancake lover in your life.

Cake Batter and Frosting Calculator
Select an option below to calculate how much batter or frosting you need. Adjust the servings slider on the recipe card to change the amounts the recipe makes.
Choose a pan type
Choose a cake pan size
(based on 2" tall cake pan)
Choose a cake pan size
(based on 2" tall cake pan)
Choose a cake pan size
(based on 2" tall cake pan)
Cups of Batter Needed
8 cups
Cups of Frosting Needed
5 cups
Recipe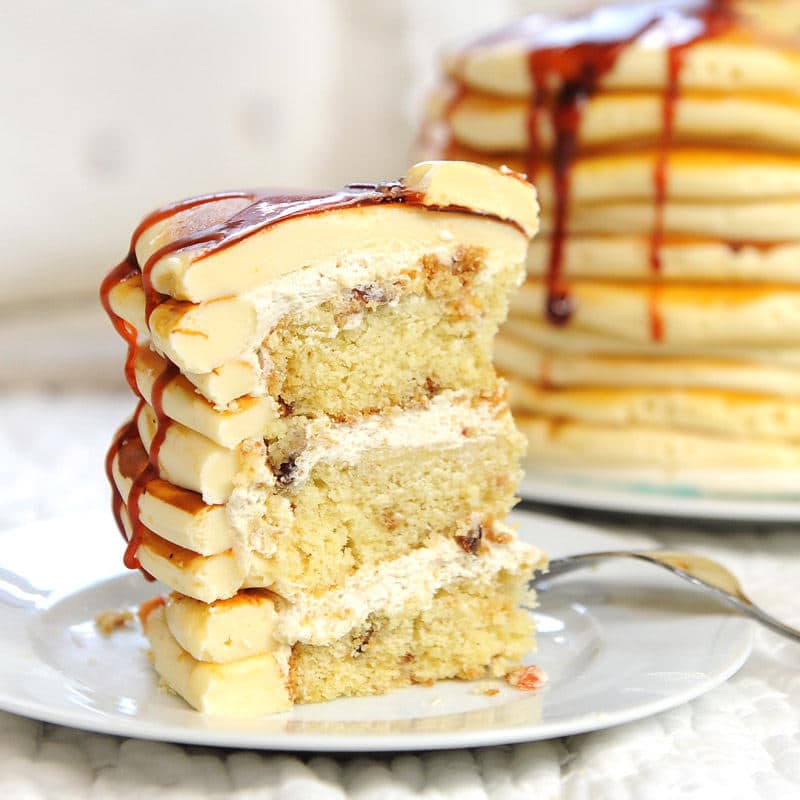 Servings: 3 8" round cakes
Calories: 2023kcal
Ingredients
Candied Bacon Ingredients
8 slices bacon
⅓ cup maple syrup
½ cup brown sugar
Cake Ingredients
12 oz AP flour
12 oz super fine sugar
2 ½ teaspoon baking powder
8 oz unsalted butter room temp
½ teaspoon salt
1 teaspoon vanilla
2 teaspoon maple flavoring
4 large eggs room temp
8 oz milk room temp
Instructions
Candied Bacon
Place bacon on a wire rack over foil-lined baking sheet, brush the top of bacon with maple syrup and sprinkle brown sugar on top.

Bake in a preheated oven 400ºF/200ºC for 15 minutes.

Flip bacon on wire rack, brush maple syrup on other side and sprinkle brown sugar on top.

Bake for another 15 minutes or until desired level of crispiness is reached.

Once removed from oven, place on parchment paper and flip often until cooled to prevent it from sticking.
Pancake Cake
Preheat oven to 350ºF/175ºC. Grease three 8" cake pans with cake goop.

Combine flour, baking powder and salt and set aside

In the bowl of a stand mixer with the paddle attachment, cream butter until softened. Sprinkle in sugar and turn up speed to medium. Let mix 6-10 minutes until light in color and fluffy

Add in your eggs ONE AT A TIME. Let mix a full minute after each addition of the egg before adding the next.

Add your flour and milk in alternating in thirds. Start with ⅓ of your flour, let combine, then add in ⅓ of your milk, then flour, then milk, then flour, then milk. Mix another 15 seconds to combine.

Divide into three 8" pans. Layers will be a little shorter than normal so you have more "crunch" from the browning against the pan and adds to the flavor of the pancakes. You can also use two 8" pans if you want taller layers.

Bake for 20 minutes or until a toothpick inserted comes out clean. Let cool and ice with easy buttercream combined with a teaspoon of maple flavoring and your chopped up candied bacon.
Notes
When torting cake, melt butter in a small bowl and brush it onto each layer to infuse butter flavoring into pancake cake.
Nutrition
Calories: 2023kcal | Carbohydrates: 267g | Protein: 30g | Fat: 94g | Saturated Fat: 50g | Cholesterol: 456mg | Sodium: 932mg | Potassium: 997mg | Fiber: 3g | Sugar: 174g | Vitamin A: 2395IU | Calcium: 408mg | Iron: 7.3mg