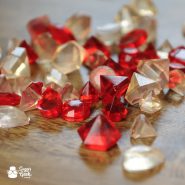 Real Gummy Candy Recipe
Ingredients
320

g

cold water

68

g

gelatin

powdered

360

g

glucose or light corn syrup

340

g

super-fine sugar

30

g

citric acid

30

g

sorbitol
Instructions
Mix water and gelatin together. Push gelatin into water and give it a quick stir. Let sit 5 minutes.

Mix light corn syrup, super-fine sugar and citric acid together.

Heat corn syrup, super-fine sugar and citric acide over medium-high until mixture is bubbling.

Heat water and gelatin mixture in microwave for 15 second increments until dissolved. Skim froth off the top.

Add gelatin to corn syrup mixture.

Brush sides of pot with water to dissolve any loose grains of sugar. Sugar is dissolved when mixture is clear.

Remove from heat, cool 5 minutes.

Add sorbitol, mix until dissolved.

Spray cupcake pan with coconut oil. Wipe out excess.

Pour gelatin into cupcake molds to portion out. Skim off more foam.

Let set to dry at room temperature.

Melt down and add flavor and color of choice and pour into greased molds.
December 31, 2017