Do you love a vintage cake design? Obsessed with those perfectly piped buttercream borders? You Can learn how to recreate the timeless beauty of vintage design and it's easier than you think. These beautiful retro cakes are perfect for Mother's Day, bridal showers, baby showers, and even birthdays.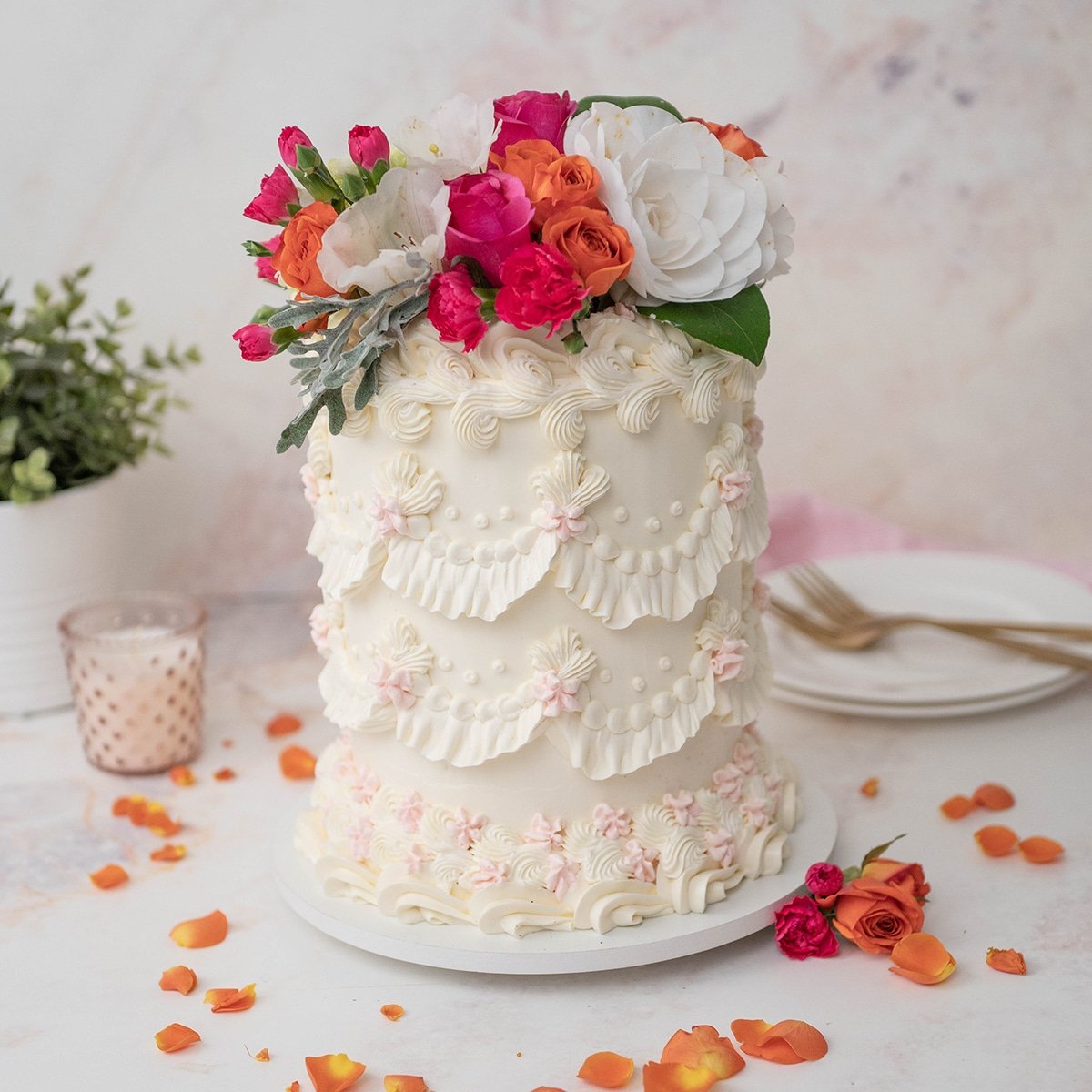 There is no special flavor for this delicious cake, you could even use a doctored boxed cake mix but I am especially fond of my white velvet cake which tastes amazing and like a classic wedding cake flavor.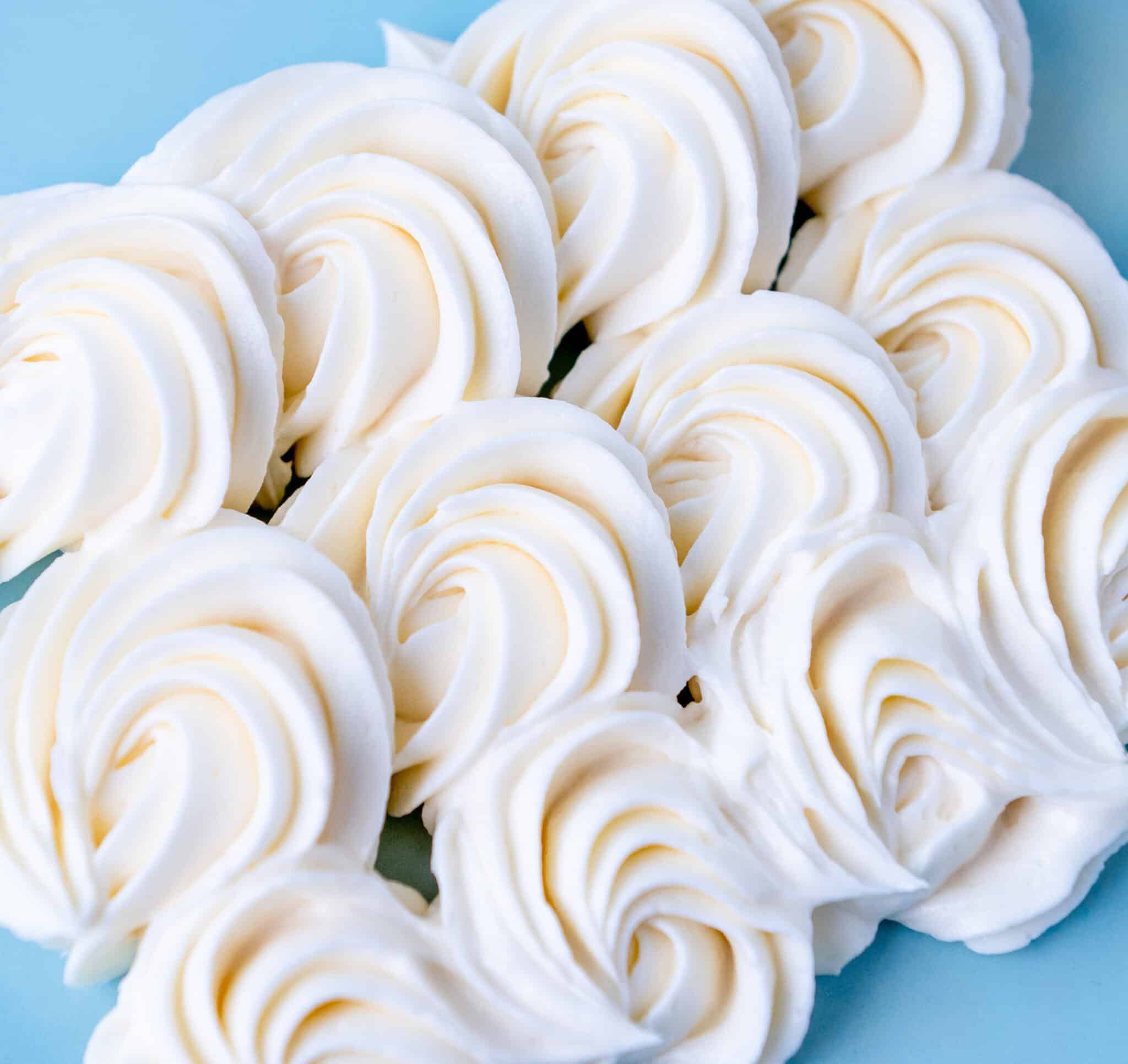 I'm using my easy vanilla buttercream recipe but you could use Italian buttercream, stabilized whipped cream, swiss meringue buttercream, cream cheese frosting, American buttercream, or even white chocolate ganache. If it's pipeable, you can use it.
Equipment Needed
Piping Tips
Piping Bags
Food Coloring (optional)
Cake Board
How To Fill A Piping Bag
Place your piping tip into your piping bag.
Cut the tip of the bag off just enough so that the tip of the piping tip comes through the bottom but is still secure in the bag.
Add one cup of buttercream into the piping bag and twist the top. You should only have enough buttercream in the bag to feel comfortable in your hand.
Squeeze the buttercream down towards the piping tip and now your bag is ready for piping.
Practicing Your Piping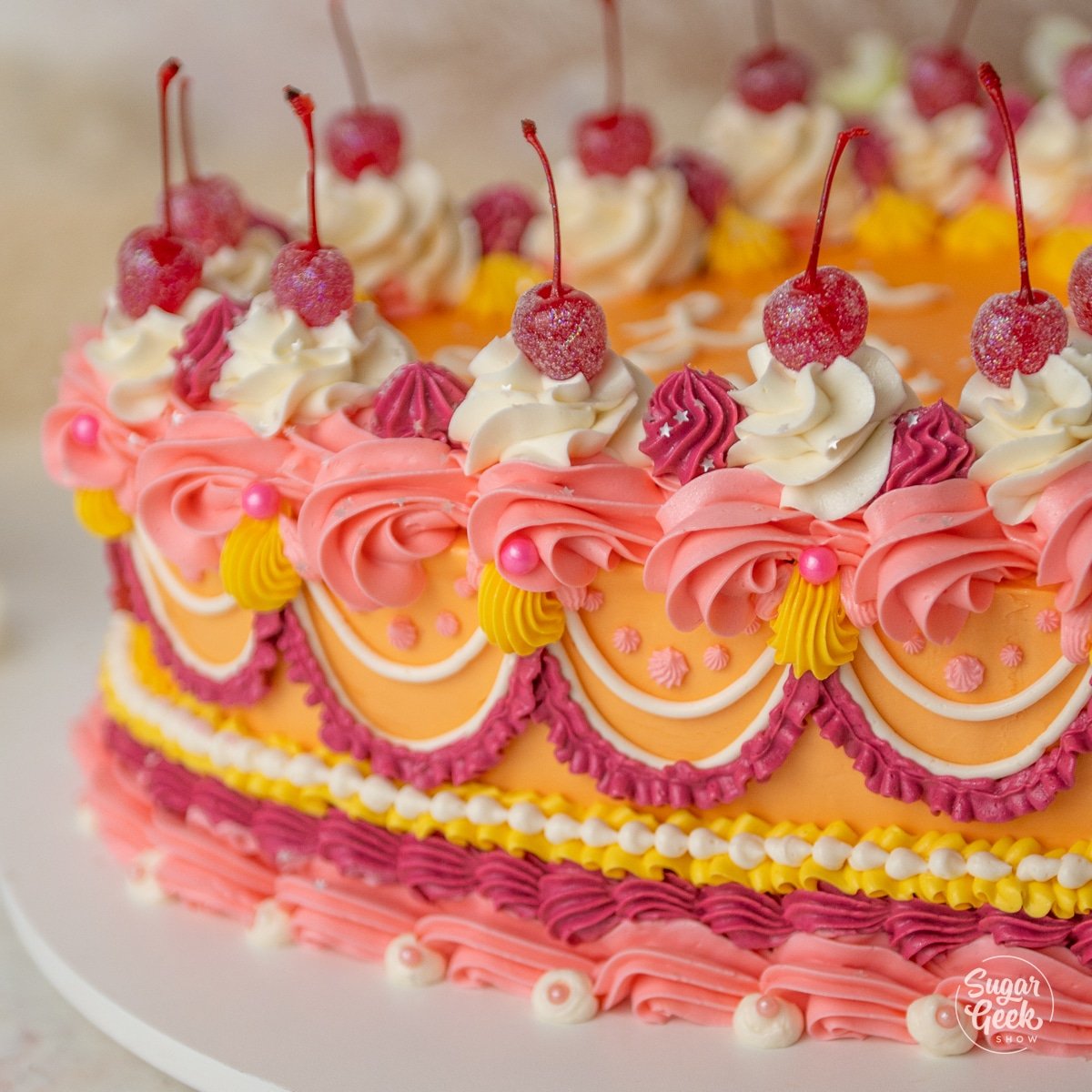 If you've never piped with buttercream before, doing some practicing can help! You can pipe right onto a cake board for practice and then scrape it off and reuse the buttercream. Here is a video example of how to do some piping techniques.
How To Prepare Your Cakes
Need more info on how to frost and fill your cake like a pro? Check out my free tutorial on how to make a cake.
Bake your round cake layers and let them cool.
Prepare your buttercream frosting and color it if you desire.
Freeze your cakes for an hour or refrigerate them in plastic wrap overnight so they are firm enough to handle while frosting.
Trim the brown edges off the tops and sides of your cake.
Fill your cakes with whatever filling or frosting that you like.
Cover your cake in a thin layer of buttercream (The crumbcoat) and refrigerate your cake until the buttercream is firm.
Apply your final coat of buttercream to the cake and smooth it out carefully.
Now you have the perfect canvas to make the perfect cake!
How To Make A Vintage Cake Step By Step
To get the vintage look, you want to layer your buttercream accents. Start with larger tips to lay down a base and continue with smaller and smaller piping.
Make sure your buttercream is very smooth and bubble-free. I like to use an immersion blender to make it super creamy.
Place your chilled cake onto the cake board.
Use a round cutter or piece of paper (space key) to mark equal spaces around the top ⅓ and bottom ⅓ of the cake. This will be the guide for the ruffles later. The space key should be about 3" wide.
Apply your first piped border around the base and at the top of the cake. I chose to do a shell border using a 1M piping tip.
Pipe a reverse shell on top of the base border and below the top border with an open star tip Wilton 18.
Following the guidelines that we made earlier, use your Wilton 104 to make some ruffles. The round part of the tip should be pointing up. This is easiest if your cake is on a turntable.
Pipe a round pearl border on top of the ruffles using a round Wilton #4 piping tip.
Pipe some trios of shells to form a fleur d' lis on the points of where the ruffles meet using a Wilton #16 star tip.
Pipe some small dots between the fleur d' lis in groups of three.
Pipe some stars around the top of the reverse shell border, at the base of the fleur d' lis, and anywhere else you like with some pink buttercream and the Wilton #16 tip.
Finish the top of your vintage cake with some fresh flowers.
Hungry for more vintage cake techniques? These cake trends are inspired by a technique called Lambeth and used by career pastry chefs to make the most beautiful and elaborate vintage cake designs. Sometimes used with royal icing to make the most delicate and beautiful layers of detail.
FAQ
What is a vintage cake?
What Are Vintage Cakes? Vintage cakes are vintage or "retro" because they've been around (and around and around) for centuries. They're known for their frilly, over-piped design and can be traced back to the French Rococo style of the 1700s – an age known for its ornate and gilded designs.
What kind of frosting do you use for vintage cakes?
Vintage cakes are made with buttercream frosting using traditional piping techniques. Think buttercream swirls, lace, basketweave, and frills. Mix it all together in a variety of colors, patterns, and shapes and you get this delightful on-trend current style.
Recipe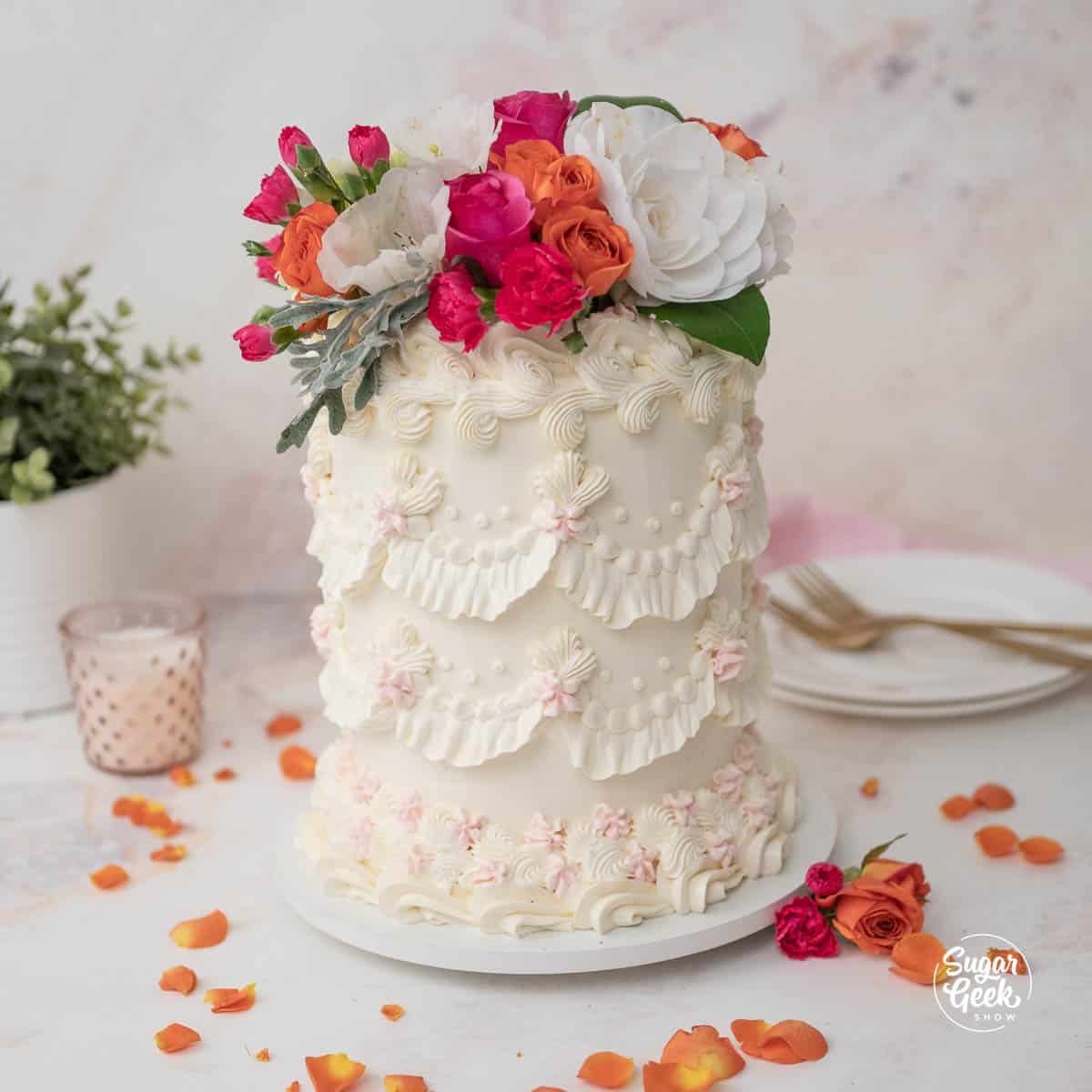 Equipment
1M wilton piping tip

#18 wilton piping tip

104 wilton piping tip

#4 wilton piping tip

#16 wilton piping tip

1 Tall bench scraper

1 Turntable

1 8" cakeboard or plate

1 6" cake cardboard

6 Piping Bags

1 Offset Spatula
Ingredients
White Velvet Cake Ingredients
14

ounces

cake flour

13

ounces

granulated sugar

1

teaspoons

salt

1

Tablespoons

baking powder

½

teaspoons

baking soda

5

ounces

egg whites

room temperature

4

ounces

vegetable oil

10

ounces

buttermilk

room temperature or slightly warm

6

ounces

butter

unsalted and softened

2

teaspoons

vanilla
Easy Buttercream Frosting
24

ounces

unsalted butter

softened

24

ounces

powdered sugar

2

teaspoons

vanilla extract

½

teaspoon

salt

6

ounces

pastuerized egg whites

¼

teaspoon

salt
Instructions
NOTE: It is SUPER IMPORTANT that all the room temperature ingredients listed above are room temperature and measured by weight so that the ingredients mix and incorporate correctly.

Heat oven to 335º F/168º C

Prepare three 6"x2" cake pans with cake goop or preferred pan spray. Fill your pans about ⅔ of the way full of batter. 

Combine flour, sugar, baking powder, baking soda, and salt in the bowl of a stand mixer with paddle attachment. Mix for 10 seconds to combine. 

Combine ½ cup of the milk and the oil together and set aside.

Combine the remaining milk, egg whites and vanilla together, whisk to break up the eggs and set aside.

Add your softened butter to the dry ingredients and mix on low until mixture resembles a coarse sand (about 30 seconds). Add in your milk/oil mixture and let mix until dry ingredients are moistened and then bump up to med (setting 4 on my kitchenaid) and let mix for 2 minutes to develop the cakes structure. If you don't let your cake mix on this step your cake could collapse.

Scrape your bowl and then reduce speed to low. Add in your egg white mixture in three batches, letting the batter mix for 15 seconds between additions.

Scrape down the sides again to make sure everything has incorporated then pour into prepared pans. Bake 35-40 minutes until a toothpick inserted into the center comes out cleanly but the cake has not begun to shrink yet from the sides of the pan. 

IMMEDIATELY TAP PAN FIRMLY on countertop once to release the steam from the cake. This stops the cake from shrinking. 

Let cakes cool for 10 minutes inside the pan before flipping them out. The cake will shrink a bit and that is normal. Flip onto a cooling rack and let cool fully. I chill my cakes before handling or you can wrap them in plastic wrap and freeze them to trap moisture in the cake. Thaw on the countertop while still wrapped before frosting.
Buttercream Frosting
Place your egg whites, powdered sugar, vanilla and salt into the bowl of your stand mixer with the whisk attachment.

Mix on high for 5 minutes

Reduce the speed to low and slowly add in your softened butter in small pieces until it's all added in.

Mix on high for 5 minutes or until your buttercream no longer tastes of butter and tastes sweet

Switch to the paddle attachment and mix on low for 5-15 minutes until your buttercream is very soft and doesn't have any bubbles.
Notes
IMPORTANT: Make sure all your ingredients are at room temp and you're using a scale to measure. Substituting ingredients may cause this recipe to fail. (see notes at the bottom of the recipe)
Important Things To Note Before You Start
1. Bring all your ingredients to

room temperature

or even a little warm (eggs, buttermilk, butter, etc) to ensure your batter does not break or curdle. 
2. Use a scale to

weigh your ingredients

(including liquids) unless otherwise instructed (Tablespoons, teaspoons, pinch etc). Metric measurements are available in the recipe card. Scaled ingredients are much more accurate than using cups and help ensure the success of your recipe. 
3. Practice Mise en Place (everything in it's place). Measure out your ingredients ahead of time and have them ready before you start mixing to reduce the chances of accidentally leaving something out.
4. Chill your cakes before frosting and filling. You can cover a frosted and chilled cake in fondant if you wish. This cake is also great for stacking. I always keep my cakes chilled in the refrigerator before delivery for easy transporting. 
5. If the recipe calls for specific ingredients like cake flour, replacing it with all purpose flour and cornstarch is not recommended unless specified in the recipe that it's ok. Substituting ingredients may cause this recipe to fail. 
Nutrition
Serving:
1
serving
|
Calories:
1488
kcal
|
Carbohydrates:
170
g
|
Protein:
10
g
|
Fat:
88
g
|
Saturated Fat:
55
g
|
Polyunsaturated Fat:
4
g
|
Monounsaturated Fat:
23
g
|
Trans Fat:
3
g
|
Cholesterol:
232
mg
|
Sodium:
794
mg
|
Potassium:
309
mg
|
Fiber:
1
g
|
Sugar:
131
g
|
Vitamin A:
2716
IU
|
Calcium:
142
mg
|
Iron:
1
mg