Buche de Noel Cake (Yule Log Cake) is a classic Christmas Dessert
A Buche de Noel cake (or yule log cake) is commonly made from a yellow sponge cake and filled with chocolate buttercream. The outside is typically frosted with chocolate ganache and given a texture that resembles bark. It is often dusted with powdered sugar to resemble snow and sometimes has other decorations made from marzipan or meringue mushrooms.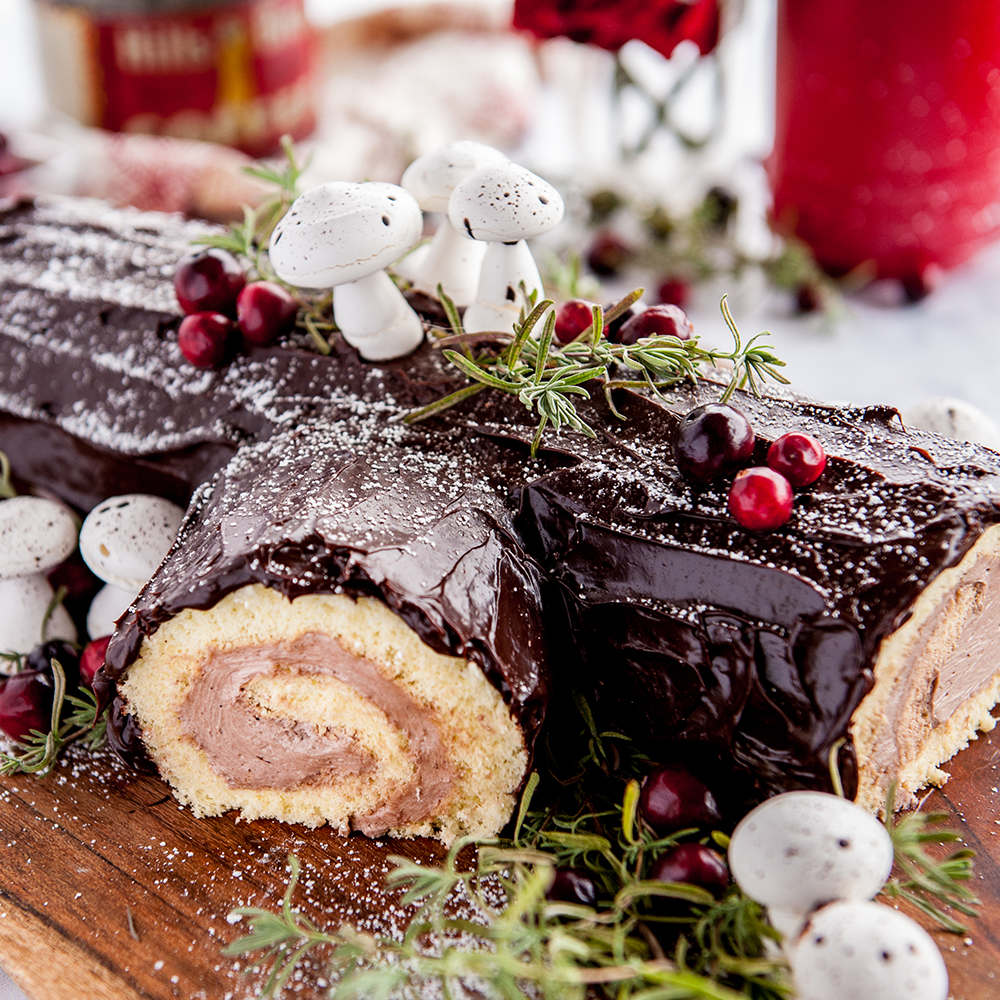 To make a Buche de Noel, you will need to make:
Read on to learn more about the Yule log cake, the perfect recipe and step-by-step instructions on how to make your own beautiful Bûche de Noël Christmas centerpiece. Full video tutorial in the recipe card at the bottom of this blog post.
The history of the Buche de Noel (as far as we know)
A yule log (not the cake) is a log that is burned in your fireplace during a winter festival. It was originally a Nordic tradition. Yule is the name of the old Winter Solstice festivals in Scandinavia and other parts of northern Europe, such as Germany. The log (sometimes an entire tree) would be carefully chosen and then brought into the house to be lit on one end, the rest extending into the house. A little of the log would be burned each day, extending through the 12 days of Christmas.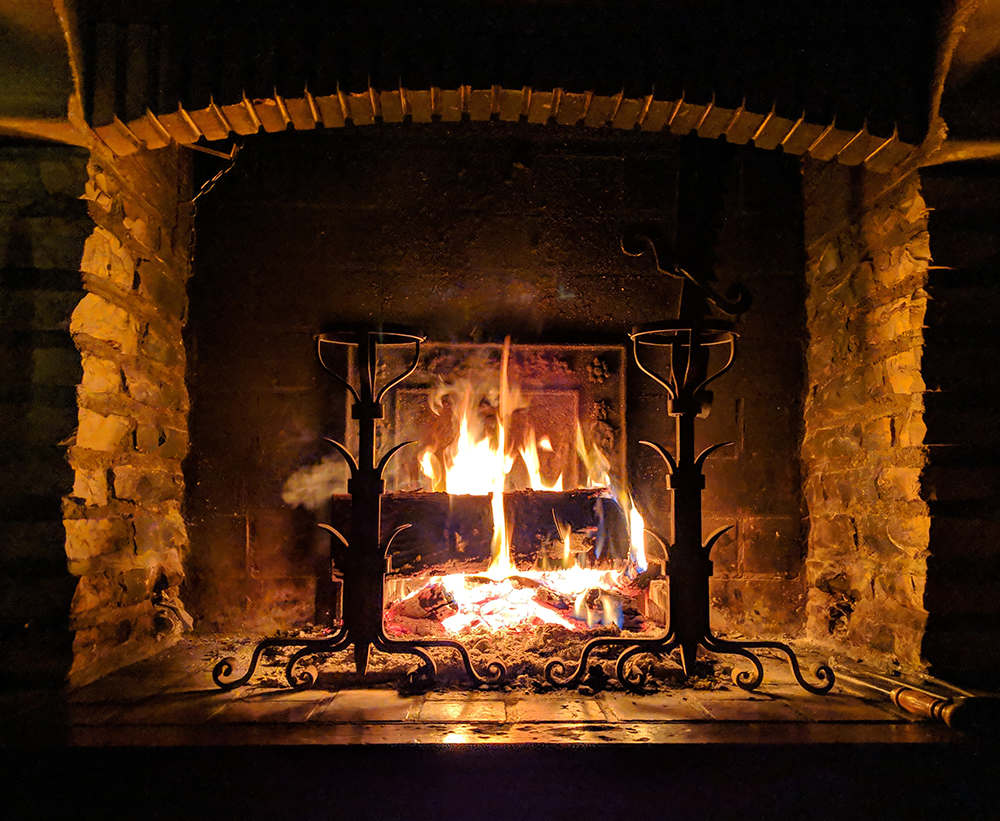 This sounds to me a lot like bringing a Christmas tree into the house. I'm glad we just put lights on our tree now and don't light it on fire. I'll stick to baking my yule log.
Depending on the region, various ingredients (such as salt or whine) were sprinkled on top of the log before burning to bring good luck or to ensure a good harvest for the following year. The ashes from the yule log where used in remedies and good luck potions.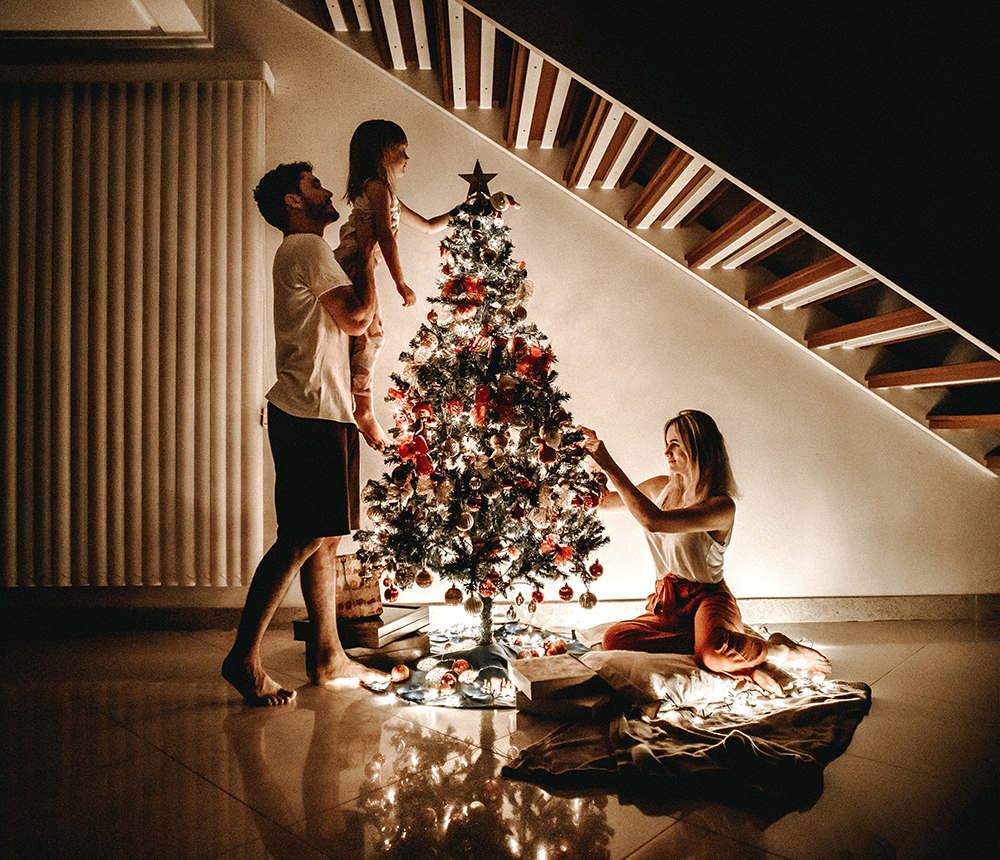 But what does this have to do with a yule log cake? Well, little by little, the celebration of burning an entire tree in your living room died out. Maybe too many house fires? Eventually, people were just putting a single log into their fireplace to represent the yule log.
Sometimes there was no fireplace at all and a log was placed on the table as a centerpiece. It only makes sense that eventually someone decided a cake log would be much better than a real log. Obviously this dessert trend took off and became a very popular dessert all over the world.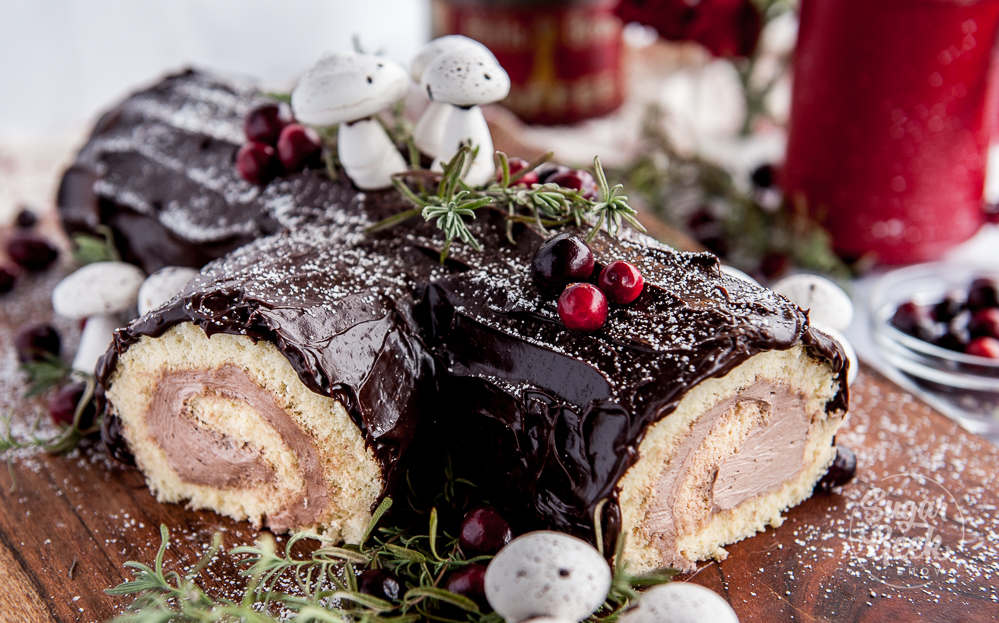 In France, the buche de Noel was made from a flourless sponge cake, filled with chocolate whipped cream and then rolled into a log shape. It was then dusted with confectioners sugar to resemble snow on the log. We usually refer to bûche de Noël as a Yule log cake in America.
What day should you start baking your Buche de Noel?
Let's talk about the process of making this cake. Plan on doing some things the day before decorating to make your life easier.
Day 1:
Make ganache and let it sit at room temperature
Make roll cake sponge, fill with buttercream and chill overnight
Make meringue mushrooms
Day 2:
Assemble your Buche de Noel cake and chill at least one hour before serving.
Dust with powdered sugar right before serving.
How to make the sponge
Making a roll cake sponge is not overly complicated but there are some things you will want to keep in mind for success.
Make sure you whip your egg/sugar mixture to the ribbon stage. The ribbon stage is when the batter triples in size and sits on top of itself when you drizzle it in ribbons from the whisk.
Sift the flour onto the egg mixture. Fold in your flour gently or you risk losing all the air in your sponge cake.
Spread the batter all the way to the edge of your pan lined with parchment paper. No need to grease the pan.
Don't overbake your cake or your edges will be dry and crack when you try to roll it up.
Roll your cake length-wise so it's longer so that you have enough to cut off the end and it won't be too short.
Roll your cake right out of the oven with a tea towel. When the cake is warm it helps the cake retain it's round shape as it cools, reducing the chances of cracking later.
Let your cake chill overnight before slicing for prettier slices.
How to assemble a Buche de Noel
Once your sponge cake has cooled for at least an hour. You can carefully unroll it and fill the inside with a layer of chocolate buttercream, chocolate ganache.
Sponge cake is not super moist so if you want it moister, brush the surface with simple syrup first and use a filling like chocolate honey mousse or whipped cream. Add cocoa powder to the whipped cream to make it chocolate. Then roll the cake back up nice and tight so there are no gaps in the filling.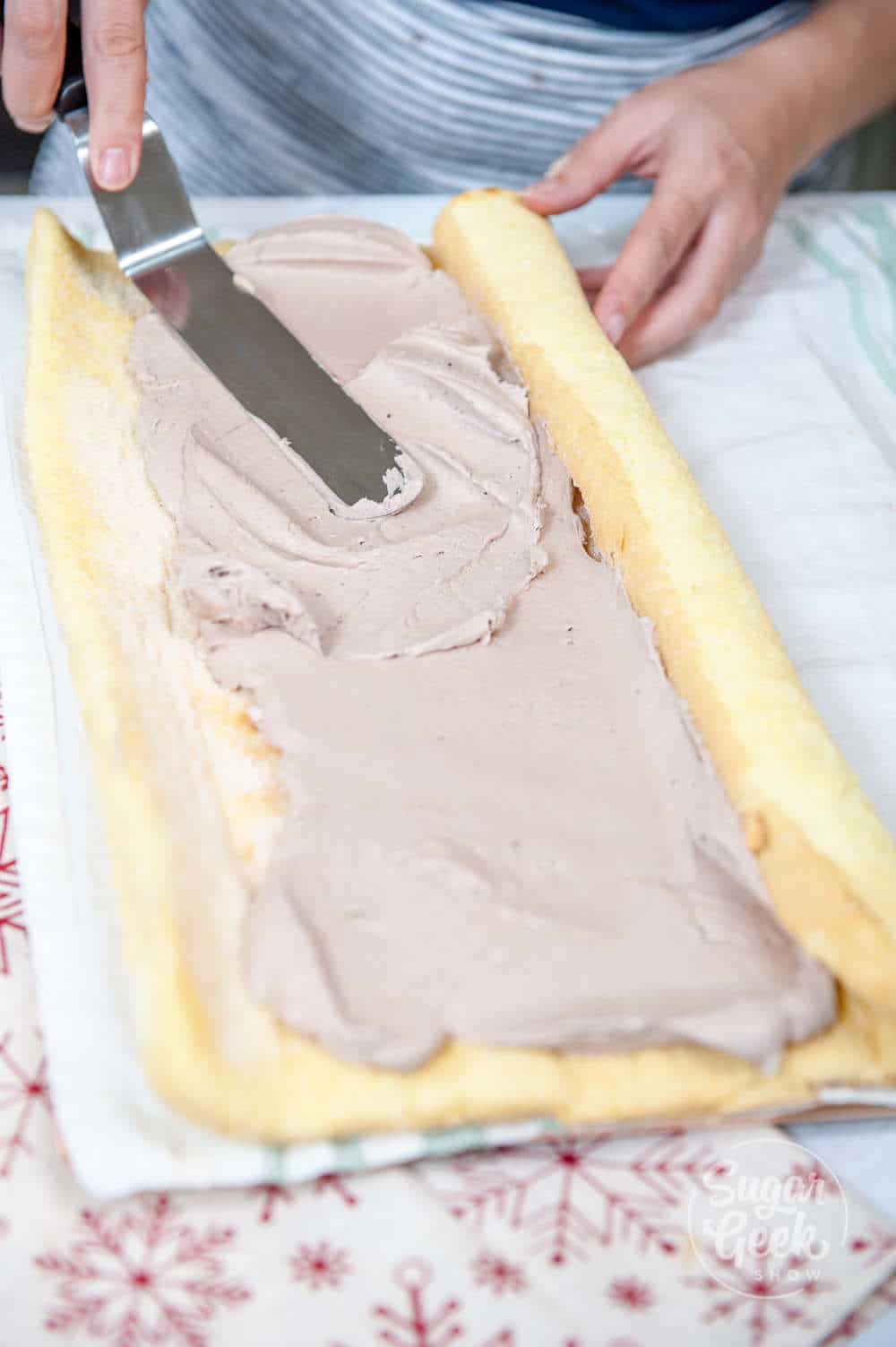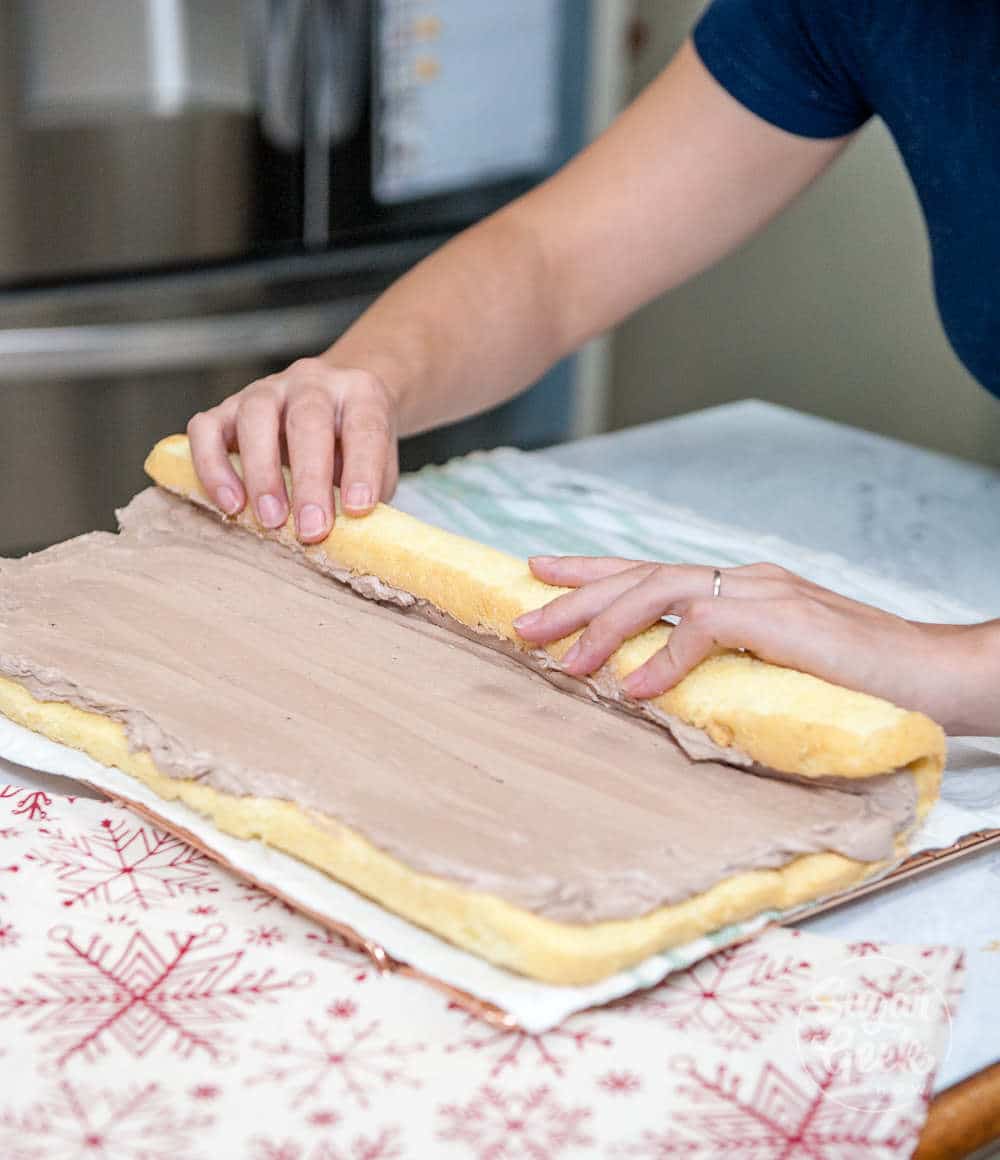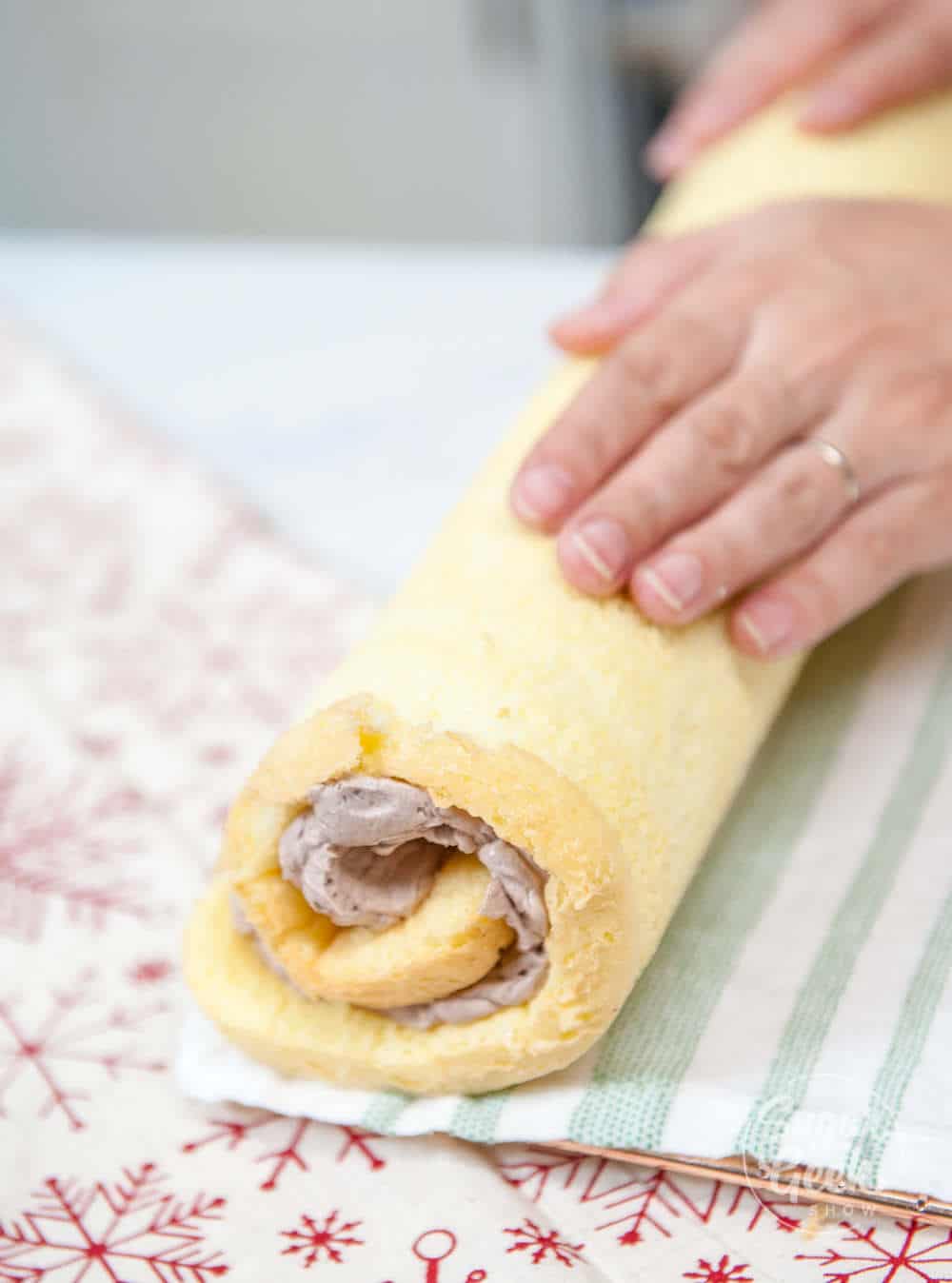 Place the cake into the freezer for about an hour or into the fridge overnight to chill the filling.
Cut the ends of the roll cake off to reveal the swirl of filling. Then cut off one more piece of the roll cake at a slight angle and place on the side of the roll to represent a branch.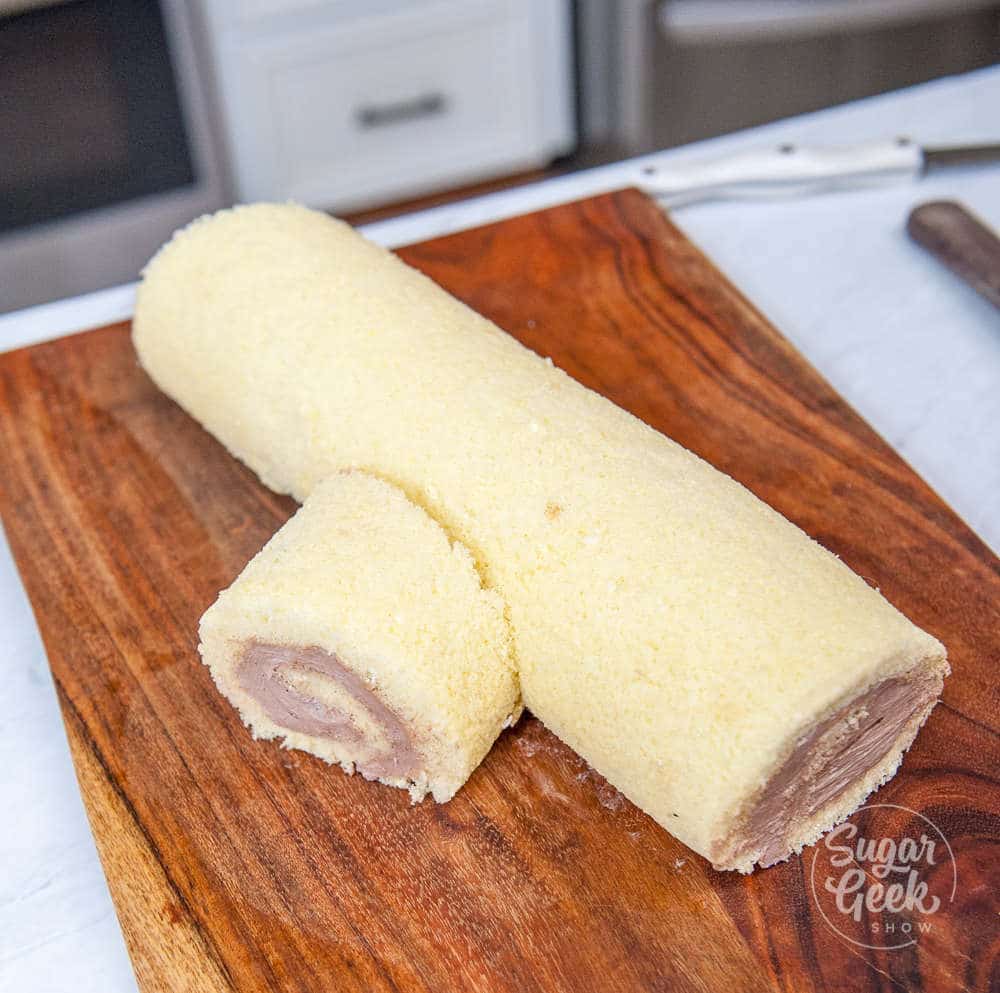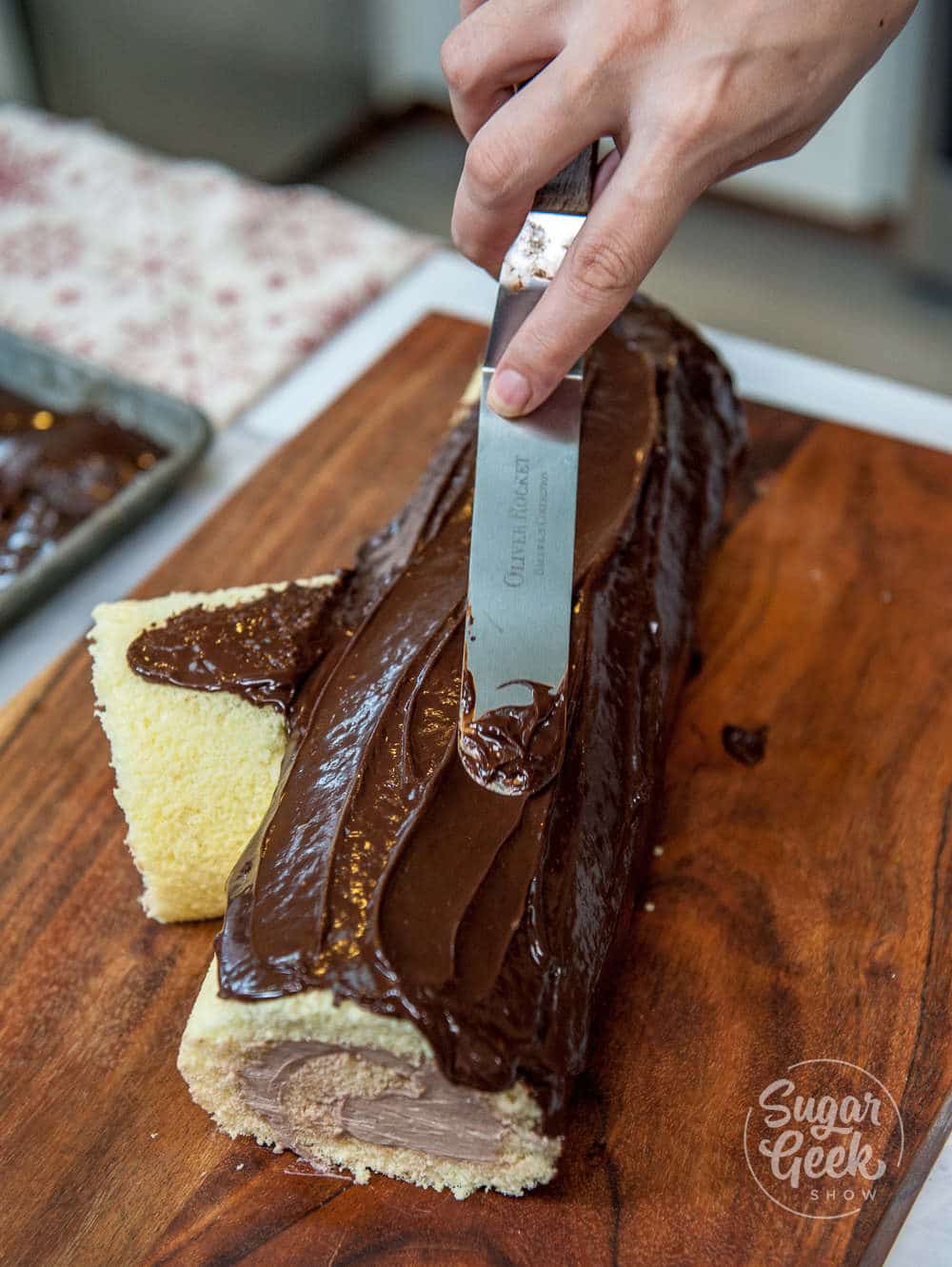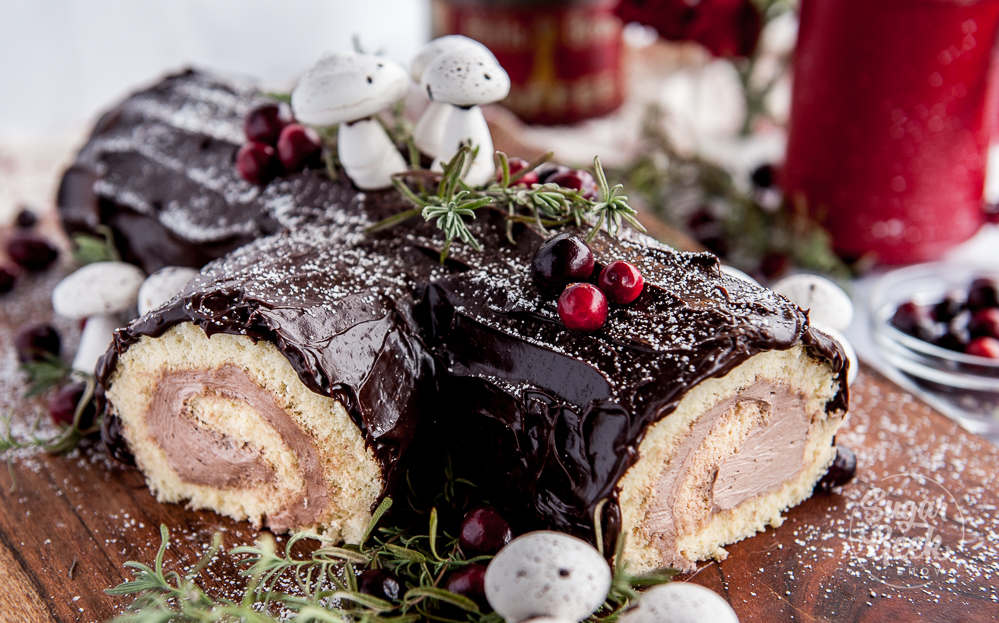 Frost the outside of the Buche de Noel with chocolate ganache. Decorate the outside with some of your meringue mushrooms, fresh cranberries and sprigs of rosemary. Dust the whole thing lightly with some powdered sugar to look like snow.
Chill before serving. The Buche de Noel cake lasts for three days in the fridge.
More Christmas Recipes to love
Did You Make This Recipe?
Leave a rating and tell me how it went!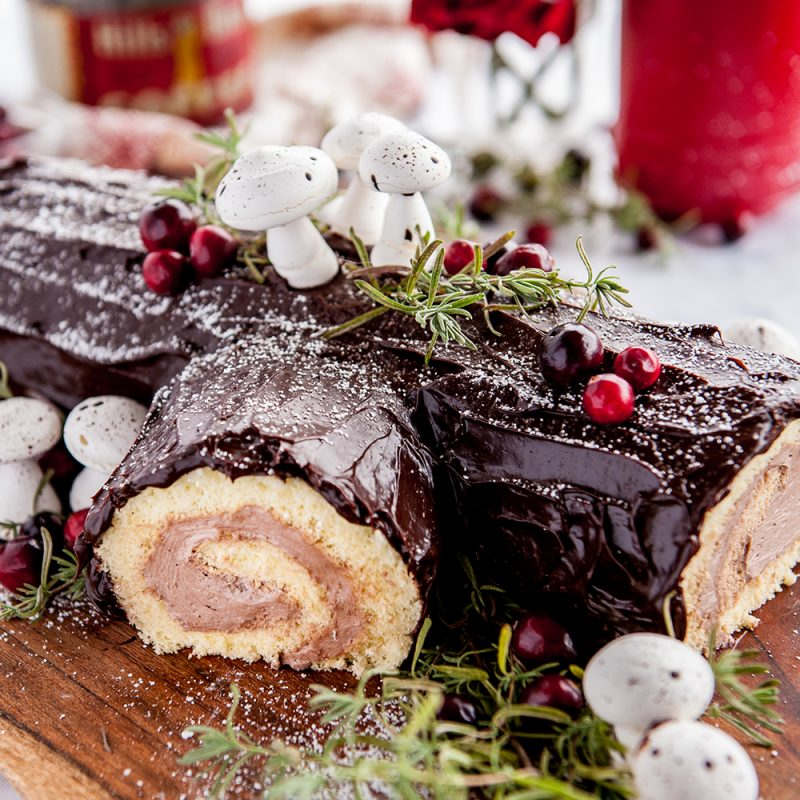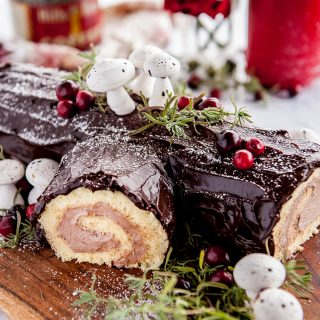 Buche de Noel Cake (Yule Log Cake)
A Buche de Noel cake is a light and airy sponge cake filled with chocolate buttercream and frosted with ganache to resemble a yule log.
Print
Rate
Never Miss A Cake
Ingredients
Meringue Mushrooms
3

large

(

100

g

)

egg whites

about 3 ounces

1/4

teaspoon

cream of tartar

5

ounces

(

142

g

)

granulated sugar

1/2

teaspoon

vanilla extract

1

pinch

salt
Mushroom Speckles
1/2

teaspoon

vanilla extract

1/2

teaspoon

cocoa powder
Roll Cake Ingredients
8

large

(

454

g

)

eggs

8

ounces

(

227

g

)

sugar

8

ounces

(

227

g

)

cake flour

or all purpose flour

1/2

teaspoon

salt

2

teaspoon

vanilla extract
Buttercream filling
4

ounces

pasteurized egg whites

8

ounces

powdered sugar

8

ounces

unsalted butter

1

teaspoon

vanilla extract

1/4

teaspoon

salt

1

ounce

cocoa powder
Ganache Frosting
16

ounces

(

454

g

)

semi-sweet chocolate

good quality

14

ounces

(

397

g

)

heavy whipping cream

1

teaspoon

vanilla extract

1/2

teaspoon

salt
Equipment
stand mixer with metal bowl and the whisk attachment

1/2 sheet pan (13"x18")

Parchment Paper

tea towel

medium sauce pan

Piping Bag

#2A piping tip
Instructions
Meringue Mushrooms
Pre-heat your oven to 225ºF and line a baking sheet with parchment paper

Bring 2 inches of water to a simmer in a pot. Place a clean stainless steel mixing bowl over the water. It shouldn't touch the water. 

Combine your egg whites and sugar and whisk to combine. Occasionally whisk as it's heating to distribute the heat and dissolve the sugar. 

Once your egg whites are at 110ºF (or when you don't feel any grains of sugar between your fingers) you're read to whip

Place the bowl on your stand mixer with the whisk attachment. Whisk on med for one minute, add in cream of tartar, salt and flavoring. 

Bump up to high and let whip until you reach STIFF peaks. 

Place the piping tip in your piping bag and snip off the tip of the bag. Pipe your stems and caps (see video)

Bake for 60 minutes, then turn off the oven but do not take out the cookies. Let them sit in the oven until they are completely cold. I leave mine in overnight.

Poke a hole in the base of the mushroom and add a tiny bit of ganache or melted chocolate in the hole. place the cap on the stem.

Combine cocoa powder and vanilla. Splatter the tops of the mushrooms with a stiff paintbrush.
Ganache
In a medium saucepan, heat up the cream until just simmering. Do not boil. Pour over the chocolate and let sit for 5 minutes.

Add in vanilla and salt and whisk until smooth. Pour into a shallow pan and cover with plastic wrap to cool at room temperature overnight.
Roll Cake Batter
Preheat your oven to 400ºF with the oven rack in the center. Line a 1/2" sheet pan (13''x18") with parchment paper.

Fill your saucepan with 2-3" water and bring to a boil over medium high heat until boiling then reduce heat to medium or until water is simmering

Place eggs, sugar and salt into the mixing bowl and blend together with a whisk

Place the bowl with mixture on top of your simmering water. Using your whisk, stir the egg mixture slowly until the sugar granules dissolve (about 110ºF) Remove from the heat.

Attach your bowl to your stand mixer with the whisk attachment. Add in your vanilla and whisk on high for 2-3 minutes until you reach the ribbon stage (see notes). The mixture should triple in volume and lighten in color.

Sift in 1/3 of your flour mixture and fold (see notes) the flour in gently without damaging the structure of your egg mixture. Repeat two more times with the flour until just combined.

Spread batter evenly into your prepared sheet pan and spread with an offset spatula or knife all the way to the edges of the pan. Do not grease your pan.

Bake for 8 minutes and then remove from the oven and place onto a cooling rack

Immediately use a paring knife to carefully cut the edge of the sponge away from the sides of the pan. Dust the surface with powdered sugar. Place another piece of parchment on top of the cake, then another cooling rack and flip over to release the cake from the pan.

Remove the parchment paper carefully and dust the surface with more powdered sugar.

Place a tea towel over the top of the cake and carefully roll into a spiral (LENGTHWISE). Place into the fridge to cool for one hour before filling with frosting.
Chocolate Buttercream
Sift together the powdered sugar and cocoa powder to remove any clumps.

Place egg whites, powdered sugar and cocoa powder in a stand mixer bowl.

Attach the whisk and combine ingredients on low and then whip on high for 5 minutes.

Add in your butter in chunks. Add in vanilla and salt. Whisk on high until light and fluffy.

Remove the whisk and place the paddle attachment onto the mixer. Let your buttercream mix on low until the mixture is smooth and creamy and there are no bubbles left. This can take up to 20 minutes (optional)
Roll Cake Assembly
Carefully unroll your cooled sponge. It may crack a little towards the very center of the spiral and that is normal.

Spread a layer of your chocolate buttercream over the entire surface

Carefully roll your cake back up. Cut the ends of the roll cake off so they look nice and clean and then transfer to a platter.

Cut about 4" off one end at a 45" angle and place next to the longer piece of the roll to look like a branch

Frost the outside with your cooled ganache

Decorate with your meringue mushrooms, cranberries and rosemary sprigs

Dust lightly with powdered sugar right before serving

Serve chilled. It will last for three days covered in the fridge.
Notes
The ribbon stage is when your egg mixture triples in volume, lightens in color and when spooned onto itself, it forms ribbons of batter that stay on the surface before slowly dissolving back into itself.  Fold the batter by running the spatula around the outside edge of the batter and the bowl and then gently lift the batter onto itself. This allows the batter to mix without damaging the delicate structure. 
Nutrition
Serving:
1
serving
|
Calories:
388
kcal
(19%)
|
Carbohydrates:
44
g
(15%)
|
Protein:
7
g
(14%)
|
Fat:
20
g
(31%)
|
Saturated Fat:
11
g
(55%)
|
Cholesterol:
125
mg
(42%)
|
Sodium:
188
mg
(8%)
|
Potassium:
223
mg
(6%)
|
Fiber:
2
g
(8%)
|
Sugar:
30
g
(33%)
|
Vitamin A:
473
IU
(9%)
|
Vitamin C:
1
mg
(1%)
|
Calcium:
46
mg
(5%)
|
Iron:
2
mg
(11%)