How to make a light and fluffy Swiss vanilla roll cake filled with strawberry whipped cream and rolled into a gorgeous spiral! Learn how to get the perfect spiral without cracking. 

What is a roll cake?
You may have guessed, a roll cake is a cake that is rolled. A roll cake is often called a swiss roll or a jelly roll. It's a type of sponge cake that is filled with whipped cream, jam or frosting and then rolled into a spiral before serving.
A roll cake is similar to a roulade but a roulade can be filled with other things besides sweet fillings and can even be savory.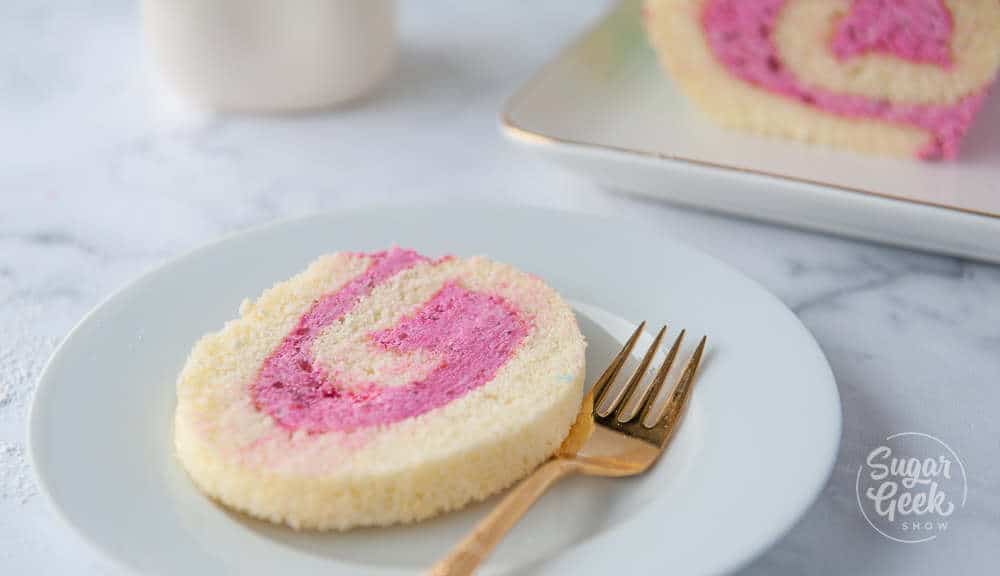 Swiss roll cakes are also a type of roll cake but to me, a swiss roll cake is a chocolate sponge with a cream filling and then covered in chocolate. I used to eat those Little Debbie swiss roll cakes back in High School. Sooo good!
Ingredients
This Swiss roll only has 5 ingredients that you probably already have in your pantry, eggs, granulated sugar, flour, salt, and vanilla. I prefer to use cake flour because it makes for a more tender cake, but you can use all-purpose flour if that's all you have.
The strawberry whipped cream filling has a few more ingredients, I like to stabilize my whipped cream so that it doesn't ooze out the sides of the cake. I stabilize whipped cream with gelatin, but I have 5 other methods like cream of tartar or cornstarch if you don't like to use gelatin. Mix in some strawberry puree made from fresh or frozen strawberries and you have a delicious filling! You can always fill your cake with easy vanilla buttercream, cream cheese frosting, or Swiss meringue buttercream.
How to make a roll cake sponge
Making the roll cake sponge requires a simmering pot of water and a heatproof bowl. I use the stainless steel bowl of my kitchenaid mixer because it makes it easy. Combine the eggs and sugar in the bowl and place over the simmering water. The bowl shouldn't be touching the water.
The idea is to heat the mixture for just long enough that the sugar dissolves. Whisk occasionally so the egg yolks don't cook. Once the sugar has dissolved, it's ready to whip up. I usually just feel the egg whites with my fingers to see if it's dissolved.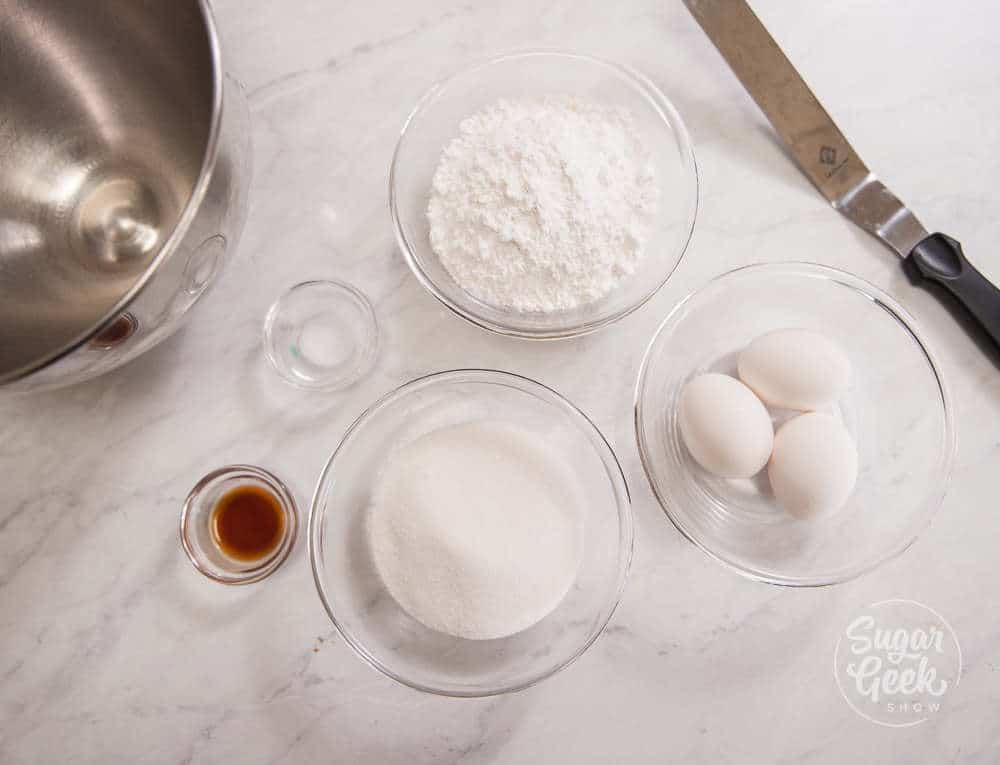 Tips for making a roll cake
Making the sponge cake isn't too complicated but you definitely need to make sure you whip it enough. The egg mixture should triple in volume and reach the ribbon stage. We whip all the air into the cake instead of using a raising agent like baking powder.
Whip to ribbon stage - The ribbon stage is when you drizzle the batter back onto itself and the batter forms "ribbons" that lay on top of the surface for a while before dissolving back into itself. 
Fold gently - Once your egg reaches the ribbon stage, you want to fold your flour into the egg GENTLY so you don't deflate. I sift my flour onto the egg mixture then gently fold to incorporate. 
Spread it out - Spread your batter onto a parchment-lined baking sheet and go allllll the way to the edges. Do not grease the pan. The ungreased pan helps the sponge cake rise.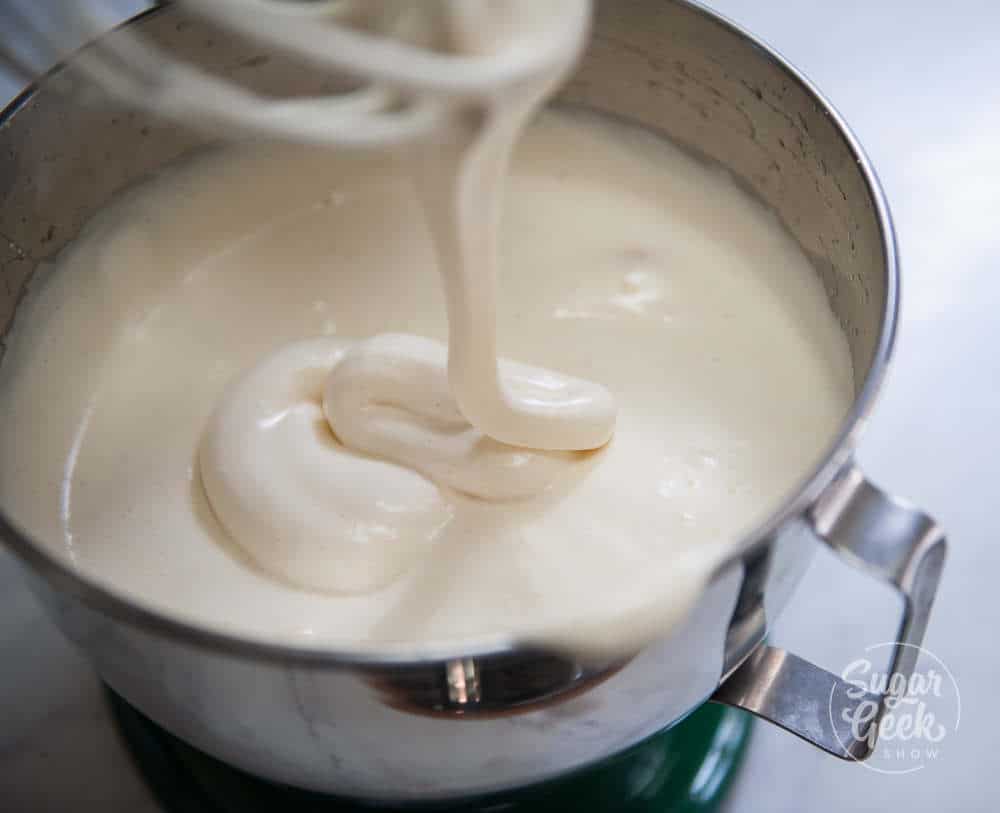 Don't over bake it - This sponge bakes incredibly fast. It only takes 8 minutes to set and then it's done. Don't bake too long or the edges get too brown and will crack during rolling.
Work fast - Once the sponge is done, you need to run a knife around the outside edge to loosen it from the pan. Dust the surface with powdered sugar, flip onto a cooling rack, remove the parchment, dust again with powdered sugar and then roll up with a tea towel all before it cools down. This is vital to avoiding those nasty cracks when you roll it up again with filling.
Let it cool - Let your roll cake cool down before you unroll and fill with filling. You'll notice the sponge has a memory now and will easily roll back up without cracking.
Frost and chill - Now you can frost your roll cake or just dust it with powdered sugar but you want to let it chill for a few hours before serving so that the roll cake holds it's shape when you cut it.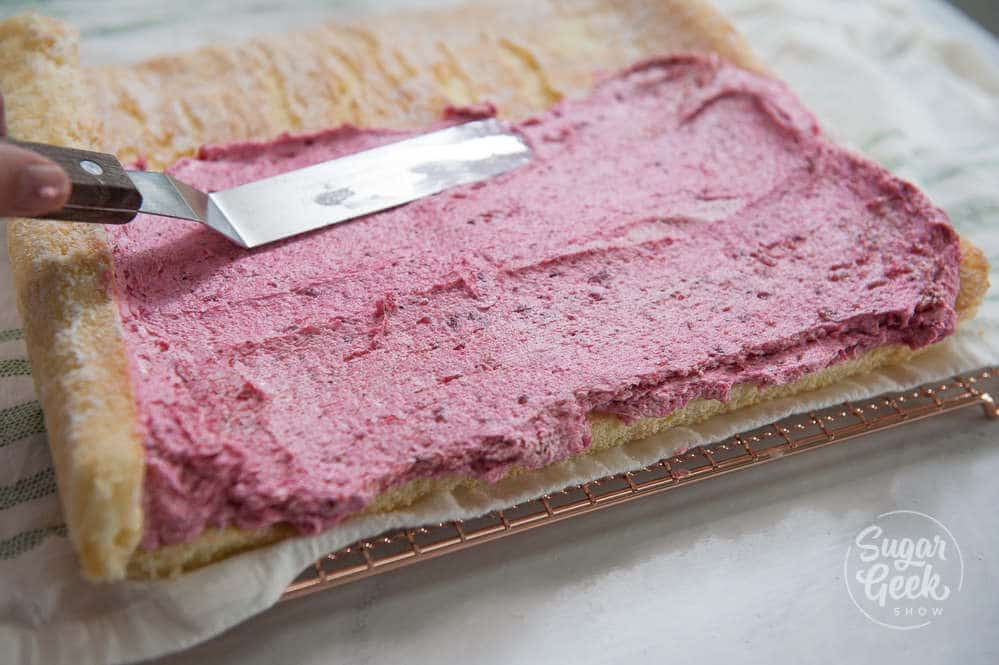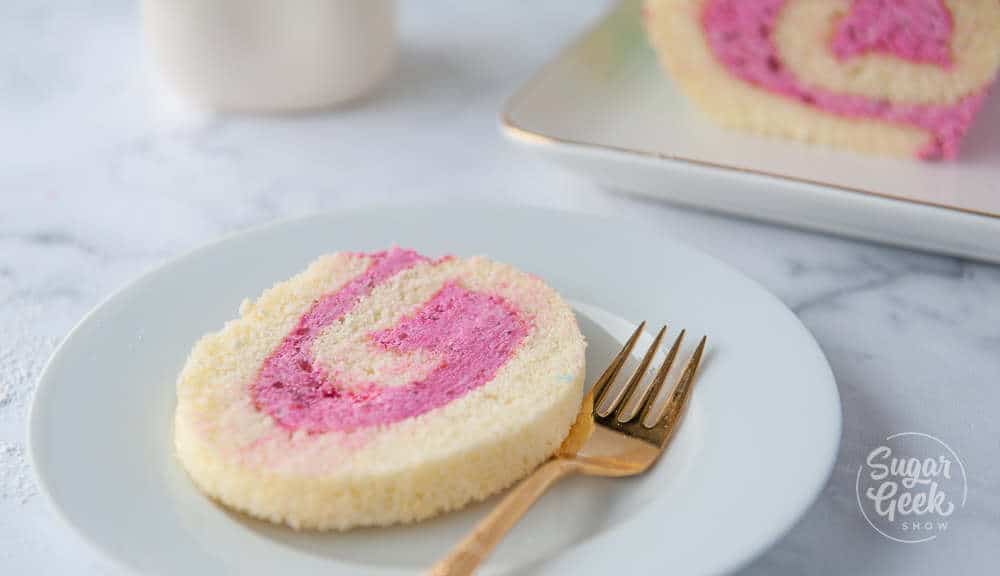 This vanilla roll cake tastes fantastic with the strawberry whipped cream but you can also fill it with straight strawberry puree, strawberry buttercream, chocolate ganache or any filling you like! Get creative!
Recipe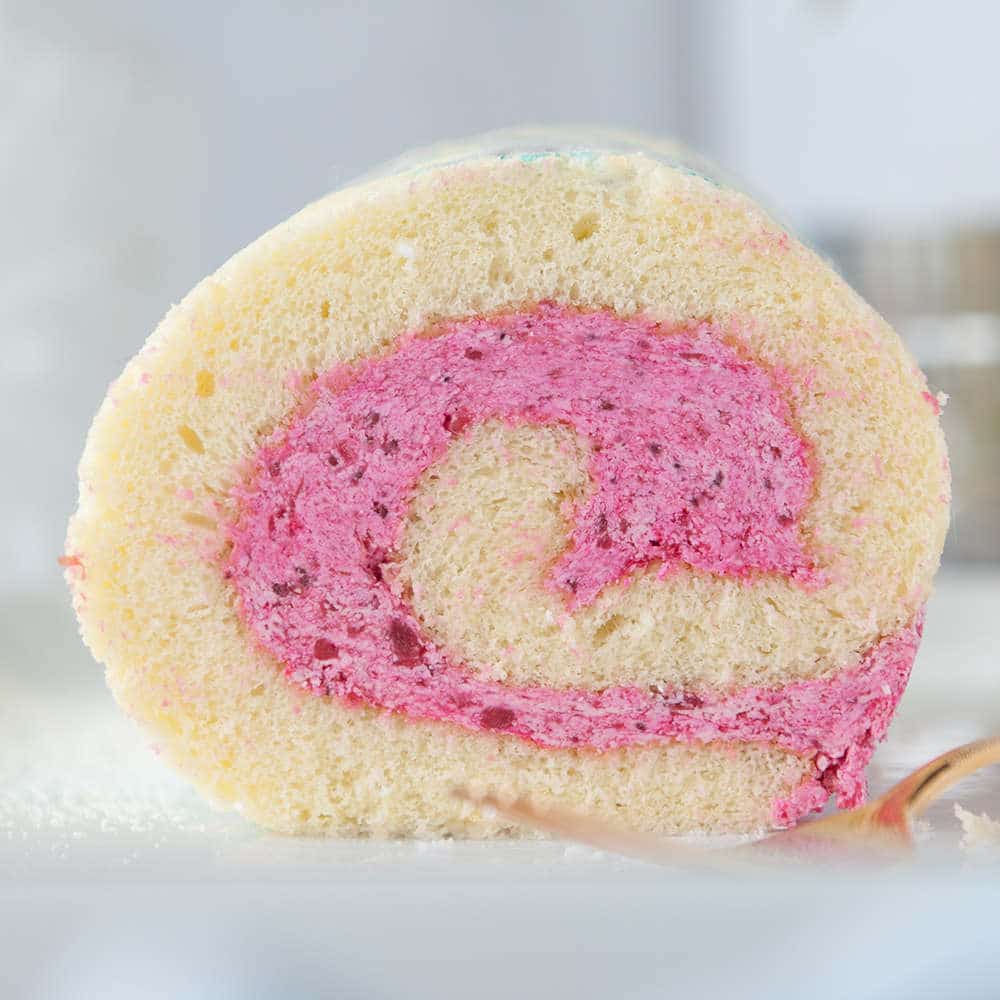 Equipment
stand mixer with metal bowl and the whisk attachment

13"x18" sheet pan

Parchment Paper

tea towel

medium sauce pan
Ingredients
Roll Cake Ingredients
6

large

eggs

6

ounces

sugar

6

ounces

cake flour

or all purpose flour

¼

teaspoon

salt

1

teaspoon

vanilla extract
Strawberry Whipped Cream Filling
16

ounces

heavy whipping cream

4

ounces

strawberry puree

or chopped strawberries (drained)

2

Tablespoons

powdered sugar

2

teaspoons

powdered gelatin

5

Tablespoons

cold water

1

Tablespoon

heavy cream

1

teaspoon

vanilla extract
Instructions
Preheat your oven to 400ºF with the oven rack in the center. Line a sheet pan (13x18") with parchment paper.

Fill your saucepan with 2-3" water and bring to a boil over medium high heat until boiling then reduce heat to medium or until water is simmering

Place eggs, sugar and salt into the mixing bowl and blend together with a whisk

Place the bowl with mixture on top of your simmering water. Using your whisk, stir the egg mixture slowly until the sugar granules dissolve (about 110ºF) Remove from the heat.

Attach your bowl to your stand mixer with the whisk attachment. Add in your vanilla and whisk on high for 5-7 minutes until you reach the ribbon stage (see notes). The mixture should triple in volume and lighten in color.

Sift in ⅓ of your flour mixture and fold (see notes) the flour in gently without damaging the structure of your egg mixture. Repeat two more times with the flour until just combined.

Spread batter evenly into your prepared sheet pan and spread with an offset spatula or knife all the way to the edges of the pan. Do not grease your pan.

Bake for 8 minutes and then remove from the oven and place onto a cooling rack

Immediately use a paring knife to carefully cut the edge of the sponge away from the sides of the pan. Dust the surface with powdered sugar. Place another piece of parchment on top of the cake, then another cooling rack and flip over to release the cake from the pan.

Remove the parchment paper carefully and dust the surface with more powdered sugar.

Place a tea towel over the top of the cake and carefully roll into a spiral. Place into the fridge to cool for one hour before filling with frosting.
Stabilized Whipped Cream
Sprinkle your gelatin over the water and let bloom for 5 minutes. 

Melt gelatin for 5 seconds in the microwave. If not fully melted do another 3 seconds. You can tell gelatin is melted when there are no granules of unmelted gelatin visible. Add in 1 Tablespoon of cream and stir to combine

In a cold mixing bowl, whip your heavy cream to soft peaks. Add in your powdered sugar and vanilla.

Turn your mixer down to low and drizzle in your gelatin (or another stabilizer) and mix until whipped cream forms firm stiff peaks (but not curdled.)

Fold in cold strawberry puree or freshly chopped and drained strawberries
Roll Cake Assembly
Carefully unroll your cooled sponge. It may crack a little towards the very center of the spiral and that is normal.

Spread a thin layer of your whipped cream mixture over the sponge

Carefully roll your cake back up. Cut the ends of the roll cake off so they look nice and clean and then transfer to a platter.

Dust the surface of the roll cake with more powdered sugar, swirls of whipped cream and more fresh berries.

Serve chilled. It will last for three days covered in the fridge.
Video
Notes
The ribbon stage is when your egg mixture triples in volume, lightens in color and when spooned onto itself, it forms ribbons of batter that stay on the surface before slowly dissolving back into itself.  Fold the batter by running the spatula around the outside edge of the batter and the bowl and then gently lift the batter onto itself. This allows the batter to mix without damaging the delicate structure. 
Nutrition
Serving:
1
serving
|
Calories:
148
kcal
|
Carbohydrates:
25
g
|
Protein:
5
g
|
Fat:
3
g
|
Saturated Fat:
1
g
|
Cholesterol:
105
mg
|
Sodium:
89
mg
|
Potassium:
53
mg
|
Fiber:
1
g
|
Sugar:
14
g
|
Vitamin A:
153
IU
|
Calcium:
18
mg
|
Iron:
1
mg