How to make a decorative pattern roll cake dessert
Make beautiful designs on the outside of your pattern roll cake! Such a fun and easy way to get creative without all the fuss of a layer cake.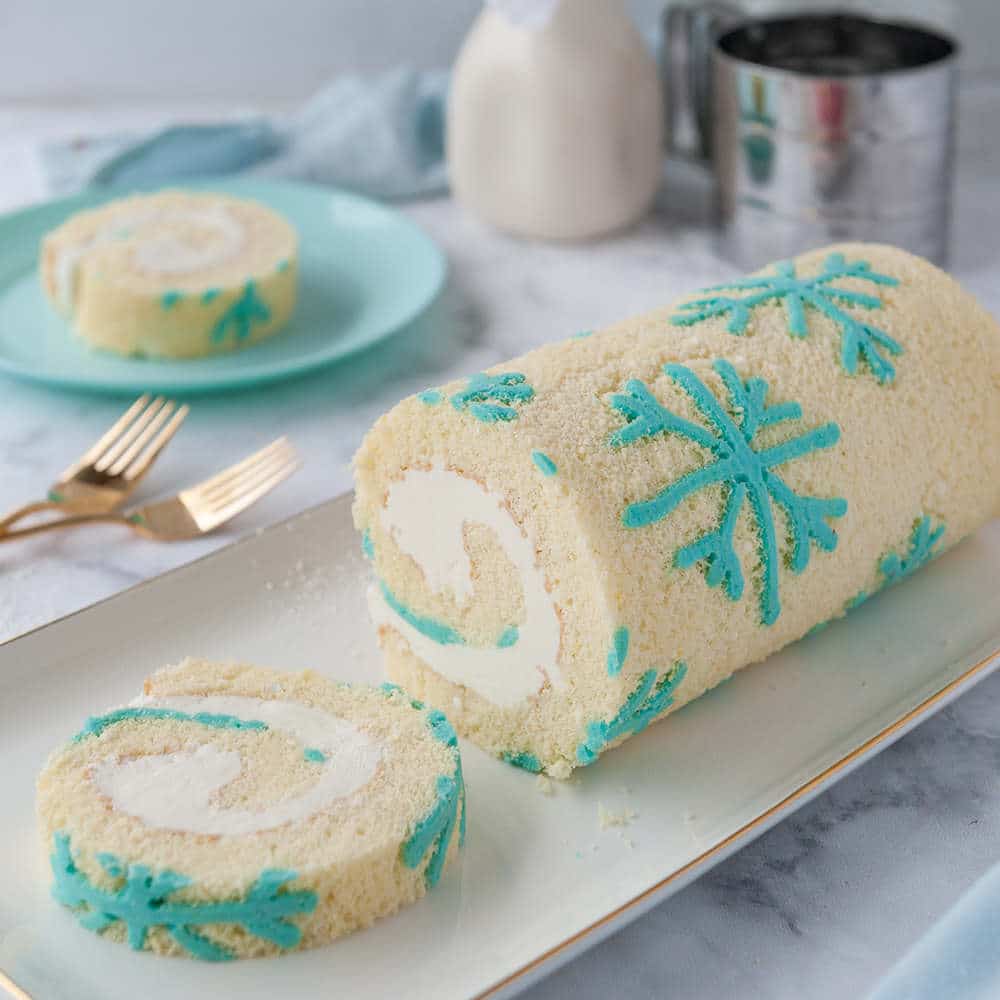 What is a pattern roll cake?
A pattern roll cake is achieved by piping a colorful batter onto a parchment-lined sheet pan, freezing it and then layering on your roll cake batter.
After you peel off the parchment paper, the pattern is revealed! All that's left to do is roll up the sponge with a tasty filling and you've got a fun and easy decorated cake!
You can do any kind of pattern you want by changing the colors and the design of the batter. You can even use stencils or templates.
For this recipe, I decided to do something super simple without any templates so you can see how easy it really is.
How to make the roll cake pattern
The pattern batter is super simple to prepare. Just mix it all together with a hand mixer or even a whisk until cohesive. Add in some food coloring and put it all into a piping bag.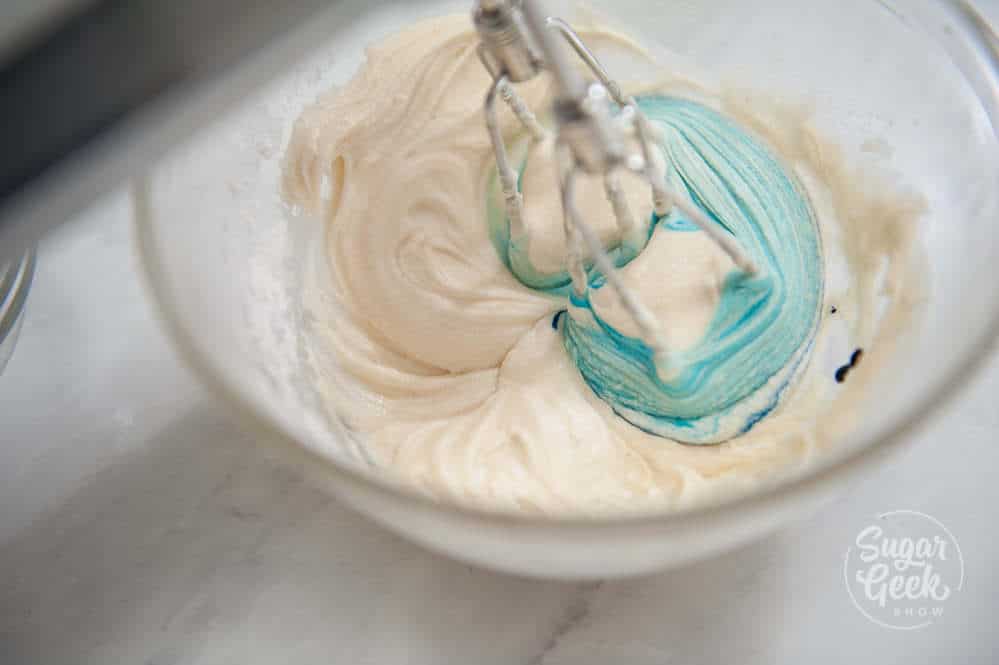 You can also divide the batter up and make multiple colors if you want to get fancy. I used a couple of drops of electric blue food coloring in mine for my snowflakes.
I used a #2 piping tip for making my snowflakes and I'm using a 10"x15" cookie sheet lined with parchment paper (not wax paper). To make a snowflake start by piping a big +. Then pipe a small x over the top. Make a v on the ends of the big lines and voila! Snowflake.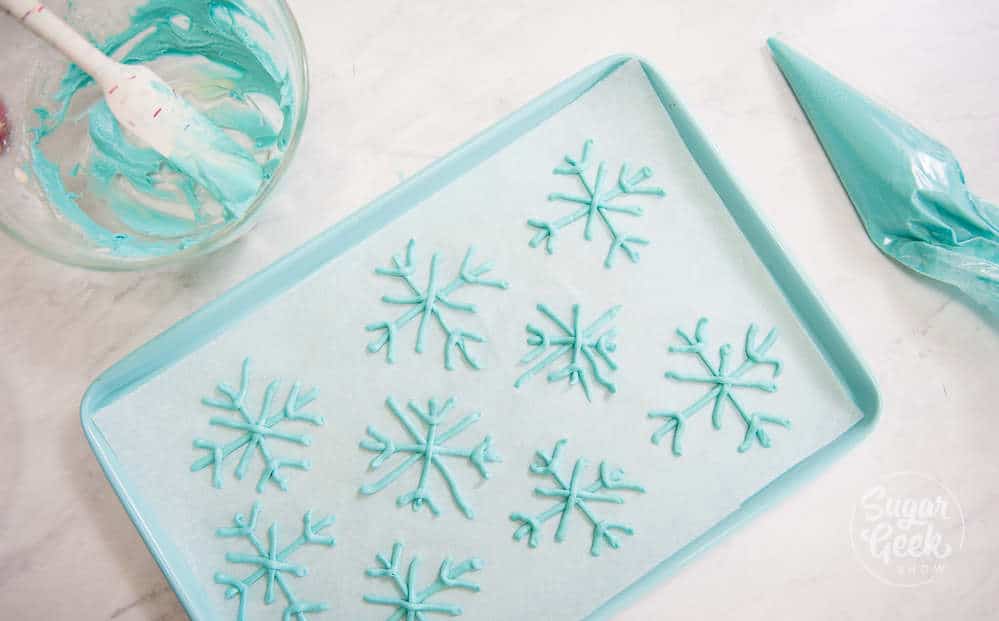 Then just pop the whole thing into the freezer for 20 minutes. While it's freezing, go ahead and make your roll cake sponge.
How to make a roll cake sponge
Making the roll cake sponge requires a simmering pot of water and a heatproof bowl. I use the stainless steel bowl of my kitchenaid mixer because it makes it easy. Combine the eggs and sugar in the bowl and place over the simmering water. The bowl shouldn't be touching the water.
The idea is to heat the mixture for just long enough that the sugar dissolves. Whisk occasionally so the eggs don't cook. Once the sugar has dissolved, it's ready to whip up. I usually just feel the egg whites with my fingers to see if it's dissolved.
Whip the batter on high until the batter has tripled in volume and you get to the ribbon stage. The ribbon stage is when you drizzle the batter back onto itself and the batter forms "ribbons" that lay on top of the surface for a while before dissolving back into itself.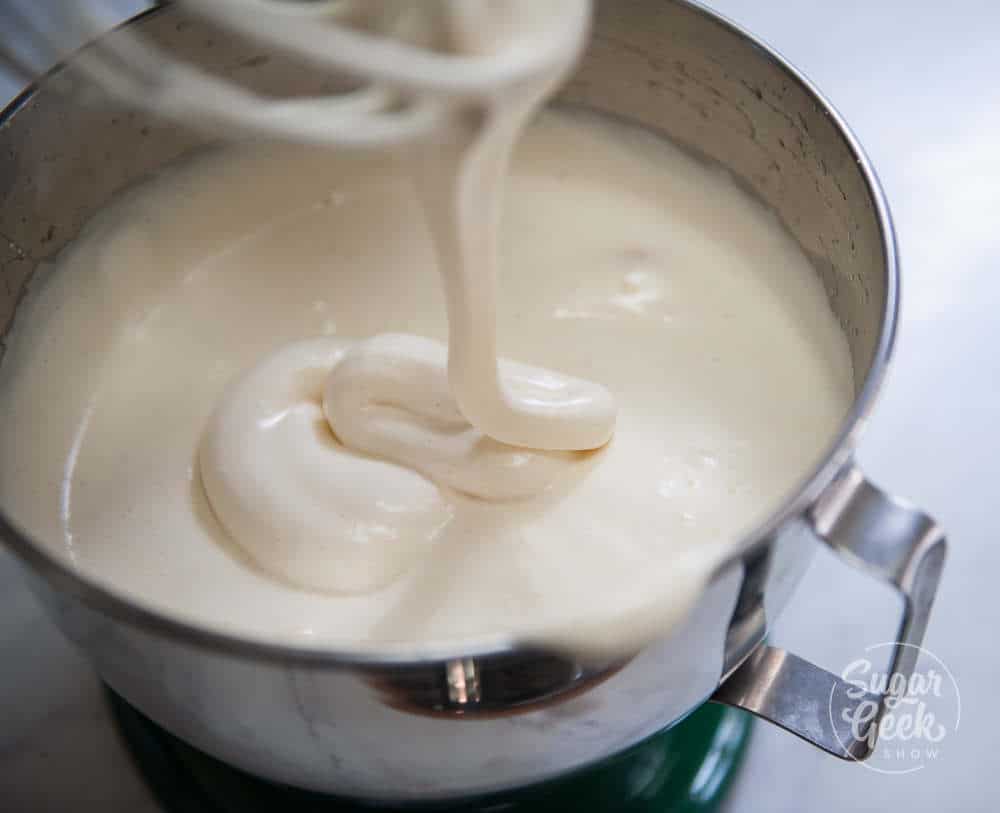 Once your egg reaches the ribbon stage, you want to fold your flour into the egg GENTLY so you don't deflate. I sift my flour onto the egg mixture then gently fold to incorporate.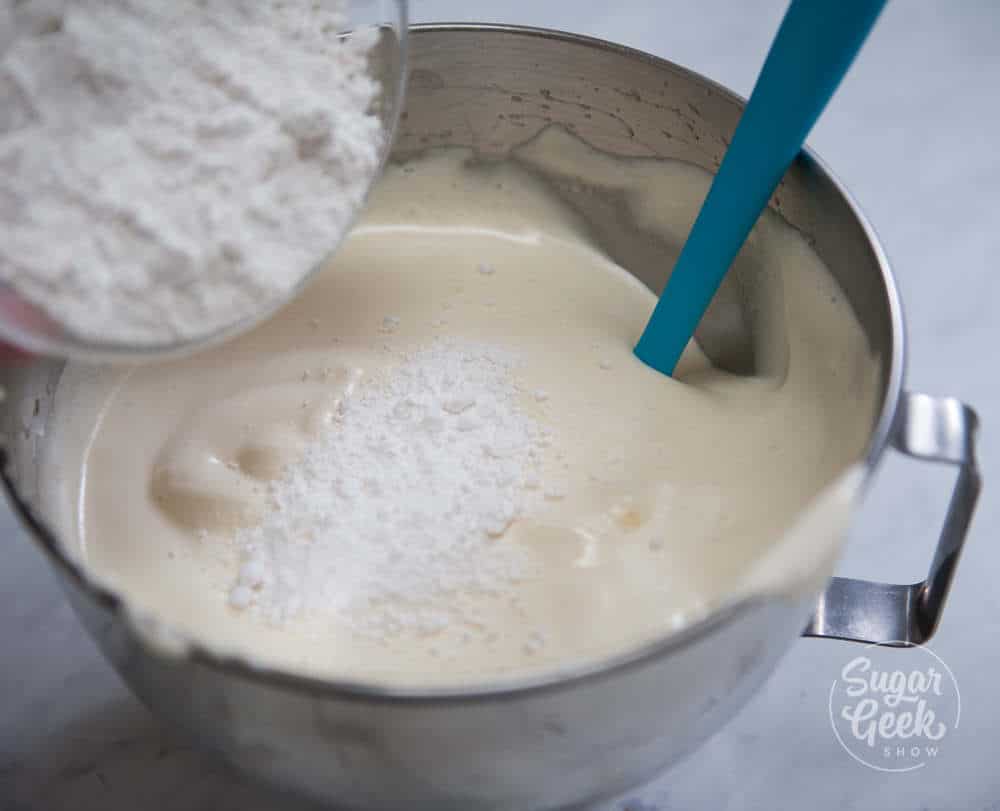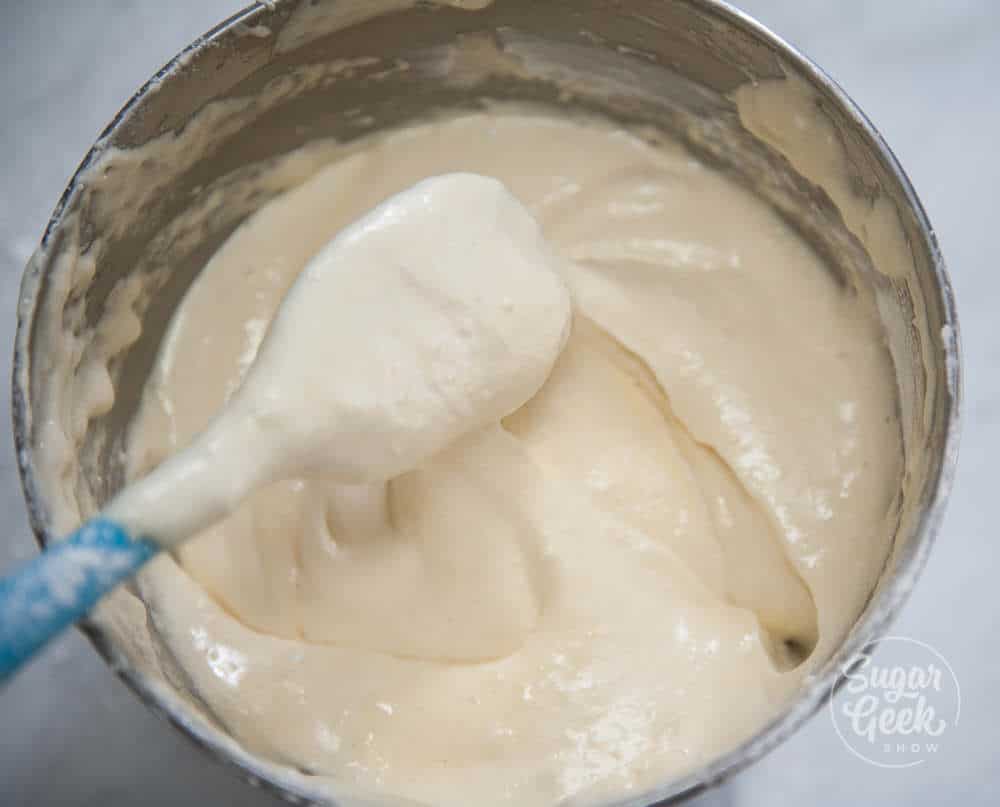 Slowly run your spatula around the outside edge of the batter, moving along the side of the bowl then towards the bottom of the bowl. Lift the batter up gently and fold it over onto itself. Repeat. If you mix too aggressively, your batter will deflate and it won't rise later.
Once your sponge is mixed you can spread it out onto your baking sheet with the frozen snowflake batter. Make sure you push the batter all the way to the edges. Do not grease your pan.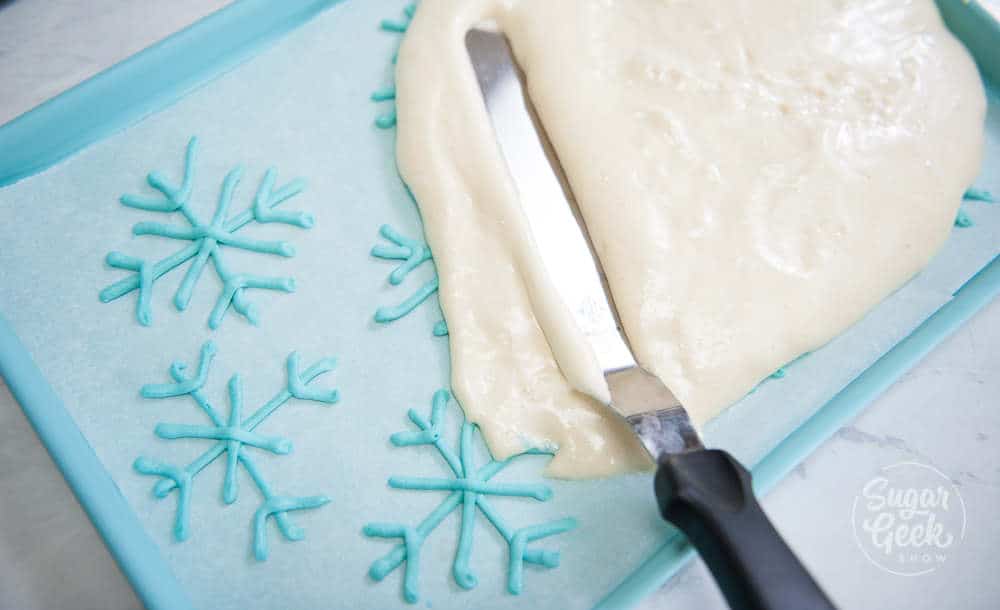 Then place the whole thing in your preheated oven for 8 minutes. This cake bakes very quickly so make sure you have everything ready to go as soon as it comes out.
What you need to roll your cake
Two cooling racks
Powdered sugar and a sifter
A tea towel or other thin towel
Small sharp knife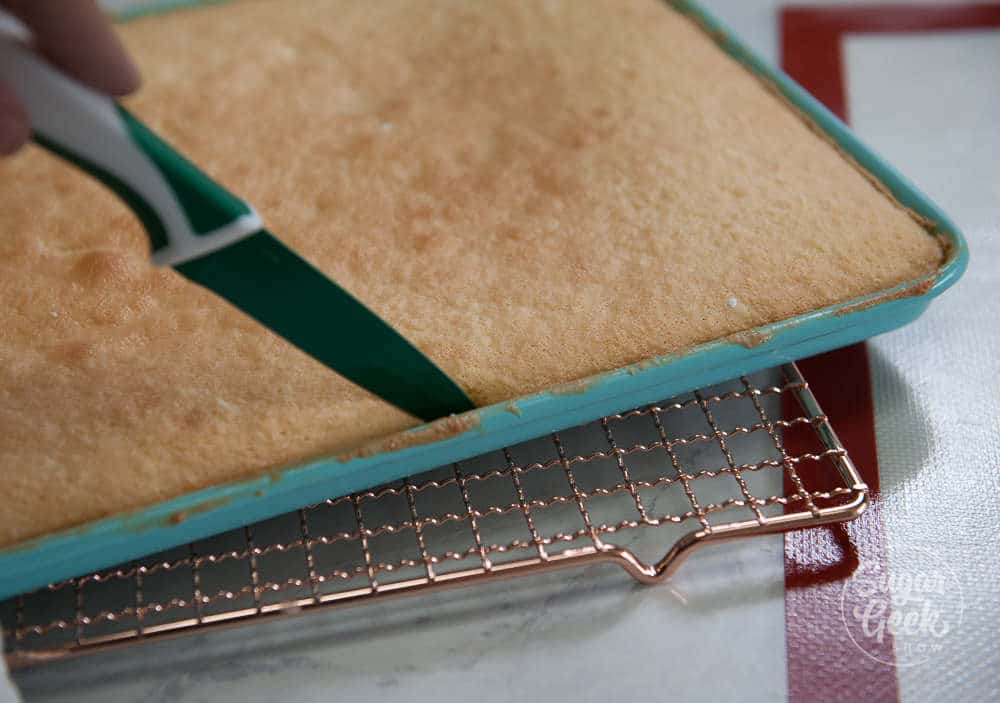 Once the sponge is done, you need to run a knife around the outside edge to loosen it from the pan.
Flip onto a cooling rack, remove the parchment, dust with powdered sugar. Spread the tea towel on top, then place the other cooling rack over the towel. Flip the whole thing back over again so the tea towel is on the bottom.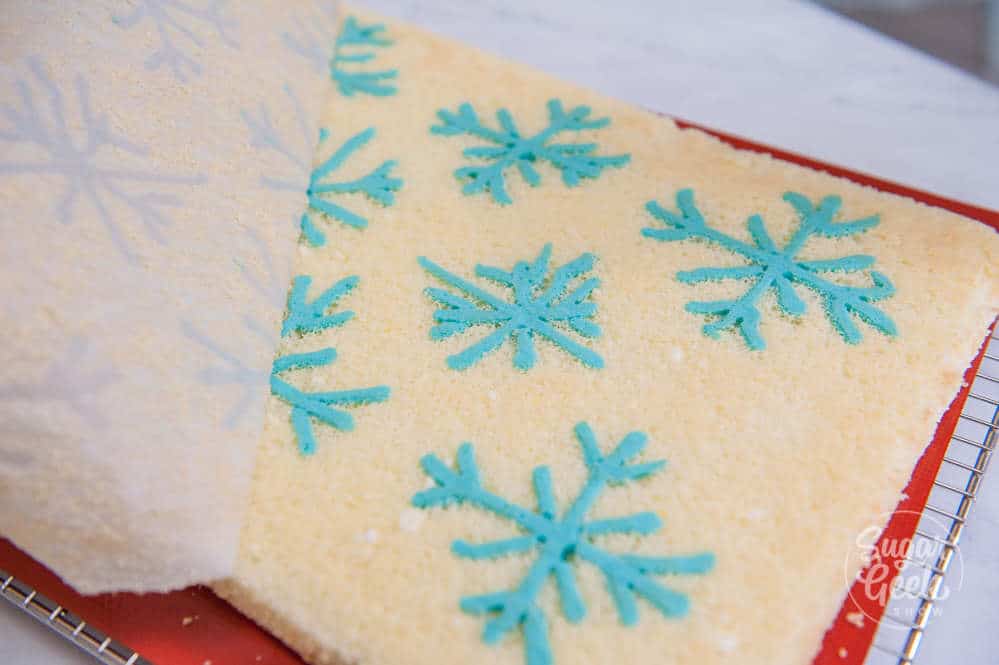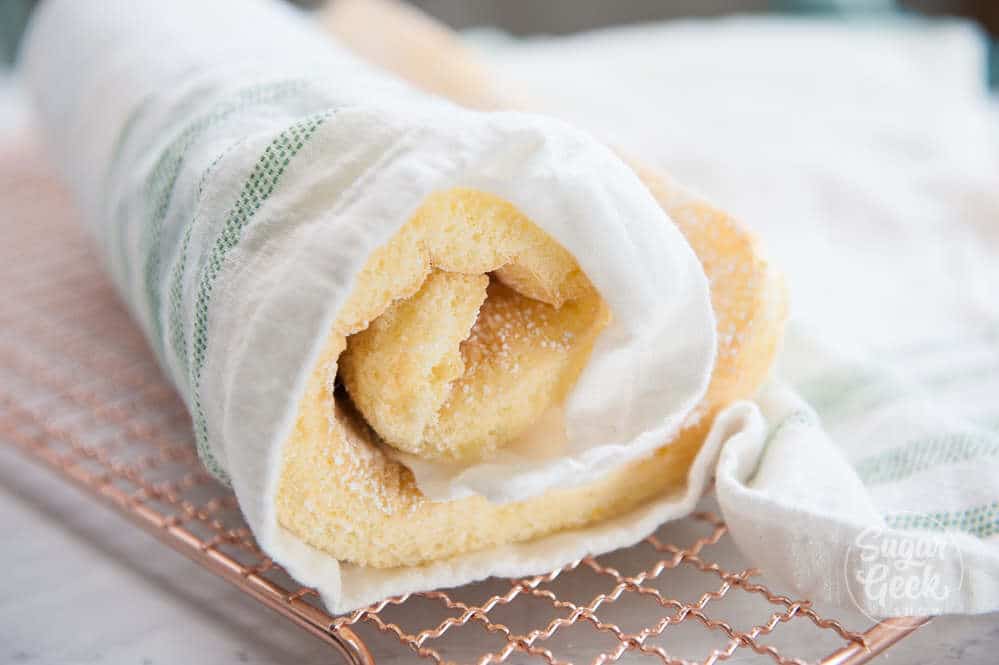 Tightly roll up the cake while it's still warm. This is vital to avoiding those nasty cracks when you roll it up again with filling. Let it cool a few hours or even overnight.
When you're ready to fill your cake, gently unroll it. Spread a thin layer of buttercream inside. You can also use stabilized whipped cream, ganache, fruit puree or even curd.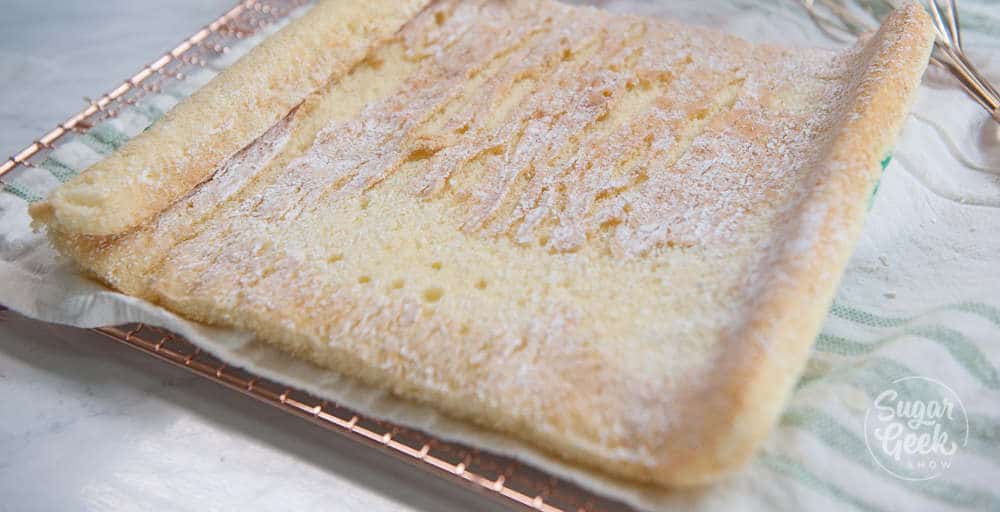 Then roll it back up! I put mine back in the fridge to chill before serving to give the filling a chance to set up. The slices look better.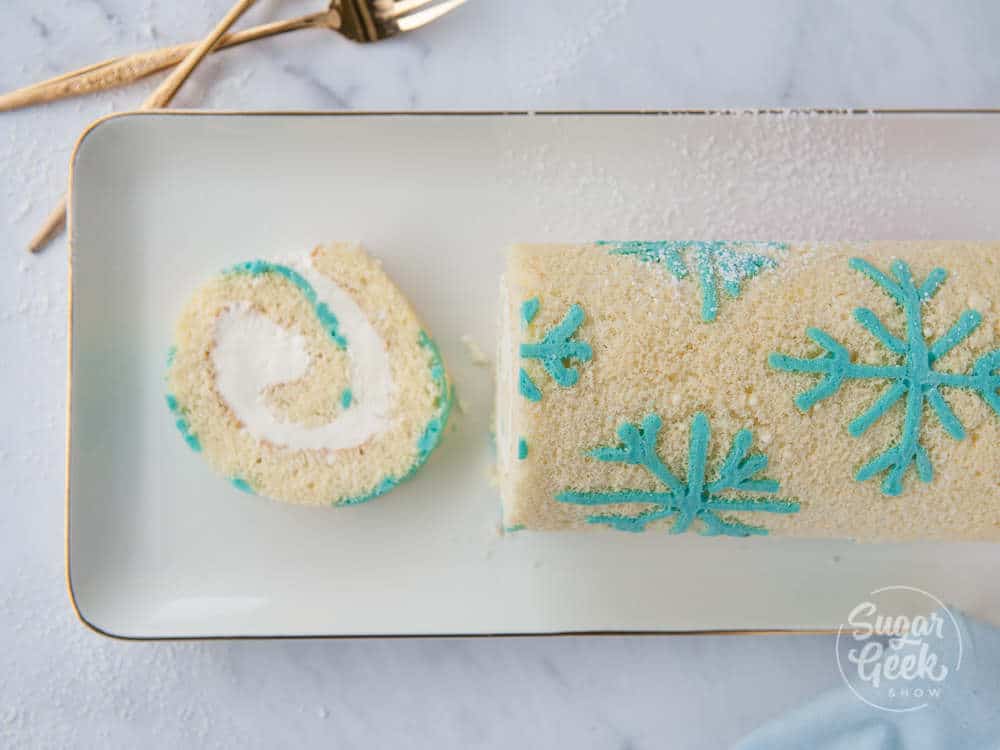 Want more? Check out these recipes!
Vanilla Roll Cake with Strawberry Cream
Foolproof French macaron recipe
Recipe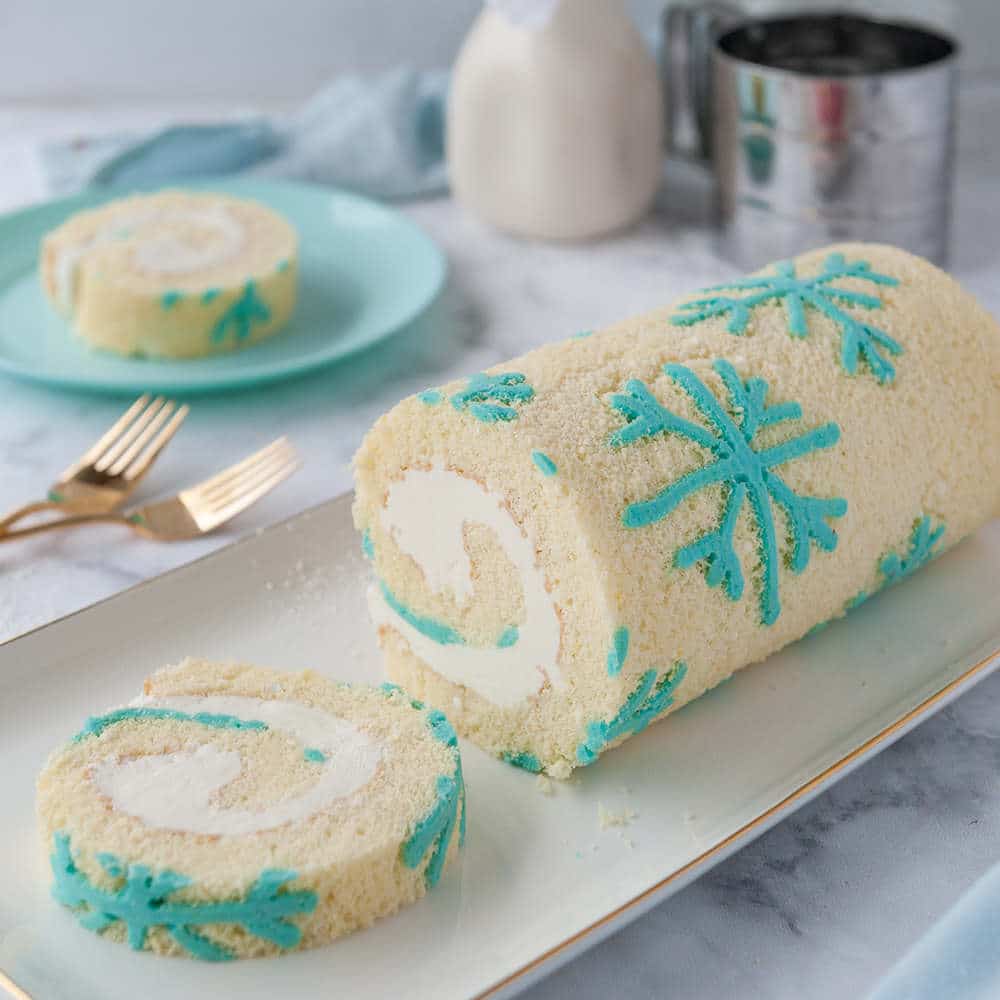 Equipment
stand mixer with metal bowl and the whisk attachment

10"x15" pan

Parchment Paper

tea towel

medium sauce pan

Piping Bag

#2 piping tip and bag
Ingredients
Pattern Batter
1

ounce

powdered sugar

1

ounce

butter

softened

1

ounce

pastuerized egg whites

1

ounce

all-purpose flour

2

drops

food coloring

I used americolor electric blue
Roll Cake Ingredients
6

large

eggs

6

ounces

sugar

6

ounces

cake flour

or all purpose flour

¼

teaspoon

salt

1

teaspoon

vanilla extract
Stabilized whipped cream
10

ounces

heavy whipping cream

2

Tablespoons

powdered sugar

2

teaspoons

powdered gelatin

2

ounces

cold water

2

teaspoons

vanilla extract

2

teaspoon

heavy whipping cream
Instructions
Preheat your oven to 400ºF with the oven rack in the center. Line a ¼" sheet pan (9x13") with parchment paper.
Roll Cake Pattern
Cream together butter, flour, sugar and egg whites with a whisk attachment until smooth. Add in your food coloring and mix until cohesive in color.

Place batter into a piping bag or plastic baggie and snip off the tip. Pipe your pattern onto the parchment paper and then freeze while you prepare your roll batter (about 20 minutes)
Roll Cake Batter
Fill your saucepan with 2-3" water and bring to a boil over medium high heat until boiling then reduce heat to medium or until water is simmering

Place eggs, sugar and salt into the mixing bowl and blend together with a whisk

Place the bowl with mixture on top of your simmering water. Using your whisk, stir the egg mixture slowly until the sugar granules dissolve (about 110ºF) Remove from the heat.

Attach your bowl to your stand mixer with the whisk attachment. Add in your vanilla and whisk on high for 2-3 minutes until you reach the ribbon stage (see notes). The mixture should triple in volume and lighten in color.

Sift in ⅓ of your flour mixture and fold (see notes) the flour in gently without damaging the structure of your egg mixture. Repeat two more times with the flour until just combined.

Spread batter evenly into your prepared sheet pan and spread with an offset spatula or knife all the way to the edges of the pan. Do not grease your pan.

Bake for 8 minutes and then remove from the oven and place onto a cooling rack

Immediately use a paring knife to carefully cut the edge of the sponge away from the sides of the pan. Dust the surface with powdered sugar. Place another piece of parchment on top of the cake, then another cooling rack and flip over to release the cake from the pan.

Remove the parchment paper carefully and dust the surface with more powdered sugar.

Place a tea towel over the top of the cake and carefully roll into a spiral. Place into the fridge to cool for one hour before filling with frosting.
Stabilized Whipped Cream
Sprinkle your gelatin over the water and let bloom for 5 minutes. 

Melt gelatin for 5 seconds in the microwave. If not fully melted do another 3 seconds. You can tell gelatin is melted when there are no granules of unmelted gelatin visible. Add in 1 teaspoon of cream and stir to combine

In a cold mixing bowl, whip your heavy cream to soft peaks. Add in your powdered sugar and vanilla.

Turn your mixer down to low and drizzle in your gelatin and mix until whipped cream forms firm peaks (but not curdled)
Roll Cake Assembly
Carefully unroll your cooled sponge. It may crack a little towards the very center of the spiral and that is normal.

Spread a thin layer of your whipped cream and layer chopped fresh fruits like strawberries or blackberries or even mix together if desired.

Carefully roll your cake back up. Cut the ends of the roll cake off so they look nice and clean and then transfer to a platter.

Dust the surface of the roll cake with more powdered sugar, swirls of whipped cream and more fresh berries.

Serve chilled. It will last for three days covered in the fridge.
Notes
The ribbon stage is when your egg mixture triples in volume, lightens in color and when spooned onto itself, it forms ribbons of batter that stay on the surface before slowly dissolving back into itself.  Fold the batter by running the spatula around the outside edge of the batter and the bowl and then gently lift the batter onto itself. This allows the batter to mix without damaging the delicate structure. 
Nutrition
Serving:
1
serving
|
Calories:
194
kcal
|
Carbohydrates:
31
g
|
Protein:
6
g
|
Fat:
5
g
|
Saturated Fat:
2
g
|
Cholesterol:
111
mg
|
Sodium:
115
mg
|
Potassium:
67
mg
|
Fiber:
1
g
|
Sugar:
17
g
|
Vitamin A:
212
IU
|
Calcium:
18
mg
|
Iron:
1
mg