Have you ever wondered how those amazing gingerbread houses are made? Seems pretty impossible considering most kits fall apart the second you put the frosting on. Not this recipe! This construction grade gingerbread house recipe is SO strong! I made my house three weeks ago and it's still standing strong. You can trim it, sand it, bake it in molds and even pour sugar windows. Keep reading for more tips!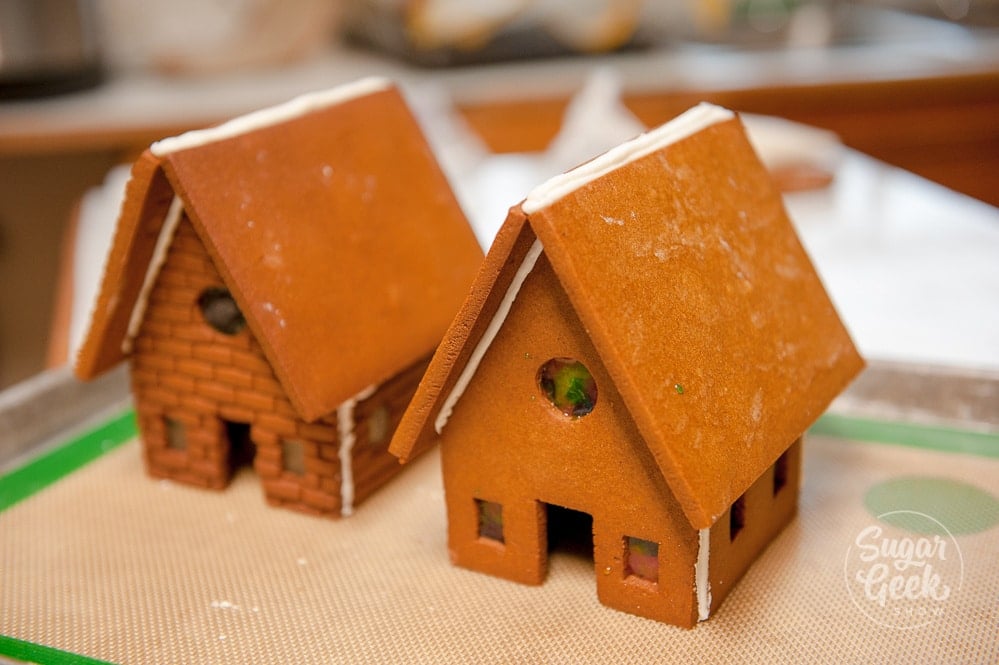 I'll let you in on a little secret, not all gingerbread is created equal. You might be surprised to find out that the gingerbread that is used to make those amazing houses are made with something called "construction gingerbread" meaning it's not meant to be eaten and is really only for building.
So if you try to build a gingerbread house from regular yummy gingerbread cookie dough, you might find your cookie dough spreading or cracking when you try to assemble the house.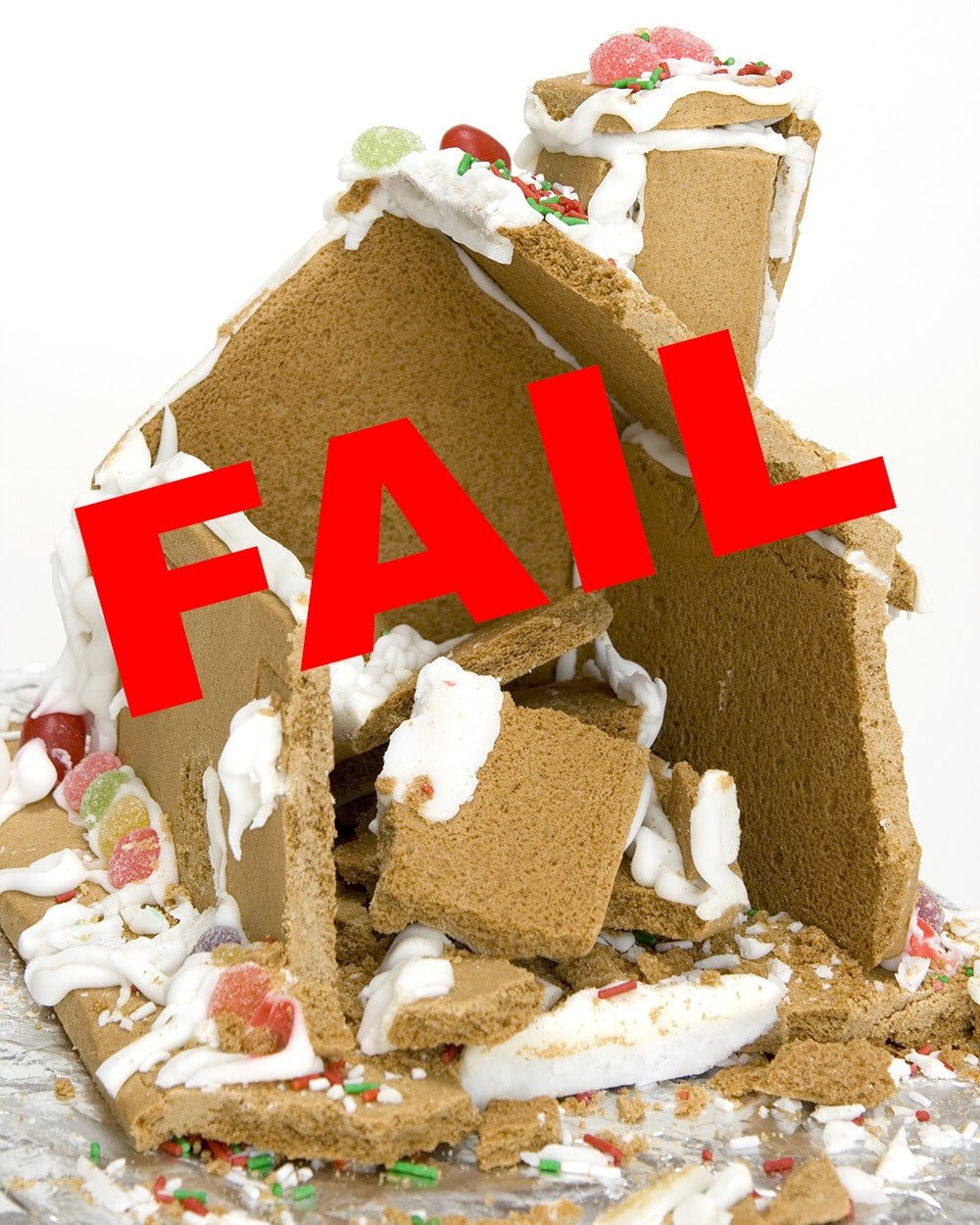 This is the gingerbread house recipe that I got from my friend Christophe Rull who is the head pastry chef at the Parky Hyatt Aviara in San Diego. We used this recipe to build a gingerbread house that was over twelve feet tall! Granted we had a structure underneath because the house had to be on display for over a month but still, it was the best structural gingerbread I've ever used!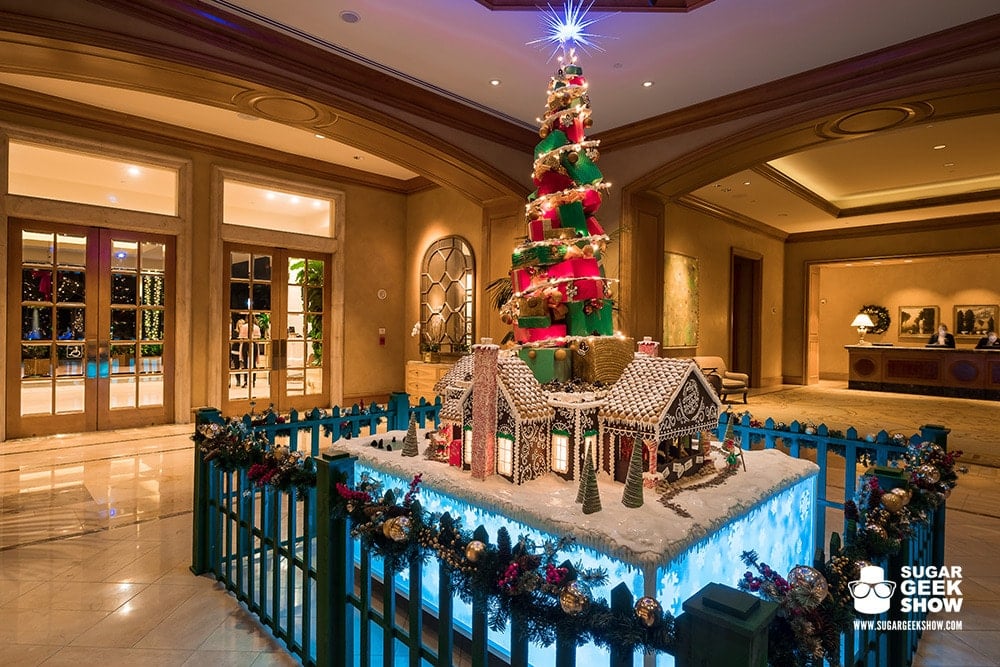 Christophe has graciously shared his recipe with me so I can give it to you guys! So you can make some amazing gingerbread houses too!
Gingerbread House Ingredients
First we need to get all our ingredients together to make the gingerbread house recipe. You probably already have all the ingredients you need in your pantry but check for molasses since that isn't used very much anymore and you'll need quite a bit. Molasses actually gives the gingerbread that nice dark gingerbread color.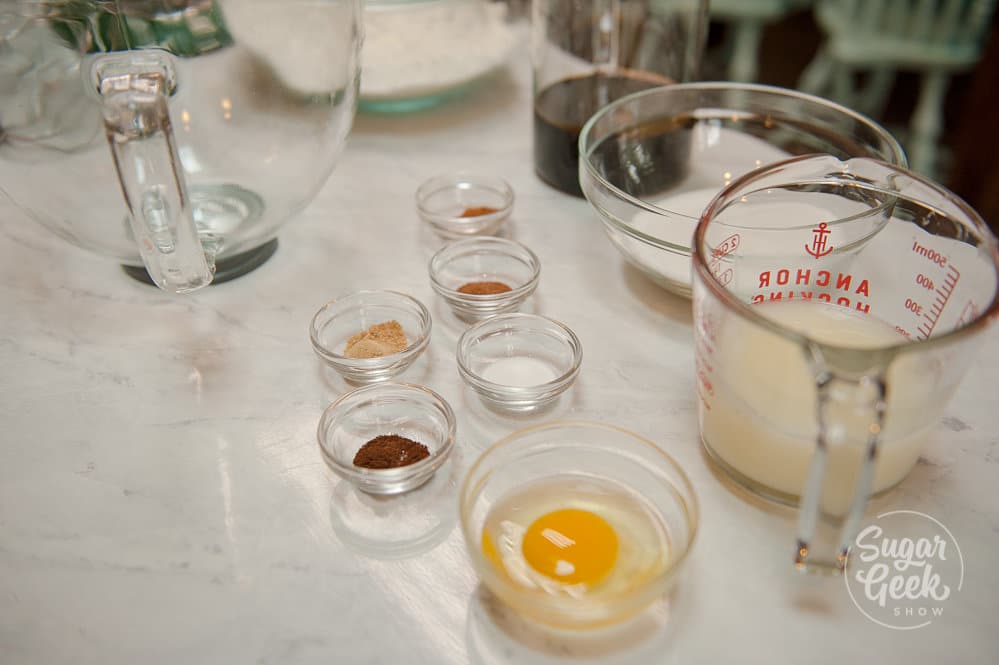 Gingerbread House Step-By-Step
This gingerbread house recipe also uses shortening so make sure you have that on hand. Since we're not eating this gingerbread house, you could really skip all the spices but they add a nice color and scent to the house that looks and smells really nice!
Step 1 - Sift together your flour, cinnamon, ginger, nutmeg, cloves, and salt in a bowl and set it aside.
Step 2 - Melt the vegetable shortening in the microwave or on the stove until it's just barely melted. I'm using shortening because we aren't eating this gingerbread so the taste isn't important.
Step 3 - In the bowl of your stand mixer, combine the shortening, sugar, and molasses. Add in your egg and mix until smooth.
Step 4 - Add your dry ingredients to the egg mixture and mix until a smooth dough forms.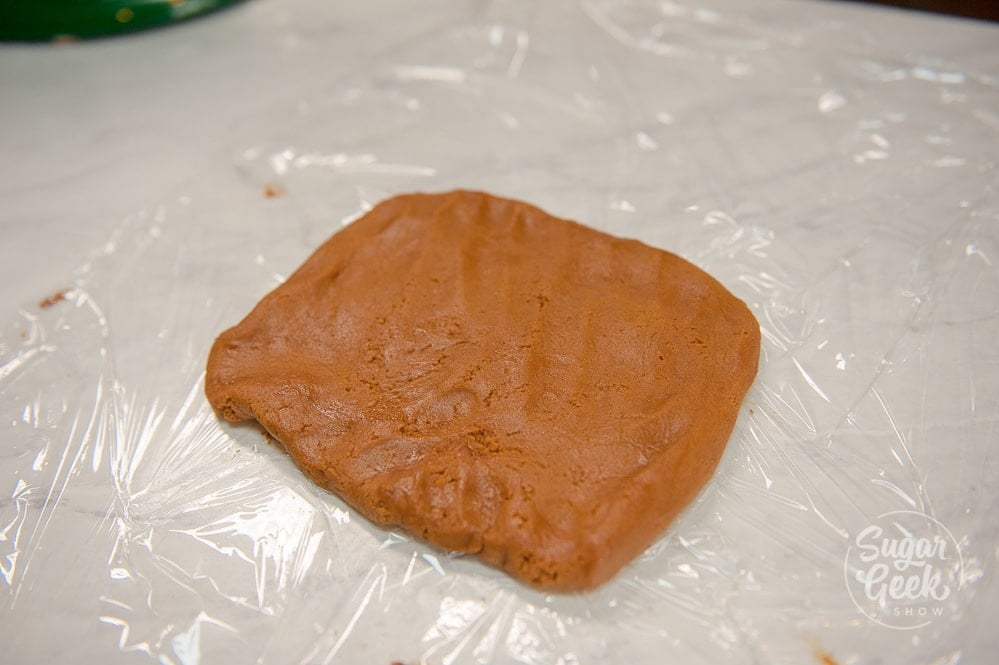 Step 5 - Divide your dough in half and roll it out ¼" thick directly onto a silicone baking mat so that we can pour sugar windows next.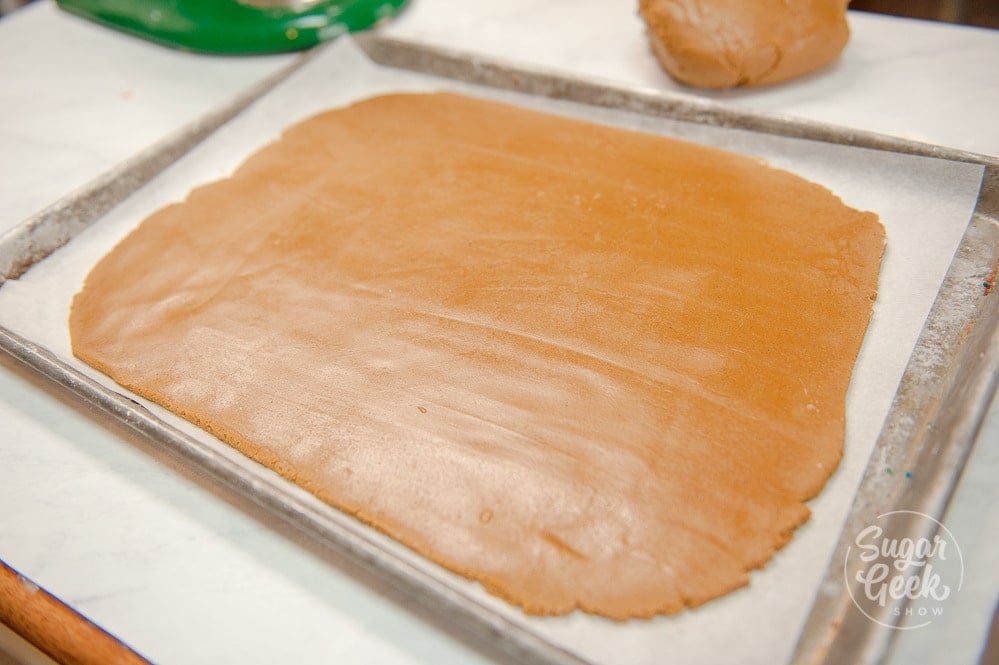 Step 6 - After the dough is rolled out, put it in the freezer for about 20 minutes. This just makes cutting out the templates a little easier and helps them to hold their shape. I try to keep my pieces pretty close together without being TOO close or they might touch during baking. This recipe doesn't spread but it does puff a tiny bit. Keep your leftover dough for later.
Gingerbread House Pattern
I have a gingerbread house pattern that you can use to make your own gingerbread houses. I know it SEEMS very small but once it's assembled, its actually the perfect size for an individual gingerbread house to decorate. One gingerbread house recipe will make three gingerbread houses.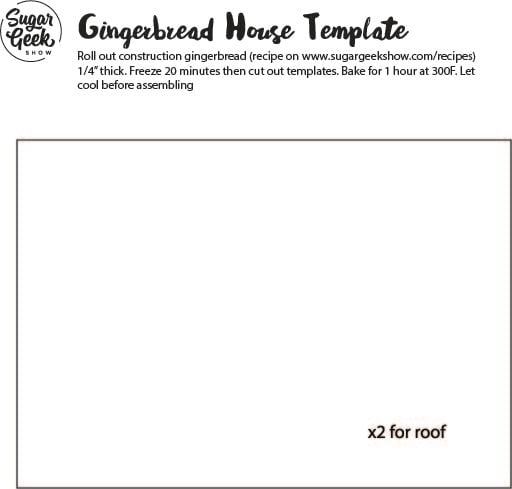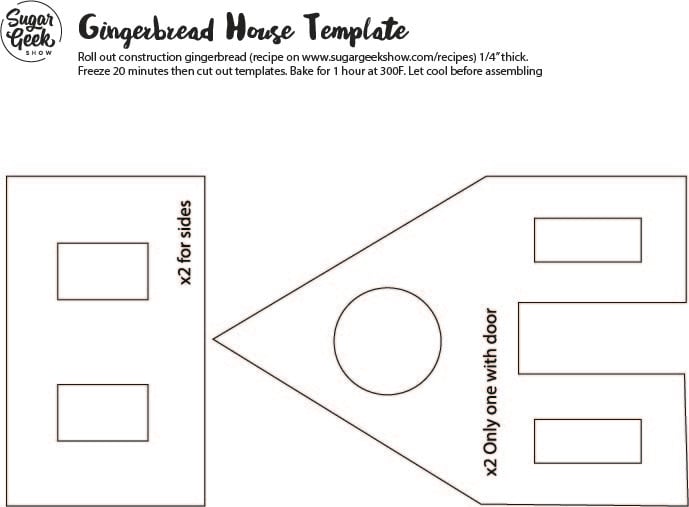 Step 1 - Print your template. Cut your template pieces out.
Step 2 - Take your chilled dough from the freezer and lay your gingerbread house pattern on top. Don't put them too close together or they will touch when they bake.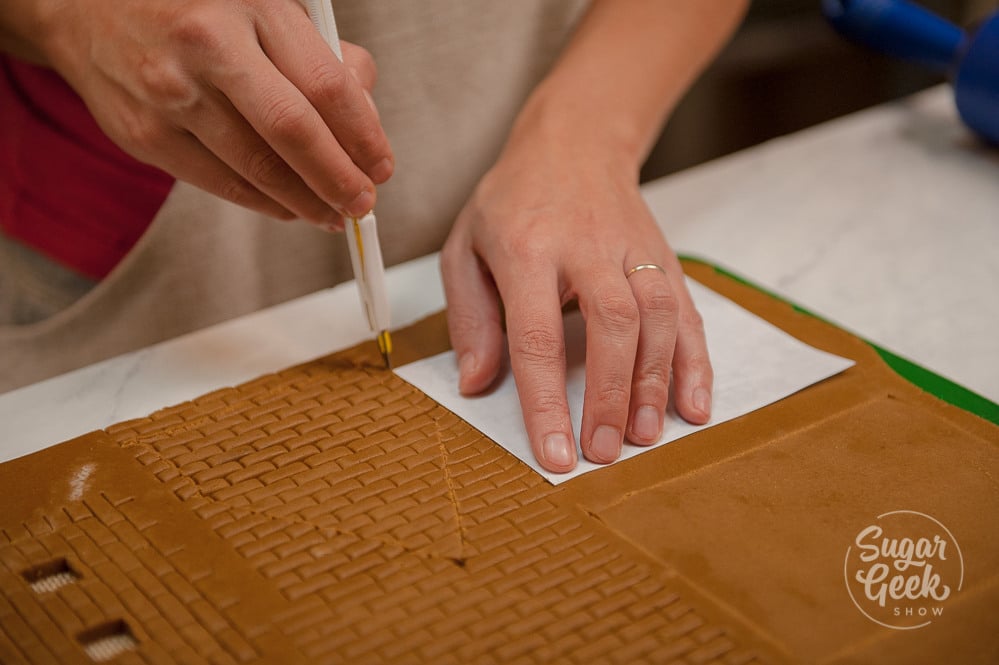 If you want to add a brick texture, now is the time to press it into your dough, BEFORE you cut. I used a x-acto knife to cut mine but any small knife works. Just don't cut through your silicone mat!
Step 3 - Peel away the excess dough and set it aside to roll out for the other houses.
Step 4 - Bake the pieces in the oven at 300ºF for 50-60 minutes. Keep an eye on the color, if you feel like they are getting too dark, you can take them out sooner.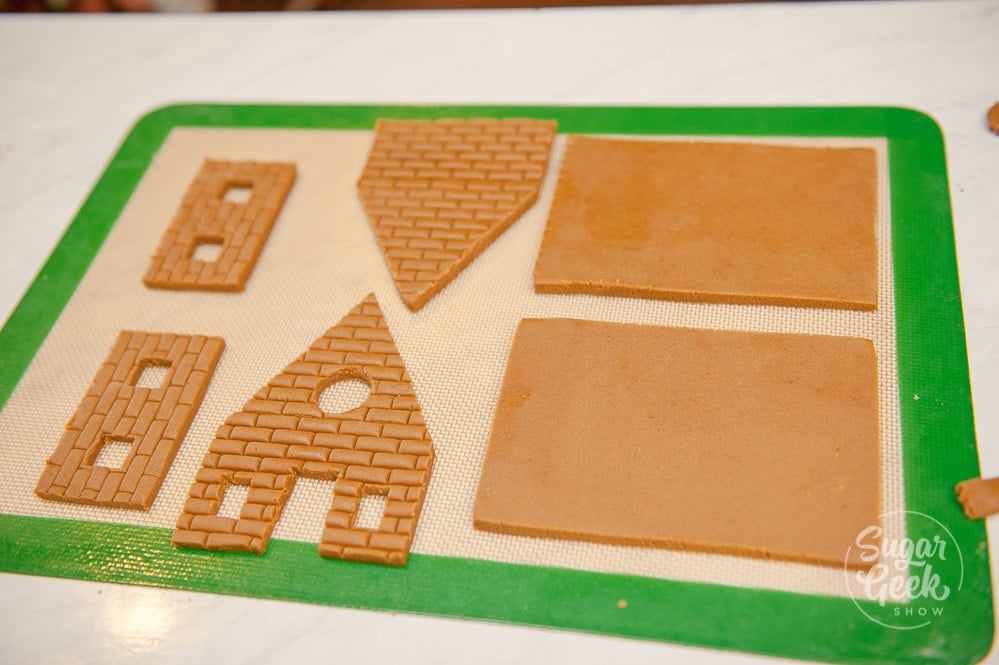 Step 5 - Let the gingerbread cool fully before picking it up to avoid cracks. Use your leftover dough to make the third gingerbread house.
OPTIONAL: How To Make A Brick Texture On Your Gingerbread House
For one of my houses I used a brick impression tool. I like this one in particular because it has nice sharp edges and doesn't distort the gingerbread cookie dough when you push it in. I got mine from Nicholas Lodge.
I just pressed the embossing tool into my cookie dough before baking to get this awesome brick texture on my gingerbread house walls! I love how it turned out!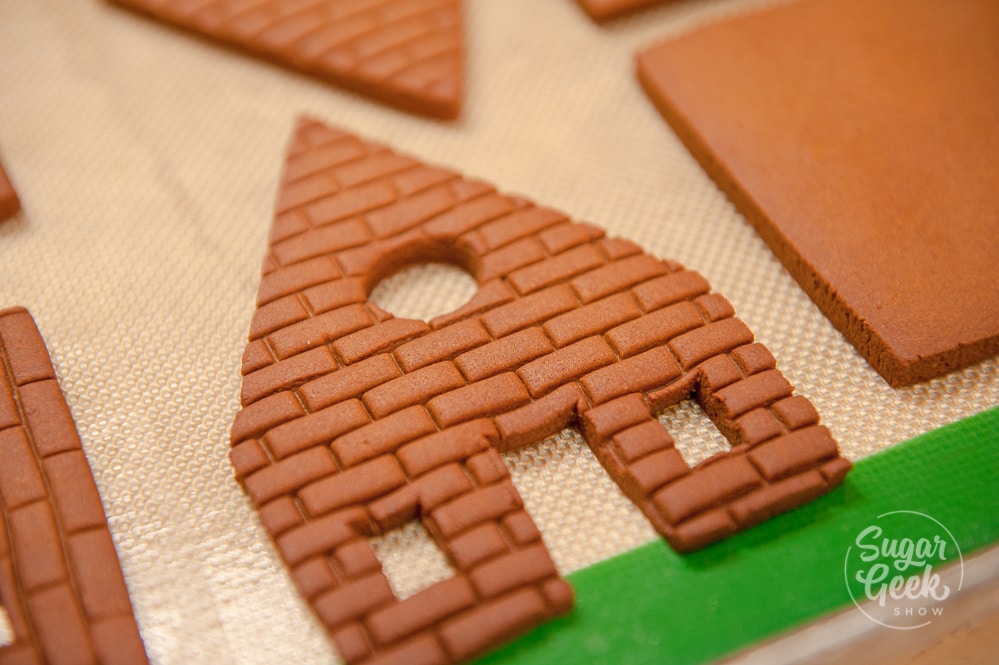 OPTIONAL: How To Make Gingerbread House Windows With Jolly Ranchers
You definitely don't HAVE to put windows in your gingerbread house but if you're extra like me (which I feel like you might be) then you're going to want to make some awesome windows for your gingerbread house! lucky for you it's SUPER easy!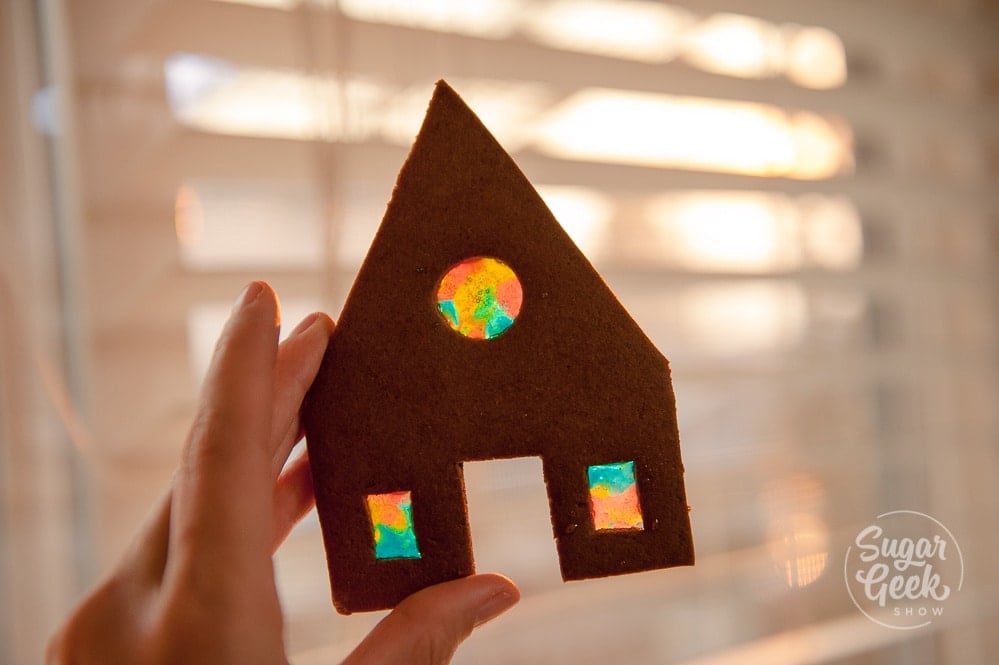 All you need is some hard candies but the trick to windows that stay nice and clear is to use sugar free candy. Sugar free candy is made with something called isomalt and is actually more resistant to clouding than traditional sugar.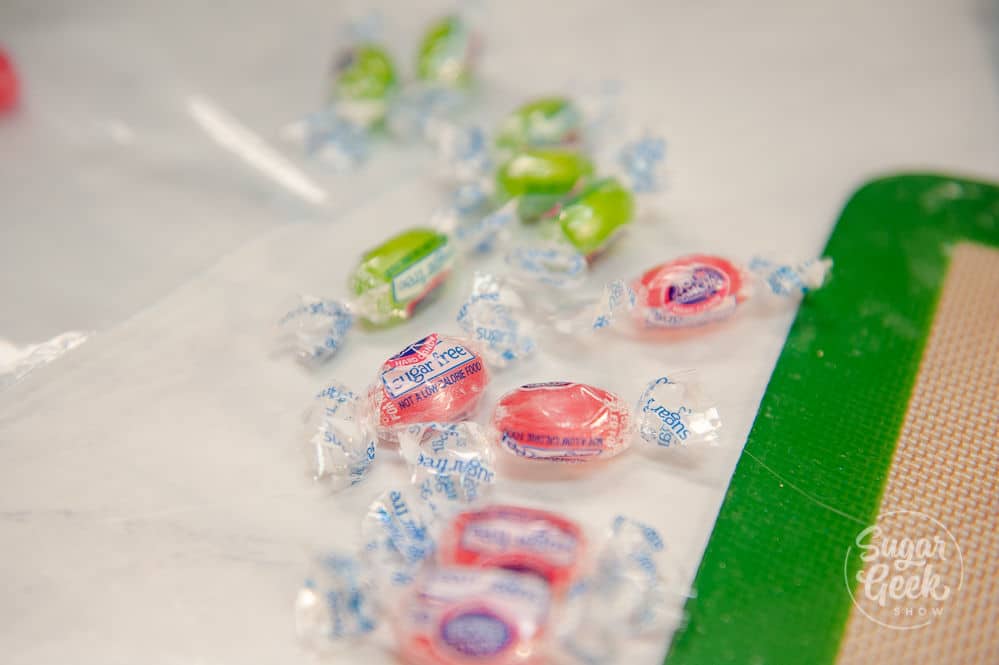 For my windows I used sugar free jolly ranchers and hard candies in pink, blue and green. I broke them up into smaller pieces with a mallet inside a plastic baggie so the pieces wouldn't go flying.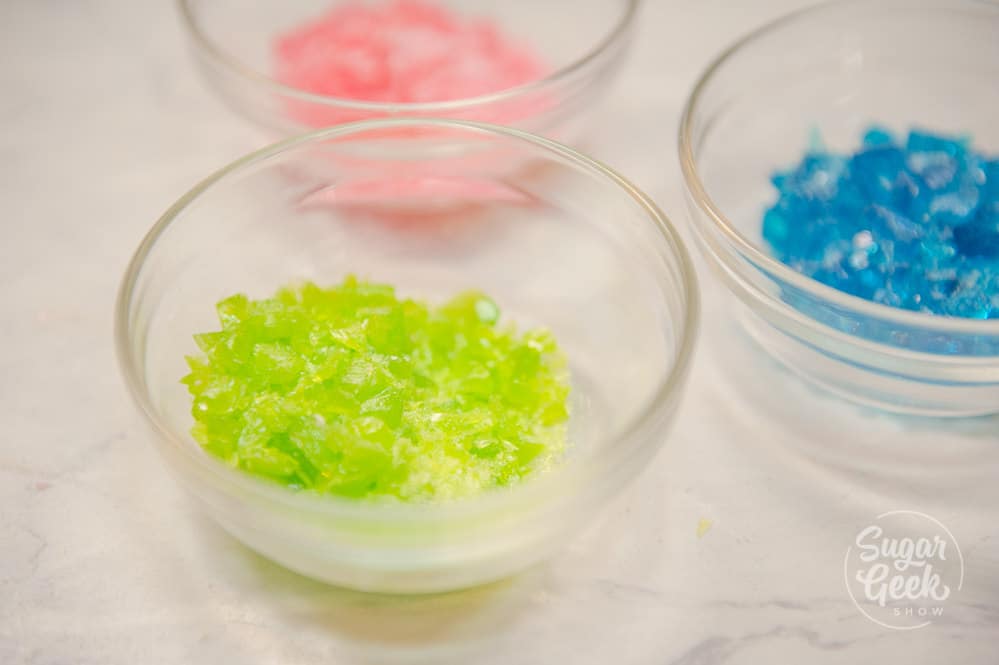 Then all you have to do is put a few pieces of each color into the cut out of your cooked gingerbread. Don't be afraid to fill it up because it thins out a lot once it's melted.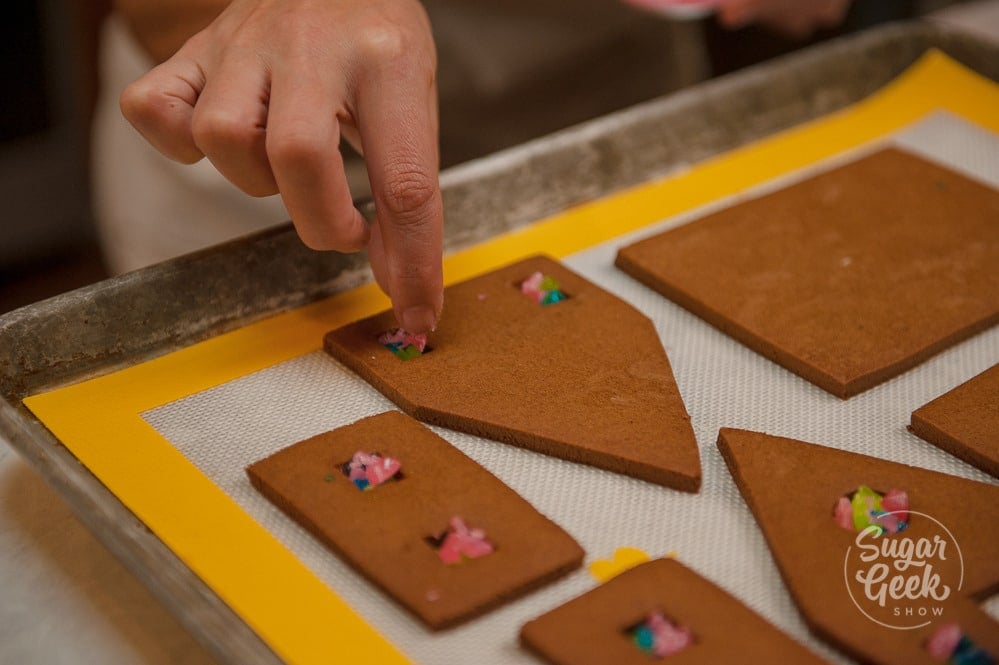 I put the candy into the cutout areas during the last 5 minutes of baking. If they aren't completely melted then you can do another minute but don't leave them in too long or they will burn. Let your cookies completely cool before removing the silicone baking mat from the back. Voila! Super pretty gingerbread cookie windows! And so easy!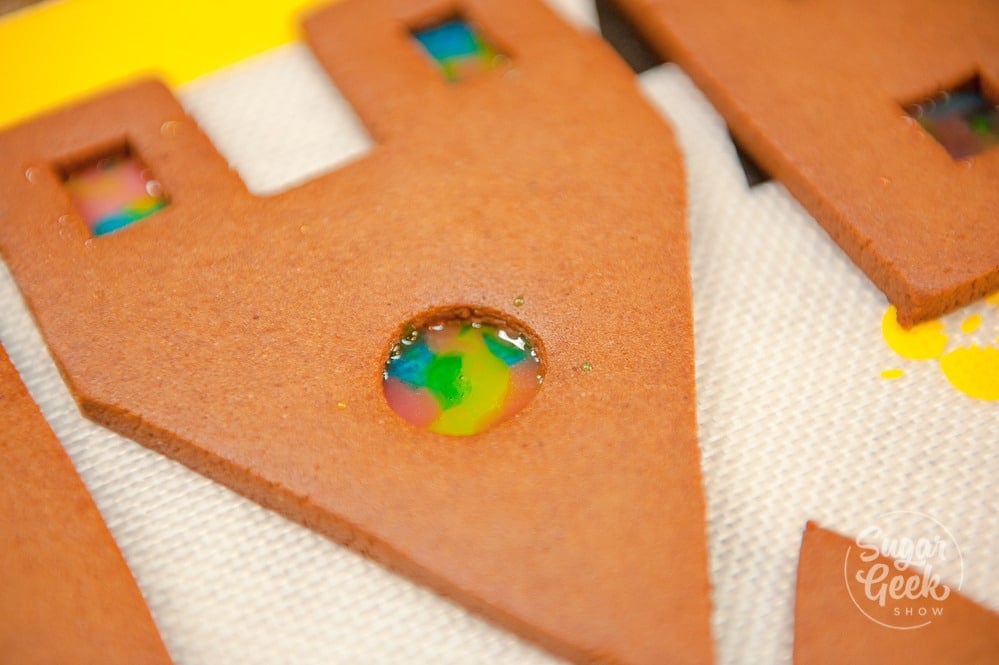 If you want clear windows you can use clear sugar-free candies or you can use isomalt. I like to buy mine pre-cooked and ready to melt from simi cakes and confections. Or you can make your own isomalt from raw granules by using my clear isomalt recipe.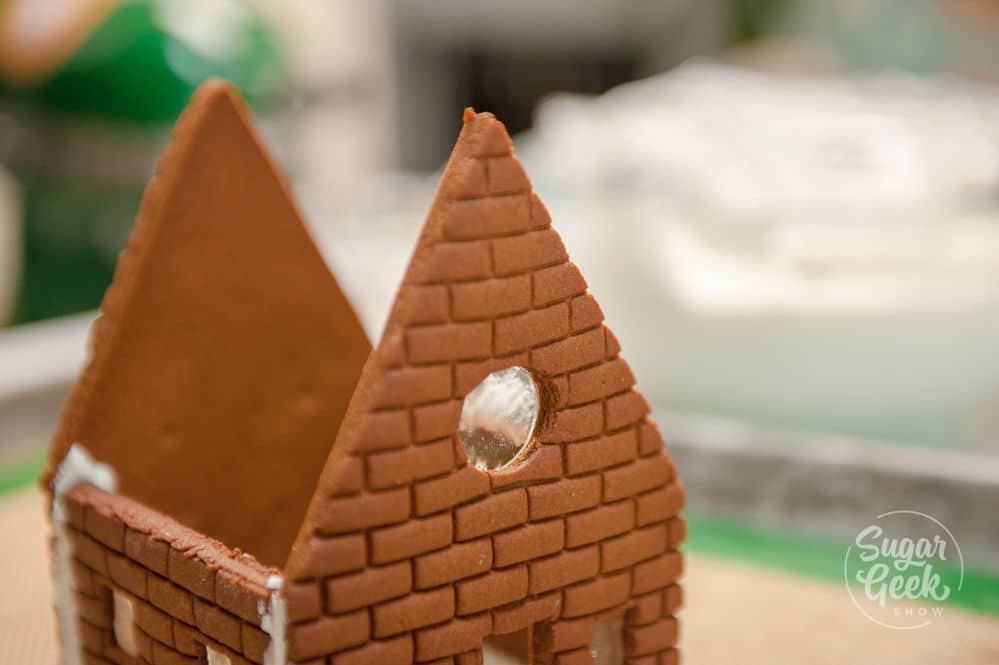 How To Assemble Your Gingerbread House
If you've ever tried to put together a gingerbread house, you know it can be a bit challenging! The main thing you need is some THICK royal icing and some patience. First I recommend making up a batch of my royal icing. The stuff they sell in the kits is too soft!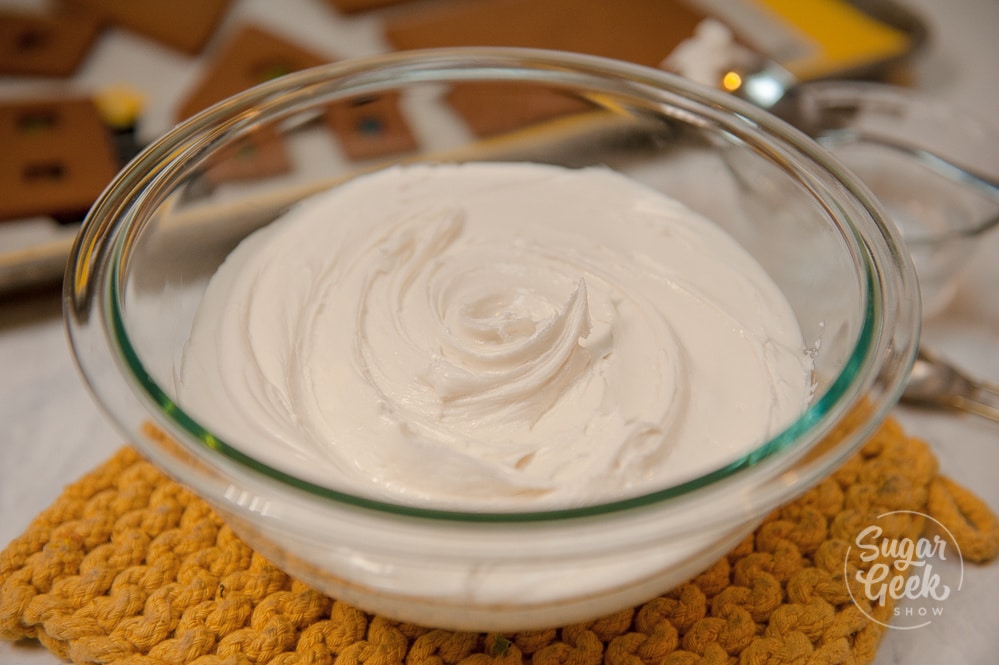 You can also use melted isomalt or even caramel to assemble your pieces by dipping the ends in the sugar and gluing them together but be very very careful you don't drip and get a sugar burn.
Step 1 - Place some of the royal icing into a piping bag and cut off the end to make a small hole or use a #2 piping tip.
Step 2 - Pipe a line on the sides of the front and back piece right along the edge. Don't be skimpy with your royal icing!
Step 3 - Attach the sidewall and place it on a flat surface. Now attach the other sidewall. Then you can put on the back piece. Wipe off any excess royal on the outside but the inside should have lots. Even add more if you want! I let this dry for an hour or so before adding the roof just to be safe.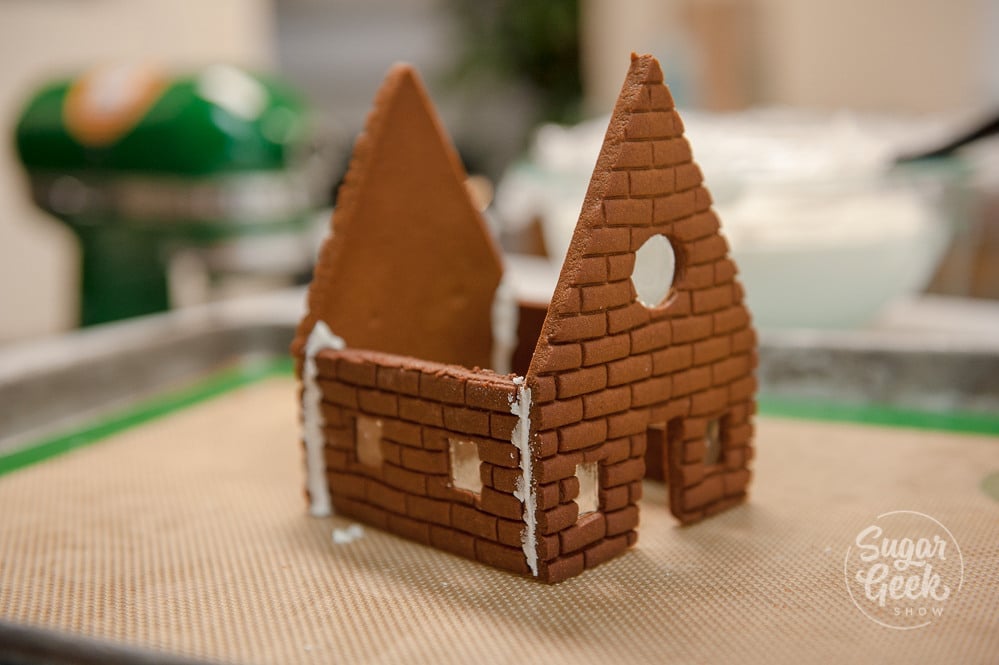 Pro-tip: If you are piping lots of decorations onto your gingerbread house, you can add all your decorations first, let them dry and then assemble your house.
Step 4 - To add the roof, I piped some royal along the top edge of one side of the house then add the first part of the roof. Then I pipe royal to the second part of the house and along the top edge of the first piece of the roof and add the final piece of the roof. Let this baby dry overnight before you start adding candy so that it's rock solid.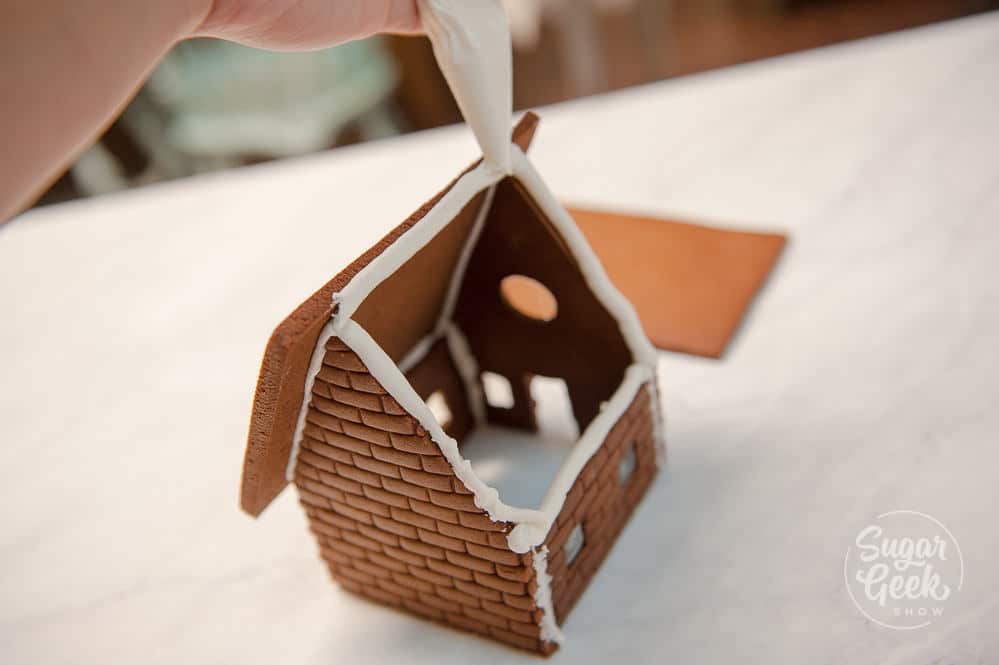 Step 6 - Decorate! Once your gingerbread house is assembled you can start decorating with all kinds of candies and colored royal icing! I LOVE this gingerbread house by Freed's Bakery and will some day attempt something like this. I'm in love with all the colors of the icing and the creative use of candy. If you want more gingerbread house ideas check out my 25 best gingerbread house ideas post.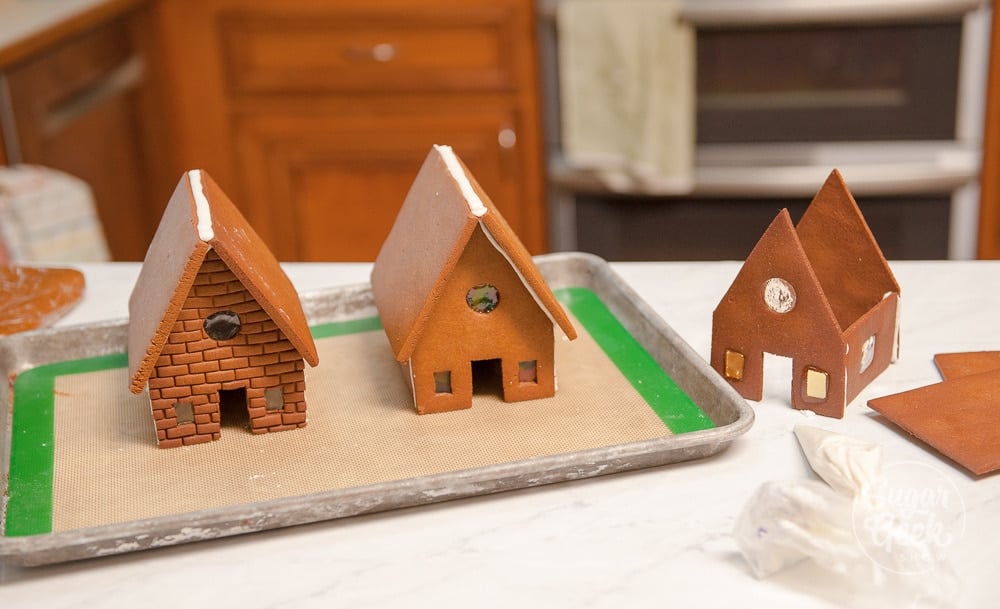 How To Decorate A Gingerbread House
To decorate my gingerbread house, I used a combination of a bunch of candies like M&M, hard candies, candy canes, miniature starburst candies and chocolate bars. You can use whatever candies you like, just mix and match and have fun!
I used my stiff royal icing to attach the candy to the gingerbread house and let it dry overnight before I lifted it up to put the battery-operated tea lights underneath. These little houses look so cute on our bookshelf and make the best decorations for the holidays!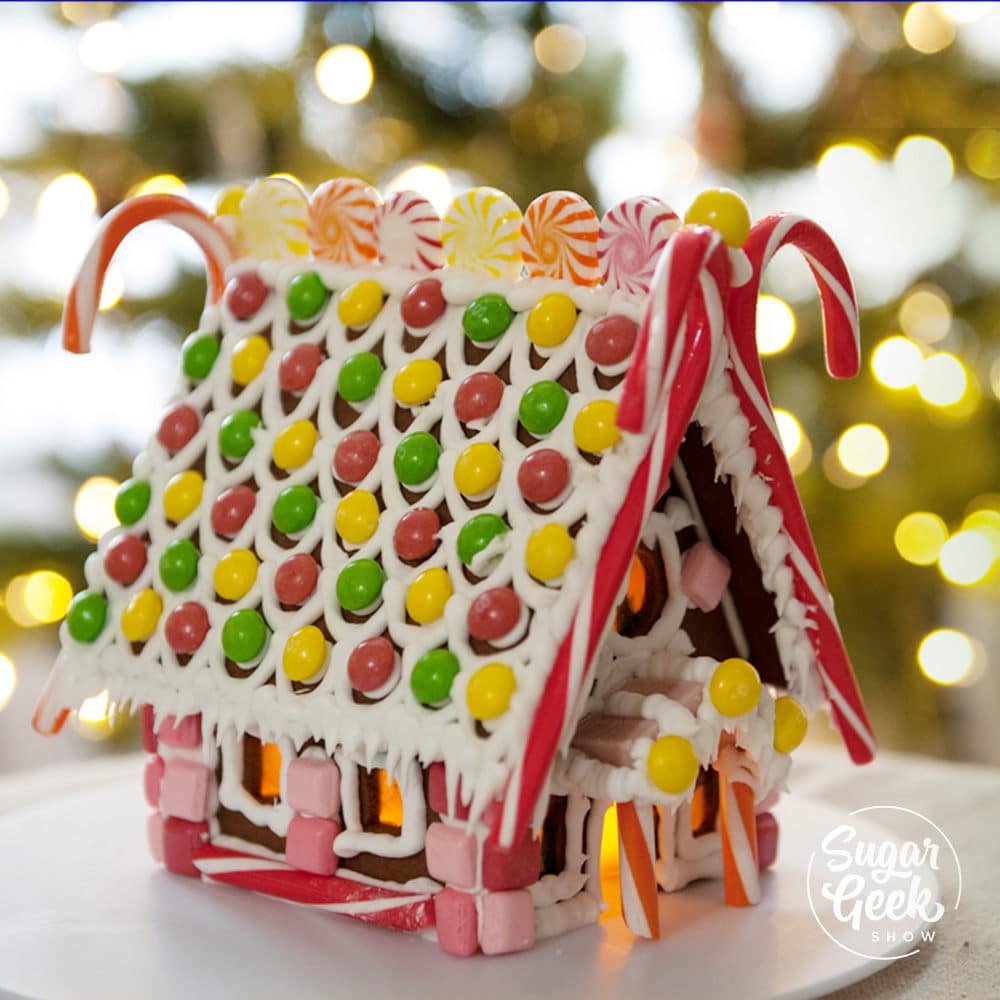 Gingerbread House Recipe Without Molasses
Did you run out of molasses? That's ok! You can replace the molasses in this gingerbread house recipe with a few things. You can use dark corn syrup, honey, maple syrup or even brown sugar in place of molasses. Make sure you use the same amount by weight, not by volume (cups).
I honestly have not made a lot of gingerbread houses but I feel like I could do some legit complicated designs based on what I have learned with this gingerbread house recipe and making a couple of practice ones. I can't wait to decorate these this weekend for Friendsgiving!
Recipe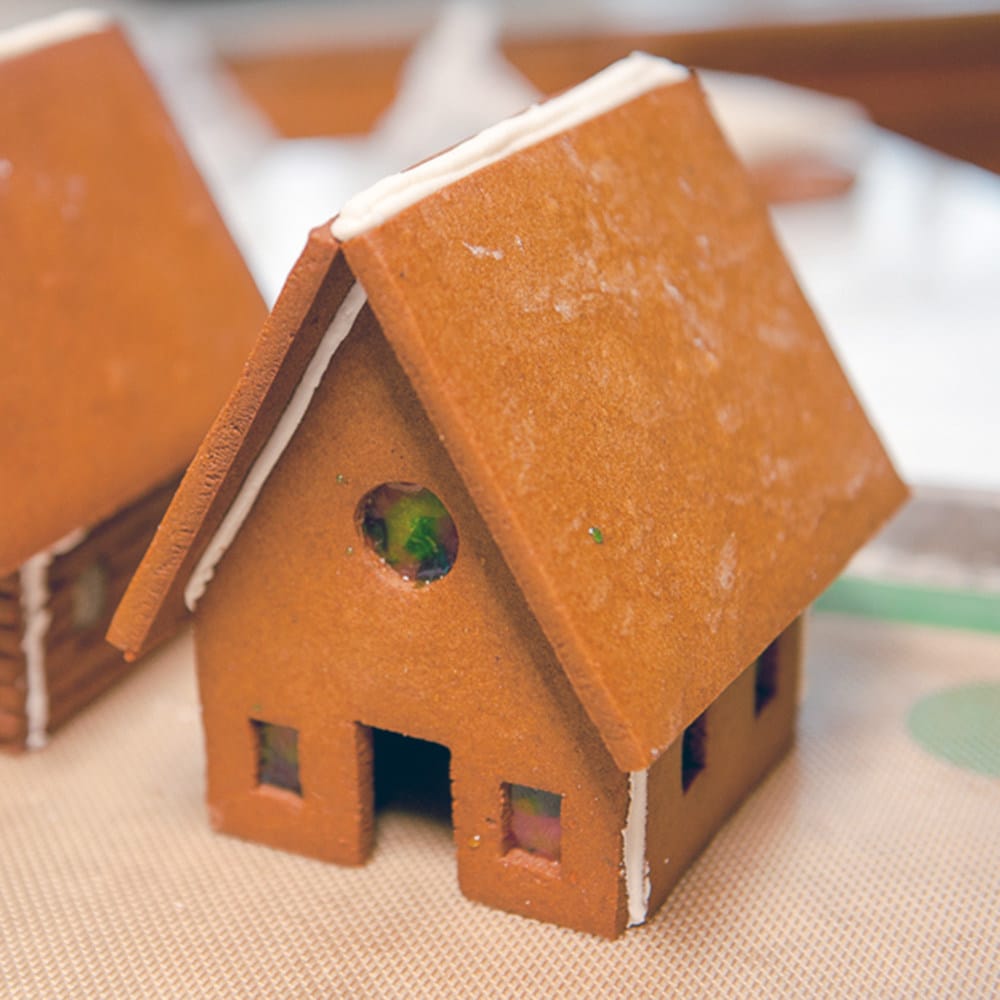 Servings:
3
gingerbread houses
Equipment
Stand Mixer with paddle and whisk attachment

Piping bag and tips
Ingredients
Gingerbread House Recipe
28

oz

AP Flour

¾

tsp

cinnamon

¼

teaspoon

ginger

½

teaspoon

nutmeg

¼

teaspoon

cloves

¾

teaspoon

salt

7

oz

vegetable shortening

6

oz

granulated sugar

16

oz

molasses

1

Large

egg

5

crushed

jolly ranchers or isomalt

for the windows
Stiff Royal Icing Recipe
16

ounces

powdered sugar

sifted

2

ounces

pasteurized egg whites

¼

teaspoon

cream of tartar

1

teaspoon

vanilla extract
Instructions
For The Gingerbread House
Sift your dry ingredients together, set aside

Microwave vegetable shortening (or melt on stovetop in pot) until liquid but not hot

In a stand mixer, whisk shortening, sugar and molasses together. Add the egg and mix until combined

Switch to the paddle attachment and add your dry ingredients. Mix on medium/low until a smooth ball starts to form, do not over mix

Roll out dough onto parchment paper or a baking mat to ¼" thick. Try to make the dough as even in thickness as possible.

Freeze dough for 20 minutes (optional)

Cut shapes out using your templates. Remove excess dough (can be used to re-roll out and make more pieces)

Bake in an oven set to 300º F for 50-60 mins until very firm

Once gingerbread is done, remove from the oven and let fully cool before moving. Your gingerbread is now ready to be assembled.
For The Royal Icing
Combine your egg whites, sifted powdered sugar, and cream of tartar in the bowl of your stand mixer with the whisk attached. 

Mix on low to get the ingredients combined then bump up to high for 1-2 minutes. Add in your vanilla extract and whip until it's white. No need to mix for longer than 5 minutes. 

Place the royal icing into a bowl or container with a lid. Your THICK royal icing is now ready to be thinned down to the consistency you desire. 
Nutrition
Serving:
1
oz
|
Calories:
112
kcal
|
Carbohydrates:
19
g
|
Protein:
1
g
|
Fat:
3
g
|
Cholesterol:
3
mg
|
Sodium:
32
mg
|
Potassium:
129
mg
|
Sugar:
8
g
|
Vitamin A:
5
IU
|
Calcium:
19
mg
|
Iron:
1
mg