Royal icing is that shiny glaze you see on beautiful cookies! It can be colored, piped, flooded and so much more!
Royal icing is extremely versatile considering it's only made from egg whites, cream of tartar, powdered sugar and a dash of vanilla. You can thin it down for piping, glazing or flooding. I'm going to show you everything you need to know about how to make royal icing for cookies.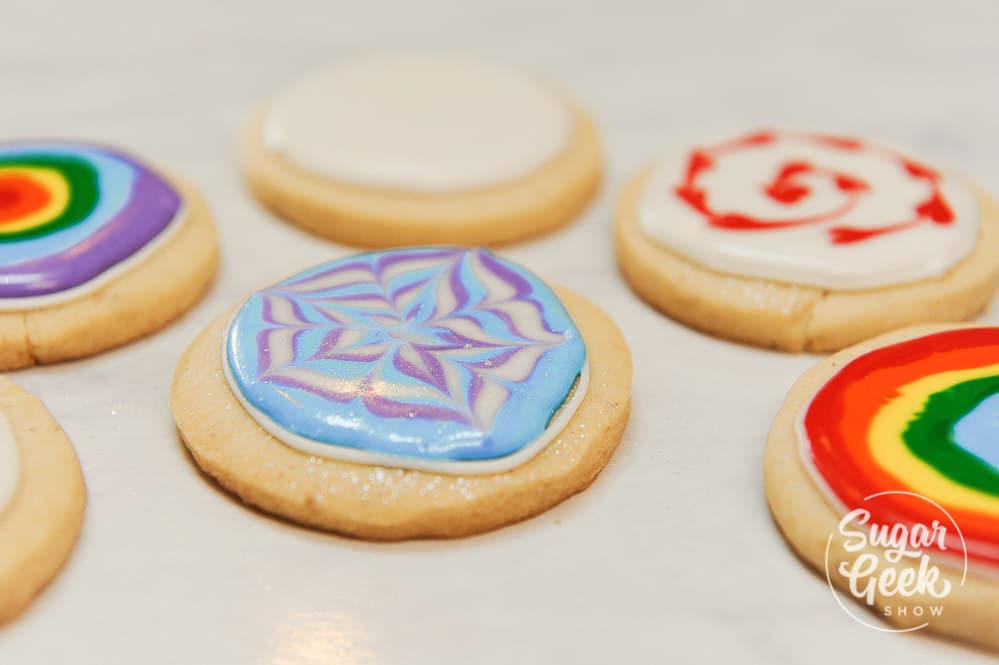 How To Use Royal Icing
The thing that confuses most people about royal icing is that you depending on what you want to do, you'll have to adjust your royal icing consistency (how thick or thin it is). I know that sounds tricky but it's really not! In this video I show you exactly what you're looking for so that you'll be able to adjust your own icing on your first try.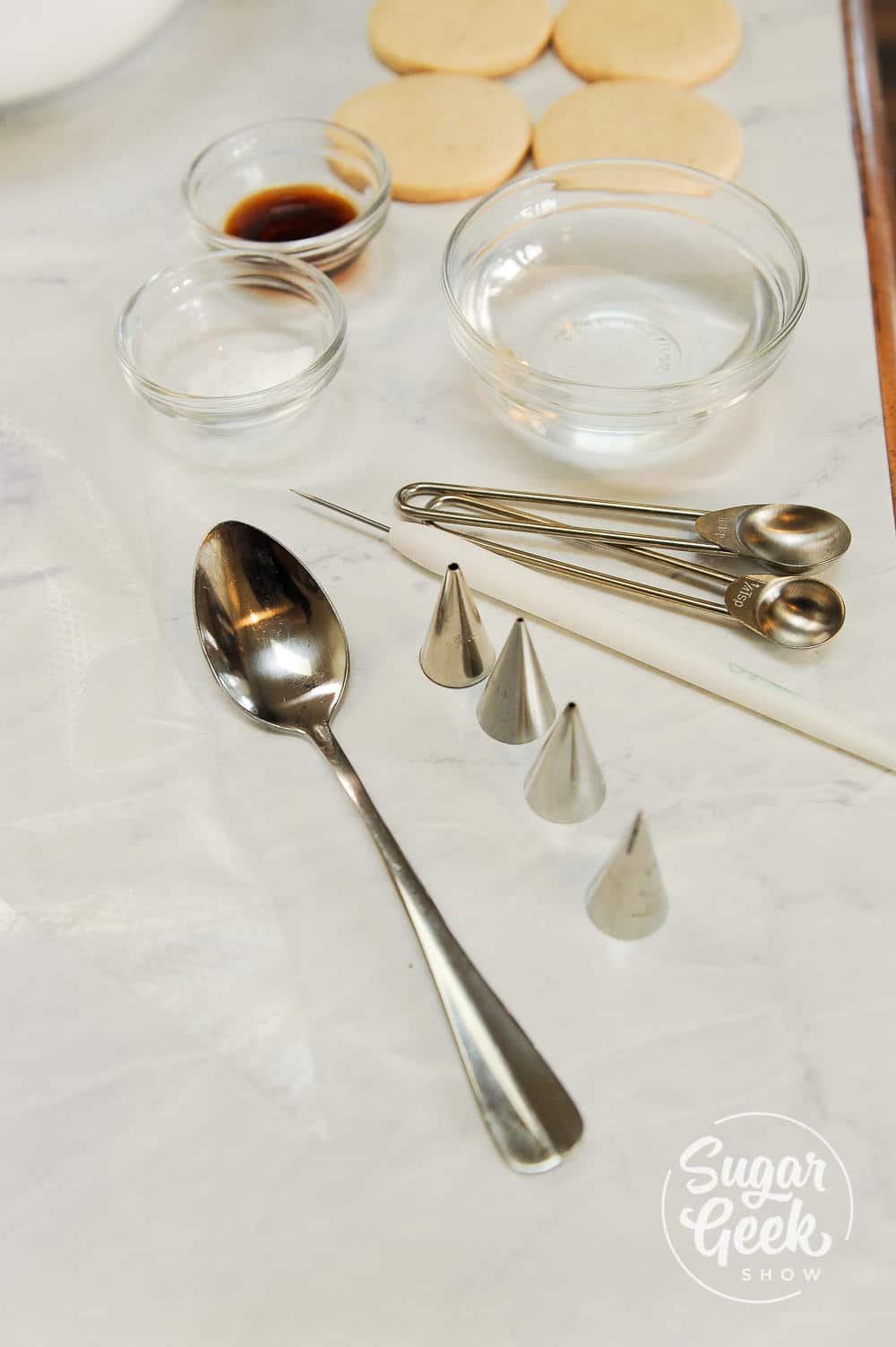 All you need to make royal icing cookies is some bowls, spoons, piping tips, piping bags, a toothpick or cookie scribe for getting rid of bubbles, teaspoons and some water for thinning.
Why Does Royal Icing Have Cream Of Tartar?
Royal icing has cream of tartar added to help the recipe be more stable and nice and white. It's not totally necessary but you'll be happier with the final outcome if you use it. You can find cream of tartar in the baking aisle at the grocery store.
Thick Royal Icing
Thick royal icing is how your royal icing will look after you first mix it. SUPER stiff and pretty much unusable for anything but gluing together a gingerbread house or other 3D cookies. This is what most people get when they follow a royal icing recipe and then they don't understand why it's not thin and smooth. Let's talk about that.
After you make your batch of royal icing, typically you would then divide it according to what you're going to do. In general you'll use about 1 cup at a time (I just eyeball it). A little icing goes a long way.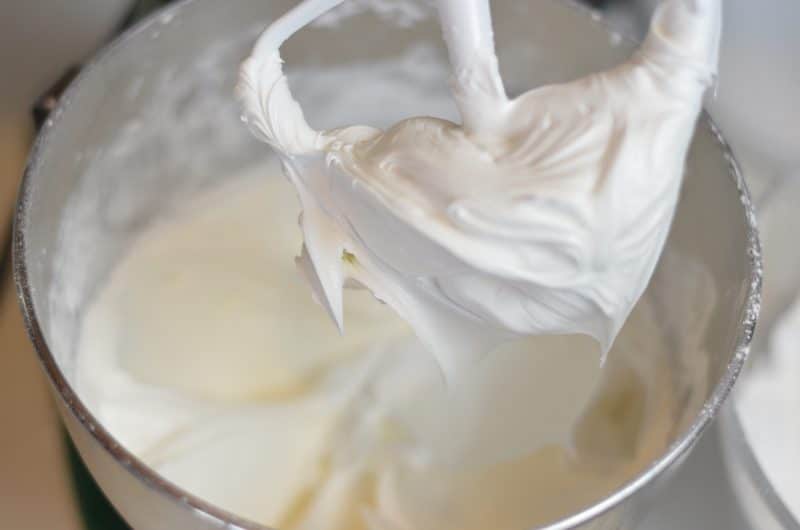 Royal Icing For Outlining
This royal icing is best for making your outlines on your cookies. You still want it to be stiff but not so stiff you can't push it through a piping bag. Start with 1 cup of your stiff royal icing and add 1/2 tsp – 3/4 tsp of water (see video) until you reach the glob consistency.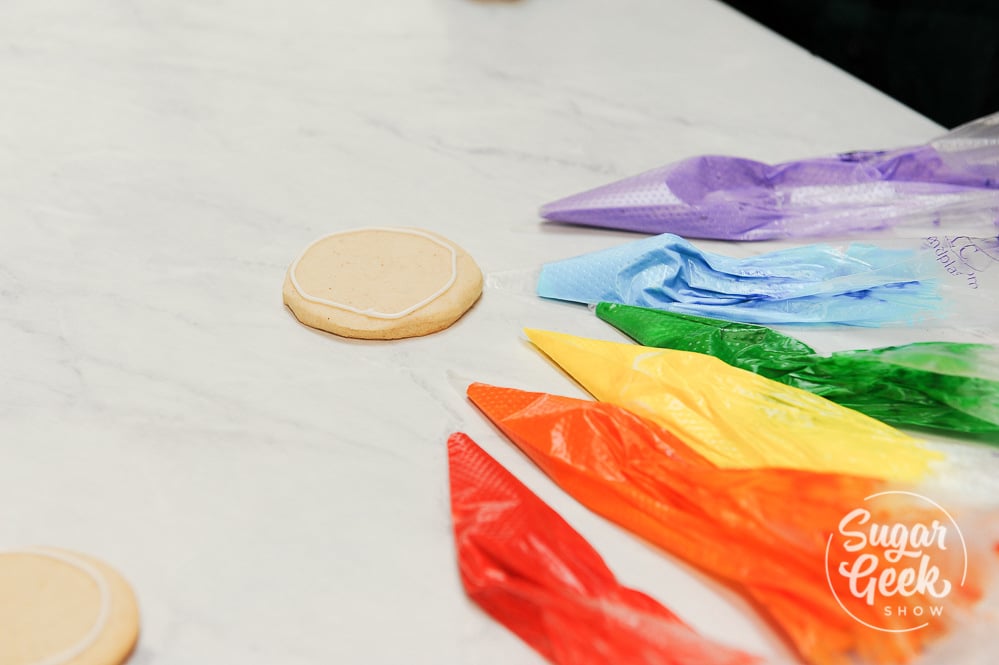 Royal Icing Glaze (Top Coating)
To get a smooth coat of royal icing, you'll want to add 1 1/2 tsp – 2 tsp of water to your thick royal icing. Once you add a little water (a teaspoon or so) then your royal icing will be MUCH smoother. This is also called 15 second icing because when you spoon it back onto itself, it takes about 15 seconds for it to get flat (see video). At this stage you can spoon your royal icing onto a cookie, smooth it out and that's it. I like this consistency the most for quick glazing and I don't worry so much about outlining. This is the perfect consistency for beginners and kids.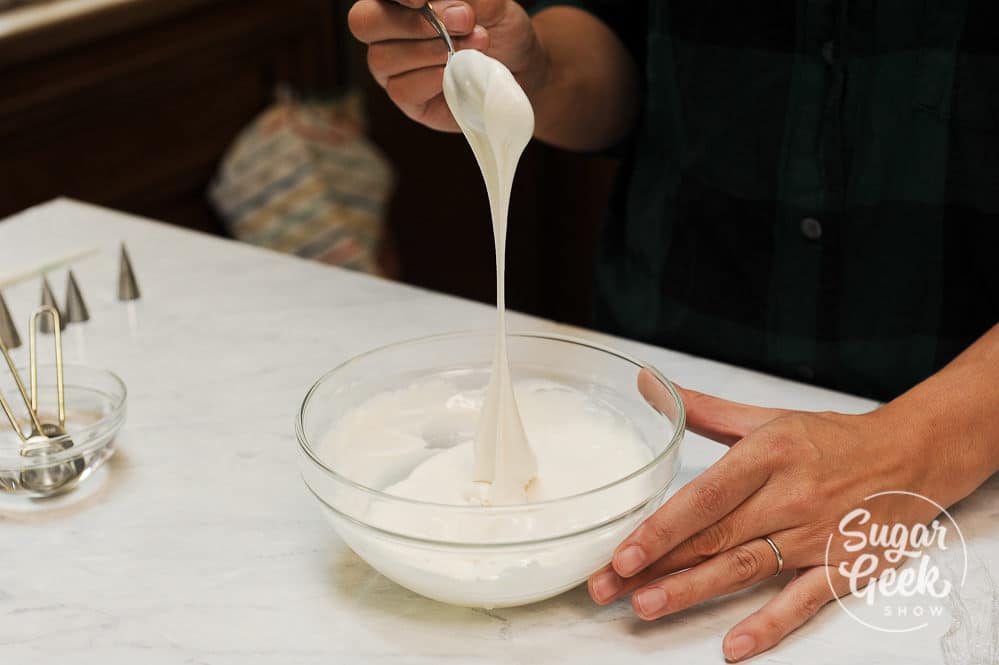 Royal Icing for Flooding
Flooding royal icing is just means that the icing is so smooth and thin, you can flood an area with the royal icing and it will smooth itself. For this you will need to outline your cookie first so that the icing does not fall off the cookie. To make the flooding icing you'll add about 2tsp-3tsp of water to your thick royal icing until you get ribbons that become flat after about 10 seconds (see video).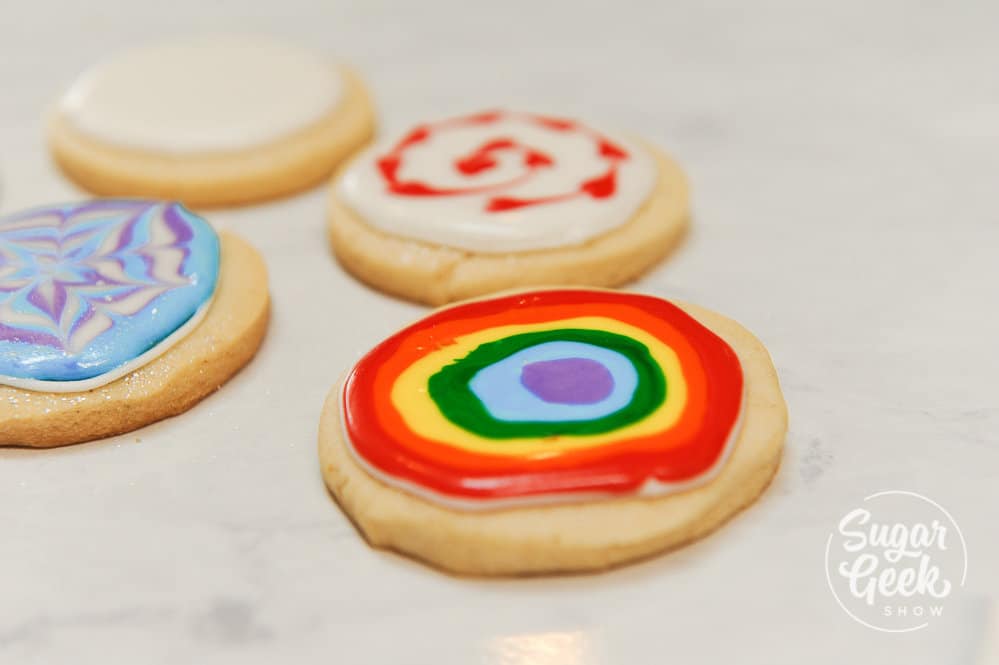 I really like using flooding icing for making rainbow cookies, doing the wet on wet technique or just making fun designs. If you don't have piping bags and tips you can just use ziplock bags with the corners cut off and toss the whole thing when you're done for easy clean-up.
How Do You Get Rid Of Bubbles In Royal Icing?
You might notice a few bubbles in the surface of your royal icing. This can just come from the mixing process or maybe you whipped too much air into your royal icing when you where adding water. If that bothers you, you can use a toothpick or a cookie scribe to get rid of them. Just make quick little circle motions over the bubble until it pops. Do this right after you put the icing on the cookie otherwise it will start to set right away and then the bubbles will be stuck.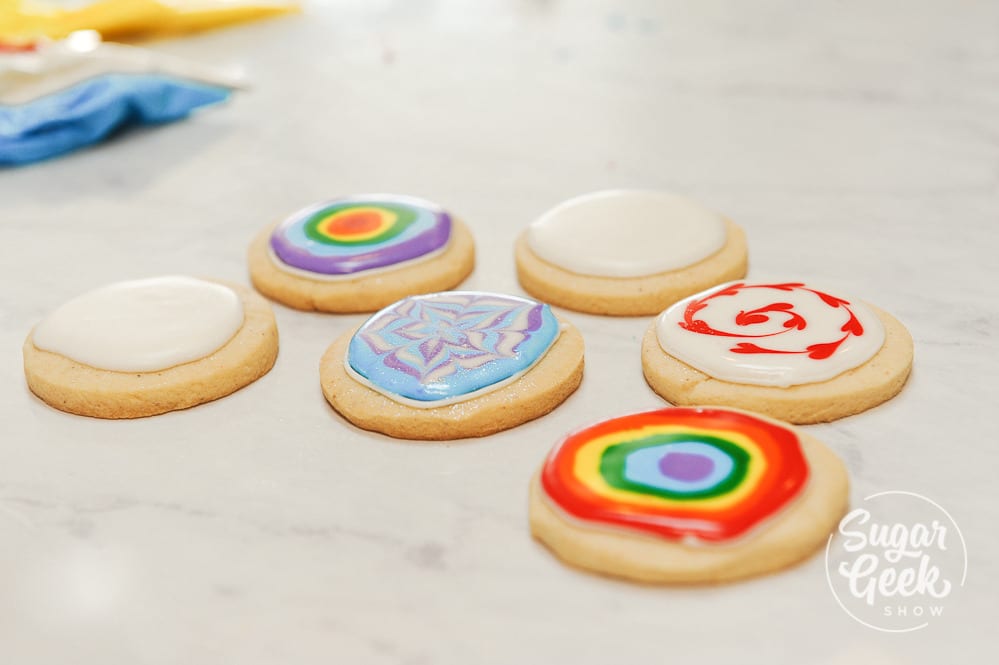 How Do I Fix Gaps In My Royal Icing?
If you have areas on your cookie where the icing did not go, you can use your toothpick or cookie scribe to gently push the royal icing to where you need it to be. You'll often see the pros doing this in those fun timelapse videos. Royal icing is very forgiving, you just need to put it in it's place… literally.
Why Do I Have Lumps In My Royal Icing?
You might have lumps or clumps in your icing if you didn't sift it first. If you don't have a sifter, you'll have to work around them but it can really affect how smooth your final cookie is. The other thing is you need to keep your royal icing covered with plastic wrap so you don't get dried crusties in your mix while you're working.
How Do I Color Royal Icing?
Coloring royal icing is super simple. You can use any food coloring you like but you don't need much. Start with one drop per cup and go from there. Make sure when you're adding your color you mix with a spoon and try not to add any air into your icing.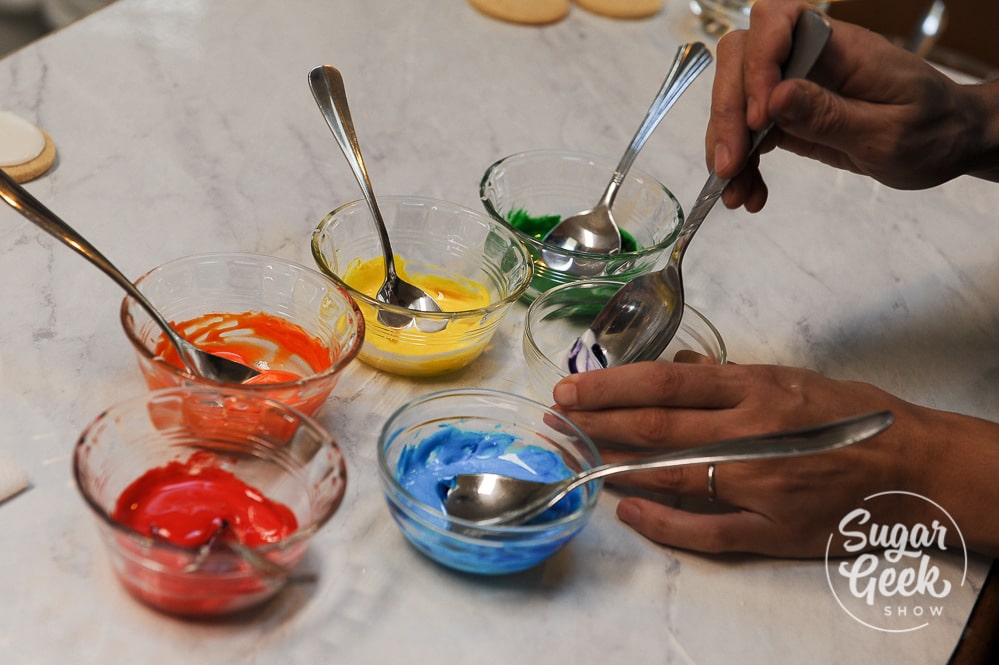 How Do I Fix Royal Icing That Is Too Thick?
If your royal icing is too thick, then continue adding water in 1/4 tsp increments and testing for the glob or ribbon stage. Adding too much water will make it really thin.
How Do I Fix Royal Icing That Is Too Runny?
You can add sifted powdered sugar into your thin royal icing until it's as thick as you need it. It's much harder to fix thin royal icing though so it's best to try not to add too much water so you don't have that problem.
Watch the video below on how to make royal icing in the three different consistencies! If you have a question for me, leave it in the comments.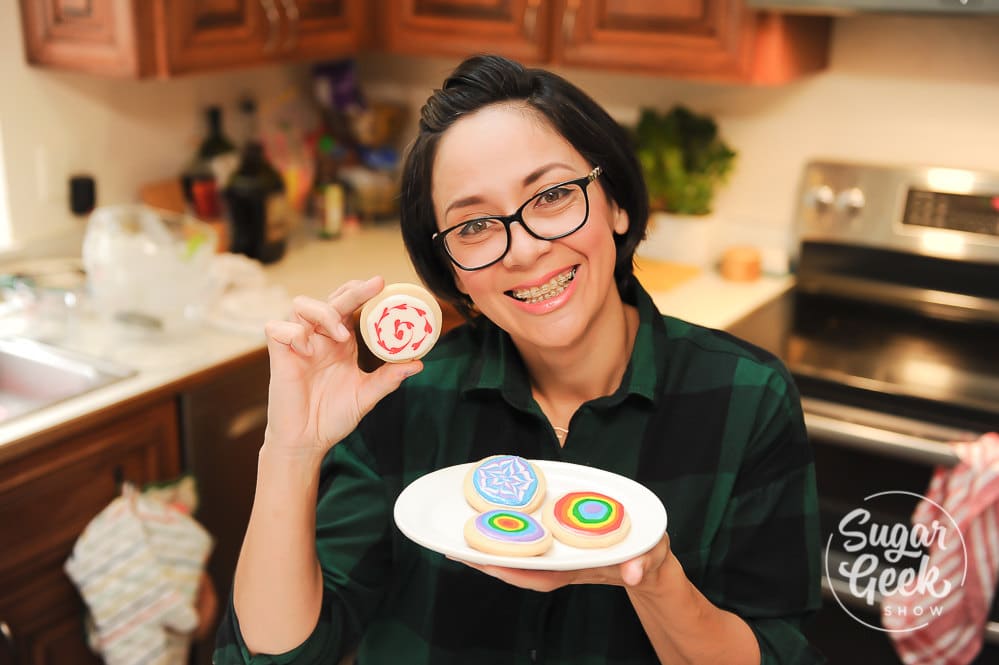 Should I Use Fresh Egg Whites or Meringue In My Royal Icing?
The short answer is, use whatever you feel comfortable with. It's not dangerous to eat raw egg whites in royal icing because of the chemistry between the eggs and the sugar. In this recipe we're actually using pasteurized egg whites which are heat treated. If you prefer to use meringue powder in place of egg whites, that is ok too. Two tsp of meringue powder plus two Tablespoons of water is equal to one egg white. One egg white weighs one ounce.
Cake Batter and Frosting Calculator
Select an option below to calculate how much batter or frosting you need. Adjust the servings slider on the recipe card to change the amounts the recipe makes.
Choose a pan type
Choose a cake pan size
(based on 2" tall cake pan)
Choose a cake pan size
(based on 2" tall cake pan)
Choose a cake pan size
(based on 2" tall cake pan)
Cups of Batter Needed
8 cups
Cups of Frosting Needed
5 cups
Did You Make This Recipe?Leave a rating and tell me how it went!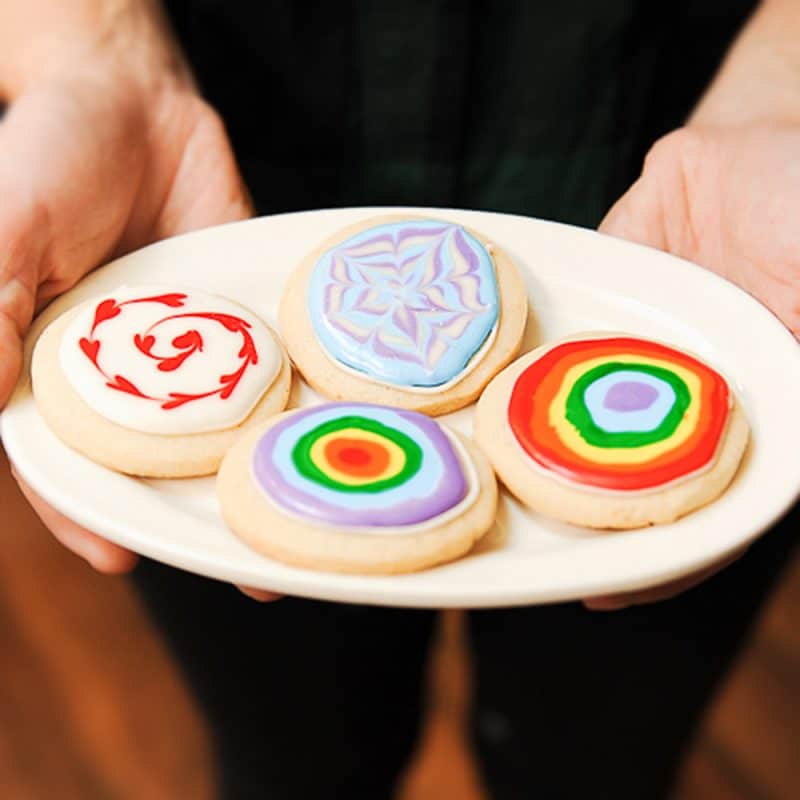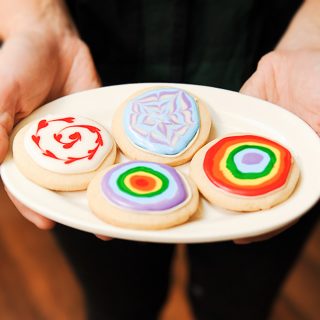 Royal Icing
This is your basic royal icing recipe using egg whites. This royal icing dries nice and smooth and rock hard! The only recipe you will need for gingerbread houses, piping, flooding and glazing. This recipe makes enough to cover 80 medium sized cookies! If you need less you can cut the recipe in half. Store leftover icing covered in plastic wrap at room temperature. Stir before you use it.
Print
Rate
Never Miss A Cake
Serves: 4 cups
Calories: 905kcal
Ingredients
32 oz (907 g) powdered sugar sifted
5 oz (142 g) pasteurized egg whites
1/2 tsp (1/2 tsp) cream of tartar
1 tsp (1 tsp) vanilla extract substitute any flavor you desire
Instructions
Combine your egg whites, sifted powdered sugar, and cream of tartar in the bowl of your stand mixer with the whisk attached.

Mix on low to get the ingredients combined then bump up to high for 1-2 minutes. Add in your vanilla extract and whip until it's white. No need to mix for longer than 5 minutes.

Place the royal icing into a bowl or container with a lid. Your THICK royal icing is now ready to be thinned down to the consistency you desire.
Nutrition
Serving: 50g | Calories: 905kcal (45%) | Carbohydrates: 227g (76%) | Protein: 3g (6%) | Sodium: 74mg (3%) | Potassium: 61mg (2%) | Sugar: 221g (246%) | Vitamin A: 310IU (6%) | Iron: 0.7mg (4%)