Isomalt - The Perfect Edible Medium
Isomalt is the perfect thing for making beautiful clear candy decorations for your cakes, candies and desserts! Isomalt is similar to using sugar except that it doesn't turn a yellow color when it is heated to high temperatures. It also stands up to humidity better than sugar so it's a great choice to use as a decoration.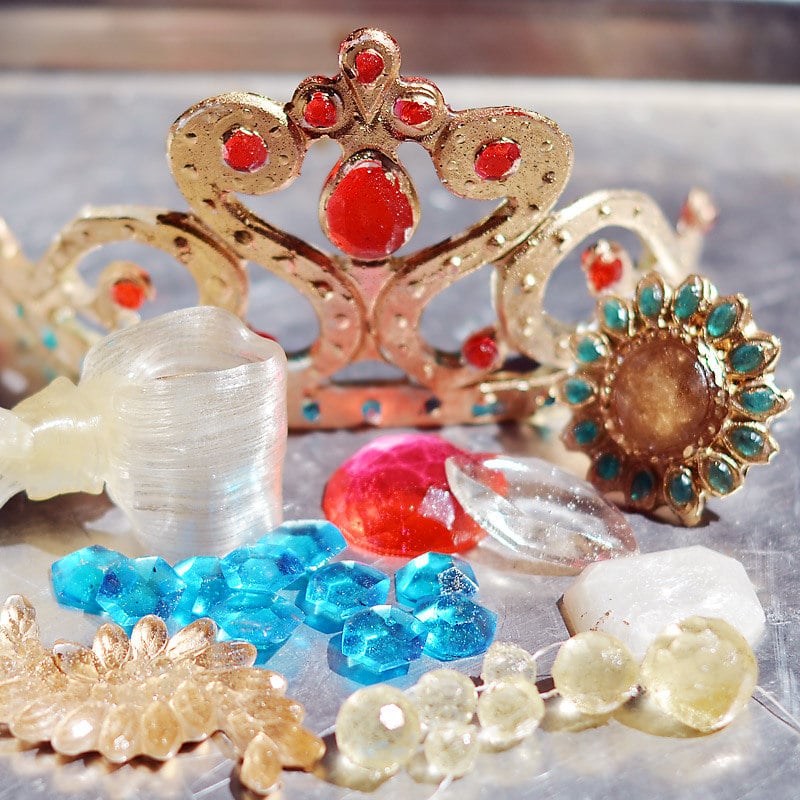 What Is Isomalt?
Isomalt is a sugar substitute (usually found in sugar free candies) and is GREAT for using as edible decorations. Isomalt is probably not something you've heard of unless you are a cake decorator or pastry chef but you don't have to be an expert to use it!
Can You Eat Isomalt?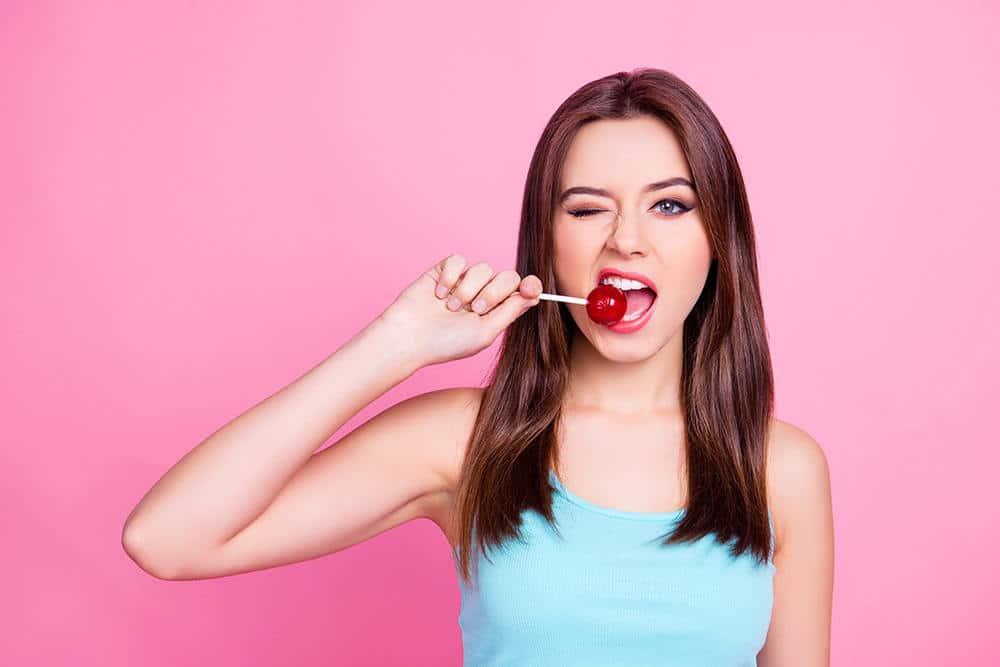 So like... can you eat it?
I get that question a lot.
Isomalt is actually made from beets and is safe to eat. The reason why some people think it's not edible is that your body does not actually digest it. It passes right through you (literally) so if you eat a LOT you can get an upset stomach but you'd have to eat more than a golf ball sized piece for it to do any damage.
Where Do You Get Isomalt?
There are basically two different types of isomalt you can buy. Sometimes you can find raw isomalt granules at cake supply shops or you can buy them online. The kind that is raw and still needs to be cooked to the proper temperature.
The benefits of buying your own raw isomalt and cooking it yourself is that it's a lot cheaper BUT if you don't do it correctly you could end up with a big clumpy mess so be sure to follow my recipe for cooking clear isomalt if you want to make it yourself. Once you cook it you can then pour it into small puddles or silicone ice cube tray and let it cool. Once cooled you can store it in ziplock baggies and you'll have isomalt on hand any time you need some!
Then there is pre-cooked isomalt that all you have to do is melt it down in a microwave. Our first tip for working with isomalt is buying it Ready-To-Use from Simi Cakes & Confections! Their ready to use isomalt can be popped in the microwave in 20-30 second intervals and boom it is ready to pour, pull or cast! SO convenient. Simi Cakes isomalt is exceptionally clear and definitely affordable. One of the best things about isomalt is there is never any waste so you really get your money's worth.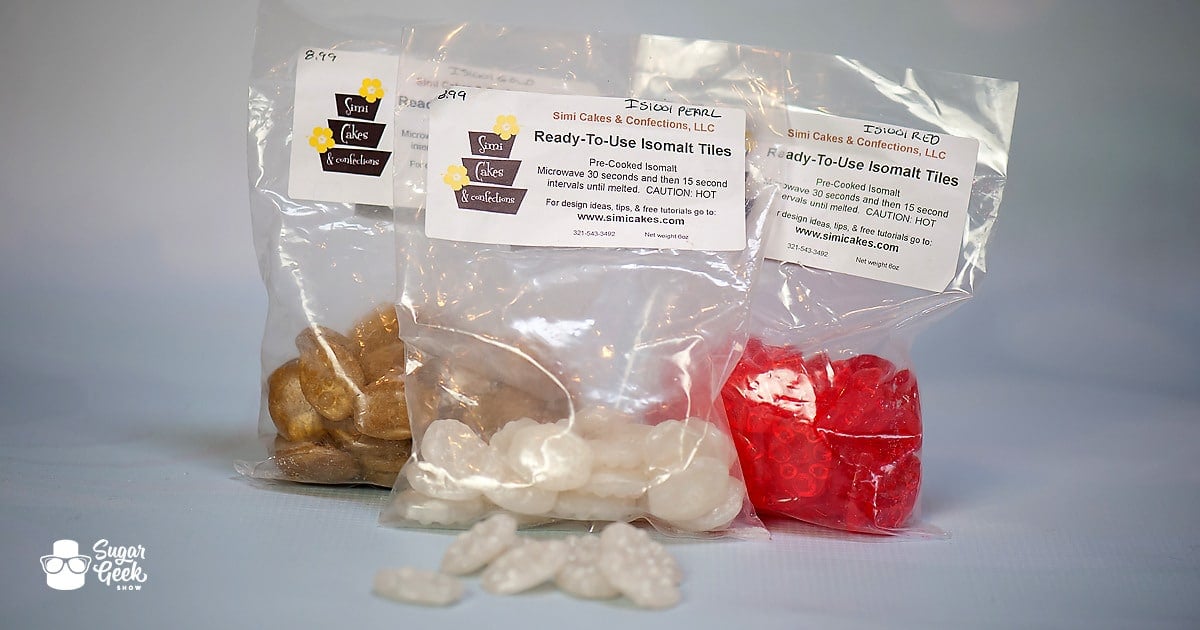 Equipment For Working With Isomalt
To work with isomalt you will need a few tools! You can find any of these items at most grocery stores or you can have a glass of wine and add it all to your online cart in one swoop like I did *grins*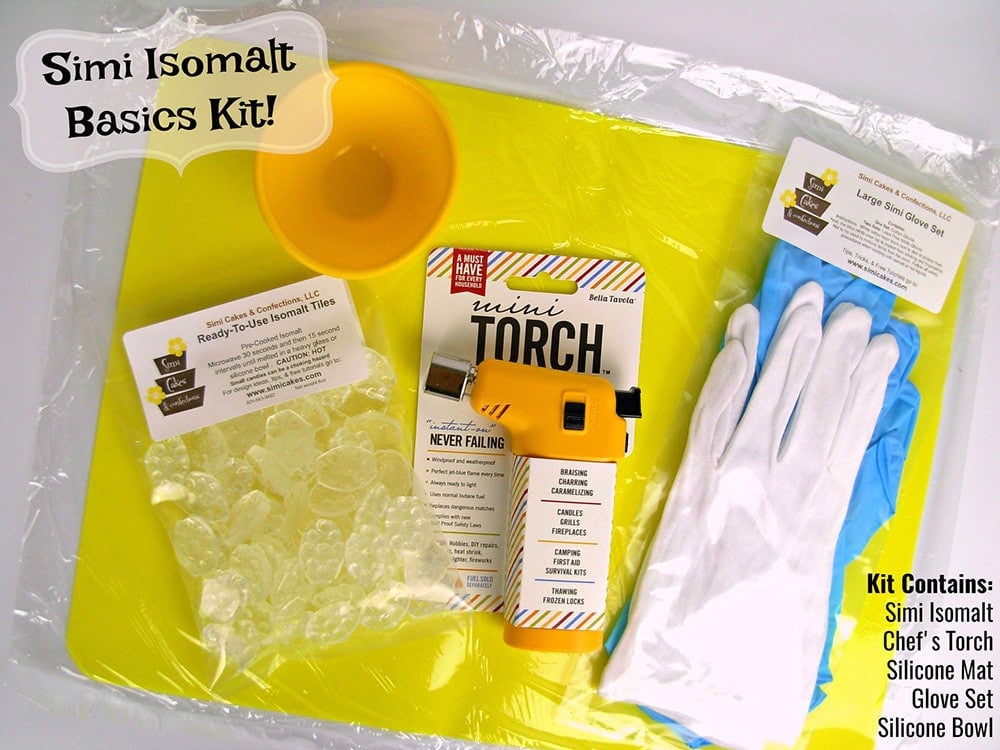 Simicakes makes a beginners isomalt tool kit that really is perfect if you want to just start making cool stuff right away but I'll also list them out separately for you. *note: this list contains affiliate links which does not affect the price for you.
Small Blow Torch - A must have for clearing up the surface bubbles, gluing together pieces and re-heating sections to keep working with them. Who doesn't enjoy making fire??
Silicone Mat - Inexpensive and easy to find, this is a must have for working on top of. Silicone is heat resistant so the isomalt wont stick to it (unlike your dining room table).
Silicone Bowl - I am notorious for stealing these bowls from my friend Sidney at cake shows. You can never have too many! They are perfect for melting down small amounts, coloring or letting it cool so you can pop out the leftovers and store it to use later. For very small pouring, sometimes I use silicone cupcake liners but you have to be careful not to fill them too full.
Gloves - I actually prefer using nitrile gloves that I buy at my local pharmacy. I get the size small for a tight fit and it protects my hands from getting burned from little drips. If melted isomalt lands on your skin and you try to wipe it away, you'll take your skin with it. When you have gloves on, all you have to do is take off the glove if you get a drip on you and you won't get a burn.
Airbrush Color - This is optional but great for adding color to your isomalt. I prefer to buy it clear and color it as I need it rather than buying pre-colored isomalt.
Cake Gloss - You'll need to spray your finished pieces with some glaze to seal it from humidity, otherwise they will get cloudy and white. Spray them right after you make them. I love the cake gloss from swank cake design because it's a very fine spray and isn't very yellow.
Candy thermometer - You'll only need this if you're going to be cooking your own isomalt from raw granules but I am including it just in case because you definitely can't make your own without it.
Things To Make With Isomalt
Ok so I bet you're super excited to actually MAKE something with isomalt now huh? I don't blame you, it's pretty freaking awesome to work with! Before you start melting and torching, check out this great video on the basics of working with isomalt from Simicakes
Shiny Isomalt Gems - One of the first things I ever made with isomalt was shiny gems! I was obsessed! I made sooo many! To make the gems you can use hard candy molds which look like plastic but are actually acrylic. Don't put isomalt in plastic molds, they will melt!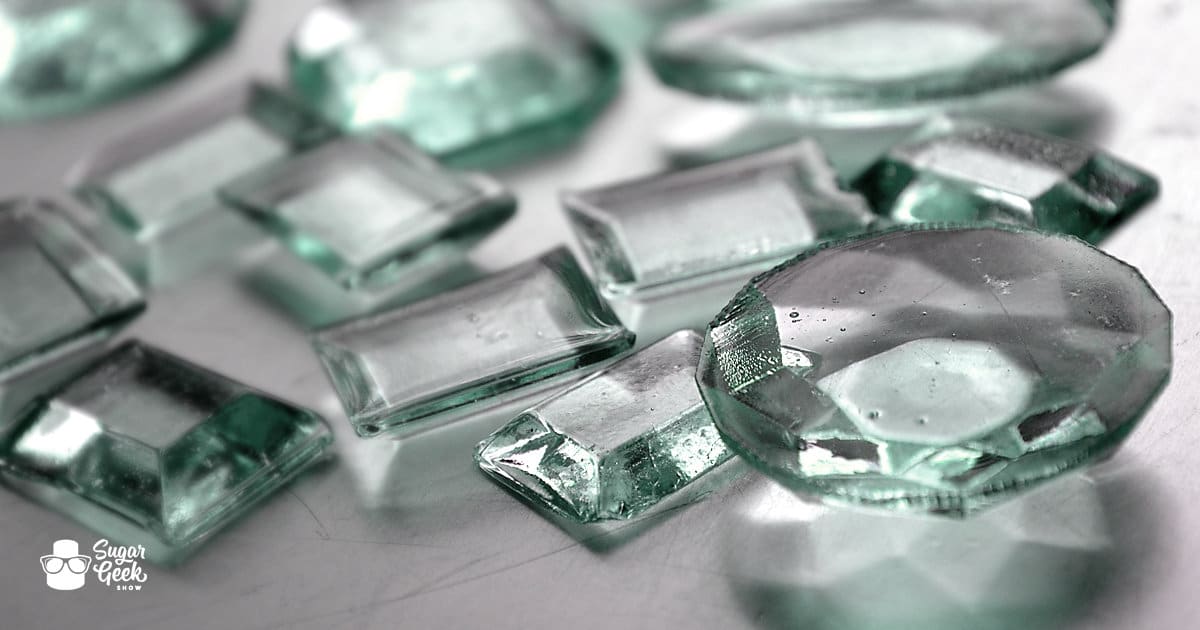 Isomalt Crystals - The geode cake trend is still super popular! SO popular that I invented some crystal molds so I could make this kintsugi wedding cake tutorial. The cake was so popular it went viral!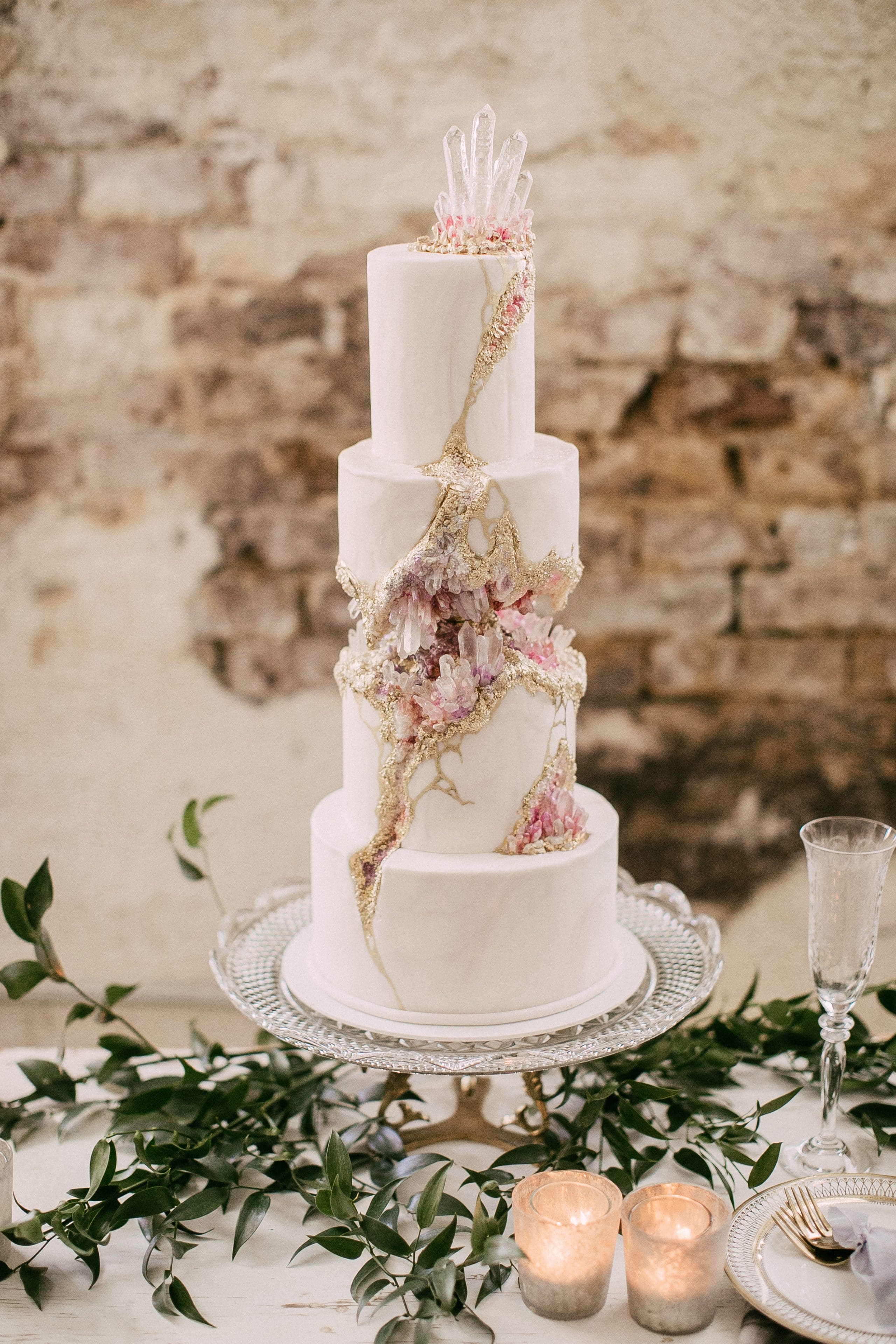 Edible Crown Tutorial - Isomalt is such amazing stuff! It can be poured into molds and shaped so easily while it's still warm. I used isomalt and molds to make this edible candy crown!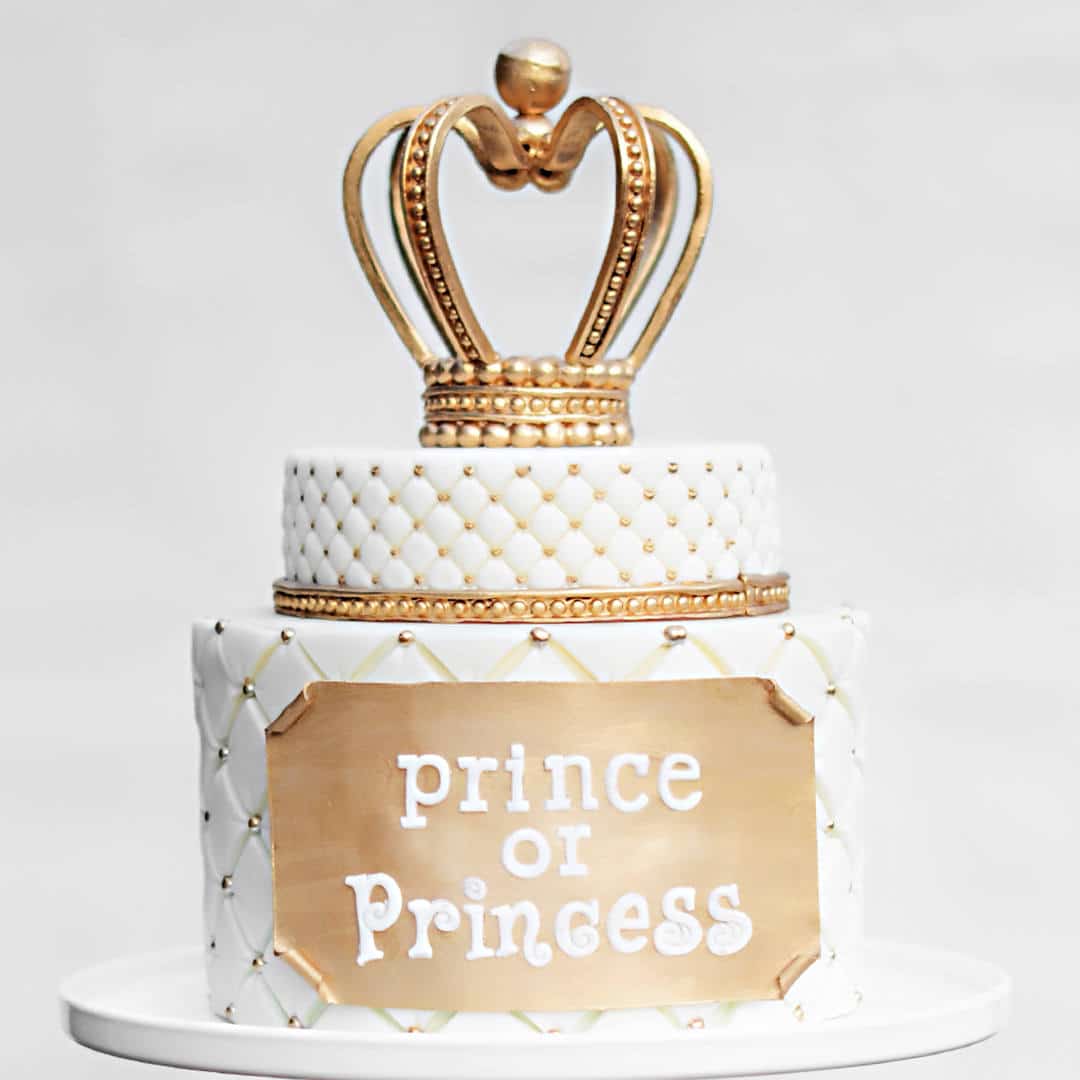 Glitter Eyes - I loved making these edible glitter eyes for all kinds of different types of sculpted cakes! They look just like shiny eyes you find on beanie boo toys.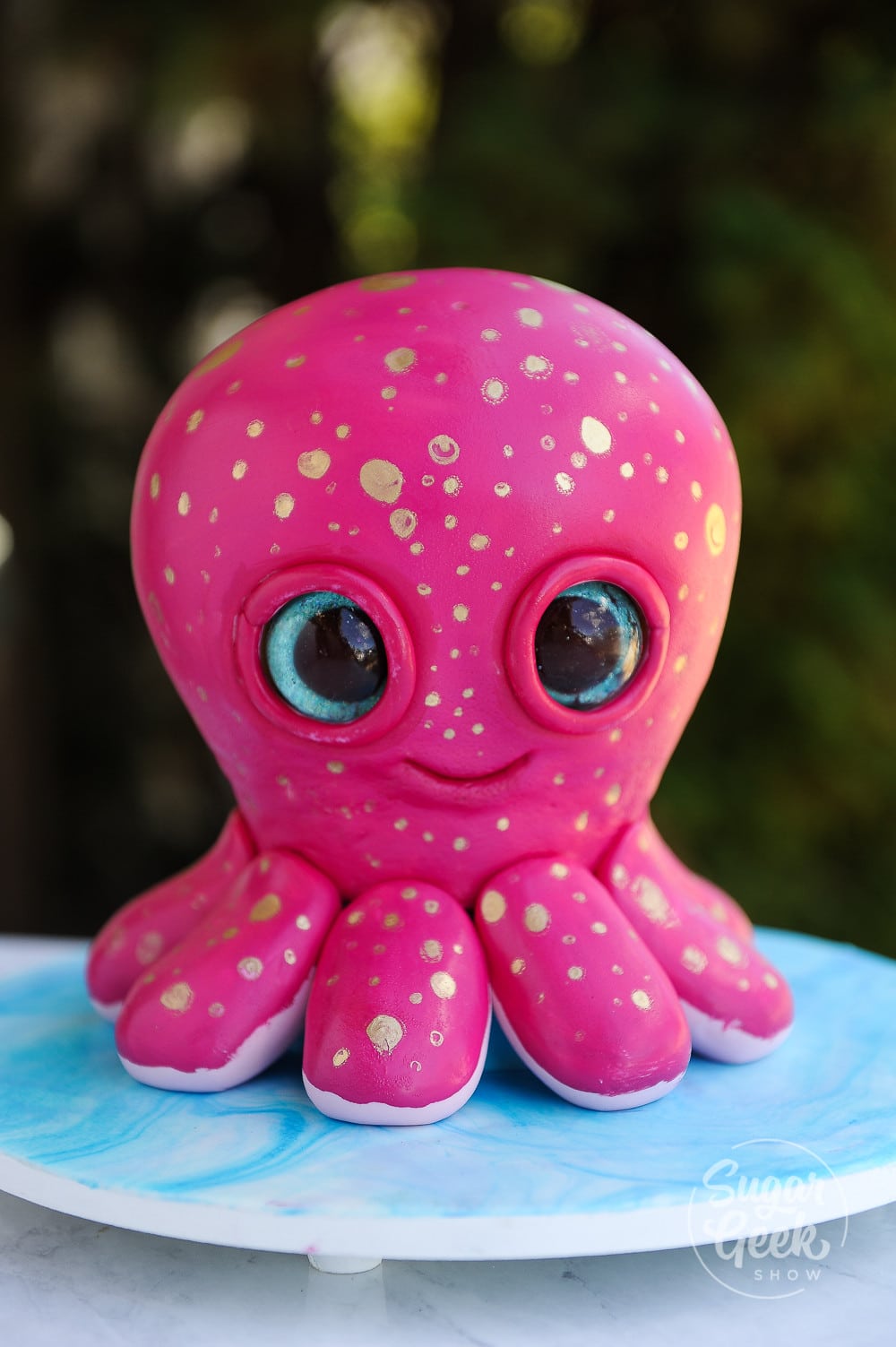 Edible Eye Tutorial - The one thing I probably make the most of with isomalt is realistic eyes for my sculpted cakes! People always ask me if they are edible which is kind of an odd thing to ask about eyes really, haha.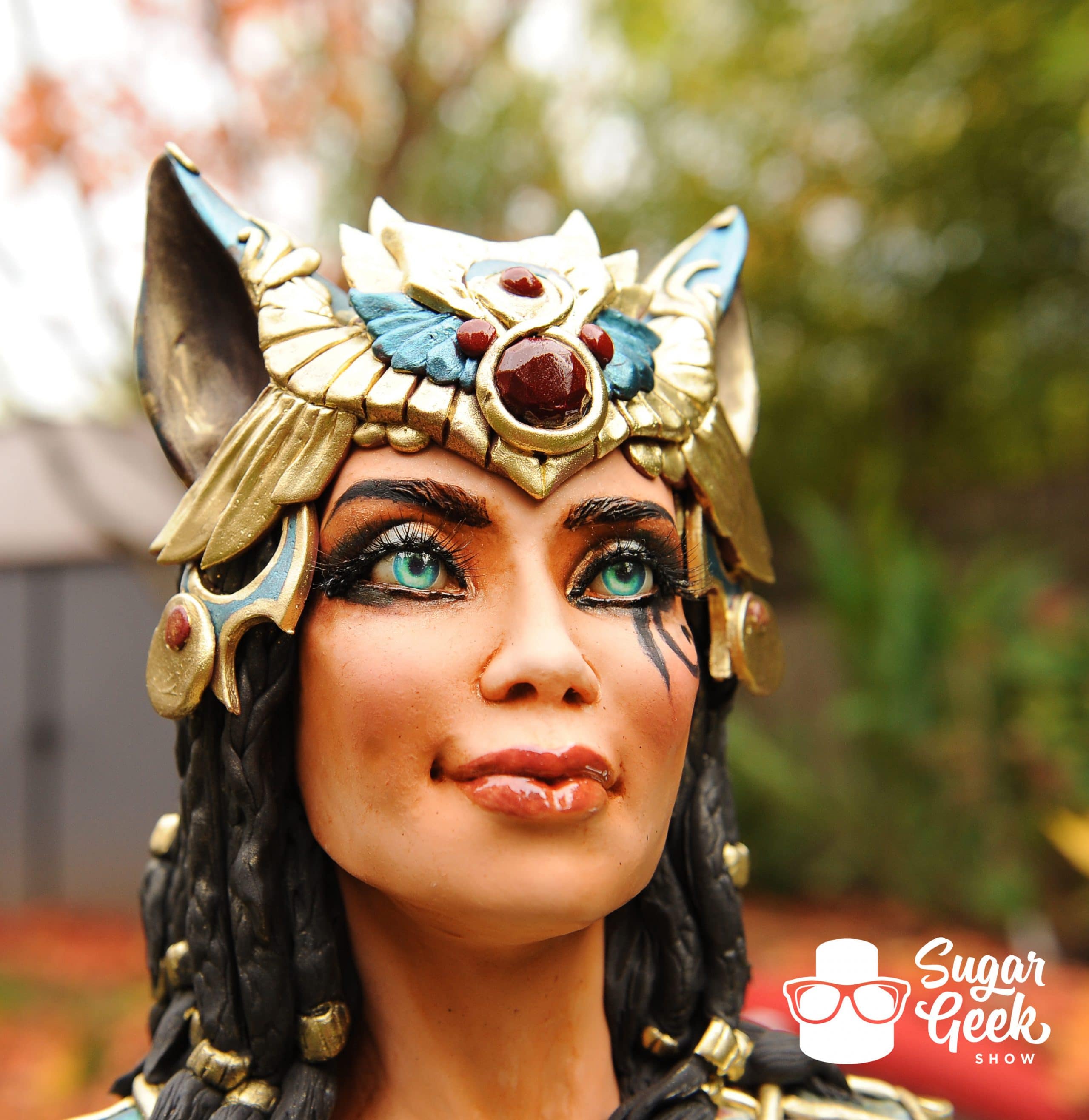 Geode Cake Topper - When I saw this cake topper at a cake show I was amazing and had to find out how it was made! This was right before the geode cake trend took off and now you see versions of this topper everywhere.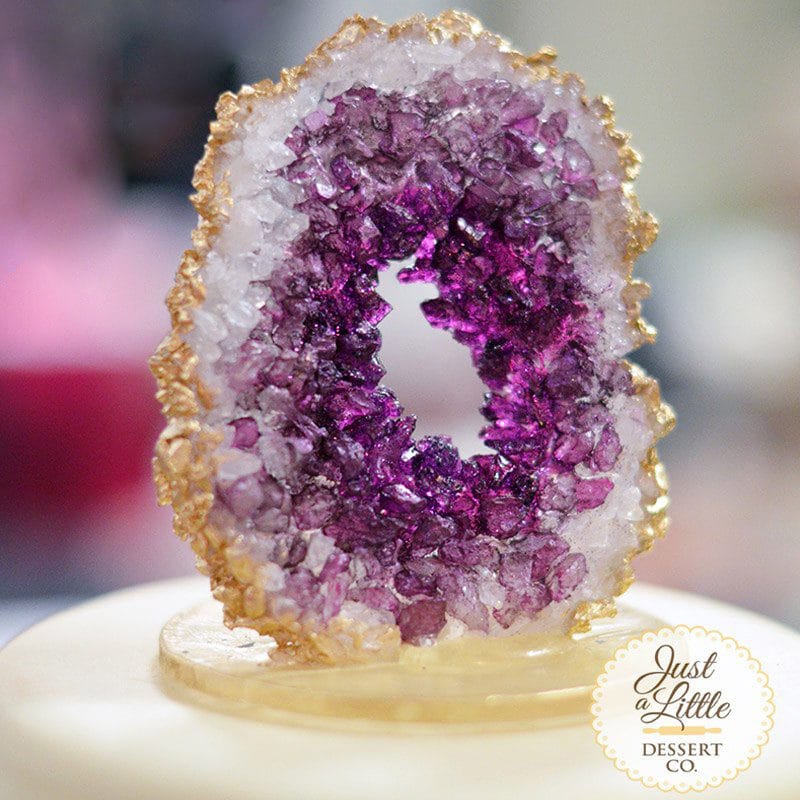 Geode Heart Cake Topper - This was a really fun take on the trendy geode cake toppers for Valentines day. So easy to make and no special molds required.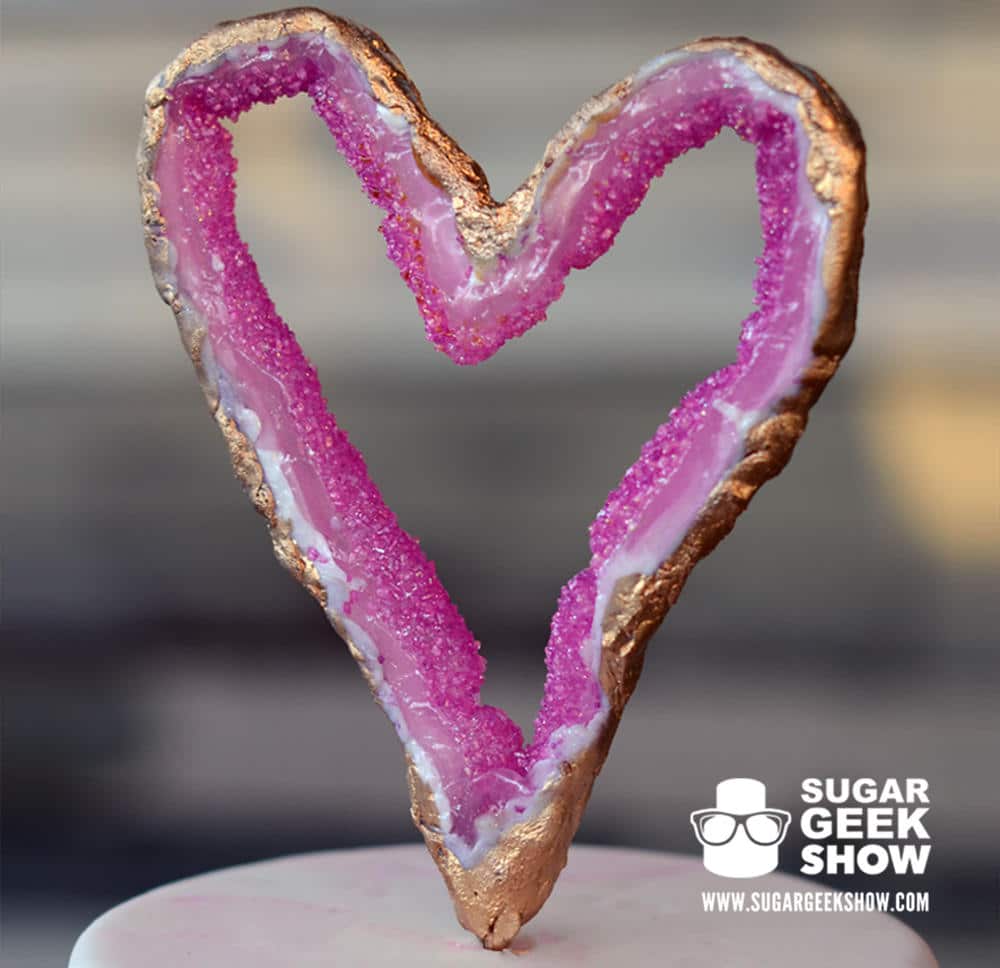 Blown Sugar Bubbles - If you want to learn a whole bunch of awesome techniques for using isomalt, check out our online tutorial from the amazing Sidney from Simi Cakes and Confections. In this tutorial she teaches you how to use different types of molds, how to pull sugar with your hands and shape it, how to paint on isomalt, how to blow bubbles and how to make cool candles! (coming Dec 1, 2018)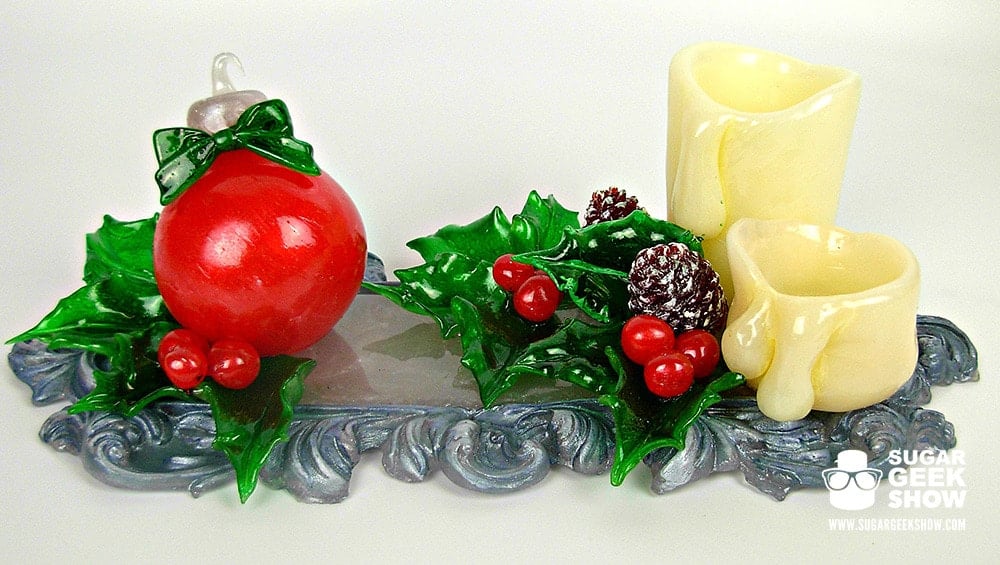 Clear Isomalt Recipe
If you want to make your own isomalt from raw granules, follow this recipe that I got from simicakes. It works perfectly every time!
I hope this post has motivated you to use isomalt if you haven't or helped solve some issues you may have had if you have! We also have many tutorials available for Premium and Elite Members that incorporate even more ways and tips for using isomalt. Get your isomalt on!
Recipe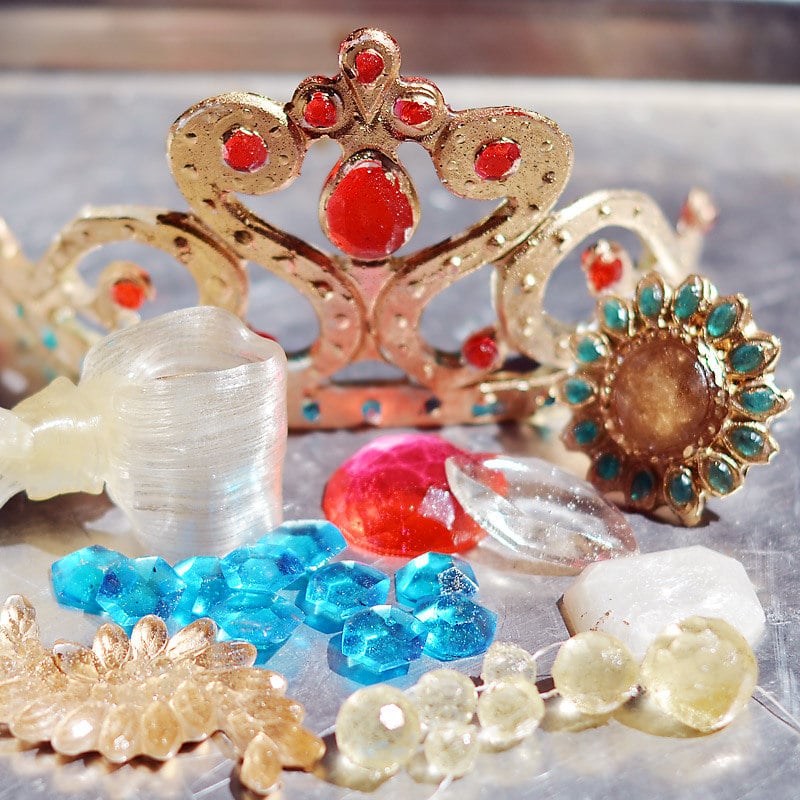 Ingredients
Ingredients
1

cup

Raw isomalt

¼

cup

Distilled water
Supplies
1

Candy thermometer

1

nonstick pot

1

silmat
Instructions
Instructions
In a very clean, nonstick pot, add ¼ cup distilled water to every cup raw isomalt.

Bring to a boil on medium-high heat. Do not stir.

After the mixture is boiling, turn to medium heat and cover with a lid for 5 minutes and simmer. This step prevents crystals from forming around the edges. Do not stir.

Take lid off and simmer uncovered until temp reaches 320º F (160º C). This can take up to an hour. Be patient. Do not stir.

Once cooked you can pour into puddles on a silmat, let cool then break into chunks to use later.

Isomalt can be reheated in the microwave by starting with 30 seconds and then moving to 15 second increments.
Notes
Use extreme caution when making isomalt! Wear latex gloves and have a bowl of ice water in your work area ready for any accidents. Isomalt can cause 1st, 2nd and 3rd degree burns if touched to skin while hot. Hot isomalt will stick to your skin, so make sure you have the gloves on before you start working. In the event of getting isomalt on your hands, quickly peel off the gloves and put your hands in the ice water to cool the affected area. Continue to keep your hands in the water for at least 5 minutes. Call your doctor and get medical advice immediately.
Nutrition
Serving:
1
teaspoon
|
Calories:
17
kcal