Meringue mushrooms are the perfect holiday treat
Meringue mushrooms are delightfully crisp and light as air. They make the perfect addition to your Buche de Noel cake or for a whimsical woodland party theme. You can make meringue mushrooms days in advance or even freeze them to eat later.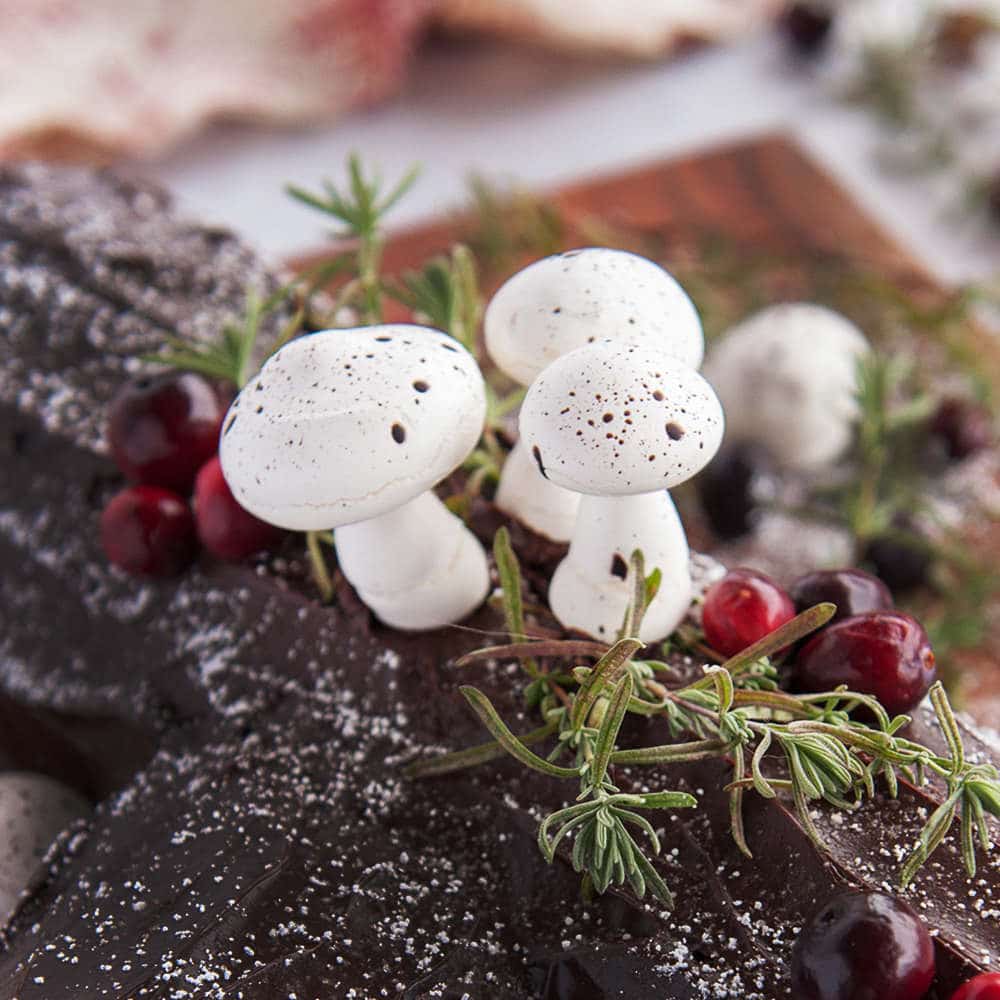 Ingredients for meringue mushrooms
Egg whites - Fresh is best for whipping up a stiff meringue
Sugar - Gives the mushrooms their sweetness and volume to the meringue
Cream of tartar - Stabilizes the egg whites so the mushrooms are not hollow
Vanilla extract & Salt - Flavor!
Cocoa powder - For coloring the mushrooms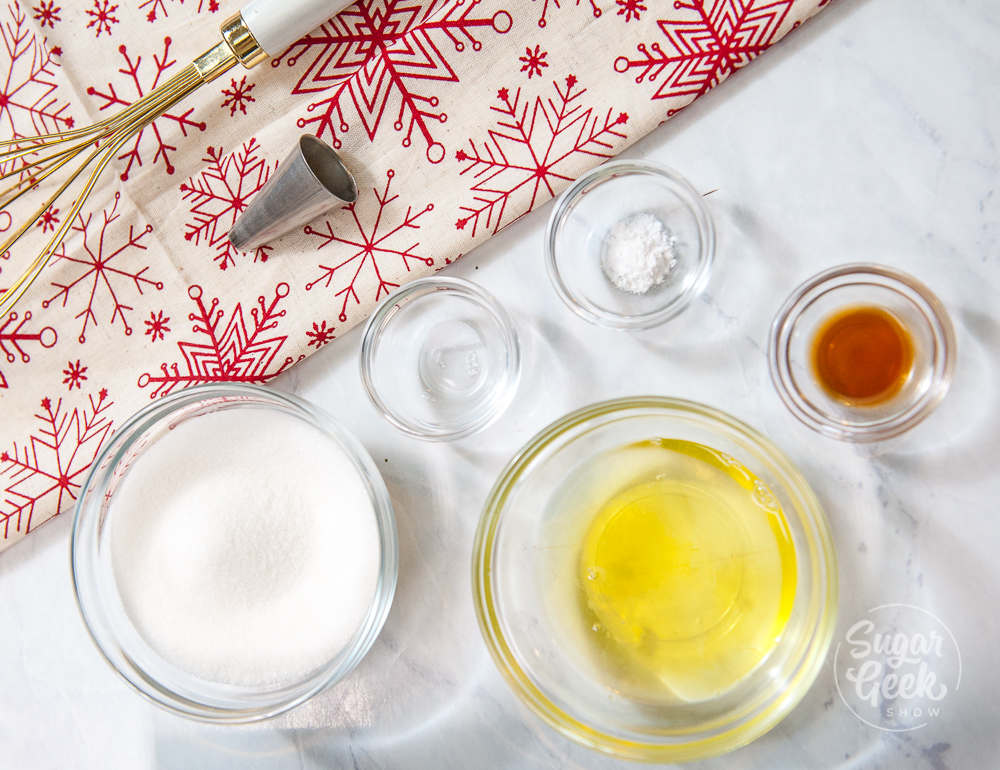 How to make your meringue
Making the meringue is pretty easy. Fill a medium-sized saucepan with about 2 inches of water and bring it to a boil. Place your egg whites and sugar in a heatproof bowl. I use my bowl for my stand mixer.
Occasionally whisk the mixture until you can no longer feel any granules of sugar. Don't forget to whisk or you can accidentally cook your eggwhites.
Once your sugar is dissolved, transfer the egg white mixture to your stand mixer and whip on high until you achieve firm peaks (about 5 minutes). Then add in your vanilla, salt, and cream of tartar. Then whip for 5 more minutes until you reach STIFF peaks. The meringue should stand straight up and feel very firm! Don't worry about over-mixing. It's practically impossible.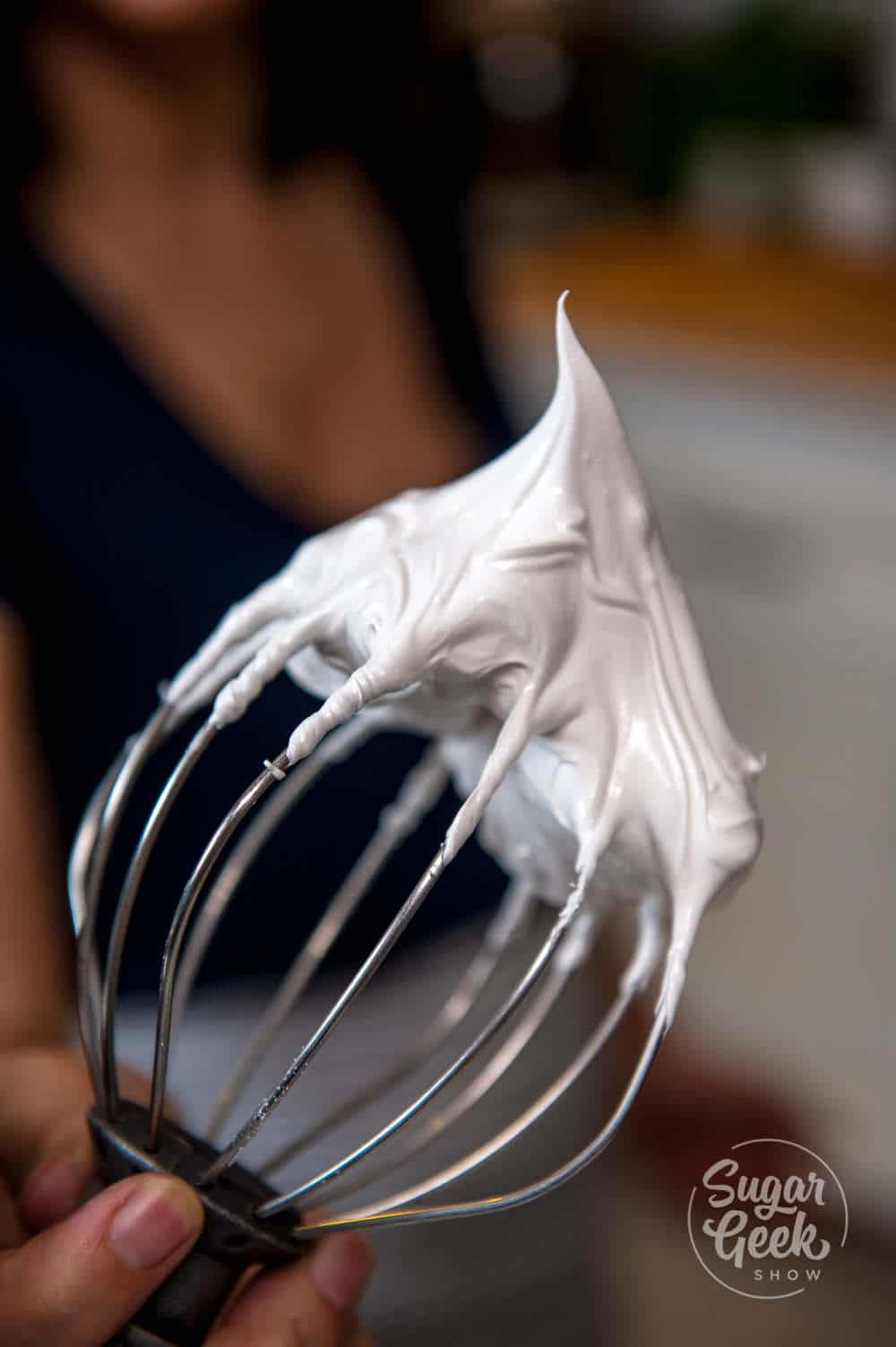 Place your piping tip in the piping bag and snip off the end of the bag. Fill your bag with the meringue. Don't forget to glue your parchment down onto your pan so that it doesn't fly up during baking.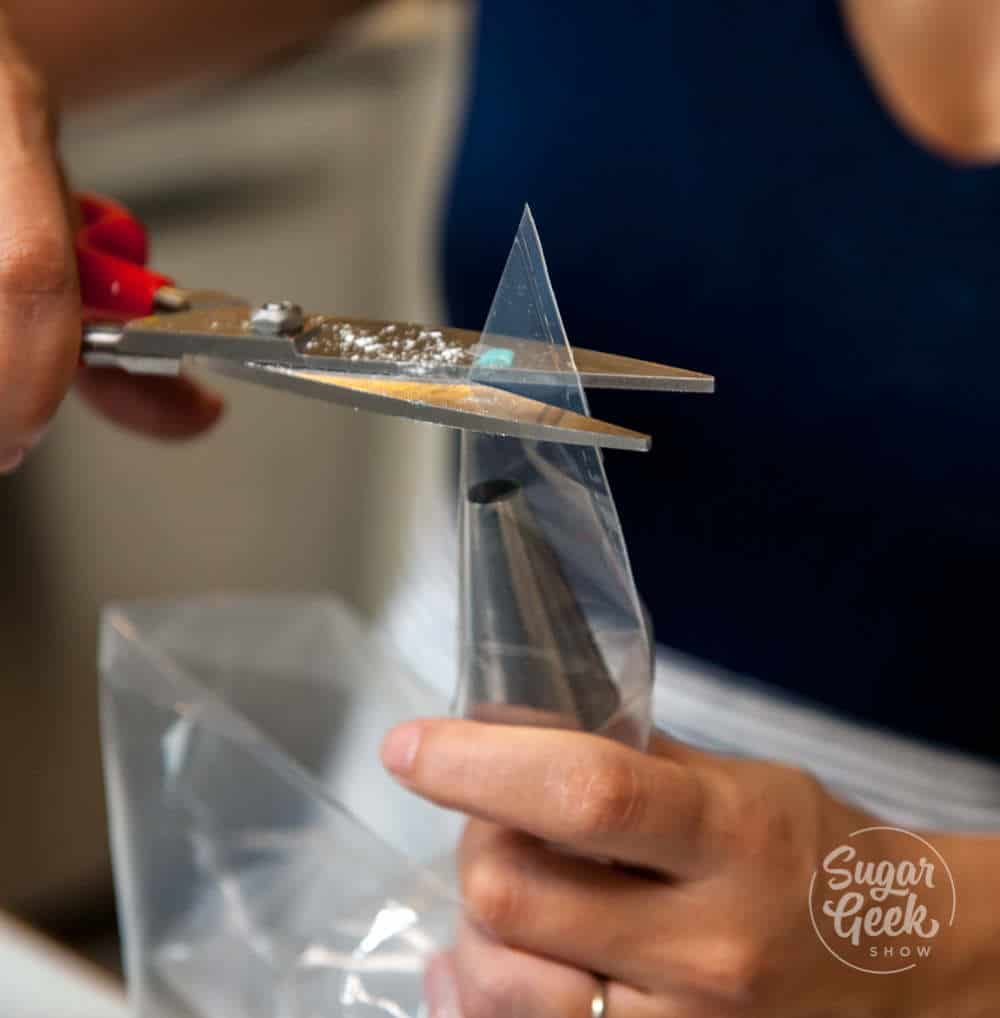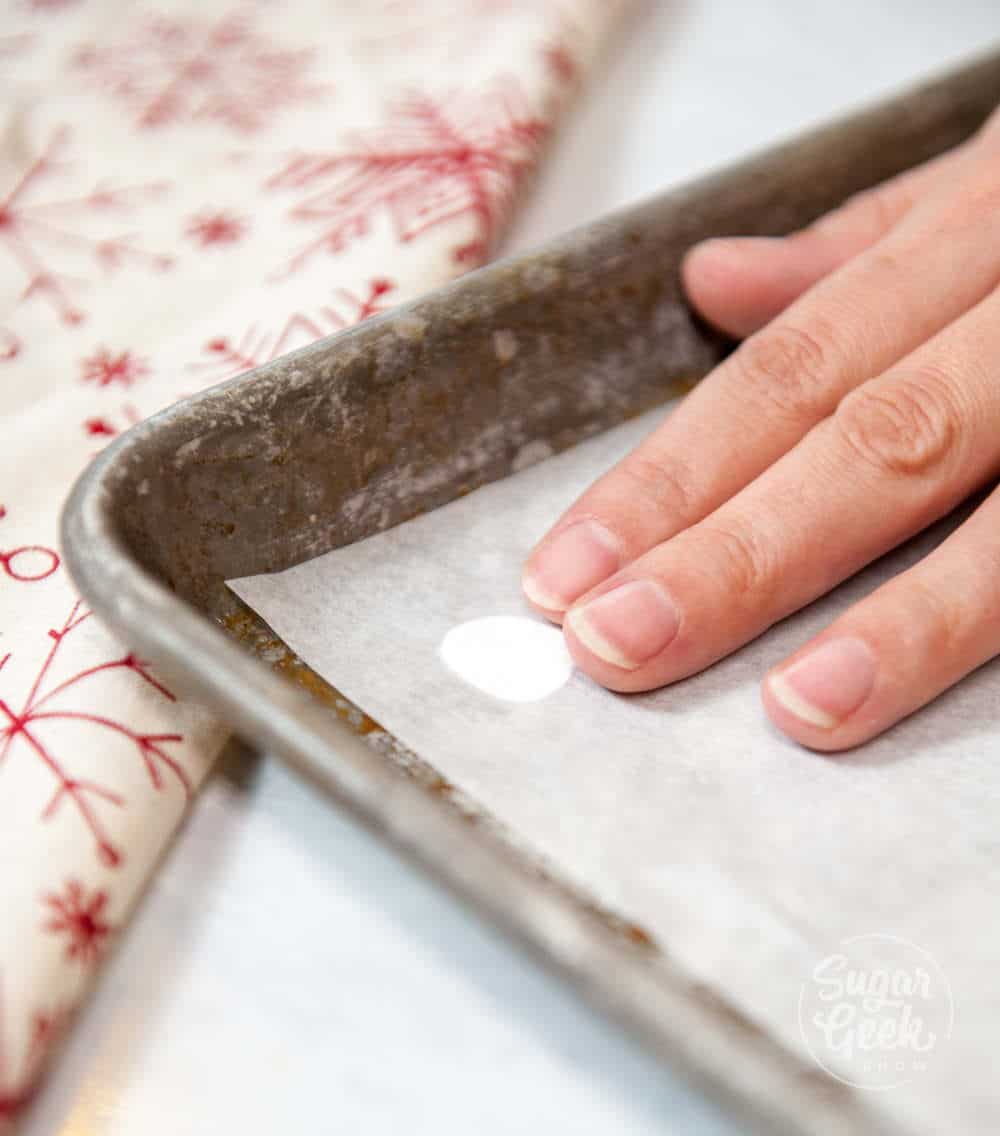 How to make meringue mushrooms
The best thing about making meringue mushrooms is they don't have to be perfect. Thank goodness because when I was making mine, I really messed up my oven temperature.
Even though I had my top oven set to 225ºF (I have a double oven) my bottom oven was set to 400ºF and the heat from the bottom made my top oven hotter. This caused my mushrooms to crack and split BUT I was able to save most of them and the cracks looked pretty natural.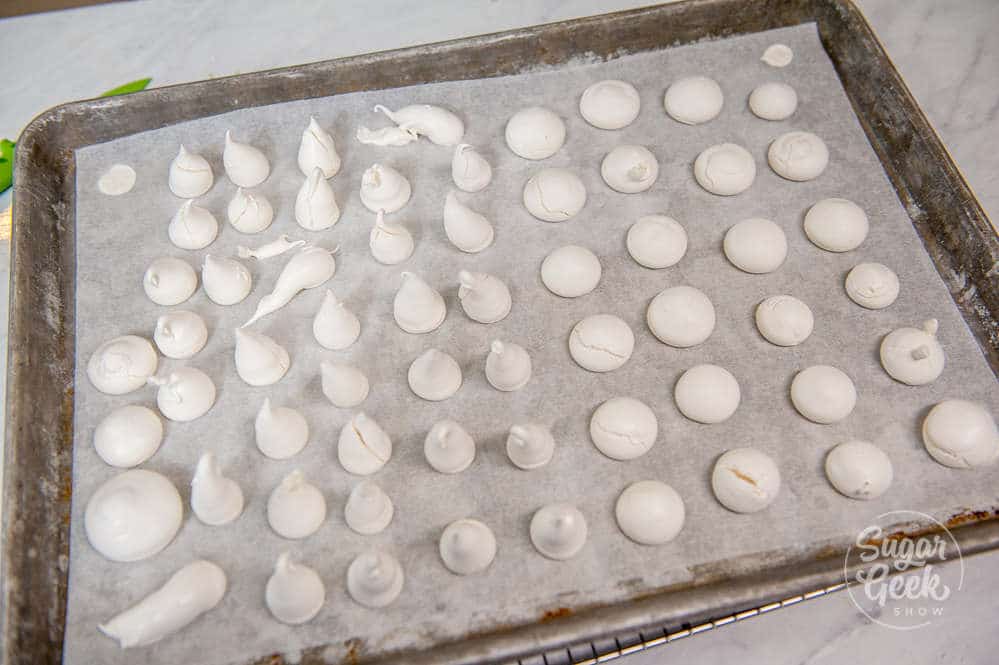 To pipe the caps, I hold my piping tip straight up and down and squeeze to form a round meringue cookie. There will be a little peak but just smooth that down with a bit of water on your finger.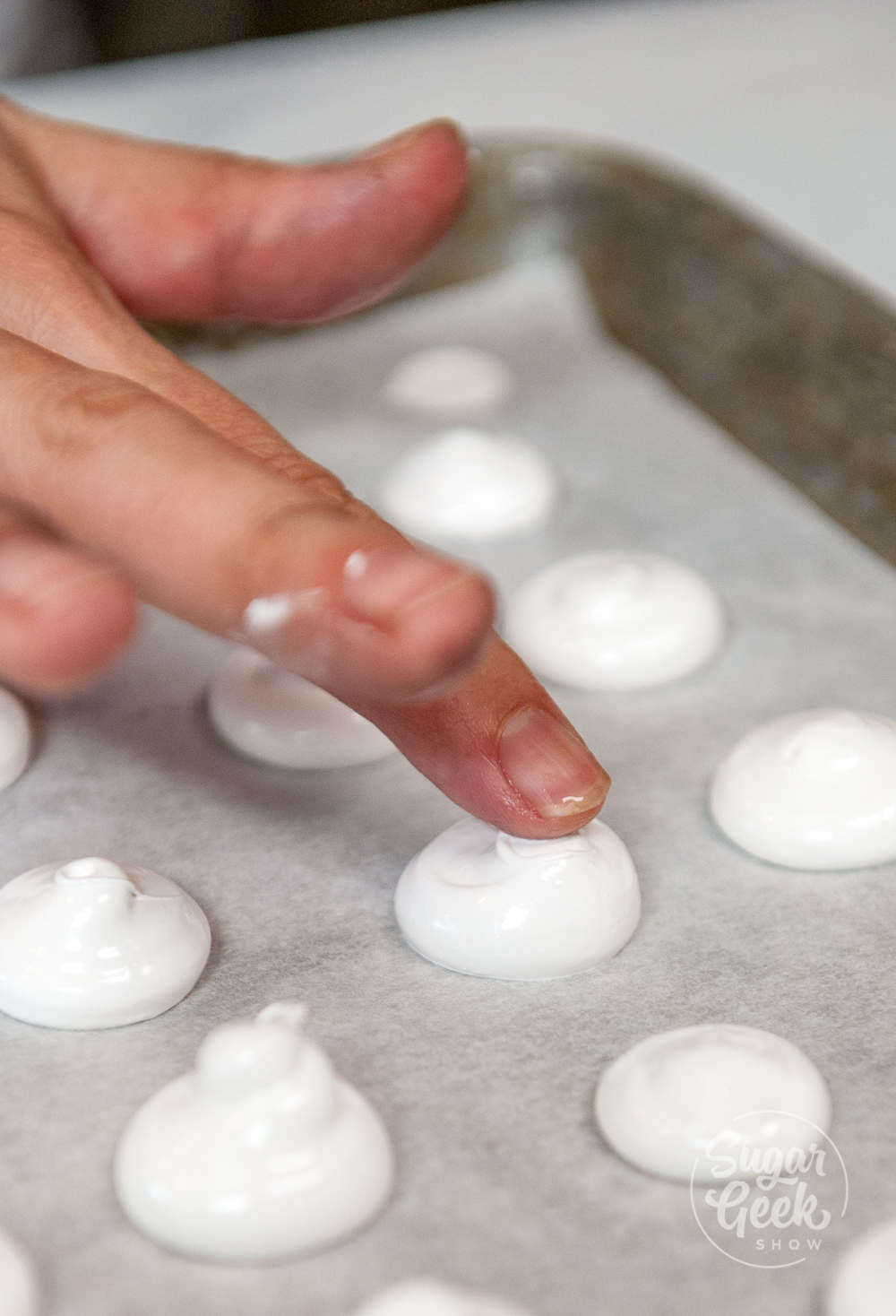 Then for the stems, I begin squeezing to attach the meringue to the parchment paper the pull up about two inches. Stop squeezing to finish the top of the stem. If they fall over it's ok. You can eat those later, no one will know! The stems do not need to be super tall.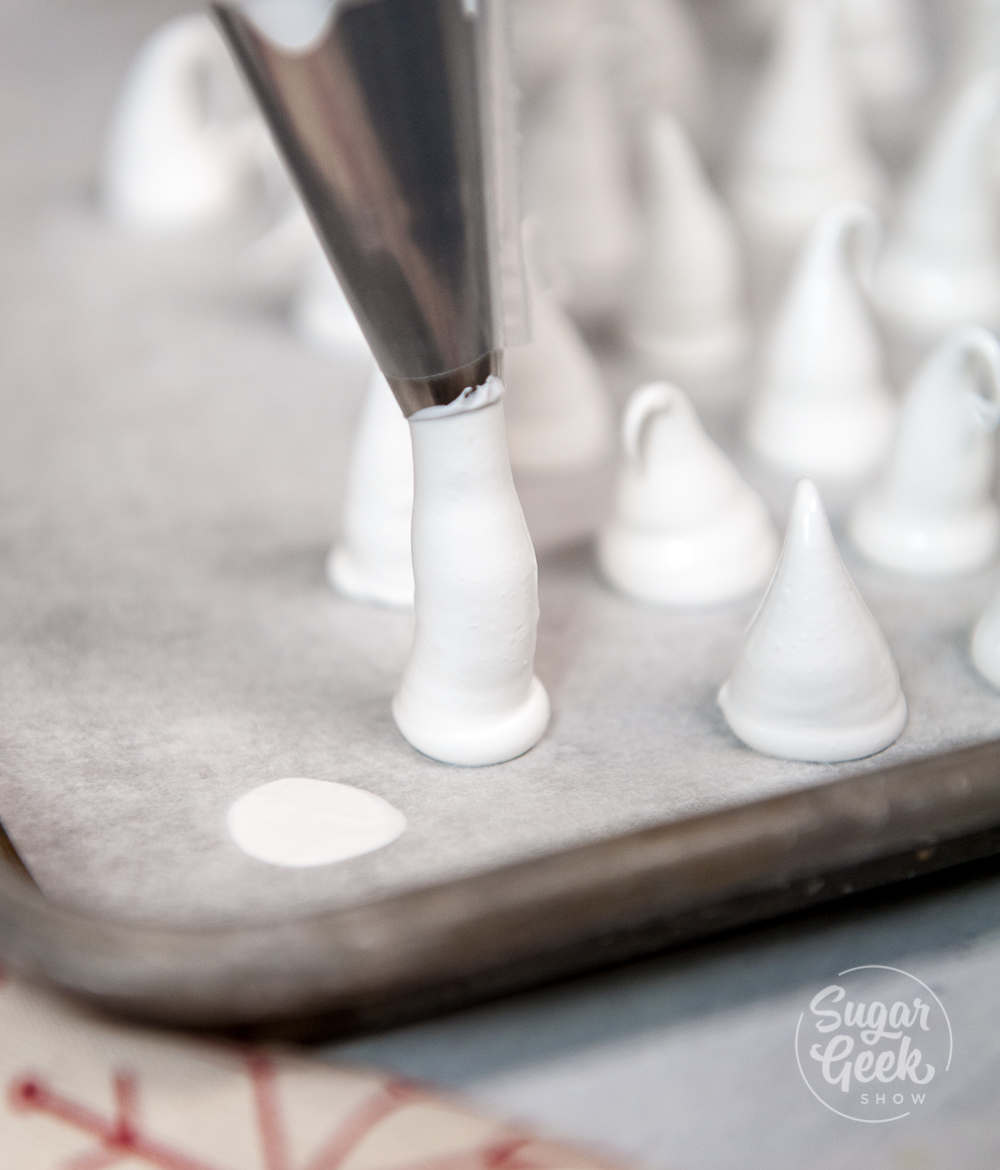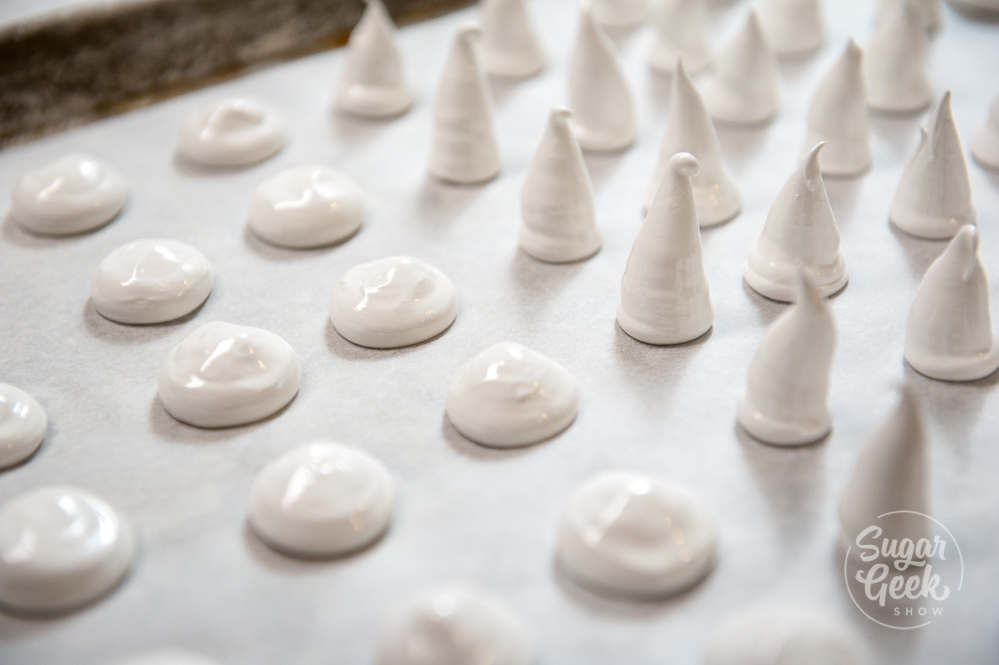 Then bake your meringues in the oven at 200ºF for about two hours. Then just turn off the oven and let them cool in there overnight. If you live in a humid area they might take longer to bake and you'll want to store them in airtight containers to avoid them getting sticky.
How to assemble meringue mushrooms
Melt down your chocolate and set it aside. Combine ½ teaspoon of vanilla extrac and ½ teaspoon cocoa powder together to make the speckle paint. You can paint the base of the mushroom caps if you desire to look like lines.
Make a small hole in the cap of your mushroom cap with a knife or skewer. Dip the tip of the meringue stem into the chocolate and attach the stem to the cap.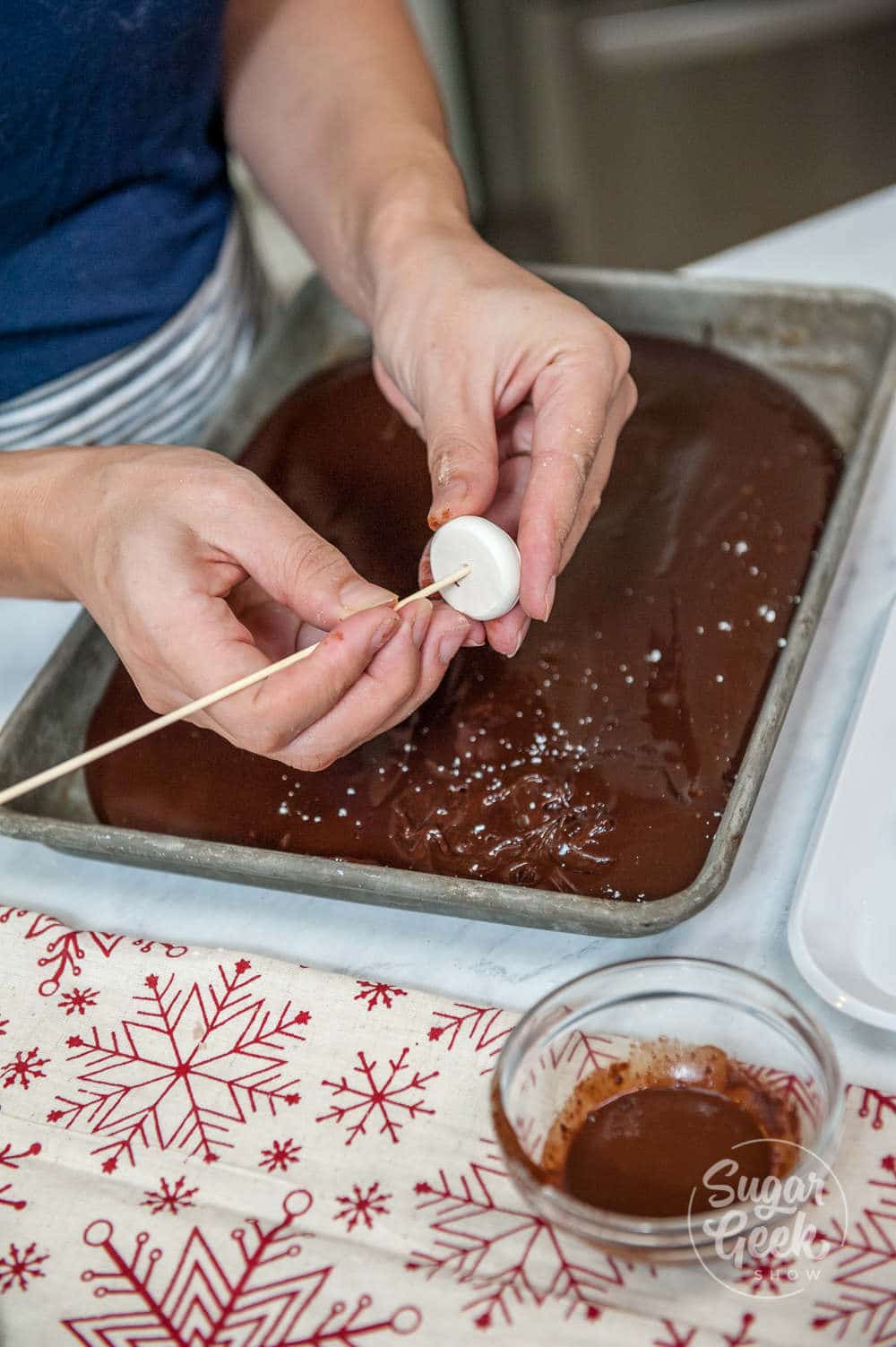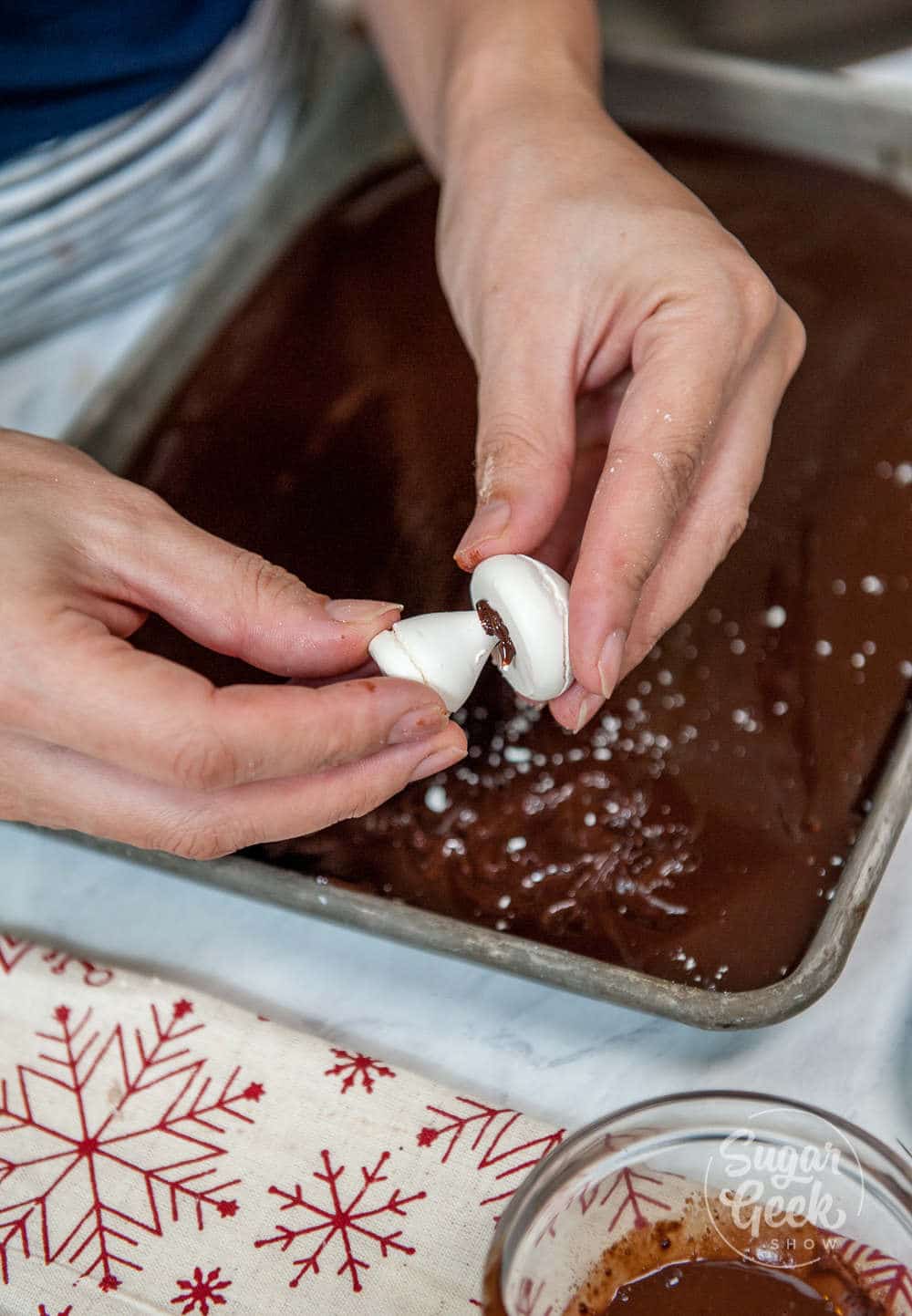 All that's left to do is speckle the tops of your mushrooms with a stiff brush.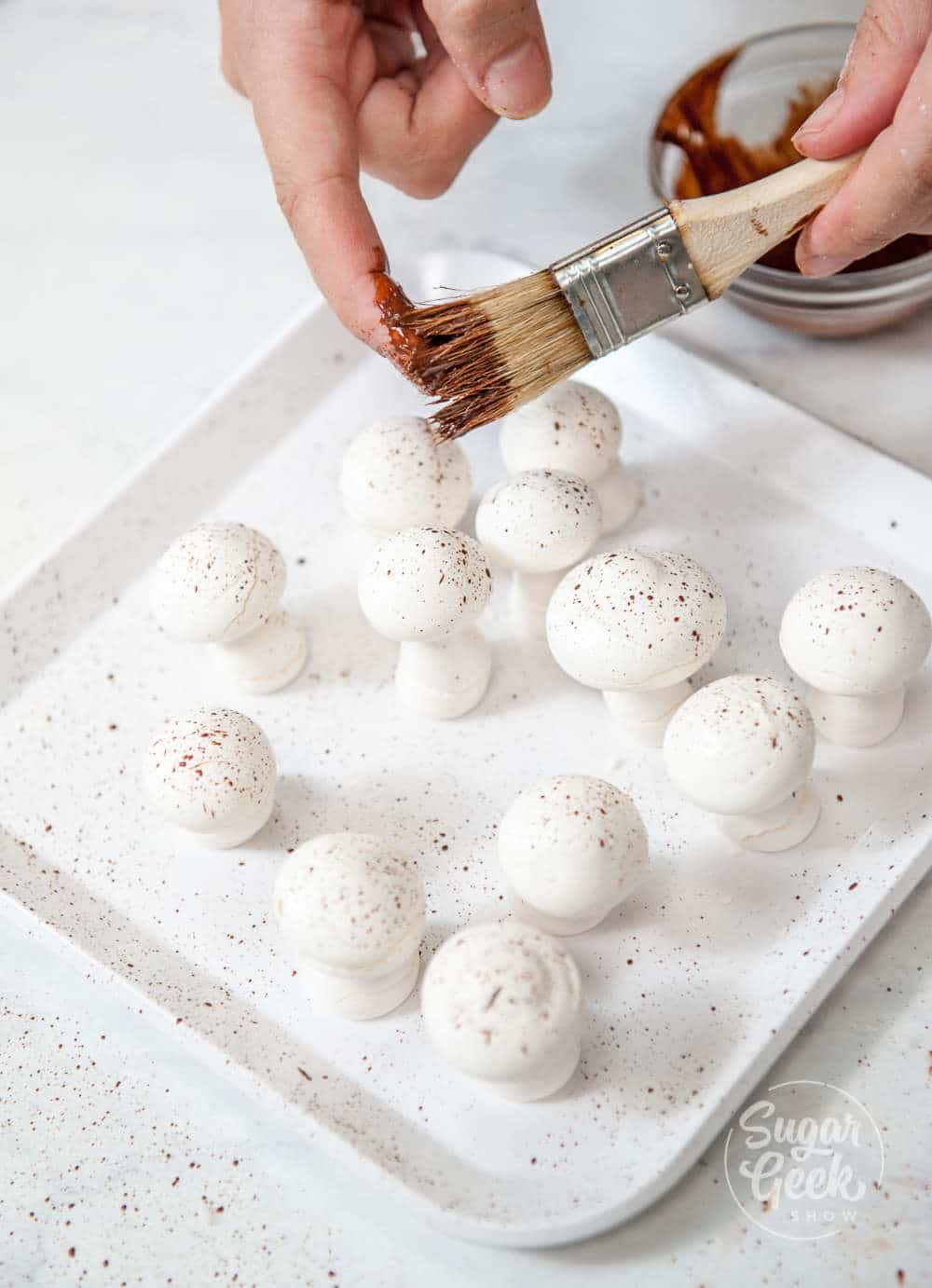 Voila! Your mushrooms are complete! They look so super cute on top of my Buche de Noel cake! This recipe makes a TON of mushrooms so you can use the extras on a separate plate or as decorations on your place settings.
More holiday recipes you'll love
Recipe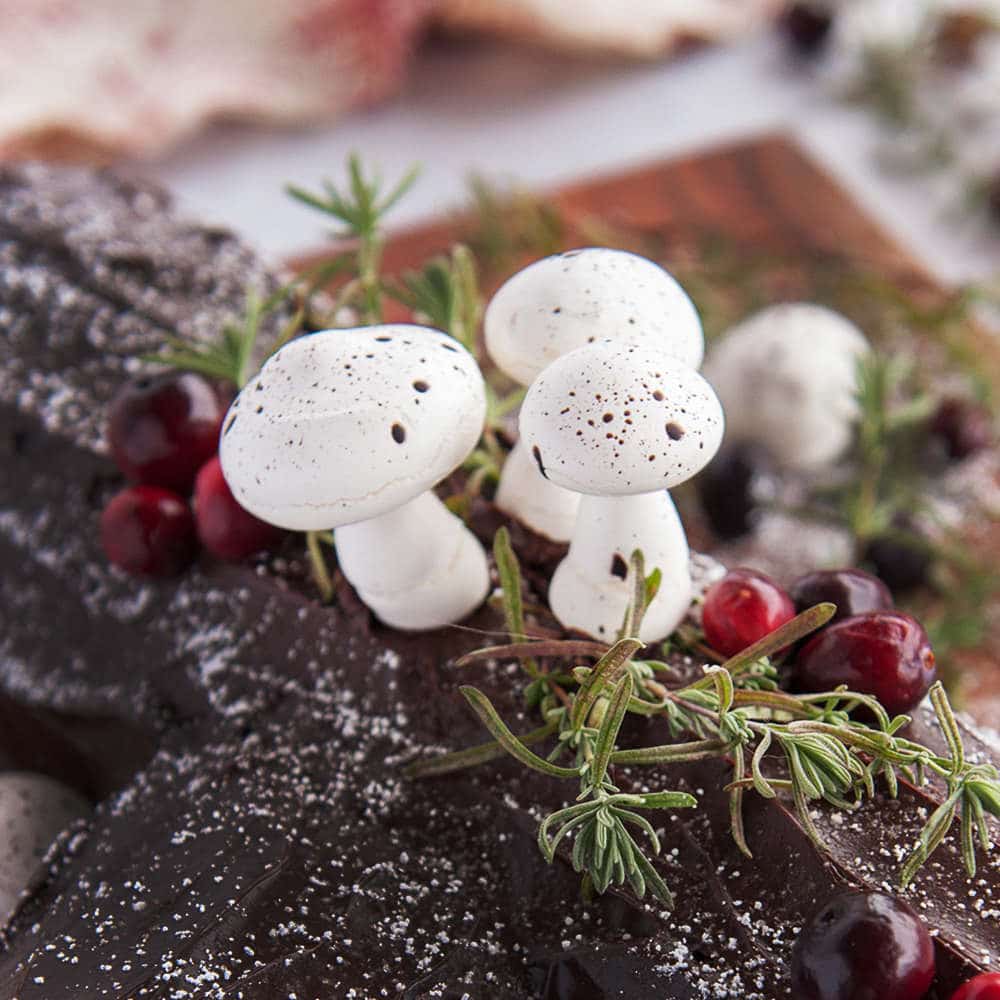 Ingredients
Meringue Mushroom Ingredients
3

egg whites

fresh

¼

teaspoon

cream of tartar

5

oz

sugar

½

teaspoon

vanilla

or other flavoring

1

pinch

salt

1

ounce

melted chocolate
Instructions
Meringue mushroom instructions
Pre-heat your oven to 225ºF and line a baking sheet with parchment paper

Bring 2 inches of water to a simmer in a pot. Place a clean stainless steel mixing bowl over the water. It shouldn't touch the water.

Combine your egg whites and sugar and whisk to combine. Occasionally whisk as it's heating to distribute the heat and dissolve the sugar.

Once your egg whites are at 110ºF (or when you don't feel any grains of sugar between your fingers) you're read to whip

Place the bowl on your stand mixer with the whisk attachment. Whisk on med for one minute, add in cream of tartar, salt and flavoring.

Bump up to high and let whip until you reach STIFF peaks.

Now you are ready to pipe your meringue onto a parchment-lined baking sheet into your mushrooms!

Note: make sure your parchment sits completely flat on your baking sheet by placing dollops of meringue under each corner and pressing it flat against the pan.

Place piping tip into a piping bag. Fill your bag with your meringue.

To make the caps of the mushrooms, hold your piping bag straight up and down and squeeze to form the mushroom cap and pull up. There will be a little peak and that is okay, we will take care of that in a minute.

Once you have formed all your caps, use a tiny bit of water on your finger tip and gently smooth the top of the meringues.

For the stems, you hold your piping bag straight up and down again, touch the tip to the parchment, squeeze a bit to attach the meringue to the parchment then slowly move your hand up while squeezing. The base should be a bit thicker than the top. Make your stems about 2" tall.

Bake for about 2 hours, then turn off the oven but do not take them out. Let them sit in the oven until they are completely cold. I leave mine in overnight. 

Meringue mushrooms can be stored in a ziplock bag unrefrigerated for up to two weeks. 
Nutrition
Serving:
3
cookie
|
Calories:
25
kcal
|
Carbohydrates:
6
g
|
Protein:
1
g
|
Fat:
1
g
|
Sodium:
8
mg
|
Potassium:
11
mg
|
Sugar:
6
g