Moist vanilla bundt cake with buttermilk glaze and a tender crumb
This vanilla bundt cake is anything but boring. It rises up beautifully with a golden crust on the outside so it releases well from the bundt cake pan. Covered in not one but two glazes ensures that this vanilla bundt cake stays moist for days. Perfect for the holidays when the family is visiting. Read on to learn everything you ever needed to know about making the perfect vanilla bundt cake!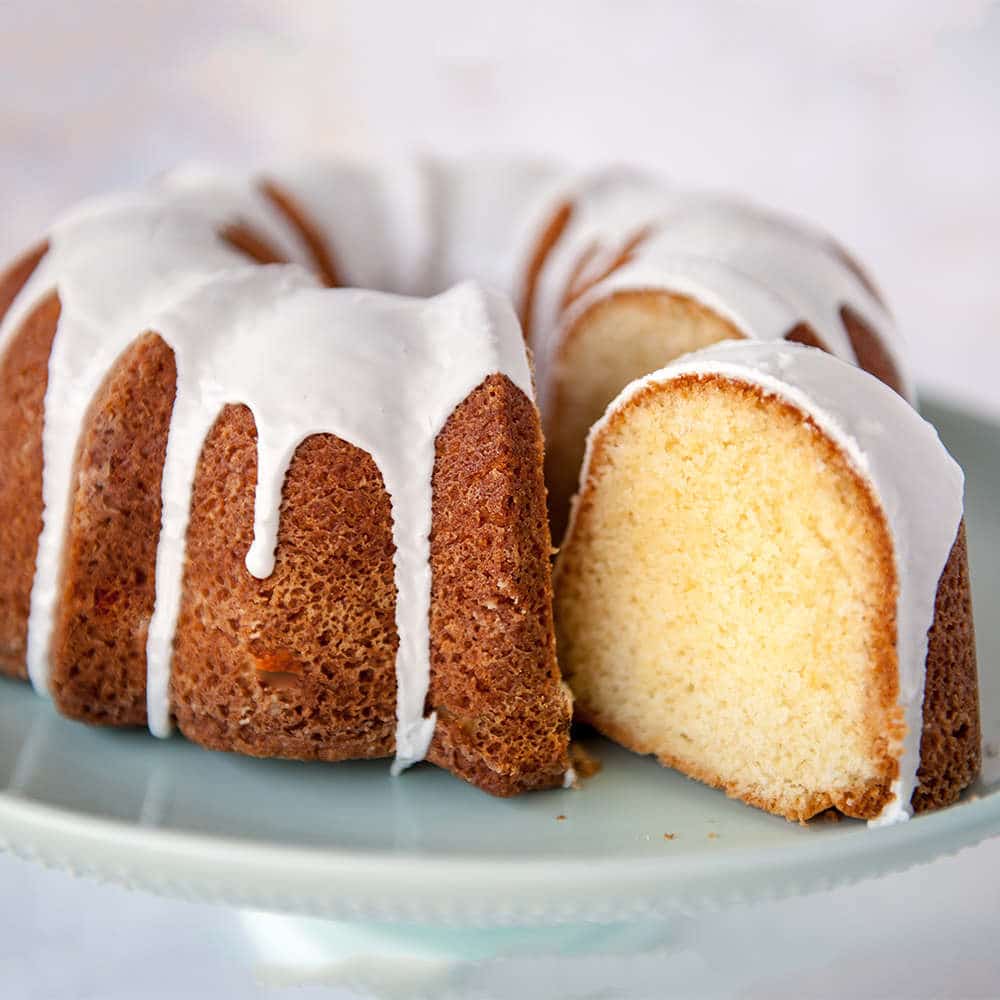 Where did the bundt cake come from?
Ok if you're a sugar geek like me, you might be interested to know where the bundt cake came from. It's kind of interesting!
Bundt cakes are believed to have originated from Germany and are similar to the Gugelhupf cakes from Europe which are made from a yeasted dough (usually with nuts and fruits) and baked in a decorative, tube-shaped pan. These cakes are typically taller and skinnier than a typical bundt cake.
The word "bund" in German means tied or bind so one theory is that a "bund cake" is so named because it was served at social gatherings or for people that you were emotionally or socially tied to.
When German immigrants came to America, they couldn't bring their Gugelhupf pans with them because they were made of cast iron or thick ceramic, and therefore too heavy to travel with. Today, bundt cake pans as we know them are a little lighter, shorter and rounder than traditional Gugelhupf pans.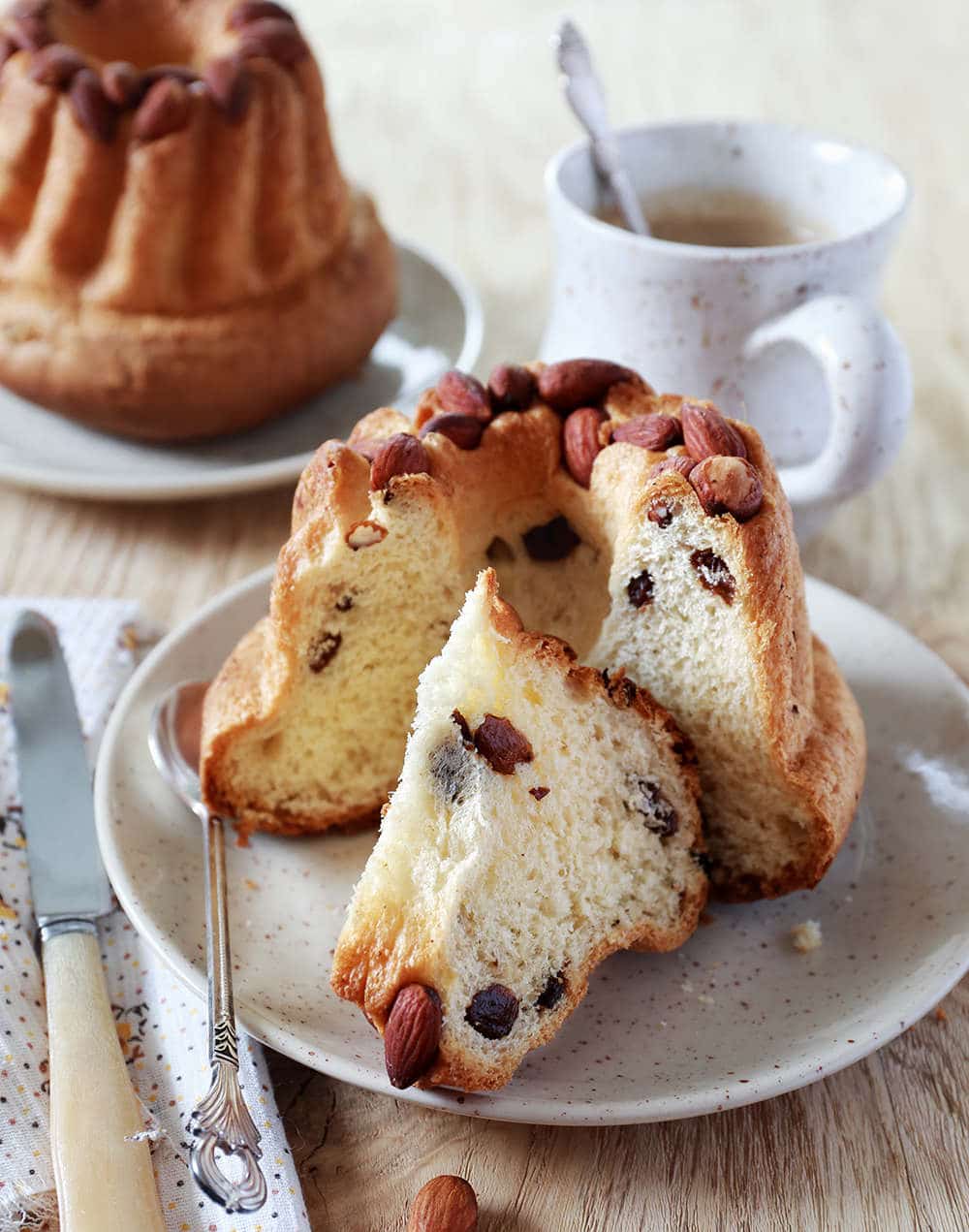 In the 1940s, H. David Dalquist who co-founded the company Nordic Ware, created an aluminum version of the traditional Gugelhupf pan. A "t" was added to the name bund for trademark reasons and thus the first "bundt cake pan" was born. And it flopped. No one was interested in buying them.
Nordic Ware almost discontinued the pan due to a lack of interest. In 1966, Ella Helfrich, took second place at the annual Pillsbury Bake-Off and won $5,000 with her bundt cake recipe, the tunnel of fudge. This resulted in over 200,000 requests for the bundt cake pan from the public. Since then over 60 million bundt cake pans have been sold and it is the most sold pan in the USA.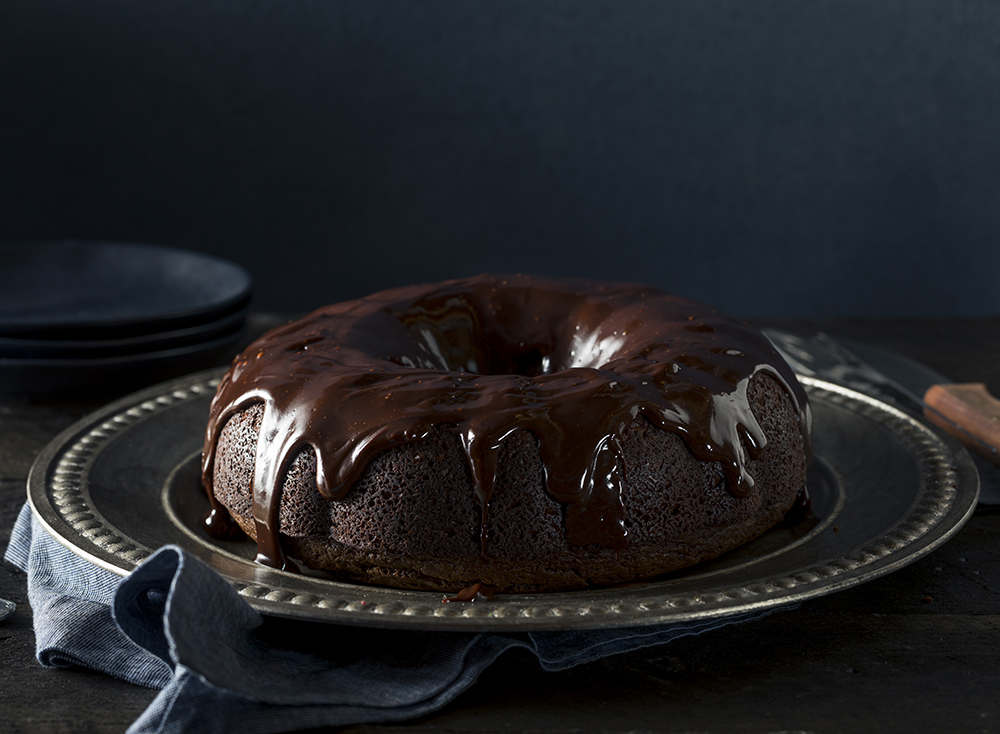 What makes a bundt cake a bundt cake?
This might be anti-climactic but a bundt cake is literally any cake that is baked in a bundt cake pan. The first time I ever made a bundt cake was actually for a tv competition called Duff til Dawn. I transformed my lemon cake recipe into mini lemon rosemary bundt cakes with a marion berry glaze. It was a big risk doing something savory but luckily Duff loved the recipe and we won!
So there isn't any single bundt cake recipe but this vanilla bundt cake is a good start. You can adjust the flavor to this bundt cake by adding in dried fruits, nuts, chocolate, puree or herbs. The flavor possibilities are literally endless!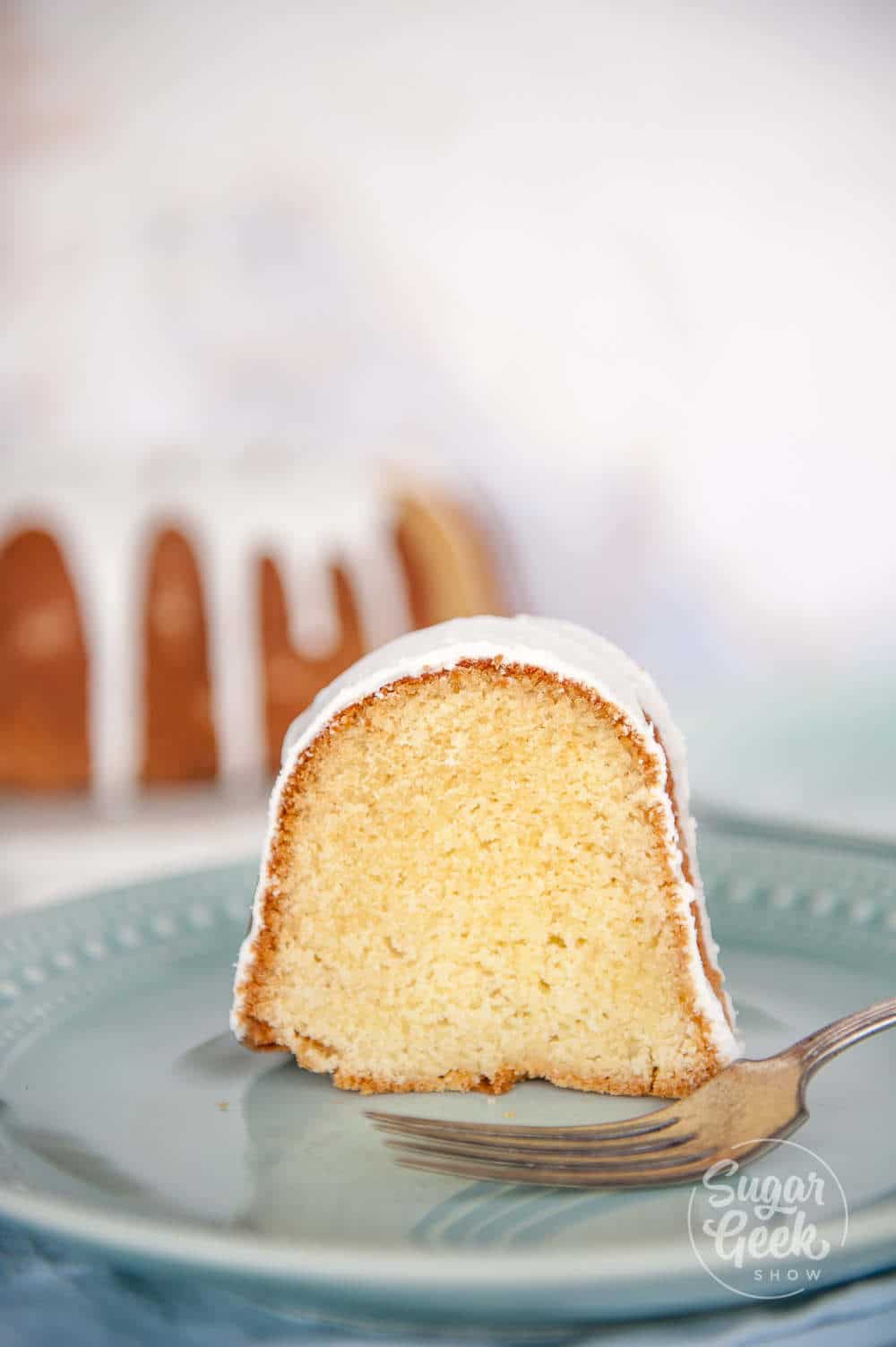 Vanilla bundt cake ingredients
If you follow my channel, you know I'm a bit obsessed with buttermilk. And rightly so! It's the magic ingredient to make any cake moist and delicious. Vegetable oil is another ingredient I use to keep my cakes moist like my red velvet cake and my pumpkin spice cake. I'm also using high-quality vanilla from Nielsen-Massey. Vanilla is very expensive but when it's the only flavor in your cake, now is the time to use it! The better the vanilla, the better the taste.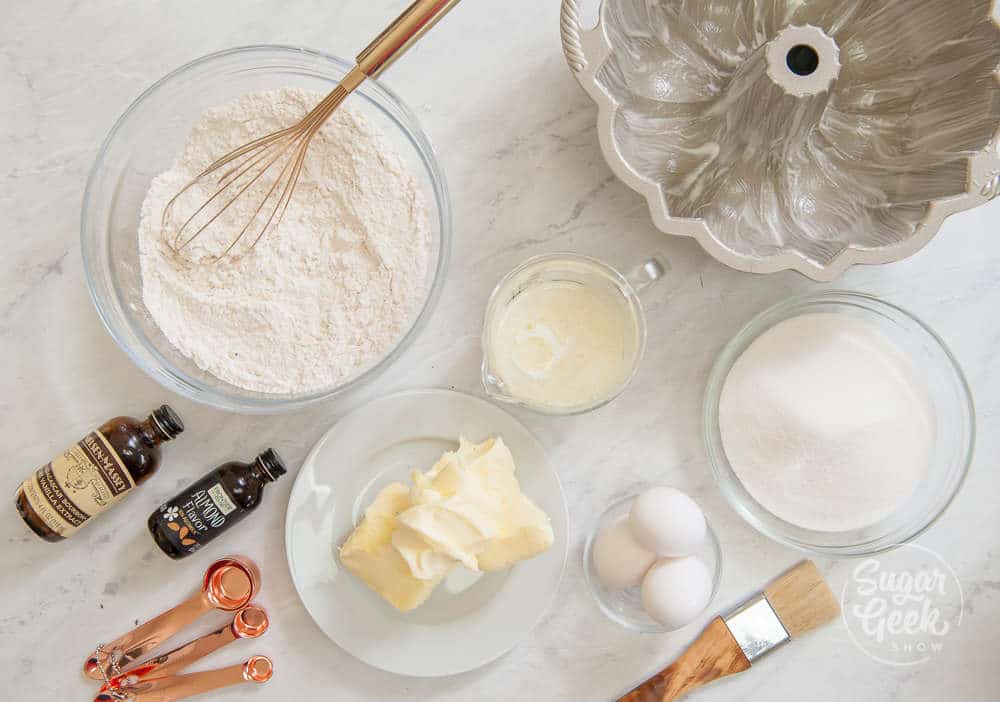 How to make the perfect vanilla bundt cake
Make sure the ingredients are at room temperature.
Measure the ingredients carefully and precisely by weight (see notes in the recipe card.)
Don't over-mix the cake or you can over-work the gluten and get big holes called tunneling.
Add eggs, one at a time, beating just until the yolk disappears.
Always add the dry ingredients alternately with the liquid, beginning and ending with the dry ingredients.
To prevent air bubbles, slowly spoon the batter into the prepared pan.
Open the door of the oven only when ready to check for doneness.
*note: you can change the flavor of your bundt cake by switching out the extracts, adding in zest, dried fruits, nuts, chocolate or puree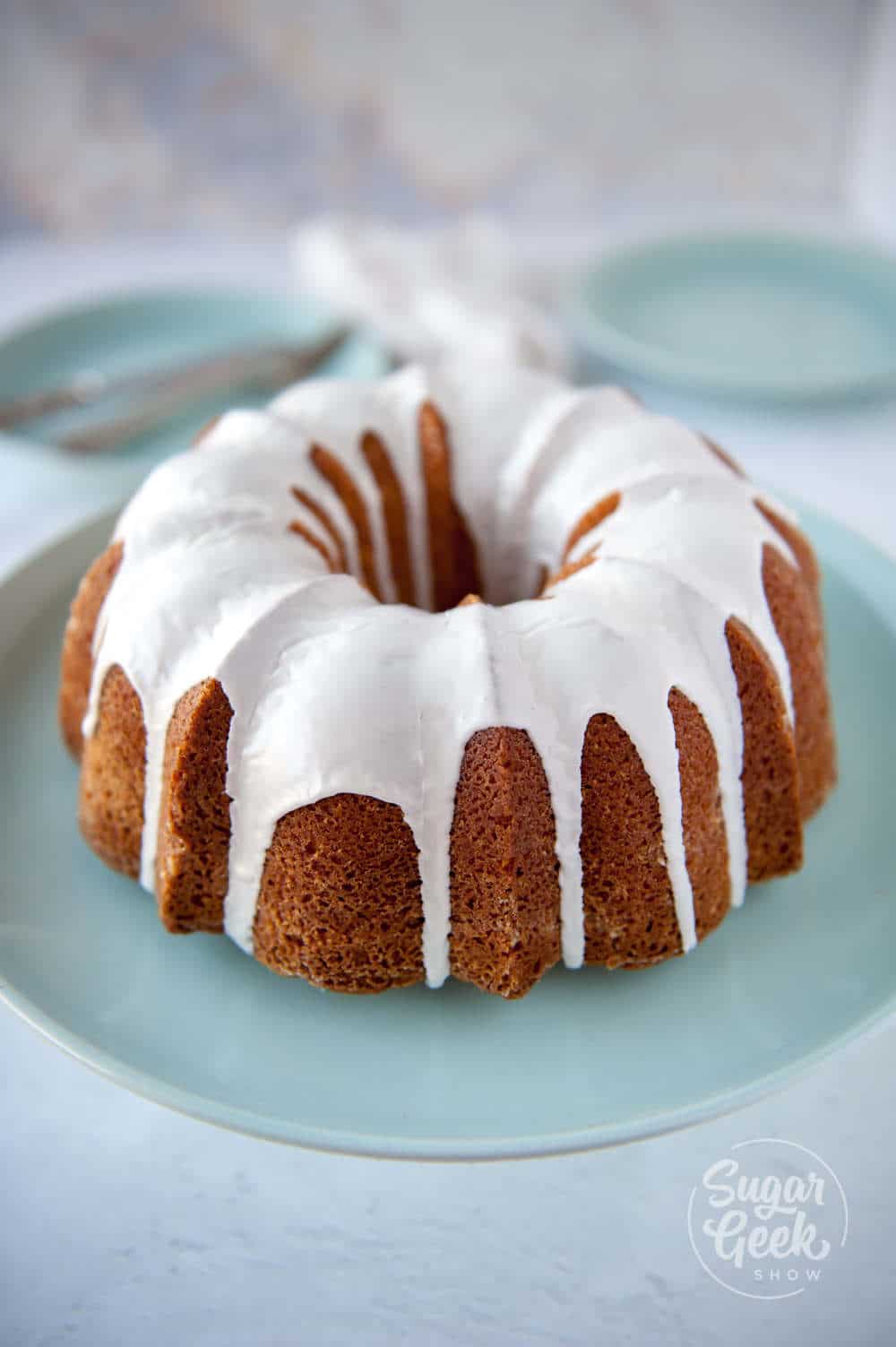 How full do you fill a bundt cake pan?
You might think that your bundt cake pan isn't full enough but there is a lot of batter in this pan and it will rise a lot.
Fill your pan about 2/3 of the way to avoid it from spilling out the top or getting a dome.
Tap your filled pan on the counter a couple of times to avoid bubbles.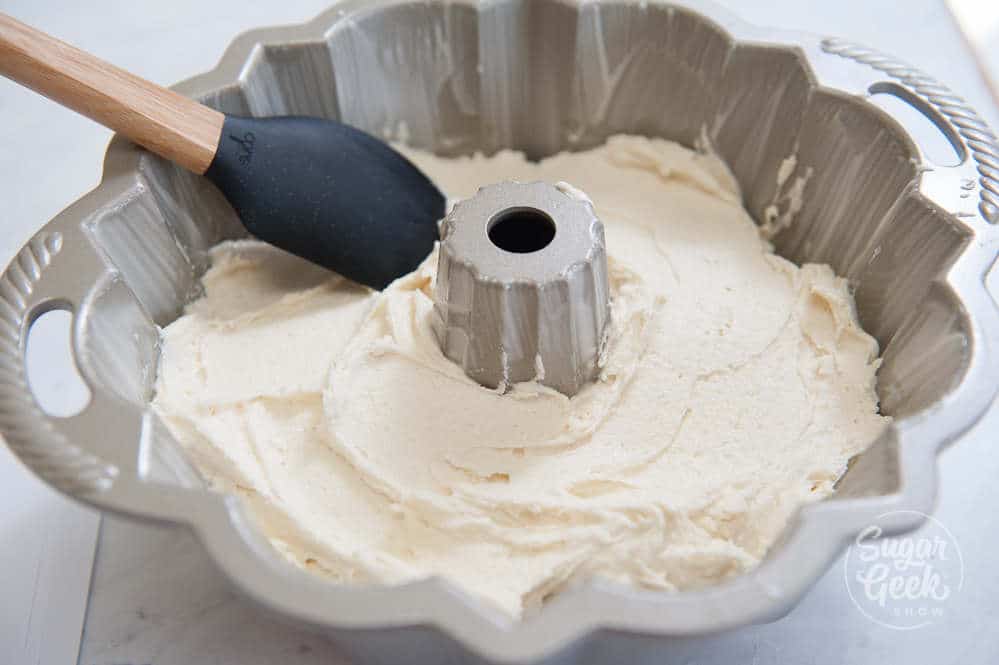 What's the best bundt pan to use?
Modern bundt cake pans come in all types of different shapes and sizes. Nordic Ware only makes their pans out of aluminum but bundt cake pans can be found in other materials. I highly recommend you stick with an aluminum bundt cake pan for the best results. Pans made of silicone, ceramic or glass may look nice but they do not produce that nice brown outer crust that gives the bundt cake it's classic look.
I'm using the Nordic Ware Platinum Collection Anniversary Bundt Pan which is widely regarded as the best bundt cake pan. It has a non-stick surface for easy release. It is light-weight and has handles which make it easier to flip.
This is the traditional bundt cake design and creates beautiful drizzles when you glaze the cake with vanilla glaze.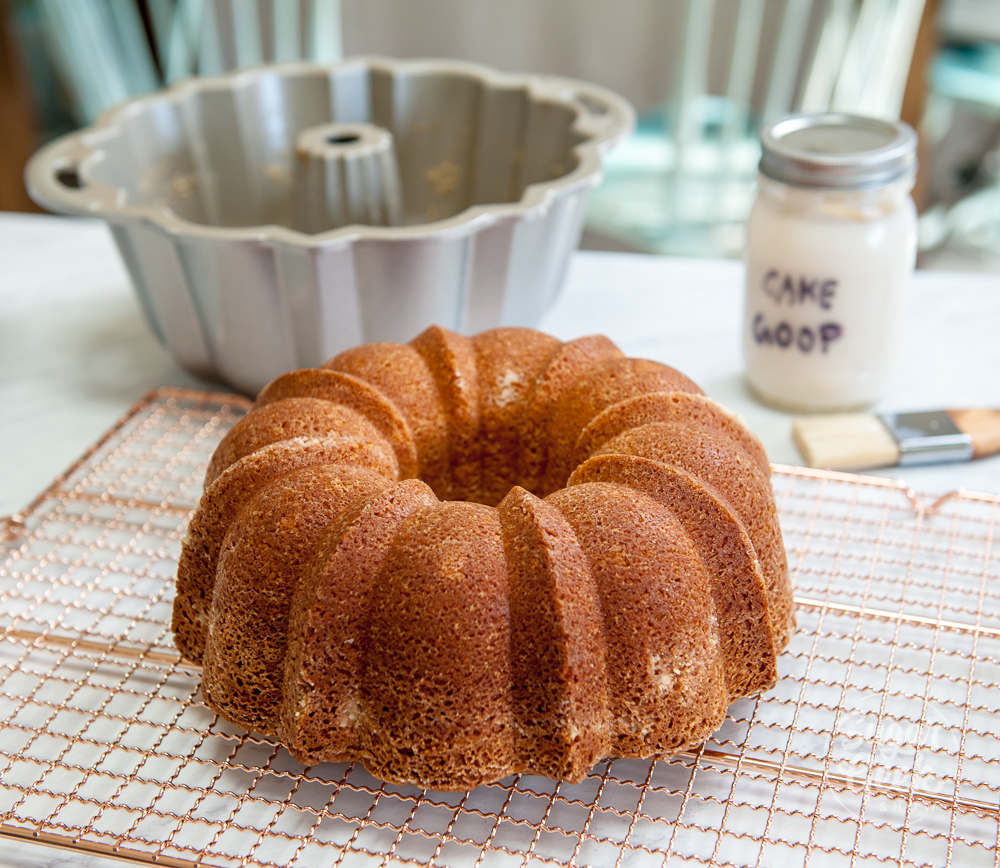 How to keep a vanilla bundt cake from sticking to the pan?
Bundt cakes are notorious for sticking. Reasons why your bundt cake might be sticking:
The cake pan was not greased with a flour-based cooking spray. I prefer using cake goop. It's easy, inexpensive to make and creates a beautiful crust that helps the bundt cake release.
Not greasing thoroughly. Don't forget to grease the nooks and crannies, AND the center tube. Use a pastry brush and create a nice even layer.
Removing the cake from the pan too soon. It's important to let that crusty layer cool down so it doesn't pull away from the hot cake. Let it cool 15 mins in the pan before turning it out onto a cooling rack. Let it cool another 2 hours before cutting into it.
Your cake is too cold. Don't leave your cake in the pan for too long or the sugar will fully solidify and glue your cake to the pan. Wiggle it (just a little bit hehe) to get your bundt cake to release.
Take care of your bundt! haha. Don't scratch the nonstick surface. Always handwash with a soft dishcloth and soapy water. If your cake is still sticking, wet a towel with boiling hot water (be careful!) Use tongs to wring out the excess water and then place over the top of your cake pan to warm it up and hopefully get that cake to release. If all else fails, patch as best you can and cover with frosting.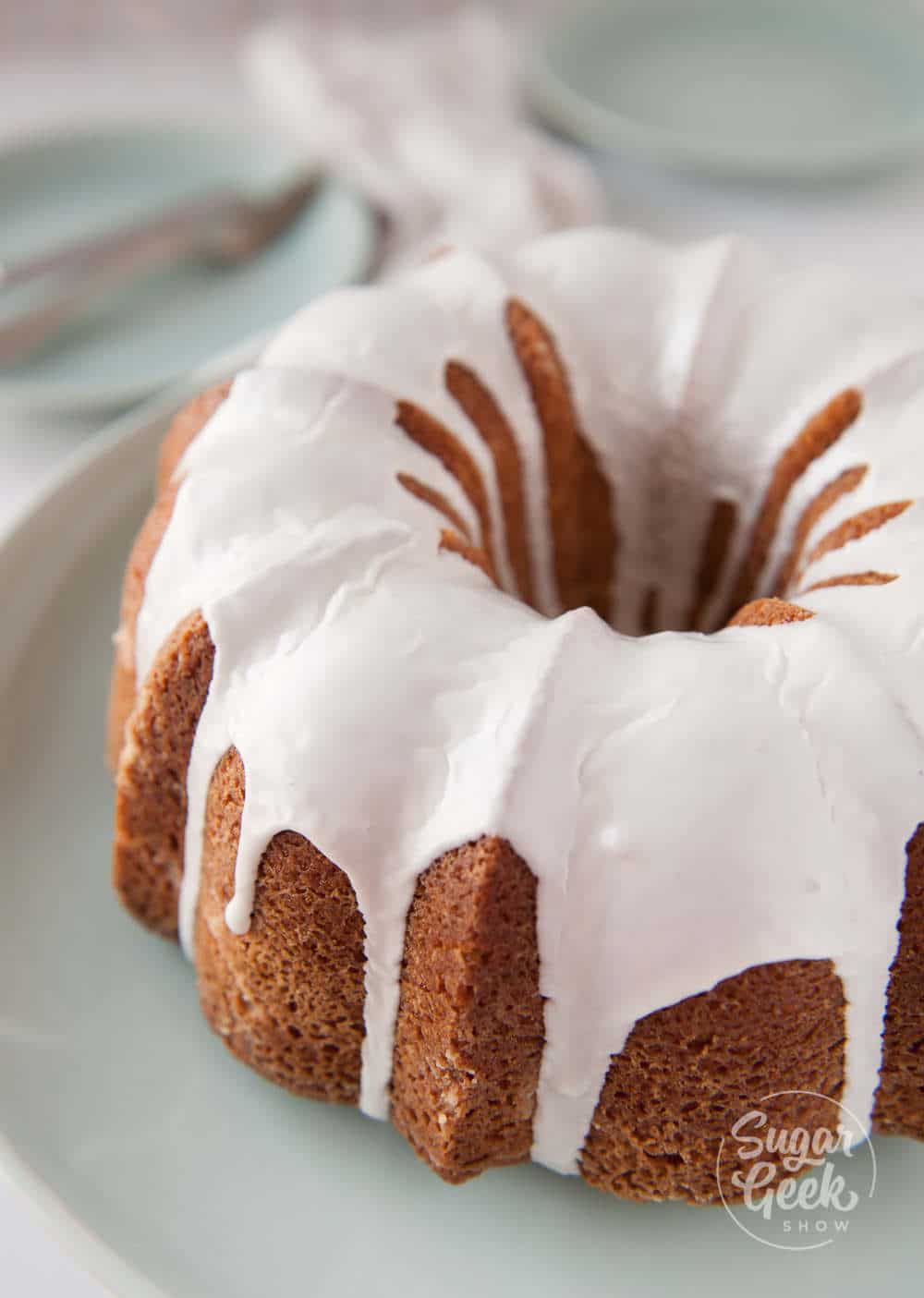 How to keep a vanilla bundt cake moist
As I said earlier, buttermilk and oil help keep this cake moist but the last step to a super moist bundt cake is the glaze! I make two glazes. One is a thin glaze called simple syrup that is brushed on all sides of the cake while it's still warm. Then a second glaze which is thicker and flavored slightly with vanilla and citrus oil seals in all that moisture so the cake doesn't dry out.
Make your simple syrup. When the bundt cake comes out of the oven, brush the top of the cake generously with about 1/3 of the syrup.
Once your cake has cooled for 15 minutes, flip it out onto the cooling rack and place a large cookie sheet under the cooling rack to catch excess glaze drips.
Brush the outside of the cake with the simple syrup until you use all of the glaze.
How to decorate a bundt cake
Place your bundt cake on top of a cooling rack over a cookie sheet to catch the drips.
Make your thick vanilla bundt cake glaze. Test the thickness on the back of a spoon. If it's too thin, add more powdered sugar. I add a couple of drops of white food coloring to make it more opaque. Pour it over the top of the bundt cake in a circle and let it drizzle down the sides.
Once the glaze has stopped dripping, you can transfer the cake to a cake plate.
Keep your bundt cake covered with plastic wrap or keep it at room temperature inside a cake dome to keep it from drying out.
If you like this bundt cake recipe be sure to check out these other recipes!
Easy bakery-style muffins with endless flavor combinations
White velvet buttermilk cake with ermine frosting
Moist vanilla cake with easy buttercream frosting
Did You Make This Recipe?
Leave a rating and tell me how it went!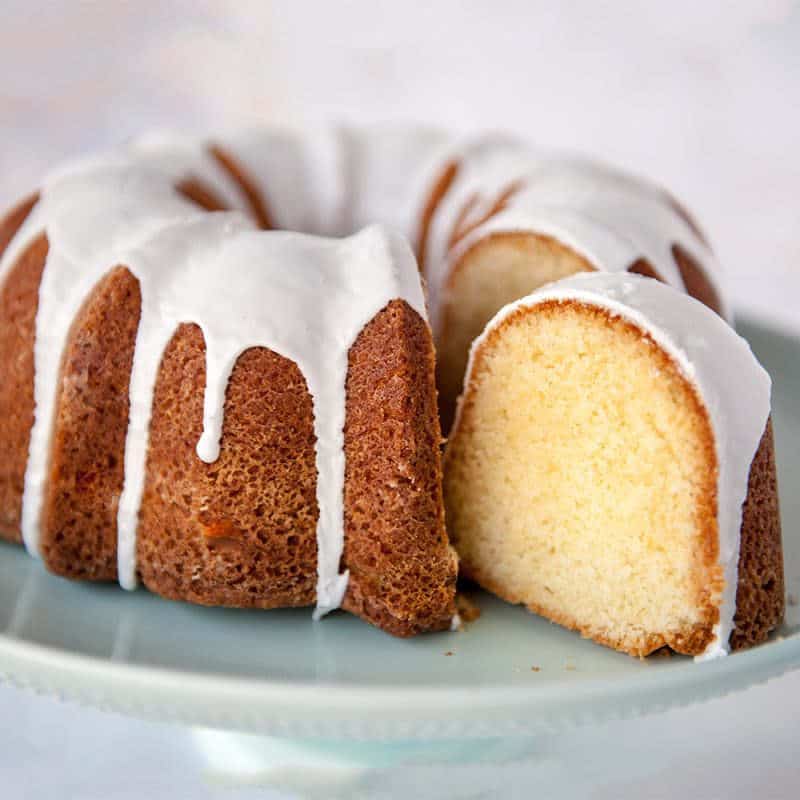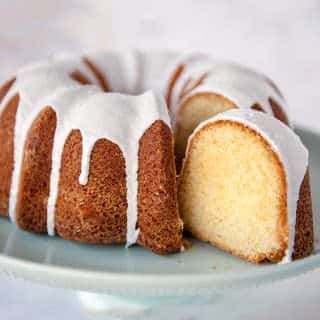 Moist Vanilla Bundt Cake Recipe
The most amazing moist vanilla bundt cake that is firm enough to hold it's shape in a bundt pan but still tender enough to enjoy for days. Buttermilk and a touch of orange make this the best vanilla bundt cake ever. Add in fresh fruit, nuts, chocolate, spices or puree to switch up the flavors to your liking.
Print
Rate
Never Miss A Cake
Ingredients
Vanilla Bundt Cake Ingredients
16

ounces

(

454

g

)

All Purpose Flour

1

teaspoon

baking powder

1

teaspoon

baking soda

1/2

teaspoon

salt

10

ounces

(

284

g

)

unsalted butter

softened

14

ounces

(

397

g

)

granulated sugar

3

large

eggs

room temperature

8

ounces

(

227

g

)

buttermilk

room temperature

3

ounces

(

85

g

)

vegetable oil

2

teaspoons

vanilla extract
Simple Syrup
4

ounces

(

113

g

)

granulated sugar

4

ounces

(

113

g

)

water

1

teaspoon

vanilla extract
Vanilla Glaze
8

ounces

(

227

g

)

powdered sugar

sifted

3

Tablespoons

buttermilk

1/4

teaspoon

orange or lemon extract

1

teaspoon

vanilla extract

2-3

drops

white food coloring

optional
Equipment
bundt cake pan

pastry brush
Instructions
Bundt Cake Instructions
Preheat oven to 350ºF and adjust the rack to the lower-middle of the oven so it's not too close to the top element. Make sure your cold ingredients are at room temperature and you are weighing your ingredients (including liquids) for the best results. See notes for more information.

Coat your bundt cake pan in a thin, even layer of cake goop or another pan release that contains flour. Oil sprays will not work and may cause your bundt cake to stick to the pan.

Whisk together the flour, baking powder, baking soda, and salt and set aside.

Combine together your buttermilk, oil and vanilla extract and set aside.

Place softened butter into the bowl of your stand mixer with the paddle attachment and cream until smooth on low. Sprinkle in your sugar and cream until light and fluffy. Scrape the bowl if needed.

While mixing on low, add in your room temperature eggs one at a time. Letting them mix fully before adding the next egg.

Add in 1/3 of your flour mixture, then 1/3 of your liquid mixture. Repeat two more times. Scrape bowl as needed. Mix until just combined. Do not over-mix.

Pour batter (it will be thick) into your prepared bundt cake pan and bake at 350ºF for 45-50 minutes or until a skewer inserted into the deepest part of the cake comes out clean. My cake took exactly 47 minutes to bake.

Remove cake from the oven and let cool for 15 minutes before turning out onto a cooling rack.
Simple Syrup Glaze
Place water and sugar in a medium-sized saucepan and bring to a boil. Remove from heat, add in vanilla extract and let cool.
Vanilla Bundt Cake Glaze
Sift powdered sugar into a medium-sized bowl

Add in your buttermilk and extract and stir until smooth and creamy

Add a couple of drops of white food coloring if you want your glaze to be more opaque.
Decorating
When you first take the cake out of the oven, brush 1/3 of your simple syrup over the top of the cake. Let cool 15 minutes then turn over onto a cooling rack. I put my cake on a cardboard cake round to prevent sticking. Make sure the cooling rack is over a cookie sheet to catch glaze drips.

Brush the cake all over with the simple syrup then let cool for 2 hours.

Drizzle your thick vanilla cake glaze over the top of your cooled cake. Once the glaze stops dripping you can transfer the cake to a cake plate.

This cake can be kept at room temperature for up to five days or frozen for 6 months. Defrost before serving.
Notes
Buttermilk substitute: https://sugargeekshow.com/recipe/culinary-techniques/buttermilk-substitute/
IMPORTANT: Make sure all your ingredients are at room temp and you're using a scale to measure. Substituting ingredients may cause this recipe to fail. (see notes at the bottom of the recipe)
Important Things To Note Before You Start
1. Bring all your ingredients to

room temperature

or even a little warm (eggs, buttermilk, butter, etc) to ensure your batter does not break or curdle. 
2. Use a scale to

weigh your ingredients

(including liquids) unless otherwise instructed (Tablespoons, teaspoons, pinch etc). Metric measurements are available in the recipe card. Scaled ingredients are much more accurate than using cups and help ensure the success of your recipe. 
3. Practice Mise en Place (everything in it's place). Measure out your ingredients ahead of time and have them ready before you start mixing to reduce the chances of accidentally leaving something out.
4. If the recipe calls for specific ingredients like cake flour, replacing it with all purpose flour and cornstarch is not recommended unless specified in the recipe that it's ok. Substituting ingredients may cause this recipe to fail. 
Nutrition
Serving:
1
g
|
Calories:
601
kcal
(30%)
|
Carbohydrates:
87
g
(29%)
|
Protein:
6
g
(12%)
|
Fat:
27
g
(42%)
|
Saturated Fat:
18
g
(90%)
|
Cholesterol:
91
mg
(30%)
|
Sodium:
203
mg
(8%)
|
Potassium:
110
mg
(3%)
|
Fiber:
1
g
(4%)
|
Sugar:
61
g
(68%)
|
Vitamin A:
598
IU
(12%)
|
Calcium:
50
mg
(5%)
|
Iron:
2
mg
(11%)