The best basic muffin recipe to use as a base for infinite flavor combinations
This basic muffin recipe is just like the ones you find in a bakery. These muffins are fluffy, buttery and super simple to customize. Stir in your favorite mix-ins and create endless bakery-style muffin flavors so everyone can have the flavor they want.
My favorite muffins are bakery-style blueberry muffins but my daughter loves chocolate chip muffins. My husband likes to add in dried fruit and nuts like my cranberry almond orange muffins for a quick and healthy start to the day.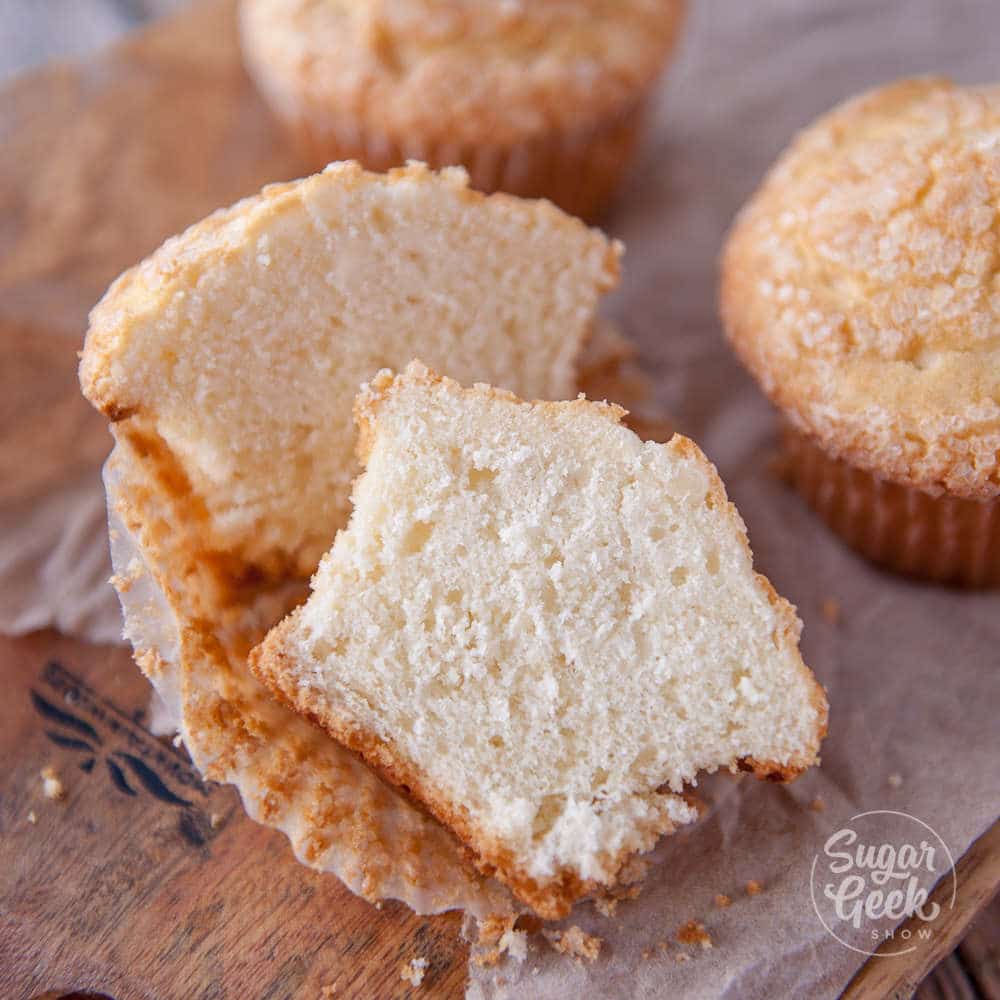 This might come as a surprise to some but you don't necessarily need a new recipe for every single variation of baked goods. Most bakers have a perfected base recipe for everything from sugar cookies, vanilla cake, cupcakes, vanilla buttercream frosting and of course muffins.
Then, they tweak that one recipe with different extracts, spices, and mix-ins. Mix-ins are things that don't affect the chemistry of the base recipe like nuts and fruits. Adding in things like pumpkin, banana or chocolate is also possible but can take a bit more testing to make sure the final outcome is still balanced.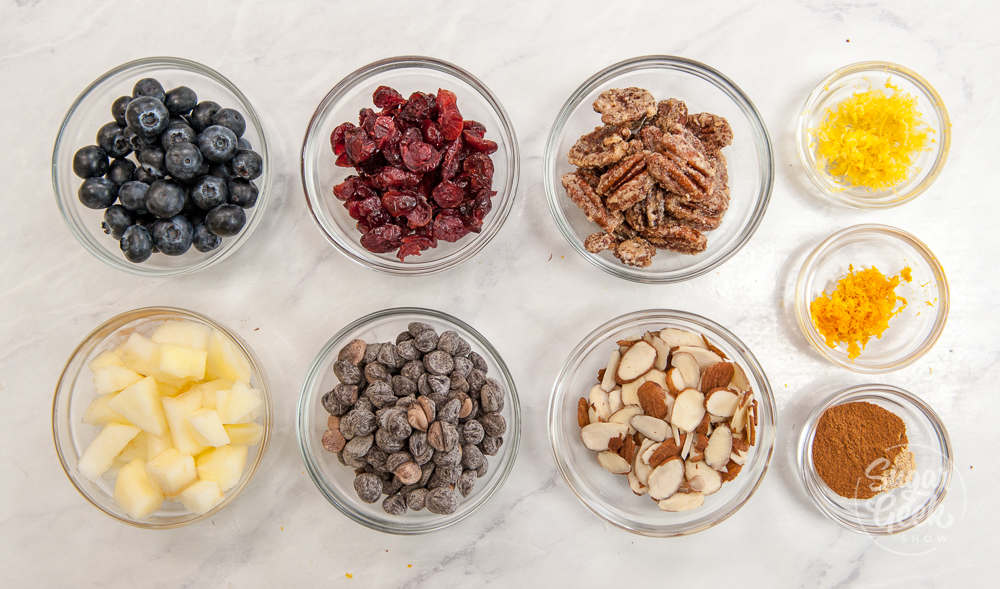 From this one base recipe, you can create hundreds of unique flavor combinations! So fun huh! Simply follow the basic muffin recipe below and stir in your favorite additional ingredients.
What makes this the perfect basic muffin recipe
These soft and fluffy muffins get their amazing texture from creaming together the butter and the sugar first, then adding in eggs, then finishing with the flour mixture and buttermilk mixture.
Be careful not to over-mix or you can get tunneling. Tunneling is when the gluten in the flour becomes over-developed and traps air inside the baked good. Tunneling is great for bread, not so great for muffins.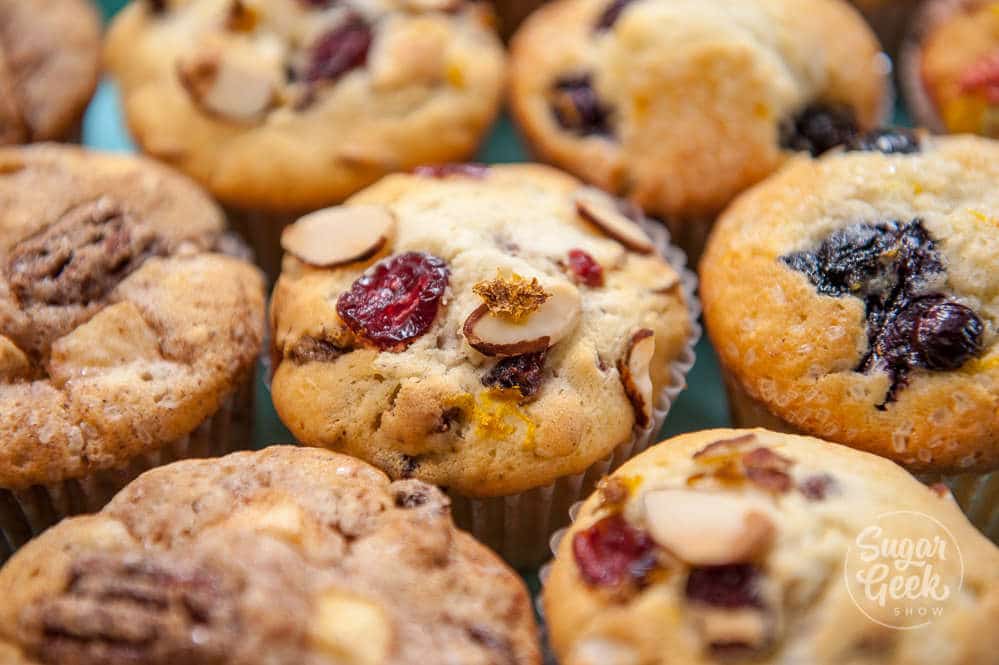 Cake Flour - Makes these muffins super tender and fluffy. If you can't find cake flour you can use all-purpose flour instead. For every 1 cup (5 ounces) of flour, take out two Tablespoons of flour and replace with cornstarch. Then sift. (only for this recipe, not for my vanilla cake recipe).
Buttermilk - Adds a slightly tangy flavor and the acidity of the buttermilk breaks down the gluten in the flour, resulting in a more tender muffin. No buttermilk? Just add 1 Tablespoon of white vinegar to 1 cup of regular milk and let it sit for 10 minutes.
Butter - Gives the muffins a delicious flavor and adds moisture. Use high-quality butter like plugra or kerrigold for the best flavor!
Baking Powder & Baking Soda - Muffins take a lot of rising agent to get those big fluffy muffin tops. If you're at a high-altitude, make sure you make some adjustments.
Bake At A High Temperature - Baking at a higher heat gives these muffins a nice lift and makes them super fluffy.
I like to top my muffins with sparkling sugar. This gives the muffins that bakery-style look at the sugar actual helps keep the muffins moist. Sugar is hygroscopic and attacts moisture from the air which is why baked goods with more sugar in them (like high-fructose corn syrup) stay moister for longer. Not that I'm suggesting you put high-fructose corn syrup in your muffins (yuk).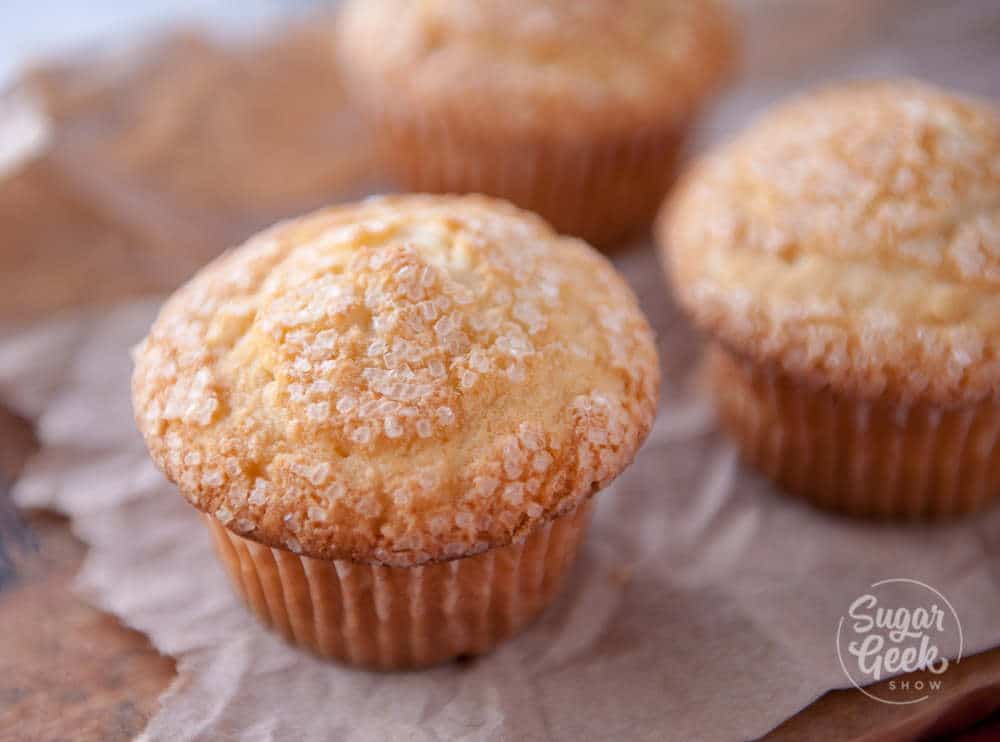 Muffin flavor combinations
Now for the fun part! Coming up with fun flavors! It's so easy to customize your basic muffin recipe into pretty much anything. Need ideas? Check out the suggestions below. You can add in about 1 cup without affecting the recipe.
If the add-in is very moist, reduce the amount you add in to ½ cup. Muffins with fresh fruit or berries must stay refrigerated to prevent molding.
Berries - blueberries, blackberries, raspberries (fresh or frozen)
Fresh Fruit - Chopped strawberries, peaches, apples, pears (fresh is best)
Nuts - Toasted almonds, candied pecans, macadamia nuts, walnuts, pistachios
Dried Fruit - Cranberries, craisins, strawberries, toasted coconut, cherries
Candy - Chocolate chips, mini M&M, caramel bits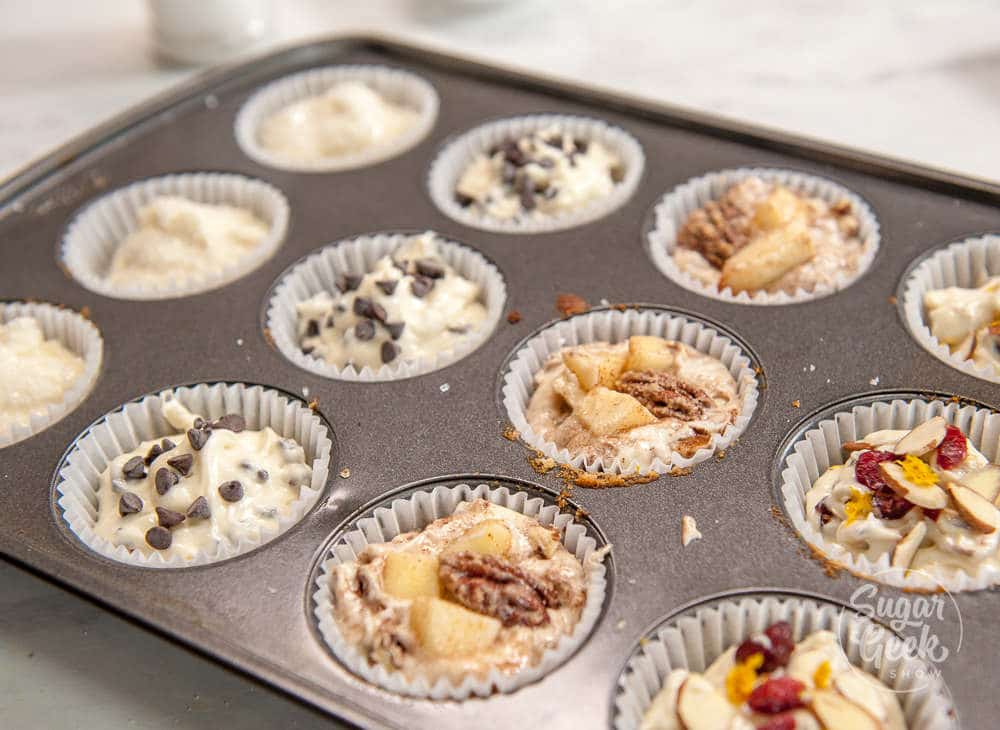 Other ways to customize the basic muffin recipe
Aside from mix-ins, there are other ways to customize your muffin recipe without any major adjustments.
Spices - Add in any amount of spices you like such as cinnamon, clove, ginger or nutmeg to your muffin batter
Zest - Add in fruit zest like lime, lemon or orange to accent your add-ins
Sugar - Replace half or all of your sugar with brown sugar for a warmer flavor
Butter - Replace half or all of the butter with brown butter for a deeper, toastier flavor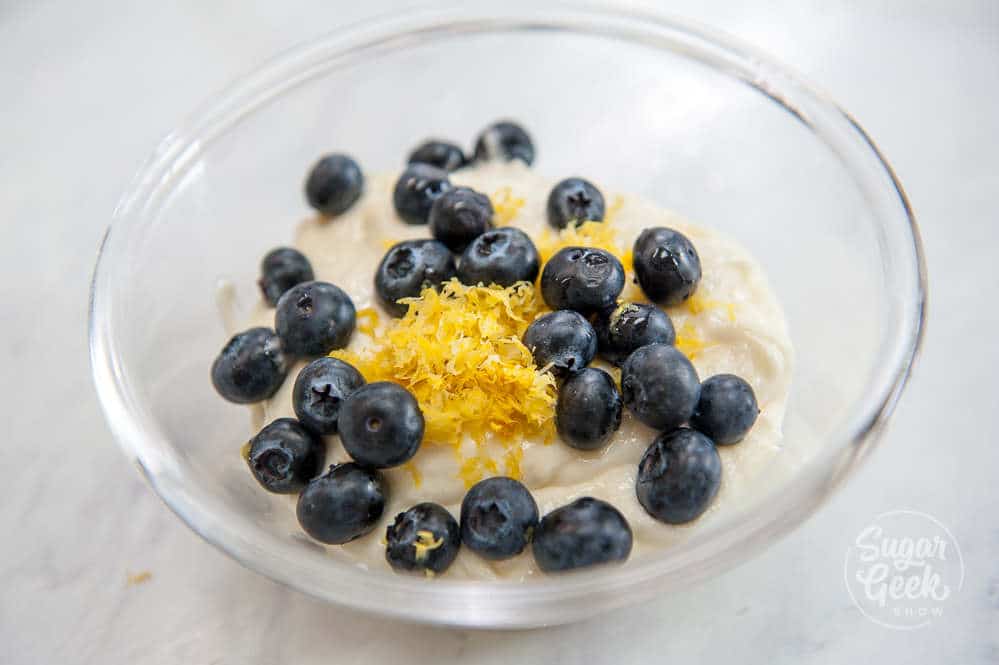 What's the difference between muffins and cupcakes?
You might be wondering what the difference is between a muffin and a cupcake. Is there a difference? Some might say a muffin is just a cupcake without frosting. But there are a few other differences as well.
A muffin tends to be a little dryer and denser than a cupcake. It can be savory or sweet (similar to a scone). Replace the white flour with whole wheat and oats and they are considered a healthy breakfast option. A cupcake is meant to taste exactly like a cake but smaller. Very moist, sweet and covered in a frosting of some sort.
Cupcakes are not considered healthy unless you count eating only one cupcake instead of a whole slice a diet plan (which I may or may not be guilty of).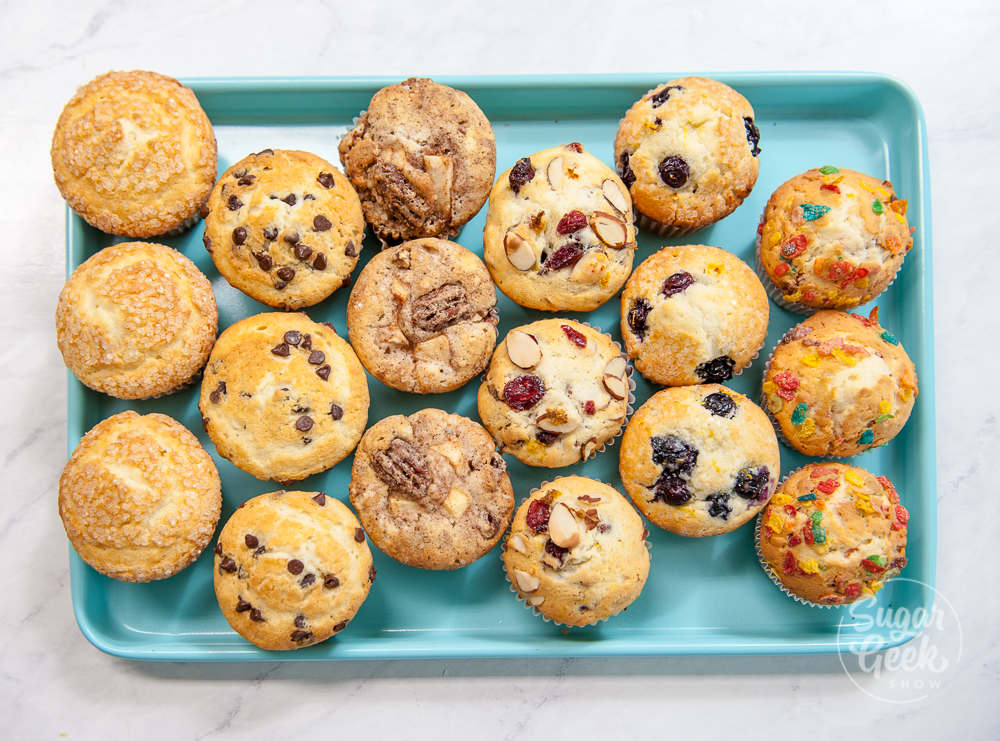 How can you make muffins more moist?
Just because a muffin is meant to be dryer than a cupcake doesn't mean you want to forget about moisture altogether. If your cupcakes seem too dry, you can add in some additional ingredients to make them more moist.
Replace half the milk with yogurt or sour cream for additional moisture and tanginess
Add in ¼ cup applesauce for added moisture, don't worry, this won't make your cupcakes taste like apples.
Replace half the sugar with brown sugar. The molasses in brown sugar adds more moisture and flavor to the recipe.
Replace two tablespoons of sugar with honey, molasses or corn syrup. These ingredients are hygroscopic meaning they attract moisture from the air and keep those muffins nice and moist!
Replace half the butter with vegetable oil. Cream the butter and oil with the sugar as usual. Oil keeps the muffins from tasting dry, especially if they need to stay refrigerated (muffins with fresh fruit)
Keep muffins at room temperature. Unless your muffins have fruit in them, there's not a reason to keep them refrigerated. Refrigeration just dries out baked goods and makes the butter in them cold. Cold butter tends to taste dry in baked goodies.
Recipe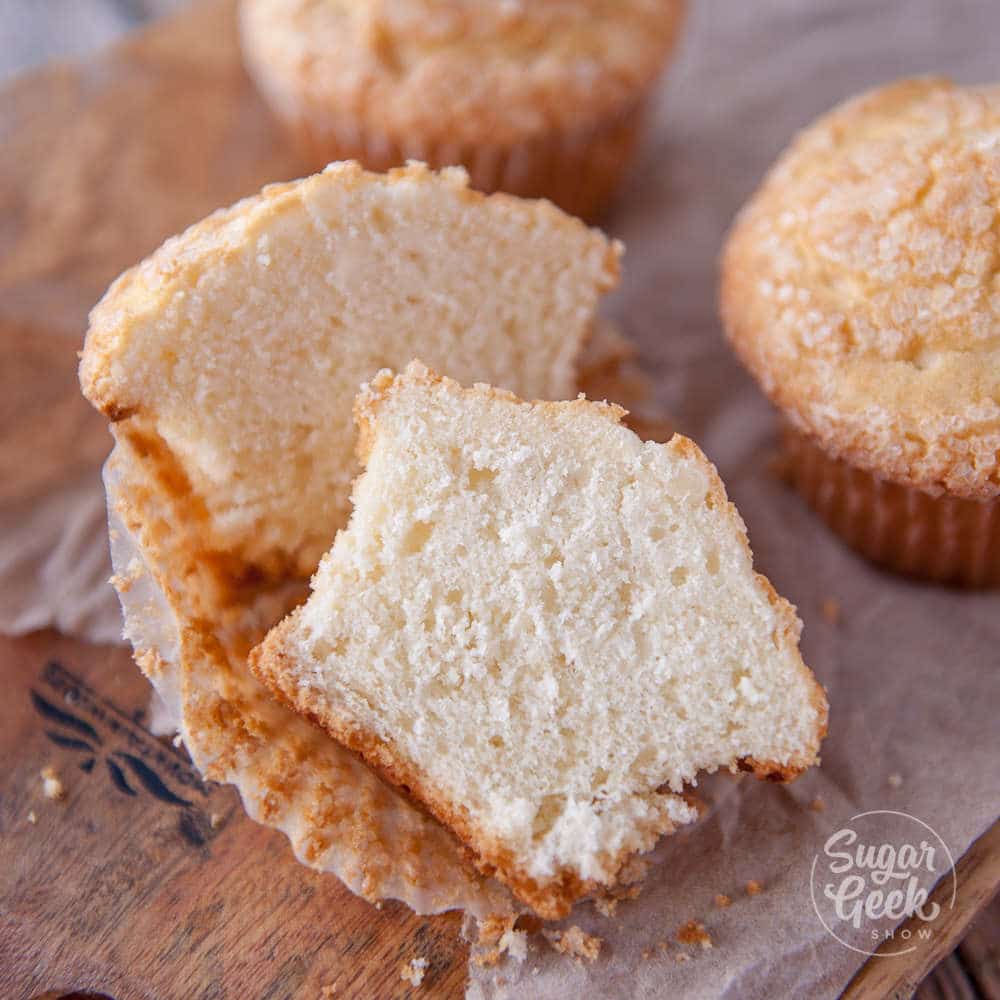 Equipment
Mixer (stand or handheld)
Ingredients
4

ounces

unsalted butter

(½ cup) softened

5

ounces

granulated sugar

(¾ cup)

2

large

eggs

room temperature

2

teaspoons

vanilla extract

10

ounces

cake flour

(2 cups)

3

teaspoons

baking powder

1

teaspoon

baking soda

½

teaspoon

salt

8

ounces

buttermilk

(1 cup) room temperature

3

Tablespoons

sanding sugar

(optional for sprinkling on top)
Instructions
IMPORTANT: Make sure all your ingredients are at room temp (see notes at the bottom of the recipe) 

Preheat your oven to 400ºF - Line a muffin tin with paper liners.

Sift together your flour, baking powder, baking soda, and salt. Set aside.

Cream together your butter and sugar in a medium bowl with your mixer until light and fluffy

Add in your egg and vanilla. Continue creaming until pale in color

While mixing on low, add in ⅓ of your flour mixture, then ⅓ of your buttermilk. Repeat two more times until just combined. Do not overmix.

Fold in your desired mix-ins such as fruit, nuts or spices.

Fill your liners all the way to the top with muffin batter. Top with more mix-ins if desired and sparkling sugar.

Bake for 15-20 minutes or until edges begin to slightly brown and a wooden skewer comes out cleanly when inserted into the center of the muffin.

Let your muffins cool in the pan for 10 minutes then move them to a cooling rack to cool the rest of the way.
Notes
Important Things To Note Before You Start
1. Bring all your ingredients to

room temperature

or even a little warm (eggs, buttermilk, butter, etc) to ensure your batter does not break or curdle. 
2. Use a scale to

weigh your ingredients

(including liquids) unless otherwise instructed (Tablespoons, teaspoons, pinch etc). Metric measurements are available in the recipe card. Scaled ingredients are much more accurate than using cups and help ensure the success of your recipe. 
3. Practice Mise en Place (everything in it's place). Measure out your ingredients ahead of time and have them ready before you start mixing to reduce the chances of accidentally leaving something out.
4. If the recipe calls for specific ingredients like cake flour, replacing it with all purpose flour and cornstarch is not recommended unless specified in the recipe that it's ok. Substituting ingredients may cause this recipe to fail. 
Nutrition
Serving:
1
g
|
Calories:
220
kcal
|
Carbohydrates:
30
g
|
Protein:
4
g
|
Fat:
9
g
|
Saturated Fat:
5
g
|
Cholesterol:
40
mg
|
Sodium:
217
mg
|
Potassium:
123
mg
|
Fiber:
1
g
|
Sugar:
13
g
|
Vitamin A:
293
IU
|
Calcium:
59
mg
|
Iron:
1
mg