This is how I doctor a red velvet box mix to make it taste more like it's made from scratch. The added ingredients give the cake a better texture, more flavor, and more stability for stacking. Doctoring a box mix is a great way to make your cake taste better if you're not a confident baker yet or you just need a shortcut.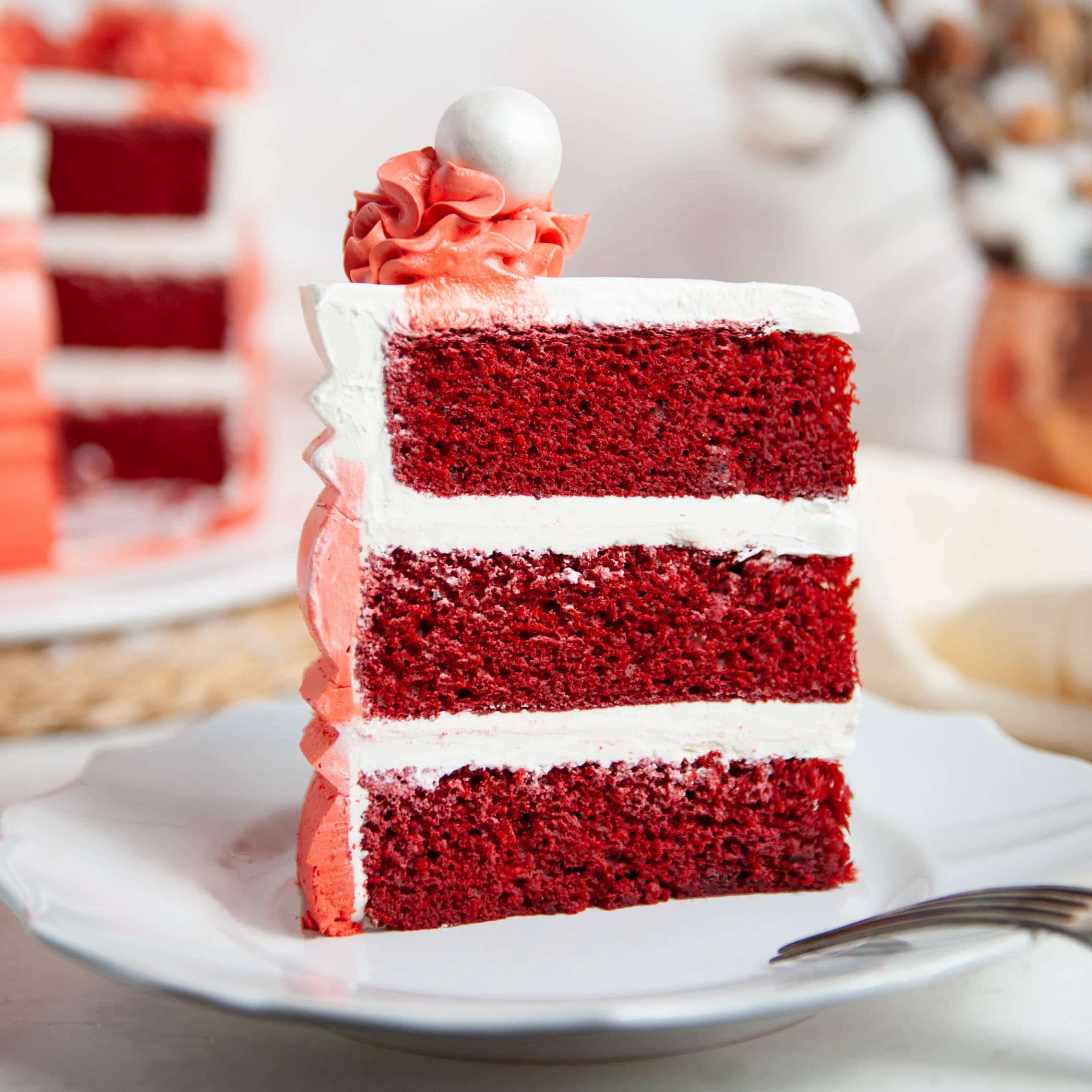 Doctored Red Velvet Cake Ingredients
This recipe is based on my WASC cake recipe and my chocolate WASC. The reason why we add more ingredients to a box mix is that on its own, a box mix is pretty fluffy and soft. Nothing wrong with that really but most of my readers are professional cake decorators or passionate hobby bakers and like a firmer cake for stacking.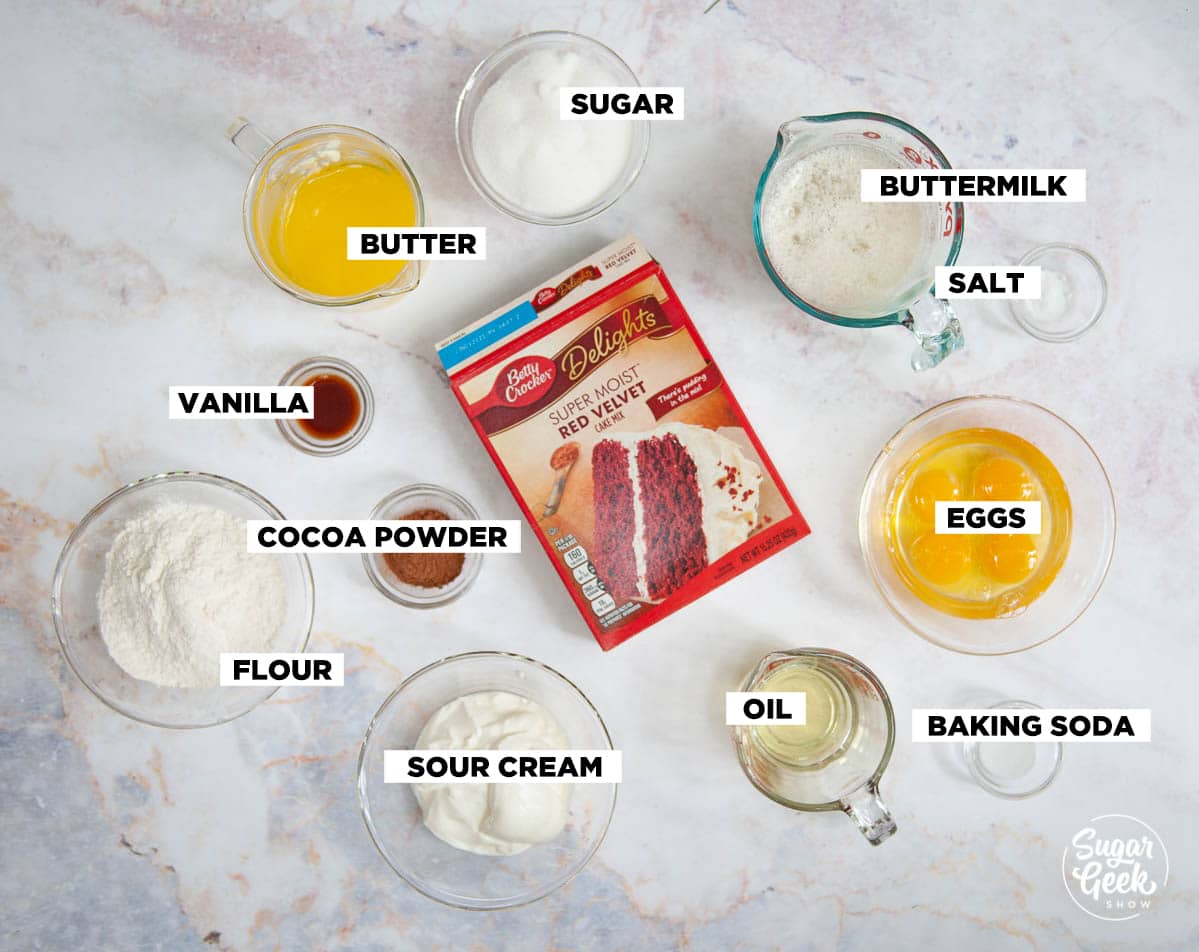 The funny thing is, red velvet from scratch is really really easy to make too. Probably one of the easiest cakes to bake from scratch so if you're interested in taking that leap, check out my authentic red velvet cake recipe.
If you don't have buttermilk, you can make a buttermilk substitute or use milk instead.
Doctored Red Velvet Cake Step-By-Step
Step 1 – Preheat your oven to 335ºF and prepare three 8″x2″ cake pans with cake goop or your preferred type of pan release.
Step 2 – Bring your eggs, sour cream, and buttermilk to room temperature.
Step 3 – Combine the cake mix and all your ingredients in the bowl of your stand mixer with the whisk attachment attached.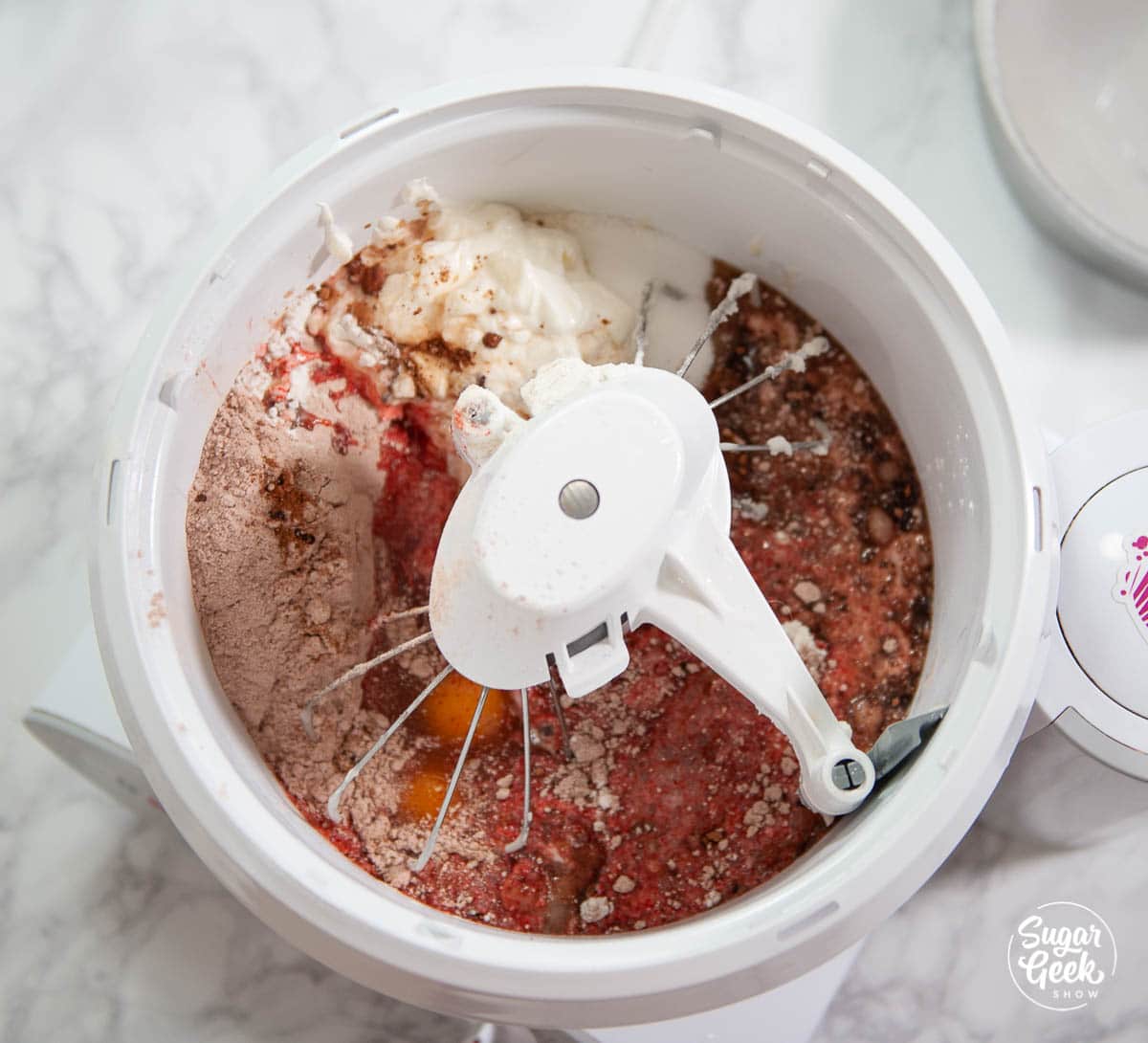 Step 4 – Mix on low for 30 seconds to combine the ingredients then scrape the bowl.
Step 5 – Increase the speed to medium and mix for two minutes.
Step 6 – Divide the batter between the three pans and bake for 25-30 minutes or until a toothpick comes out of the center cleanly.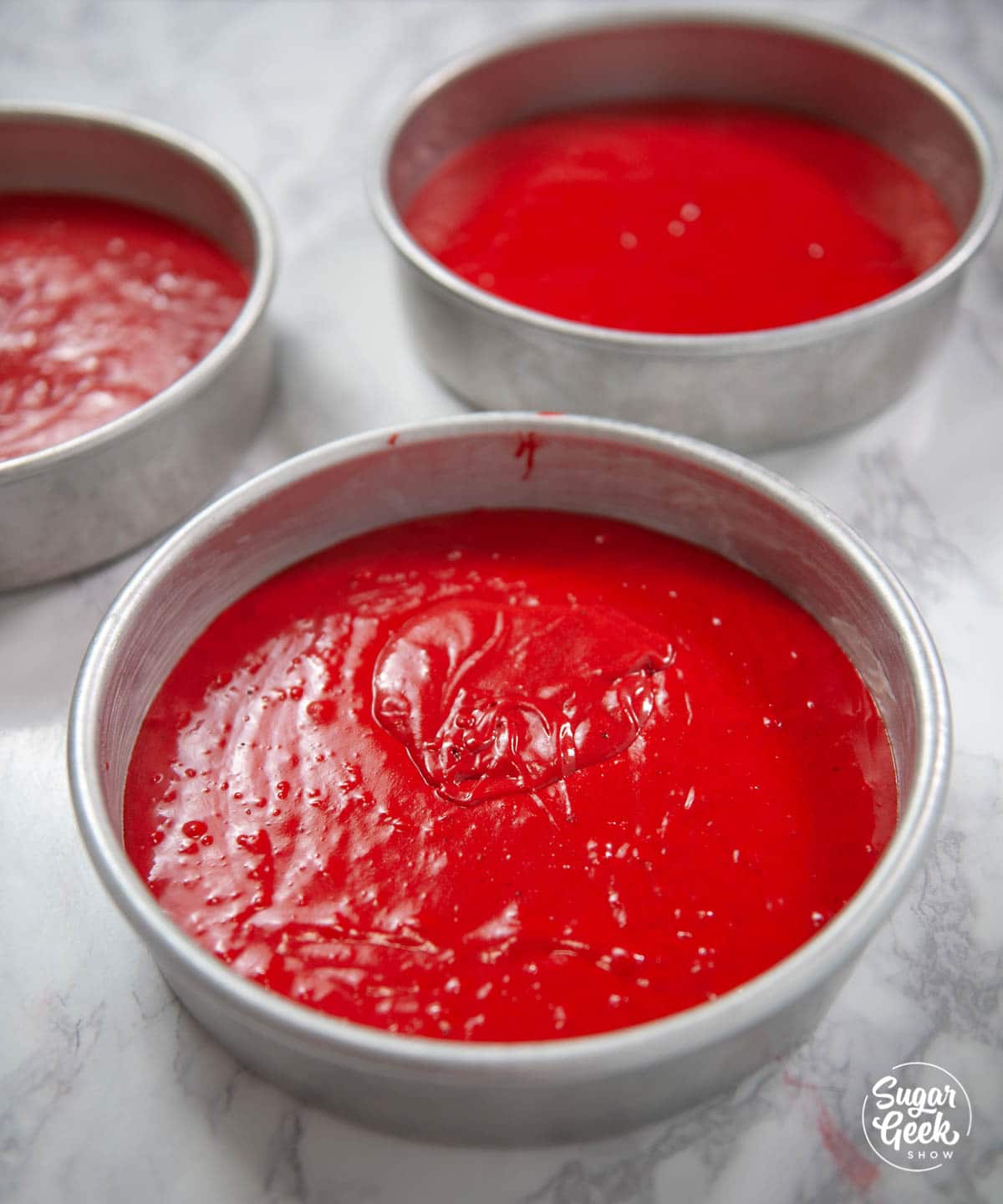 Step 7 – Let your cakes cool in the pan until the pan is barely warm (about 10 minutes) then flip them out onto a wire rack to cool fully.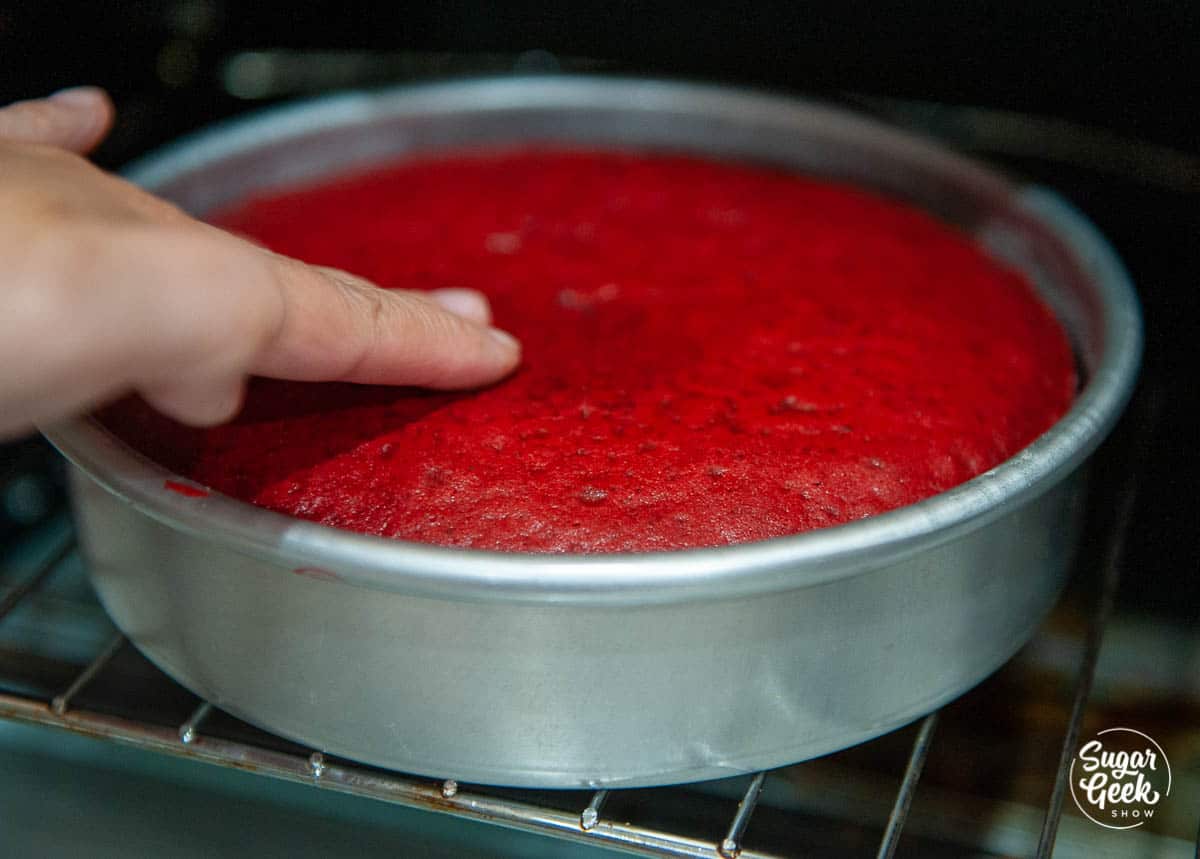 If you want to decorate your cake right away, I suggest placing the cakes into the freezer for 60 minutes to flash cool them and then you can frost them. Or you can wrap them in plastic wrap and freeze them overnight if you want to decorate the next day.
Pro-tip: Freezing your cakes warm locks in moisture and prevents them from drying out.
Step 8 – After your cakes are cool you can decorate your cake however you want or check out the video to see how I decorated mine with this cute ombre look!
How To Decorate The Cake
I colored 1/3 of my buttercream dark pink with super red food coloring from Americolor and then 1/3 a light pink with the same food coloring and left the last bit white.
If you need to learn more about how to decorate cakes you can check out my how to make your first cake tutorial.
To smooth the outside of my cake, I'm using the crown jewel cake comb from Ester Cakes.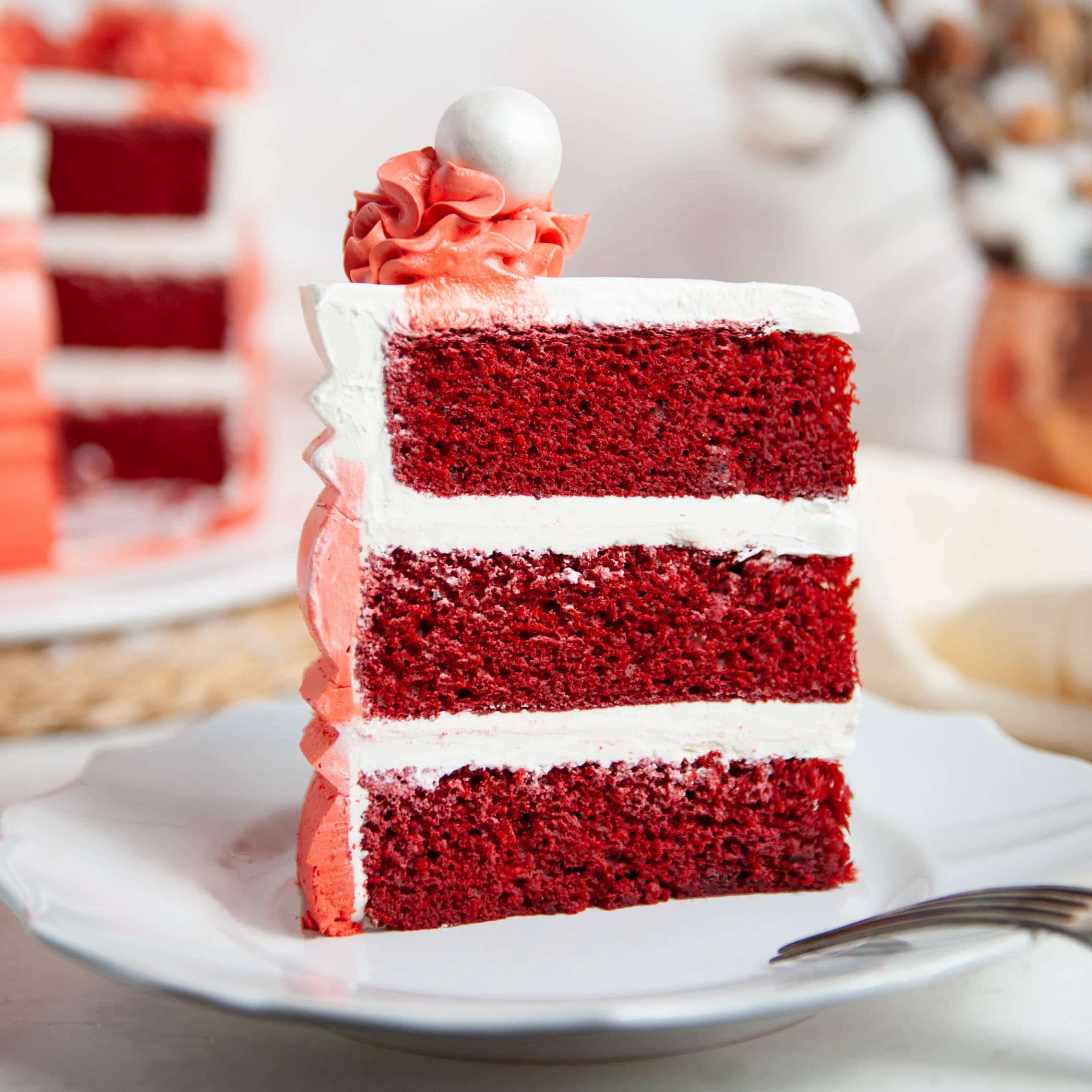 Related Recipes
Cake Batter and Frosting Calculator
Select an option below to calculate how much batter or frosting you need. Adjust the servings slider on the recipe card to change the amounts the recipe makes.
Choose a pan type
Choose a cake pan size
(based on 2" tall cake pan)
Choose a cake pan size
(based on 2" tall cake pan)
Choose a cake pan size
(based on 2" tall cake pan)
Cups of Batter Needed
8 cups
Cups of Frosting Needed
5 cups
Did You Make This Recipe?Leave a rating and tell me how it went!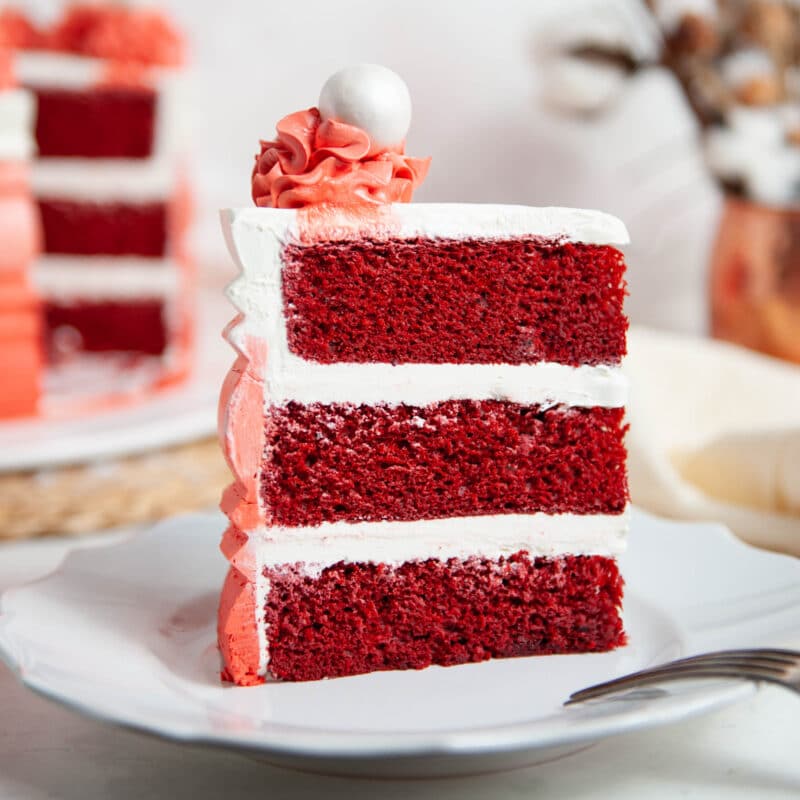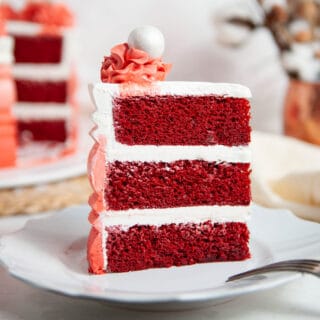 Doctored Red Velvet Box Mix Cake
How to make a boring red velvet box mix taste extra moist and delicious! Almost as good as homemade. No one will ever know!
Print
Rate
Never Miss A Cake
Serves: 9 cups
Calories: 500kcal
Ingredients
Doctored Red Velvet Cake
1 box red velvet cake mix I like Betty Crocker Delights super moist red velvet cake mix, or Duncan Hines.
5 ounces (142 g) all purpose flour 1 cup spooned in and leveled
7 ounces (198 g) granulated sugar 1 cup
6 ounces (170 g) sour cream, room temperature or plain greek yogurt - 3/4 cup
2 Tablespoons cocoa powder
1/2 tsp salt
1/2 tsp baking soda
1 tsp vanilla extract
2 ounces (57 g) vegetable oil 1/4 cup
4 ounces (113 g) unsalted butter, melted 1/2 cup
12 ounces (340 g) buttermilk, room temperature or regular milk + 1 Tbsp of white vinegar. 1 1/2 cups
3 large eggs room temperature
1 Tablespoon Super Red Food Coloring
Easy Swiss Meringue Buttercream
6 ounces (170 g) pasteurized egg whites
24 ounces (680 g) sifted powdered sugar
2 teaspoons vanilla extract
1/2 teaspoon salt
24 ounces (680 g) unsalted butter room temperature
1/8 teaspoon yellow food coloring
1 teaspoon electric pink food coloring
2 Tablespoons super red food coloring
Equipment
Three, 8"x2" cake pans

Stand mixer, hand mixer or even a bowl with a whisk

For decorating: 8" cake board, bench scraper, offset spatula, rustic scallop cake comb, piping bag and Wilton 2D piping tip.
Instructions
For The Cake
Preheat oven to 335℉. Prepare three 8" round cake pans. I prefer to use cake goop. 

Add all of your ingredients into the bowl of your stand mixer with the paddle attachment attached and mix on low for 2 minutes to combine.

Stop and scrape the bowl and then mix on medium for two minutes. 

Pour batter into your cake pans and bake for 25-30 minutes until a toothpick comes out of the center with just a few sticky crumbs clinging to the toothpick. I gently touch the top of the cake to see if it bounces back to check if it's done. If it needs more time only bake for 1 minute more then check again.

Let cool a few minutes in the pan before turning out onto a cooling rack. Let cool fully and frost. 
Easy Swiss Meringue Buttercream
Place egg whites and powdered sugar in a stand mixer bowl. Attach the whisk and combine ingredients on low and then whip on high for 1 minute to dissolve the powdered sugar 

Add in your salt and vanilla extract

Add in your butter in chunks and whip with the whisk attachment to combine. It will look curdled at first. This is normal. It will also look pretty yellow. Keep whipping. 

If your buttercream looks curdled, remove about 1/3 cup of buttercream and melt it in the microwave for 10-15 seconds until JUST barely melted. Pour it back into the whipping buttercream to bring it all together.

Switch to a paddle attachment and mix on low for 15-20 minutes to make the buttercream very smooth and remove air bubbles. This isn't required but if you want really creamy frosting, you don't want to skip it. 
Nutrition
Serving: 1slice | Calories: 500kcal (25%) | Carbohydrates: 50g (17%) | Protein: 2g (4%) | Fat: 30g (46%) | Saturated Fat: 20g (100%) | Cholesterol: 112mg (37%) | Sodium: 150mg (6%) | Potassium: 30mg (1%) | Fiber: 1g (4%) | Sugar: 35g (39%) | Vitamin A: 400IU (8%) | Calcium: 15mg (2%) | Iron: 1mg (6%)