Lemon Raspberry Cake With Lots Of Lemon Zest And Fresh Raspberry Filling Is A Summertime Favorite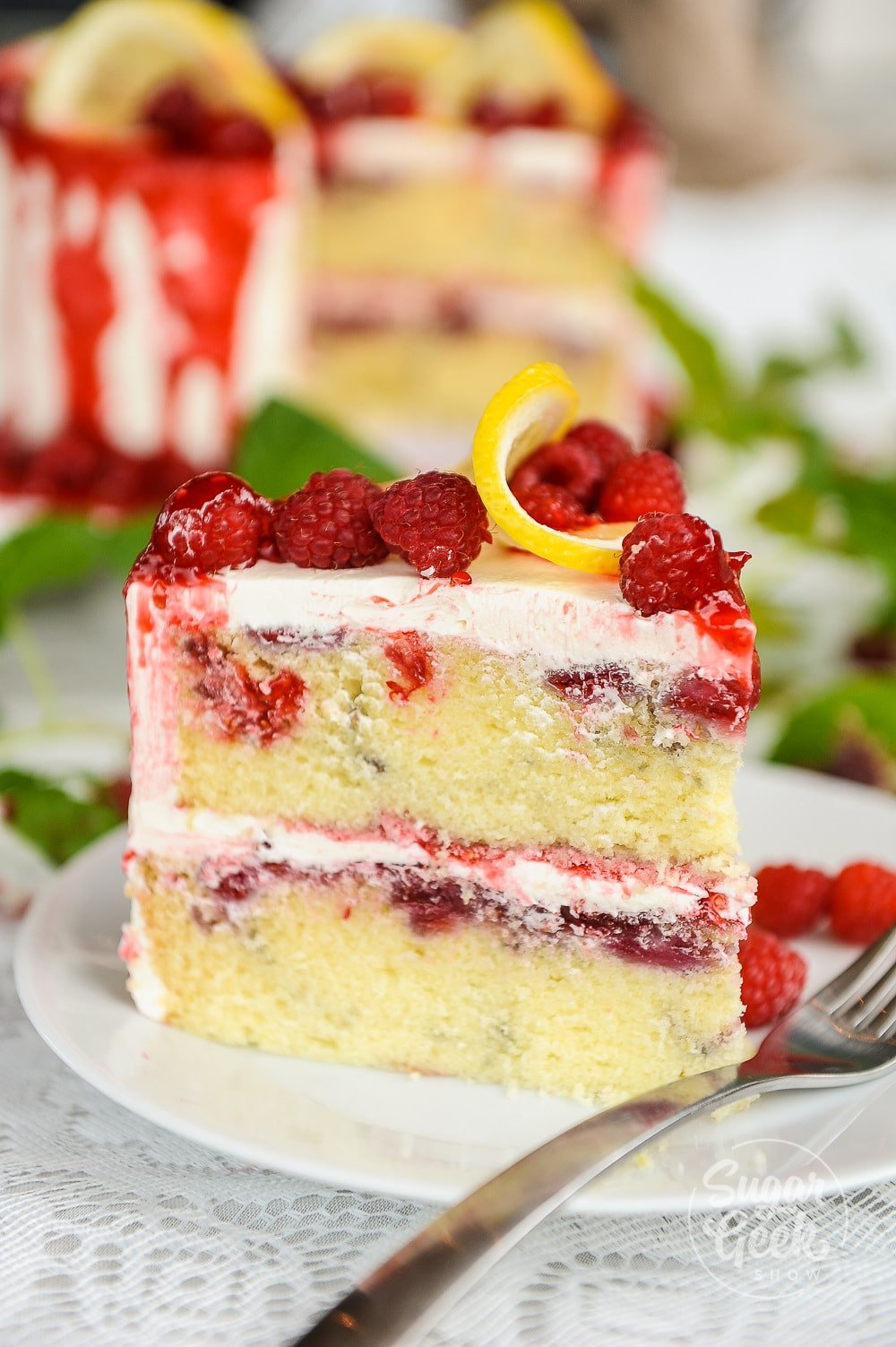 Lemon raspberry cake is a reader favorite! Watch my video on how to make a delicious lemon raspberry cake with raspberry filling and raspberry buttercream! Talk about raspberry overload!
Lemon raspberry cake needs to be on your summer baking list! If you love my vanilla cake recipe or my classic lemon cake recipe you're gonna flip over this one.
This fresh lemon raspberry cake is packed full of lemon flavor but my favorite part is the fresh raspberry filling swirled throughout the cake and the yummy bites of raspberries!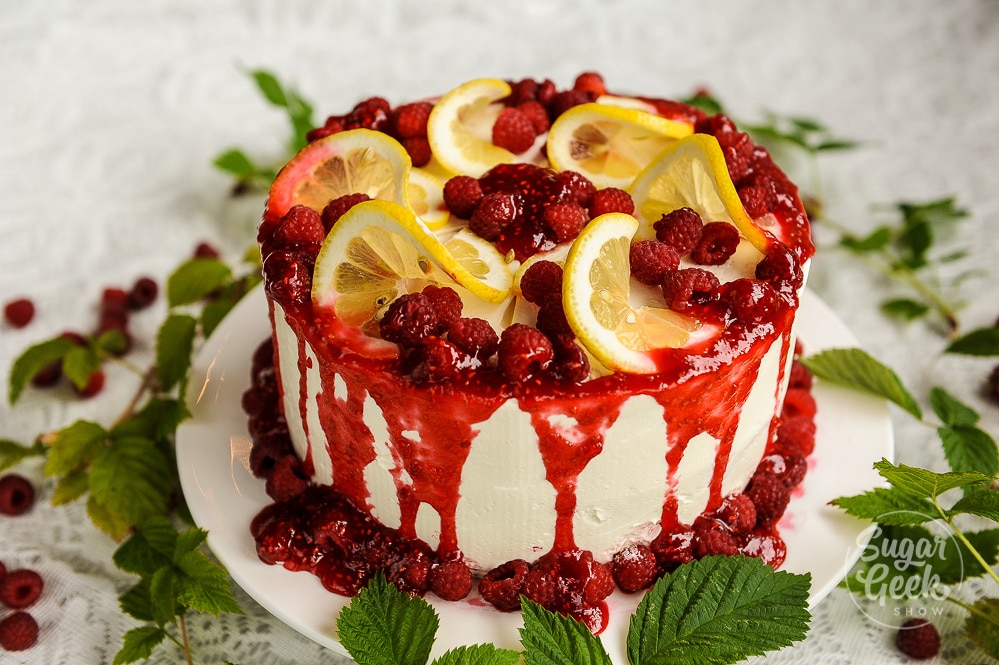 So pretty! The cake is frosted and filled with my go-to easy buttercream frosting, topped with more raspberry filling for the drip. Sliced lemons and more raspberries look so yummy!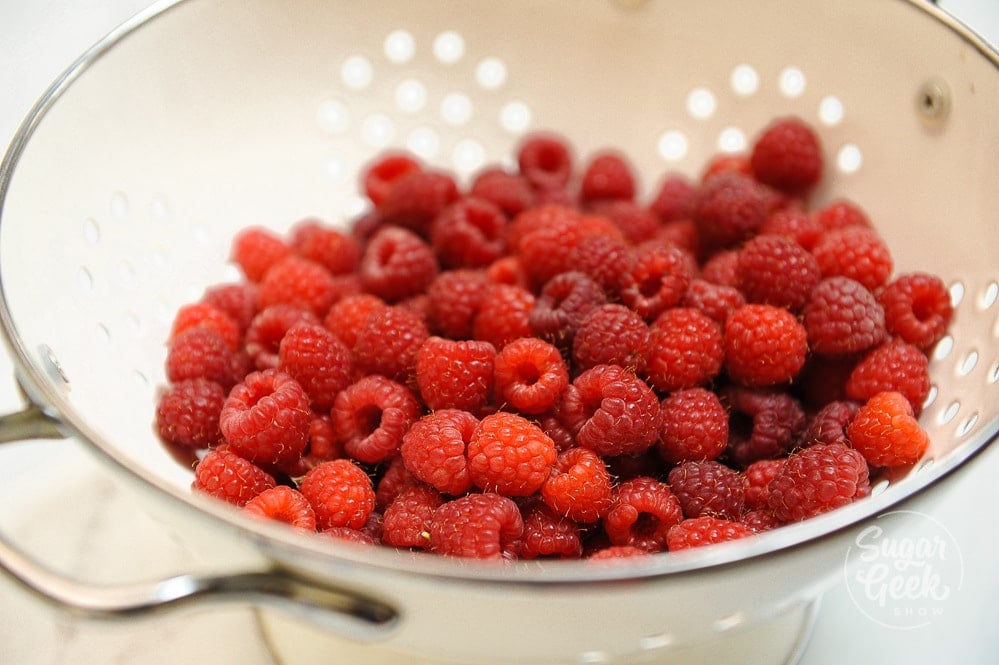 One of my best friends Kelsey happens to have about 50 raspberry bushes next to her house (lucky girl) and recently brought me over about three pounds! I was SO excited! But as you know, raspberries spoil very quickly so even though I hadn't planned on baking that day, I baked THREE raspberry goodies which I'll be posting over the next two weeks.
Lemon Cake Recipe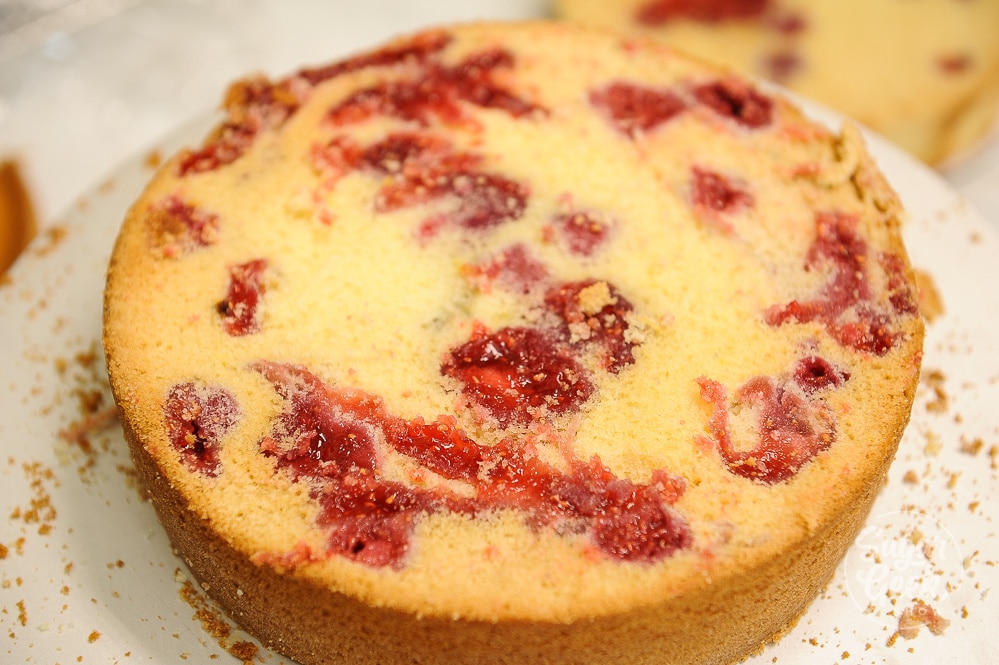 Let's start with the lemon portion of this lemon raspberry cake! This is actually my favorite lemon cake recipe that I have been using for years with an extra bit of lemon extract and lemon juice. I feel like lemon cake that has too much extract tastes like candy so I prefer to get most of my flavor from the zest.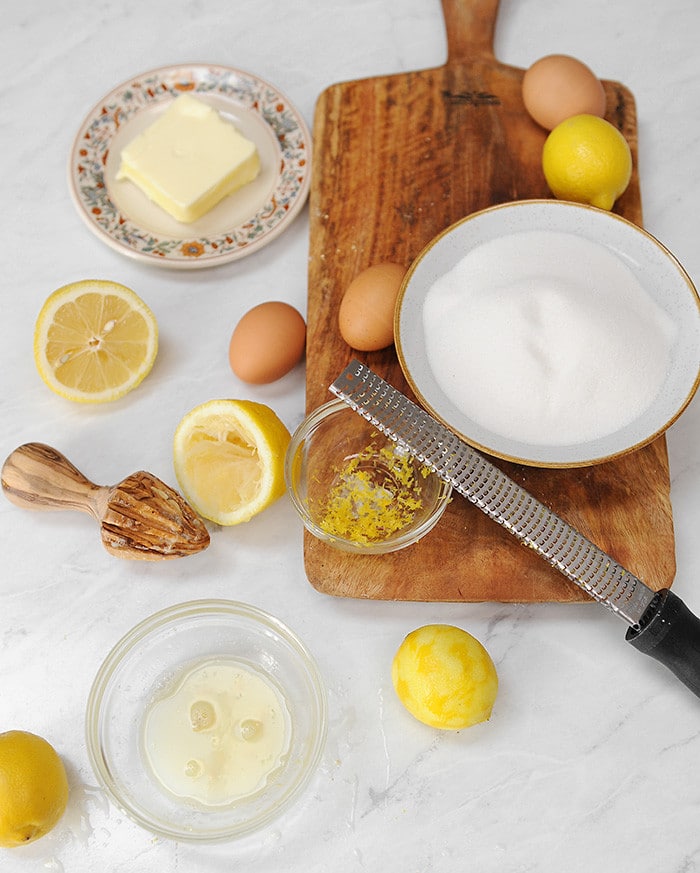 This cake recipe is made with cake flour which is a very delicate white flour. Cake flour gives you the most delicious tender crumb when combined with the reverse mixing method.
When making this cake, make sure all your ingredients are at room temperature so that they properly combine. Cold milk or butter will curdle the mixture and cause your cake to fall flat. Literally.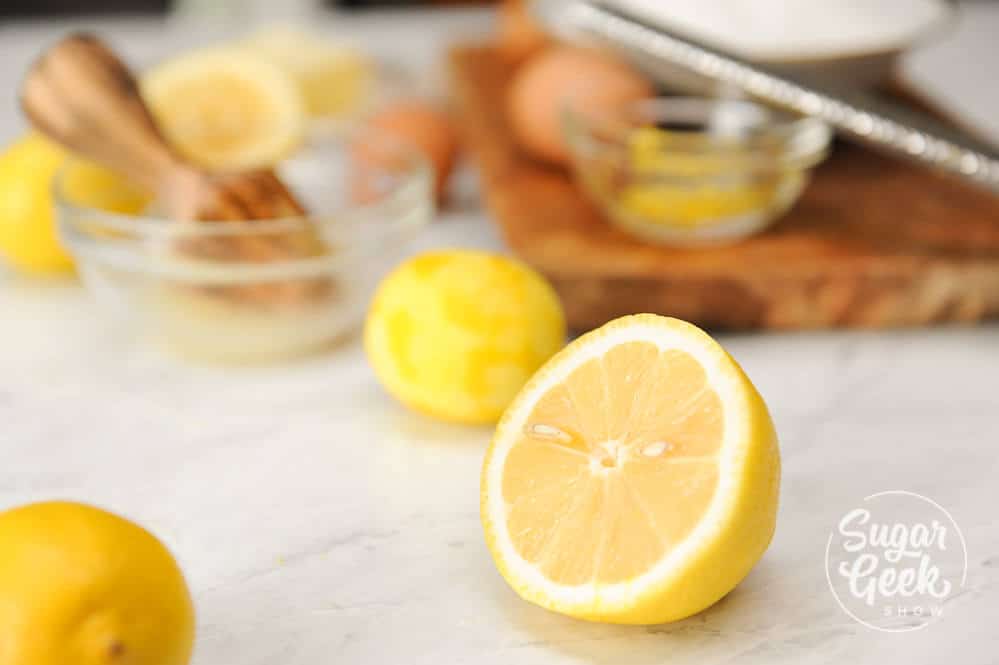 You'll also want to use a scale. If you try to google volume measurements (cups) I promise it won't turn out and do you really want to waste all that precious butter? You can get the scale I use on amazon or you can buy a scale at pretty much any store for under $20.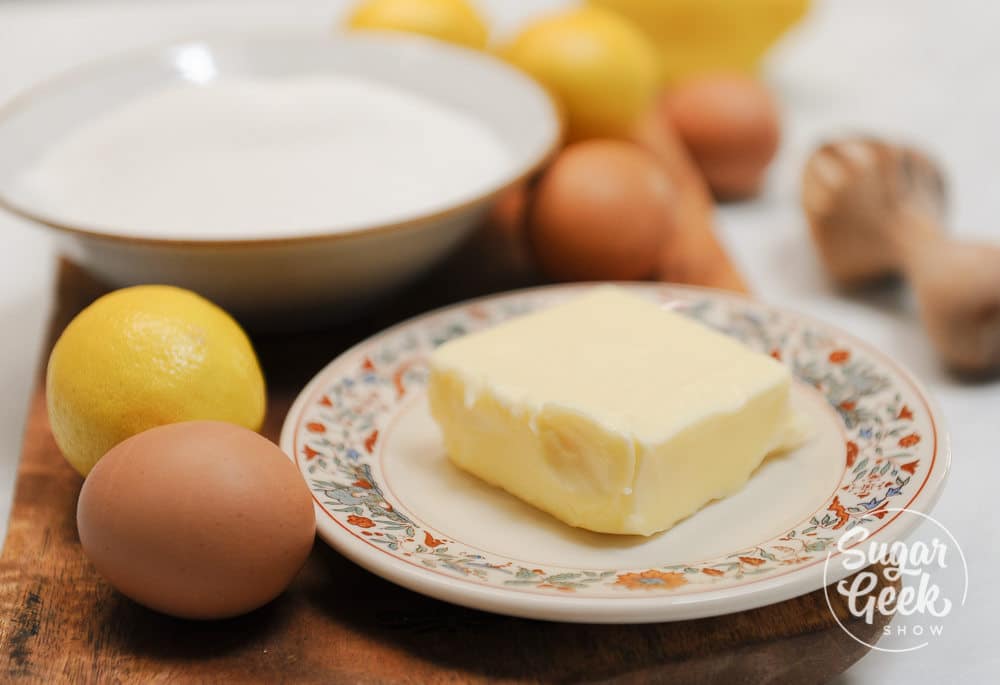 If you're like me and you forget to bring your ingredients to room temperature ahead of time, you can use my lazy baker hack. I place my eggs in a bowl of warm water for 10 minutes, microwave my milk for 30 seconds (time varies depending on your microwave) and I microwave my butter for 20 seconds. Voila!
Raspberry Filling

One of the most awesome things about raspberries is they make a fantastic filling! This recipe is basically raspberry jam plus a little cornstarch to make it a bit more stable for using as a cake filling. The cornstarch doesn't make it TOO thick though so you can totally use it like a refrigerator jam and spread it on everything from pound cake to biscuits (which I TOTALLY did).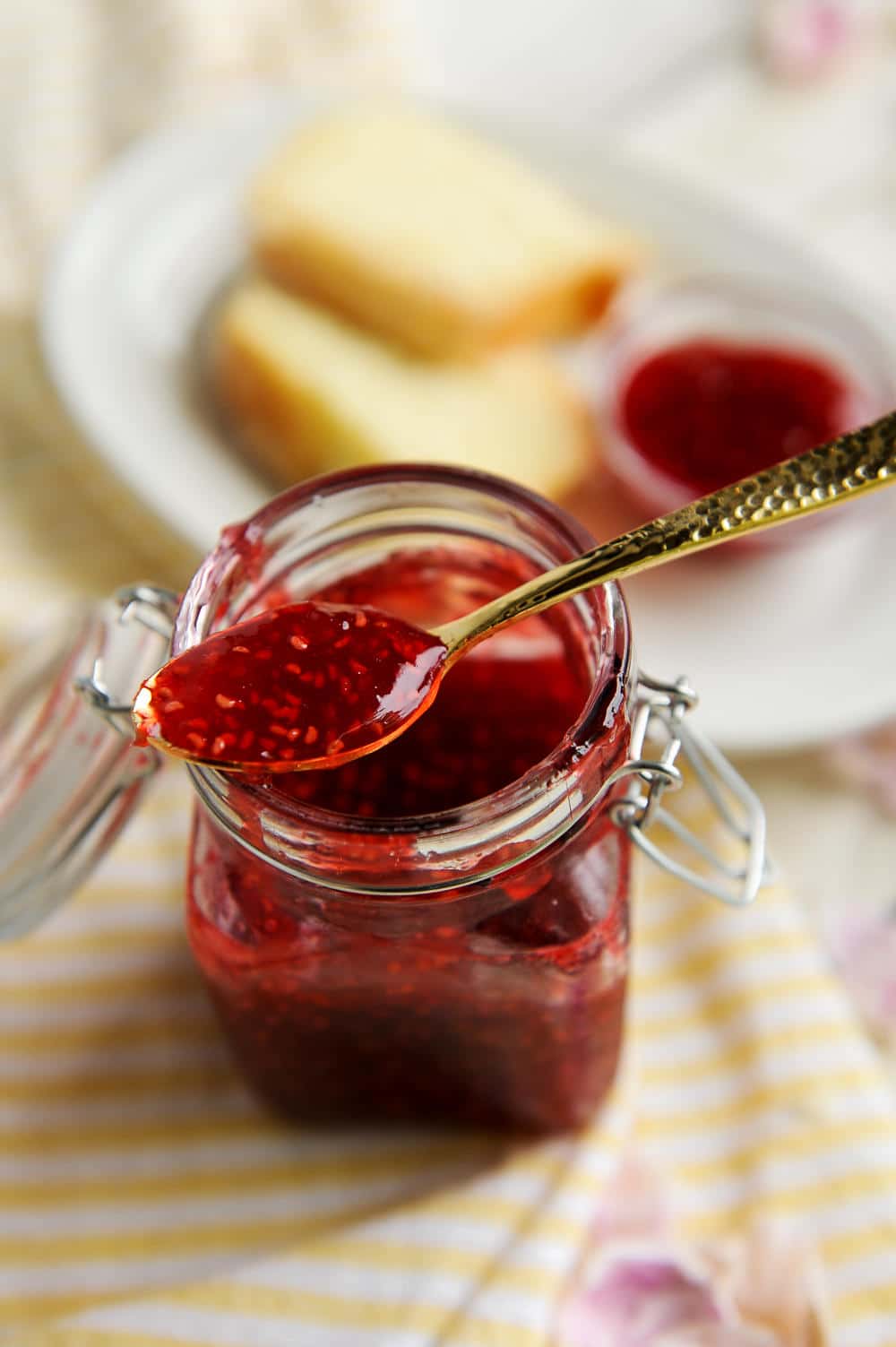 To make the raspberry filling all you do is combine the raspberries with the sugar and bring to a boil. I choose to use an immersion blender to make the filling more smooth but you can leave it chunky.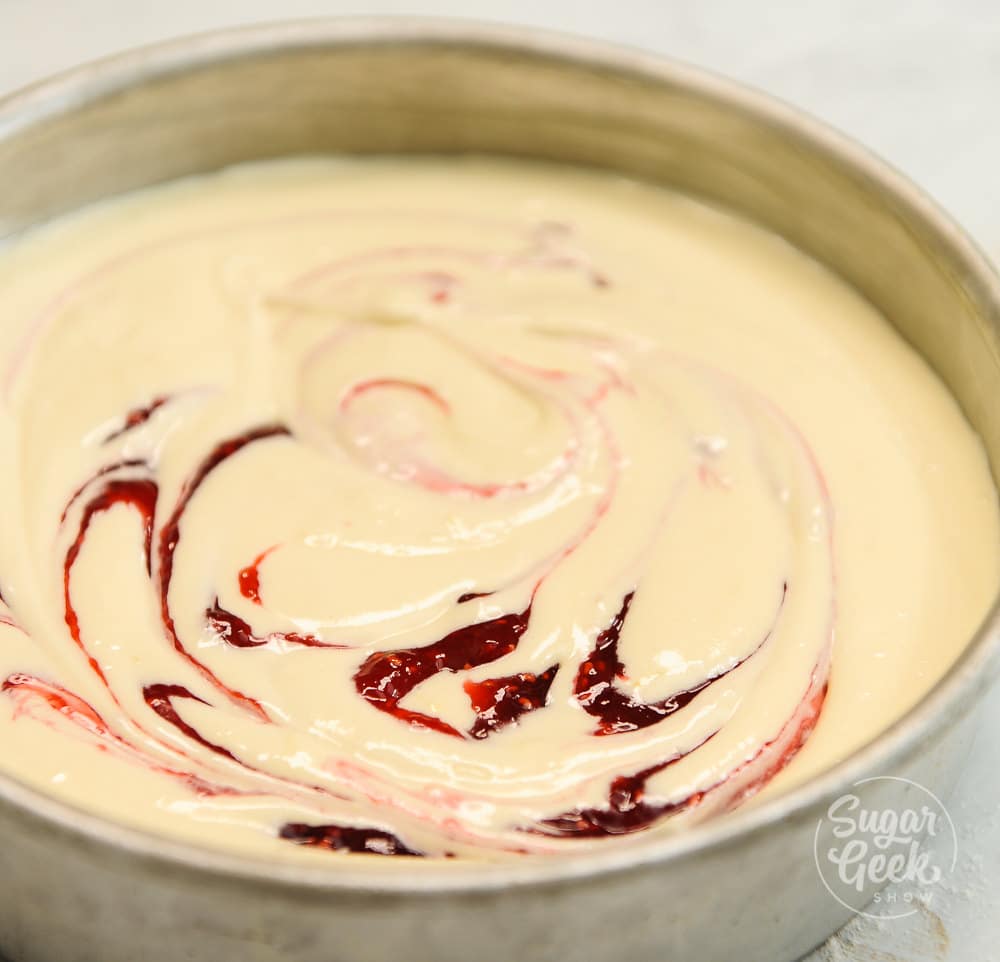 Add in your lemon and cornstarch slurry and let it simmer until clear and smooth. let cool before using it inside your cakes. I like to pour mine into a cake pan and spread it thin so it cools faster.
How To Make A Lemon Raspberry Layer Cake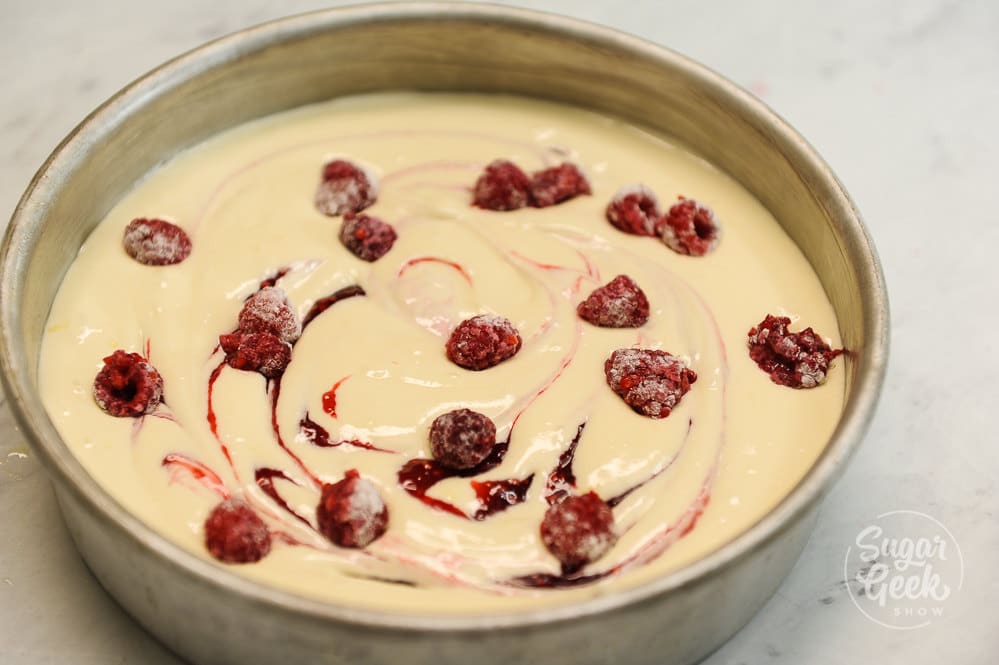 To make this moist lemon cake into a raspberry lemon cake, I mix up my lemon batter as usual and then before baking, I swirl in some dollops of raspberry filling and sprinkle in some fresh raspberries.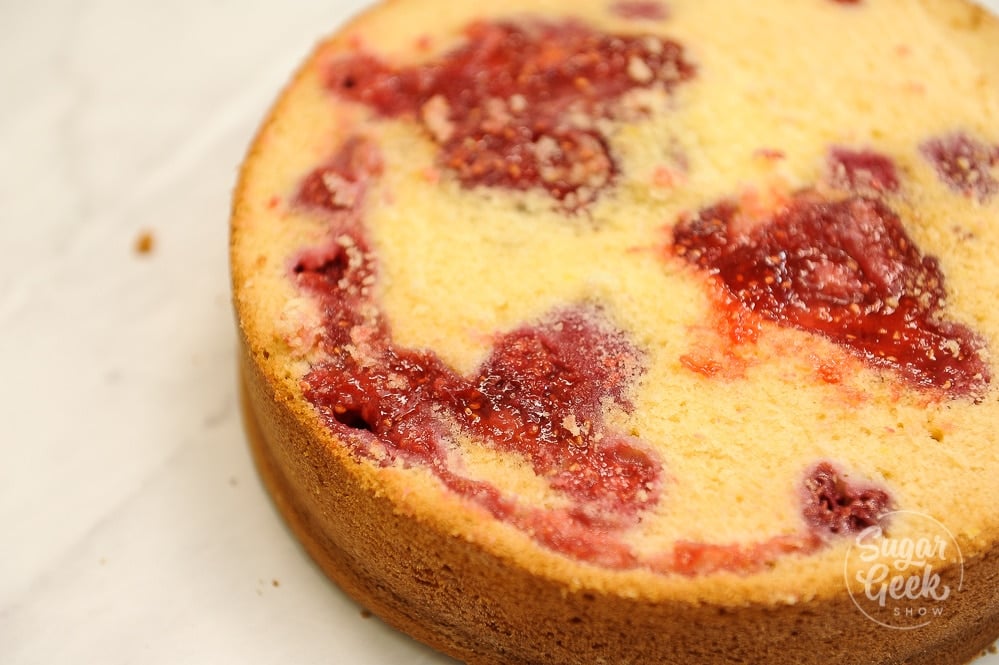 The raspberry tends to sink to the bottom so I leave all the good stuff at the top to keep it as suspended in the batter as possible. I dust my raspberries with some flour to help adhere them to the batter and keep them from sinking.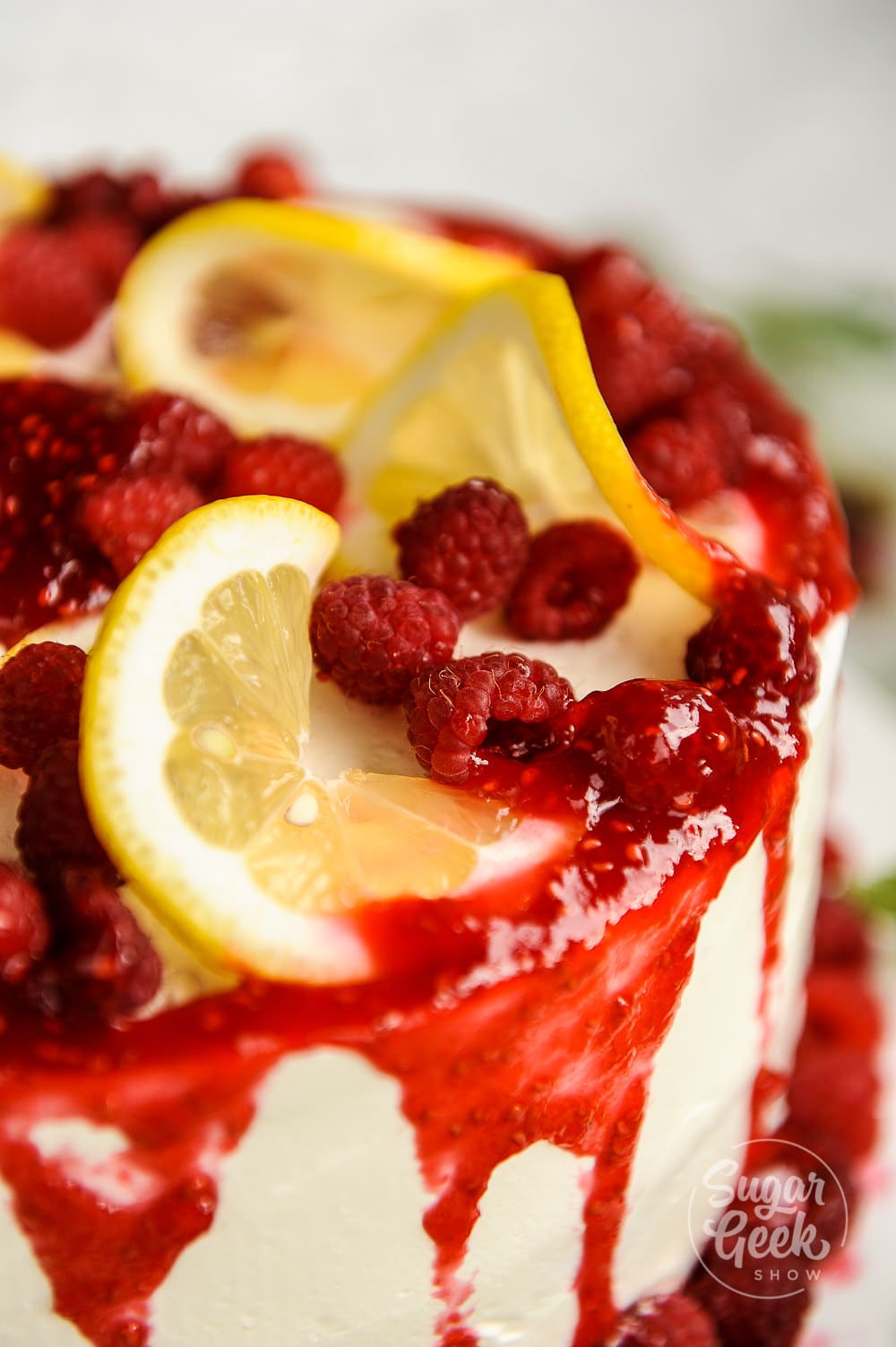 I baked this lemon raspberry cake in the morning and then chilled them in the freezer until they where firm enough to handle (about an hour).
Then I filled them with easy buttercream and raspberry filling. I topped the cake with some sliced lemon, more raspberries and berry drip. I was in a hurry to get to dinner with my cake so I just used a spoon to drizzle but you could put the filling into a piping bag and make a cleaner drip.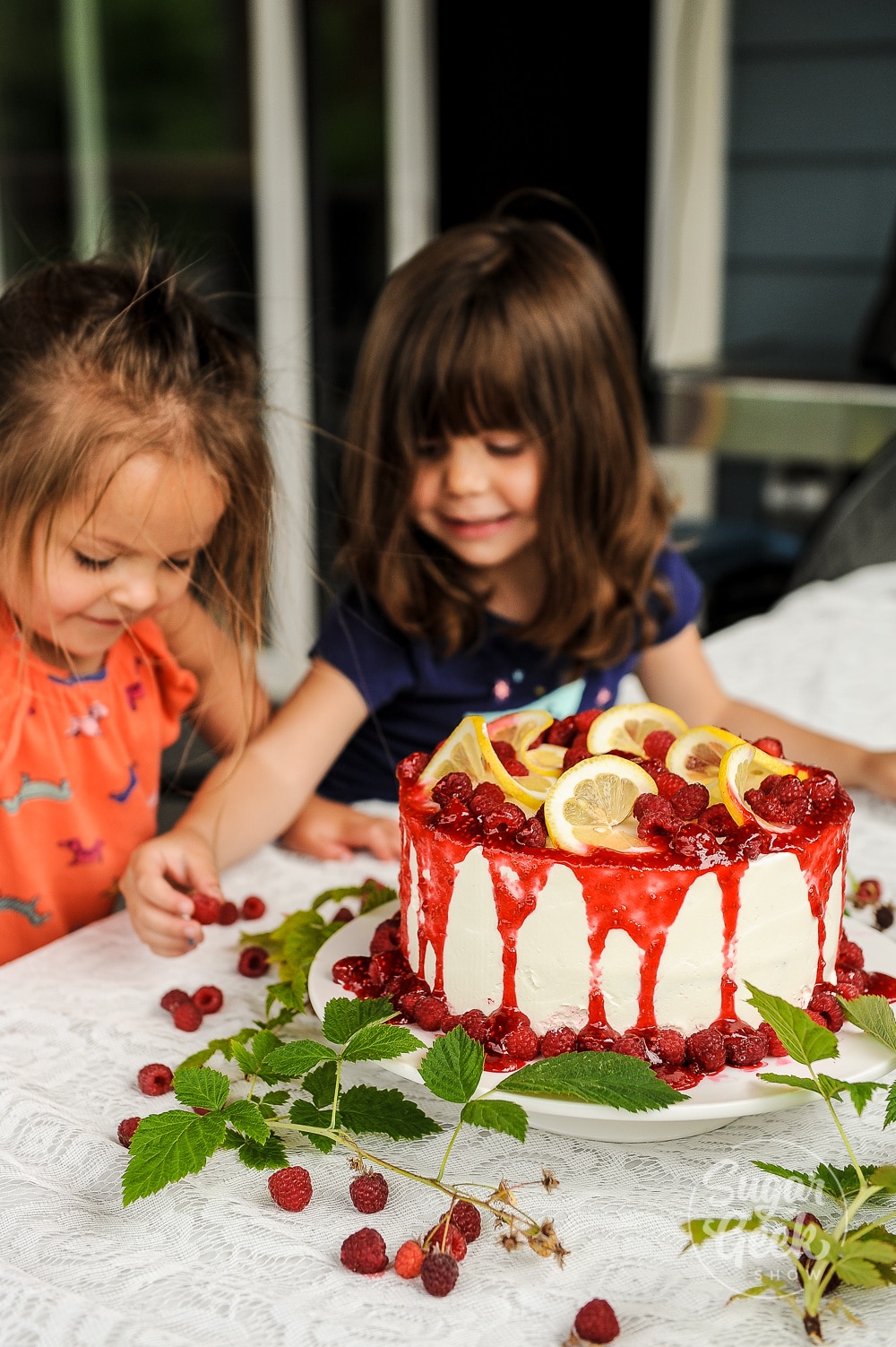 This lemon raspberry cake was SUCH a huge hit! The kids devoured it and I must admit I went in for a second slice. Even as I'm blogging about this I am thinking about the next time I can make this yummy cake!
Make sure you check out the video in the recipe for more details on how to make this luscious lemon raspberry cake with raspberry filling.
Cake Batter and Frosting Calculator
Select an option below to calculate how much batter or frosting you need. Adjust the servings slider on the recipe card to change the amounts the recipe makes.
Choose a pan type
Choose a cake pan size
(based on 2" tall cake pan)
Choose a cake pan size
(based on 2" tall cake pan)
Choose a cake pan size
(based on 2" tall cake pan)
Cups of Batter Needed
8 cups
Cups of Frosting Needed
5 cups
Did You Make This Recipe?Leave a rating and tell me how it went!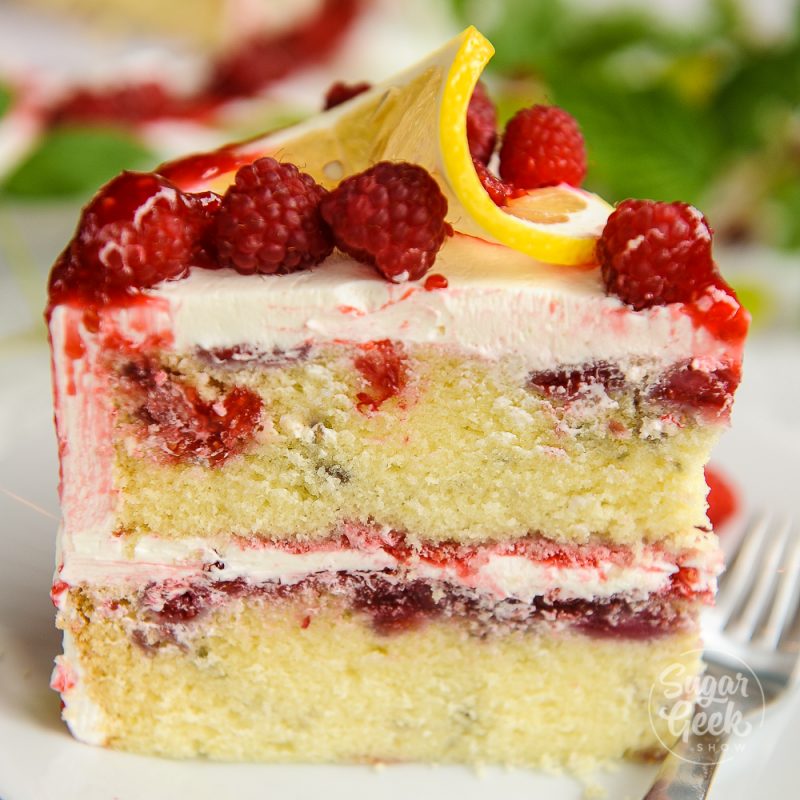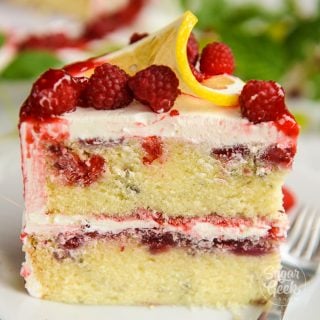 Lemon Raspberry Buttermilk Cake Recipe
Moist and velvety lemon cake with juicy raspberry filling and raspberry buttercream frosting! The buttermilk in this cake recipe makes the lemon cake extra tender. The perfect dessert for a summer BBQ! Makes three 6"x2" cakes or two 8"x2" cakes
Print
Rate
Never Miss A Cake
Serves: 8 cups
Calories: 432kcal
Ingredients
Raspberry Filling
16 oz (454 g) fresh or frozen raspberries
5 oz (142 g) sugar
1 Tbsp (1 Tbsp) lemon zest
1 Tbsp (1 Tbsp) lemon juice
4 oz (113 g) cool water
1 Tbsp (1 Tbsp) corn starch
Lemon Raspberry Cake Ingredients
13 oz (369 g) cake flour
12 oz (340 g) granulated sugar
1/2 tsp (1/2 tsp) salt
2 tsp (2 tsp) baking powder
1/2 tsp (1/2 tsp) baking soda
8 oz (227 g) unsalted butter
8 oz (284 g) buttermilk Or regular milk with 1 Tbsp white vinegar added
3 oz (85 g) vegetable oil
3 (3) large eggs
2 Tbsp (1 Tbsp) lemon zest
2 Tbsp (2 Tbsp) fresh lemon juice
2 tsp (2 tsp) lemon extract
2 Tbsp (2 Tbsp) AP Flour for dusting berries
10 oz (284 g) raspberries You can use frozen but don't thaw them
Buttercream
4 oz (113 g) pasteurized egg whites room temperature
16 oz (454 g) unsalted butter room temperature
16 oz (454 g) powdered sugar sifted
1 tsp (454 g) lemon extract
1/2 tsp (2 tsp) salt
4 oz (113 g) raspberry puree
Instructions
Raspberry Filling Instructions
Combine raspberries and sugar in a sauce pan and bring to a boil. Use an immersion blender to make the filling smooth (or leave chunky if you prefer).  Combine your cornstarch and water to make a slurry. Pour it into the raspberry mixture and let it simmer until mixture is clear and thickened. Remove from heat, stir in lemon juice and zest and let cool before using. 

Store leftovers in the fridge for up to a week or freeze for 6 months. 
Buttercream Instructions
Place egg whites and powdered sugar in a mixing bowl with the whisk attachment. Whisk to combine. Add in butter in small chunks then vanilla extract and salt. Whip on high until light and fluffy and white. Optional: whip in 1/4 cup raspberry pureeOptional: switch to the paddle attachment and mix on low for 15-20 minutes until all air bubbles are gone.
Lemon Raspberry Cake Instructions
Heat oven to 335º F/168º C — 350º F/177º C. I tend to use lower setting to prevent my cakes from getting too dark on the outside before the inside is done baking. Make sure all ingredients are at room temperature or slightly warm (eggs, buttermilk, butter)

Measure out buttermilk. Place 4 oz in separate measuring cup. Add oil to the 4oz of buttermilk and set aside. To the remaining milk, add your eggs (lightly whisked to break them up) extract, lemon juice and lemon zest.

Measure out dry ingredients and place them into the stand mixer bowl.

Attach the paddle to the mixer, and turn on the slowest speed (setting 1 on Kitchen Aid mixers). Slowly add chunks of your softened butter until it is all added. Let mix until batter resembles coarse sand.

Add your milk/oil mixture all at once to the dry ingredients and mix on medium (speed 4 on kitchenaid) for 2 full minutes.

Scrape the bowl. This is an important step. If you skip it, you will have hard lumps of flour and unmixed ingredients in your batter. If you do it later, they will not mix in fully.

Slowly add in the rest of your liquid ingredients in 3 parts, stopping to scrape the bowl one more time halfway through. Your batter should be thick and not too runny.

Lightly grease 2 8" cake pans cake goop or other pan release. Fill pans 3/4 full. Give the pan a little tap on each side to level out the batter and get rid of any air bubbles.

Add 3-4 large dollops of your raspberry filling to the cake batter and use a spoon or knife to swirl it through the batter. I also add in about 1/4 cup of fresh raspberries dusted with flour sprinkled on top. Do not stir them in.

I always start by baking for 30 minutes for 8" and smaller cakes and 35 minutes for 9" and larger cakes and then checking for doneness. If the cakes are still really jiggly, I add another 5 minutes. I check every 2 minutes after that until I'm close and then it's every 1 minute. Cakes are done when a toothpick inserted in the center comes out with a few crumbs. 

After cakes have cooled for 10 minutes or the pans are cool enough to touch, flip the cakes over and remove from the pans onto the cooling racks to cool completely. Wrap in plastic wrap and chill in the refrigerator.

Once the cakes are chilled in the refrigerator and feel firm you can trim off the brown edges from the sides (optional) and fill with your buttercream and more of your raspberry filling. It's best to create a dam (see video) to help hold in the raspberry filling and keep it from oozing out. Crumb coat the cake with buttercream, chill then apply your final coat of buttercream. Top with lemon slices, more raspberries and a drizzle of raspberry filling around the outside edge. 
Nutrition
Serving: 1serving | Calories: 432kcal (22%) | Carbohydrates: 50g (17%) | Protein: 6g (12%) | Fat: 24g (37%) | Saturated Fat: 15g (75%) | Cholesterol: 62mg (21%) | Sodium: 254mg (11%) | Potassium: 84mg (2%) | Fiber: 1g (4%) | Sugar: 38g (42%) | Vitamin A: 680IU (14%) | Vitamin C: 0.7mg (1%) | Calcium: 41mg (4%) | Iron: 0.6mg (3%)