Classic frangipane tart layered with mulled wine poached pears and glazed with red wine caramel sauce.
This frangipane tart is a classic dessert but get's an updated look from the red wine poached pears. These poached pears get their deep red hue from being mulled in red wine and spices which imparts not only a glorious color but an aromatic and rich flavor to the otherwise tasteless pears. The pears are then sliced thinly and arranged on top of the sweet almond cream (frangipane) inside a tart shell (pate sucre) and glazed with the reduced poaching liquid, resulting in a stunner of a dessert!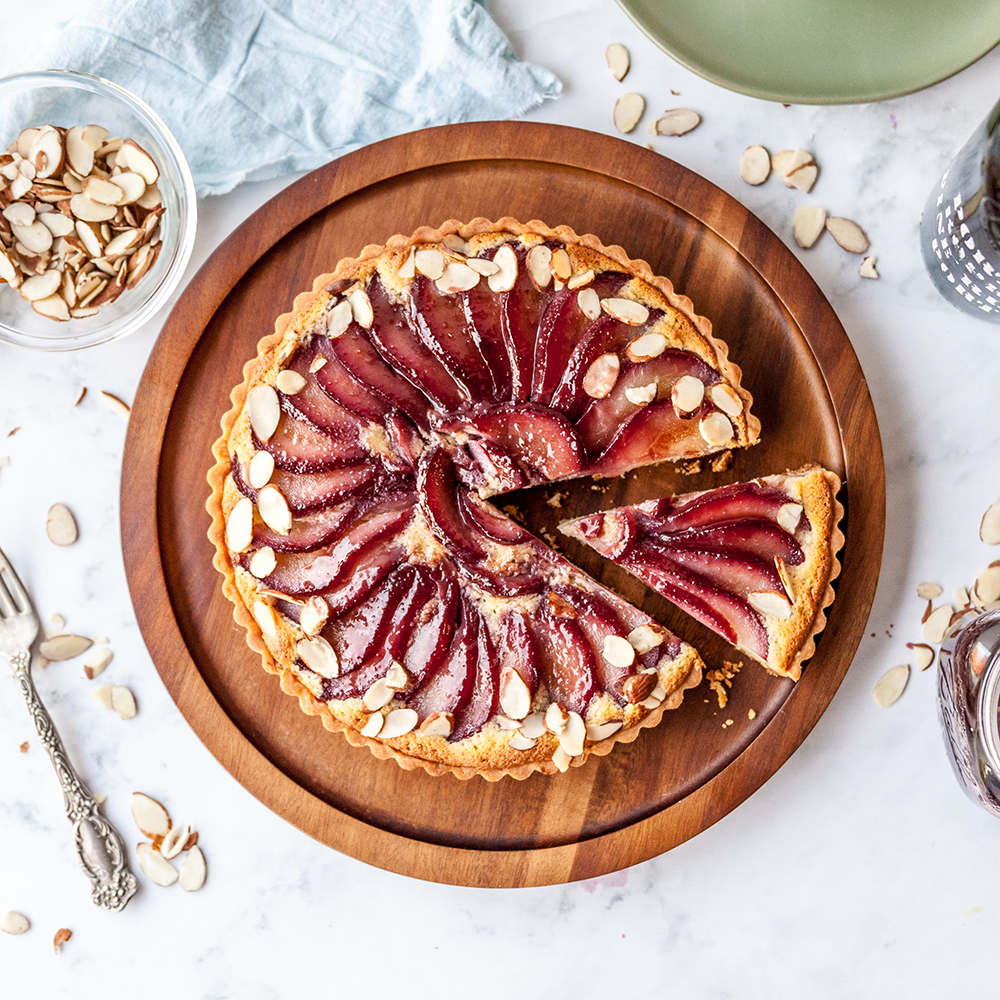 This tart may seem complicated (it does have a lot of steps) but I promise those steps are incredibly easy to do. I'm here to walk you through it. I'll teach you how to make each element, how far in advance to prepare it and how to assemble the whole thing together. You won't believe how beautiful this tart looks after you're done. You got this!
What exactly is frangipane?
Frangipane is a filling made by mixing the almond paste with milk, sugar, flour, eggs, and butter and is often used in tarts, cakes and other types of pastries. So basically any type of tart that has frangipane in it is a frangipane tart but the traditional fruit to use is the pear.
Frangipane has a very light and velvety texture. Even though it has sugar in it, it's not very sweet. The almond flavor is very light and is pretty much the perfect accent to other flavors like cherries, apples, plums, apricots or berries.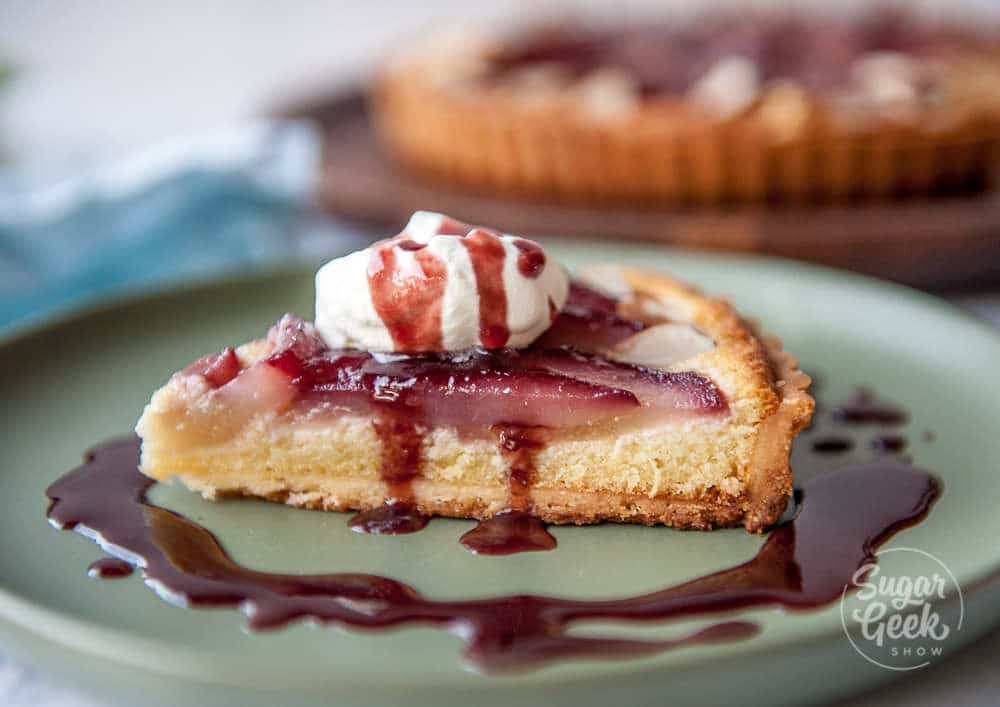 I first learned about frangipane back in pastry school (surprise surprise). Our chef would often make us lunch and one day he took some leftover tart dough, filled it with some frangipane filling and topped it with fresh cherries.
I was BLOWN AWAY at how delicious that tart was. The combination of fruit and almond was incredible and not something my American palette was used to. Unlike almond extract, fresh almonds taste amazing and go so well with so many things! It's so underrated. I have been in love with frangipane filling ever since.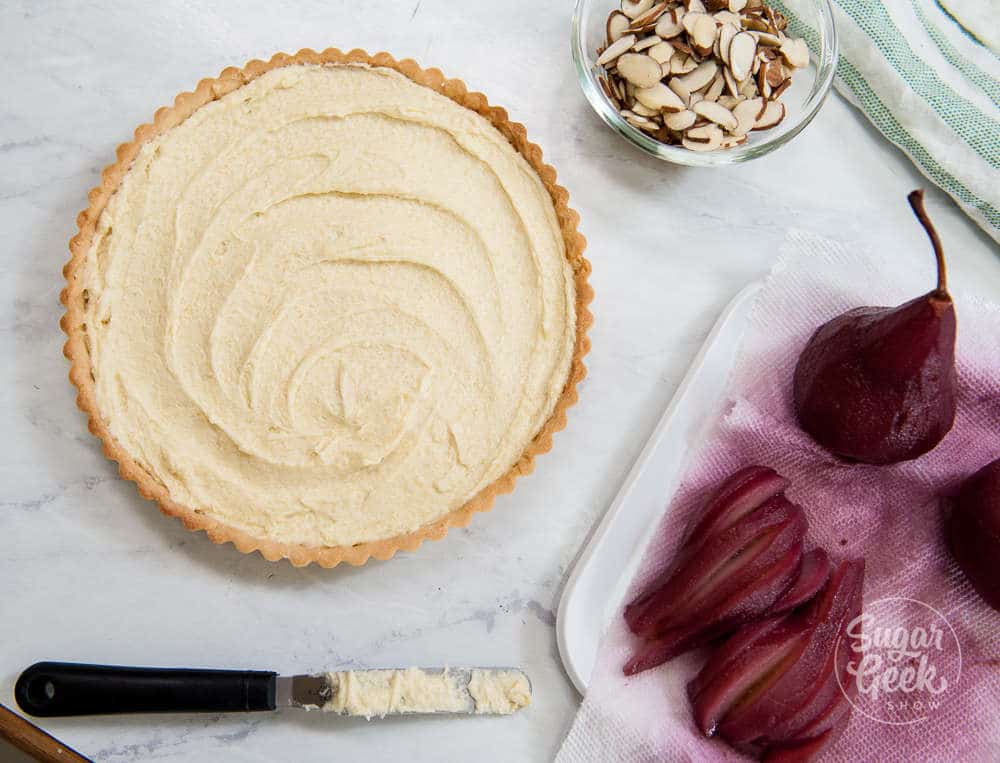 What ingredients do you need to make a pear frangipane tart?
Ok so before you start this epic journey to making your first frangipane tart, you need to gather your ingredients. There are quite a few steps to making a pear frangipane tart including making your tart shell, poaching your pears and making your frangipane filling. But don't worry, each of these steps is pretty simple, and I'm going to walk you through them.
Pears - Choose pears that can withstand baking and still hold their shape. Bosc, Anjou or Asian pears are good choices. Choose pears that are ripe but still firm and don't have any bruises.
Wine - Any red wine will do. The rule is if you'd drink it then it's a good choice to cook with but I wouldn't recommend buying anything too expensive. The wine I bought was a cabernet sauvignon and was $10 and it tasted great. If you need help choosing a wine, ask someone in the wine section to recommend something for cooking.
Spices - We're going to need some spices to mull our pears in and give them flavor. I'm using cinnamon sticks, star anise, and cloves. I prefer whole spices so I can strain them out later. You can change the spices to your liking.
Citrus - I'm adding in some orange peel to add a citrus flavor to my poaching liquid but you can switch that out for lemon, blood orange or any other type of fruit.
Almond Paste - I made my own almond paste from blanched and slivered almonds but you can buy pre-made almond paste if you don't want to make your own. If you make your own almond paste you will need a strong food processor to grind the almonds.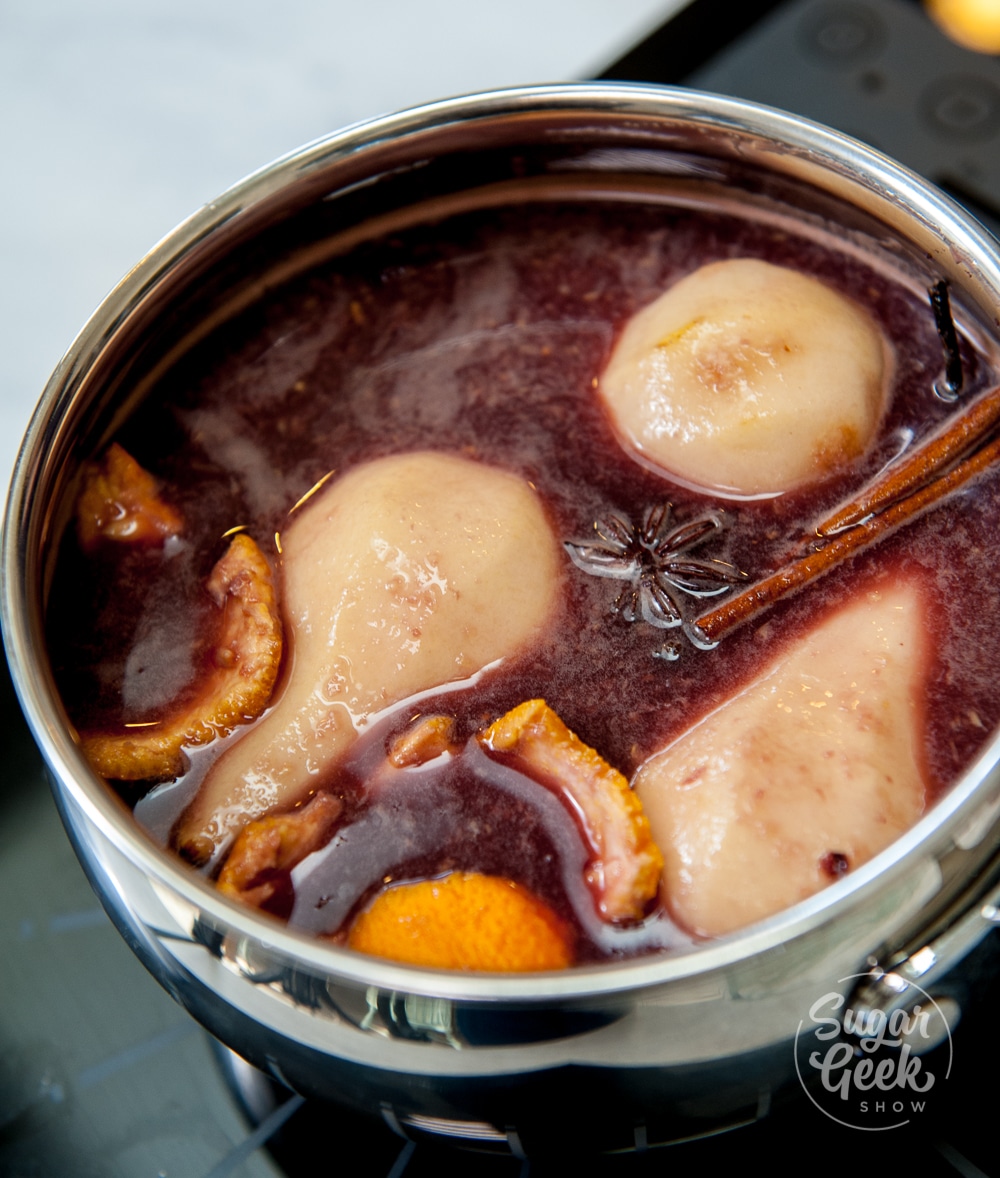 What kind of equipment do you need to make a pear frangipane tart?
We don't need a lot of fancy equipment to make our tart but these are a couple of things that you will need for the best results.
Tart tin with a removable bottom - A metal tart tin will give you the best results for an evenly browned tart dough and the removable bottom will allow you to easily take the tart out of the pan.
Food processor - Only needed if you intend to grind your own almonds for the almond paste.
Pie weights - Needed to blind bake the tart dough. You can also use dried beans.
Saucepan - Ideally you should be using a saucepan that is big enough to barely fit the pears in so that you don't have to use too much wine. My saucepan had enough room for four pears but I only needed 3 for my tart.
How do you make a pear frangipane tart?
This process isn't complicated but there are some things you need to do ahead of time to make things easier on yourself so really this is a two-day project. I've broken down the steps of making this tart for you as follows.
Day 1
Prepare the tart dough and place it into the fridge to chill overnight.
Poach the pears in the red wine and then store them in the fridge overnight which allows the color of the pears to deepen in color. If you don't want to poach in the wine you can poach pears in water or juice.
Make your almond paste and let it rest in the fridge overnight.
Day 2
Blind bake your tart in the tart tin with aluminum foil and pie weights and let it cool.
Remove your pears from the poaching liquid and set them on paper towels to dry before slicing.
Reduce the poaching liquid to make your red wine dessert sauce.
Make your frangipane filling.
Assemble your tart and bake.
Glaze with the red wine dessert sauce and serve chilled with fresh whipped cream or ice cream.
How can you tell if a frangipane tart is done?
It can be tough to know when a frangipane tart is fully baked. A 9" tart will need to be baked for about 40 minutes to give the frangipane enough time to fully bake. That might seem like a long time but it really is needed. Even though we are blind baking our tart, we will need to bake it even further to avoid a soggy, doughy bottom to our tart.
You will know the tart is baked when the frangipane filling puffs up in the center of the tart and starts to envelop the fruit. If you touch it with your finger, it will feel set.
If you feel like the top of your tart is browning too much you can place a sheet pan on the top rack of the oven above your tart to deflect some of the heat from browning the crust too much. I have also used a pie crust shield to avoid browning the top too much.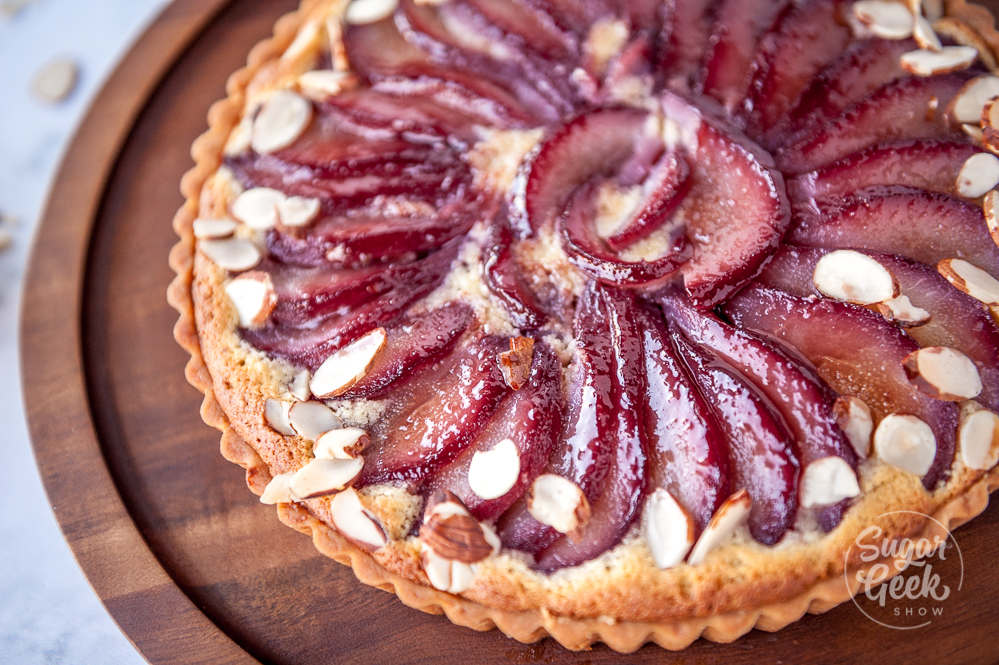 Storing a Frangipane tart
Frangipane filling comes together quickly and stores extremely well. Make it several days in advance and store it in the refrigerator until you're ready to use it. It also freezes well, just be sure to allow it to thaw completely before using.
A pear frangipane tart can be stored in the refrigerator for up to three days but I doubt it will last that long. We devoured ours in one sitting.
Hungry for more? Check out these recipes
Foolproof French macaron recipe
Recipe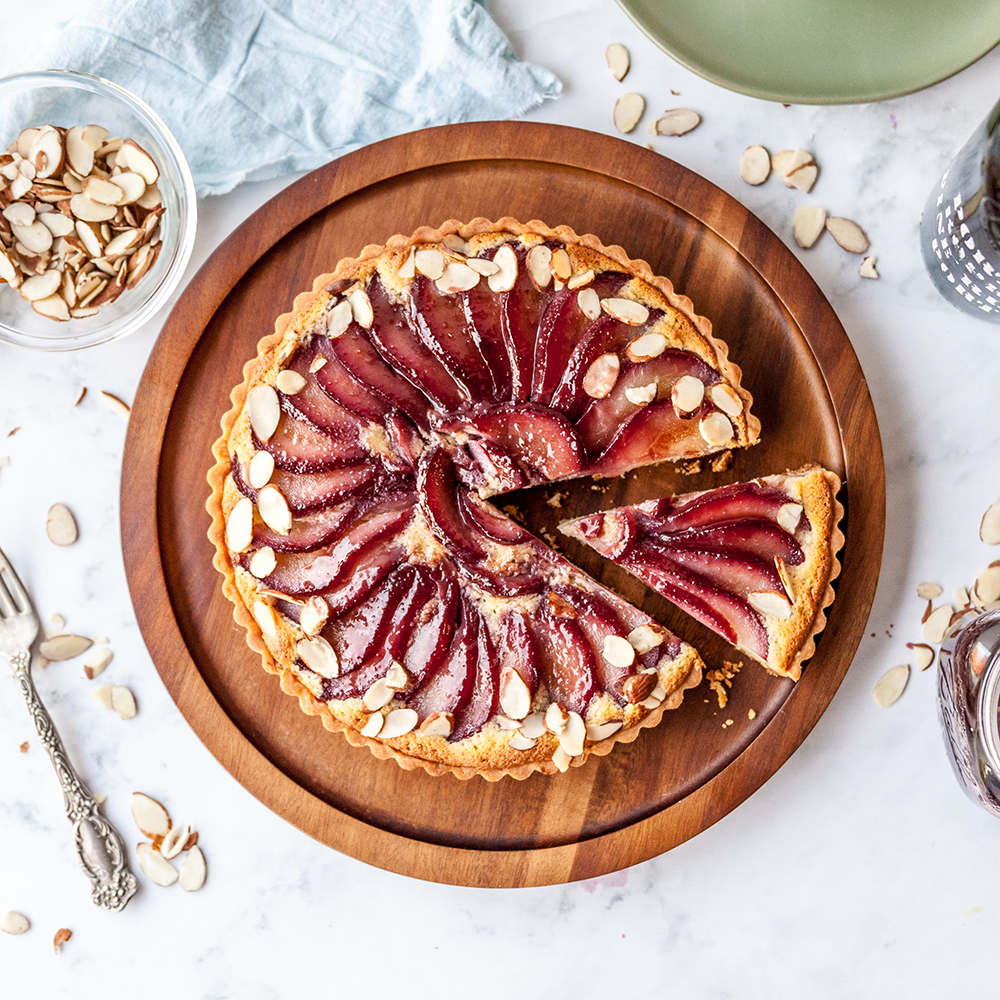 Equipment
Stand Mixer

9 ½ inch tart pan
Ingredients
Poached Pears
5

ounces

sugar

16

ounces

red wine

Cabernet or Merlot

8

ounces

orange juice

1

large

orange peel

10

whole

cloves

1

stick

cinnamon

2

teaspoons

vanilla extract

4

medium

bosc pears

or another pear good for baking
Pate Sucre (sweet tart dough)
4

ounces

powdered sugar

8

ounces

unsalted butter

room temperature

12

ounces

all-purpose flour

1

teaspoon

vanilla extract

½

teaspoon

salt

1

large

egg

room temperature
Frangipane Filling
6

ounces

almond paste

4

ounces

butter

softened

2

whole

eggs

1

ounce

sugar

1

ounce

cake flour

sifted

¼

teaspoon

salt
Instructions
For The Wine Poached Pears
Place sugar, wine, orange juice, vanilla, and spices into your saucepan and bring to a simmer

Peel your pears and place them into the poaching liquid. Make sure they are covered. If they aren't, add more wine or juice until they are covered.

Let your pears cook in the poaching liquid for 15 minutes. Occasionally turning them to make sure they are cooking on all sides evenly.

Transfer the pears and liquid to a container with a lid (making sure pears are covered) and allow them to cool overnight. The pears will deepen in color overnight.
For the Tart Dough
Blend butter, salt and sugar in the bowl of a stand mixer with the paddle attachment until combined

Add in your egg and vanilla. Add in flour slowly and mix on low until a dough forms

Place dough onto plastic wrap and flatten into a disk. Chill 24 hours before use
For the Frangipane FIlling
Use paddle attachment on low speed to blend together almond paste and sugar.

Add softened butter and blend in completely.

Add eggs two at a time, then flour.
Tart Assembly
Take your tart dough out of the fridge about 20 minutes before you roll it out.

Roll your tart dough to about ⅛" thick and press into a tart pan. Do not grease the pan. Push the dough into the ridges of the tart pan and down into the corners evenly.

Cut off the excess dough and freeze the tart for 20 minutes.

Place some aluminum foil into the tart carefully and press down into the corners. Fill with pie weights or dry beans. Bake in your preheated oven for 15 minutes.

Remove the pie weights by carefully lifting out the aluminum foil and bake for 10 more minutes. Let tart cool completely.

Fill your tart with your frangipane filling and smooth so it's flat before adding your sliced pears.

Slice your poached pears length-wise and arrange onto the frangipane filling

Sprinkle some sliced almonds along the outside if desired

Bake the tart at 350 for 40 minutes or until the frangipane filling begins to puff and surround the fruit in the center of the tart. Use a crust cover for the first 20 minutes, then remove.

Reduce your poaching liquid until it is thick (It should reduce to about ⅓ it's original volume). It will get thicker as it cools.

Serve your tart slightly warm or cold with ice cream and the reduced poaching liquid.
Notes
Important Things To Note Before You Start
1. Bring your butter and eggs to

room temperature

before you begin.
2. Use a scale to

weigh your ingredients

(including liquids) unless otherwise instructed (Tablespoons, teaspoons, pinch etc). Metric measurements are available in the recipe card. Scaled ingredients are much more accurate than using cups and help ensure the success of your recipe. 
3. Practice Mise en Place (everything in it's place). Measure out your ingredients ahead of time and have them ready before you start mixing to reduce the chances of accidentally leaving something out.
4. You can use All Purpose Flour instead of Cake Flour, if preferred. 
5. The tart is not very sweet, so I highly recommend reducing the poaching liquid to drizzle over the tart for added sweetness!
Nutrition
Serving:
1
serving
|
Calories:
560
kcal
|
Carbohydrates:
67
g
|
Protein:
6
g
|
Fat:
28
g
|
Saturated Fat:
15
g
|
Cholesterol:
79
mg
|
Sodium:
229
mg
|
Potassium:
249
mg
|
Fiber:
4
g
|
Sugar:
36
g
|
Vitamin A:
791
IU
|
Vitamin C:
13
mg
|
Calcium:
58
mg
|
Iron:
2
mg