Poached pears in red wine are sweetly spiced and deliciously tender
Poached pears in red wine is a great way to bring out the natural sweetness of pears while adding an extra dimension of flavor with the red wine and spices.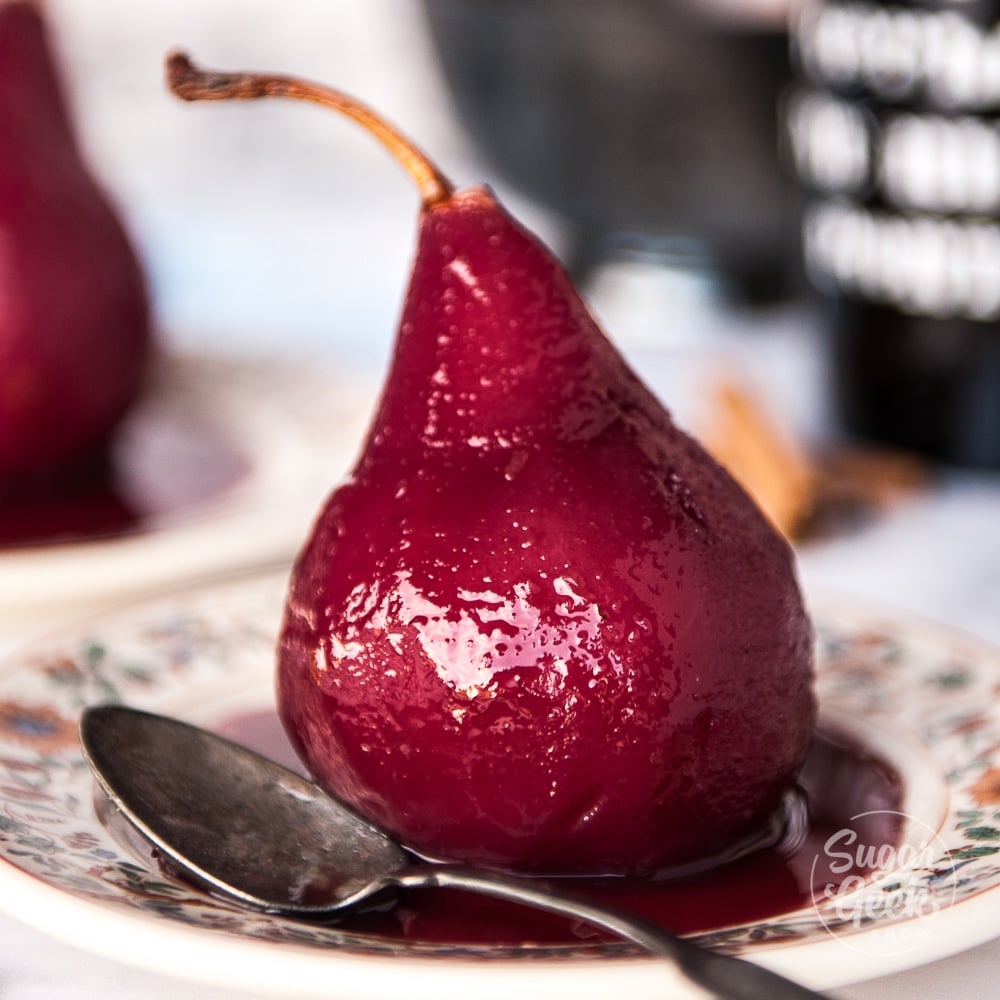 The Poire à la Beaujolaise or pear in wine is a traditional dessert of the wine-growing region of Beaujolais, and belonging to the cuisine of Burgundy and Lyon. Poached pears in red wine are not very sweet. Best served chilled or slightly warm with ice cream, whipped cream, whipped mascarpone and reduced red wine sauce made from the leftover poaching liquid which is quite sweet.
The ingredients you'll need to make poached pears in wine
Red wine - Any red wine that you would drink like cabernet sauvignon or merlot that's not too expensive
Spices - Cinnamon sticks, anise pods, whole cloves, and an orange rind add a delicious aroma and depth of flavor to the pears. You can use other spices that you like in addition to or in place of like ginger or cardamom.
Orange juice - adds some sweetness and citrus notes. You can replace it with other types of juices like apple or pomegranate.
Sugar - Adds sweetness and to the pears. It can be left out or replaced with other sweeteners like honey or brown sugar.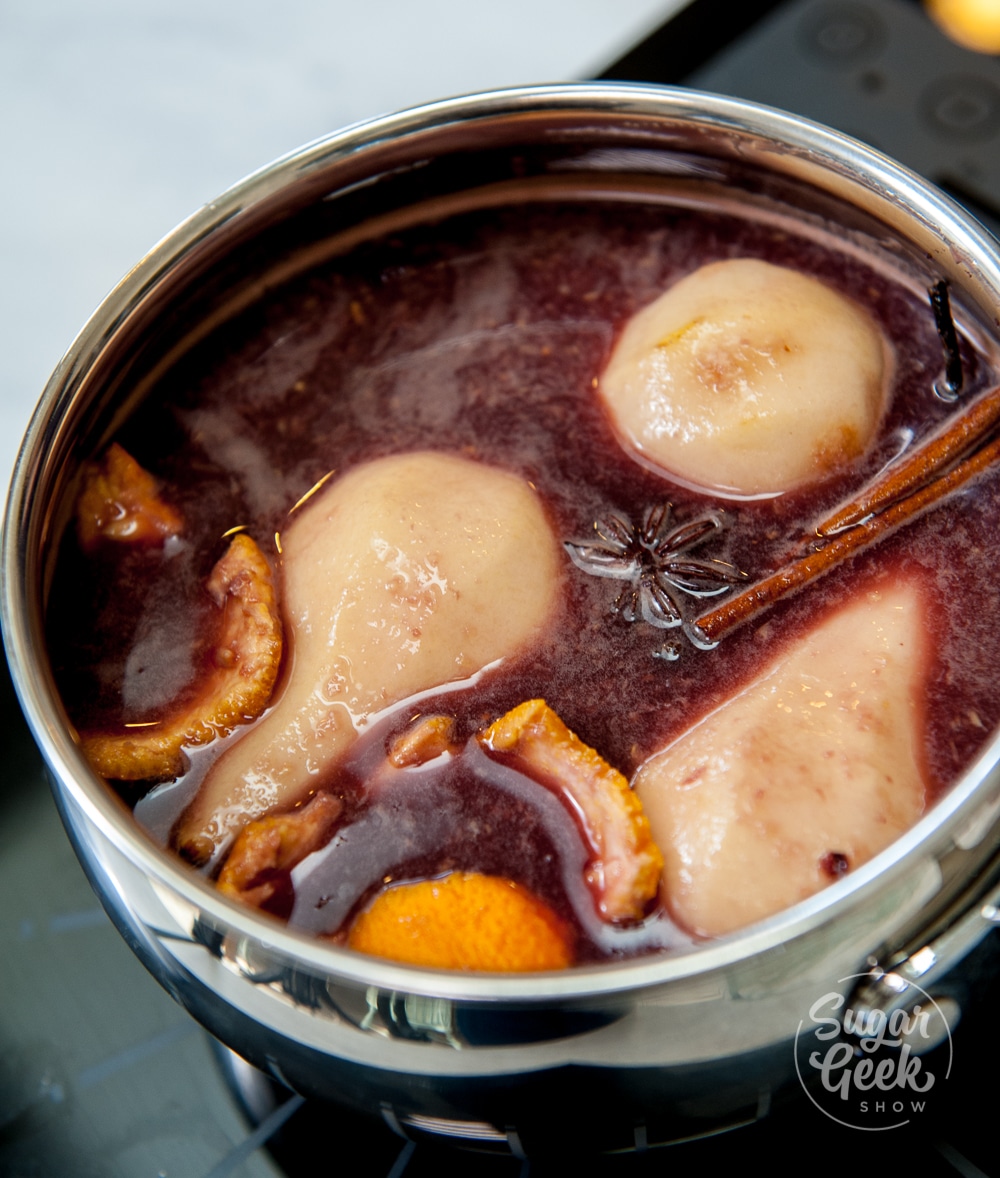 What are the best pears for poaching?
When you're poaching pears in red wine, you're basically cooking them. So you want to choose pears that will hold their shape well even after being cooked. I like using Bosc pears because they are readily available at my grocery store and have a nice firm but sweet taste.
You can also use Anjou pears or Asian pears. Avoid using Bartlett pears because they literally turn to mush when baked.
You also want to avoid pears that are too ripe. I made that mistake and ended up losing two pears because they were too soft. You want the flesh to still feel firm and smooth with no blemishes or bruises.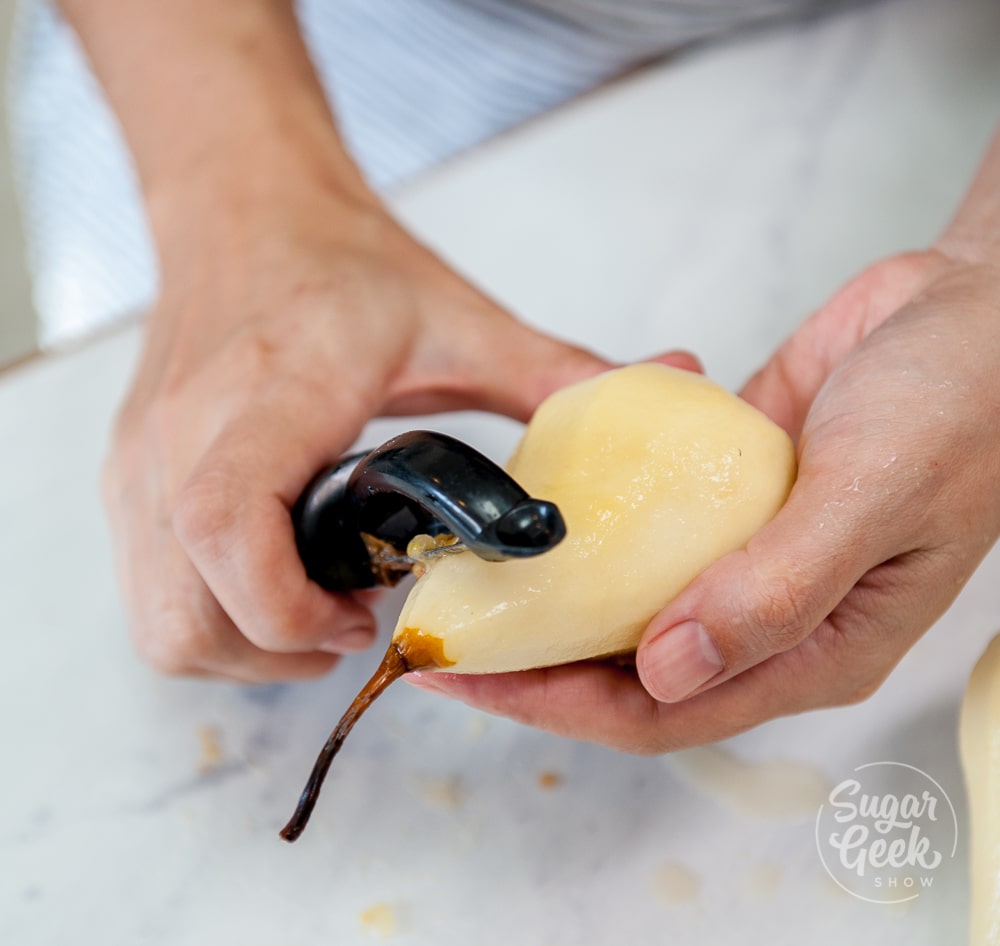 What is the best wine for poaching pears?
I like using either a cabernet sauvignon or merlot. Choose a wine that isn't too expensive but not too cheap. Basically, if you would drink it, it will be good for poaching. If you don't drink wine or don't know what to choose, ask someone at the deli counter to recommend a wine for you.
We're also adding spices and citrus to our wine so the flavor will be enhanced and if you choose to reduce the wine (which I highly recommend) into a dessert sauce, the flavor will be even more intense.
Adjusting flavors of the spices and poaching liquid
The spices and fruit that we are using can easily be switched out for other spices. I really like how the orange and the wine pair together and reduces down so well. Consider using cherries, berries or apple juice to switch up the flavors.
I prefer to add in my spices whole so they infuse the liquid but are easy to strain out later when it's time to reduce the liquid.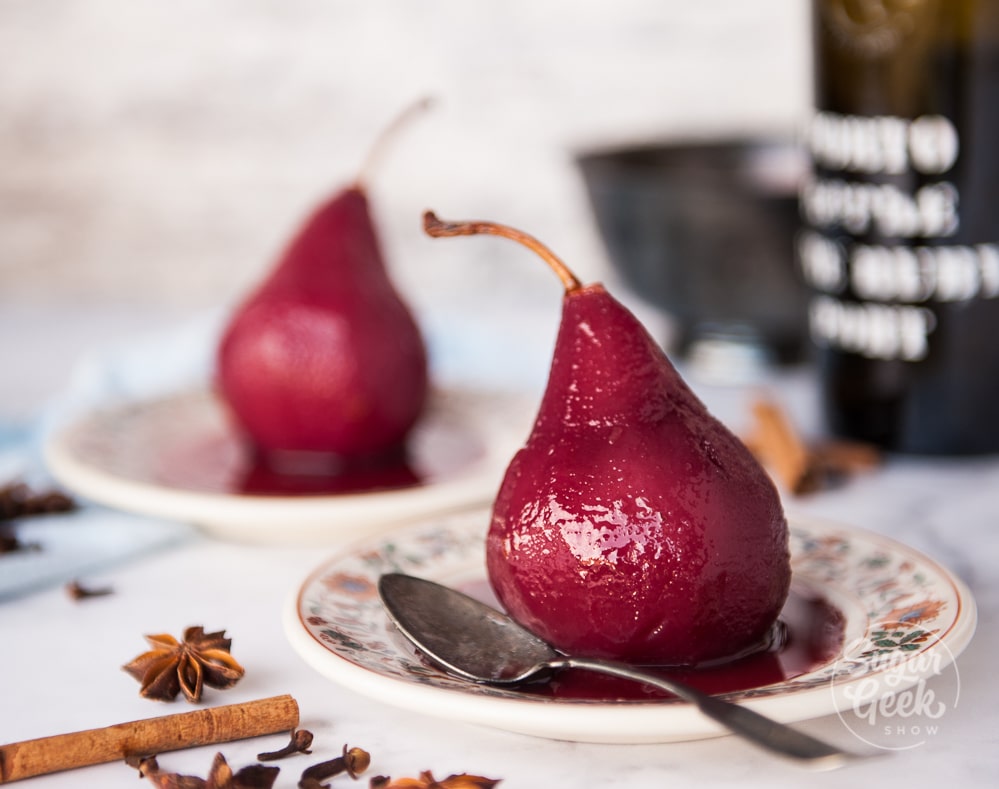 What kind of saucepan should be used for poaching pears in wine?
Use the smallest saucepan you have on hand that will still fit your pears and liquid and have some space at the top to prevent boiling over. My saucepan was a little big so I had to add in more wine to make sure my pears were still covered.
I only needed three pears for my tart but I could have just poached one extra so I had less space in my saucepan.
In the end, I just had extra sauce to reduce and enjoy on my ice cream and I'm not mad about that one bit.
Tips for making the best poached pears in red wine sauce
Use pears that are ripe but still firm
Get your liquids simmering with your spices before you peel the pears to prevent browning.
If you're going to be eating these poached pears in wine as a dessert, you want to cook them for 20-25 minutes or until they are fork-tender. Depending on how ripe they are, you may need to adjust this timing.
If you're going to use these poached pears to later bake in a tart like my red wine frangipane pear tart then you want to slightly undercook them. I cooked mine for about 15 minutes.
Let the pears cool in the poaching liquid and then store them in the poaching liquid overnight. This helps the pears get that really beautiful deep red color on the outside.
Reduce your leftover poaching liquid to make a red wine dessert sauce to serve with the pears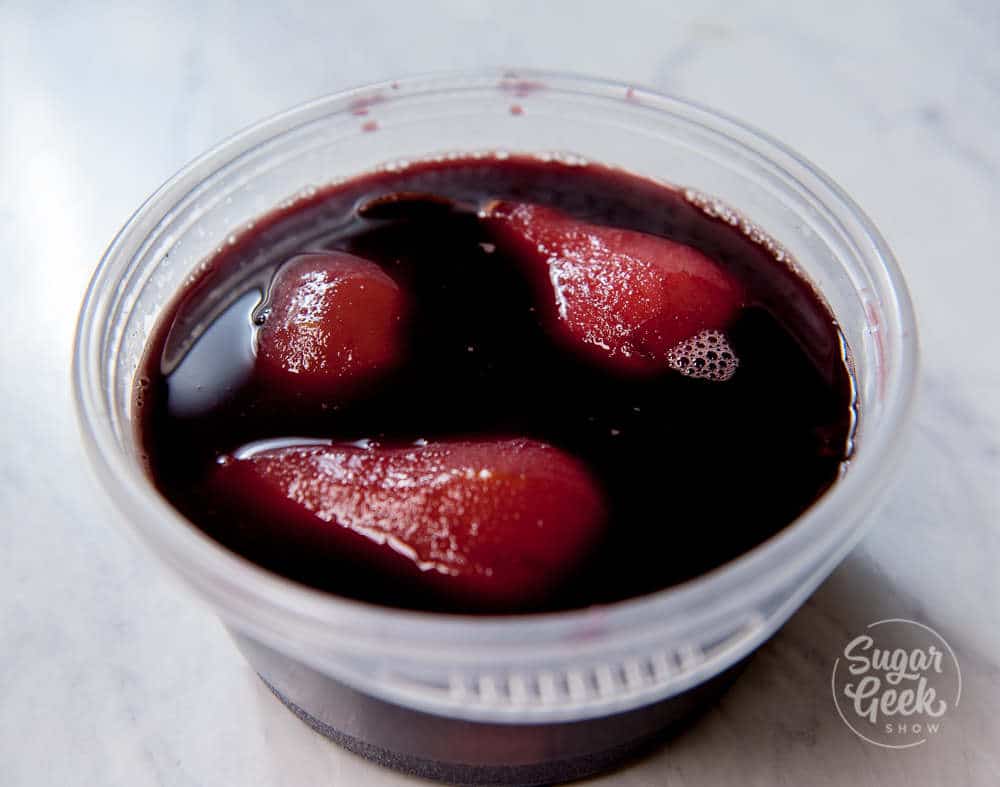 Are pears poached in red wine alcoholic?
Because the liquid is heated for so long, all the alcohol evaporates out of the wine. So if your kiddo wants to partake, it's totally ok.
Try these other recipes!
Recipe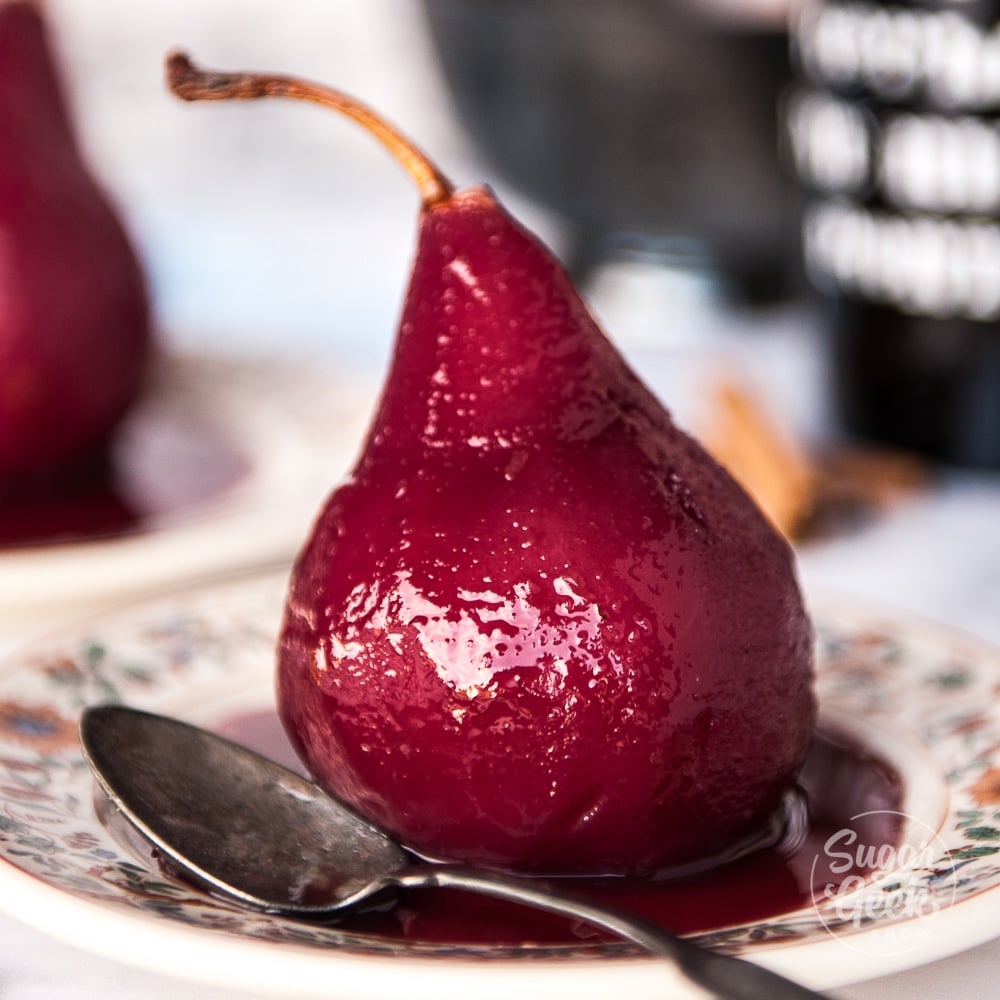 Ingredients
½

cup

sugar

1

large

piece of orange peel

10

whole

cloves

1

stick

cinnamon

2

cups

red wine

I prefer Cabernet Sauvignon or Merlot

1

cup

orange juice

2

teaspoons

vanilla extract

3 to 6

medium

bosc pears
Instructions
Place sugar, wine, orange juice, vanilla, and spices into your saucepan and bring to a simmer

Peel your pears and place them into the poaching liquid. Make sure they are covered. If they aren't, add more wine or juice until they are covered.

Let your pears cook in the poaching liquid for 20 minutes. Occasionally turning them to make sure they are cooking on all sides evenly.

Remove the saucepan from the heat and allow the pears to cool in the poaching liquid

Transfer the pears and liquid to a container with a lid (making sure pears are covered) and allow them to cool overnight. The pears will deepen in color overnight.

Before serving the pears, remove them from the liquid and set aside.

Strain your poaching liquid and return to the heat. Simmer over medium heat to reduce to a thick syrup (reduce by about ⅓). Allow to cool.

Serve poached pears with ice cream, whipped cream or whipped mascarpone cheese and a generous drizzle of your cooled syrup.
Video
Nutrition
Serving:
1
pear
|
Calories:
318
kcal
|
Carbohydrates:
58
g
|
Protein:
1
g
|
Fat:
1
g
|
Saturated Fat:
1
g
|
Sodium:
14
mg
|
Potassium:
457
mg
|
Fiber:
6
g
|
Sugar:
44
g
|
Vitamin A:
157
IU
|
Vitamin C:
37
mg
|
Calcium:
53
mg
|
Iron:
1
mg