How to make a trendy cream tart recipe
How to make a trendy cream tart made with a crisp tart dough, sweet vanilla custard filling and topped with fresh berries, flowers, and french macarons!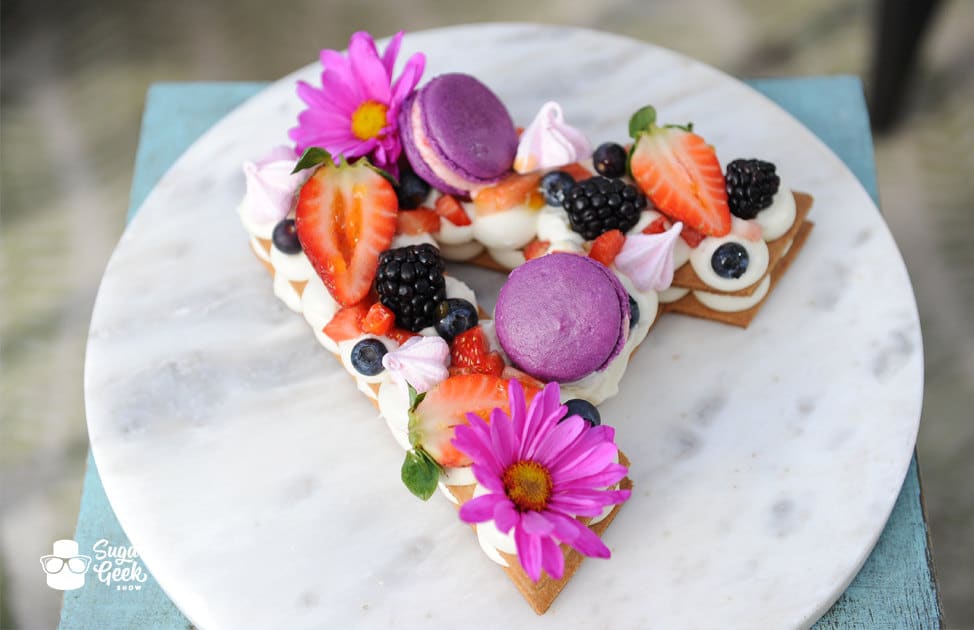 Cream Tarts or Letter Cookies, Number cookies, cream cakes... they go by many names. But let's call this deliciously trendy dessert what it is. A tart.
I first noticed this trendy treat on an instagram creator @adikosh123 but soon learned it's a common amongst many bakers and we can see why! They are so pretty!
After much research (you know how I love researching a new project) I have devised what I think is the perfect cream tart recipe! Light, crunchy and easily changed up depending on the theme. Here's another I created during my LIVE demo with my daughter. Such a fun project to do with kids and I was seriously impressed with her piping skills.
Need the cream heart template? Download it here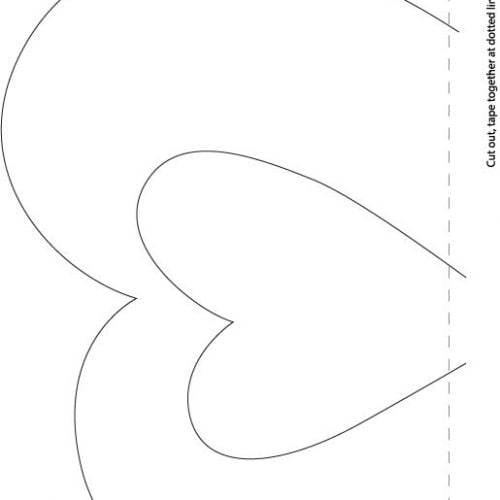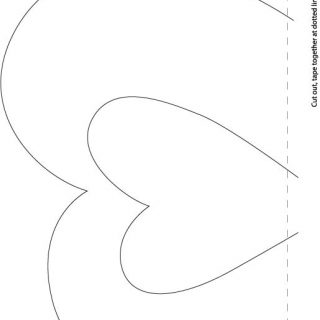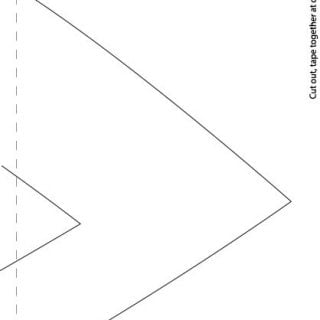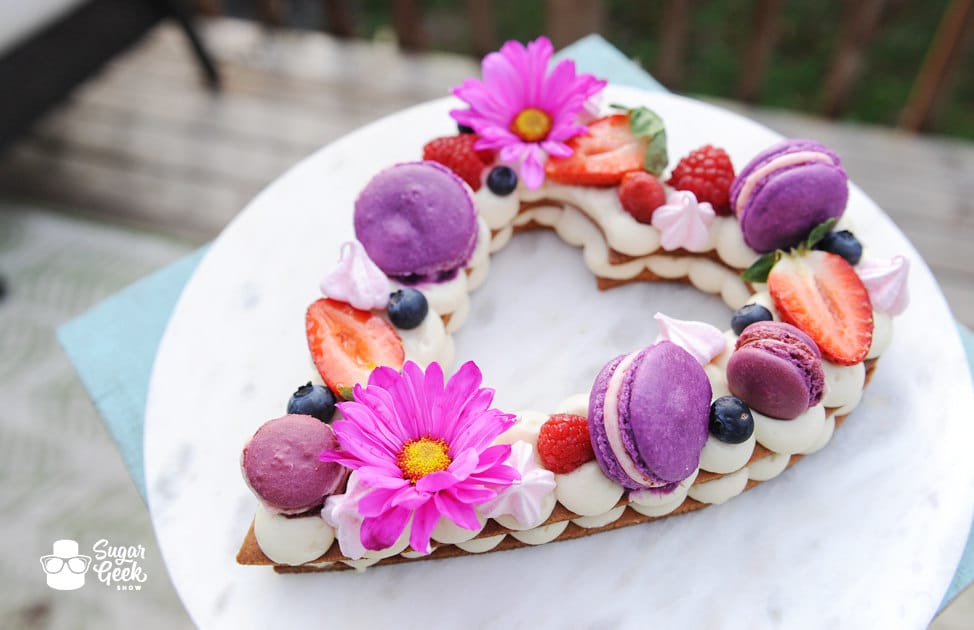 Simply put, this yummy treat is made from a delicious short crust called Pate Sable (almond dough) which is commonly used in fruit tarts. The filling varies depending on the baker but most agree the most delicious is the traditional tart filling called diplomat or chantilly creme. One thing is for sure, no matter how you make one, this treat that first gained popularity in Israel is sure to be the next big thing in the US.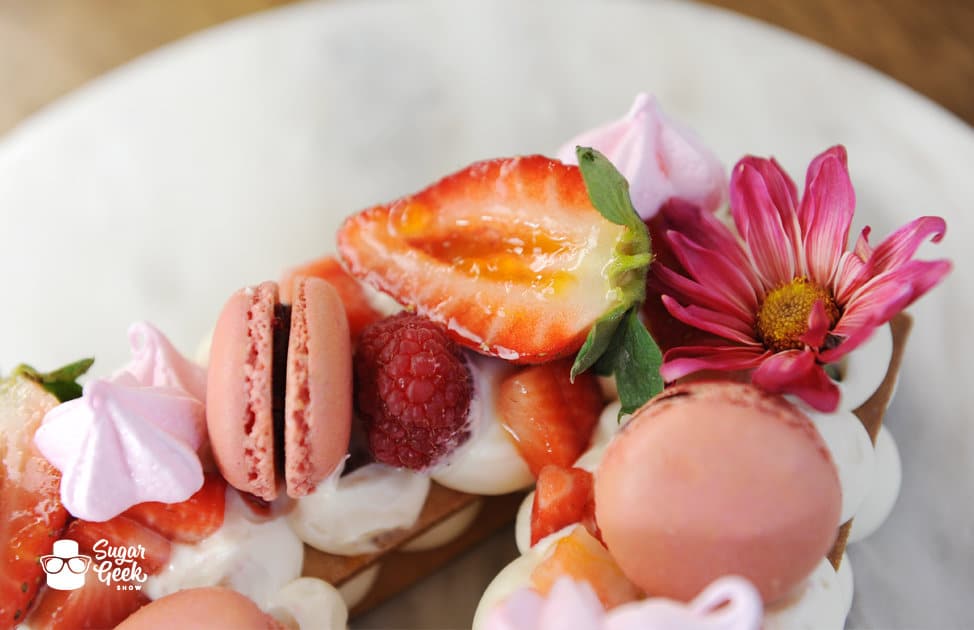 To make this cream tart is pretty easy. Check out my how-to video below for step-by-step instructions!
Recipe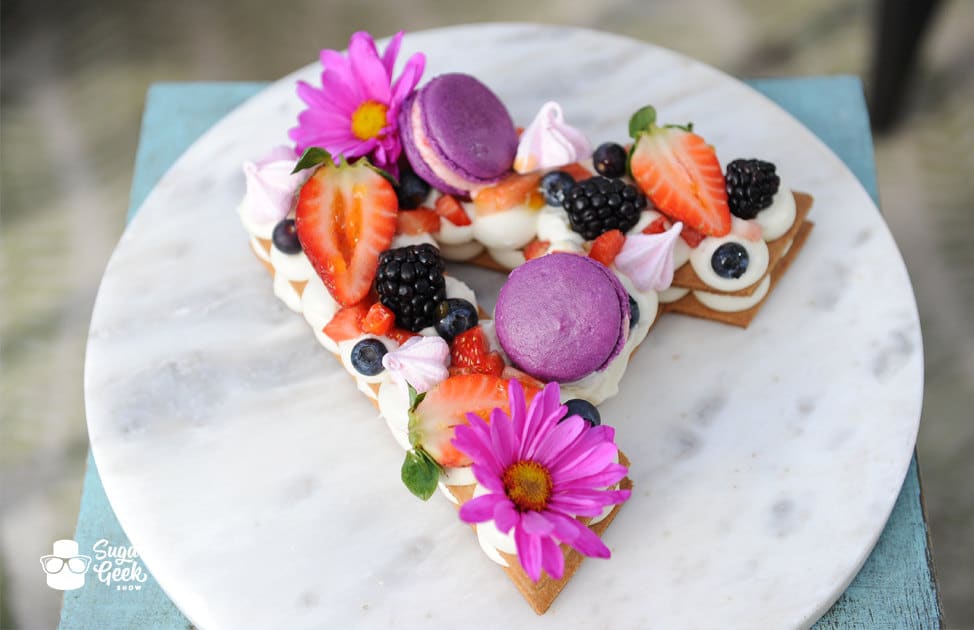 Ingredients
Almond Sablé Dough
11

ounces

All purpose flour

3

ounces

almond flour

½

teaspoon

salt

8

oz

unsalted butter

room temperature

2

ounces

powdered sugar

1

large

egg

1

large

egg yolk
Pastry Cream Filling
16

ounces

milk

2.5

ounces

granulated sugar

2

teaspoon

vanilla extract

1 ½

ounces

cornstarch

2

large

egg yolks

1

large

egg

2

ounces

unsalted butter

2

ounces

granulated sugar
Stabilized Whipped Cream
8

ounces

heavy whipping cream

2

Tablespoon

powdered sugar

2

teaspoon

vanilla extract

1

Tablespoon

instant pudding mix

(see stabilized whipped cream blog post for more options)
Instructions
Instructions
In a bowl, whisk together the AP flour, almond flour and salt.

Put a paddle attachment onto your stand mixer, then combine butter and confectioner's sugar in mixer bowl. Mix on medium-low speed until combined, about 4 minutes.

Mix in the egg and then the yolk, allowing each to be incorporated before adding the next. In 2 parts, add the flour mixtures, scraping down the sides of the bowl after each part.

Turn bowl over with dough mixture onto a clean lightly-floured work surface. Divide in half, shape into flattened desks and wrap each 1 in plastic warp. Refrigerate for at least 1 hour, or overnight.

Roll out dough to ⅛" thick on parchment paper. Use a template to cut two shapes. Chill in the freezer 5 minutes.

Bake tart dough at 350F for 10-14 minutes until just starting to brown. Don't underbake or your tart wont be crisp. Let cool
Pastry Cream Filling
Bring milk and first quantity of sugar to a simmer over medium high heat. Whisking constantly to avoid burning.

Combine the eggs, cornstarch, and second quantity of sugar in a heat proof bowl and whisk to combine

Add ¼ of your hot milk mixture to the egg mixture VERY slowly while whisking constantly to temper your egg yolk mixture. Whisk until smooth.

Slowly add the rest of the milk, whisking constantly. Return mixture to the saucepan and bring to a simmer.

Once your mixture starts bubbling, reduce the heat to medium and continue whisking for 2-3 minutes to ensure the mixture is cooked and properly thickened.

Pour your mixture into a heatproof container and place your butter cubes on top, allowing them to melt. Do not cover.

Allow your pastry cream to cool until just warm to the touch. Stir in your butter and then add in your vanilla extra.

Cover with plastic wrap so that it's touching the surface of the pastry cream to avoid a skin forming. Let cool completely before using.
Stabilized Whipped Cream
Whip heavy cream to soft peaks with a whisk or stand mixer

 Add in powdered sugar, vanilla and instant pudding (see blog post for other variations on how to stabilized whipped cream) Whip to firm but soft peaks. Don't over-whip.

Fold together the cooled pastry cream and whipped cream to make your cream tart filling
Nutrition
Calories:
593
kcal
|
Carbohydrates:
64
g
|
Protein:
7
g
|
Fat:
34
g
|
Saturated Fat:
19
g
|
Cholesterol:
166
mg
|
Sodium:
372
mg
|
Potassium:
77
mg
|
Fiber:
2
g
|
Sugar:
38
g
|
Vitamin A:
1065
IU
|
Vitamin C:
0.1
mg
|
Calcium:
53
mg
|
Iron:
1.7
mg
Pairing a cream tart with my delicious white cake recipe or a chocolate cake is a sure-fire win at your next party.