How to make a trendy cream tart recipe
How to make a trendy cream tart made with a crisp tart dough, sweet vanilla custard filling and topped with fresh berries, flowers, and french macarons!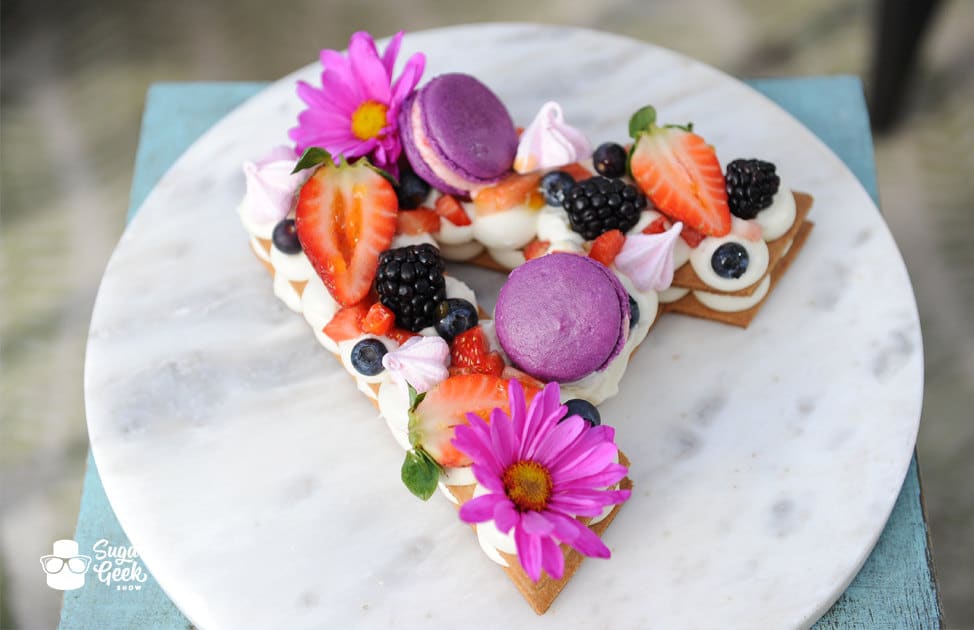 Cream Tarts or Letter Cookies, Number cookies, cream cakes… they go by many names. But let's call this deliciously trendy dessert what it is. A tart.
I first noticed this trendy treat on an instagram creator @adikosh123 but soon learned it's a common amongst many bakers and we can see why! They are so pretty!
After much research (you know how I love researching a new project) I have devised what I think is the perfect cream tart recipe! Light, crunchy and easily changed up depending on the theme. Here's another I created during my LIVE demo with my daughter. Such a fun project to do with kids and I was seriously impressed with her piping skills.
Need the cream heart template? Download it here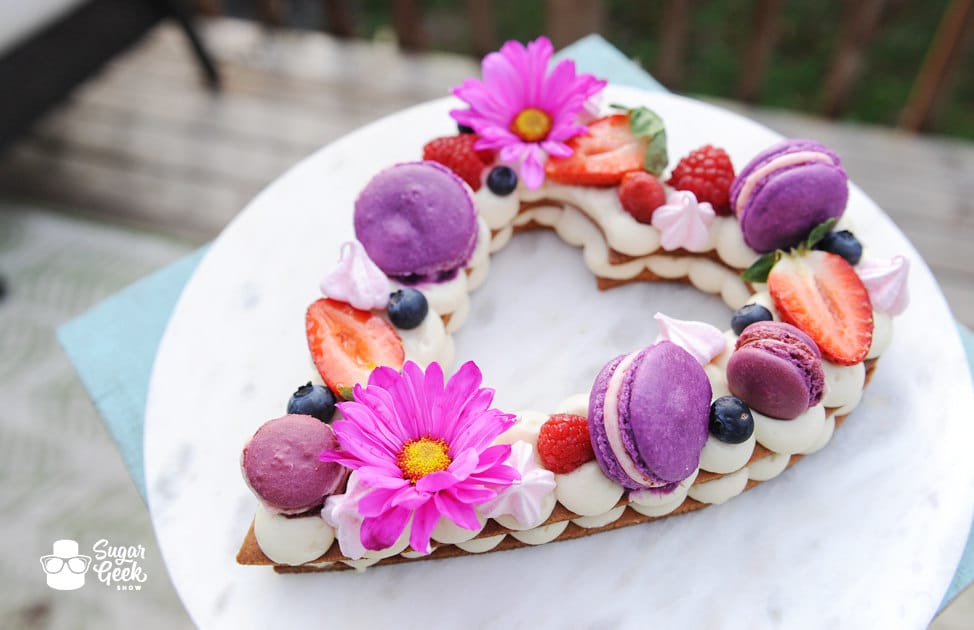 Simply put, this yummy treat is made from a delicious short crust called Pate Sable (almond dough) which is commonly used in fruit tarts. The filling varies depending on the baker but most agree the most delicious is the traditional tart filling called diplomat or chantilly creme. One thing is for sure, no matter how you make one, this treat that first gained popularity in Israel is sure to be the next big thing in the US.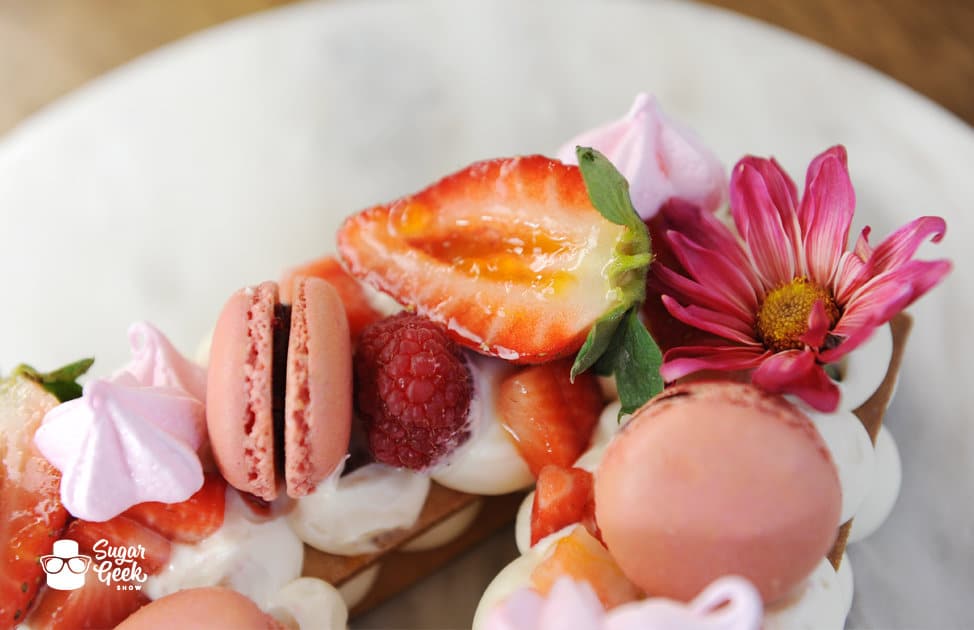 To make this cream tart is pretty easy. Check out my how-to video below for step-by-step instructions!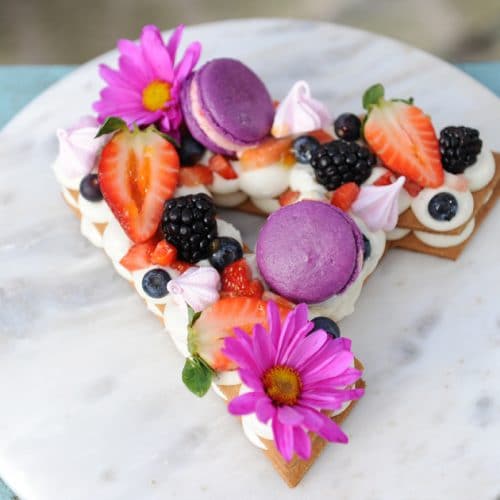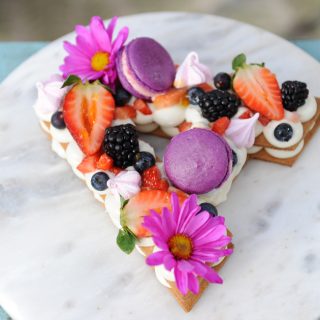 Cream Tart Recipe
This cream tart recipe can be made many ways but this recipe uses traditional fillings that can be found in fruit tarts which is what this recipe is based on. Feel free to switch out flavors depending on your theme. 
Ingredients
Almond Sablé Dough
2 1/4

cups

All purpose flour

3/4

cup

almond flour

1/2

tsp

salt

8

oz

unsalted butter

room temperature

1/2

cup

powdered sugar

1

large

egg

1

large

egg yolk
Cream Filling Ingredients
2

cups

instant vanilla pudding or pastry cream

1

cup

heavy whipping cream

1/4

cup

powdered sugar

1

tsp

vanilla

2

tsp

powdered instant vanilla pudding mix
Instructions
Instructions
In a bowl, whisk together the AP flour, almond flour and salt.

Put a paddle attachment onto your stand mixer, then combine butter and confectioner's sugar in mixer bowl. Mix on medium-low speed until combined, about 4 minutes.

Mix in the egg and then the yolk, allowing each to be incorporated before adding the next. In 2 parts, add the flour mixtures, scraping down the sides of the bowl after each part.

Turn bowl over with dough mixture onto a clean lightly-floured work surface. Divide in half, shape into flattened desks and wrap each 1 in plastic warp. Refrigerate for at least 1 hour, or overnight.

Roll out dough to 1/8" thick on parchment paper. Use a template to cut two shapes. Chill in the freezer 5 minutes.

Bake tart dough at 350F for 10-14 minutes until just starting to brown. Don't underbake or your tart wont be crisp. Let cool

Whip 1 cup heavy whipping cream in a mixer with sugar and a whisk until soft peaks. Add in your vanilla and add in 1-2 Tablespoons powdered vanilla pudding mix to stabilize the whipped cream. Whisk until firm but not crumbly looking.

Put mixture in a piping bag with a medium round tip. 

Pipe even dollops around the inside and outside edges of the cookie. Lay the next cookie on top and repeat the process. Add on your favorite toppings and enjoy! *note: to keep fruit fresh and shiny, brush lightly with thinned down apricot preserves.

This tart is not shelf stable and should be refrigerated. It can be kept for up to 48 hours in the fridge before serving. Dough is very light and crunchy! 
Recipe Video
Recipe Notes
Learn how to make a trendy cream tart! 
Nutrition Facts
Cream Tart Recipe
Amount Per Serving
Calories 464
Calories from Fat 297
% Daily Value*
Total Fat 33g 51%
Cholesterol 121mg 40%
Sodium 167mg 7%
Potassium 61mg 2%
Total Carbohydrates 37g 12%
Protein 7g 14%
* Percent Daily Values are based on a 2000 calorie diet.
Pairing a cream tart with my delicious white cake recipe or a chocolate cake is a sure-fire win at your next party.
July 11, 2019