Everyone needs a great homemade cinnamon rolls recipe and nothing tastes better than making them from scratch. Made from my master sweet dough recipe, this cinnamon roll recipe is perfect for the Holidays when you want to prep things ahead of time. Pop them in the oven when you're ready to eat and enjoy freshly made cinnamon rolls, warm from the oven.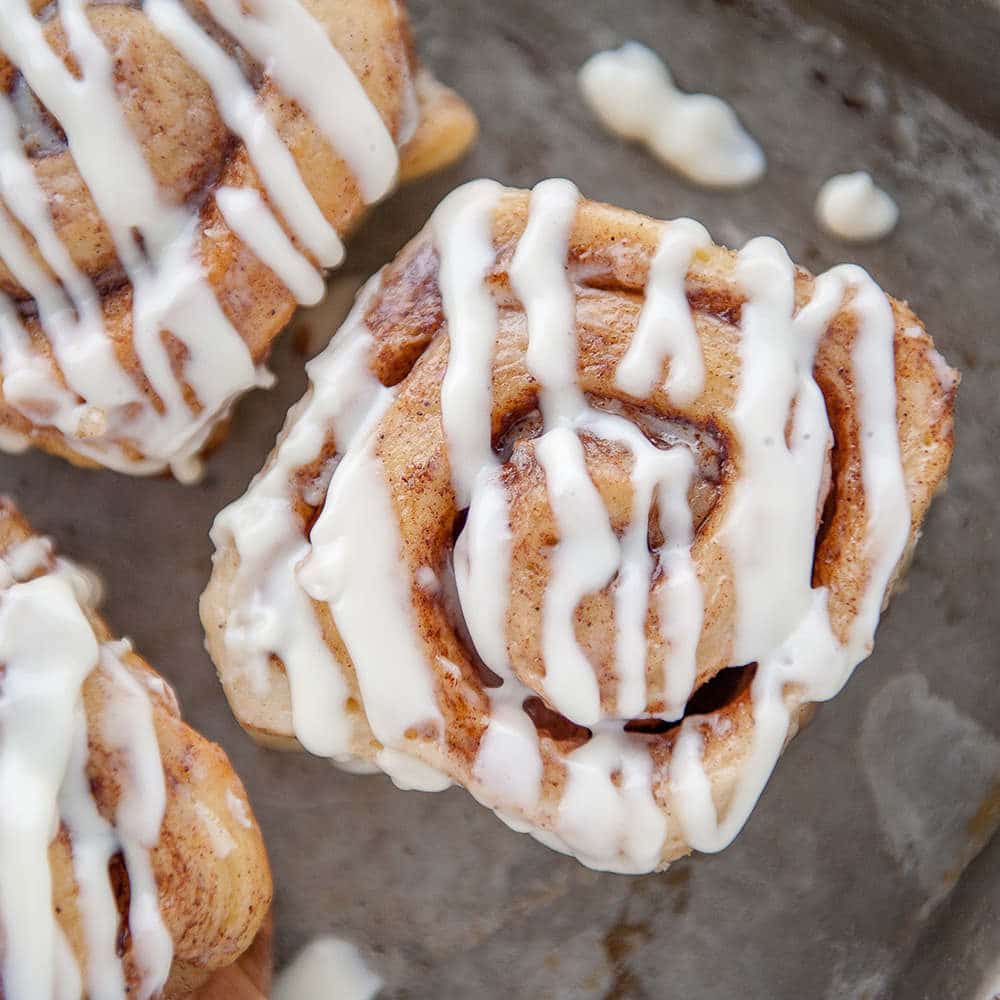 Homemade cinnamon rolls never go out of style. I never cared much for cinnamon rolls until my first job at a real bakery where everything was made from scratch. I had to get up at 1:45 am to start the baking so that everything was ready by 6 am when we opened.
Huge, 50 lb batches of sweet dough were prepped on stand mixers that were bigger than I was. The bowls had to be wheeled around on casters.
When the dough was ready, we'd clear off the 10-foot wooden block table and roll out the dough. Huge amounts of butter, cinnamon, and sugar would then be smeared onto the dough. It would take 3 people to roll the dough up.
Some of the dough would be portioned out for giant, bakery-style cinnamon rolls and the rest would go into bread pans for cinnamon swirl bread. I can't remember a morning that we didn't sell out.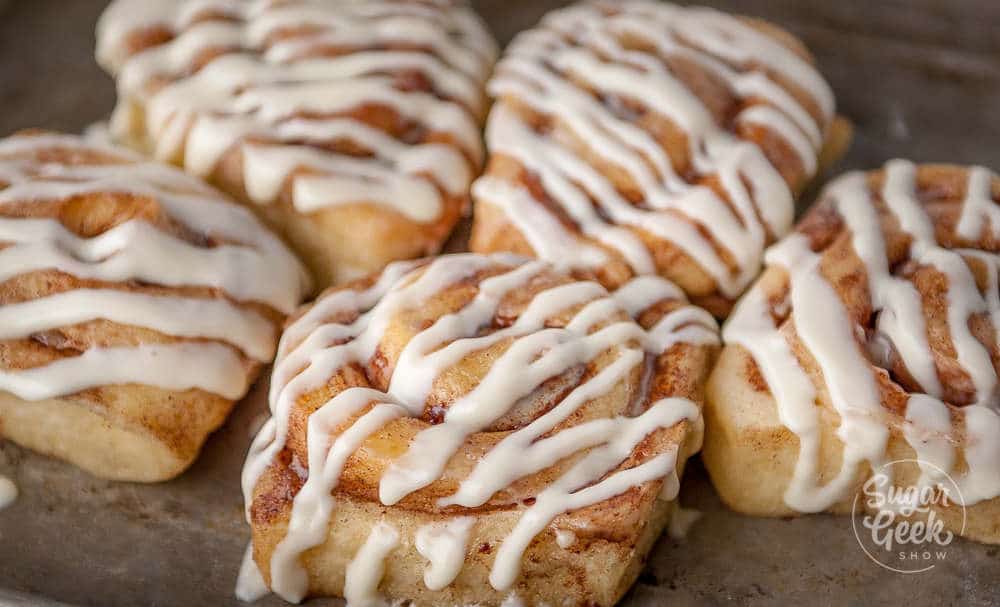 Thankfully for this recipe, you won't need much besides a stand mixer and some time for proofing. Because this is a sweet dough, enriched with butter, eggs, and sugar, it's very soft and tender when baked. It also means that it's harder for the yeast to do its thing because the butter and sugar get in the way.
I'm baking my rolls on a sheet pan but you can also bake them in casserole dishes, cast iron pans or cookie sheets.
It's definitely possible to make these cinnamon rolls in one day but it's easier to prep them the day before and bake them the next day so you're not in a rush.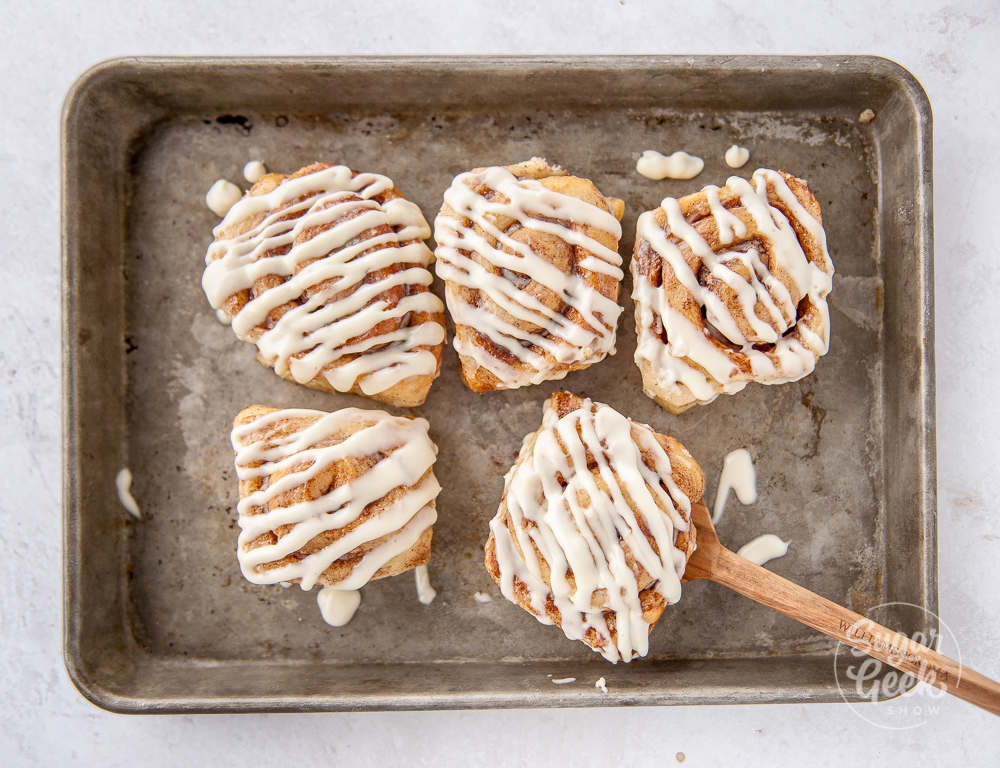 Step-By-Step Instructions
Make sure you follow the mixing directions below and develop the gluten in the sweet dough or your bread could have a bad rise. But don't over-mix it or you can have a very dry roll. How can you tell?
Once the dough cleans the bowl (pulls away from the sides) and looks smooth, you're probably done. Press your finger into the side of the dough, does it spring back? You're ready to go. Does it seem soft and oozing out of it's shape? It's not done yet, keep kneading.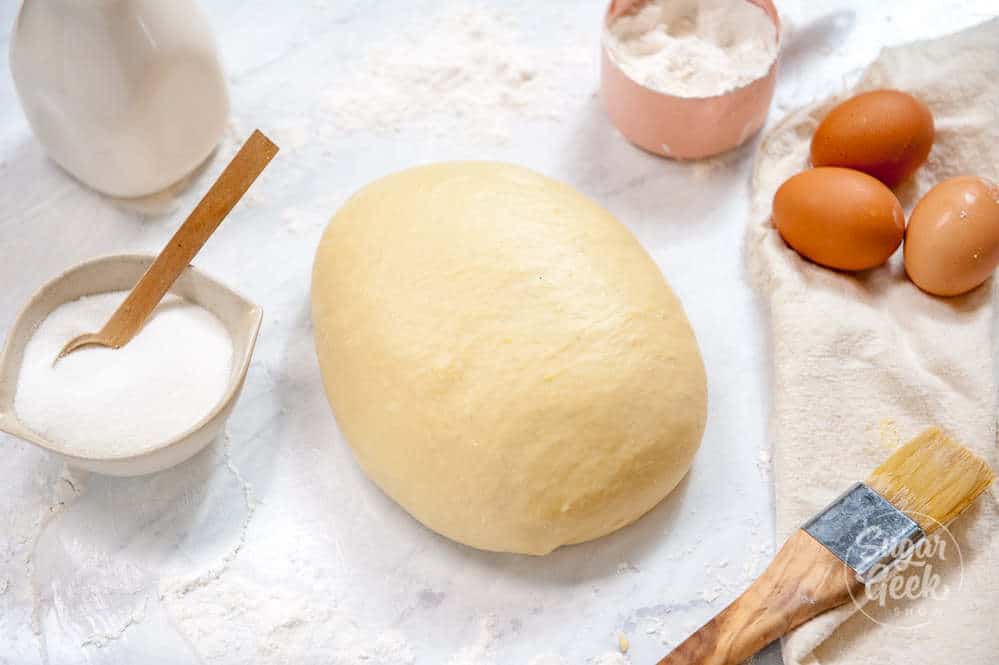 You can also test to see if the dough has mixed enough by doing the window test. Take a small piece of dough and stretch it between your fingers until you can almost see through it like a window.
If you can do this without the dough tearing, it's ready!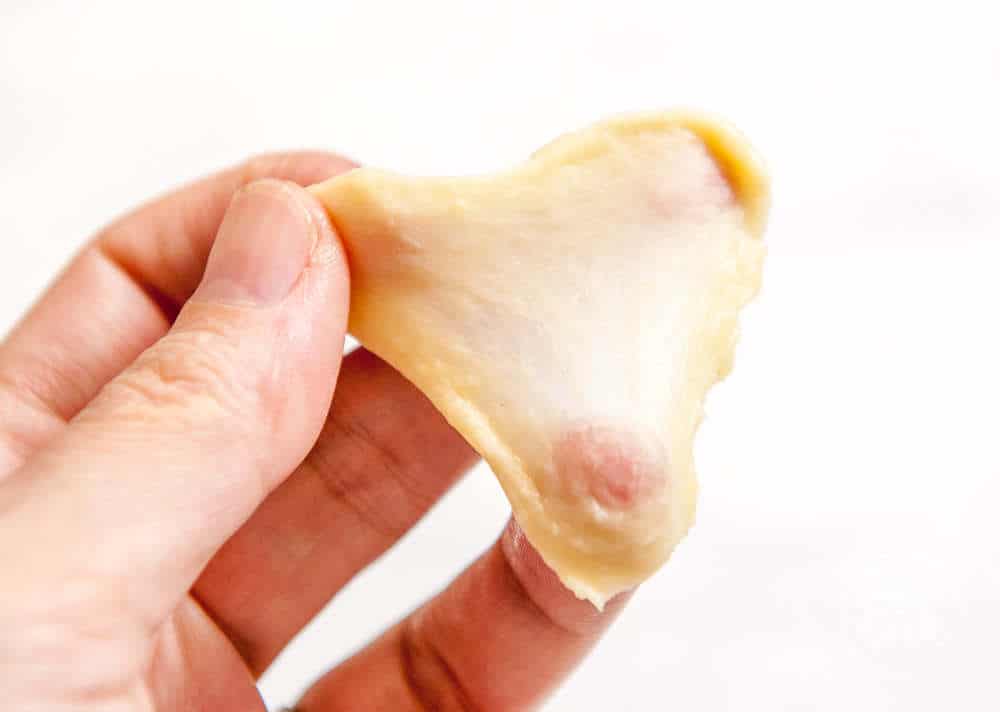 How to proof cinnamon rolls
After you've made your sweet dough, you have to let it rise for about 90 minutes or until it doubles in size. You want a nice warm spot to do this. If you're in the middle of baking, chances are your kitchen is already warm enough.
If not, you can preheat your oven for 5 minutes then turn it off. Place a bowl of water in the back of the oven and then put your covered bowl of dough in the oven and shut the door.
This is a nice warm and moist environment for your dough to proof. Just don't forget your dough is in there and accidentally turn on your oven.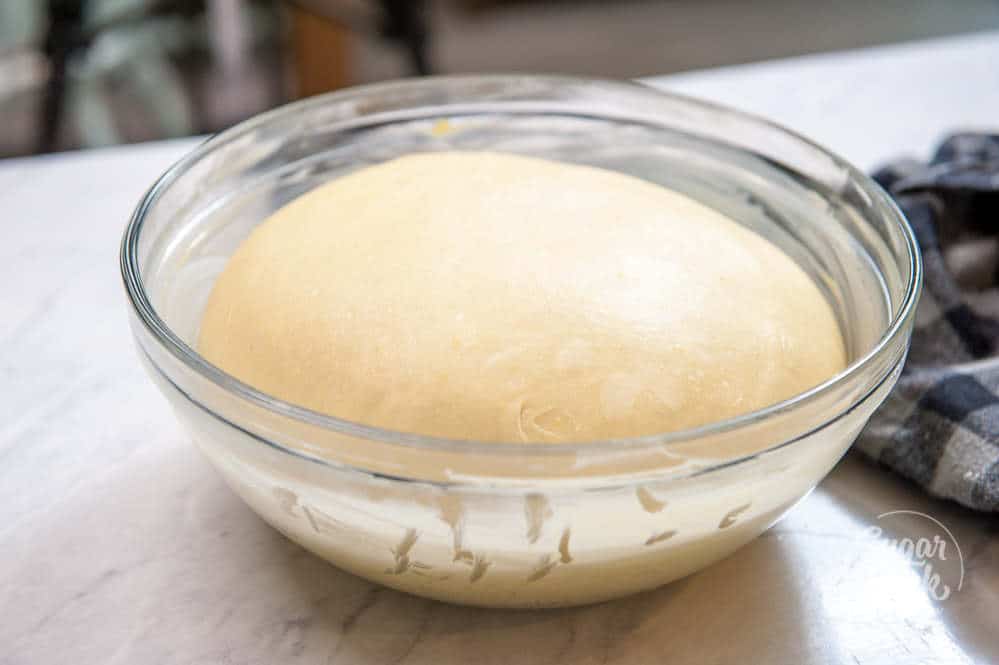 While your dough is proofing, you can make up the cinnamon roll filling. I usually just put all the ingredients in the bowl together and cream until it's combined. You can also melt the butter and mix it all together.
How to shape cinnamon rolls
Roll out your dough so that it is about 10" long and about ½" thick. It doesn't matter how wide it is. Try to keep your dough in a nice rectangular shape so that all your rolls are the same size.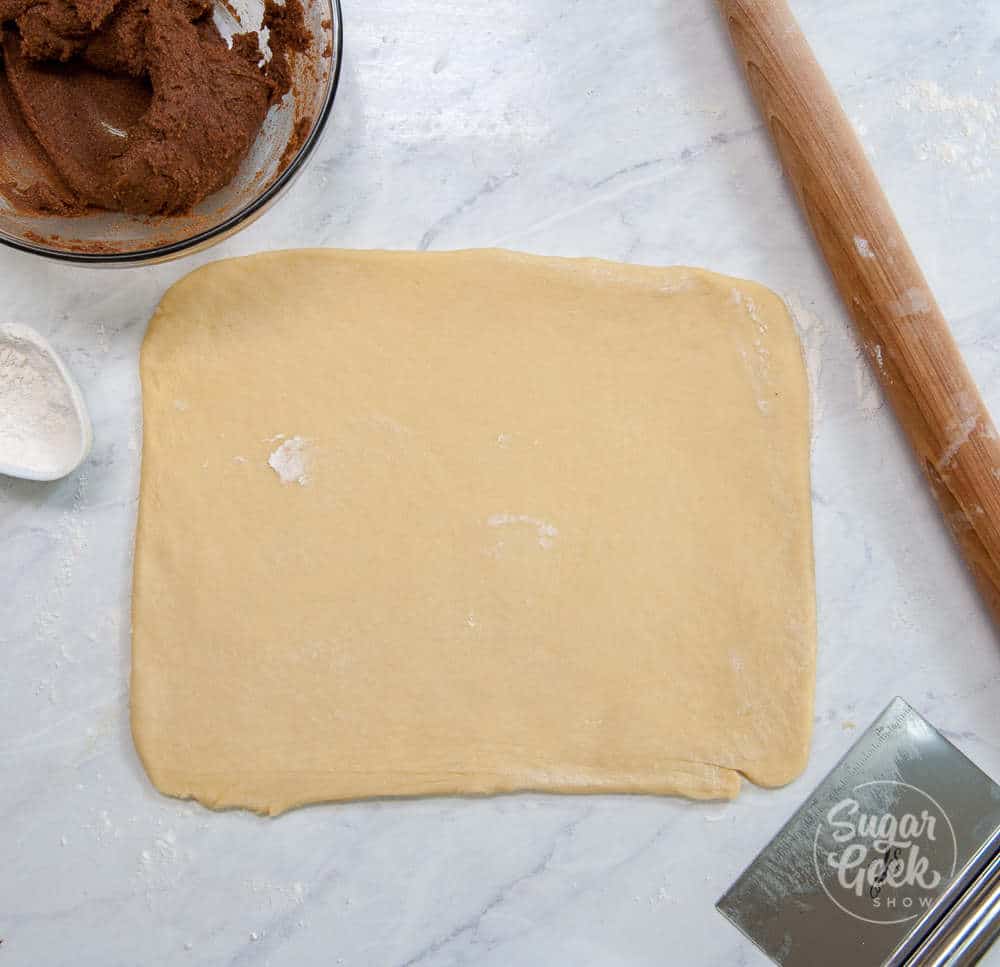 Spread the cinnamon filling onto the dough evenly, all the way to the edges. Leave one edge bare so you can seal it up with some egg wash so the cinnamon rolls don't unroll while baking.
Begin rolling up the dough lengthwise. Start with a nice tight spiral then just push the dough gently to roll it the rest of the way up. Press that edge firmly, you can even pinch it to keep it sealed tight.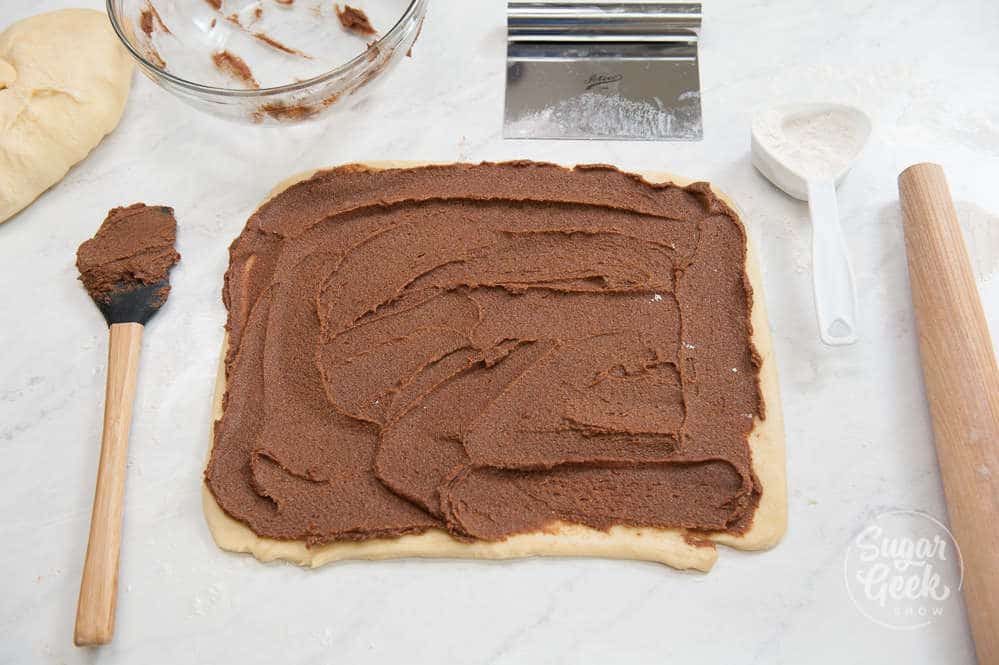 Divide the dough into 12 even pieces and place onto a sheet pan lined with parchment paper. The cinnamon rolls will touch. If you don't want your rolls to touch then space them out further apart or use two sheet pans.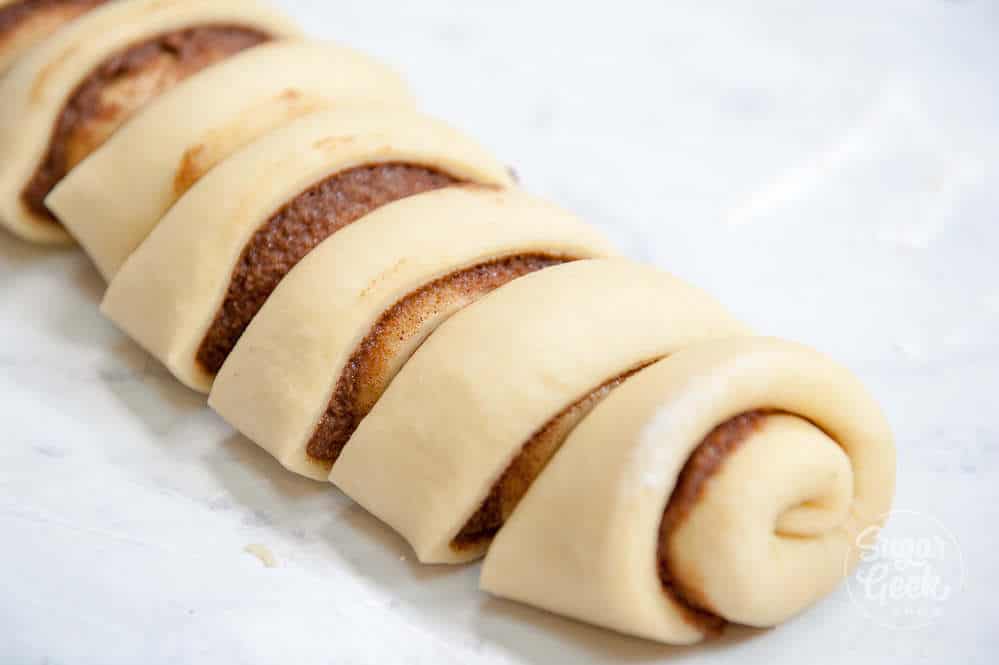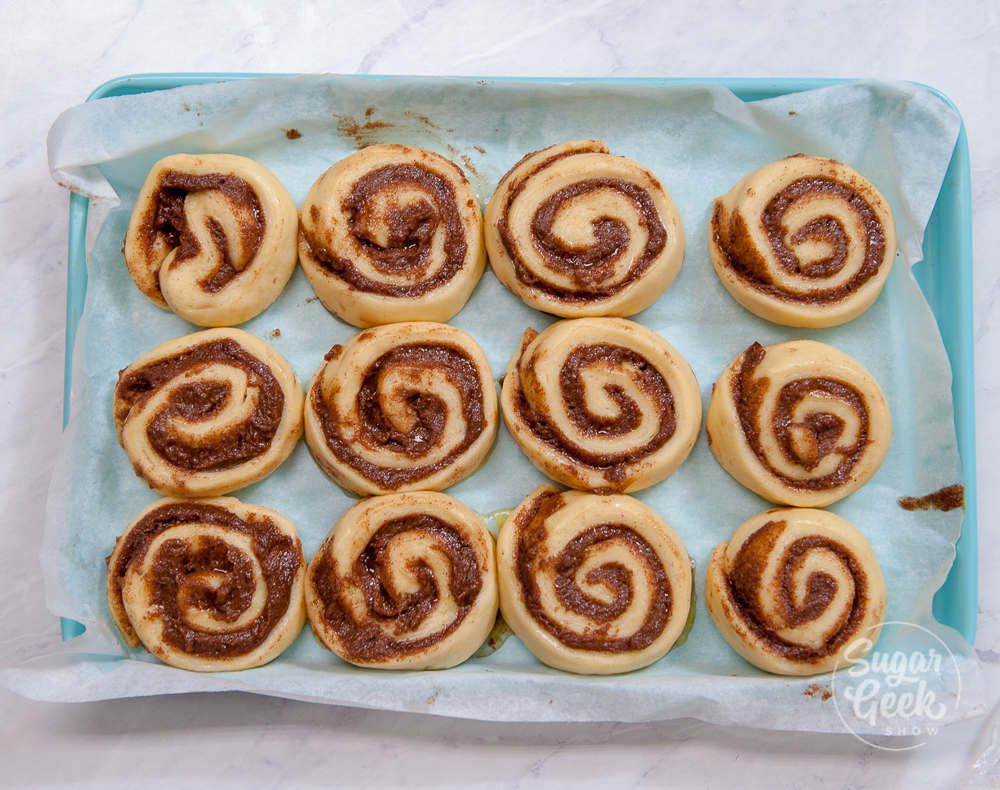 Final Rise
You want to let the dough rise one more time before you bake them. Cover with a tea towel and place in a warm area. The rolls should double in size. This should take about an hour.
Brush the cinnamon rolls with egg wash and then bake them in the oven at 350ºF for about 20 minutes.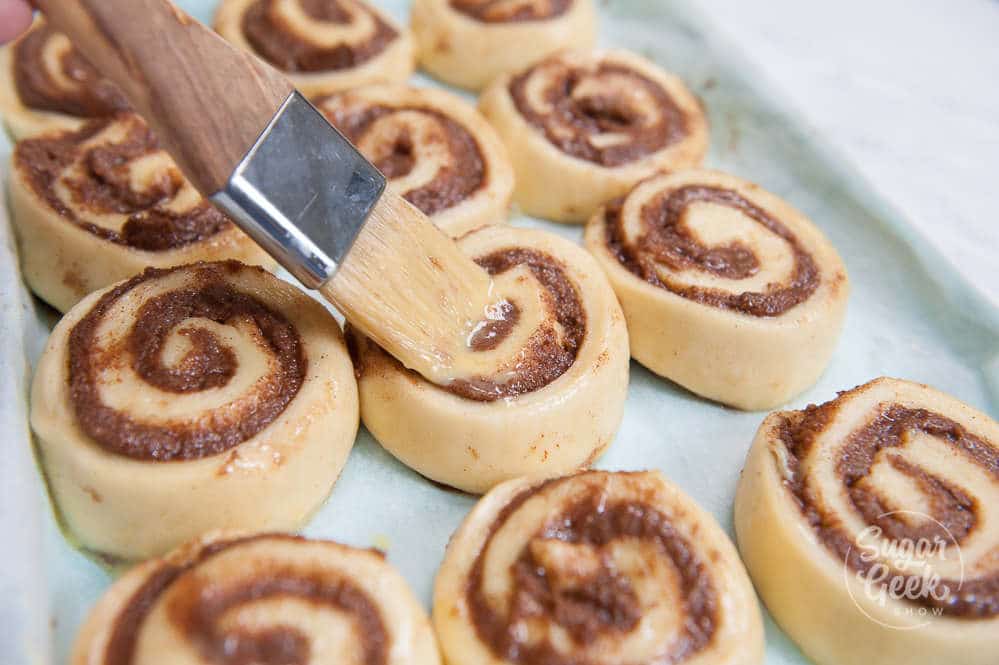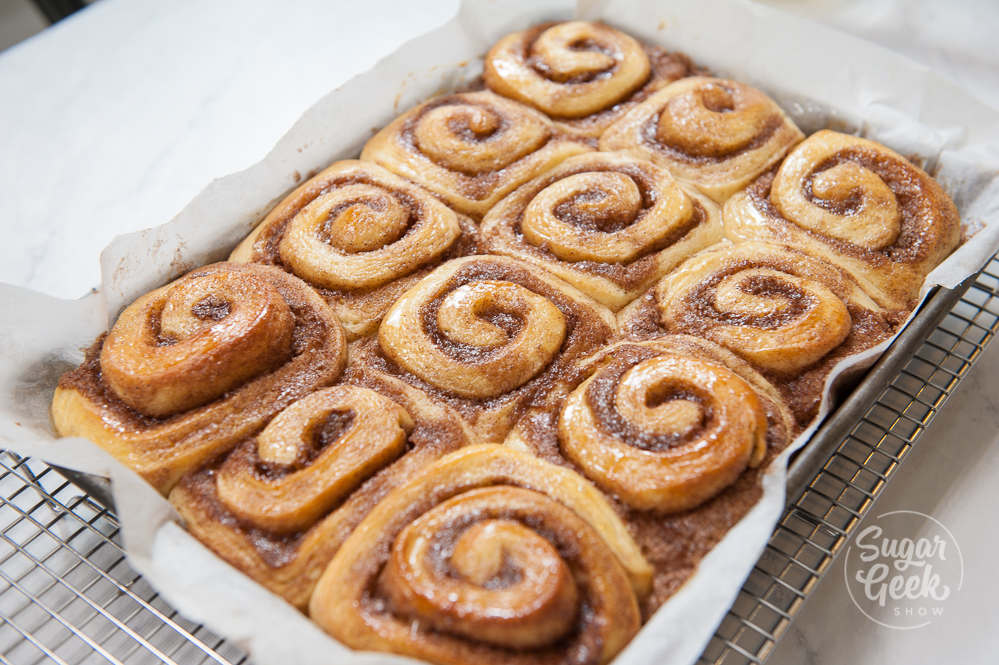 How to make cream cheese frosting
I love cream cheese frosting for homemade cinnamon rolls but I don't like a ton of frosting. This cream cheese frosting is really thin and all you need is a little bit drizzled over the top. If you love more frosting, you can definitely add more!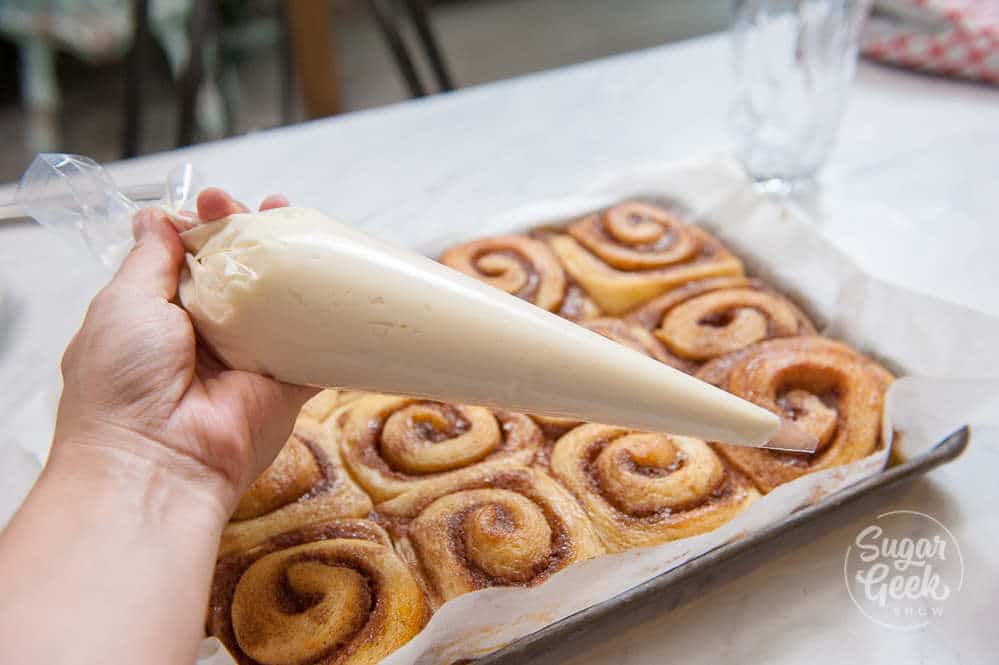 Cream your cream cheese with a hand mixer until it's smooth. I microwaved mine for about 10 seconds to get it a little softer. Add in your butter and cream until smooth. Then your sifted powdered sugar, salt, and vanilla and mix until smooth.
Then add in your milk. I like my frosting very thin so it drizzles down into the nooks and crannies of the rolls but you can make yours thicker if you want by leaving out some of the milk.
Place the frosting into a piping bag and drizzle it over the warm cinnamon rolls or you can use a spoon.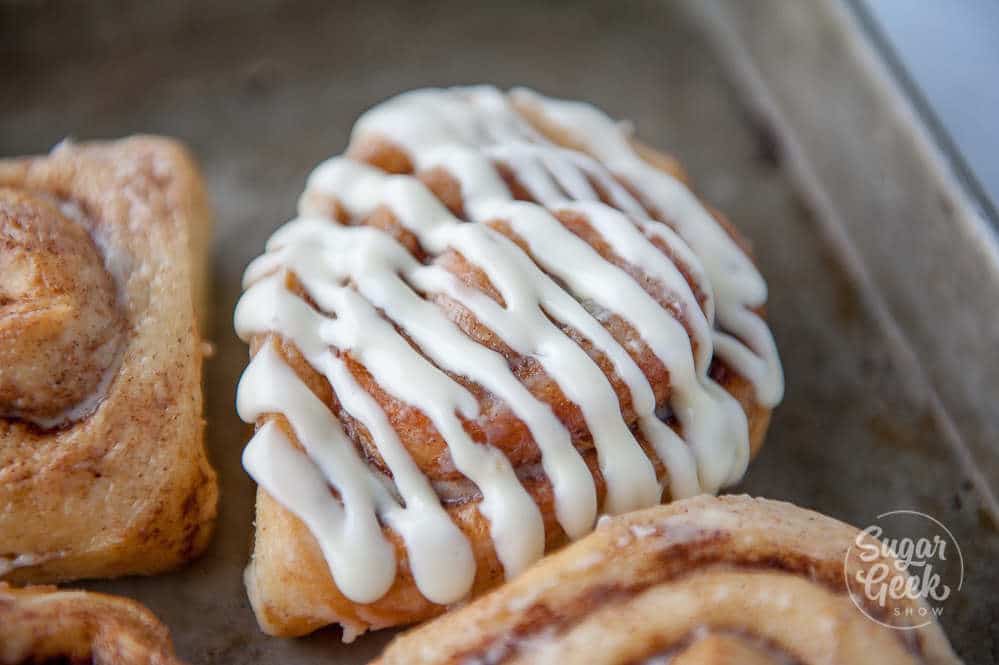 FAQ & TIPS
Can you make cinnamon rolls ahead of time?
If you don't have the time to let your homemade cinnamon rolls rise or you want to make them ahead of time, cover the rolls tightly with plastic wrap and place them in the fridge. The rolls will continue to rise in the fridge but very slowly.
Take the rolls out of the fridge about 2 hours before you want to bake them, letting them proof until they double in size before baking.
Finish them off with your cream cheese frosting and enjoy your delicious homemade cinnamon rolls!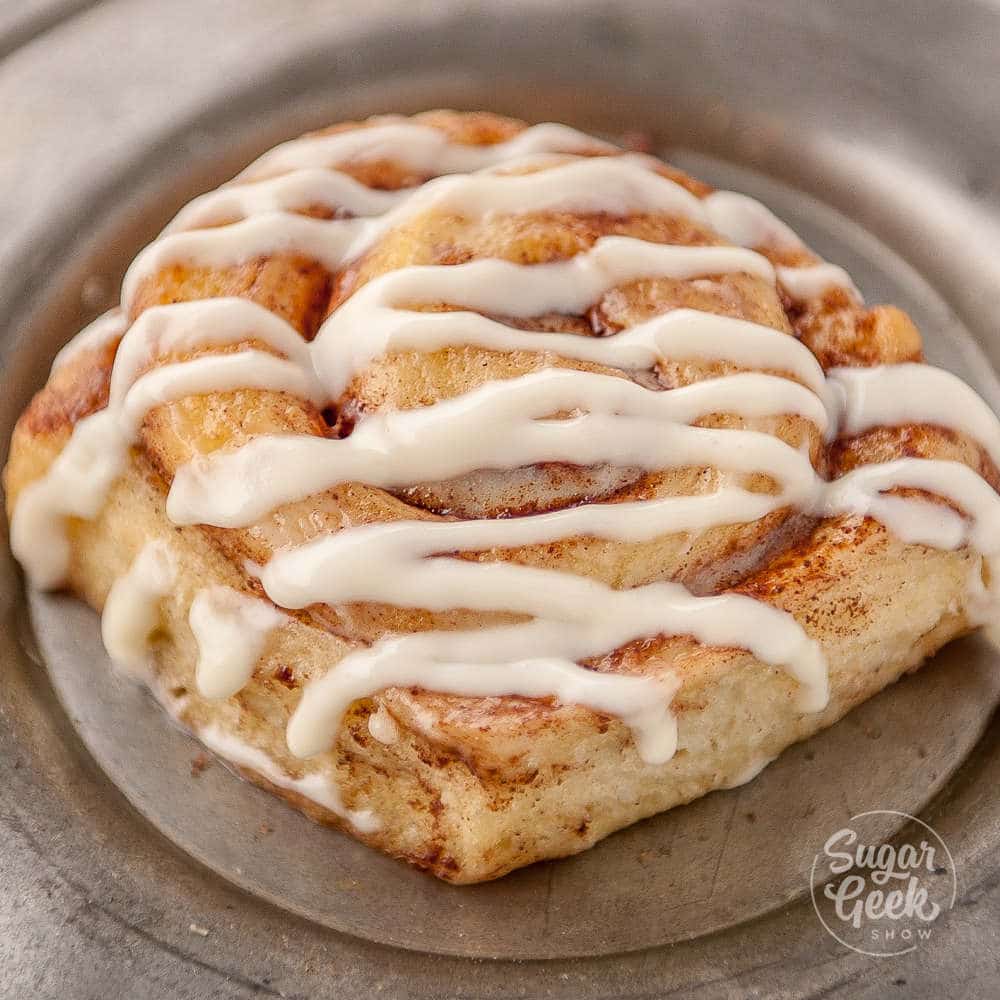 How do you store leftover cinnamon rolls
Because these rolls have cream cheese frosting, they will need to stored in the fridge. Heat them in the microwave for about 20 seconds or in the oven until warmed through and enjoy!
Related Recipes
Soft and buttery dinner rolls
Master sweet dough recipe
Strawberry Cinnamon Rolls
Sticky Buns
Recipe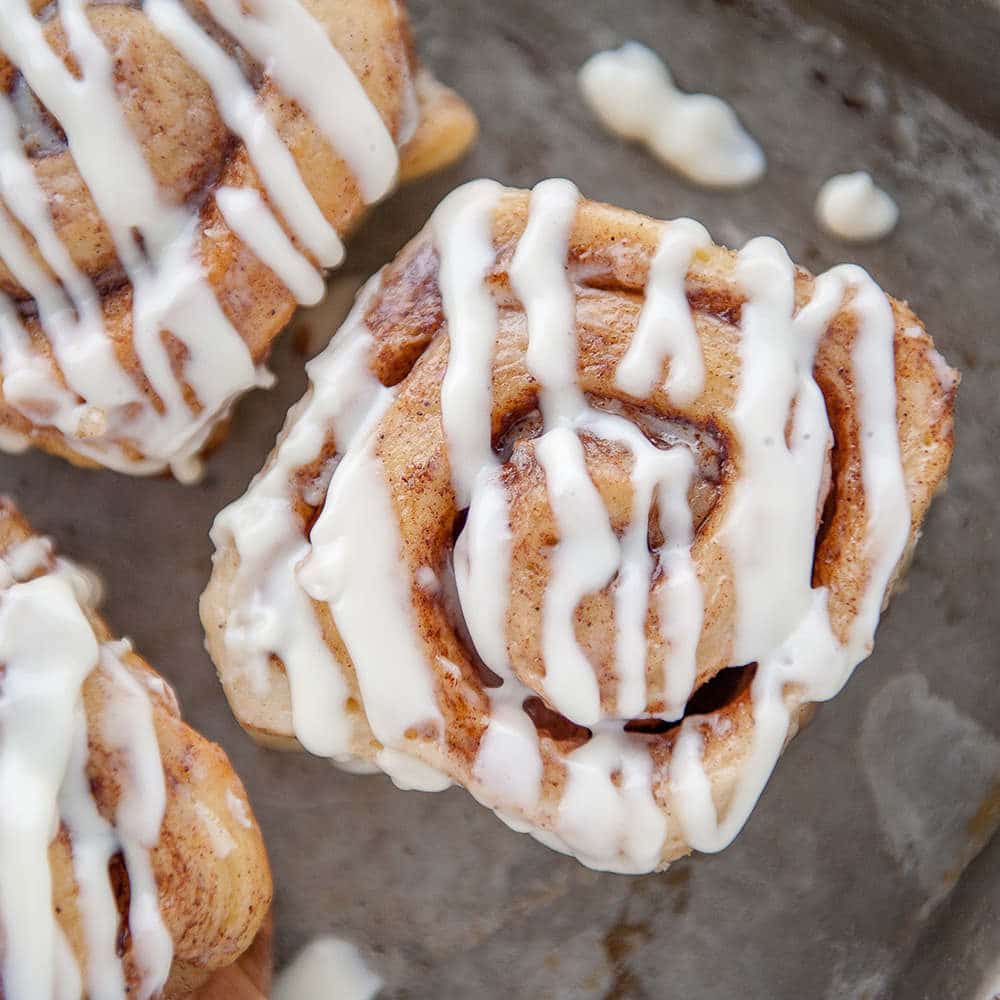 Equipment
Stand mixer with dough hook

One sheet pan (13"x18") or similar sized pan

Parchment Paper
Ingredients
Cinnamon Roll Dough
4

ounces

milk

110ºF

5

grams

dried instant yeast

14

ounces

all-purpose flour

or bread flour

4

ounces

butter

softened

2

ounces

sugar

½

teaspoon

salt

2

large

eggs

room temperature
Cinnamon Filling
4

ounces

unsalted butter

softened to almost melted

4

ounces

granulated sugar

4

teaspoons

cinnamon
Cream cheese frosting
4

ounces

cream cheese

softened

4

ounces

unsalted butter

softened

3

ounces

powdered sugar

¼

teaspoon

salt

2

ounces

heavy whipping cream

or less if you like a thicker consistency

1

teaspoon

vanilla extract
Instructions
Warm milk to 110ºF. Add in 1 Tablespoon of your sugar and then the yeast and whisk to combine. Set aside for 5 minutes or until foamy.

Place flour in the mixing bowl with the yeast/milk mixture and stir until combined

Add in your eggs one at a time, letting each combine before you add the next

Add in sugar, butter and salt and mix on low until combined

Let mix on low for 5-10 minutes until the dough pulls away from the sides of the bowl and bounces back when you touch it. You can also do the window test (see blog post for example)

Shape the dough into a smooth ball and then place it into a greased bowl. Cover with a tea towel and let rise for 90 minutes in a warm place

*see note**
For the cinnamon sugar filling
Combine together all your ingredients with a mixer until smooth
To make the rolls
Line a 13"x18" sheet pan with parchment paper (or similar sized pan)

Once your dough has proofed, roll out the dough 10" wide, ½" thick. It doesn't matter how long. Spread the cinnamon sugar filling over the surface evenly, all the way to the edges, except keep one edge without cinnamon so you can seal it.

Roll up the dough length-wise. Make sure the first roll is very tight so you get a nice spiral, then continue pushing the dough until you reach the edge. Brush a little water or egg wash along the bare edge so it seals the loose edge of the dough.

Cut the roll into 12 equal slices and arrange on your parchment covered pan

Cover loosely with a tea towel and let proof to double then bake (or cover tightly with plastic wrap and put in the fridge if you want to bake them the next day. Let come to room temperature and proof to double before baking. This can take 1.5-2 hours depending on how warm your kitchen is)

Bake at 350ºF for 35-40 minutes or until internal temperature reaches 200ºF
For the cream cheese frosting
Cream the cream cheese with a hand mixer until smooth. Then add in the softened butter and cream until smooth.

Add in the powdered sugar, salt, vanilla and milk, and cream until smooth and the desired consistency. Drizzle over warm cinnamon rolls.
Video
Notes
For the best possible results, read through the blog post and recipe to avoid common mistakes.
Use a scale to

weigh your ingredients

(including liquids) unless otherwise instructed (Tablespoons, teaspoons, pinch etc). Metric measurements are available in the recipe card. Scaled ingredients are much more accurate than using cups and help ensure the success of your recipe. 
Metric measurements (grams) are available by clicking the small box under the ingredients in the recipe card labeled "metric"
Practice Mise en Place (everything in it's place). Measure out your ingredients ahead of time and have them ready before you start mixing to reduce the chances of accidentally leaving something out.
Try to use the same ingredients as the recipe calls for. If you must make a substitution, be aware that the recipe may not come out the same. I try to list substitutions where possible.

*(I pre-heat my oven to 170ºF for five minutes then TURN THE OVEN OFF. It should be barely warm inside. Place a bowl of warm water in the back of the oven and your covered bowl of dough into the oven and shut the door)

Do not be afraid to mix your dough enough. Do the window test to see if your dough is ready. 
Nutrition
Serving:
1
roll
|
Calories:
476
kcal
|
Carbohydrates:
48
g
|
Protein:
6
g
|
Fat:
30
g
|
Saturated Fat:
18
g
|
Cholesterol:
114
mg
|
Sodium:
266
mg
|
Potassium:
81
mg
|
Fiber:
1
g
|
Sugar:
22
g
|
Vitamin A:
971
IU
|
Calcium:
48
mg
|
Iron:
2
mg