Funfetti cake made from fluffy and moist layers of vanilla cake and colorful sprinkles
Funfetti cake is a delicious vanilla cake with brightly colored sprinkles mixed in. This tasty cake made from my scratch white velvet cake and pairs perfectly with smooth and creamy easy buttercream and makes the perfect cake for a birthday celebration!
Birthday Cake
Funfetti cake is the cake recipe that everyone needs to have in their recipe box. Nothing says "It's a special day" like funfetti! Must be something about brightly colored sprinkles. I have made this exact cake for so many occasions and I am always amazed at the pure love it gets.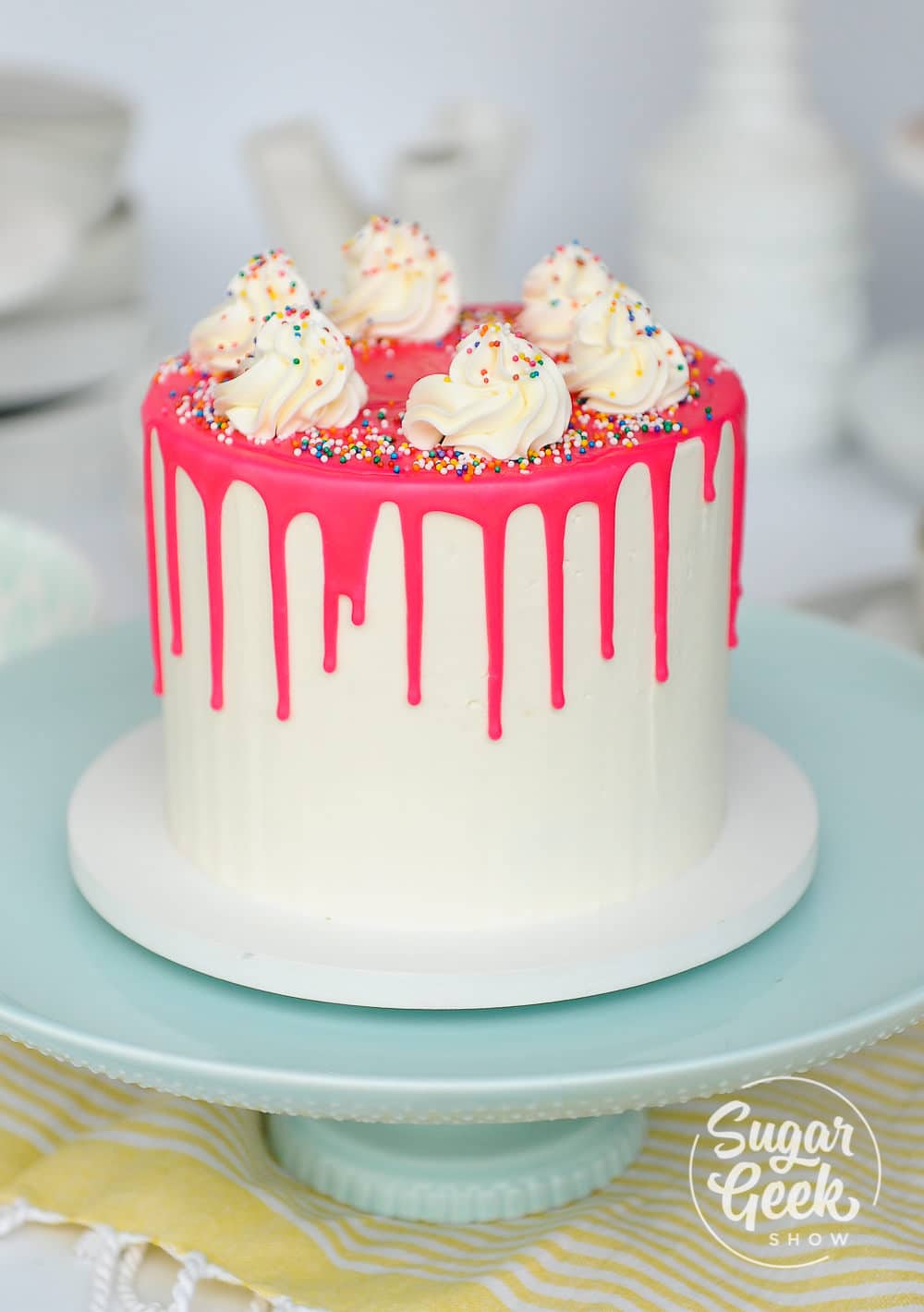 Part of what makes my funfetti cake so yummy is that the base is my ever popular white cake recipe. The crumb is delicate and fine and just melts in your mouth. I use farm fresh eggs, high quality butter and really good vanilla so that I get the most flavor possible into this cake.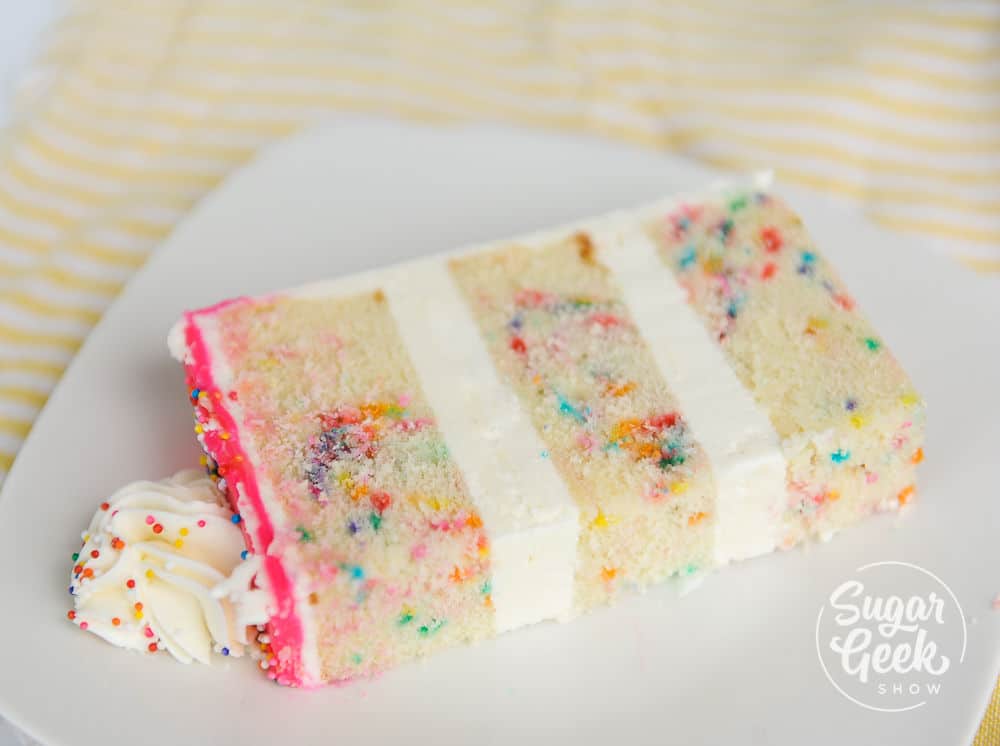 The whole cake is layered up with my creamy dreamy easy buttercream and drizzled with a bright pink layer of water ganache (or you can use regular ganache). A few more swirls of buttercream and some sprinkles and your cake is done! You don't have to be a professional cake decorator to make a great birthday cake. The most important thing is that you made it with love and it tastes amazing!
How To Make Funfetti Cake From Scratch
When you bake from scratch it's super important to bring your eggs, milk and butter to room temp. If you're like me you ALWAYS forget to do this ahead of time so I'll give you my cheats. I put my eggs in a bowl of warm tap water for 5 minutes to warm them up.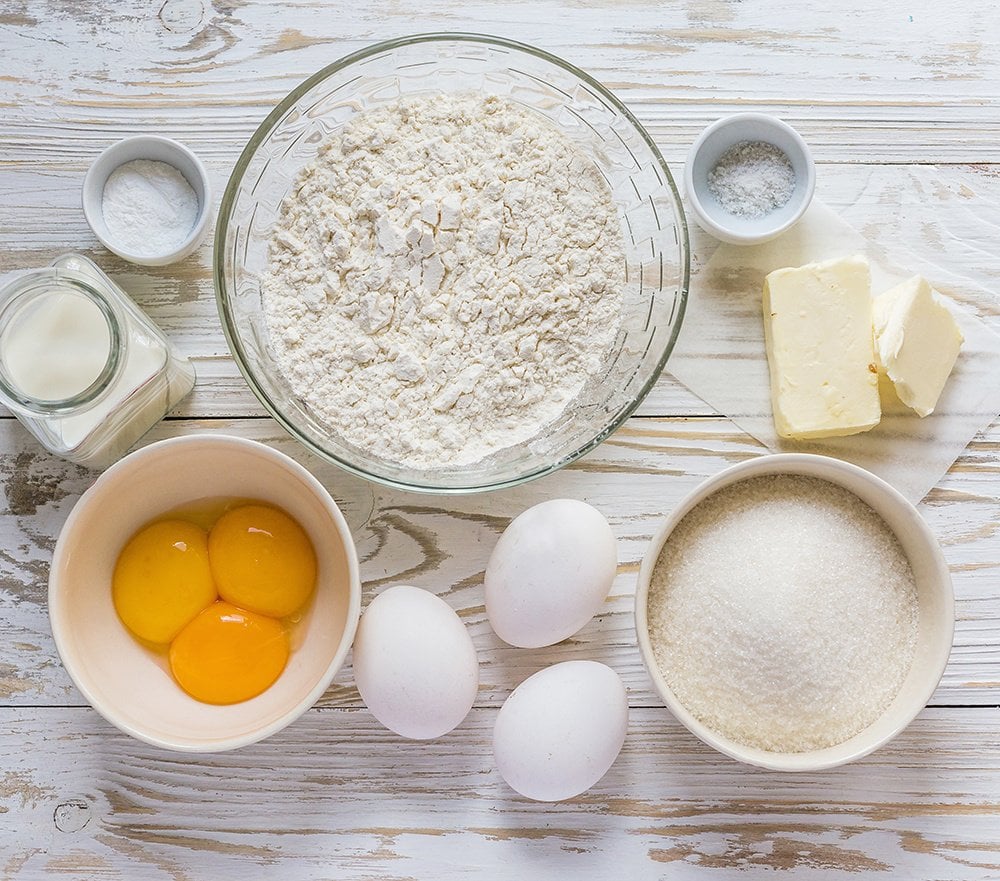 Then I nuke my milk for exactly 40 seconds. Why do I know 40 seconds? Because when my little girl was a baby thats exactly how long it took to warm her bottle up so it was warm enough to drink but not too hot. Your microwave may be more powerful though so best to start with 20 seconds and see where you're at. Should feel neither warm nor cold.
If your butter is cold then cut it into small cubes and nuke for 10 seconds or leave at room temp for 10 minutes.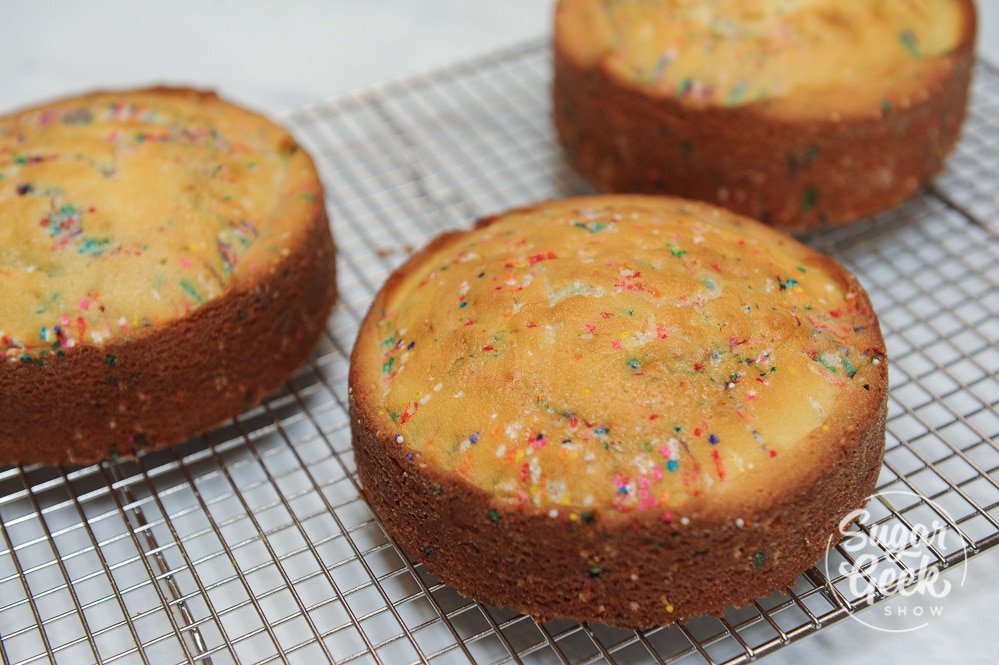 If you don't bring your ingredients up to room temp then a whole lot of stuff can go wrong. Your batter can curdle (or break) which can cause the cake to fall in the center. When you cut it you might see a wet layer forming at the bottom of the cake. That's the fat separating from the liquids and settling during baking.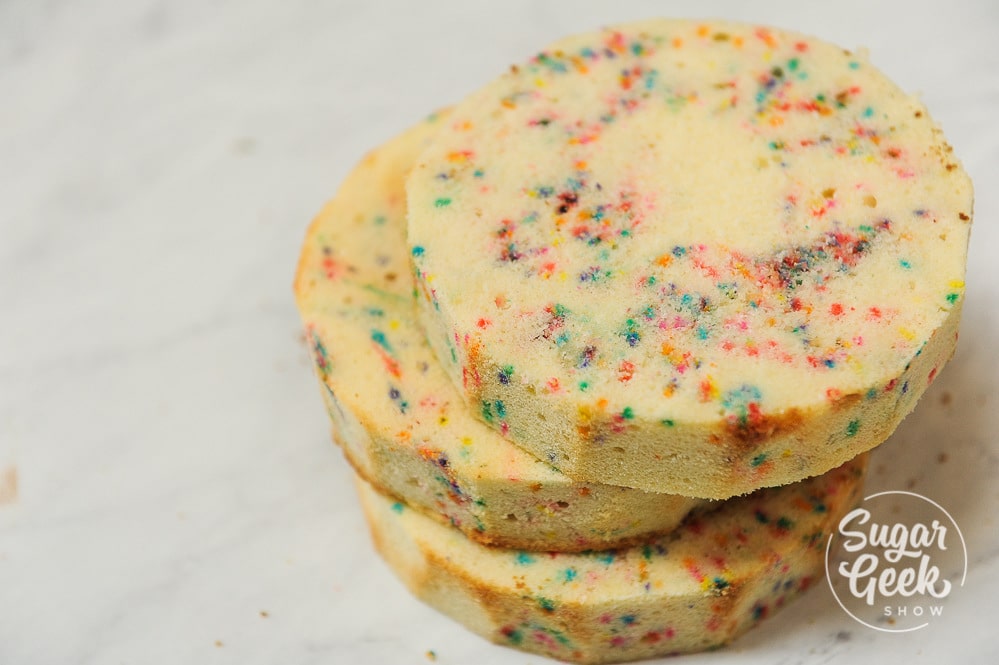 I tend to use rainbow "jimmies" for most of my funfetti cakes but little rainbow nonperils also work really well. I definitely would not recommend using really chunky or large sprinkles because they can settle to the bottom of the pan while baking instead of being suspended in the batter.
After my cakes are baked, I let them cool for a bit but while still warm I wrap them in plastic wrap and pop them in the fridge to chill. Once the cakes are chilled I trim off the brown edges of the cakes on the sides, top and bottom. This just makes the cakes slices extra pretty when you cut into the cake.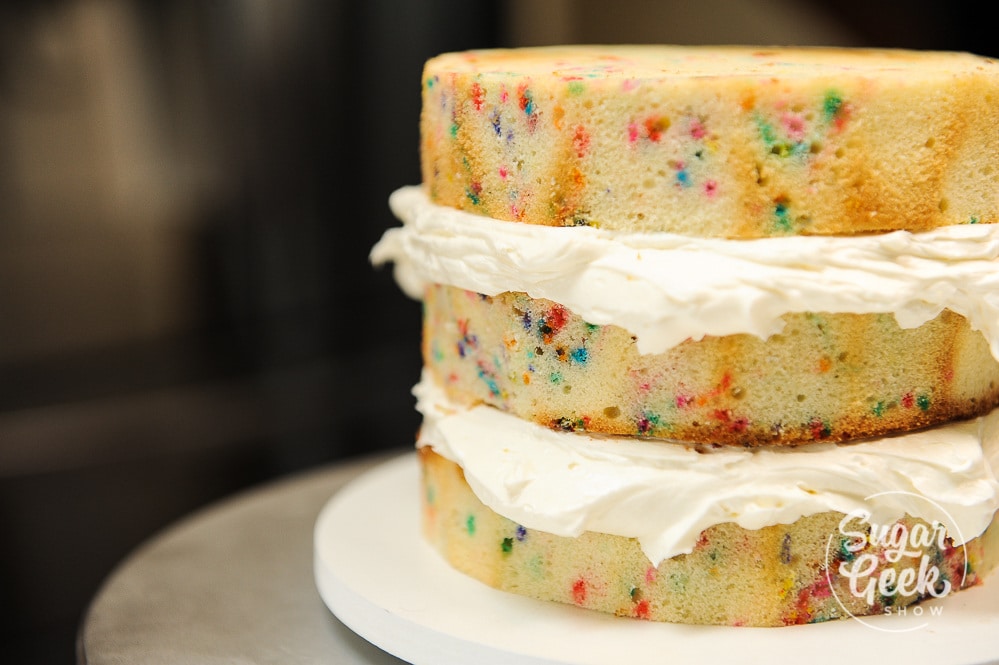 When I am stacking my layers, I try to make my buttercream nice and even in thickness. Don't skimp on your filling.
Next comes the crumb coat. Just a thin layer of buttercream all over the cake to seal in any spare crumbs getting into the final layer of buttercream. Chill the whole cake again for 15 minutes to set the buttercream then another layer goes on. I use a bench scraper to get nice straight sides and an offset spatula to flatten the top and I'm crazy OCD but don't stress about perfection.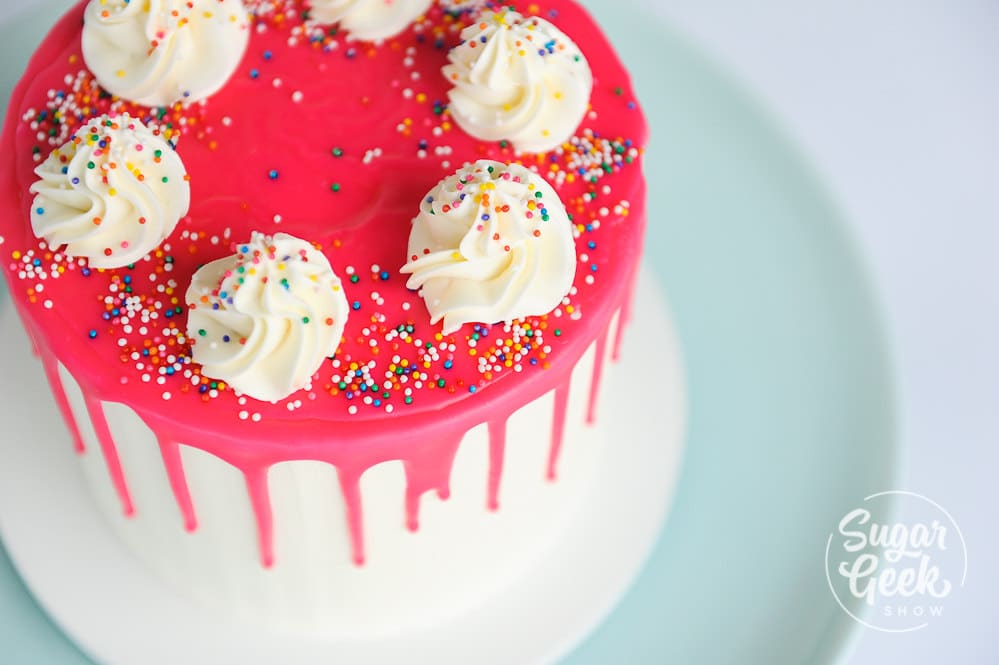 I am still obsessed with drip cakes so I made some bright pink water ganache to drip over the edges. The water ganache goes into a piping bag with a round tip to do the drip but you can also use a spoon. Then just spread out some more water ganache over the top of the cake and some more sprinkles. Place a few simple swirls of buttercream on top and that's all you need!
Funfetti Cake Frosting
You can definitely up the "fun" in funfetti by adding some sprinkles into your frosting but to me the fun is when you cut into your cake and see those pops of color from the sprinkles. Some great frostings that taste great with funfetti cake is easy buttercream which is light, fluffy and not too sweet or American buttercream which is sweeter and a favorite for kids. You can also go with stabilized whipped cream for a super light frosting. Keep in mind that whipped cream must be kept refrigerated.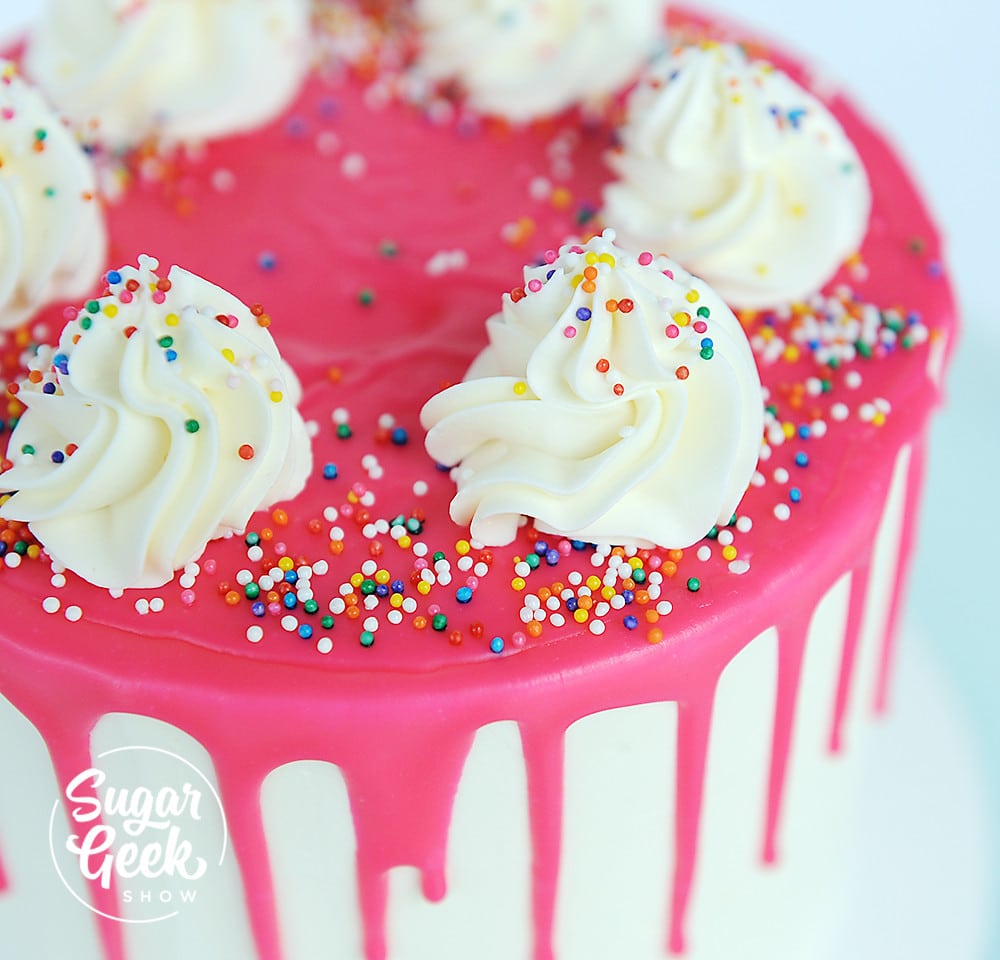 My daughter's favorite part of the cake is the buttercream and I love that she even calls it buttercream. Teach em' young right? This is a pic of my daughter right after the cake photoshoot. She stands quietly behind the backdrop until I hand her the slice. Her "reward" for being patient. She always goes straight for that buttercream.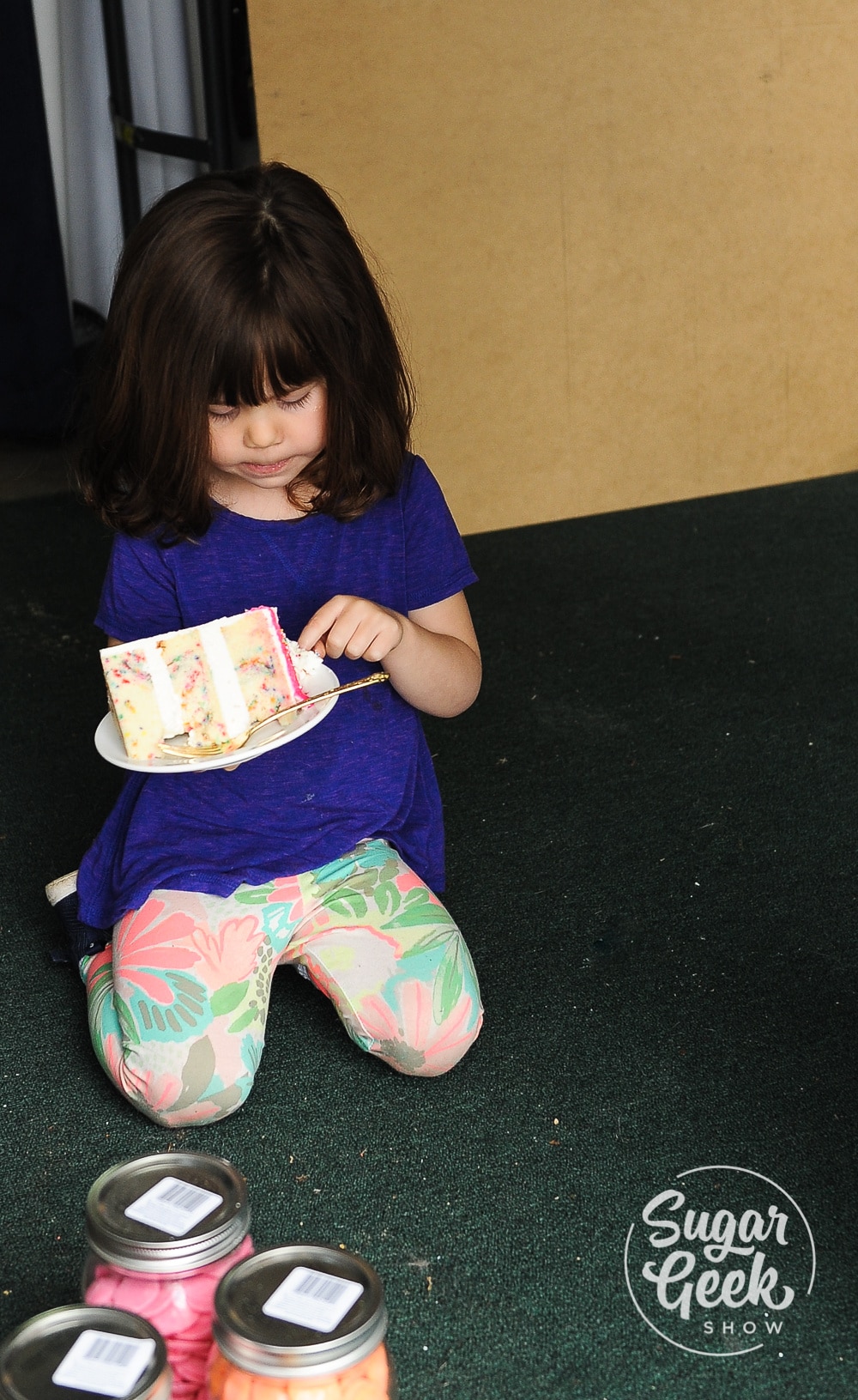 Funfetti Cupcakes
This recipe works great for cakes and cupcakes. I fill my cupcake liners about ¾ of the way full so that the batter fills the liner but doesn't over fill it. A quick swirl of buttercream frosting and some sprinkles and you're done! This recipe makes about 24 funfetti cupcakes.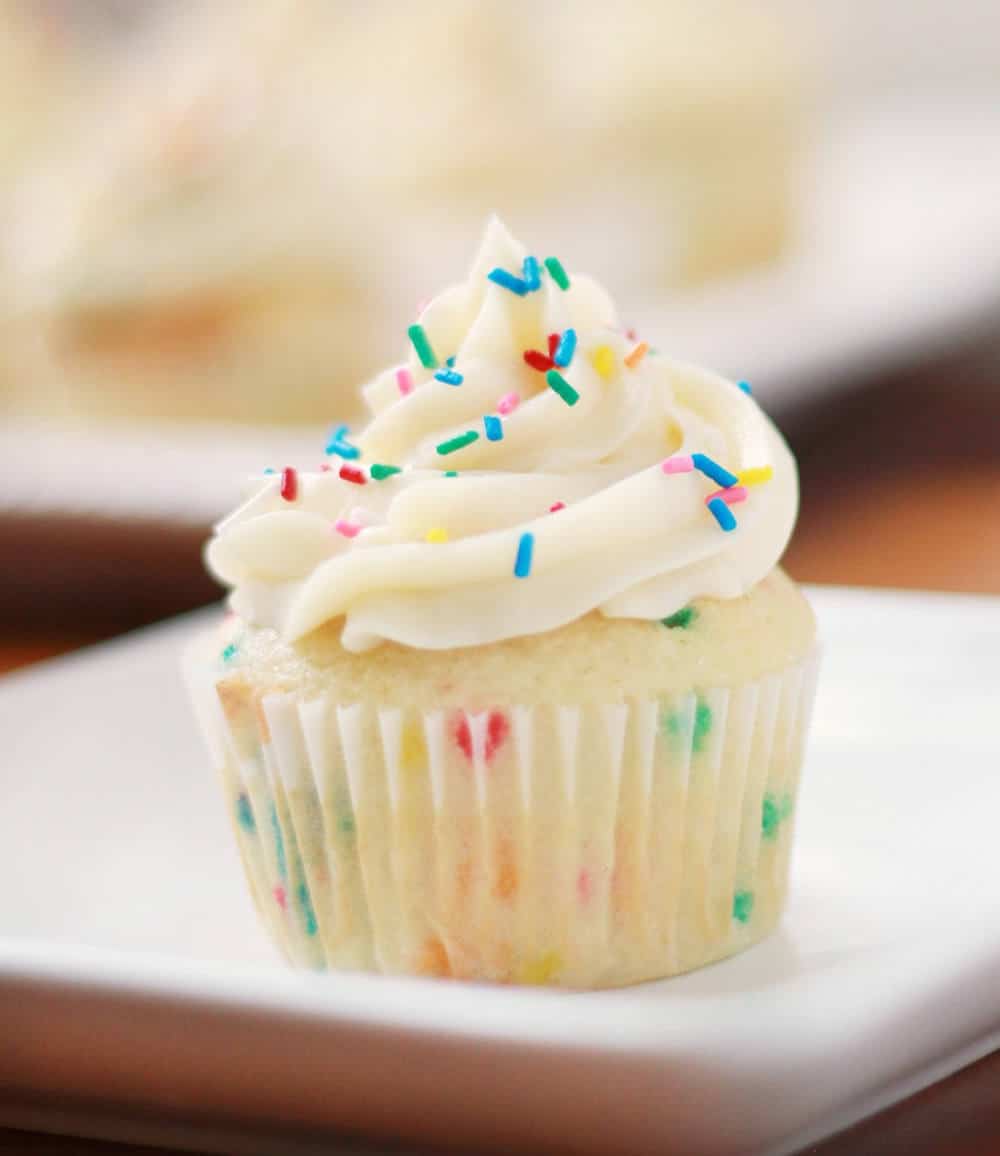 Funfetti Cake Tutorial
Do you want to learn how to make this funfetti cake with pink drip? Check out my video tutorial in the recipe below I did with my daughter. She had a great time "helping" aka dropping sprinkles all over the floor but I admit it was worth it.
Recipe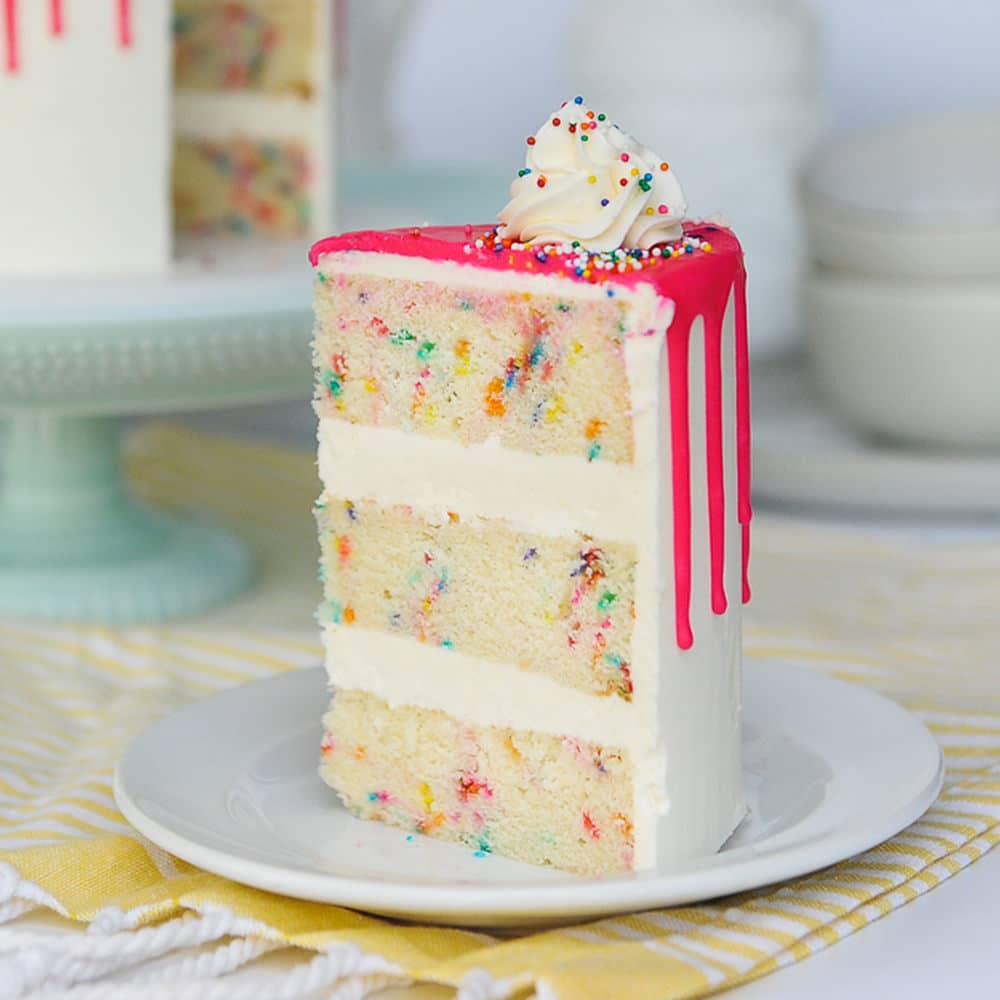 Ingredients
Cake Ingredients
14

oz

All Purpose Flour

2 ½

teaspoon

baking powder

½

teaspoon

salt

8

oz

unsalted butter

room temp

14

oz

sugar

1

tablespoon

vanilla extract

6

egg whites

fresh not boxed at room temp

10

oz

milk

room temp

2

oz

vegetable oil

2

oz

rainbow sprinkles
Water Ganache
6

oz

white chocolate

or candy melts

1

oz

warm water
Easy Buttercream (Mock SMBC)
32

oz

unsalted butter

room temp

32

oz

powdered sugar

1

tablespoon

vanilla extract

8

oz

pasteurized egg whites
Instructions
Cake Instructions
*Note* It's very important that all your ingredients are room temp or even a little warm (eggs, milk, butter etc) Or your cake batter could curdle and result in a fallen cake.

Pre-heat oven to 335ºF. Prep two 8"x2" cake pans or three 6"x2" cake pans with cake goop or other preferred pan release.

Combine your flour, baking powder & salt and set aside

Combine your milk, oil and vanilla extract and set aside. 

Place butter into the bowl of your stand mixer and cream until smooth. Sprinkle in your sugar with the paddle attachment and mix on medium until mixture is light and fluffy and white.

Add in egg whites one at a time (roughly) and let fully combine after each addition before adding the next.

Add in ⅓ of your dry ingredients and let combine. Add in ½ of your liquids, then dry, then liquids and the rest of your dry. Let mix until just combined.

Fold in your confetti or jimmy sprinkles. Don't over mix. 

Add batter into prepared cake pans. sprinkle more sprinkles on top of the cake batter if desired. bake at 335 degrees F for 30-35 minutes or until a toothpick comes out clean when poked in the center. 

Let cool ten minutes then turn out cakes onto a cooling rack. Wrap warm and place into the freezer to flash chill. This locks in the moisture. Once cool but not frozen you can then trim off the brown edges of your cakes and frost as desired.
Water Ganache Instructions
Melt chocolate in microwave or in a glass bowl over a pot of simmering water (bane marie) and add in water. Whisk until combined. Add food coloring if desired. Let cool to 90 degrees (Should feel slightly cool to the touch but still liquid) and drip over your frosted and chilled cake.
Easy Buttercream Instructions
Place egg whites and powdered sugar in a mixing bowl with the whisk attachment. Whisk to combine. Add in butter in small chunks then vanilla and salt. Whip on high until light and fluffy and white. Optional: switch to the paddle attachment and mix on low for 15-20 minutes until all air bubbles are gone.


Optional: switch to paddle attachment and let mix on low for 15 minutes to get all the air bubbles out. Frost cake as desired.
Notes
Learn to make this tasty funfetti birthday cake with easy buttercream and water ganache drip! 
Nutrition
Serving:
1
slice
|
Calories:
764
kcal
|
Carbohydrates:
128
g
|
Protein:
11
g
|
Fat:
42
g
|
Saturated Fat:
28
g
|
Cholesterol:
85
mg
|
Sodium:
272
mg
|
Potassium:
401
mg
|
Fiber:
1
g
|
Sugar:
77
g
|
Vitamin A:
1020
IU
|
Calcium:
165
mg
|
Iron:
3.3
mg