Easy fudgy homemade brownies with a crispy crackly top
Craving homemade brownies? Do you have 10 minutes? That's how long it takes to make these moist and fudgy homemade brownies. So much better than a box and easily customized with different toppings for endless brownie flavors.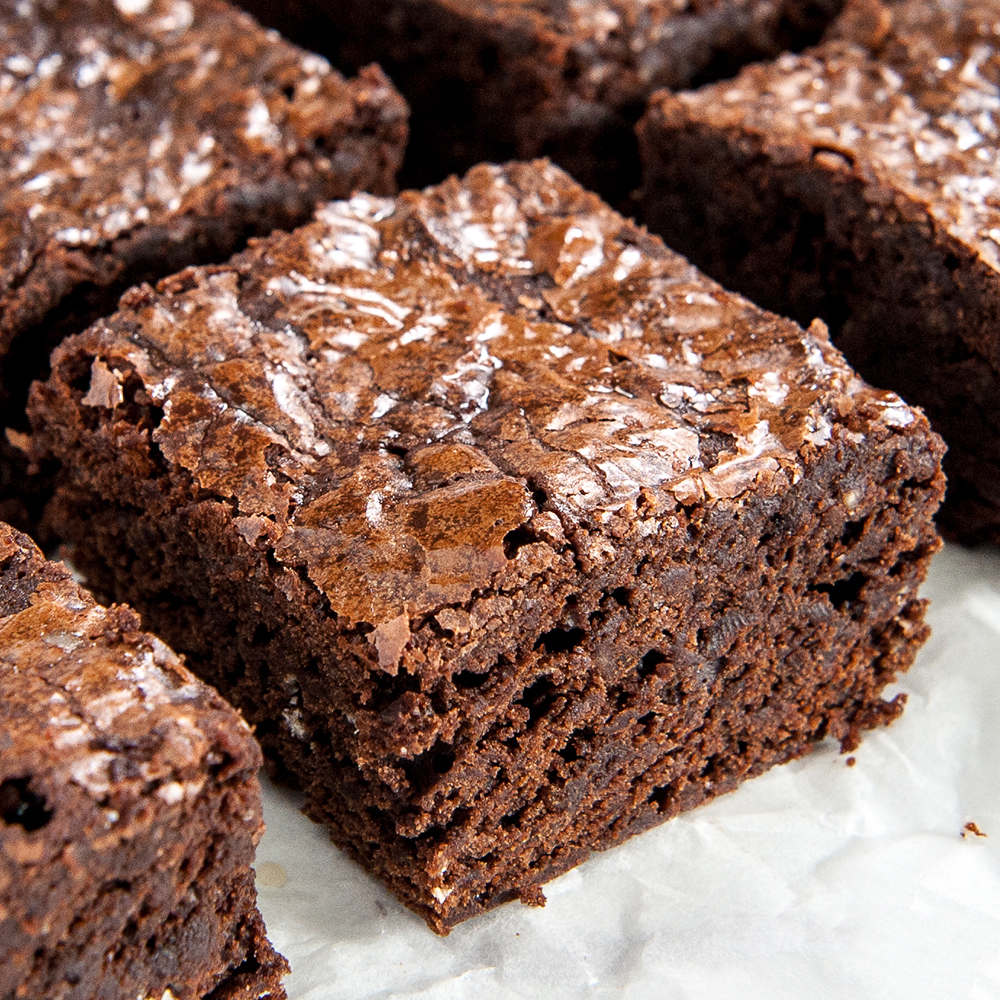 For a long time, I didn't even think I liked brownies. Dry, crumbly and cakey brownies are not my jam. it wasn't until I accidentally made a batch of brownies thinner than I normally do that I discovered the perfect brownie. Moist and fudgy but thin so it's got a bit of chew and isn't too overly sweet. It's like a cross between a cookie and a brownie. SO freaking good and did I mention easy to make?
Fudgy homemade brownies ingredients
There are about a billion different brownie recipes out there. The reason is that even though there isn't much to making brownies technically, changing just one of the ingredients can totally change the flavor and texture of the brownies.
Butter – Lots of butter keeps these brownies nice and fudgy and moist. You can also use oil instead of butter.
Chocolate – I like the rich flavor of dark chocolate in my brownies but you can use semi-sweet or milk chocolate. Dark chocolate has very little sugar in it while milk chocolate has more sugar in it. You may want to adjust the amount of sugar in your recipe depending on the chocolate you use.
Sugar – Sugar adds moisture and sweetness to your brownies. I like to use a little brown sugar as well which adds a nice flavor and a little bit of chew to my brownies.
Eggs – Eggs add moisture and structure to your brownies. The more you whisk eggs, the more air that is incorporated into your brownies. I whisk my eggs and sugar just until combined and then stop.
Cocoa Powder – I prefer to use dutched cocoa powder but you can use any kind of cocoa powder that you like such as Hershey's. Since there isn't any baking powder or baking soda in this recipe, it doesn't matter what kind of cocoa powder you use.
Flour – This recipe uses regular all-purpose flour but you can also use cake flour for a more tender brownie.
Mix-ins – You can add in all kinds of extra ingredients to your brownies to make them your own. Candied pecans, chocolate chunks, caramel, cream cheese or candies. The list goes on and on. The best thing about making brownies is making them exactly the way you want them!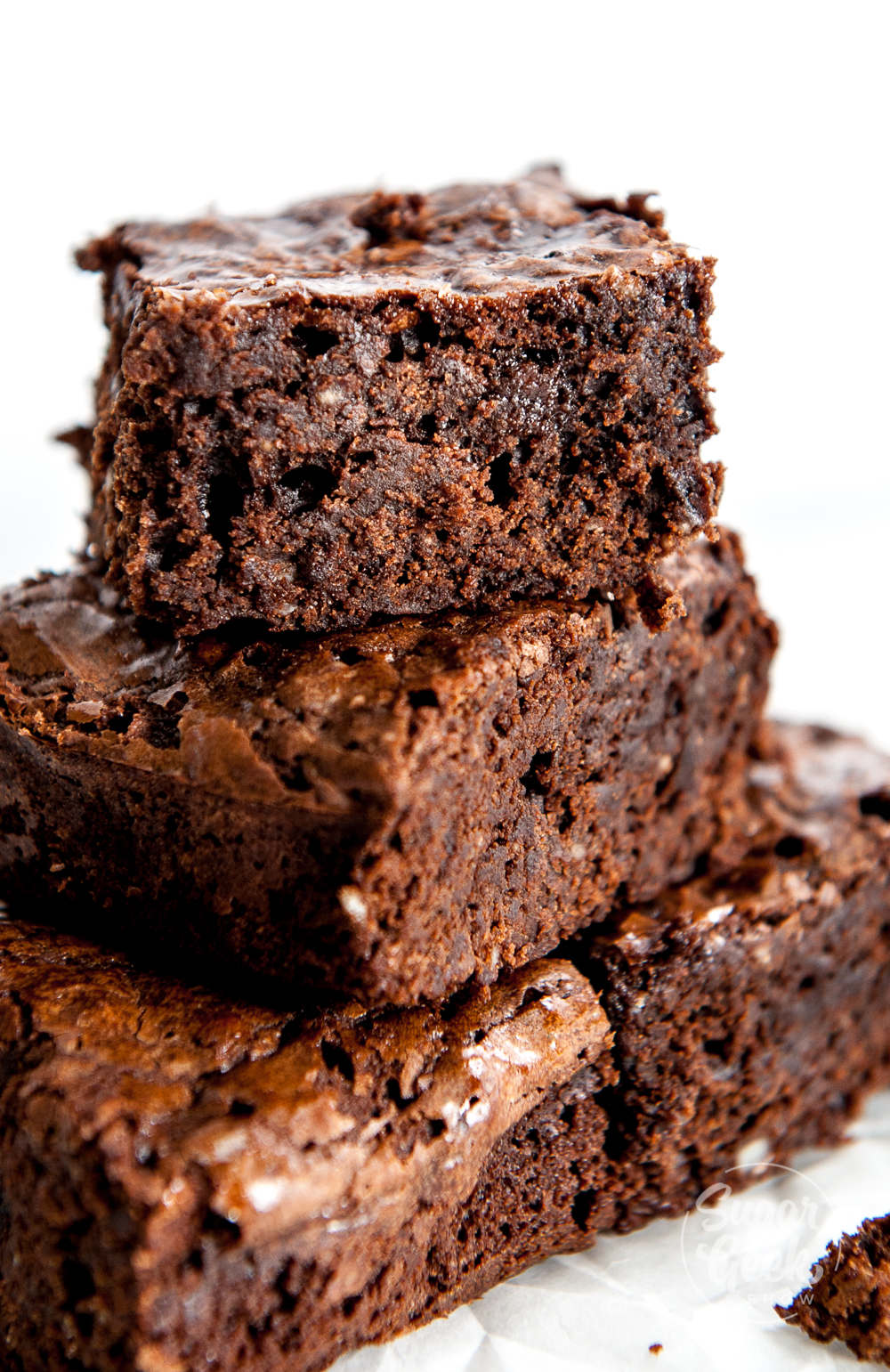 How do you make homemade brownies fudgy?
So how do you make a good fudgy homemade brownie? The secret is a lot of BUTTER! Haha. Is it really that surprising? Butter makes everything better. The more butter, the more better.
Ok but really, a good fudgy brownie needs a lot of butter. Melting the butter with the chocolate helps the cocoa powder absorb into the fat. You can melt the butter with the cocoa powder and the chocolate if you want an extra fudgy brownie but I usually just add the chocolate/butter to the cocoa powder/flour.
The second way to make your homemade brownies nice and fudgy is to make sure there isn't any baking powder. I know it sounds counter-intuitive but baking powder makes things rise up and they end up more cakey than fudgy.
The flip side to this is if you like your brownies cakier, you can add in a teaspoon of baking powder to the flour to give them a little lift.
What kind of pan should you use to make brownies?
You can use any pan you want to make brownies but keep in mind that different pans bake differently so adjust accordingly.
Light Colored Metal Pans – This is the type of pan that I use. They are lightweight and distribute heat pretty evenly.
Dark Colored Metal Pans – Dark metal pans get a lot hotter and will bake your brownies faster. Don't put the pan too close to the bottom of the oven and check for doneness sooner (10 minutes early) so they don't accidentally burn.
Glass and Ceramic Pans – Brownies baked in glass or ceramic pans tend to take longer to bake so you might have to leave them in the oven longer.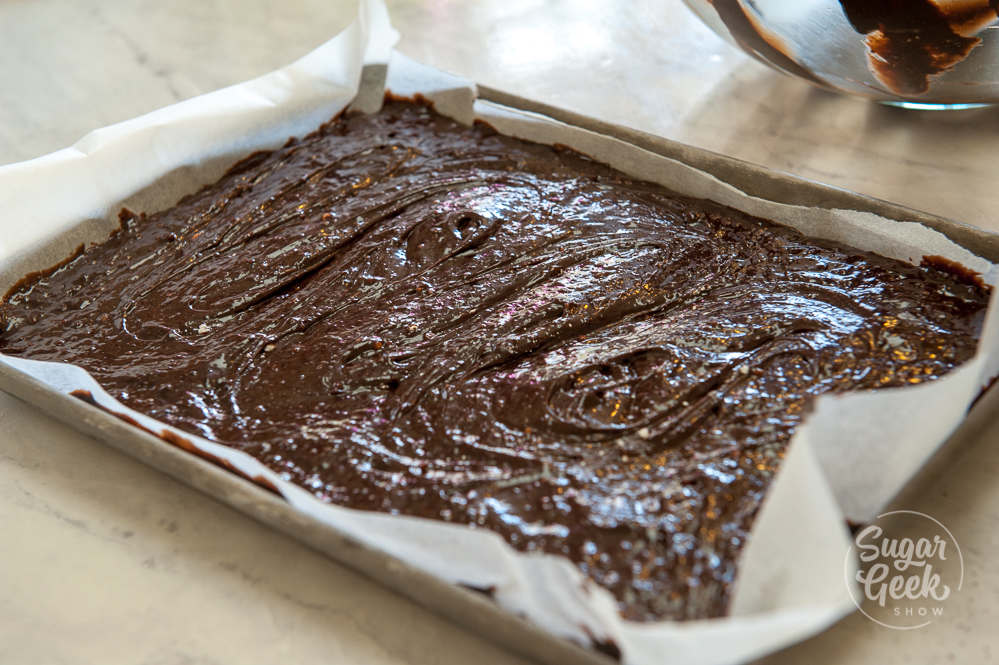 How do you know when homemade brownies are done?
I used to over-bake my brownies every time, which is probably part of why they were dry. I thought the right way to check brownies for doneness was to stick a toothpick in the middle and when the toothpick came out clean, they were done. WRONG!
I've learned that homemade brownies actually continue baking quite a bit even after they come out of the oven. So if you wait until the toothpick comes out clean, it's already too late.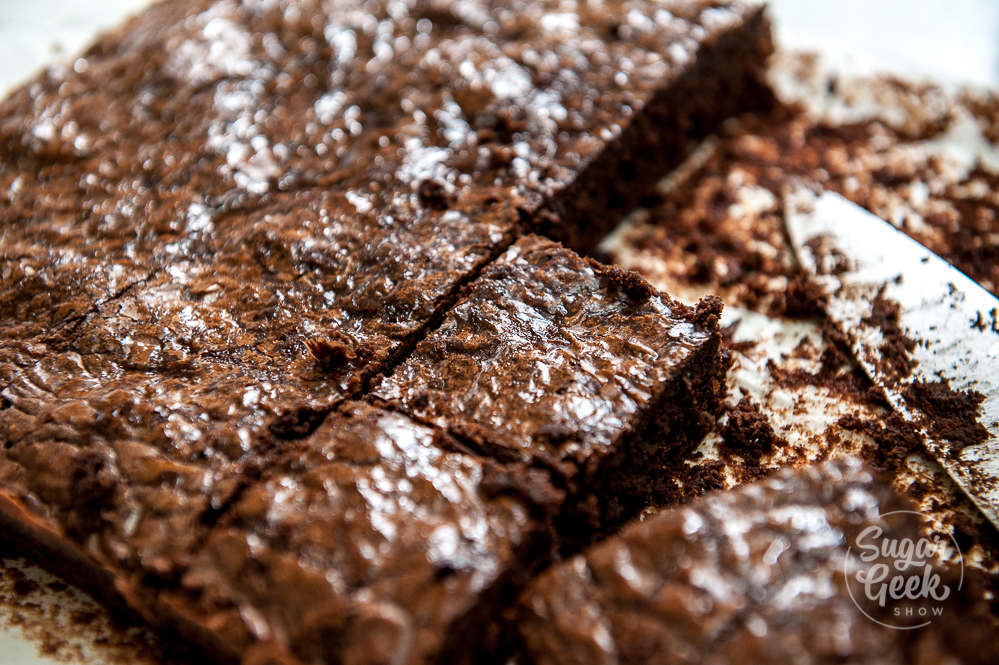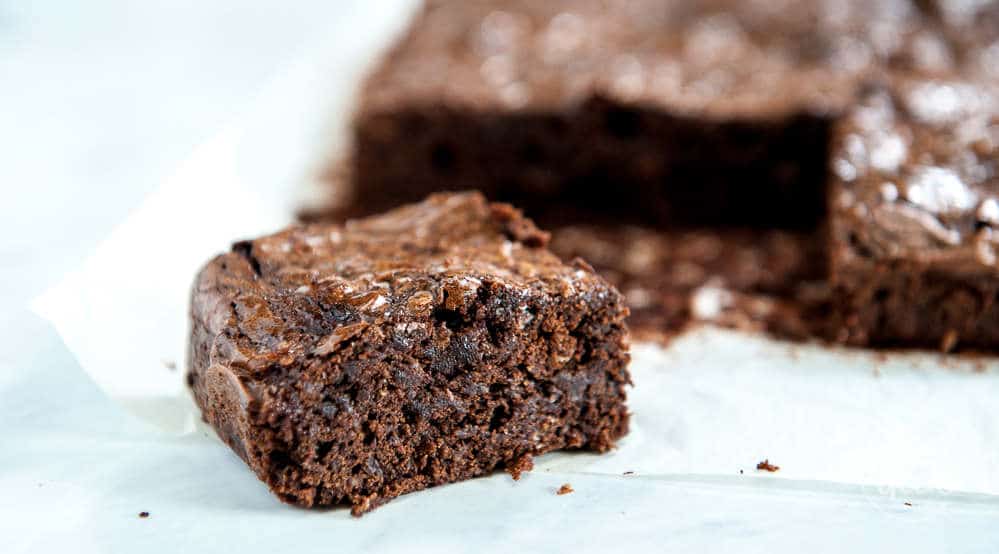 You want to remove brownies from the oven when the toothpick still has some very moist sticky crumbs stuck to the toothpick but not liquid.
I always line my pans with parchment paper rather than using baking spray or cake goop because it makes it a lot easier to remove them from the pan.
How do you get brownies with a crackly top?
There are three things that make your brownies have a crackly crust on top.
Make sure you are mixing your batter for 2-3 minutes after adding in the eggs and before you add in the flour. This whisking creates that nice crackly top to your brownies.
Using white granulated sugar in your brownie recipe
Melted chocolate in your brownie recipe
More chocolate craving recipes you'll love
Death By Chocolate Cake
Chocolate Ganache Frosting
Easy Chocolate Cake
Chocolate Irish Cream Cake
Did You Make This Recipe?
Leave a rating and tell me how it went!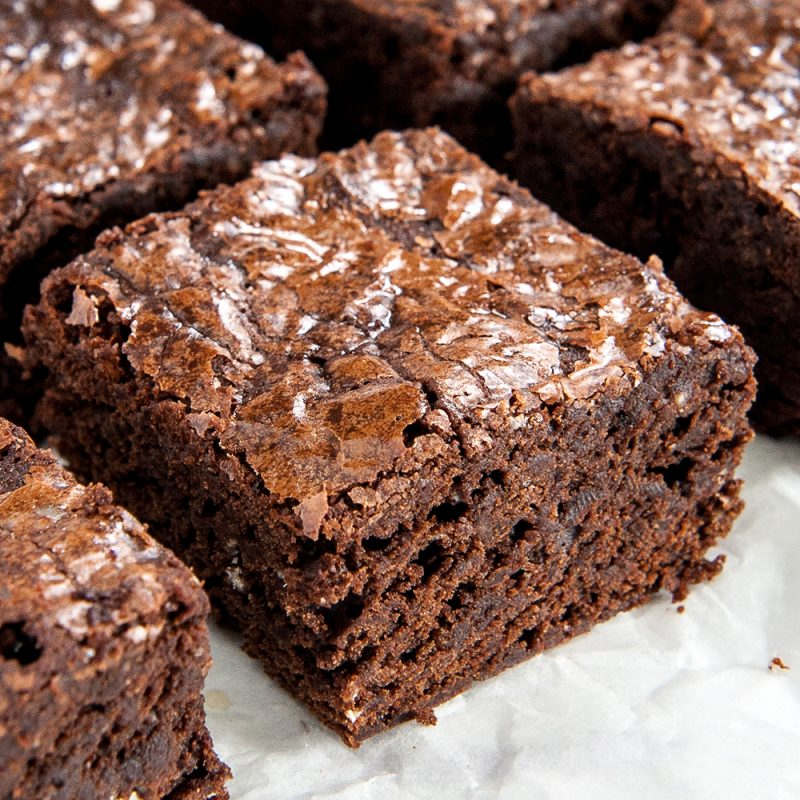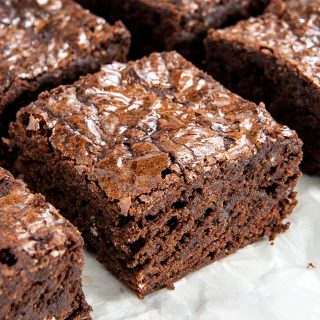 Easy Fudge Brownies
Homemade brownies that taste extra fudgy and ready in 10 minutes. That's how long it takes to make these moist and fudgy homemade brownies. So much better than a box and easily customized with different toppings for endless brownie flavors. 
Print
Rate
Ingredients
8

ounces

(

227

g

)

unsalted butter

4

ounces

(

114

g

)

chocolate

dark, semi-sweet or milk

4

large

eggs

6

ounces

(

170

g

)

sugar

4

ounces

(

114

g

)

brown sugar

2

ounces

(

57

g

)

cocoa powder

sifted

5

ounces

(

142

g

)

AP flour

or cake flour for a more tender brownie (sifted)

2

teaspoons

vanilla extract

1

teaspoon

salt
Equipment
9"x13" Pan

Stand mixer with whisk attachment (or hand mixer)
Instructions
Fudgy Brownie Instructions
Preheat your oven to 350ºF. Line a 1/4 sheet pan with parchment paper so there is 1" of overhang on all sides.

Melt your butter and chocolate together in a heatproof bowl over simmering water or in the microwave. (Be careful not to burn it!) Let cool until it no longer feels hot to the touch.

In the bowl of your stand mixer with the whisk attachment, whip your white sugar, brown sugar, salt, vanilla and eggs in a bowl for 2-3 minutes to develop the structure.

Sift together the flour and cocoa to remove lumps and then set aside.

Add your melted chocolate mixture to the egg mixture and whisk until just combined.

Add your chocolate egg mixture to the flour mixture and fold gently until just combined and no flour lumps are visible.

Add in any desired mix-ins such as nuts or chocolate chips and stir to combine.

Pour your batter into the parchment-lined pan. Place the pan in the center of the oven and bake for 20 minutes or until a toothpick comes out from the center with a few sticky moist crumbs.

Let cool slightly before slicing and serving.
Notes
I'm using a 9"x13" (1/4 sheet) pan with parchment paper (not wax paper)
This recipe makes 18 brownies that are 2"x3" in size
Store leftover brownies in an airtight container or ziplock bag at room temperature to keep them soft and moist. 
Nutrition
Serving:
1
g
|
Calories:
214
kcal
(11%)
|
Carbohydrates:
25
g
(8%)
|
Protein:
3
g
(6%)
|
Fat:
13
g
(20%)
|
Saturated Fat:
8
g
(40%)
|
Cholesterol:
67
mg
(22%)
|
Sodium:
137
mg
(6%)
|
Potassium:
93
mg
(3%)
|
Fiber:
1
g
(4%)
|
Sugar:
17
g
(19%)
|
Vitamin A:
345
IU
(7%)
|
Calcium:
20
mg
(2%)
|
Iron:
1
mg
(6%)