This lumberjack cake looks like an axe in a stump on the outside and cozy plaid on the inside
It's here, my lumberjack cake! Ohhhh I'm a lumberjack and I'm ok…
Seriously though, I might not be okay. I have a slight addiction. Well, slight would be an understatement really. Is there a word for a plaid obsession? I think it's taking over my life!
Plaid themed Christmas cards. I get bonus points for getting the dog and the baby to look at the camera.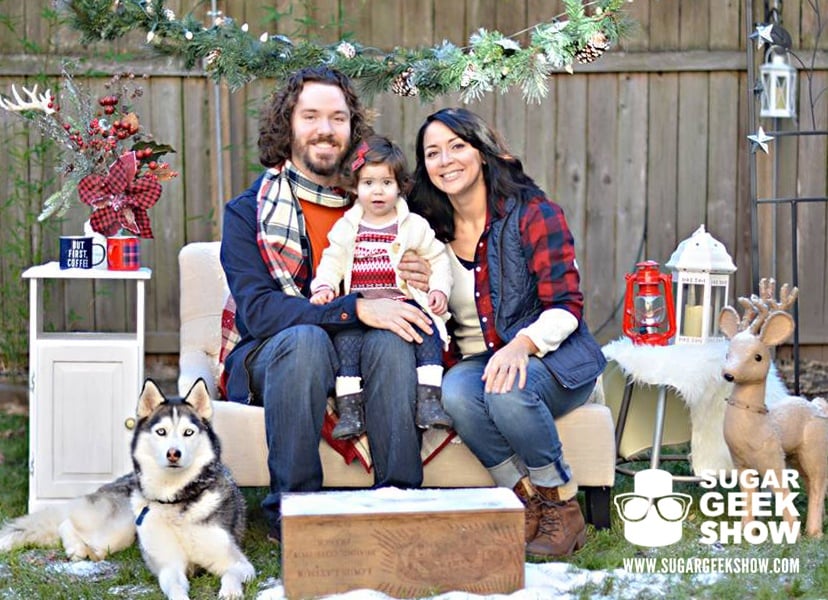 My hubs might very well be a lumberjack… oh my. I mean he DID technically chop down that Christmas tree. That counts right??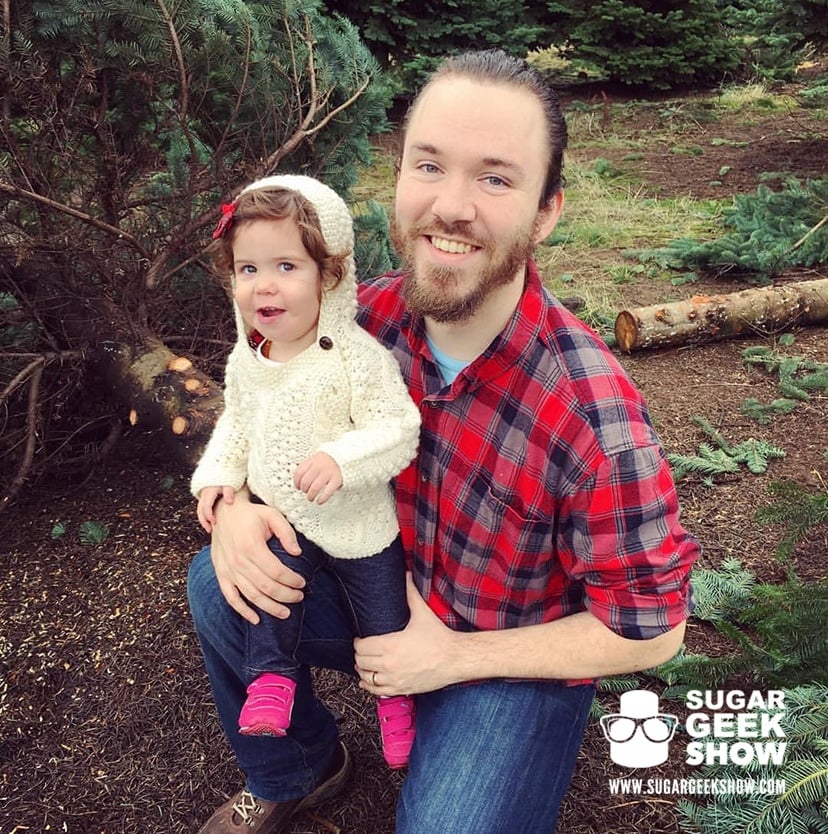 What is a lumberjack cake?
A lumberjack cake could be many things, if you search pinterest you'll find a whole plethora of lumberjack cake versions ranging from cute stacks of pancakes to beards, bears and suspenders. My version of the lumberjack cake was actually a very quick experiment that I didn't really think anyone would think was that interesting.
I kept seeing plaid everywhere and I couldn't help but think… could you make a cake plaid on the inside?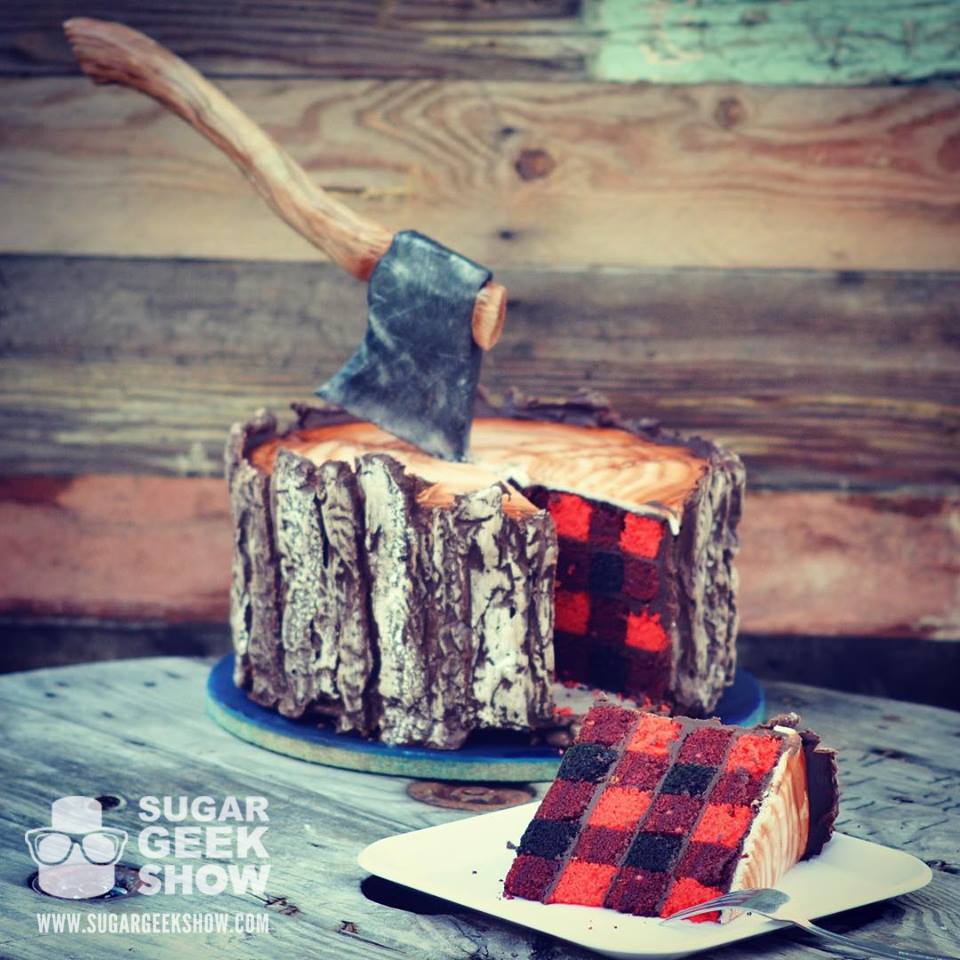 *This photo has been shared over a million times on social media in less than 48 hours! Crazy! People love lumberjacks LOL
It's all About the Plaid Cake
Maybe it's because I'm an Oregonian.
Maybe because it's the hottest trend on Pinterest right now.
It could be because I have a crush on #FashionSanta and I know his favorite color is plaid.
Or maybe it's because I'm a child of the 90's and if I start wearing mauve lipstick and JNCO jeans, someone please send help.
When hubs chopped down that Christmas tree all lumberjack like, my obsession with plaid became clear. I'm in love with lumberjacks. It makes sense: I love trees, I love beards, and I love plaid.
This lumberjack cake is a culmination of almost all my obsessions. If I could have worked in a mermaid I would have.
Lumberjack Cakes with Plaid Inside: It Needed to Happen
The latest tutorial coming to the Sugar Geek Show! Chocolate-y log with edible axe and a BIG OL' SLICE of lumberjack cake awesomeness in the middle! That's right, plaid cake. (you may faint now)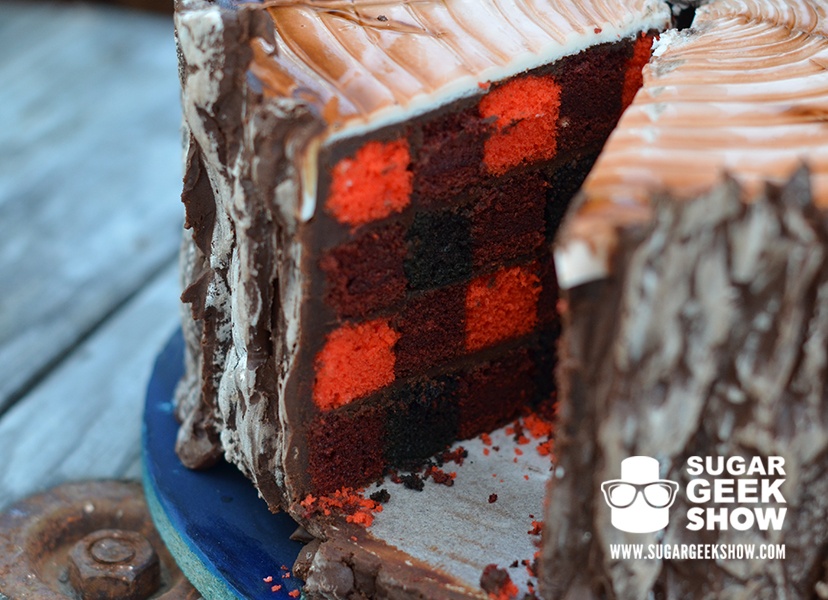 I would like to say this pattern was super simple to make but well… let's just say a lot of cake and a lot of scribbled notes ended up in the trash. Damn you maths! Why must you confuse me so?!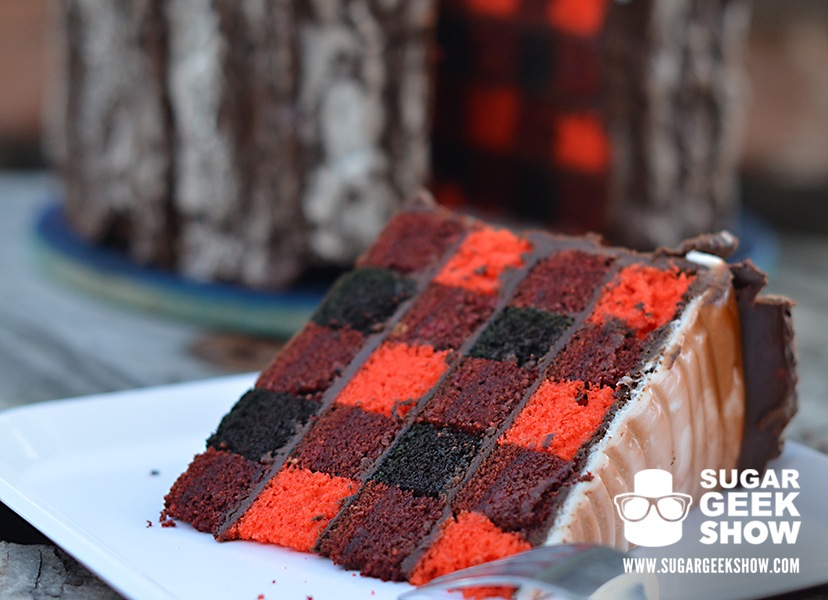 Ever measured a piece of cake with a ruler and a compass? Neither have I… Only crazy obsessed weirdos would go to such extremes to perfect the perfect plaid cake masterpiece!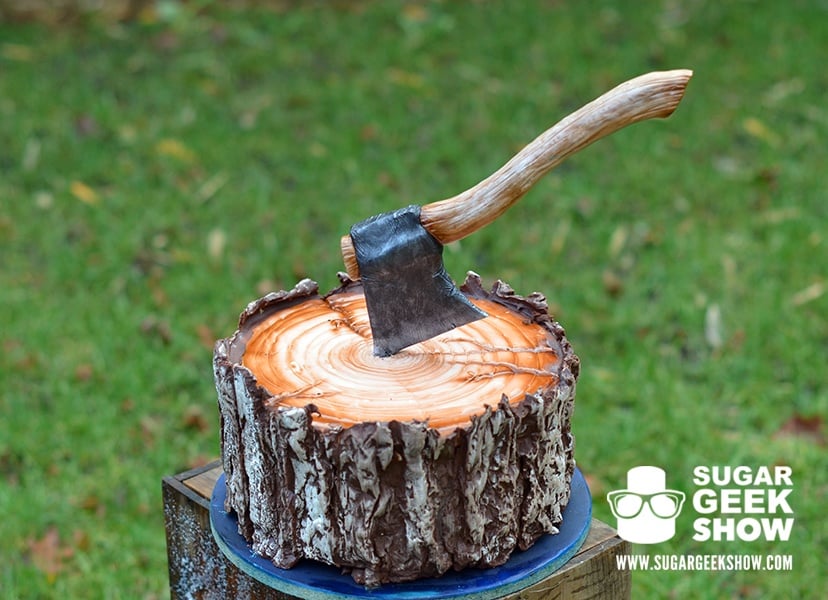 Lumberjack Cake Bark
I know that plaid is kind of the show-stopper but f'real, this tutorial is the real deal. I got all kinds of cool stuff packed in here: airbrushing, modeling chocolate, fondant, hand-detailing and of course, crazy realistic textures! It's kinda my thing. This chocolate bark on the outside of the lumberjack cake is one of the easiest and most realistic textures I have made, not to mention tasty!
You could even make this cake with my white cake recipe, or chocolate cake, because it's easy to dye the different squares different colors.
Yes, that's edible. I know you where thinking it and It's ok.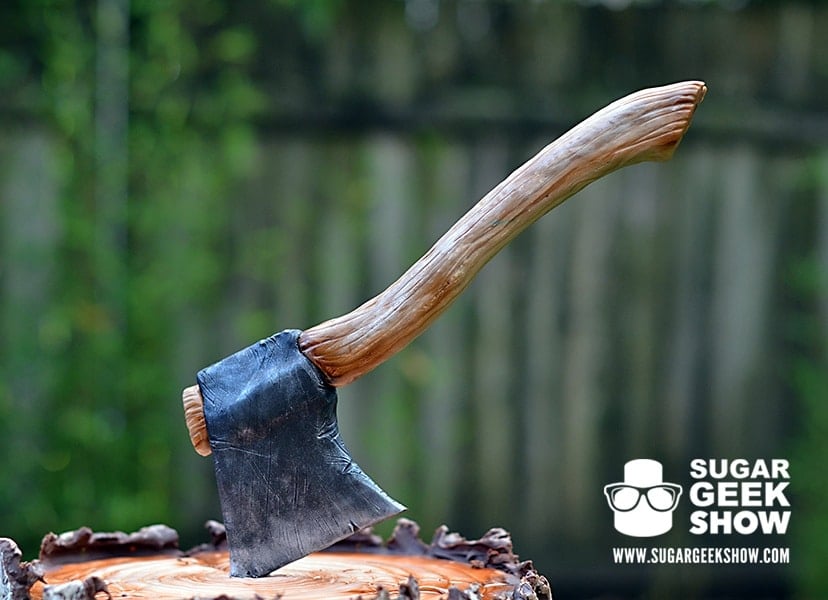 Is there a magical plaid pattern cake pan?
Be aware, there are many copycats out there who claim to have the right pans or easy ways of making this plaid pattern but I dunno about you but random squares of colors on the inside of a cake does not make plaid. Trust me, it took way too many brain hours to figure out exactly how to make this plaid pattern work so that when you cut into it, it really would be plaid!
There are cake pans out there made for making a checkerboard pattern on the inside of cakes but these may not work the way you want for making a true plaid pattern. The reason is there aren't enough rings to make the full pattern.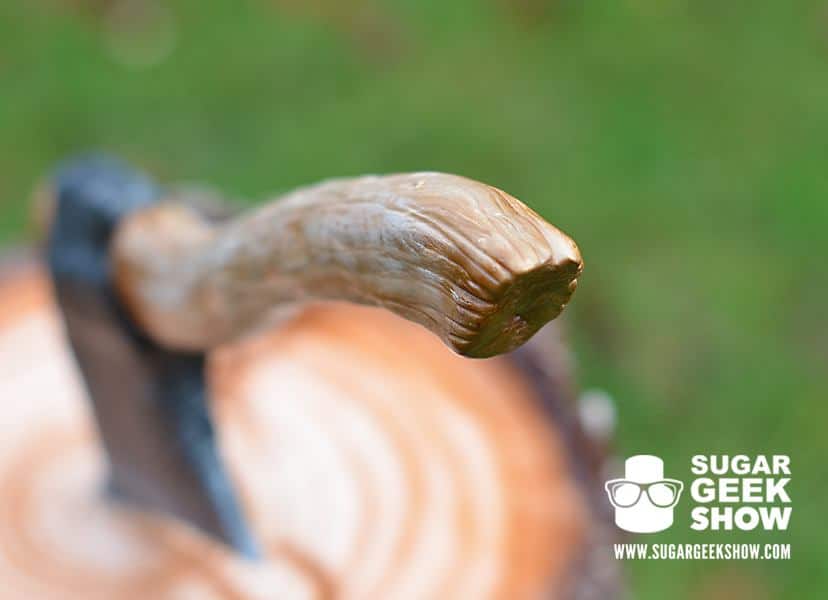 Lumberjack Cake Available Now for Sugar Geeks
Want to learn more? Sign up already! Join the Sugar Geek Show at the premium or higher level and get access to all the tutorials on the site! It's like Netflix for cake decorators except you binge on cake and who doesn't like cake? Don't want to become a member? You can buy this tutorial individually on our shop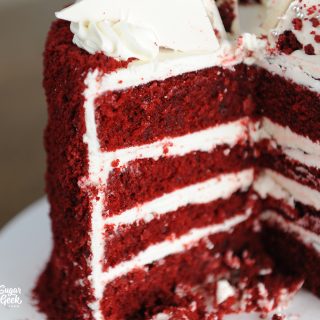 Real Red Velvet Cake Recipe
Ingredients
12

oz

AP flour

14

oz

Granulated Sugar

I prefer super fine

1

Tbsp

natural (not dutched) cocoa powder

I like Hershey's special dark

1

tsp

salt

1

tsp

baking soda

2

large eggs

room temp

6

oz

vegetable oil

8

oz

buttermilk

room temp

1

Tbsp

white vinegar

4

oz

melted unsalted butter

1

tsp

vanilla

2

oz

super red food coloring

I prefer americolor super red because it doesn't have a taste
Instructions
Preheat oven to 350F and prepare two 8" cake pans with cake good or preferred pan spray

Whisk up eggs with oil, buttermilk, vinegar and melted butter and food coloring until combined and set aside.

Place dry ingredients into the bowl of your stand mixer and mix for a few seconds to combine

Add wet ingredients into your dry and mix on medium high for about a minute until combined

Pour into cake pans and bake for about 30 minutes or until a toothpick comes out cleanly. Pairs perfectly with our cream cheese buttercream.
December 10, 2015