Black fondant recipe
Making black fondant can seem super tricky but it's actually quite simple. I use my own marshmallow fondant recipe with a couple of small adjustments to make the perfect black fondant that does not rip or tear or get elephant skin.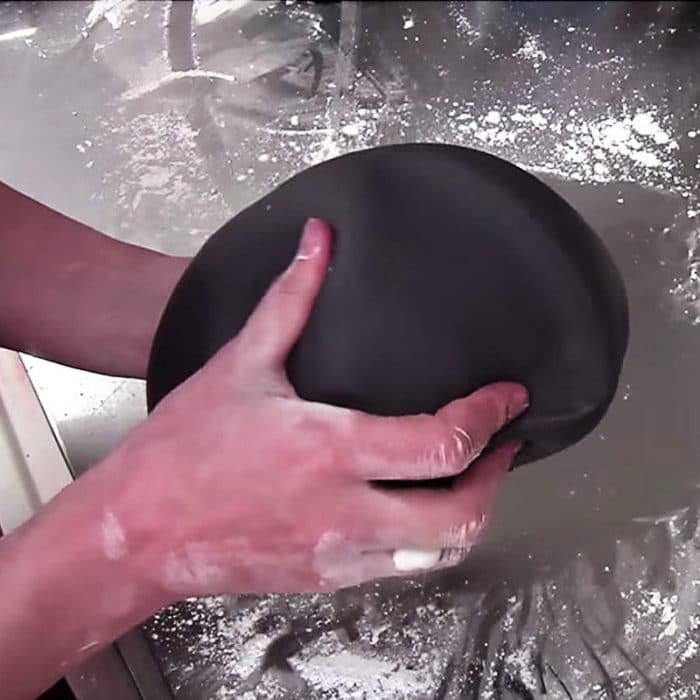 Tips for making black fondant
Sift your powdered sugar so that you don't have any lumps in your finished fondant. Lumps can cause your fondant to get lots of holes and rip.
Make sure your marshmallows are fresh. Dried out and old marshmallows will make dry fondant
You can increase your water by ½ tablespoon if you live in a dry area or decrease the water if you live in a humid area
Don't use more than 1 tablespoon of black food coloring. Your fondant will look dark grey at first but will darken over time. Using too much black food coloring (to make it extra black) can break your fondant and cause it to have pockmarks in the finished product.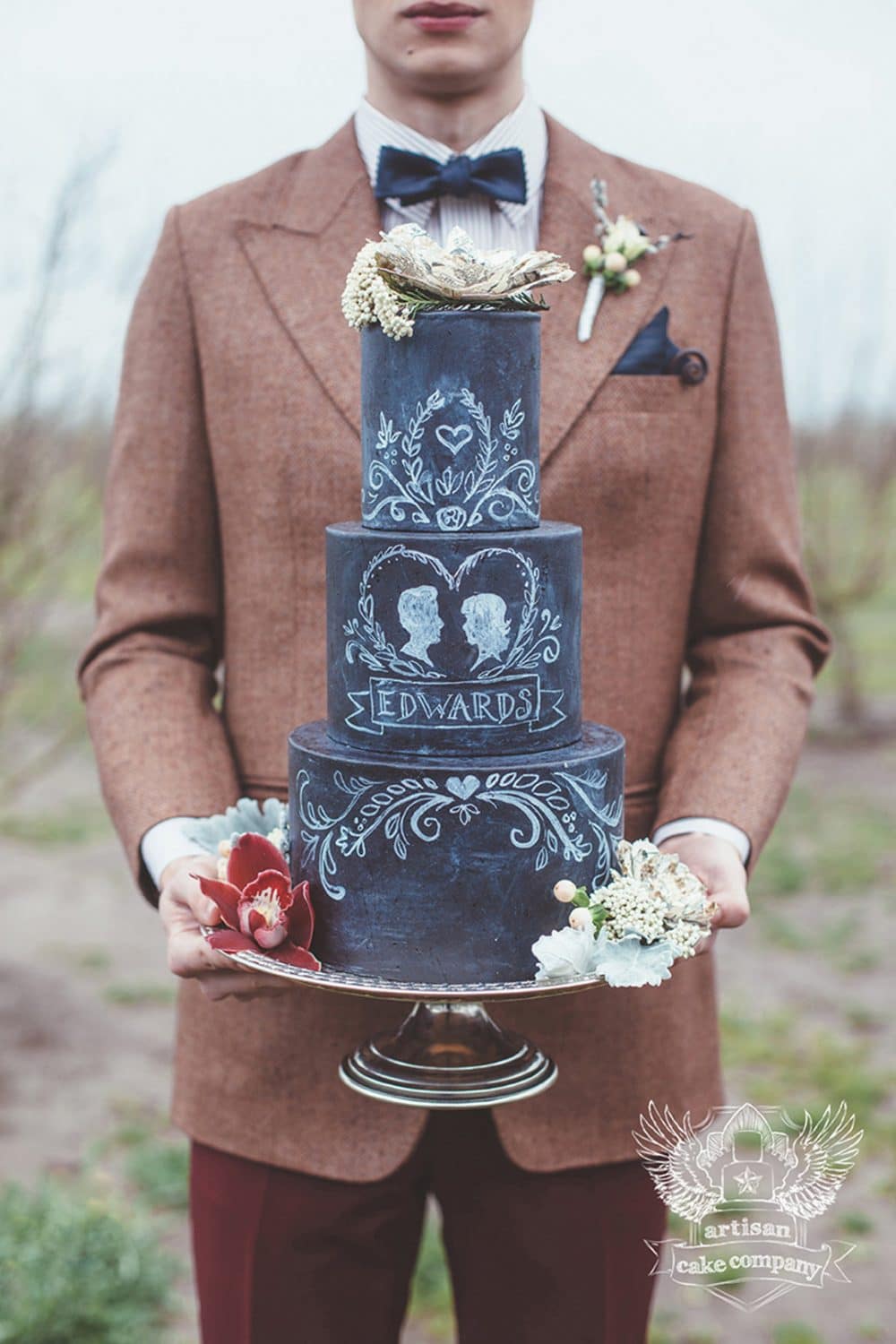 How to make black fondant
Sift your powdered sugar
Place your vegetable shortening in the bowl of your stand mixer with the hook attachment
Melt your marshmallows in a large heatproof bowl. I start with one minute, stir, then 30 second increments until the marshmallows are completely melted and puffed up.
Pour the water over the top of your melted marshmallows to release them from the bowl.
Pour the marshmallows into the bowl of your stand mixer and start mixing on low.
Add in your food coloring
Add in ¾ of your bag of powdered sugar and continue letting everything mix until the marshmallows are smooth and sticking to the sidees of the bowl.
Add in ½ cup of powdered sugar and let mix a few seconds to get the fondant to start releasing from the bowl
Use a flexible bowl scraper or spatula to remove the fondant from the bowl and place into your bowl of leftover powdered sugar
Fold over to work in the last bit of sugar. Once it's mostly worked in, you can remove it from the bowl and finish it on the table.
Keep pulling the fondant until it stretches like taffy and does not break. Now your fondant is ready to be used on a cake. Yes, you can use it right away!
How to store leftover black fondant
Store your leftover fondant by wrapping it in plastic wrap and then placing into a ziplock bag. Store at room temperature. Always re-warm your fondant in the microwave for 30-40 seconds and condition with vegetable shortening before rolling out and covering a cake.
Trouble-shooting problems with black fondant
Fondant is too dry - Get your hands wet and work the moisture into the fondant to make it a little moister. You can also add 1tsp of glycerine if you have it.
Fondant is too sticky - Knead in more powdered sugar ½ cup at a time until it's not sticky. A little stickiness is normal. I like to dust my table with cornstarch to prevent sticking and grease my hands with vegetable shortening.
Fondant is tearing - Re-heat in the microwave until warm, pull like taffy until stretchy and smooth. You can also add a little vegetable shortening to your hands or add more pre-made fondant if it's not coming together.
Recipe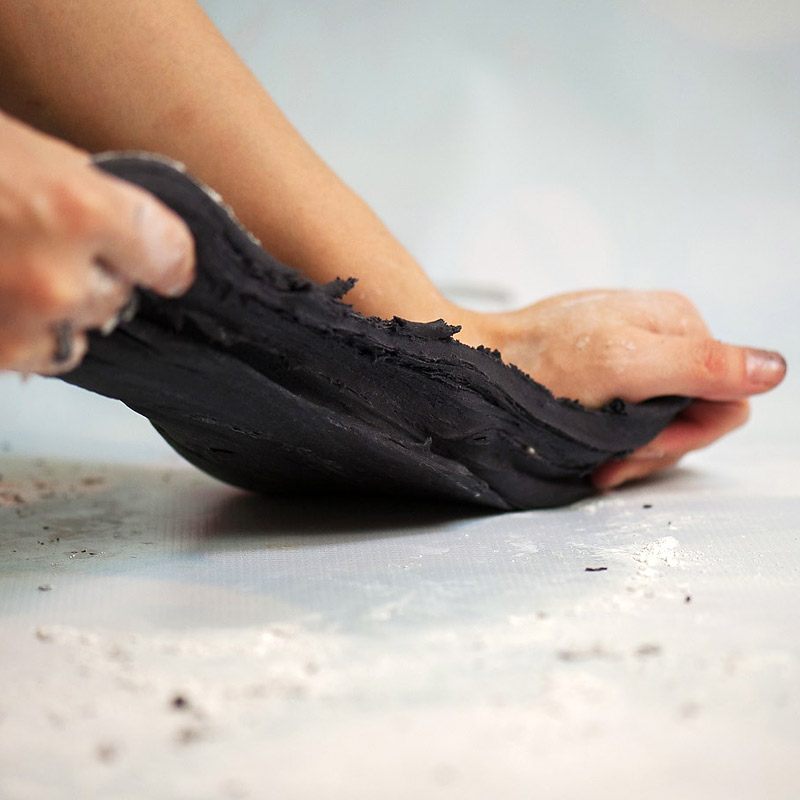 Ingredients
Ingredients
2

lbs

sifted powdered sugar

you may not use all of the powdered sugar depending on your area, that's totally okay

1

lb

mini marshmallows

Hy-Top, Walmart brand or Haribo Brand if you can find it

1

tablespoon

water

use only ½ tablespoon if it is very humid in your area

1

tablespoon

black food color gel

Americolor is what I use but Wilton or any other brand is okay too

½

cup

vegetable shortening

also called white vegetable fat or trex

1.25

lbs

Wilton Fondant
Instructions
Instructions
Sift powdered sugar and set aside in a large bowl.

Place vegetable shortening in a stand mixer bowl.

Heat marshmallows for 40 seconds in the microwave on high. Stir the marshmallows with a spoon to break them up a little bit.

Heat marshmallows again for 30 seconds in the microwave. Stir again with a spoon.

Heat marshmallows for 30 seconds again. Stir with a spoon and marshmallows should be completely broken down and like liquid.

Pour water into bowl to separate marshmallows from bowl and pour the marshmallows into the stand mixer bowl with the vegetable shortening.

Turn stand mixer on lowest setting (setting 1 on Kitchenaid mixers).

Add in food color gel.


Add in half of your sifted powdered sugar, a measuring cup at a time, and let mix for 2 minutes.

Put some vegetable shortening on your finger tips and pull the fondant off the dough hook.

Put the fondant into your bowl you have the remaining powdered sugar in.

Warm Wilton fondant in the microwave for 40 seconds and add to the bowl with the powdered sugar and fondant mixture.

Knead with your hands until mostly incorporated. You might not use all of the fondant at this point and that's totally okay.

Pull fondant like taffy until it is stretchy and smooth.

Store in a zip-lock bag at room temperature. Fondant will keep for months in a zip-lock bag. To use again, reheat and knead well until stretchy before each use. You can add color as desired but for dark colors, you should add them during the mixing process or you could get a sticky mess.
Notes
FAQ
You can make this by hand if you do not have a stand mixer. All you need is your muscles!
You can melt the marshmallows over a double-boiler if you don't have a microwave.
I prefer black Americolor gel for my food color.
You can half this recipe if you only need a little black.
Store in a ziplock bag at room temp for months. Head and re-knead well before each use.
You might not use all the powdered sugar in the final kneading depending on the humidity in your area and that is okay.
Nutrition
Calories:
1469
kcal
|
Carbohydrates:
318
g
|
Protein:
2
g
|
Fat:
25
g
|
Saturated Fat:
6
g
|
Sodium:
96
mg
|
Sugar:
287
g
|
Calcium:
3
mg
|
Iron:
0.4
mg
Skill level: Newb
Making black fondant can be tricky but this recipe will show you how easy it can be!