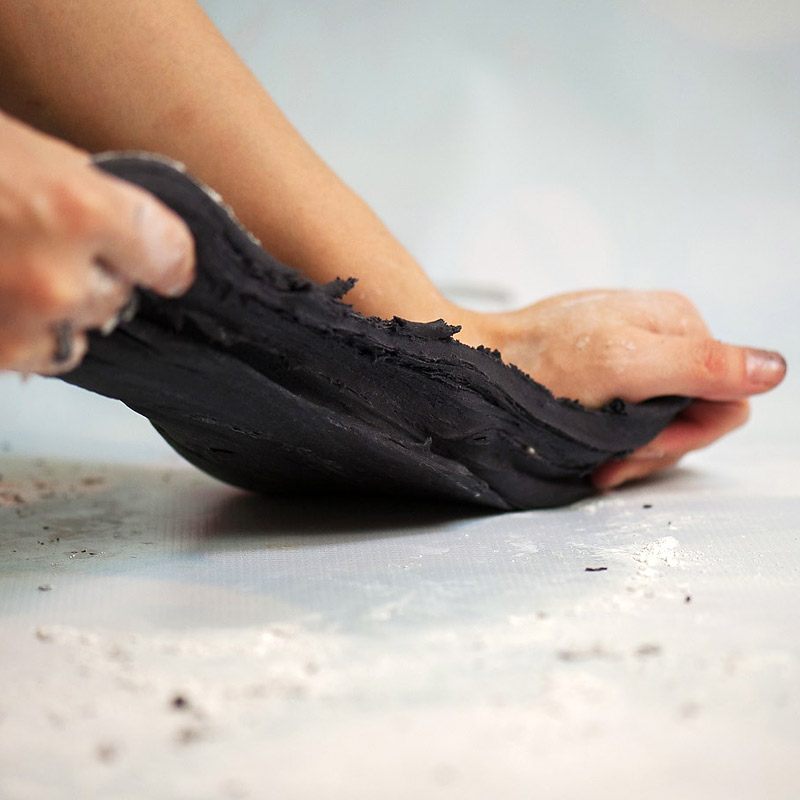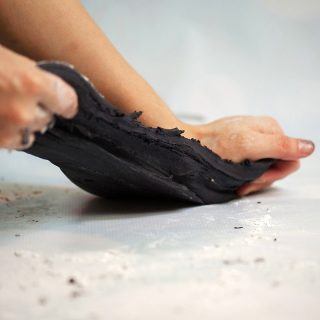 Black Fondant Recipe
When making LMF marshmallow fondant, sometimes you need to make darker colors, like black, and that requires a variation to how you would go about actually making the fondant. If you were to make white fondant and then add food color, you'll end up with this thick, gooey, yucky fondant that's actually very hard to use.

Okay, so let's get right into making black fondant!
Ingredients
Ingredients
2

lbs

sifted powdered sugar

you may not use all of the powdered sugar depending on your area, that's totally okay

1

lb

mini marshmallows

Hy-Top, Walmart brand or Haribo Brand if you can find it

1

tbsp

water

use only 1/2 tbsp if it is very humid in your area

1

tbsp

black food color gel

Americolor is what I use but Wilton or any other brand is okay too

1/2

cup

vegetable shortening

also called white vegetable fat or trex

1.25

lbs

Wilton Fondant
Instructions
Instructions
Sift powdered sugar and set aside in a large bowl.

Place vegetable shortening in a stand mixer bowl.

Heat marshmallows for 40 seconds in the microwave on high. Stir the marshmallows with a spoon to break them up a little bit.

Heat marshmallows again for 30 seconds in the microwave. Stir again with a spoon.

Heat marshmallows for 30 seconds again. Stir with a spoon and marshmallows should be completely broken down and like liquid.

Pour water into bowl to separate marshmallows from bowl and pour the marshmallows into the stand mixer bowl with the vegetable shortening.

Turn stand mixer on lowest setting (setting 1 on Kitchenaid mixers).

Add in food color gel.


Add in half of your sifted powdered sugar, a measuring cup at a time, and let mix for 2 minutes.

Put some vegetable shortening on your finger tips and pull the fondant off the dough hook.

Put the fondant into your bowl you have the remaining powdered sugar in.

Warm Wilton fondant in the microwave for 40 seconds and add to the bowl with the powdered sugar and fondant mixture.

Knead with your hands until mostly incorporated. You might not use all of the fondant at this point and that's totally okay.

Pull fondant like taffy until it is stretchy and smooth.

Store in a zip-lock bag at room temperature. Fondant will keep for months in a zip-lock bag. To use again, reheat and knead well until stretchy before each use. You can add color as desired but for dark colors, you should add them during the mixing process or you could get a sticky mess.
Recipe Video
Recipe Notes
FAQ
You can make this by hand if you do not have a stand mixer. All you need is your muscles!
You can melt the marshmallows over a double-boiler if you don't have a microwave.
I prefer black Americolor gel for my food color.
You can half this recipe if you only need a little black.
Store in a ziplock bag at room temp for months. Head and re-knead well before each use.
You might not use all the powdered sugar in the final kneading depending on the humidity in your area and that is okay.
Nutrition Facts
Black Fondant Recipe
Amount Per Serving
Calories 1469
Calories from Fat 225
% Daily Value*
Total Fat 25g 38%
Sodium 96mg 4%
Total Carbohydrates 318g 106%
Protein 2g 4%
* Percent Daily Values are based on a 2000 calorie diet.
Skill level: Newb
Making black fondant can be tricky but this recipe will show you how easy it can be!

April 3, 2018