Co-ed bear baby shower at the lake with friends and family makes for a relaxing celebration
I wasn't planning on having a bear baby shower but after our summer trip to Yellowstone, I became officially smitten by adventure, the outdoors and cute little bears!
Want to learn how to make this bear baby shower cake? It's an online course on our cake decorating school, Sugar Geek Show!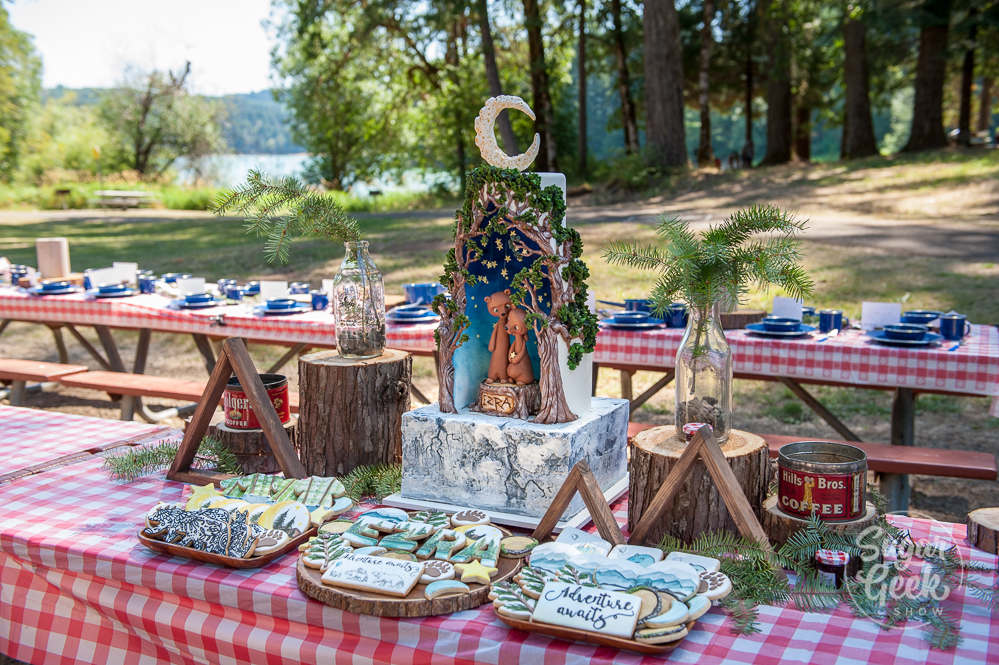 This is our second kiddo but since we have had to do IVF for both of our kids, there is quite a big gap in between them. Our daughter Avalon just turned 5 on August 7th and Ezra is set to arrive mid-September.
I loved our family baby shower outfits! Papa bear and mama bear hats and sister bear shirt for Avalon! We also have a baby bear onesie for when Ezra arrives.
The official theme of the shower was 'adventure awaits' and we had a lot of fun ideas pinned to our pinterest board for bear baby shower ideas.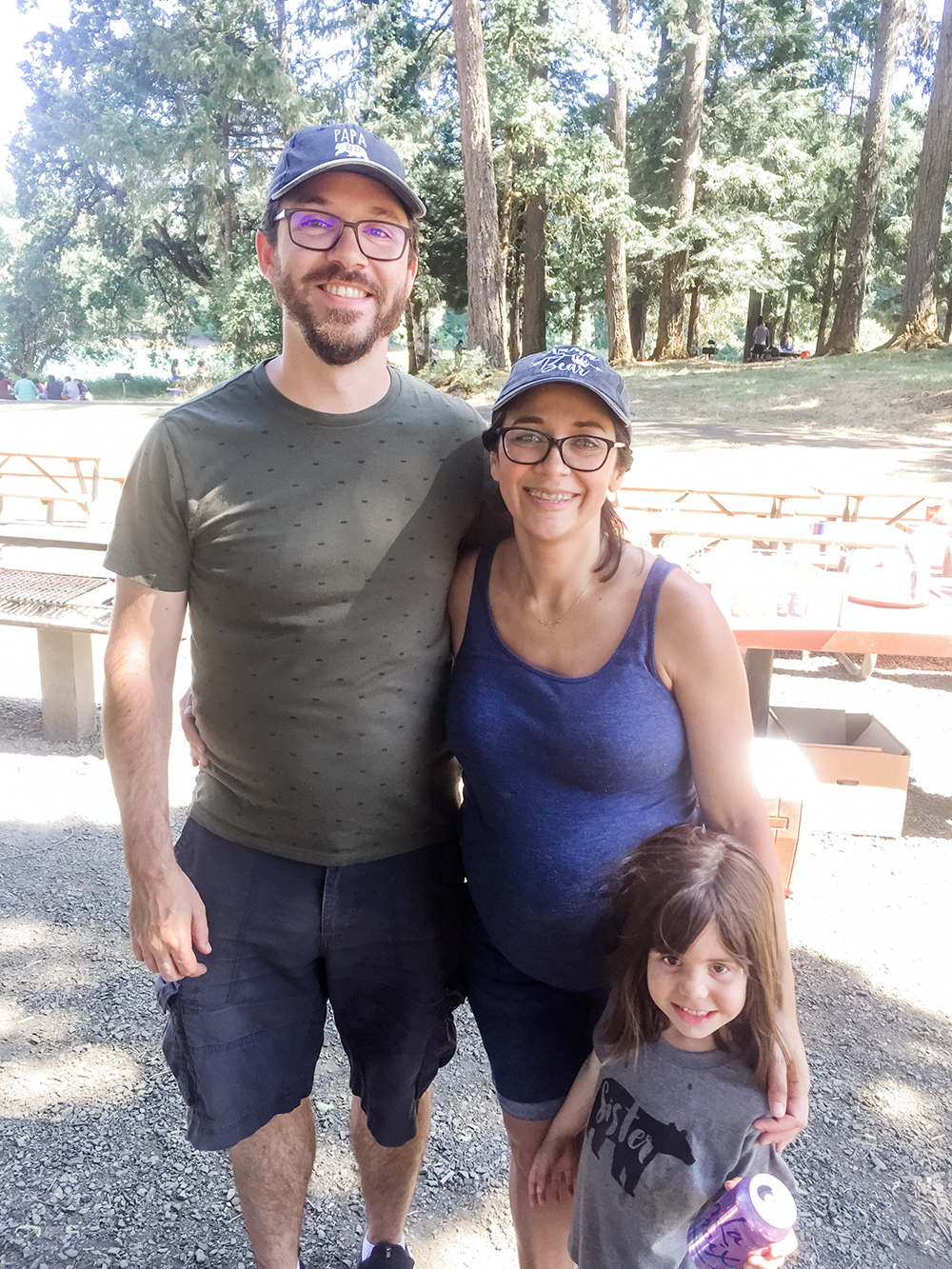 I remember for Avalon's baby shower we went ALL OUT! Elaborate mermaid-themed decorations, dessert tables and even a bartender lol! It was definitely EXTRA and I also remember it was exhausting. I wanted to do things a bit different this time around.
I had this vision for Ezra's baby shower that was more like a BBQ. Bring the guys and the kids. Make it a family affair. Let's cook up some good food and then spend the day swimming at the lake! I still opened presents at the end but it wasn't as big of a deal as just spending the day with friends and family!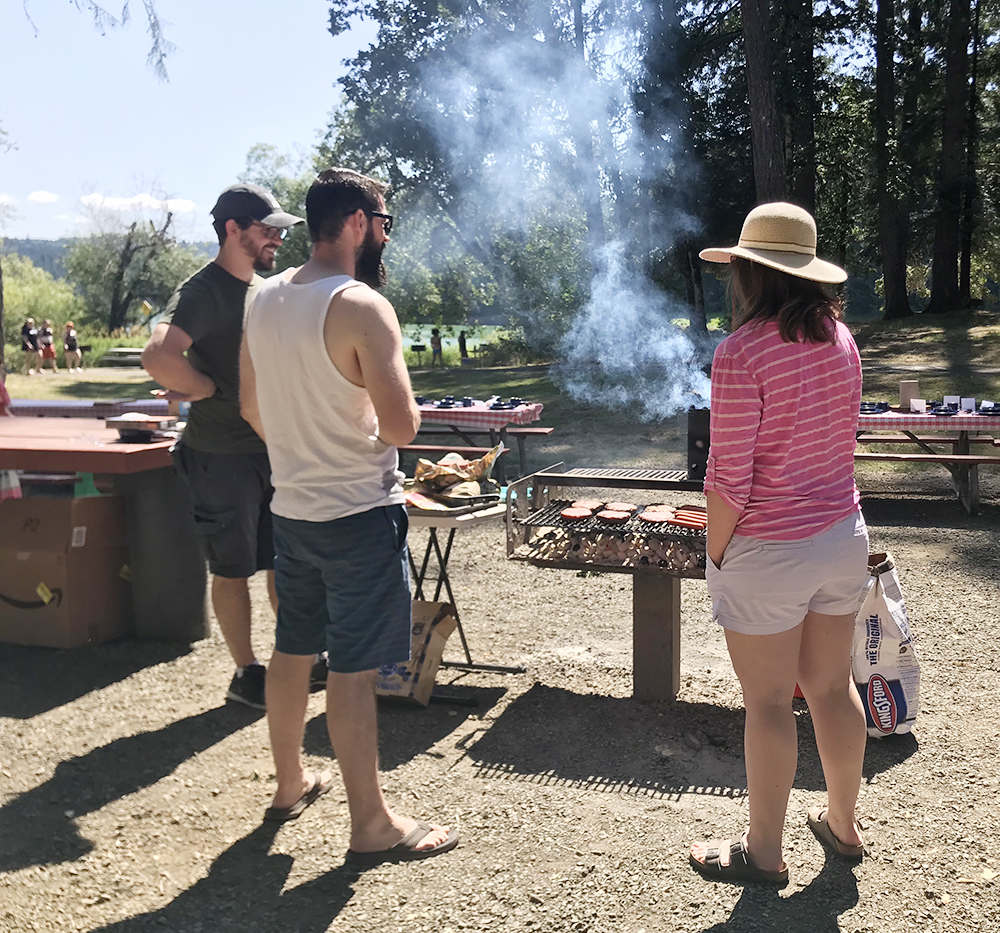 Dan was put in charge of burger duty! We ordered salt and pepper burgers from Whole Foods (my favorite) and made a burger bar. We also served up some Texas-style potato salad, baked beans and fresh watermelon! Super refreshing since it was nearly 90ºF that day.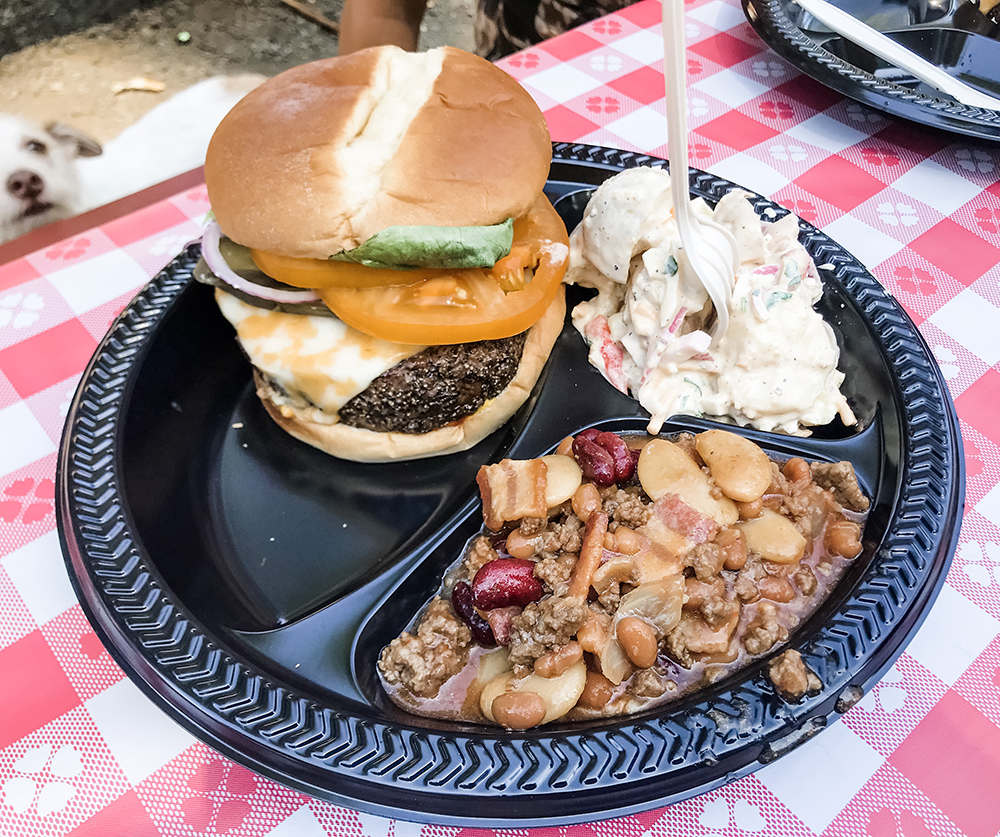 I also found a great deal on these outdoor camping sets on Amazon that looked so super cute on the tables. We gave them away to guests as a souvenir at the end of the party.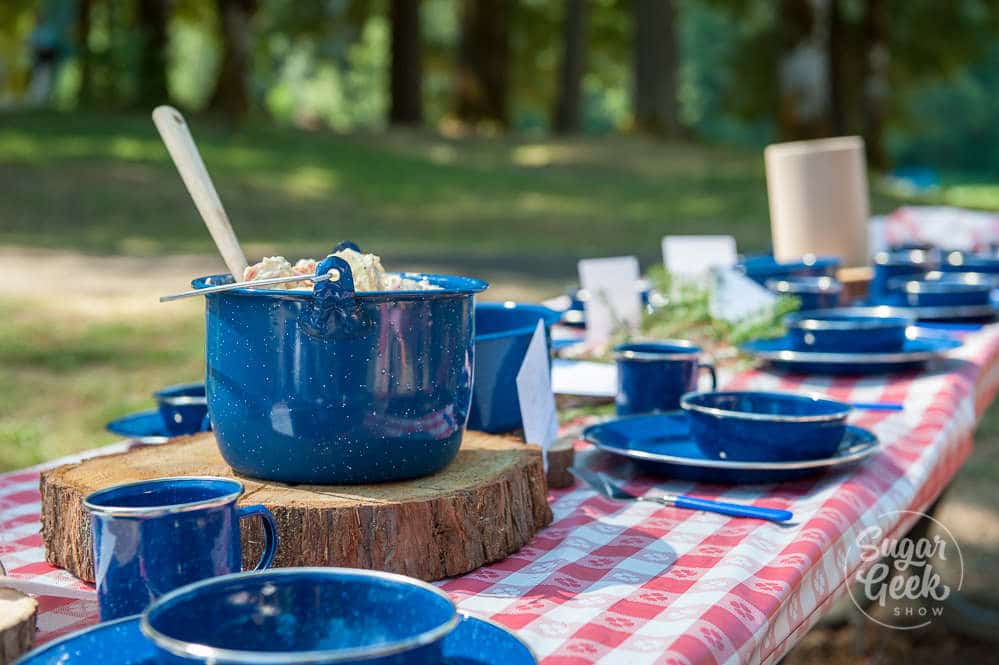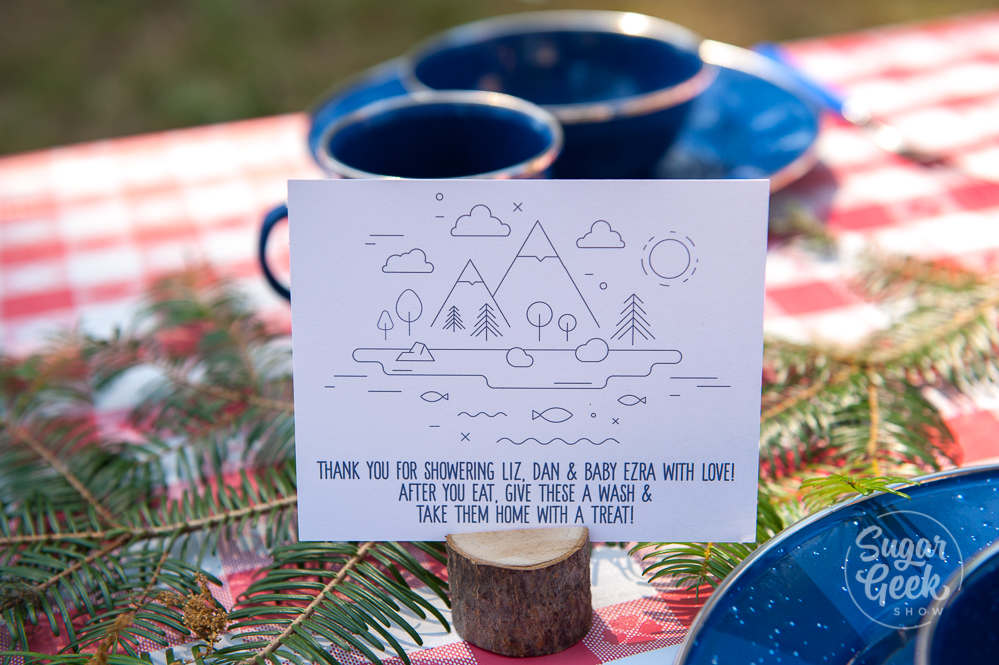 I loved having the shower at Sain Creek, Henry Hagg Lake. The space was well-shaded, near to a kid-friendly beach and had plenty of tables for a big group.
The only thing I wish I would have done was mail out a map with the invitations for our guests. Several people got lost on the way out to the lake and there was no cell reception! Oops!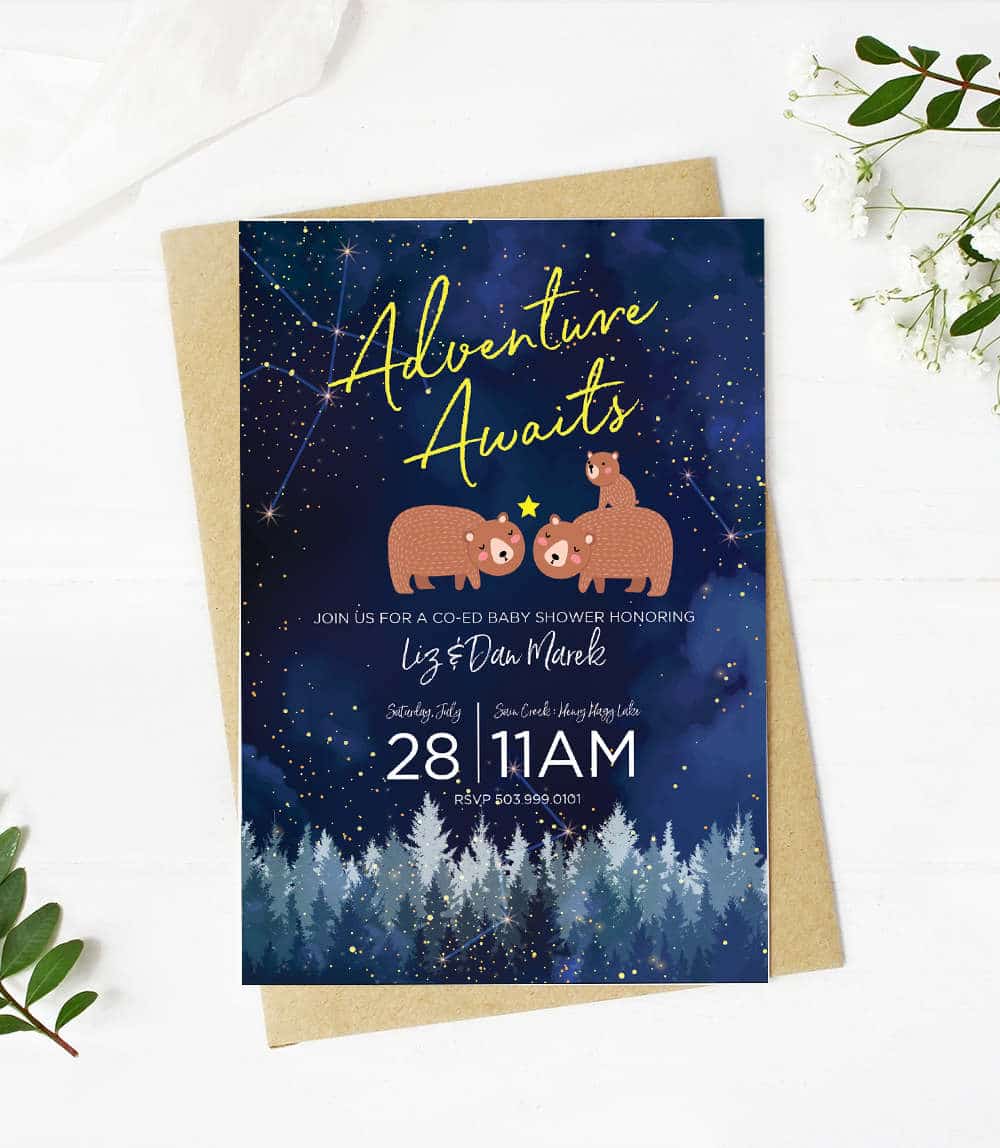 The great thing about having the bear baby shower at the lake was minimal decorating! But you know I had to go all out with the cake table. The cake design was heavily inspired by our recent trip to Yellowstone National Park where we saw tons of beautiful trees, gorgeous night skies and plenty of bears!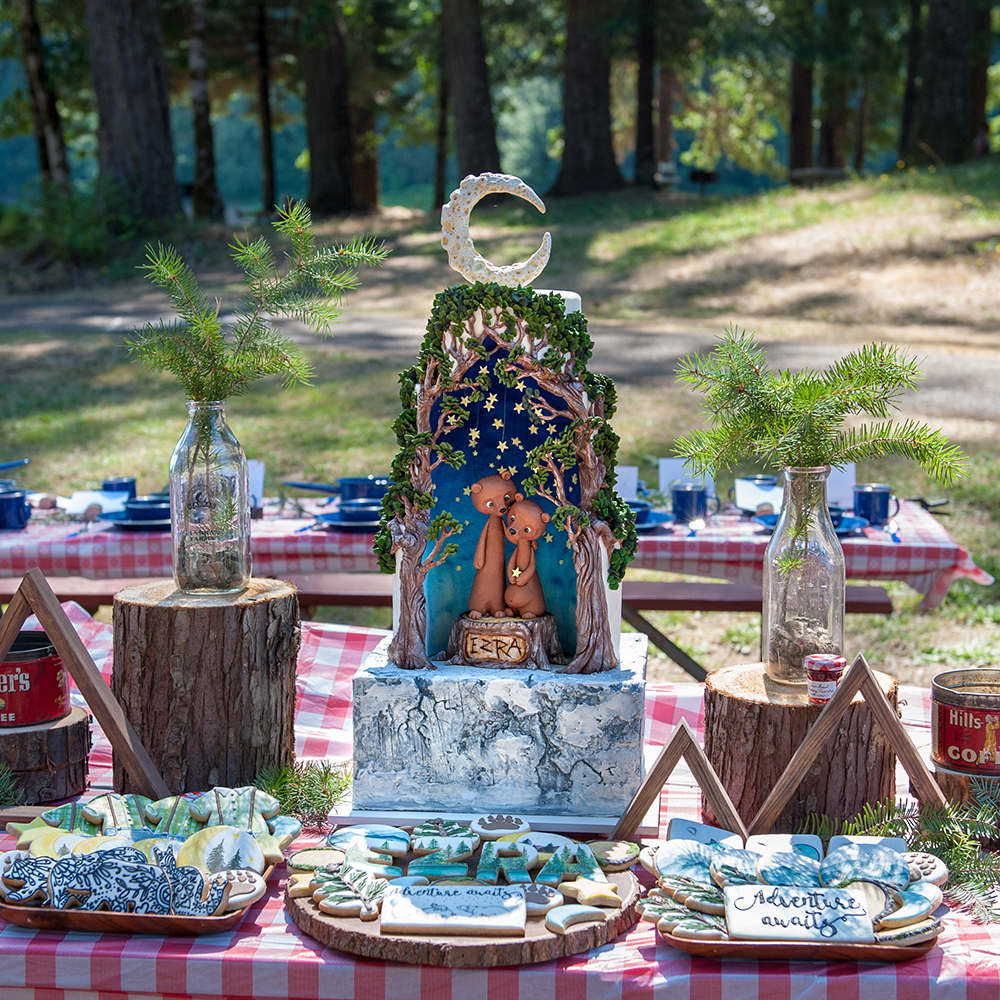 My friend Sara Weber from Sara's Sweets in Austin, Texas flew in just for this shower! She always makes the most amazing cookies for all of Avalon's birthday parties but I asked her to not worry about making cookies since she was coming to the shower.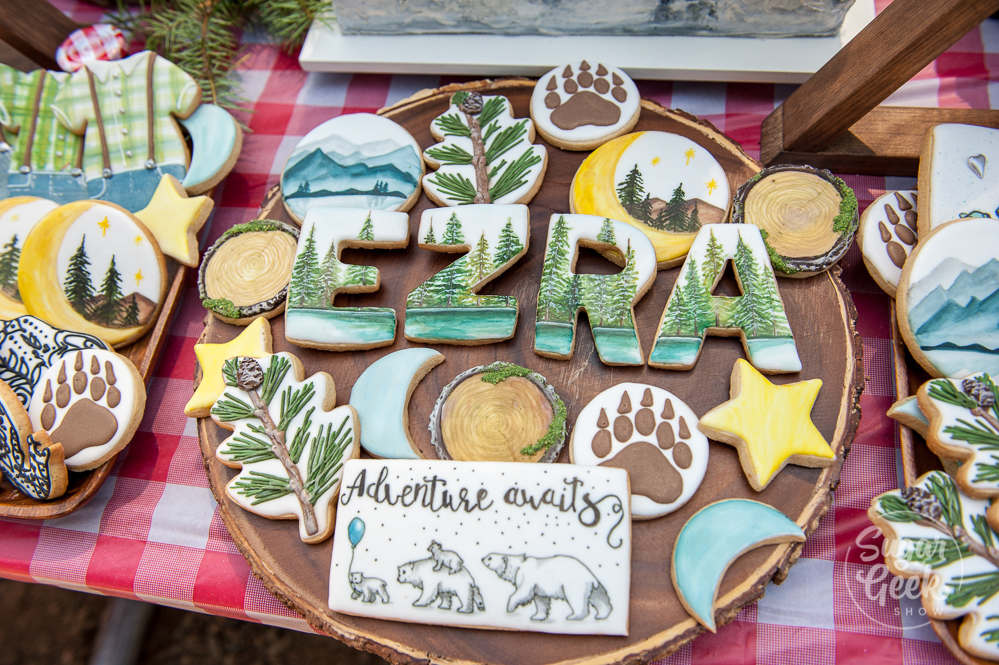 Of course, she ignored me and proceeded to make the most amazing cookies for the shower! I love how she hand-painted EZRA. She didn't even know what the final cake design was. I just said trees and bears haha! I think she nailed it!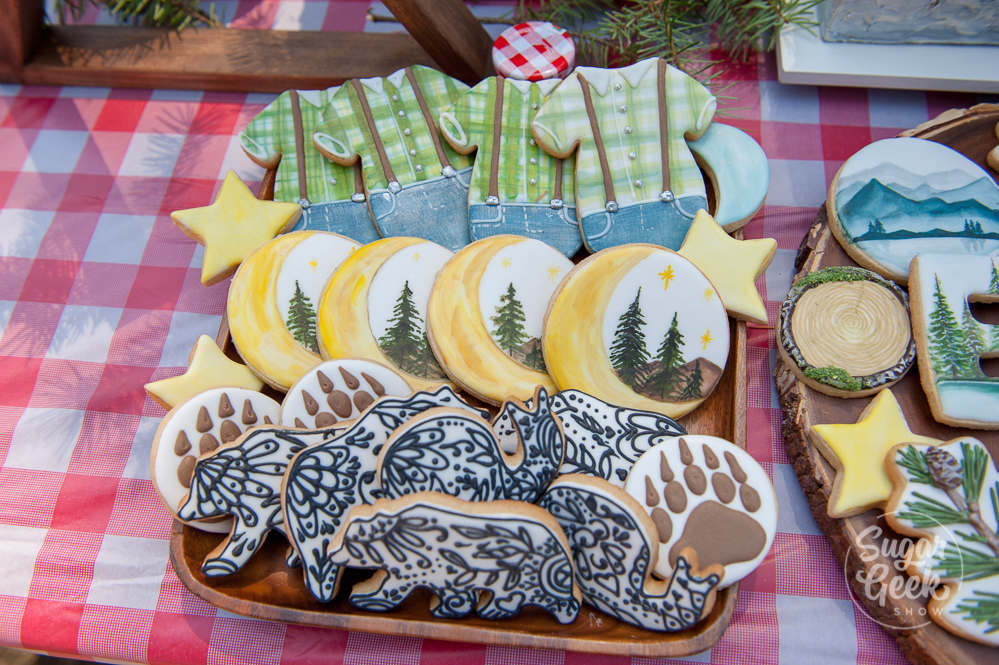 The best part of these cookies aside from them looking amazing is that they tasted spectacular! Not one cookie was left after the shower and everyone commented on how delicious they were!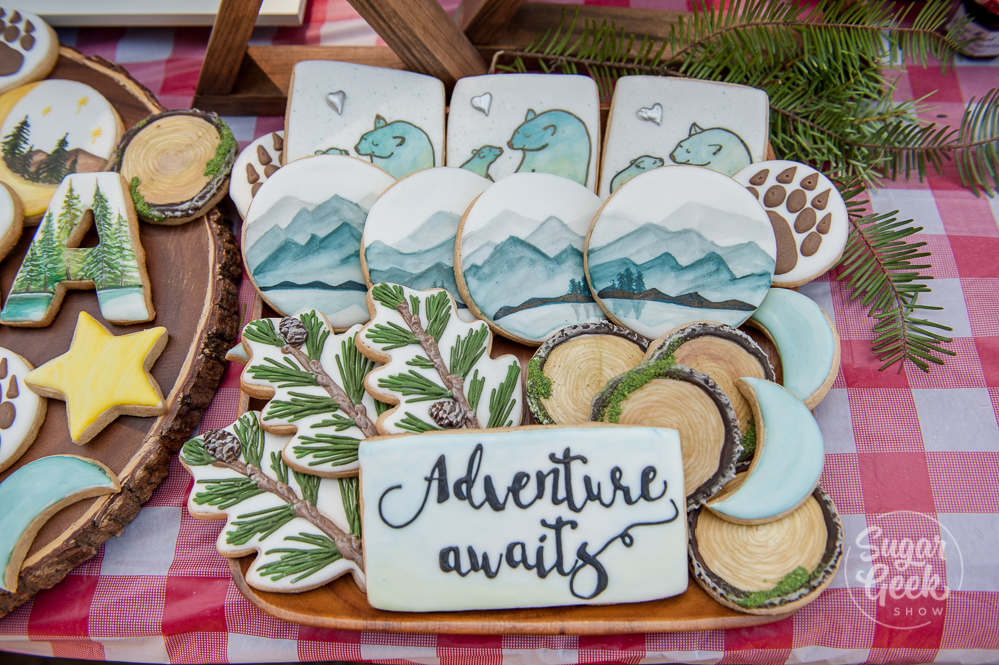 My friend Tonya also set up this super cute trail mix bar which the kids REALLY appreciated after a long day of swimming! The funniest part was the chocolate chips ended up melting in the hot sun so the kids started dipping everything in the chocolate.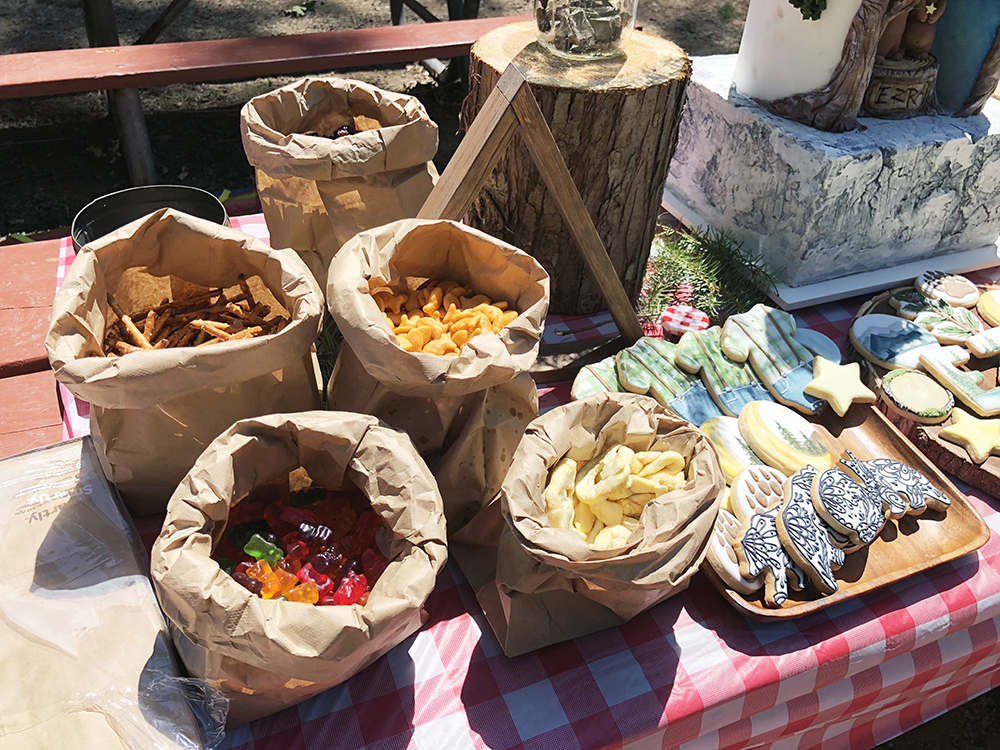 It's been a while since I made a cake for myself! I decided to make my white buttermilk cake filled with a strawberry reduction and strawberry buttercream!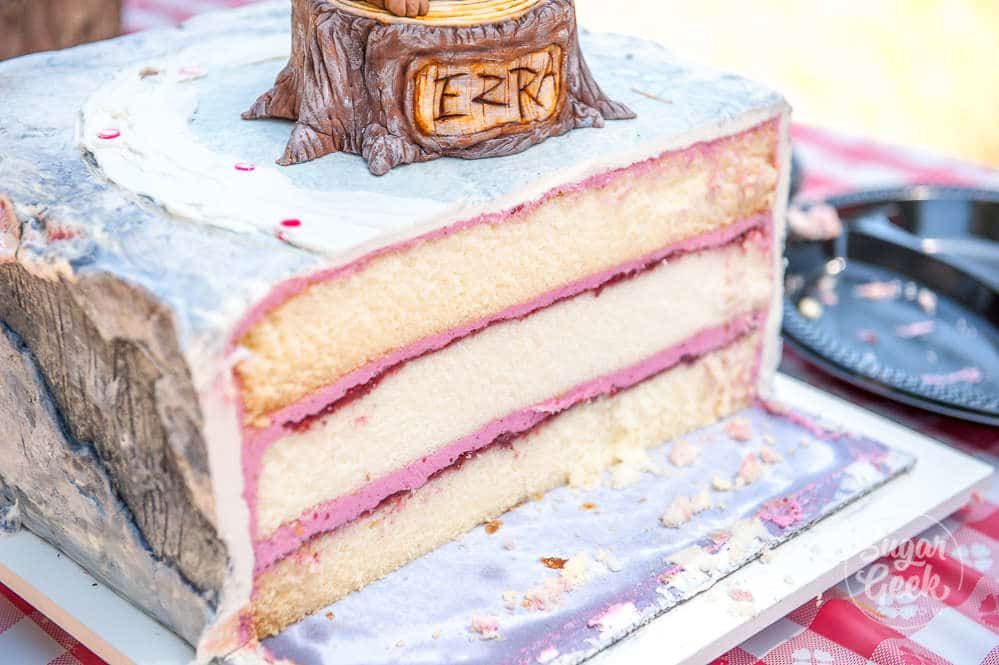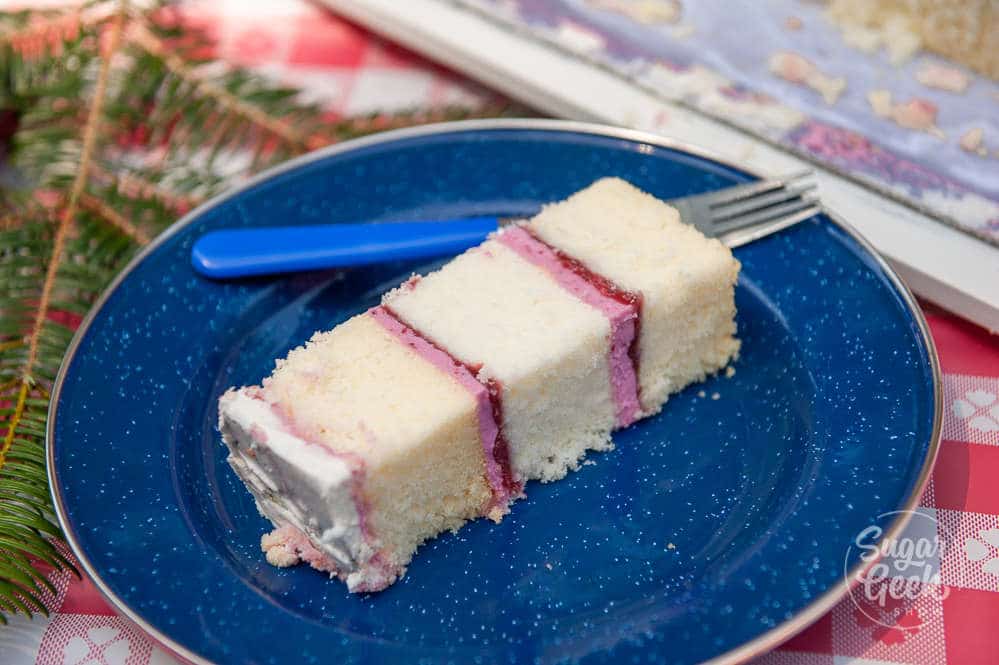 I frosted the outside with easy buttercream and then a layer of white chocolate ganache to keep it from melting on the super hot day. The cake was totally fine because it was in the shade.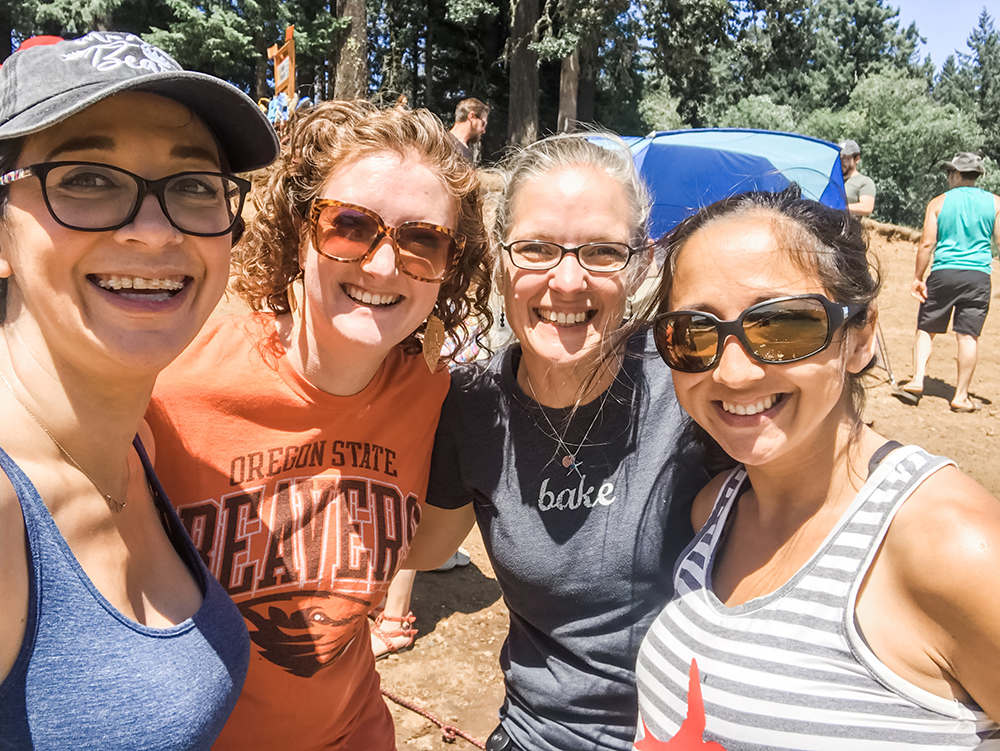 This day was super special to me because I was able to spend it with so many people who have stuck by us and supported us through the years of IVF talk and all the emotional ups and downs that come with it.
It was also really nice to have a baby shower that was fun for everyone, even the kiddos.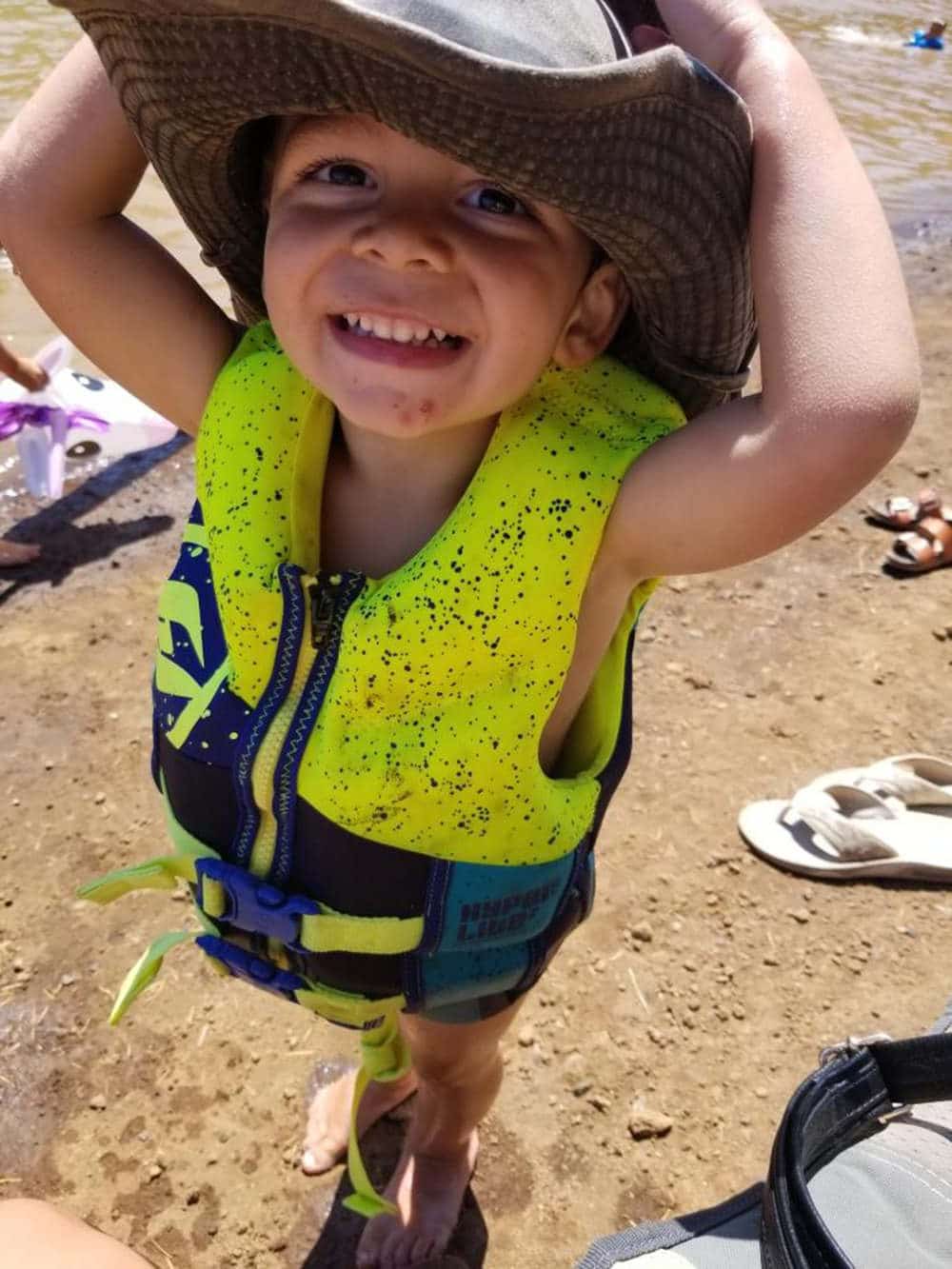 My baby sister is also expecting! So it was extra special getting to be pregnant together and getting this great bump shot of our bellies at the shower.