Triple chocolate cake with chocolate ganache is a chocolate lovers dream
Triple chocolate cake was my favorite chocolate cake for a long time. I loved the little chunks of chocolate in each bite. I used to pair it with easy buttercream and it really reminded me of a Ding Dong cupcake from my childhood. Over the years I have begun pairing it with either chocolate ganache or chocolate buttercream. Maybe it's old age but I just want MORE chocolate in my triple chocolate cake. I mean... the more chocolate the better right?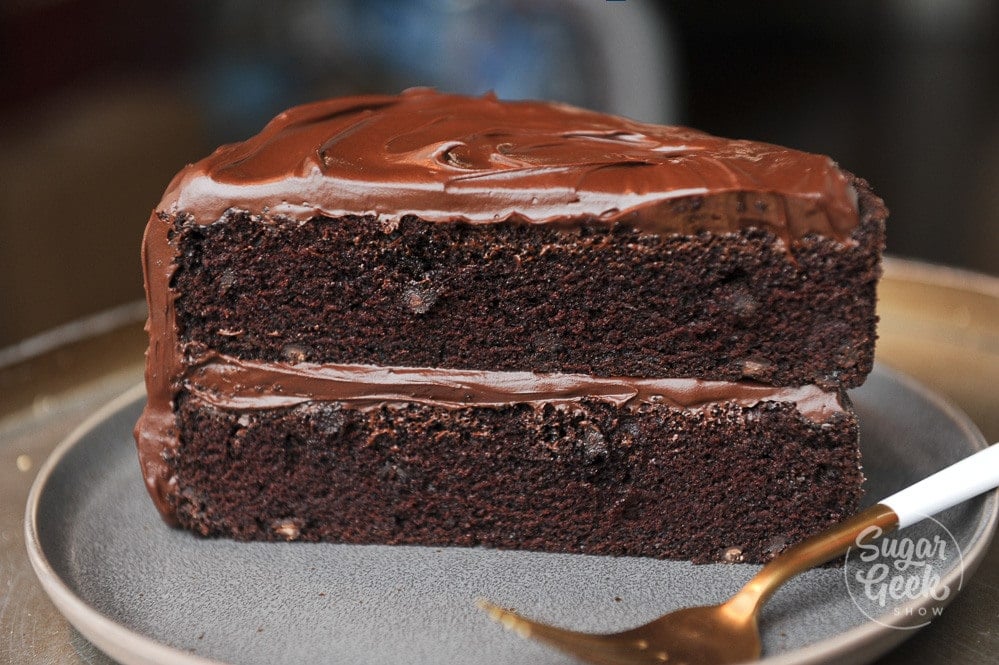 What makes this triple chocolate cake so good?
Triple chocolate cake isn't for the faint of heart! I wasn't about to skimp on any part of this delicious, decadent cake! I carefully tested this recipe so that each ingredient in the cake added to the overall moisture and tenderness of the cake.
The reverse creaming method - gives this cake a super fine and decadent crumb that melts in your mouth.
Dutched cocoa powder - this cocoa powder has a stronger chocolate flavor than natural cocoa.
Mayonnaise - gives the chocolate cake an added boost of moisture!
How to make triple chocolate cake
This triple chocolate cake recipe is adapted from my favorite chocolate cake recipe. This cake recipe uses the reverse creaming method
Bring your water to a boil and pour over your cocoa powder. Whisk it until it's smooth. Add in your mayonnaise (straight from the fridge) so it cools the chocolate mixture a bit.
Then add in your vanilla and eggs and whisk to break up the eggs. Set aside to cool.
Combine the dry ingredients (flour, sugar, baking powder, baking soda, salt) in the bowl of your stand mixer
Attach the paddle attachment and blend on low. Slowly add in your softened chunks of butter and mix until it resembles coarse sand.
Add about ⅓ of the chocolate mixture into the flour mixture and let mix on setting 4 on your Kitchenaid for two full minutes. Trust me, let it mix the full two minutes or your cake will collapse.
Scrape the bowl and then add in the rest of your liquids and let mix for another 30 seconds or so until there aren't any streaks.
Pour the batter into two 8" round cake pans prepared with cake goop or pan spray.
Bake the triple chocolate cake for 30 minutes at 35oºF or until a toothpick comes out from the center with a few gooey crumbs still attached. Don't over bake!
Let your cake cool for 10 minutes in the pan then turn them out onto a cooling rack. I wrap mine in plastic wrap and leave them at room temp to frost the next day because the cake is firm enough but you can also freeze them to seal in moisture.
Need more information on how to make your first cake? Check out my tutorial on how to trim your cakes, frost, fill them and decorate them. All the basics for the ultimate beginner!
What frosting goes best with triple chocolate cake?
Since this is my daughter's favorite cake, I made her favorite which is chocolate ganache. She LOVES dark chocolate but her friends prefer milk. I made a compromise and went with semi-sweet chocolate chips for the ganache.
This ganache is a 2:1 recipe so it's a lot smoother and creamier than the traditional ganache I make for sculpted cakes or wedding cakes.
After I make my ganache I let it cool at room temperature with plastic wrap over the surface. Yes you can leave ganache on the countertop and the cream will not spoil. Food science!
Cake Batter and Frosting Calculator
Select an option below to calculate how much batter or frosting you need. Adjust the servings slider on the recipe card to change the amounts the recipe makes.
Choose a pan type
Choose a cake pan size
(based on 2" tall cake pan)
Choose a cake pan size
(based on 2" tall cake pan)
Choose a cake pan size
(based on 2" tall cake pan)
Cups of Batter Needed
8 cups
Cups of Frosting Needed
5 cups
Recipe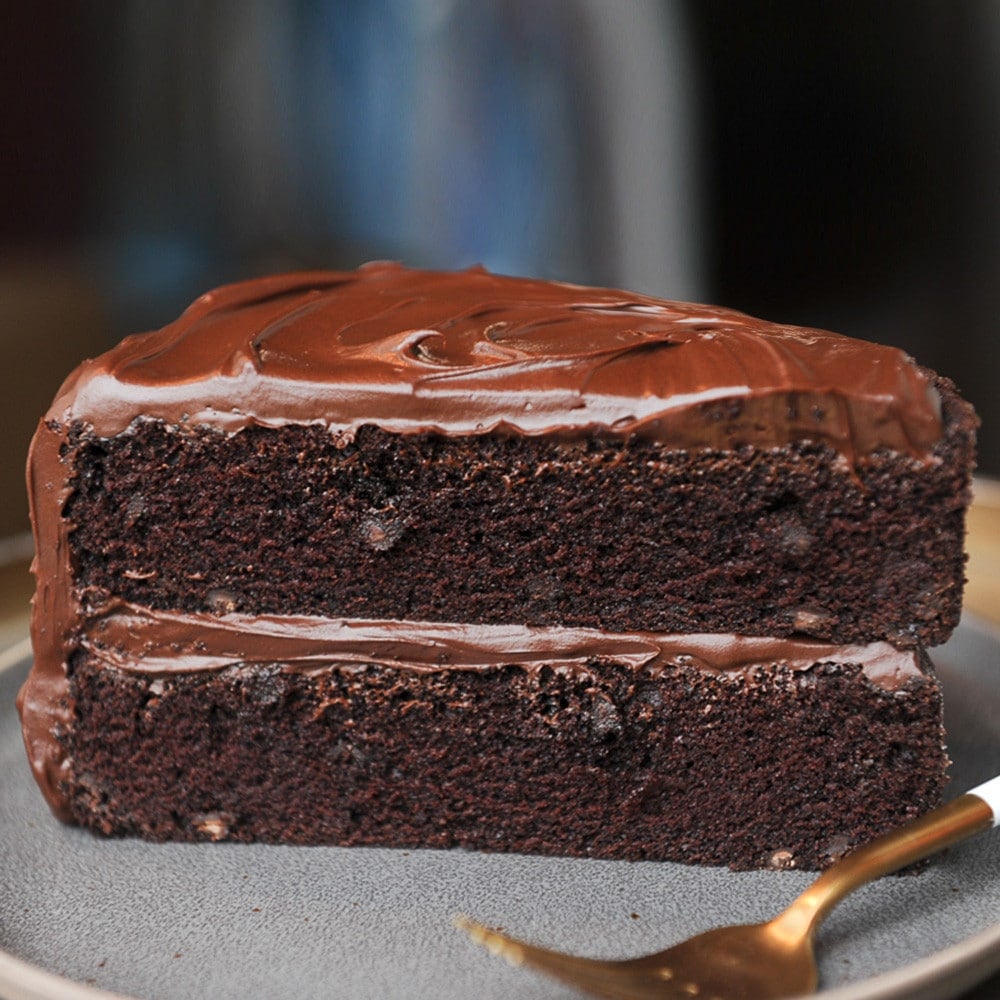 Servings: 8 cups
Calories: 381kcal
Ingredients
Cake Ingredients
3 oz Dutch cocoa powder
8 oz water
3 large eggs
2 teaspoon vanilla extract
5 oz Mayonaise
14 oz Unbleached cake flour
15 oz granulated sugar
2 teaspoon baking powder
1 tsp baking soda
1 teaspoon sea salt
6 oz unsalted butter at room temperature
8 oz mini chocolate chips or chopped chocolate
Chocolate Ganache Frosting
8 oz heavy whipping cream Heat to a simmer, do not boil
16 oz semi-sweet chocolate chips
1 teaspoon vanilla extract
½ tsp salt
Instructions
Cake Instructions
Pre-heat your oven to 335ºF. Prepare two 8" cake pans with cake goop or other pan release. I prefer to make my chocolate ganache the day before I need it so to give it time to cool down.

Bring the water to a boil and pour over the cocoa powder. Whisk until smooth then add in cold mayonnaise, vanilla and eggs. Whisk to break up the eggs. 

Weigh out all dry ingredients (flour, sugar, baking powder, baking soda and salt) and place into a stand mixer bowl and attach the paddle attachment.

Turn mixer on low (setting 1 on Kitchen Aid mixers). Add in your room temperature butter in small chunks. Combine on low until you achieve a sandy mixture.

Add ⅓ of your liquid ingredients into your dry ingredients and mix on medium for 2 minutes. If you do not do this step, your cake could collapse.

Turn your mixer back down to low and add in the rest of your liquids slowly. Stop once or twice to scrape the bowl as needed.
Once they are all combined, turn back up to medium for another 30 seconds.

Fold in your chocolate chips or chocolate

Bake for 35 minutes at 335ºF depending on how big your pans are. The bigger the pan, the longer it will take for them to bake. When a toothpick comes out of the center with a few sticky crumbs on it, the cake is done.

After the cakes have cooled for about 10 minutes, or the pans have cooled to the point they can be touched, flip the cakes over and remove from the pans onto a cooling rack to cool completely. I cover mine in plastic wrap to keep them from drying out why they cool.

Once the cakes are completely cool you can trim them and frost them.

Chocolate Ganache Frosting
Heat your heavy whipping cream until it's just starting to simmer, do not boil.

Pour your hot cream over your chocolate chips, making sure they are fully submerged.

Let the mixture sit for 5 minutes, then add in your vanilla and salt

Whisk until smooth. If you have any un-melted pieces of chocolate, heat the mixture for 30 seconds in the microwave and whisk again. Do not over-heat or you can break your ganache.

Cover the surface with plastic wrap and let cool at room temperature for 24 hours before using.
Notes
This recipe works great for carving sculpted cakes! I use the same recipe for wedding and sculpted. I always bake them, de-pan them, wrap them in plastic wrap and then chill in the fridge or freezer (depending on how much of a rush I'm in) and then carve. Chilled cakes make carving or stacking SO much easier!
Nutrition
Serving: 1g | Calories: 381kcal | Carbohydrates: 42g | Protein: 5g | Fat: 22g | Saturated Fat: 11g | Cholesterol: 52mg | Sodium: 211mg | Potassium: 236mg | Fiber: 3g | Sugar: 25g | Vitamin A: 359IU | Vitamin C: 1mg | Calcium: 48mg | Iron: 2mg