Moist and fluffy bakery-style chocolate chip muffins
These chocolate chip muffins are my favorite make-ahead breakfast goodie. Yes, I eat chocolate for breakfast, doesn't everyone? They bake up big, tall and fluffy and stay so moist for days. After baking, I store them in an airtight container on my countertop to enjoy all week. I swear they get even better after the second day!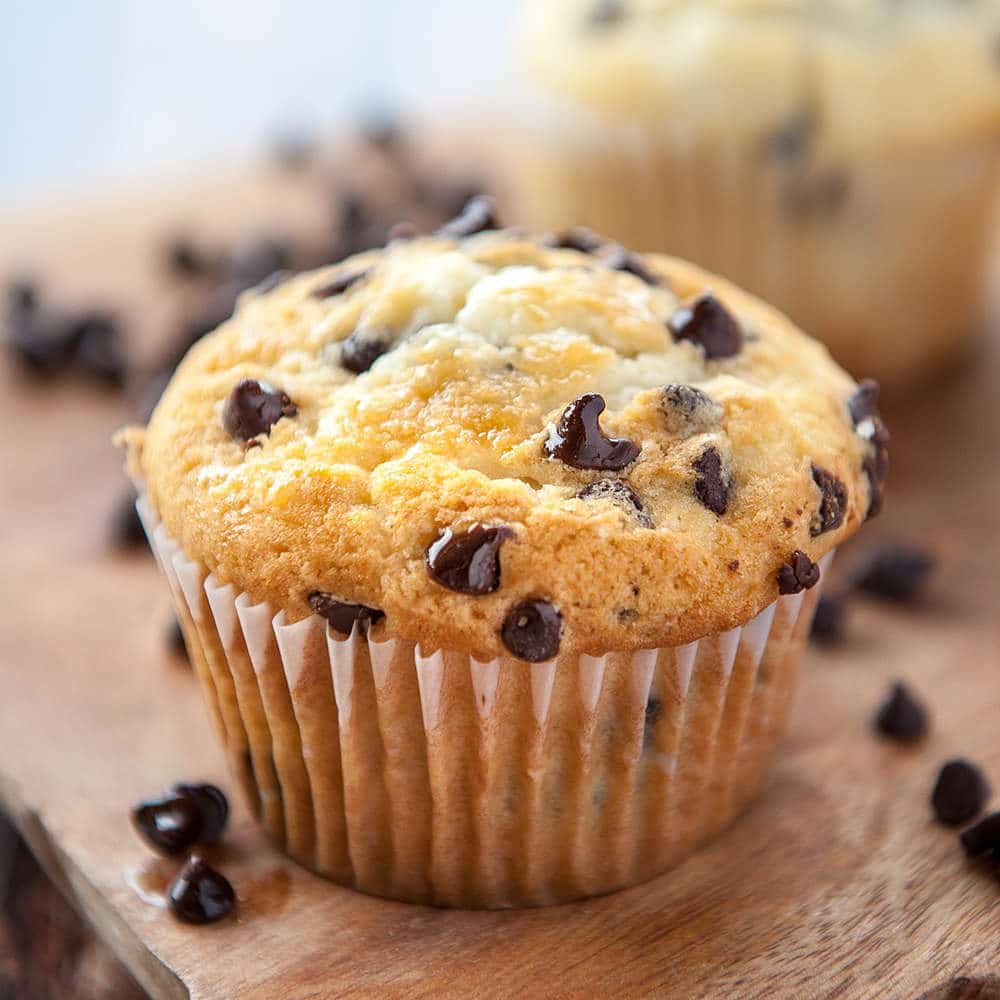 These delicious muffins are based on my basic muffin recipe that I develop pretty much all my muffin recipes from. They are buttery and super fluffy. I tend to bake mine in a regular-sized cupcake tin but if you want those big bakery-style jumbo-sized chocolate chip muffins, you'll want to use a jumbo-sized pan and paper liners.
This recipe makes 12 regular sized muffins or 6 jumbo-sized muffins.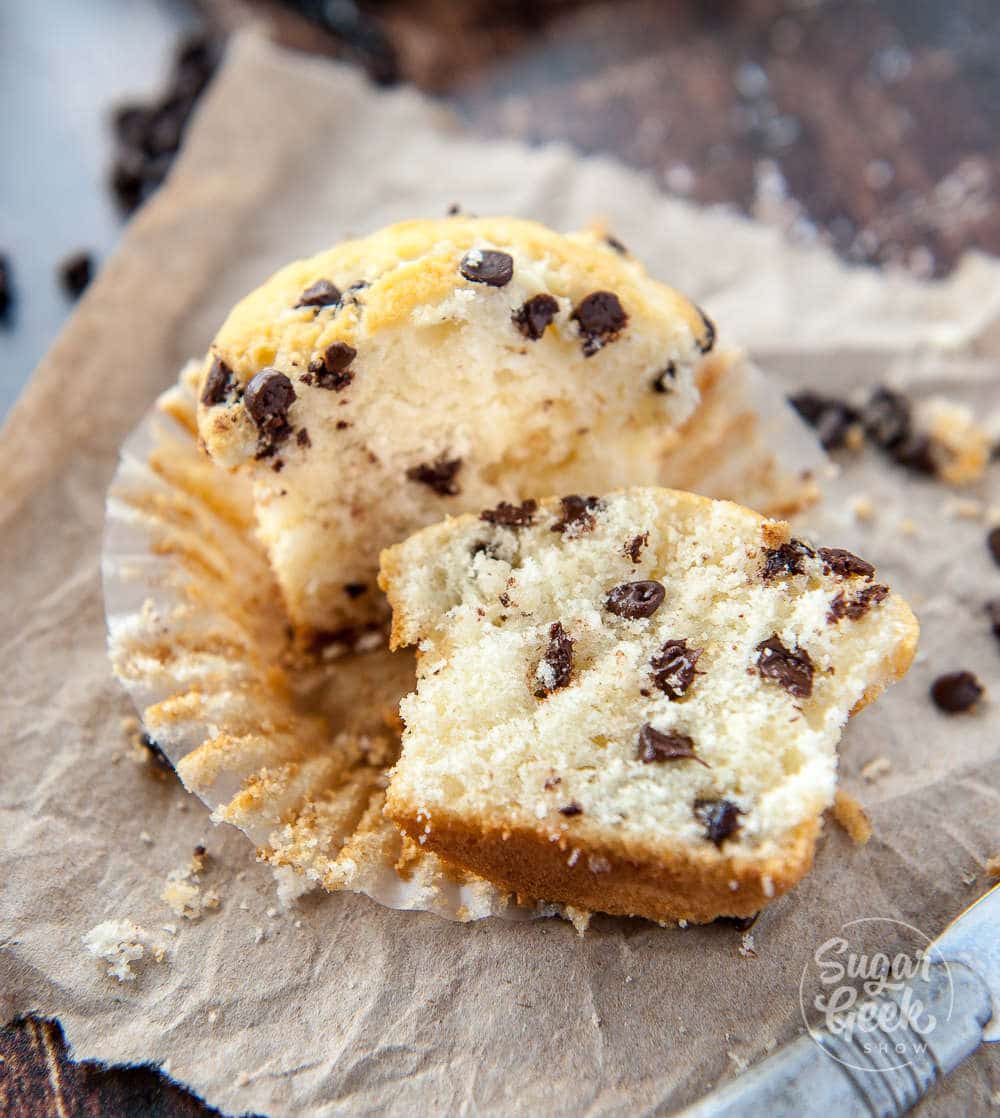 Ingredients for chocolate chip muffins
Cake Flour - Now I can hear you groaning already. Cake flour in my muffins too? The reason I use cake flour is that they make the muffins extra tender and moist. In this particular case, you can substitute cake flour for all-purpose flour (plain flour) if that is all you have but the muffins will be a bit firmer.
Baking Powder and Baking Soda - The secret to super fluffy muffins is a lot of baking powder! I also use baking soda because of the added acidity from the buttermilk. If you're at a high-altitude, make sure you adjust your baking powder ratios.
Buttermilk - Speaking of buttermilk, I love using buttermilk in my muffins to add a touch of tang and a lot of tenderness! That buttermilk is key to a moist and tender muffin. If you don't have any buttermilk, you can substitute 8 ounces of milk plus one Tablespoon of white vinegar.
Eggs - Provide structure and moisture to the muffin recipe. Make sure you're using large eggs.
Sugar - Sugar makes these muffins deliciously sweet and also keeps them moist.
Vanilla - I flavor my muffins with vanilla but feel free to switch out the extract for another flavor you like but keep in mind that other extracts might be stronger than vanilla and therefore you will need to add less extract.
Sanding Sugar - The secret to keeping muffins nice and moist! Sanding sugar! Sugar attracts moisture from the air and draws it into baked goods. That's why you often see sanding sugar on top of baked goods. It keeps them from drying out! I don't have photos of sanding sugar on these muffins because I was out at the time but trust me, it's awesome! You can see how I use the sanding sugar on my blueberry muffin recipe
Mini Chocolate Chips - I prefer using mini chocolate chips over full-sized chocolate chips because they don't sink to the bottom of the muffin when baking.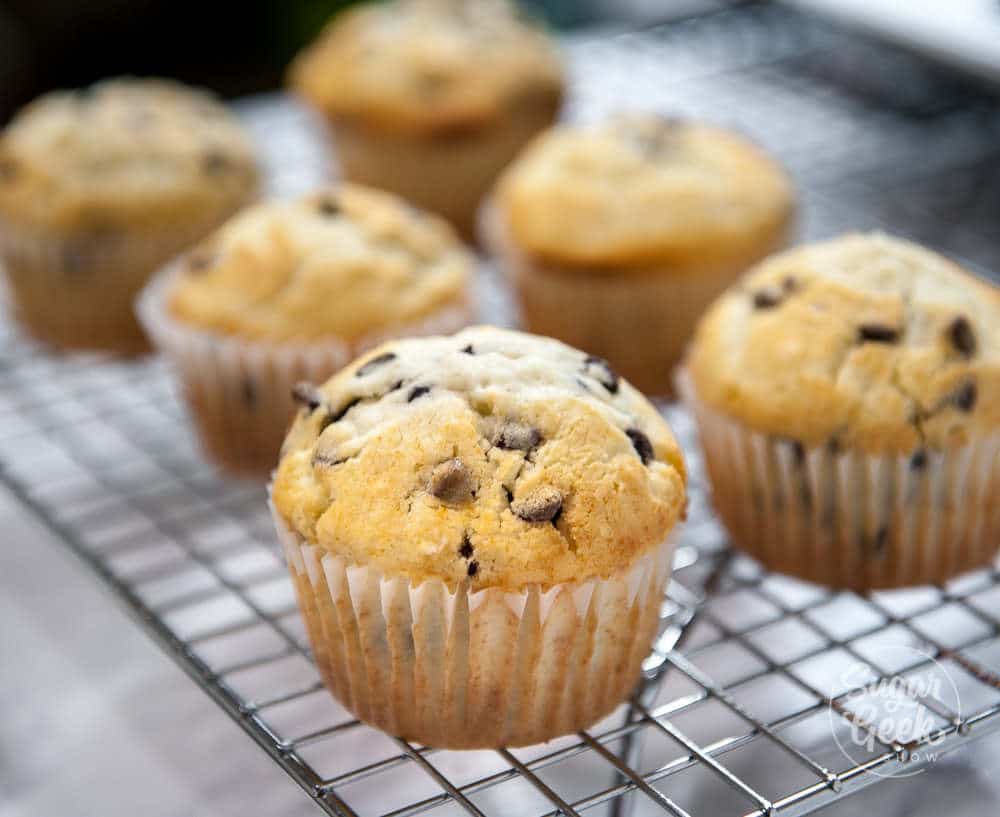 How do you make muffins fluffy?
The secret to these super fluffy muffins is lots of leavening (baking powder and baking soda). I know this recipe probably has a lot more than you are used to in a recipe. But you need a lot to get those big muffin tops.
The second way to get fluffy muffins is a hot oven. You want to have your oven at 400ºF so that the top of the muffin browns quickly and locks in that air so that the muffin doesn't collapse.
Have you ever baked a cake and had a huge dome on top of the cake that cracked and got too brown? Chances are the cake was too close to the top of the oven and the oven was too hot. Bad for cakes, great for muffins.
Make sure you fill your muffin liners ALL THE WAY TO THE TOP. I know it doesn't make sense but you want those muffins to have a great big muffin top right? So fill them all the way to the top for best results.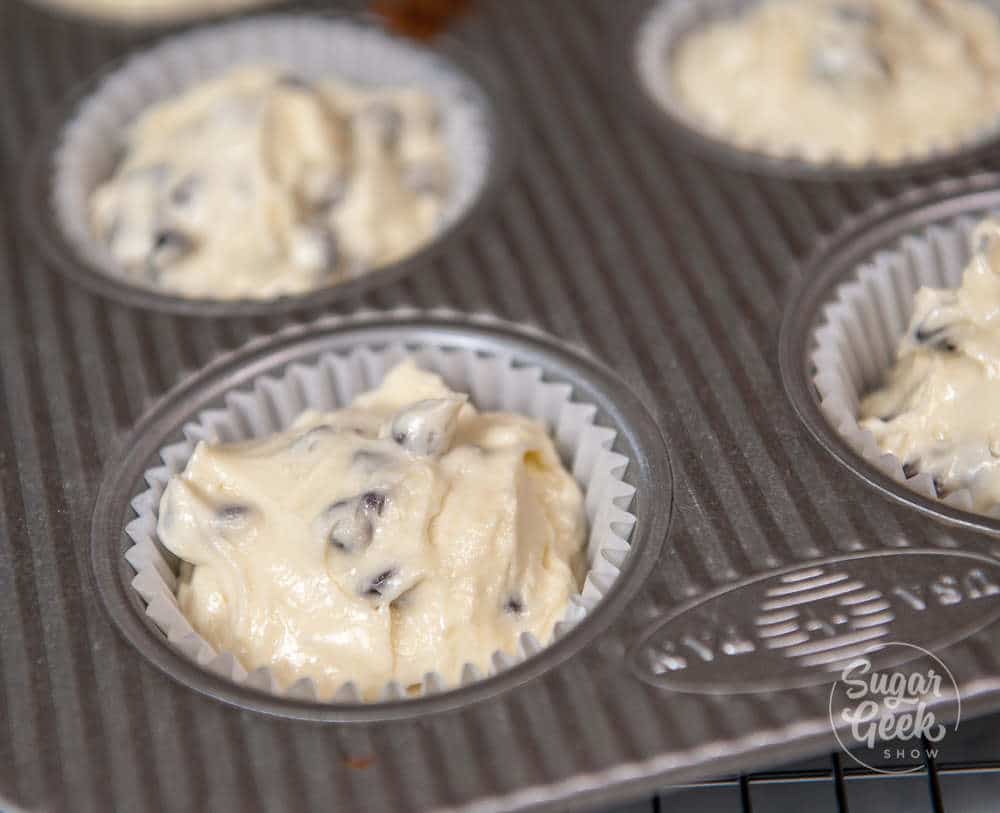 How do you make muffins moist?
I hate dry baked goods with a passion so when I'm testing a new recipe, what I'm usually testing for is how moist it is. To make muffins moist you definitely want to use buttermilk if you can. The acidity in buttermilk breaks down gluten and keeps the muffins from getting too tough during mixing.
If you don't have buttermilk you can substitute one cup of milk plus one Tablespoon of vinegar or one cup of sour cream or greek yogurt.
Another way you can add moisture to your muffins is to replace half of the sugar with brown sugar. Brown sugar has molasses in it and molasses attracts moisture. The molasses will add a little bit of a flavor to your muffins that is quite lovely in chocolate chip muffins and will make them taste similar to chocolate chip cookies.
Sanding sugar is another bakery secret for keeping muffins moist. The sugar attracts moisture from the air and locks it inside the muffins. I have a big bottle that I keep on hand for my muffins.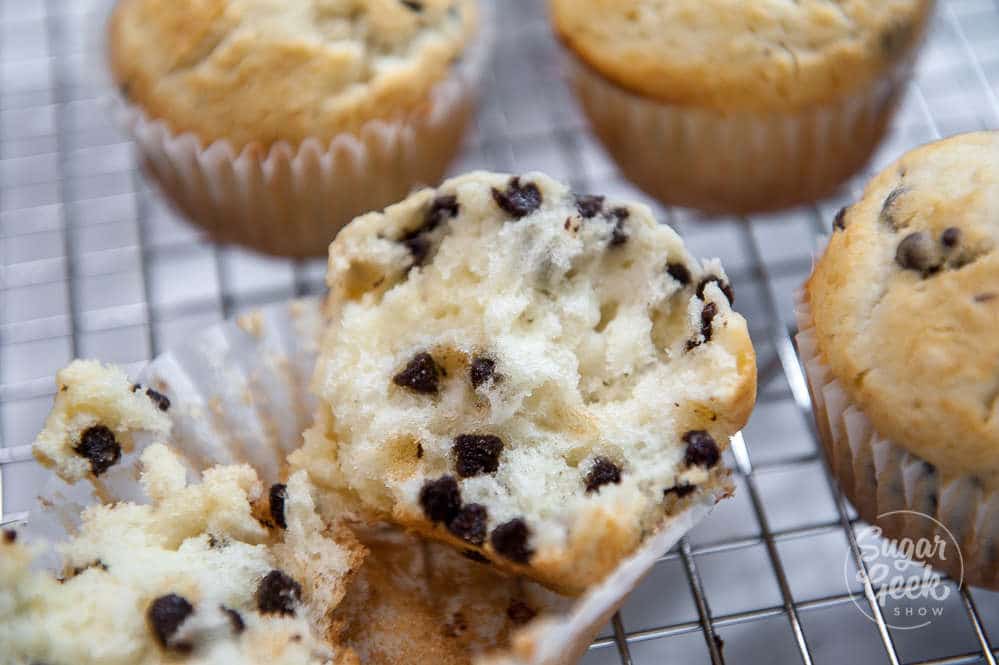 How do you make muffins tender?
Make sure you don't over-mix your muffin batter. The more you mix, the more gluten that develops and the tougher your muffins will become. The best way to avoid over-mixing your muffin batter is to sift together your flour, baking powder, baking soda, and salt in a big bowl.
In a separate bowl, cream your softened butter and sugar together until it's light and fluffy with the whisk attachment of your stand mixer or hand mixer. Then add in your eggs and vanilla and continue to whisk until light in color. Make sure your eggs are room temperature, otherwise they could make the butter to cold and cause your batter to curdle.
Lastly, add your flour mixture and buttermilk in thirds. Start with your flour and mix until almost combined, then add buttermilk. You can do this by hand with a spatula and fold gently to avoid over-mixing. Repeat the process two more times until just combined then fold in your chocolate chips.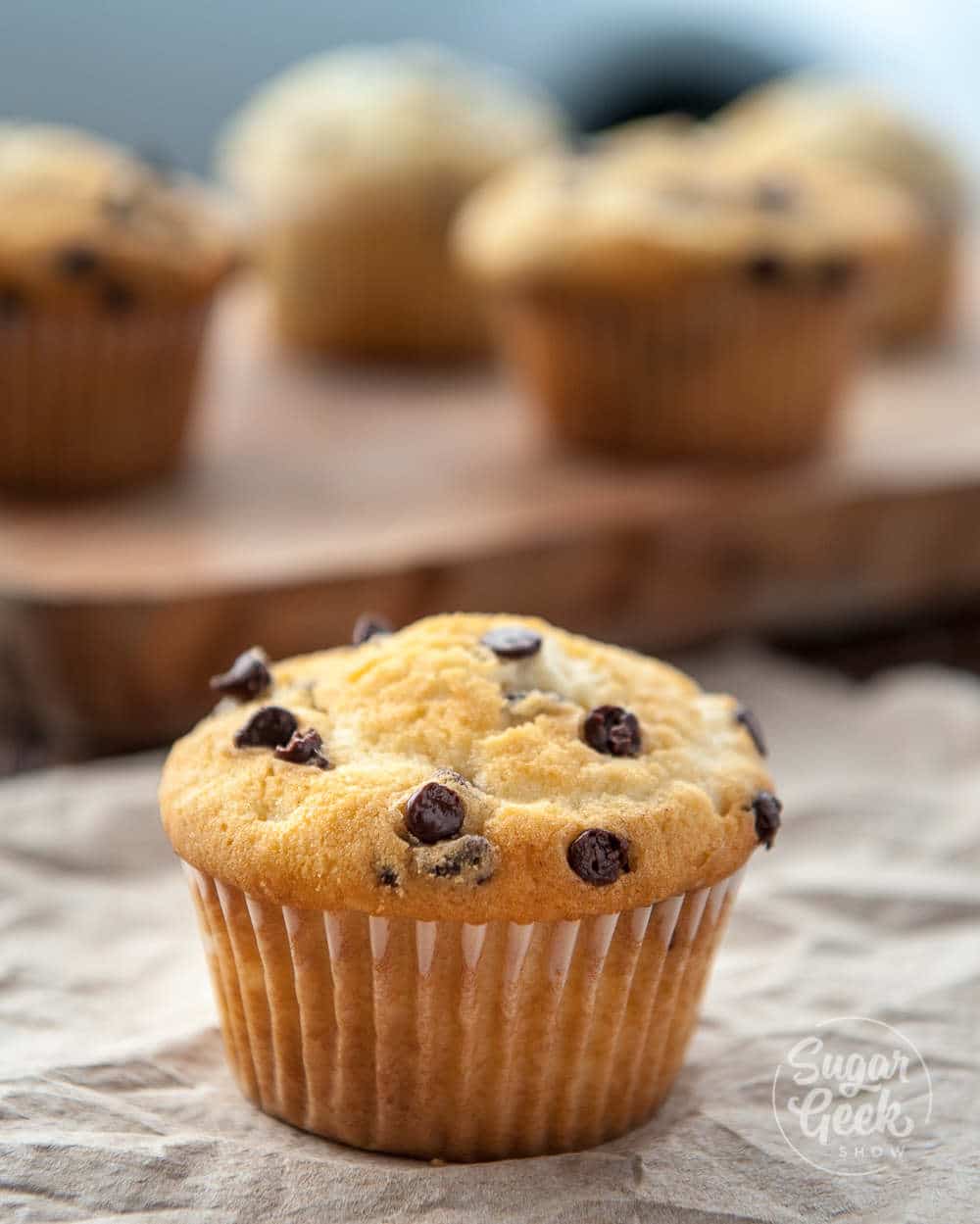 Recipe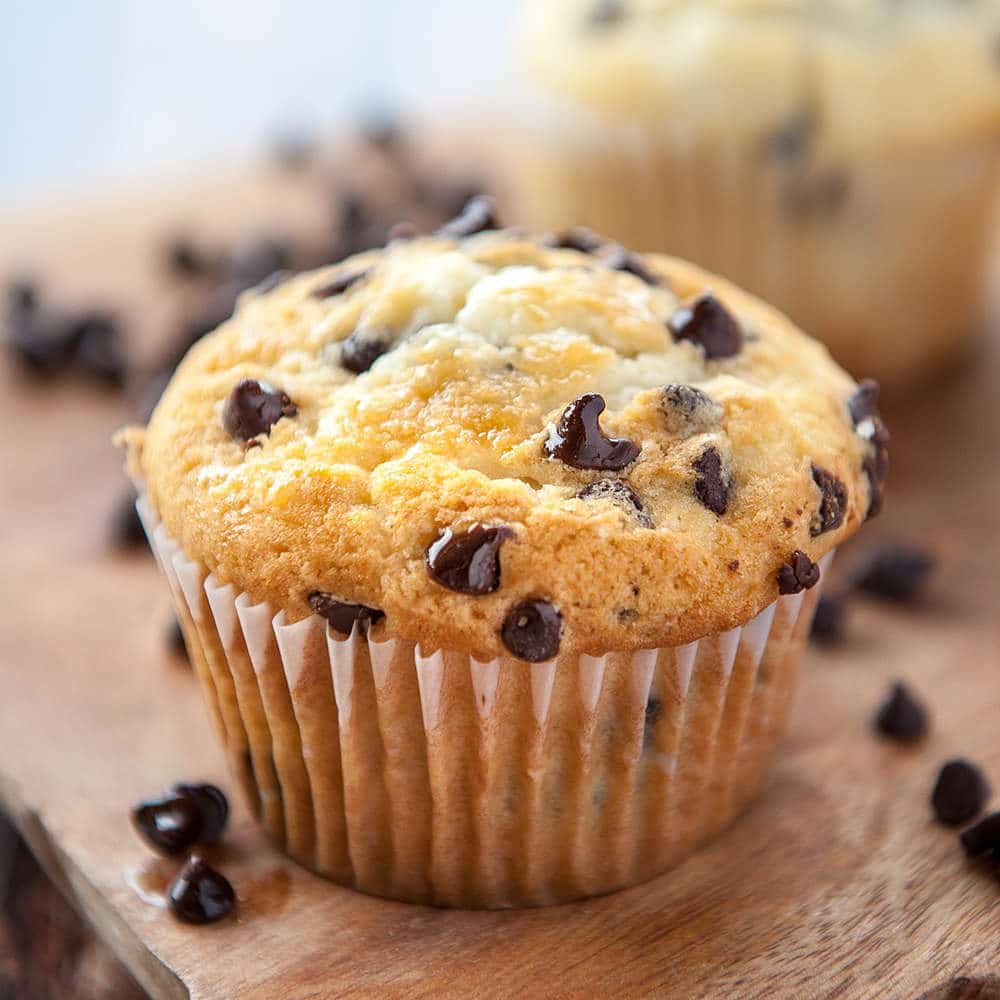 Equipment
Mixer (stand or handheld)
Ingredients
4

ounces

unsalted butter

(½ cup) softened

3

ounces

granulated sugar

(½ cup)

1.5

ounces

brown sugar

(¼ cup)

2

large

eggs

room temperature

2

teaspoons

vanilla extract

10

ounces

cake flour

(2 cups)

3

teaspoons

baking powder

1

teaspoon

baking soda

½

teaspoon

salt

8

ounces

buttermilk

(1 cup) room temperature

7

ounces

mini chocolate chips

3

Tablespoons

sanding sugar

(optional for sprinkling on top)
Instructions
IMPORTANT: Make sure all your ingredients are at room temp (see notes at the bottom of the recipe) 

Preheat your oven to 400ºF - Line a muffin tin with paper liners.

Sift together your flour, baking powder and salt. Set aside.

Cream together your butter and sugar in a medium bowl with your mixer until light and fluffy

Add in your egg and vanilla. Continue creaming until pale in color

While mixing on low, add in ⅓ of your flour mixture, then ⅓ of your buttermilk. Repeat two more times until just combined. Do not overmix.

Fold in the mini chocolate chips

Fill your liners all the way to the top with muffin batter. Top with more chips if desired and sparkling sugar.

Bake for 15-20 minutes or until edges begin to slightly brown and a wooden skewer comes out cleanly when inserted into the center of the muffin.

Let your muffins cool in the pan for 10 minutes then move them to a cooling rack to cool the rest of the way.
Notes
Important Things To Note Before You Start
1. Bring all your ingredients to

room temperature

or even a little warm (eggs, buttermilk, butter, etc) to ensure your batter does not break or curdle. 
2. Use a scale to

weigh your ingredients

(including liquids) unless otherwise instructed (Tablespoons, teaspoons, pinch etc). Metric measurements are available in the recipe card. Scaled ingredients are much more accurate than using cups and help ensure the success of your recipe. 
3. Practice Mise en Place (everything in it's place). Measure out your ingredients ahead of time and have them ready before you start mixing to reduce the chances of accidentally leaving something out.
4. If the recipe calls for specific ingredients like cake flour, replacing it with all purpose flour and cornstarch is not recommended unless specified in the recipe that it's ok. Substituting ingredients may cause this recipe to fail. 
Nutrition
Serving:
1
g
|
Calories:
310
kcal
|
Carbohydrates:
42
g
|
Protein:
5
g
|
Fat:
13
g
|
Saturated Fat:
8
g
|
Cholesterol:
60
mg
|
Sodium:
235
mg
|
Potassium:
163
mg
|
Fiber:
1
g
|
Sugar:
23
g
|
Vitamin A:
355
IU
|
Vitamin C:
1
mg
|
Calcium:
95
mg
|
Iron:
1
mg