Kohakutou candy recipe
Kohakutou is a Japanese candy made from Agar Agar and translates to "amber candy". Kohakutou is made by pouring flavored jelly into a dish and allowing it to set before cutting or tearing into crystal shapes. The candy develops a crunchy outer crust after a few days but remains delightfully chewy inside.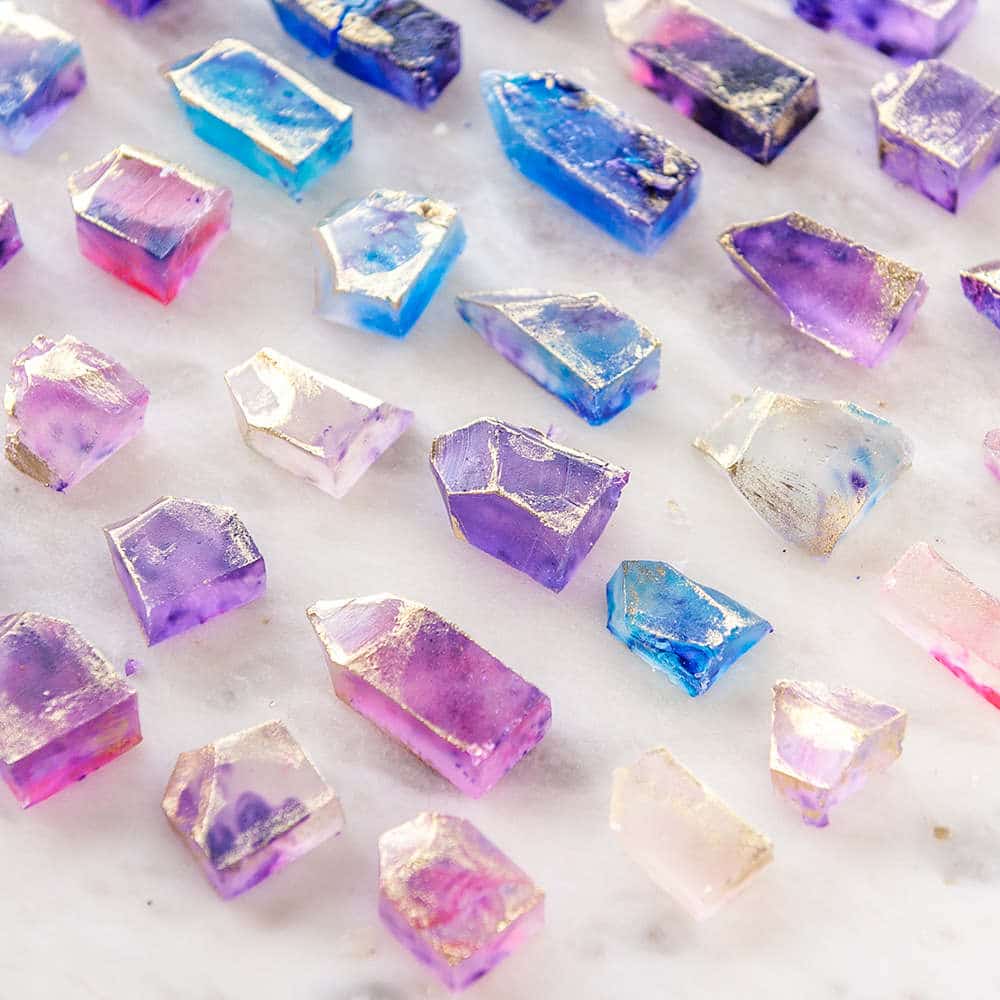 I first saw this recipe on Emmymade in Japan's YouTube channel. I was fascinated by the crystalizing gummies and thought they would be great for a geode cake.
How do you make Kohakutou?
Making the kohakutou is actually really simple. You dissolve the agar agar into the water and bring it to a boil. This is different than using gelatin, you would never boil gelatin, only bloom and then dissolve it.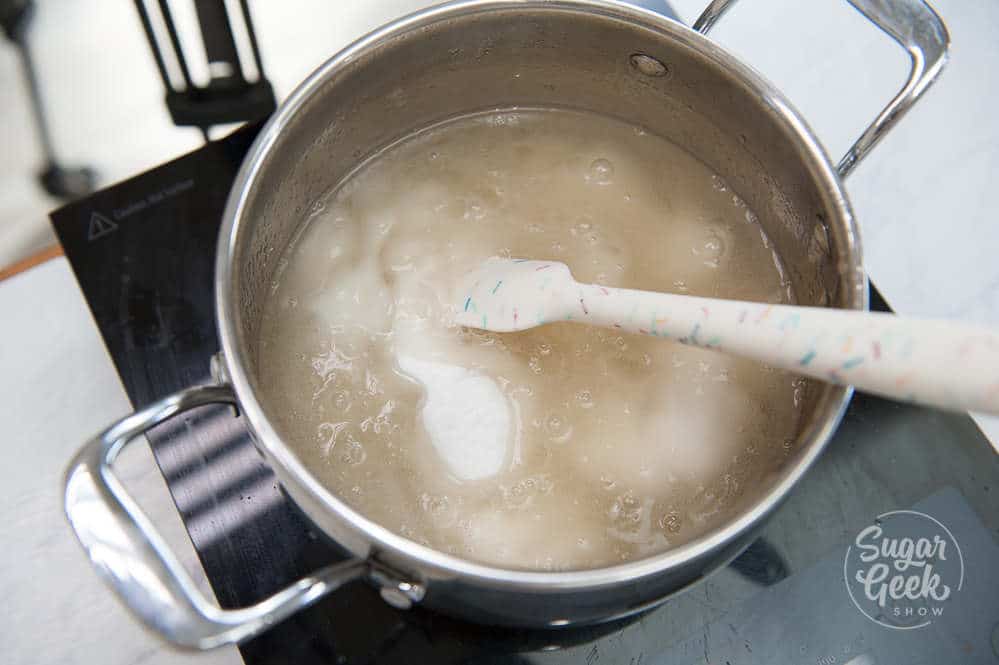 Then you add in the sugar. Let the sugar mixture boil for 2-3 minutes. There is a lot of sugar because of two reasons.
This is candy. Candy is usually very sweet and full of sugar
There needs to be a high amount of sugar to start the chain reaction of crystalization
Take the mixture off the heat and add in some flavoring. I used cotton candy flavoring because I didn't want to color my jelly and cotton candy was clear. I also added a small amount of citric acid to add a little tartness to the candy and cut the sweet taste.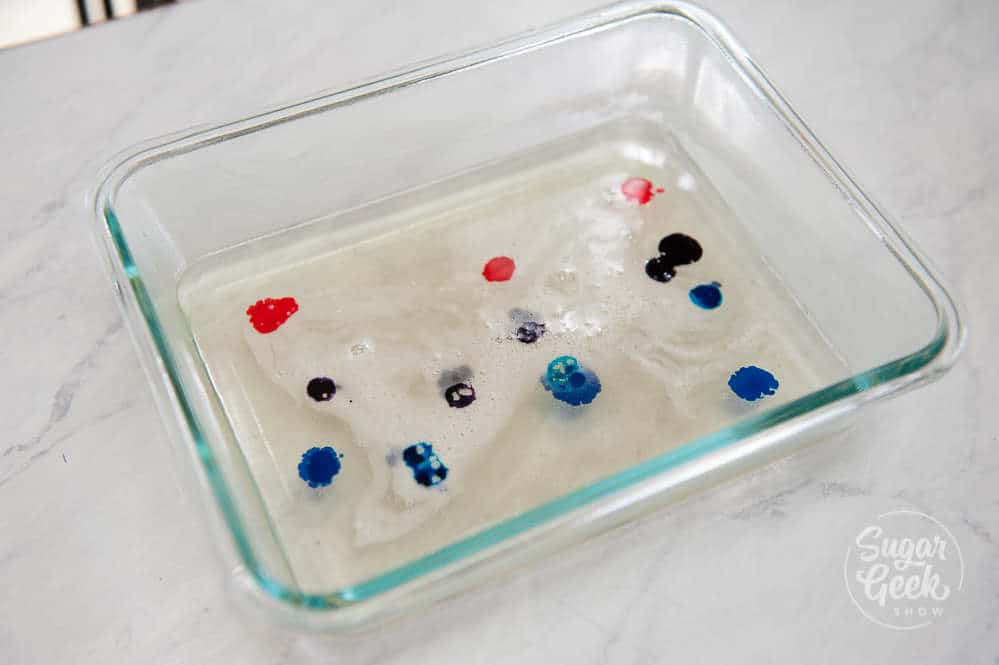 Pour the sugar mixture about ½" thick into a lightly oiled container. I ended up using two containers. Add a few drops of liquid food coloring and swirl it together.
I noticed that the color likes to sit on top of the jelly so I had to use a skewer to kind of make circles going from the top of the jelly down to the bottom. I decided not to fully mix it because I liked the swirls.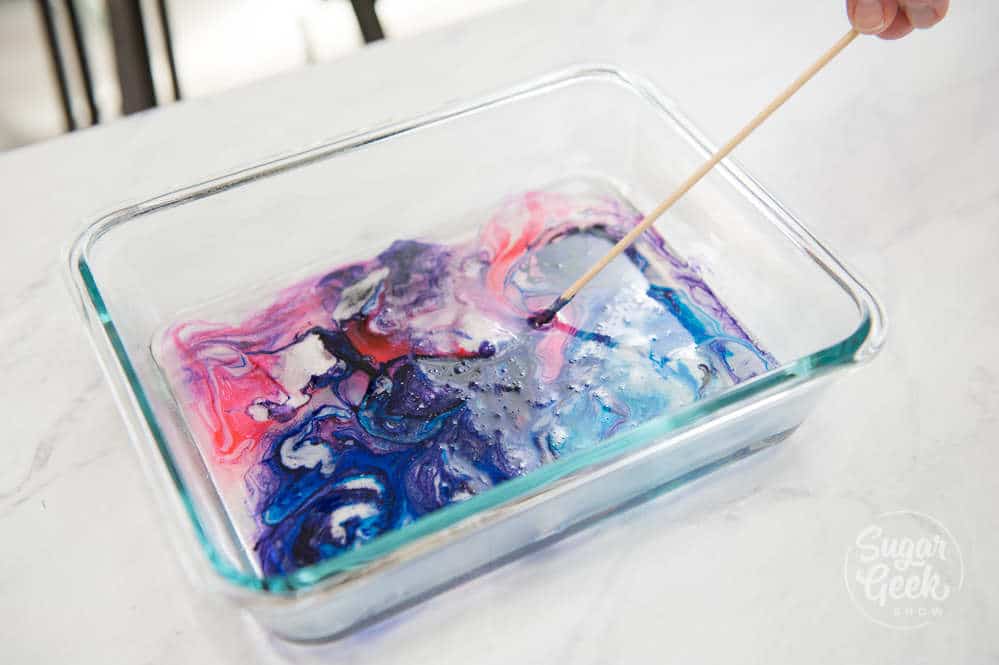 Put the mixture into the fridge and let it chill for a few hours. Mine set in only one hour.
How do you make edible crystals?
Once your mixture is set, you can pull it out of the container and slice it into crystals shapes.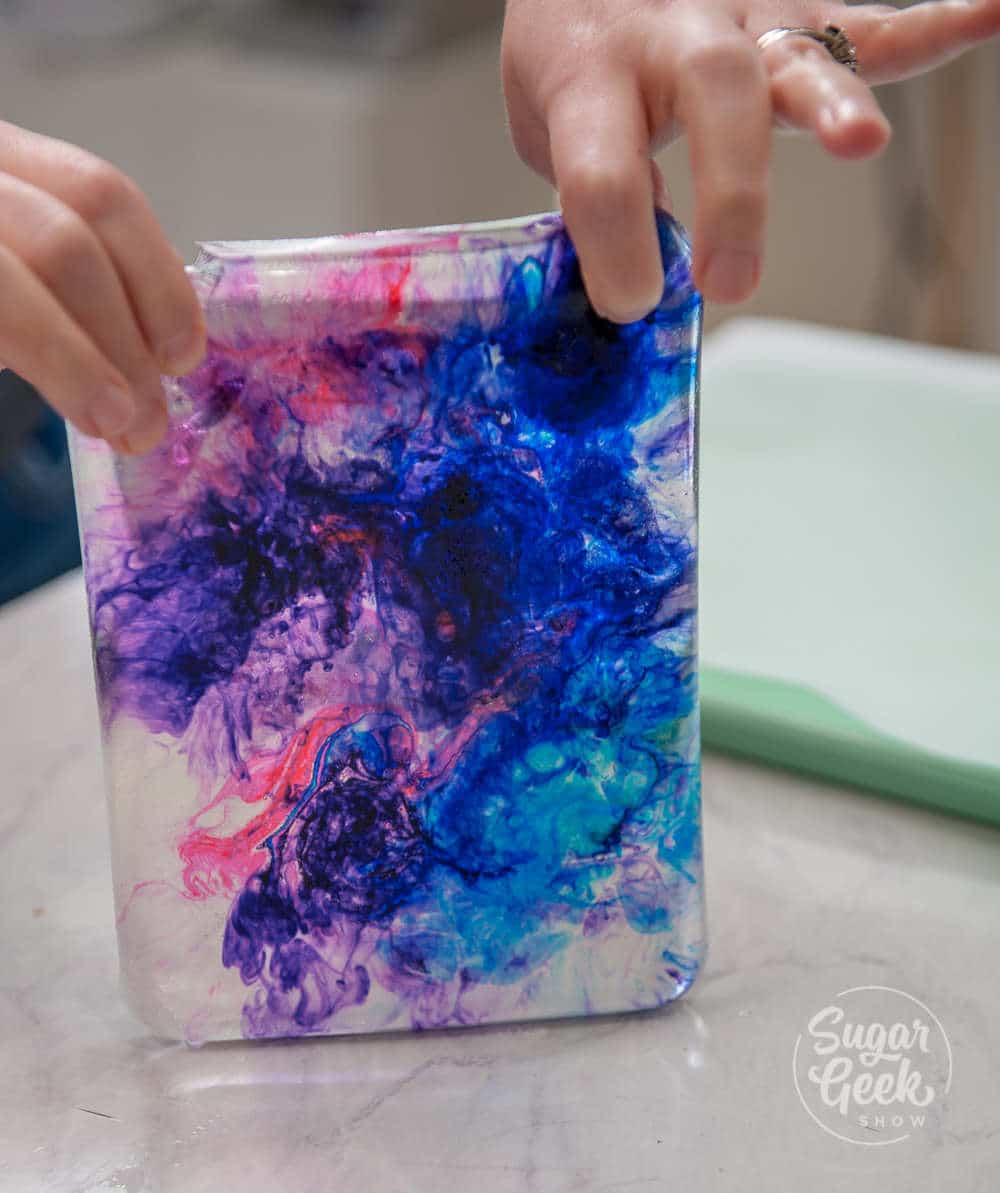 I started by cutting my jelly into strips, then into 1" tall rectangles. I used my paring knife to cut the tip into a point so it resembled a crystal shape.
I put the cut off pieces onto a tray as well to use later. No waste!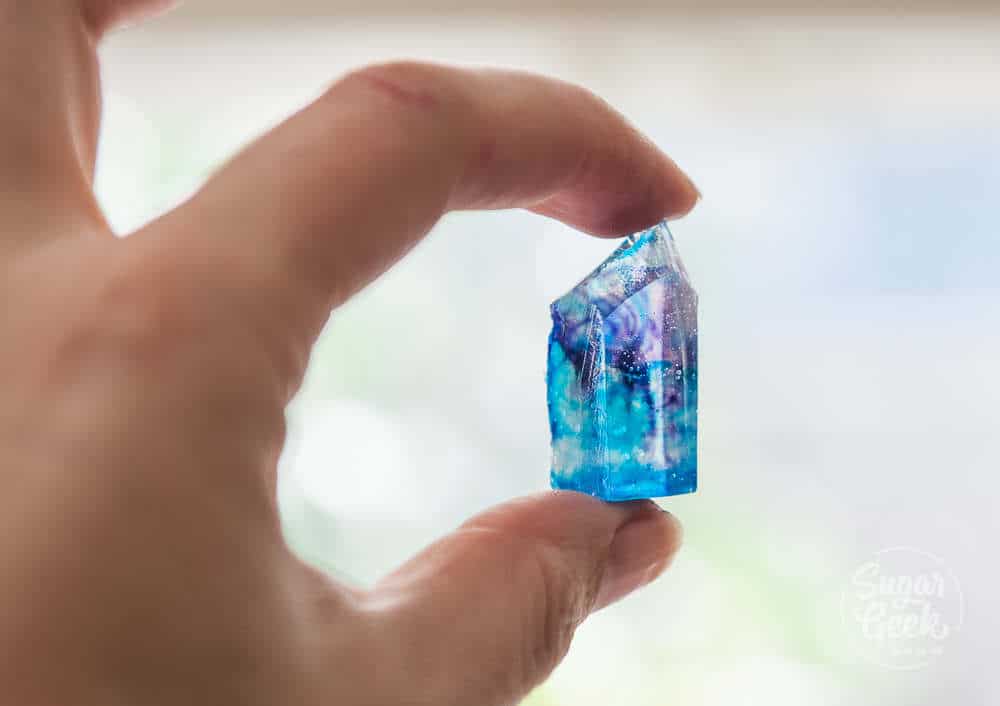 When the crystals are fresh, they are very clear and super pretty. Very firm and pretty transparent. You could honestly use them on a cake just like this but they started getting a crystal skin on them fairly quickly.
After one day, this is what they looked like.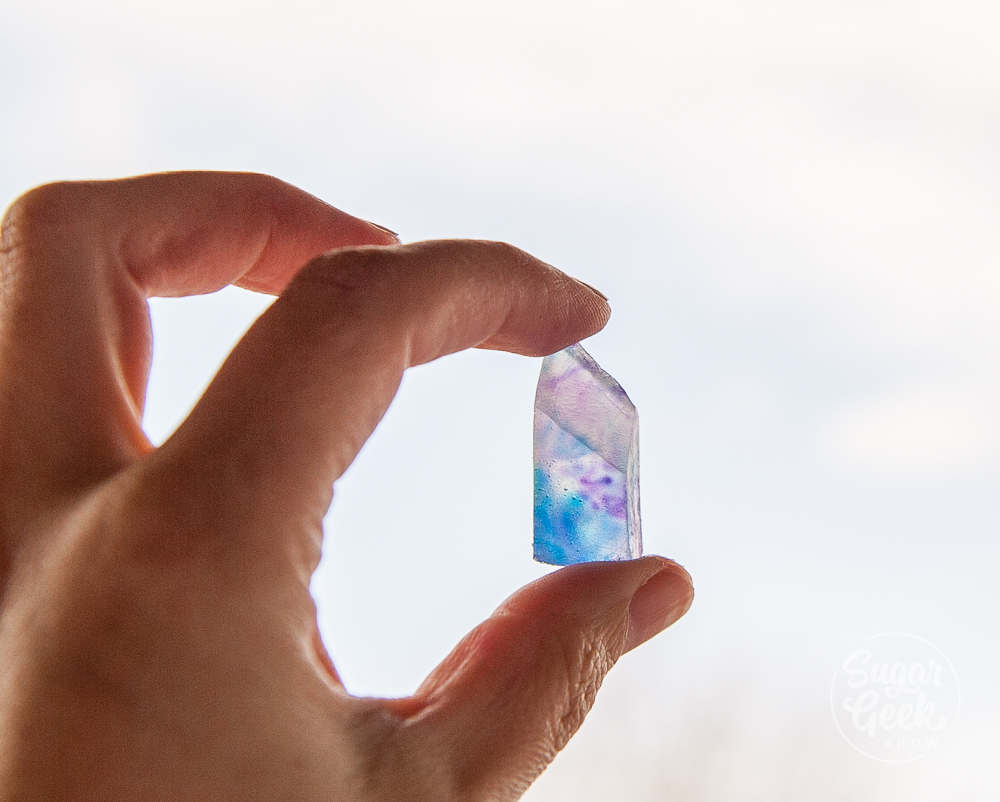 What does Kohakutou taste like?
We all were dying to try the crystal candy and I actually thought it was really good. The texture is not as chewy as regular gummy candy but still very good. I love the contrast between the gummy center and the crunchy exterior.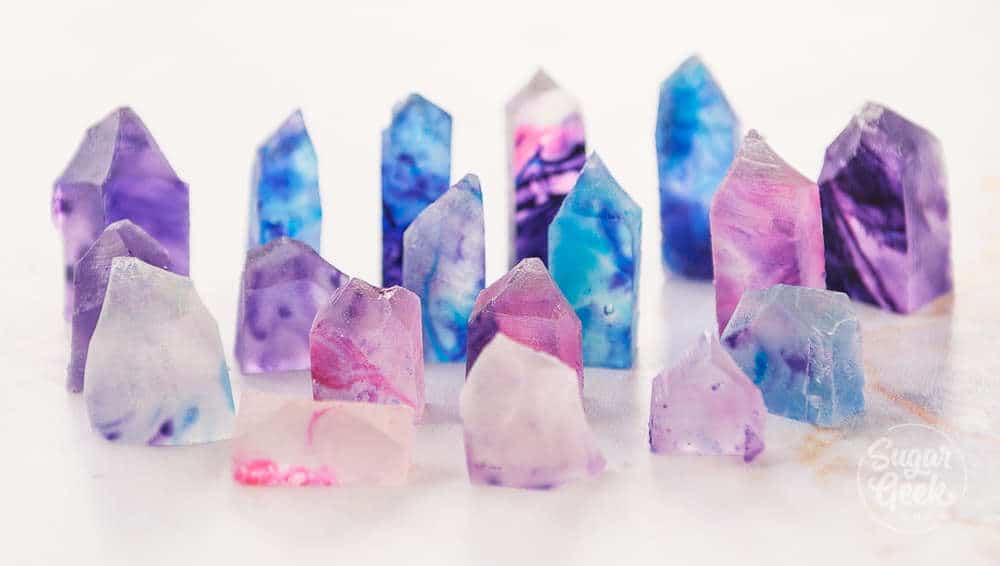 The crystals will continue to get a thicker crust over a few days. I painted my edges with a touch of gold paint and thought they looked really beautiful.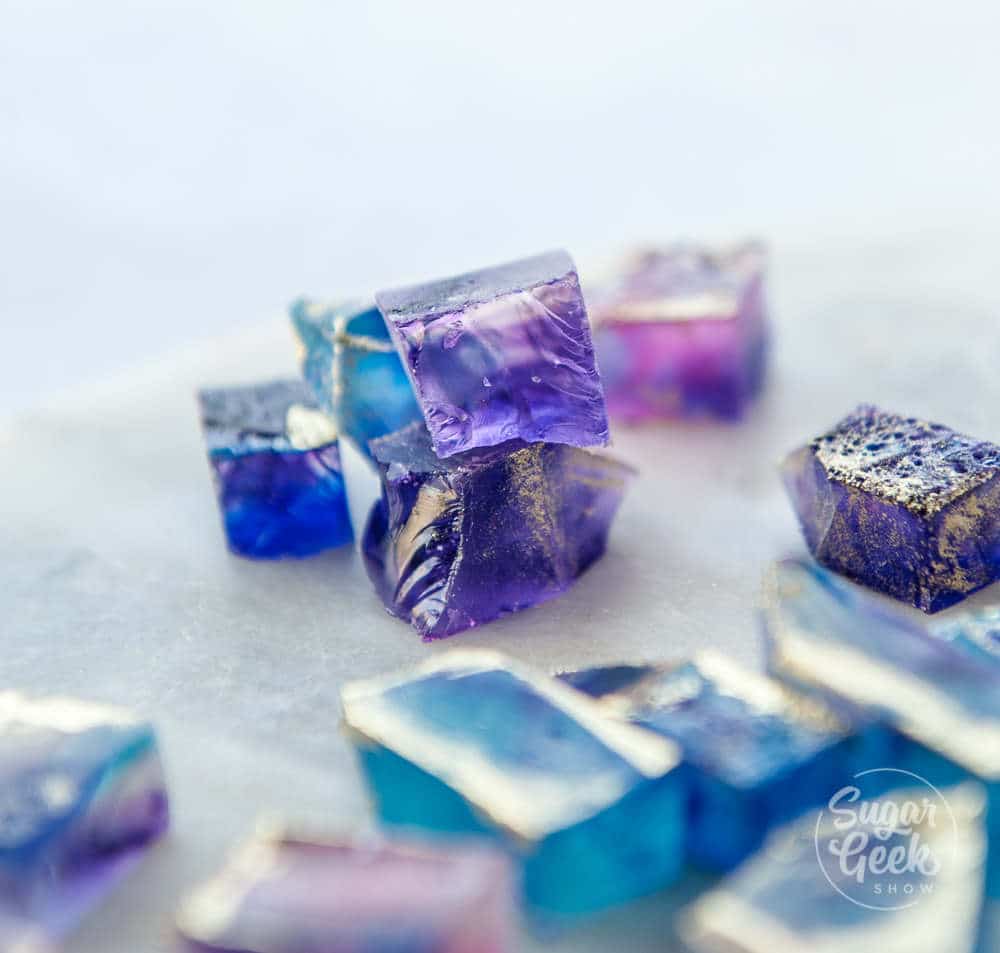 These edible crystals would be amazing on a geode cake or as favors. I have so many ideas! The best part of these crystal gummies is that they are really inexpensive to make. I used the recommended brand of agar agar (telephone brand) and it was about .80 a packet. Way cheaper than isomalt and a lot easier on the teeth.
How long does Kohakutou candy last?
You can store the candy in an airtight container at room temperature for about two weeks before they start to dry out and get too hard.
Want more gummy candy ideas? Check these out
Wine Gummy
Real Gummy Bear Recipe
Beer Gummy
Recipe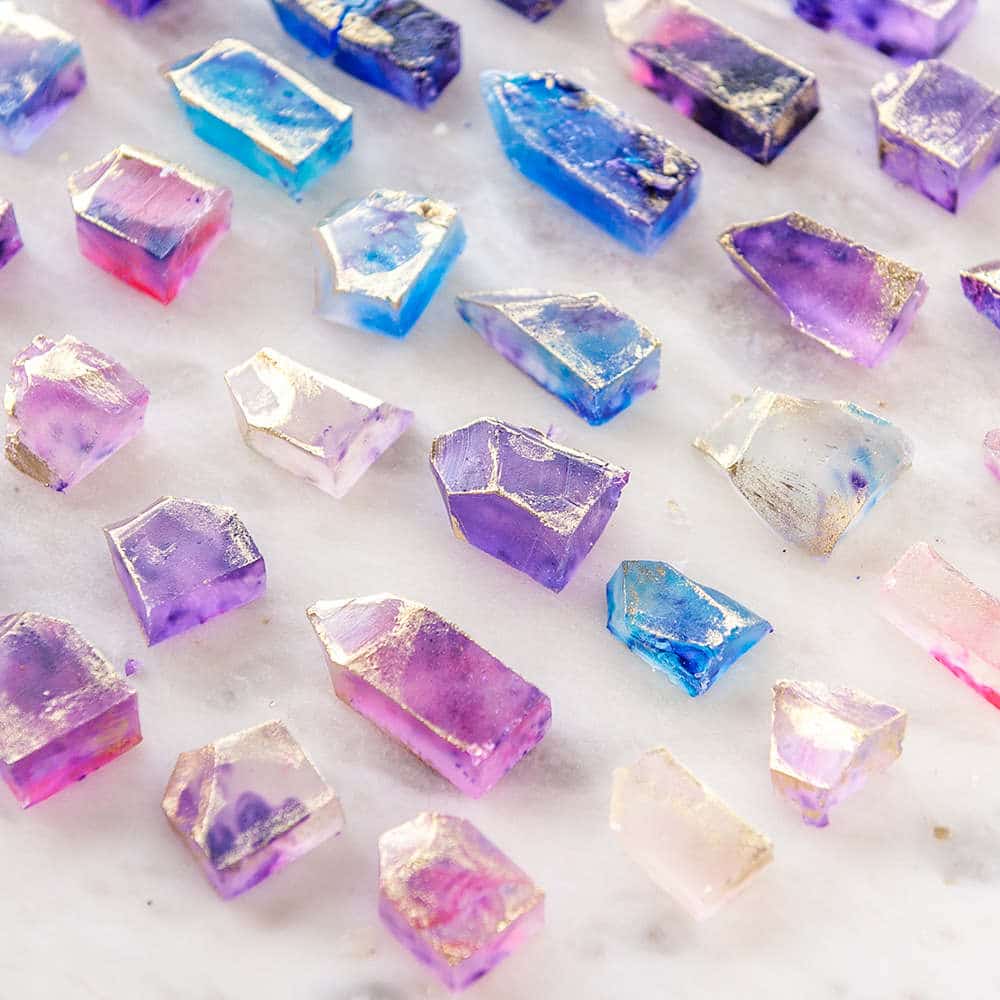 Ingredients
12

grams

agar agar

(telephone brand)

14

ounces

cool water

24

ounces

sugar

¼

teaspoon

candy flavoring

⅛

teaspoon

citric acid

optional - adds a tart flavor

3

drops

liquid food coloring

I used Americolor airbrush color
Instructions
Place cool water into a medium-sized saucepan

Sprinkle agar agar powder over the water and let it absorb for 5 minutes

Bring the mixture to a simmer and cook for 2-3 minutes stirring constantly with a spatula

Sprinkle in your sugar and continue cooking for another 2-3 minutes

Remove from the heat and add in candy flavoring and citric acid

Pour the mixture into a heatproof, glass dish that has been lightly oiled to prevent sticking

Add a few drops of liquid food coloring on top and swirl with a toothpick. You can blend fully or leave it streaked

Place the container into the fridge for 2-3 hours until set

Remove the set gummy from the container and cut into crystal shapes using a sharp knife

Place the crystal gummies onto a parchment covered cookie sheet and let dry at room temperature for 2-3 days until a hard crust forms on the outside
Notes
The recommended brand of Agar Agar is "telephone" brand. If you use a different brand of Agar Agar your results may not be the same. 
For the best possible results, read through the blog post and recipe to avoid common mistakes.
Use a scale to

weigh your ingredients

(including liquids) unless otherwise instructed (Tablespoons, teaspoons, pinch etc). Metric measurements are available in the recipe card. Scaled ingredients are much more accurate than using cups and help ensure the success of your recipe. 
Metric measurements (grams) are available by clicking the small box under the ingredients in the recipe card labeled "metric"
Practice Mise en Place (everything in it's place). Measure out your ingredients ahead of time and have them ready before you start mixing to reduce the chances of accidentally leaving something out.
Try to use the same ingredients as the recipe calls for. If you must make a substitution, be aware that the recipe may not come out the same. I try to list substitutions where possible.
Nutrition
Serving:
5
crystals
|
Calories:
53
kcal
|
Carbohydrates:
14
g
|
Protein:
1
g
|
Fat:
1
g
|
Saturated Fat:
1
g
|
Sodium:
1
mg
|
Potassium:
3
mg
|
Fiber:
1
g
|
Sugar:
14
g
|
Calcium:
2
mg
|
Iron:
1
mg