Chocolate mirror glaze is so beautiful and shiny! It always makes a fabulous impression and is the perfect topping for a chocolate dessert
Chocolate mirror glaze is a shiny coating made from chocolate, cocoa powder, sweetened condensed milk and gelatin. When it's poured over frozen desserts, it sets up to a super shiny reflective glaze so shiny you can see your reflection in the surface (hence the name mirror glaze). Mirror glaze isn't difficult to make but it does take a couple of careful steps that can't be skipped in order to get the most shiny and flawless finish to your chocolate mirror glaze.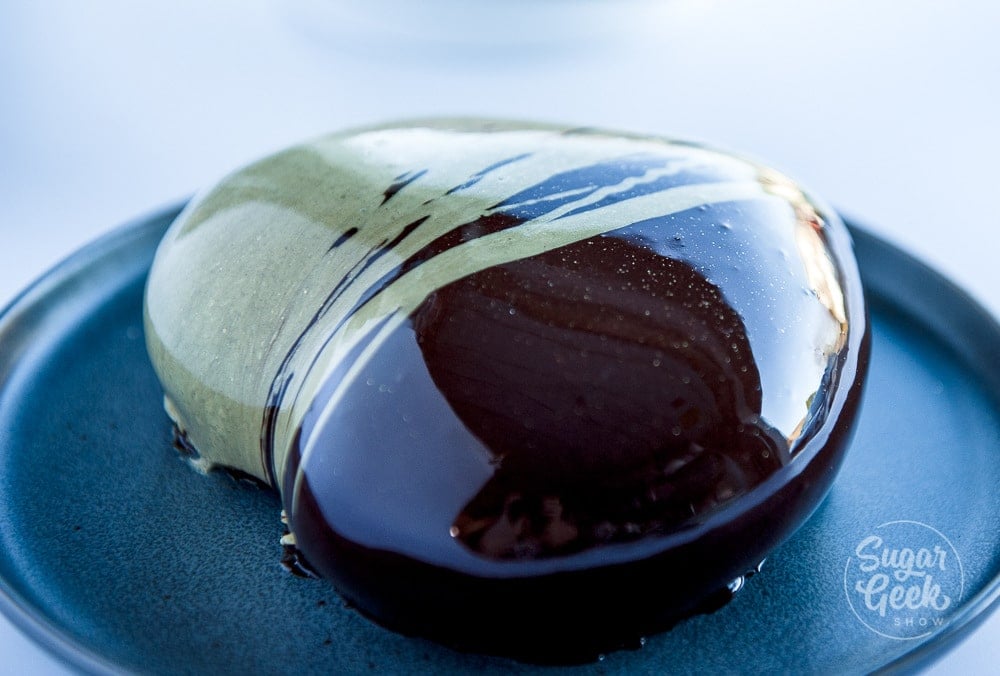 How to make a chocolate mirror glaze
Making mirror glaze is pretty simple but it's important to follow all the steps in the recipe. Don't just throw everything in a pot and hope it turns out 😀 You'll end up with a lumpy clumpy mess. I recommend reading through the recipe first to make sure you have all your ingredients ready to go. Then read through the instructions so you know what the next steps are and you have all the tools you need ready to go like a fine mesh strainer, thermometer, immersion blender and something to catch your glaze in.
To make your chocolate mirror glaze, place your first quantity of water, sugar and sweetened condensed milk into a sauce pan and bring to a simmer. Place your chocolate and cocoa powder into a large heat proof bowl and set aside.

While you're waiting, sprinkle your gelatin over the second quantity of water and let it absorb.

Once your liquids come to a simmer, add in your gelatin and stir until it's completely melted.
Remove from the heat and add in your vanilla extract.
Pour the mixture over the chocolate and cocoa powder and let sit for 5 minutes.

Whisk until the mixture is mostly smooth then use your immersion blender to remove any remaining lumps.
Pour the mixture through a mesh strainer into a large container to remove any bubbles and remaining bits of gelatin or unmelted chocolate. Don't skip this step or you won't have a smooth shiny surface on your chocolate mirror glaze.

Let your mirror glaze cool to 90ºF. Stir it occasionally to make sure it's cooling evenly. If you don't wait until it's cool then your glaze will just run off the cake. Let it cool too much and it will be lumpy.

Using chocolate mirror glaze on cakes
Once your mirror glaze is cool you can pour it over your cake. You can use chocolate mirror glaze over buttercream as long as the buttercream has been frozen for an hour and is nice and cold. Most people use chocolate mirror glaze on mousse cakes like the Chocolate Heart Mirror Glaze Cake but for this you'll need a mirror glaze mold and for the mousse to be completely frozen.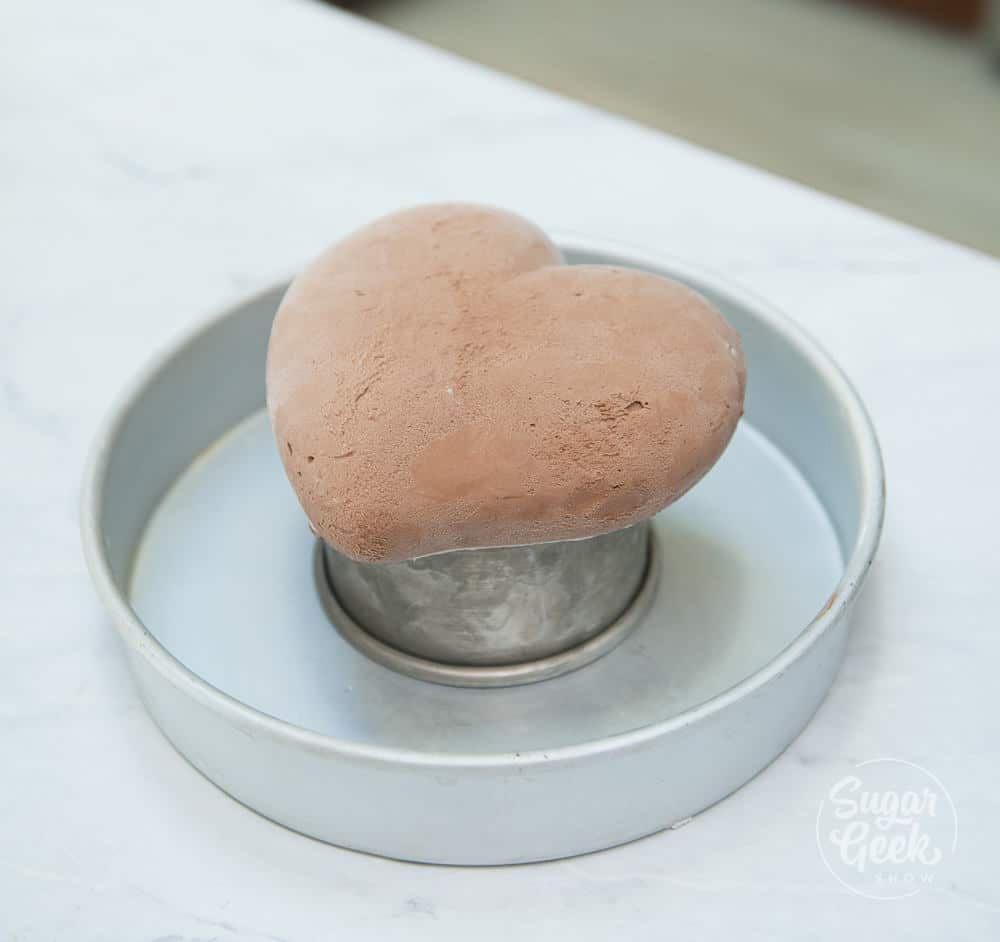 Once the glaze is poured over the cake it will set up in just a couple of minutes. Once it's set, use a hot knife to trim off the drips and carefully transfer the cake to a plate to either enjoy right away or you can refrigerate it to enjoy later. Just keep in mind that mirror glaze loses it's shine after 24 hours so if you want it to be super shiny, glaze the day of delivery.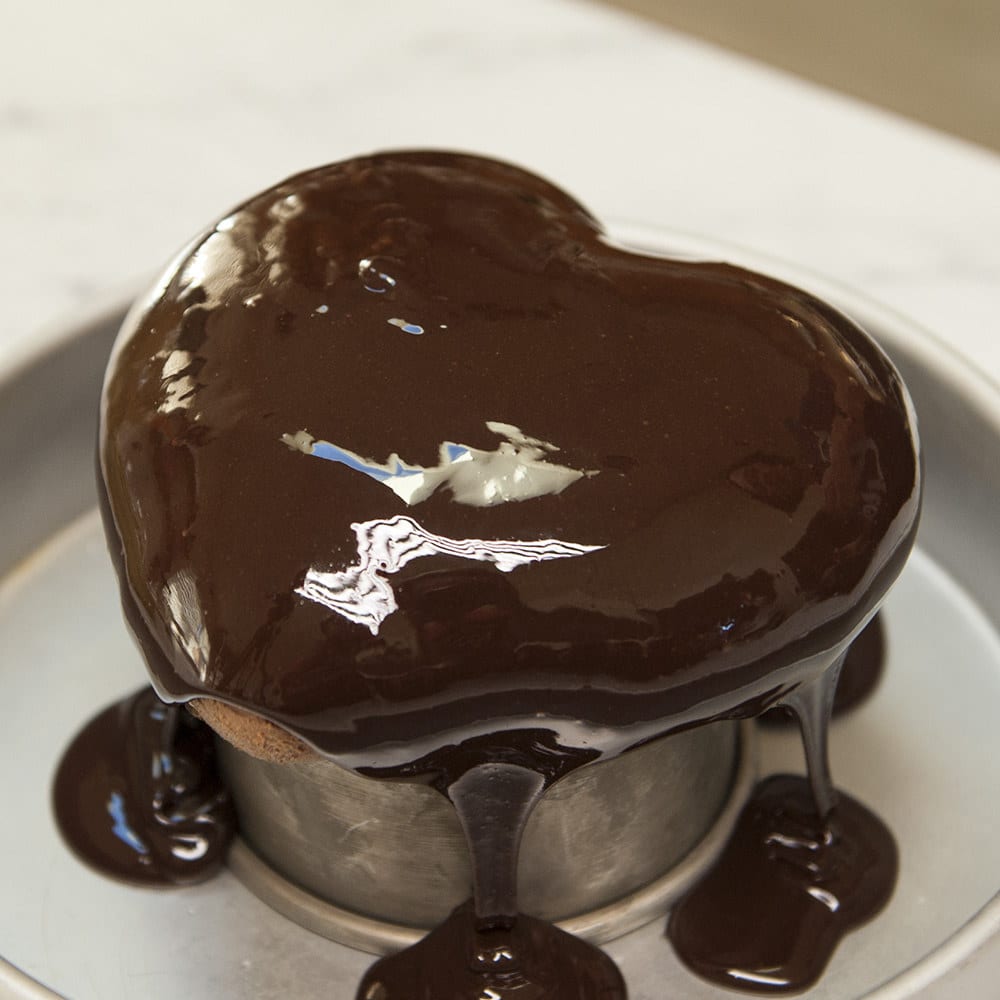 What do you do with leftover chocolate mirror glaze?
You can re-use leftover mirror glaze. Just re-heat it in the microwave and let it cool to 90ºF again before pouring. If you want to glaze multiple cakes at once that is usually best done all at the same time to reduce the amount of time it takes to glaze multiple cakes. There will always be a small amount of glaze that cannot be used at the end.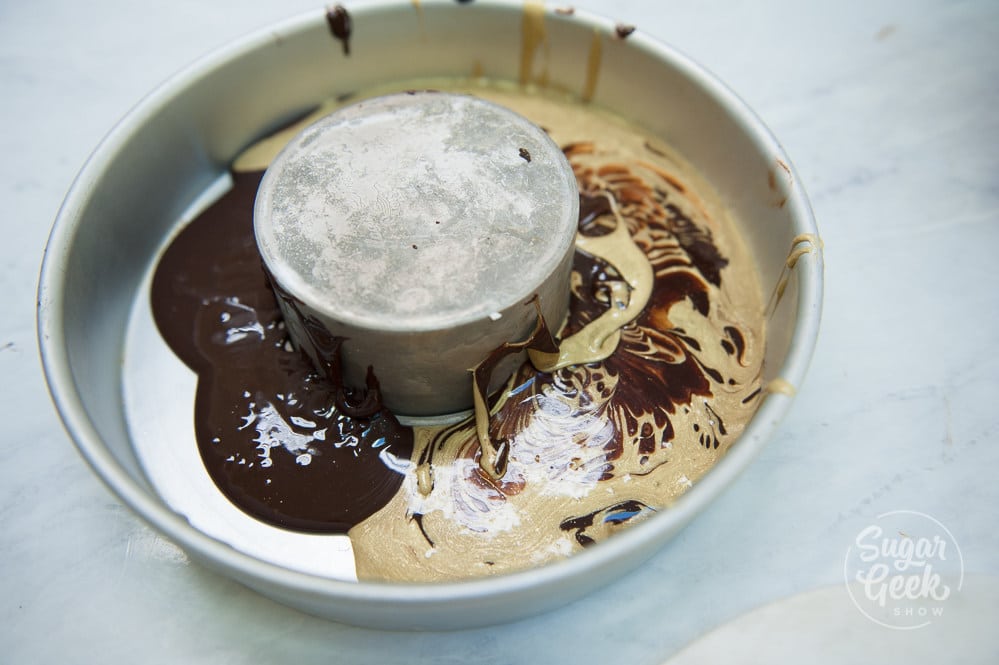 Love this recipe? Check out our other mirror glaze cake recipes and tutorials!
Be My Valentine Mirror Glaze Heart
Mirror Glaze Ocean Wave Tutorial (sugar geek show members only)
Mirror Glaze Recipe (white base)
Gold Mirror Glaze Recipe
Chocolate Mirror Glaze Heart
Did You Make This Recipe?
Leave a rating and tell me how it went!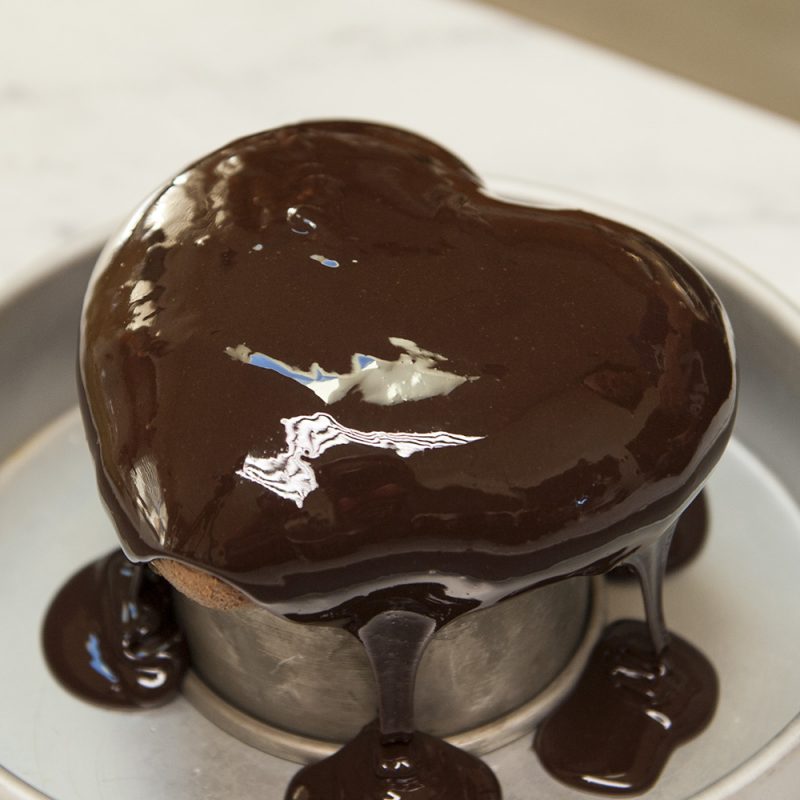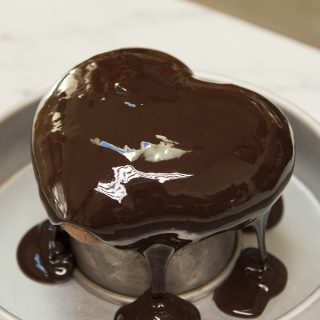 Chocolate Mirror Glaze Recipe
How to make beautiful, shiny mirror glaze for your cakes!
Print
Rate
Ingredients
Chocolate Mirror Glaze
350

grams

good quality dark chocolate

40

grams

cocoa powder

120

grams

water

300

grams

sugar

200

grams

sweetened condensed milk

1

Tbsp

vanilla extract

100

grams

cold water

15

grams

powdered gelatin
Instructions
Chocolate Mirror Glaze Instructions
Make sure you have these tools on hand: Fine mesh strainer, thermometer, immersion blender

Combine chocolate and cocoa powder in a large heat proof bowl and set aside.

Sprinkle gelatin powder over the second quantity of water and let bloom for 5 minutes.

Place first quantity of water, sugar, sweetened condensed milk in a sauce pan and bring to a simmer over medium heat.

Add in bloomed gelatin and stir until completely melted and remove from the heat. Add in your vanilla.

Pour the mixture over chocolate/cocoa and let stand for 5 minutes then whisk to combine. Use the immersion blender to remove any remaining chunks or unmelted chocolate.

Pass the mixture through the mesh strainer to remove any bits of chocolate or gelatin

Let the mixture cool to 90ºF before pouring over your frozen cake. Place frozen cake on top of a bowl or small cake pan inside a larger pan to catch the extra glaze. Trim of the drips with a hot knife and transfer to a plate. Enjoy within the hour or refrigerate. Keep in mind your glaze will lose it's shine after 24 hours so if you want it to stay shiny, I recommend glazing the day of delivery.
Nutrition
Serving:
1
g
|
Calories:
330
kcal
(17%)
|
Carbohydrates:
72
g
(24%)
|
Protein:
6
g
(12%)
|
Fat:
3
g
(5%)
|
Saturated Fat:
2
g
(10%)
|
Cholesterol:
11
mg
(4%)
|
Sodium:
51
mg
(2%)
|
Potassium:
225
mg
(6%)
|
Fiber:
2
g
(8%)
|
Sugar:
68
g
(76%)
|
Vitamin A:
90
IU
(2%)
|
Vitamin C:
0.9
mg
(1%)
|
Calcium:
103
mg
(10%)
|
Iron:
1
mg
(6%)