Berry Chantilly cake is made with tender vanilla cake layered fresh mixed berries and frosted with a luscious mascarpone whipped topping.
The first time I tasted a berry Chantilly cake, it was from Whole Foods. I was hooked. I needed to know more about this delicious vanilla cake layered with fresh berry cake filling and a light and creamy mascarpone cream cheese frosting!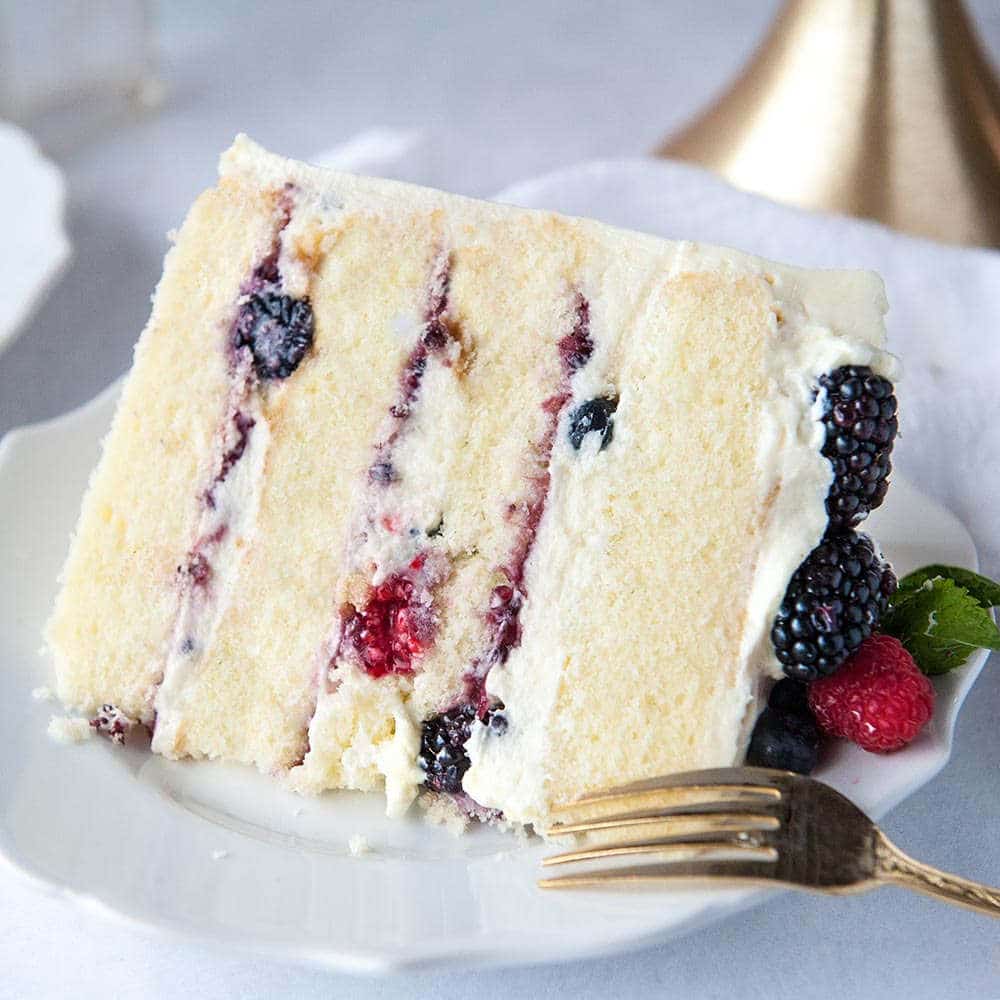 Apparently, I'm not the only one. The people who love Whole Foods Berry Chantilly cake are practically zealots, and I don't really blame them.
What is a Chantilly cake?
So to me, a Chantilly cake is a vanilla cake decorated with fresh berries and a sweetened whipped cream (Chantilly cream).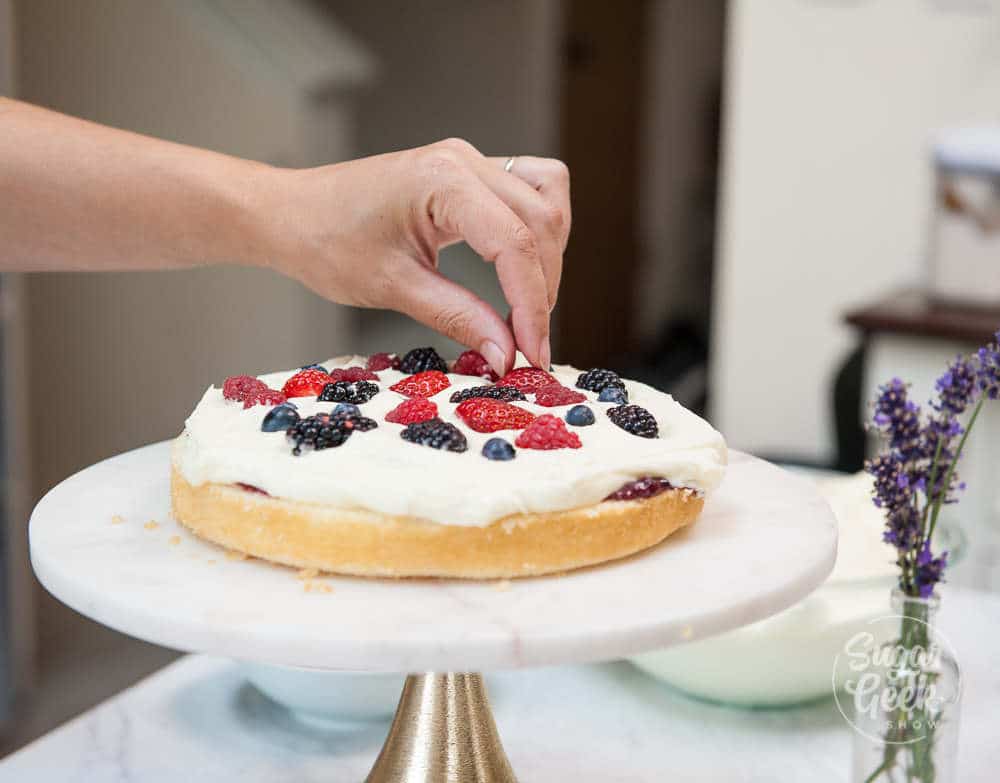 But on our last trip to Hawaii, we made a stop at the famous Ted's Bakery and had a slice of their famous Chantilly cake. Guess what the flavor was? Chocolate cake frosted with a rich kind of frosting that was similar to coconut pecan frosting but without the coconuts and pecans. So Chantilly cake can also be Chocolate cake depending on who you ask.
What's the difference between a Chantilly Cake and a Gentilly Cake?
Sometimes a Chantilly cake is referred to as a Gentilly cake.
The main difference between a Gentilly cake and a Chantilly is the Gentilly cake typically has buttermilk rather than regular milk in the cake recipe. The frosting usually contains cream cheese and mascarpone frosting.
If you would like to use a buttermilk based cake rather than my vanilla cake, check out my white velvet buttermilk cake recipe.
What is Chantilly cream?
So here's where it gets even more confusing. Chantilly cream is literally just whipped cream that has been sweetened and vanilla extract added. The name Chantilly actually comes from the place it was supposedly invented, Château de Chantilly in France.
I prefer the taste of the Chantilly cream made with mascarpone cheese and cream cheese. I use stabilized whipped cream in the recipe as well.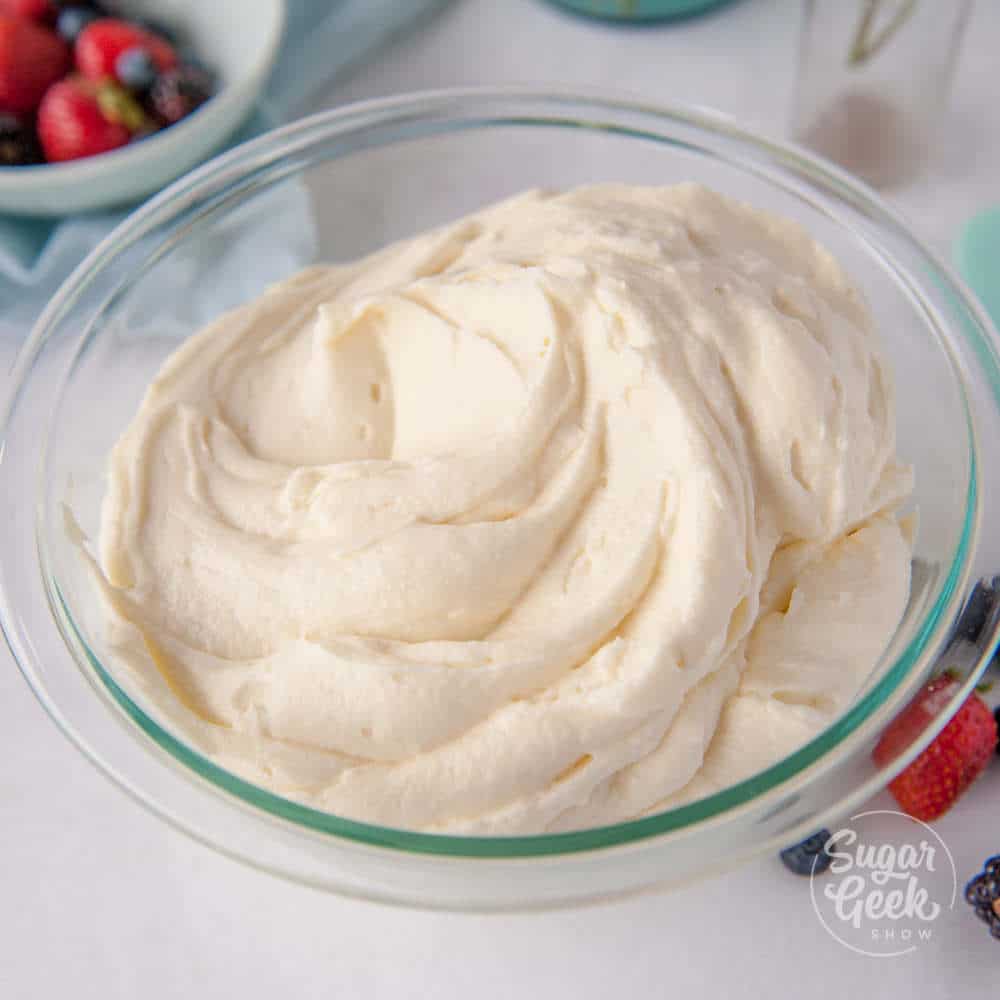 The history of Chantilly cream is actually pretty interesting if you want to read more about the inventor but I won't bore you with all that here. I fully understand not everyone is a freakish food nerd like I am.
How do you make a Berry Chantilly Cake?
So I guess my Berry Chantilly Cake version is a cross between a classic Chantilly cake and a Gentilly cake because I like the fluffy vanilla cake with berries but prefer the cream cheese/mascarpone frosting over basic whipped cream.
Are you drooling yet?
Start by making the vanilla cake sponge. Make sure you use all the ingredients listed and they are warm, otherwise your cake could get gummy. If you can't get cake flour in your region, try my white cake recipe. Do not do that cornstarch substitution for a reverse creaming method, you'll get a cornbread texture.
Next, make the mascarpone frosting. Cream together the softened butter and cream cheese until smooth. Then add in the Mascarpone cheese and cream until smooth. Add in the powdered sugar until just combined and smooth.
Whip the heavy cream to soft peaks and add in the vanilla extract and instant pudding mix. Mix until just combined. Fold the whipped cream carefully into the mascarpone frosting.
Split your cake layers in half length-wise.
Place your first cake layer down and spread a thin layer of raspberry or berry jam. I used berry cake filling since I had some on hand.
Now spread a nice thick layer of your mascarpone frosting and layer in some berries. I don't slice them so that they don't drip into my frosting unless the strawberries are really big then I slice them in half.
Repeat process with the other layers of cake, frosting and berries.
Finish frosting the cake with the rest of the mascarpone frosting and top with more fresh berries.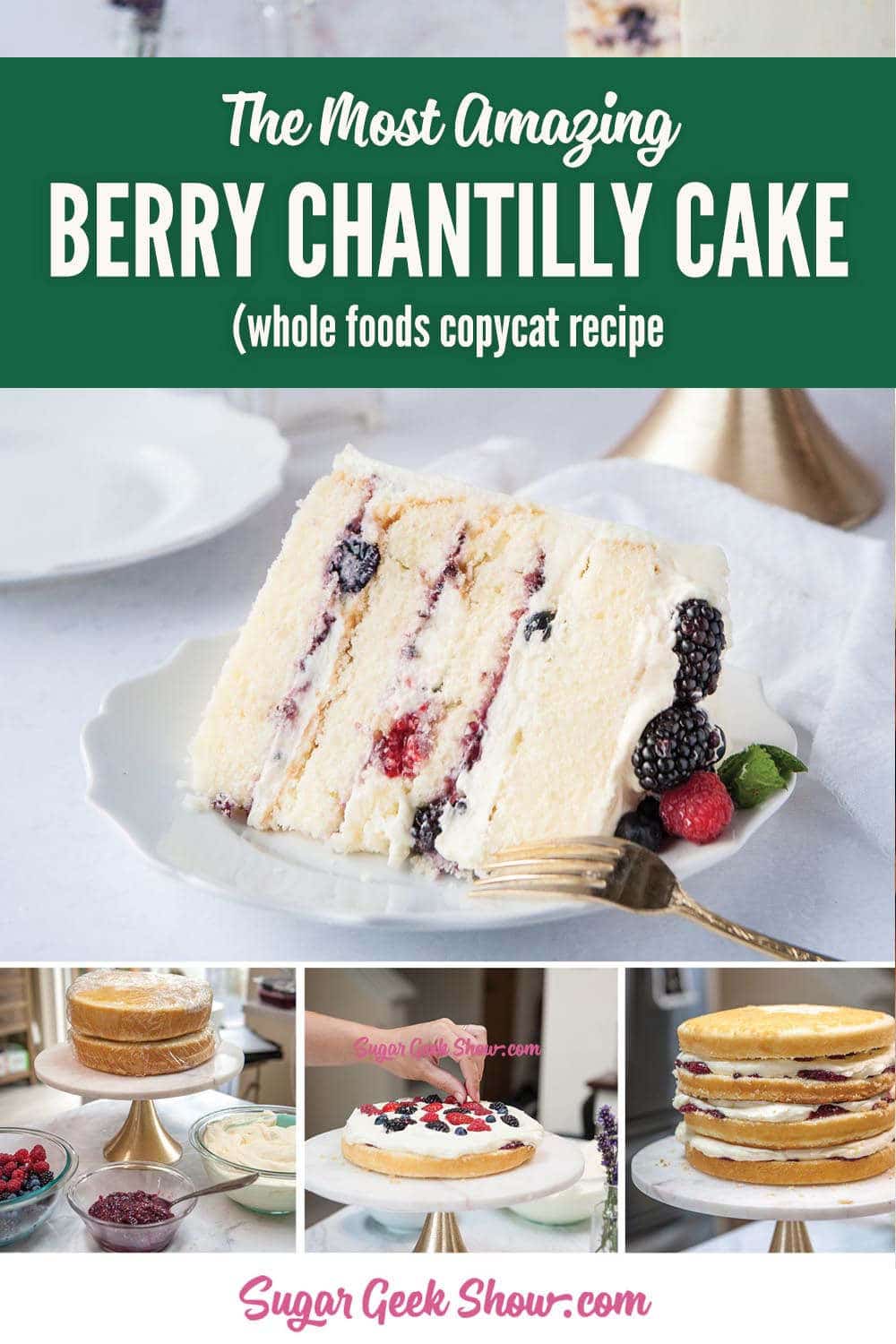 Does Chantilly cake need to be refrigerated
Because this berry Chantilly cake contains fresh fruits and whipped cream, it must be kept refrigerated. The whipped cream is stabilized by the vanilla pudding mix though so it the frosting is stable for 1-2 days with no problems.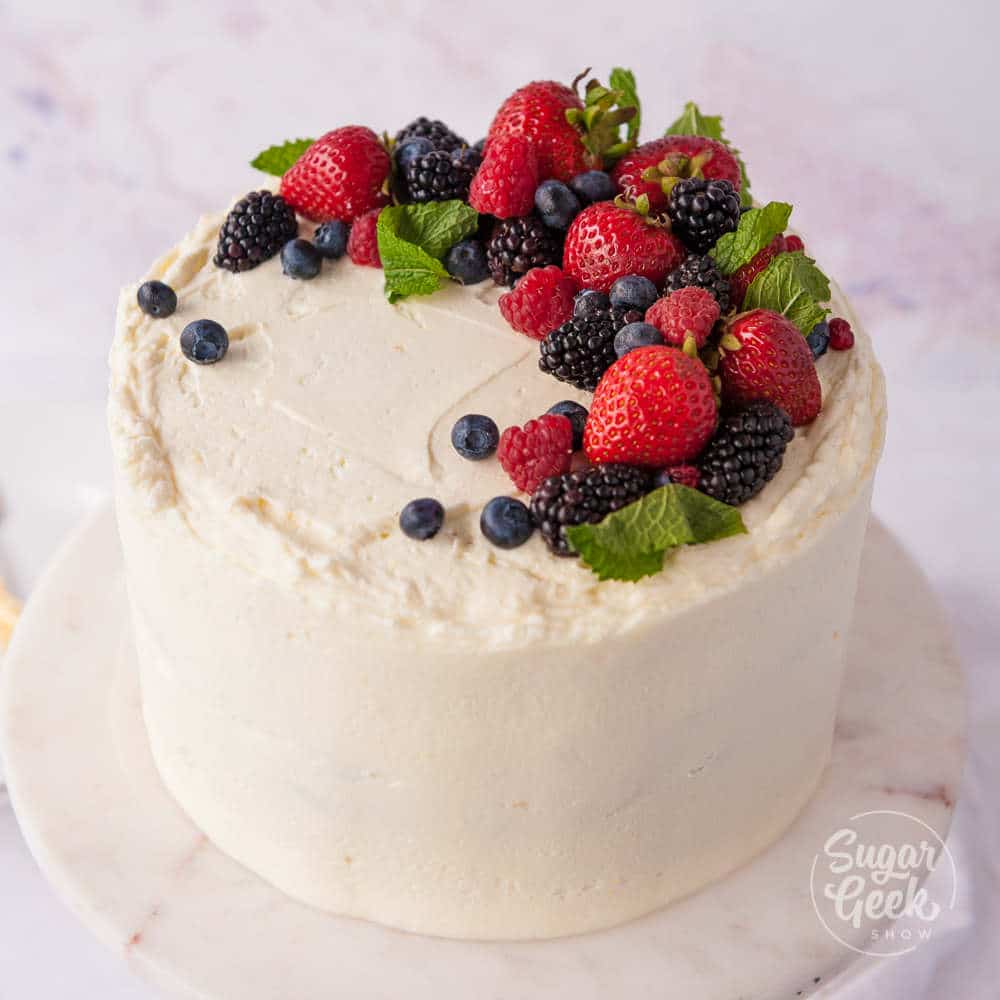 Berry Chantilly cake can be brought to room temperature before eating (1-2 hours) with no problems and actually tastes better when a little warm.
I know this might sound crazy but don't keep this cake in the sun. It will melt.
Watch my berry chantilly cake video below if you're a visual learner like me and need to see how it all comes together!
Cake Batter and Frosting Calculator
Select an option below to calculate how much batter or frosting you need. Adjust the servings slider on the recipe card to change the amounts the recipe makes.
Choose a pan type
Choose a cake pan size
(based on 2" tall cake pan)
Choose a cake pan size
(based on 2" tall cake pan)
Choose a cake pan size
(based on 2" tall cake pan)
Cups of Batter Needed
8 cups
Cups of Frosting Needed
5 cups
Recipe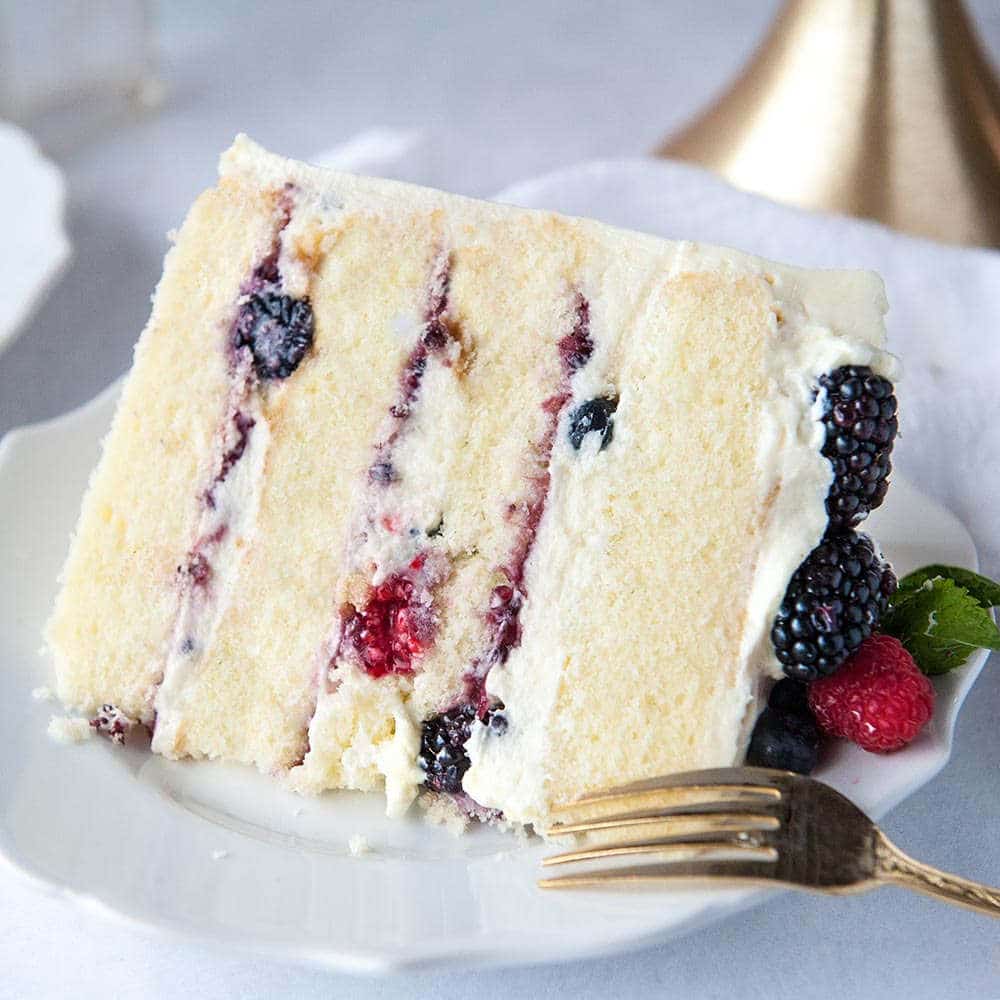 Servings: 8 cups
Calories: 544kcal
Equipment
Stand Mixer

Round Piping Tip and Piping Bag
Ingredients
Vanilla Cake Recipe
13 oz bleached cake flour
13 oz granulated sugar
3 teaspoon baking powder
¼ teaspoon baking soda
½ teaspoon salt
8 oz butter unsalted
2 teaspoon vanilla extract
1 teaspoon almond extract
10 oz whole milk room temperature
3 oz vegetable oil
3 large eggs room temperature
Chantilly Cream Ingredients
16 oz cream cheese softened
8 oz unsalted butter softened
16 oz mascarpone cheese softened
22 oz powdered sugar sifted
1 teaspoon almond extract
1 teaspoon vanilla extract
8 oz heavy whipping cream
2 teaspoon instant pudding mix Or any other whipped cream stabilizer. See my post: https://sugargeekshow.com/recipe/stabilized-whipped-cream/
Berry Cake Filling
2 cups fresh or frozen berries
2.5 oz sugar
1 oz water
1 oz cornstarch
1 teaspoon lemon zest
2 teaspoon lemon juice
Instructions
Vanilla Cake Instructions
Note: It's VERY important that your cold ingredients are at room temperature or slightly warmed. See video for tips. Heat oven to 335º F/168º C — 350º F/177º C. I tend to use lower setting to prevent my cakes from getting too dark on the outside before the inside is done baking.

Place 4oz of the milk and oil in a separate bowl or cup and set aside

Combine remaining milk, vanilla extract, almond extract and room temp eggs in a separate measuring cup and set aside

Measure out dry ingredients (flour, sugar, baking powder, baking soda, and salt) and place them into the stand mixer bowl.

Attach the paddle to the mixer, and turn on the slowest speed (setting 1 on Kitchen Aid mixers). Slowly add chunks of your softened butter until it is all added. Let mix until batter resembles coarse sand.

Add milk/oil mixture into the dry ingredients and mix on medium speed (speed 4 on my KitchenAid) and mix for 2 full minutes. Do not skip this step or your cake will not rise.

Add in ⅓ of your milk/egg mixture. Repeat 2 more times until batter is just combined. Don't forget to scrape your bowl.

I always start by baking for 25 minutes for 8" and smaller cakes and 30 minutes for 9" and larger cakes and then checking for doneness. If the cakes are still really jiggly, I add another 5 minutes. I check every 5 minutes after that until I'm close and then it's every 2 minutes. Cakes are done when a toothpick inserted in the center comes out with a few crumbs.

Remove the cake pan from the oven and "tap" it lightly on the counter once to remove air from the cake and keep it from shrinking un-evenly.

Place cakes on a cooling rack and press down the dome immediately with an oven mitt covered hand. After cakes have cooled for 10 minutes or the pans are cool enough to touch, flip the cakes over and remove from the pans onto the cooling racks to cool completely. Wrap in plastic wrap and chill in the refrigerator.

Once the cakes are chilled in the refrigerator (about an hour for this size, longer for larger cakes), tort, fill and crumb coat all at once. If you do not plan on crumb coating the same day, you can leave the wrapped cakes on the countertop. Chilling can dry out your cakes before they are iced, so avoid keeping them in the refrigerator longer than necessary. Cakes can be frozen in freezer bags for later use as well.
Chantilly Cream Instructions
Cream together the softened butter, cream cheese and mascarpone cheese together until smooth.

Add in the powdered sugar and continue creaming until combined

Whip the whipped cream to soft peaks. Add in the pudding mix to stabilize the whipped cream and whip until just combined. Add in the vanilla and almond extract. Peaks should be firm but not curdled. This happens quickly so watch your cream closely! Check out the stabilized whipped cream recipe to see other options to use besides instant pudding mix.

Fold your cream cheese mixture and whipped cream together to make your frosting.
Berry Cake Filling
Place the berries in a medium saucepan with 2.5 oz of sugar and bring to a simmer. 

Combine the cornstarch with the cold water to make a slurry. Pour the slurry into the bubbling berries. 

Cook a few minutes until the mixture is thick (1-2 minutes). Remove the berries from the heat and stir in the zest of one lemon and your lemon juice. 

Cool berry filling before using.
Notes
I used two 8"x2" round cake pans for this recipe but you can use the cake batter calculator to adjust the recipe for whatever cake pan you want. 
1. Make sure all your ingredients  (eggs, cream cheese, milk, butter etc) are room temperature.  Check  out my blog post on room temperature ingredients hacks 
2. Use a scale to weigh your ingredients (including liquids) unless otherwise instructed (Tablespoons, teaspoons, pinch etc). Metric measurements are available in the recipe card. Scaled ingredients are much more accurate than using cups and help ensure the success of your recipe. 
3. Practice Mise en Place (everything in it's place). Measure out your ingredients ahead of time and have them ready before you start mixing to reduce the chances of accidentally leaving something out.
4. Chill your cakes before frosting and filling. You can cover a frosted and chilled cake in fondant if you wish. This cake is also great for stacking. I always keep my cakes chilled in the refrigerator before delivery for easy transporting. Learn more about decorating your first cake. 
5. If the recipe calls for specific ingredients like cake flour, replacing it with all purpose flour and cornstarch is not recommended unless specified in the recipe that it's ok. Substituting ingredients may cause this recipe to fail. 
All purpose flour is a plain flour with no rising agents. It has a protein level of 10%-12%
Cake flour is a soft, low protein flour of 9% or less. 
Cake flour sources: UK - Shipton Mills Cake & Pastry Flour
Nutrition
Calories: 544kcal | Carbohydrates: 60g | Protein: 3g | Fat: 33g | Saturated Fat: 20g | Cholesterol: 94mg | Sodium: 197mg | Potassium: 103mg | Fiber: 1g | Sugar: 56g | Vitamin A: 865IU | Vitamin C: 0.2mg | Calcium: 79mg | Iron: 0.2mg