How to make 6 fun and easy chocolate decorations for your cakes or desserts
I love making chocolate decorations! Not only are they fun to make but they are so tasty! Chocolate decorations work best if you use tempered chocolate but if you don't want to temper chocolate you can use chocolate wafers for most projects. If you've been wanting to try your hand at some fun chocolate decorations for your cakes or desserts, you'll want to check these out!
*the post contains affiliate links which means I get paid a few pennies if you buy from my link but it doesn't cost you anything*
The best chocolate for chocolate decorations
For these chocolate decorations, we will be using tempered chocolate at 86ºF which is the optimal working temperature. I use a chocolate thermometer and a silicone mixing bowl to temper my chocolate in the microwave. Quick and easy for these small projects!
If you don't want to temper chocolate, you can use compound chocolate. I like Guittard brand. If you want to color your candy melts, you will have to use chocolate food coloring or you can use pre-colored candy melts like the Wilton brand. You can't use regular food coloring to color chocolate.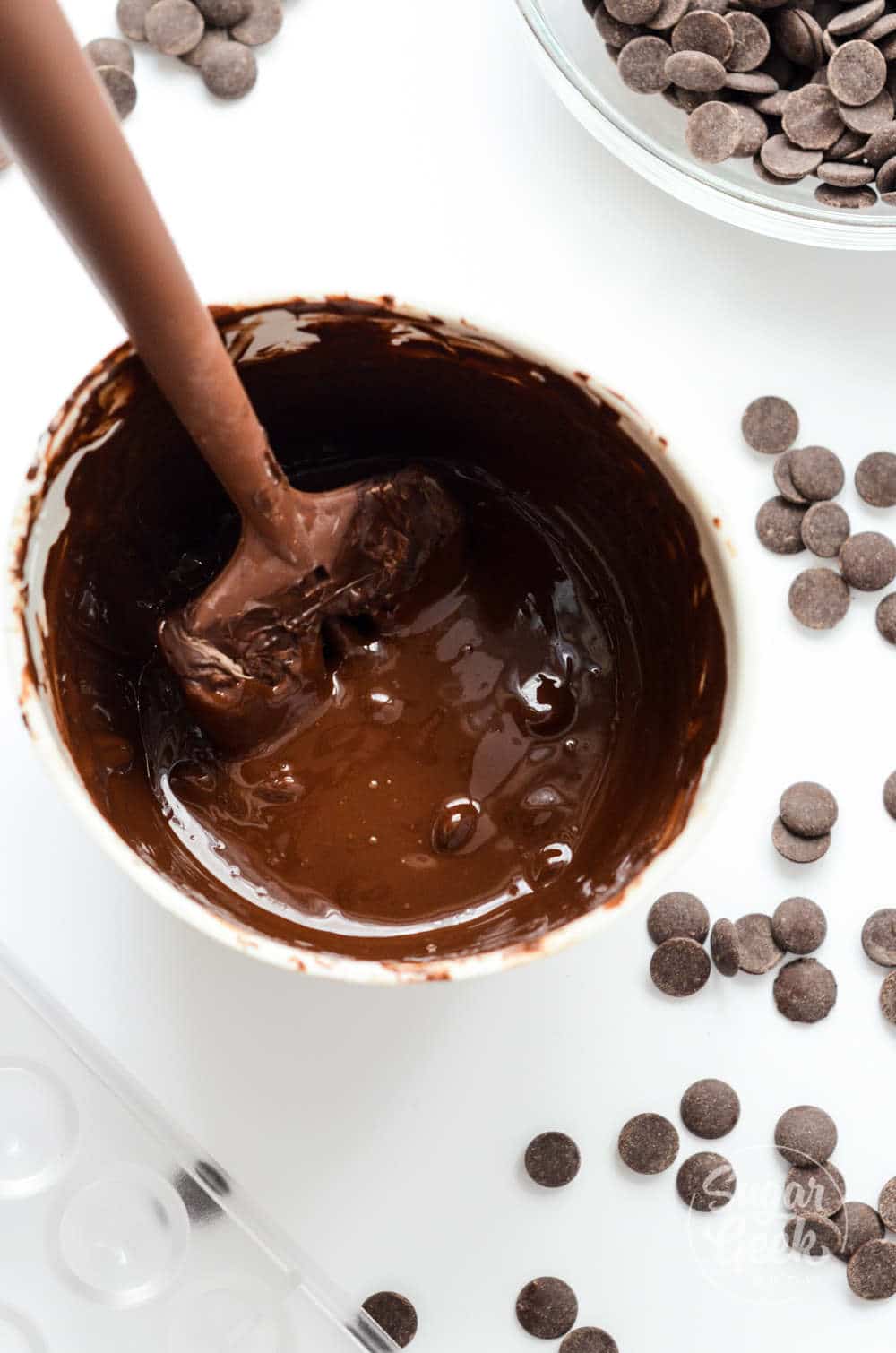 What's the difference between real chocolate and compound chocolate?
Real chocolate has cocoa butter in it and needs to be tempered before you can use it in molds or for decorations. If you don't temper the chocolate, it will be soft, dull and lose it's shape easily. Real chocolate melts at about body temperature and has a really great flavor and snap when you bite into it.
Compound chocolate (like Wilton candy melts) sometimes referred to as coating chocolate, does not have cocoa butter in it. It might have some other fat substitute that doesn't require tempering. It has a much higher melting point, less expensive and is more stable in warm environments. The downside is that it doesn't taste as good as real chocolate.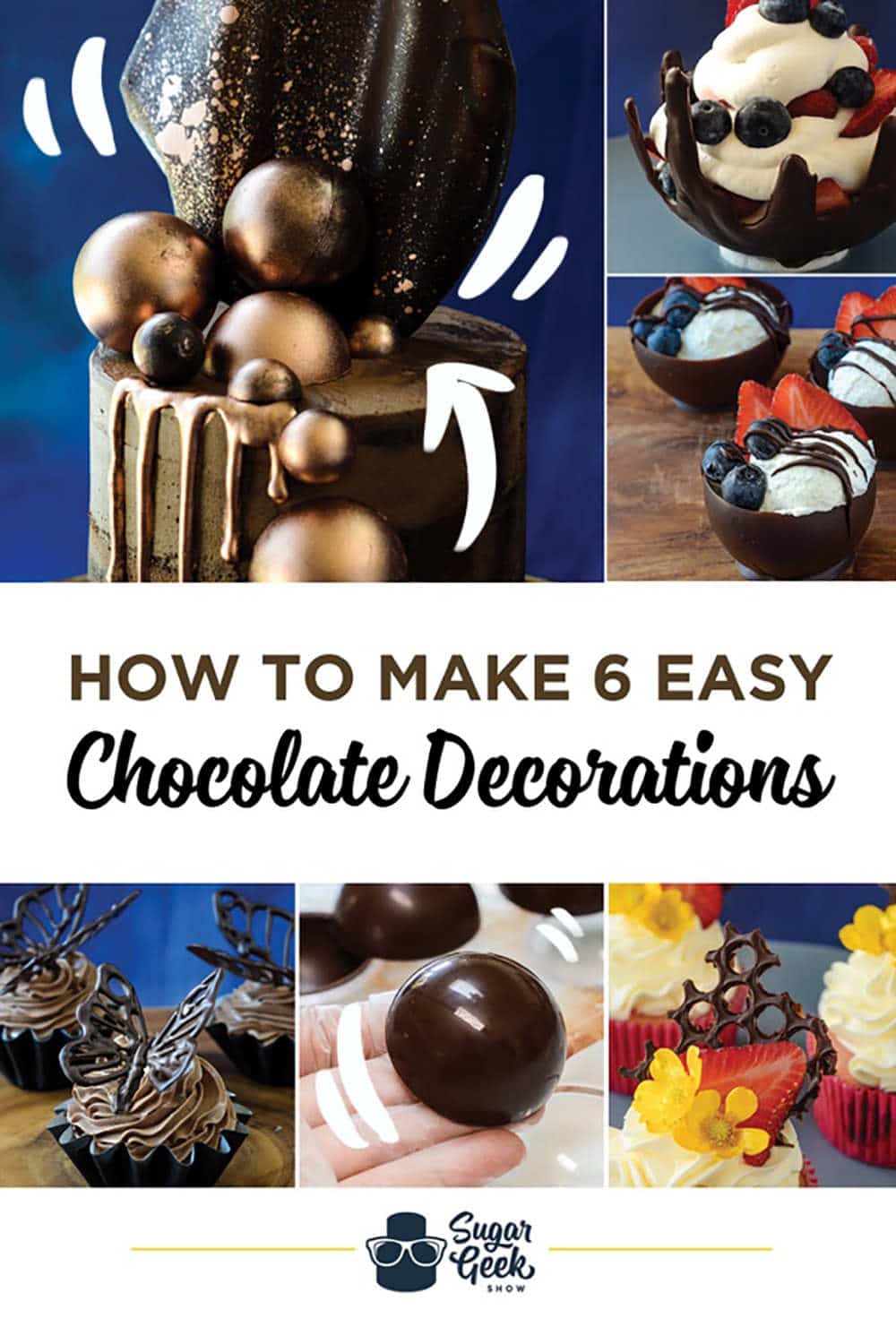 1. How To Make Chocolate Sphere Decorations
Cakes with chocolate spheres are everywhere right now. From colored swirls resembling planets to shiny metallics atop modern designs. Making a chocolate sphere can be a super impressive topper.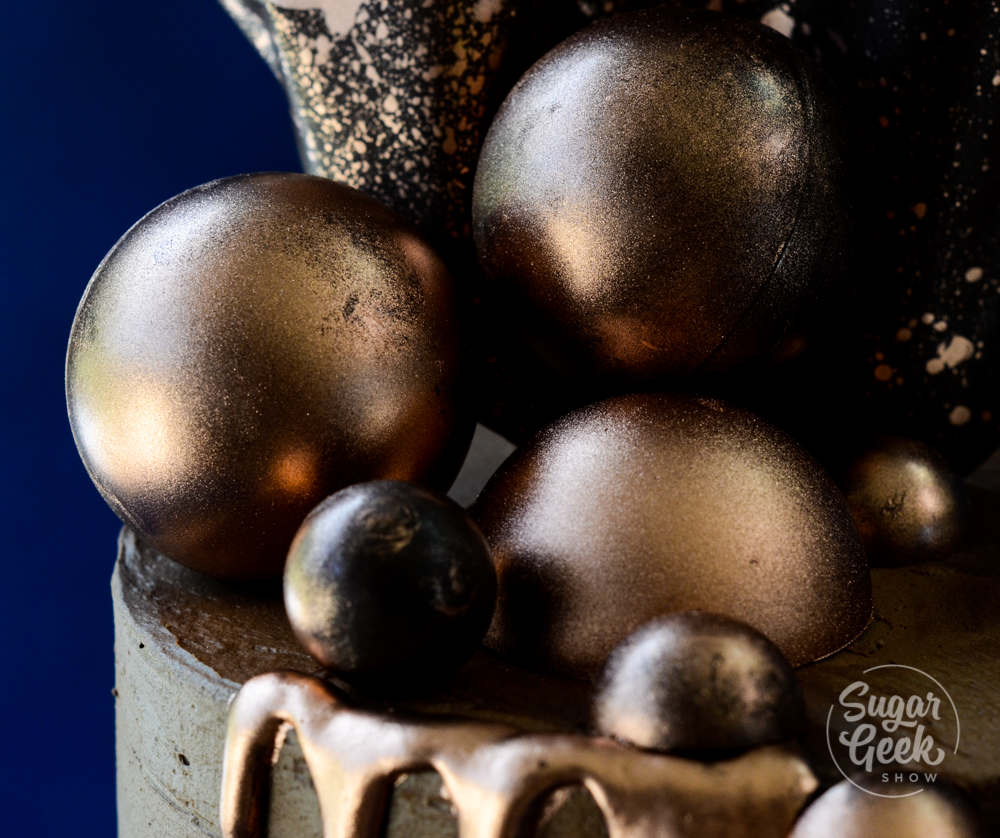 To make chocolate spheres you are going to need some tempered chocolate and a polycarbonate sphere mold. If you don't want to bother with tempering chocolate you can use melting wafers and a silicone sphere mold. The melting wafers wont release from the polycarbonate mold. The reason I like using the polycarbonate mold is because the spheres are very shiny.
Pour your tempered chocolate into your acrylic mold at 86ºF and scrape off the excess chocolate with a bench scraper
Tap the side of the mold to remove any air bubbles.
After 30 seconds pour the chocolate out of the molds, tapping with your bench scraper to make the shells thin.
Place the mold upside down on a piece of parchment paper for 10-15 minutes until the chocolate is not liquid but not fully set.
Scrape off the excess chocolate to make a clean edge on the spheres.
Place the chocolates into the fridge for 10 minutes or until the chocolate release from the mold easily. Do not freeze or you can cause condensation stains to appear on the chocolate.
Place a cake pan on top of a bowl of hot water
Melt the edges of each sphere slightly and then press together with gloved hands.
Wipe away any excess chocolate and allow to fully set.
You can now paint your spheres or use them as is.
2. Chocolate Sail
Chocolate sails make a really stunning showpiece at the top of your cakes! All you need is a piece of parchment paper and some clothespins or clips of some sort.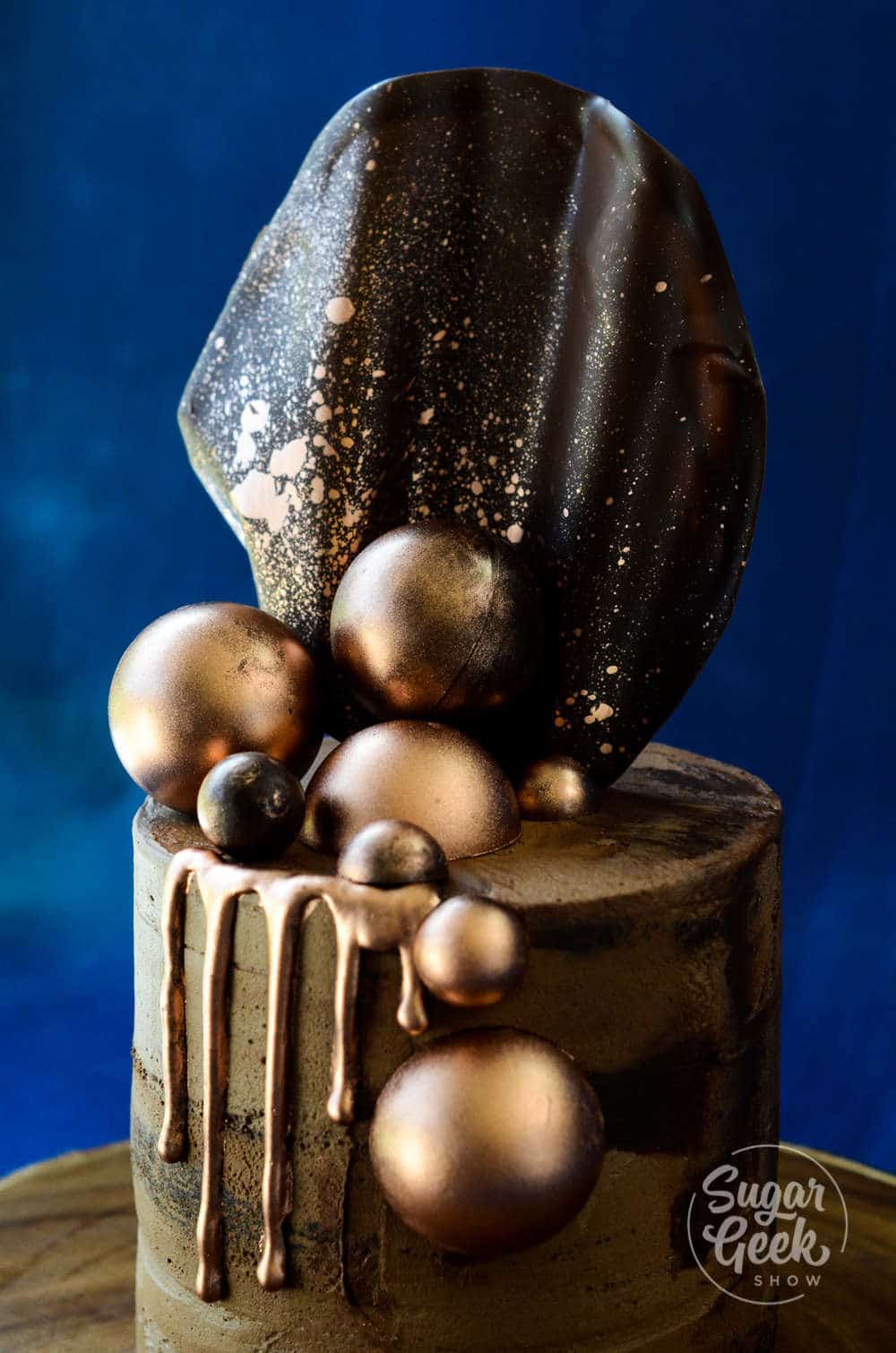 Spread a thin layer of tempered chocolate (86ºF) or candy melts onto a piece of parchment paper.
Gather the edges at one side of the parchment paper and clip to secure
Place parchment in the fridge for 10 minutes until set
Remove the parchment from the back of the chocolate carefully
Clean up the edges of the chocolate if they are rough with a knife
Now your sail is ready to place on top of your cake!
I added some simple metallic splatters to my sail using TMP copper and a bit of Everclear.
3. Chocolate Cups
I first learned to make these chocolate cups in pastry school and loved how they turned out! They are a fun way to serve up some chocolate mousse, ice cream or other mini desserts. All you need are some water balloons, parchment paper and tempered chocolate or candy melts. You don't want to use regular balloons, they are too big and the chocolate does not release well from the chocolate.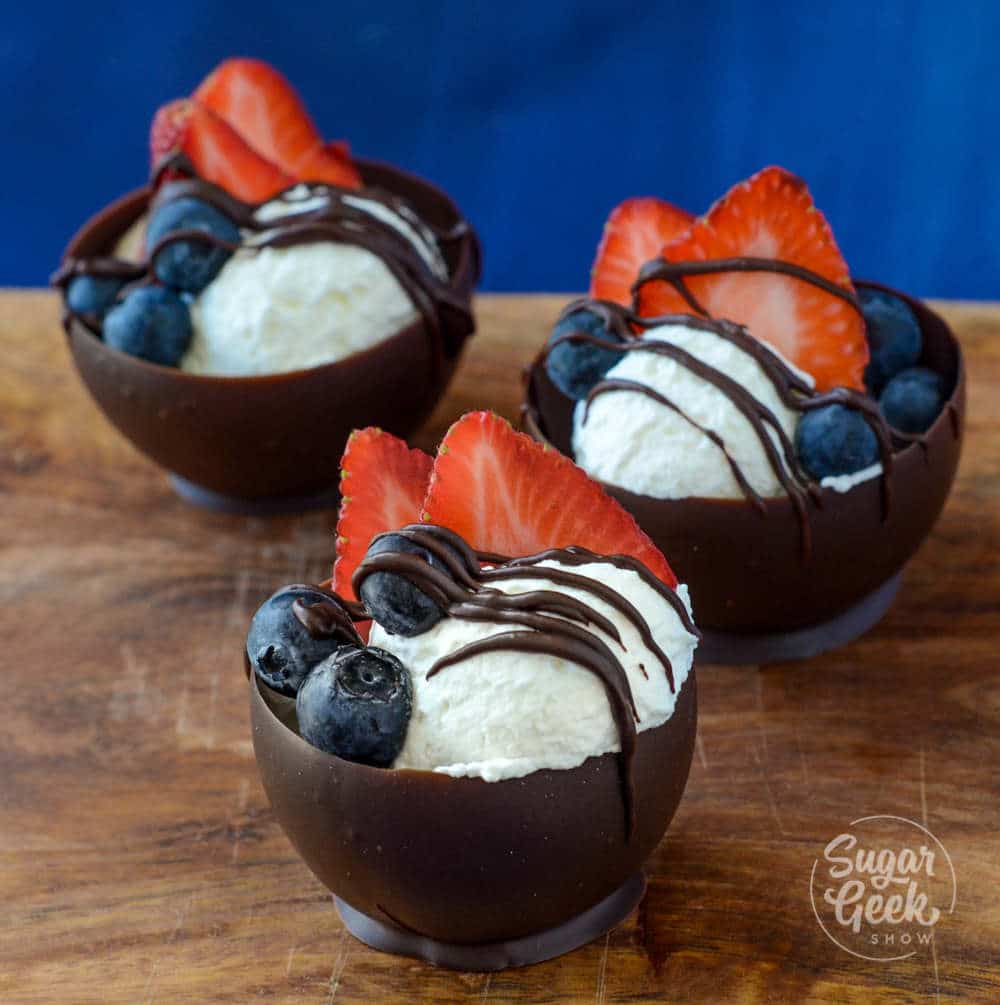 Blow up your water balloons and tie the end to secure them.
Place a piece of parchment paper on a cookie sheet to place your cups onto.
Pour your tempered chocolate into a large bowl. The temperature should be 86ºF
Dip your balloon into the chocolate and then onto the parchment paper.
Once you have all your balloons dipped, place the pan into the fridge for 10 minutes or until the chocolate has set.
Pop the balloons with a pin and let the balloon pull away from the chocolate naturally.
Peel off the balloon and now your cups are ready to fill with delicious treats!
4. Chocolate Honeycomb decoration
I love how these honeycomb chocolate decorations look on top of cupcakes! All you need is some bubble wrap (washed) and some tempered chocolate or melted candy melts.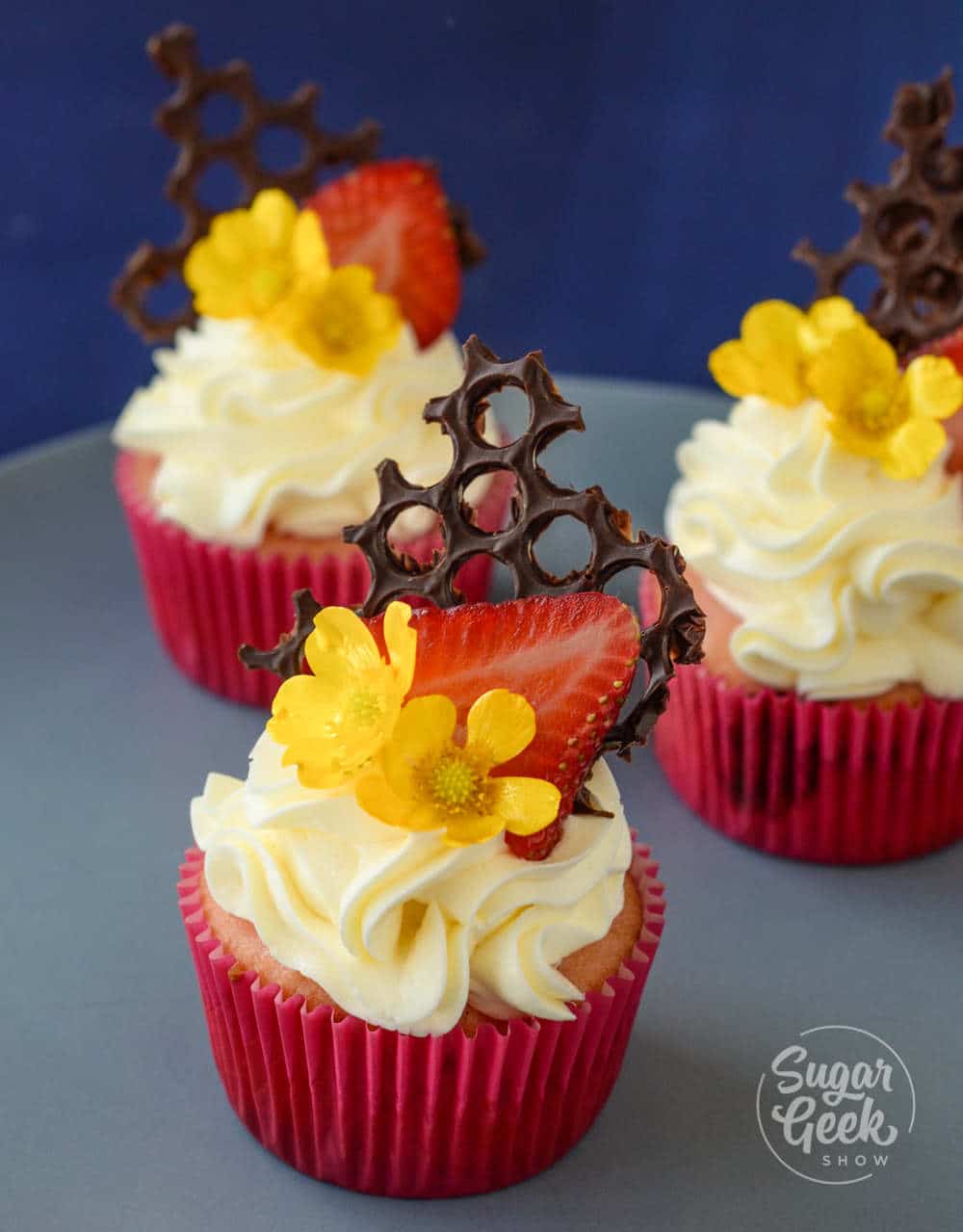 Spread some tempered chocolate (86ºF) or melted candy melts onto your bubble wrap.
Smooth the chocolate out. The thinner you spread it, the more holes that will be visible.
Shake the bubble wrap to make the chocolate settle and smooth out.
Place the bubble wrap into the fridge for 10 minutes until set.
Turn your chocolate upside down and gently pull off the bubble wrap.
Now you can break up your honeycomb into pieces and decorate your desserts!
5. Chocolate Butterfly decorations
Chocolate butterfly decorations are SO impressive looking on top of your desserts! You can even color the insides with more colored melted chocolate after the outline has set. All you need is my free chocolate butterfly template, some acetate or parchment paper, piping bag, and a thick book.
[optin-monster slug="kggswsvzqcbqjcqfyoir"]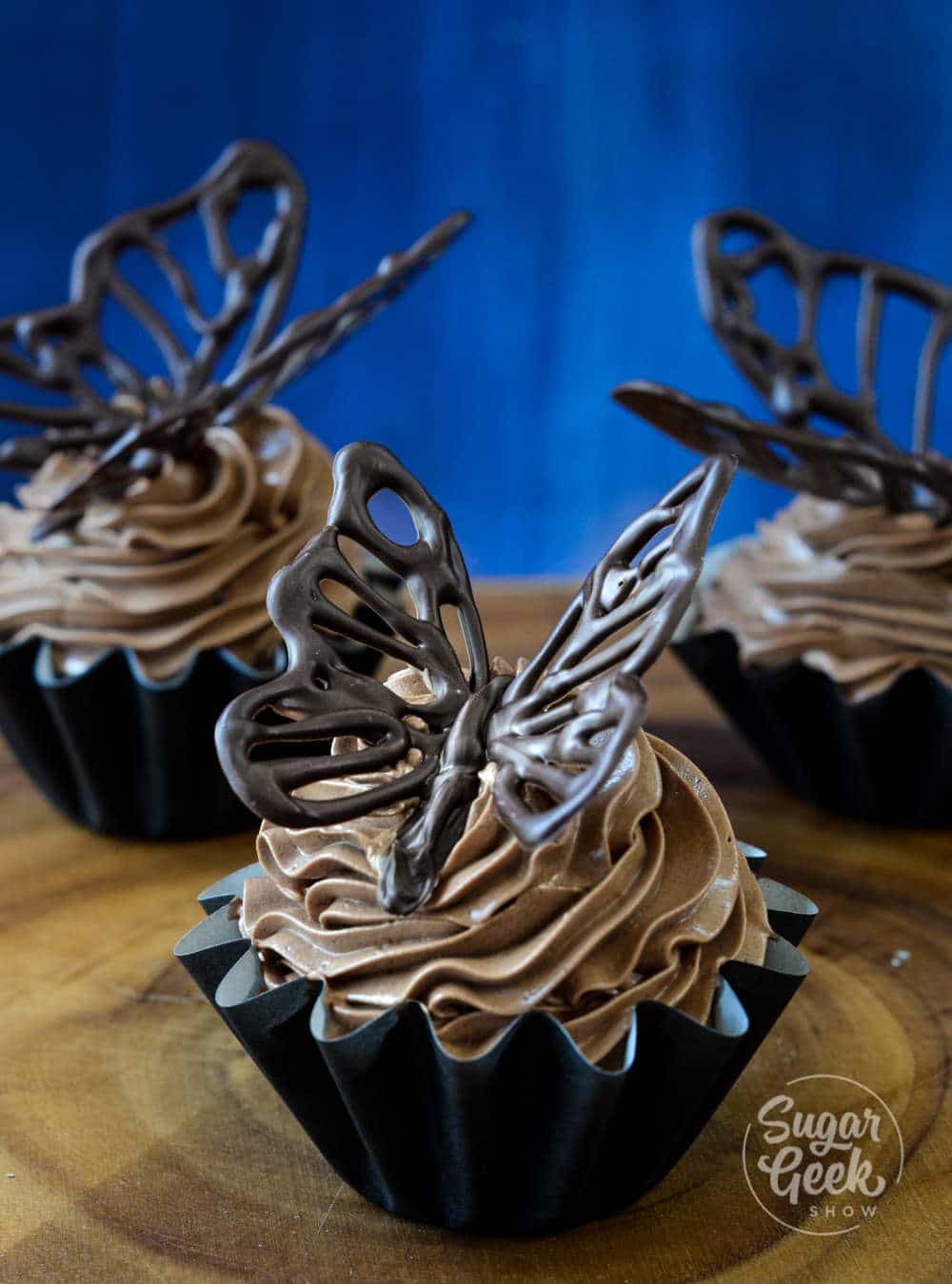 Place some of your tempered chocolate (86ºF) into a piping bag. Cut the tip of the bag off. Not too big, about the width of a toothpick.
Print out your butterfly template and place your parchment paper or your acetate over the top. I taped mine down onto a cookie sheet keep it from wiggling around and to make it easy to pick up.
Trace the outline of the wings (not the body) with your chocolate.
Place the chocolate in the fridge for 10 minutes to let it set up.
Once your wings are set, carefully remove the wings from the acetate. Fold the acetate in half and place in the middle of a thick book (see video for demo).
Place the wings on either side of the crease and pipe some more chocolate in between the wings to be the body.
Chill once again until the chocolate is set.
Your butterflies are now ready to be placed on cupcakes or a cake!
6. Chocolate Dessert Bowl
This drippy chocolate bowl decoration is a great centerpiece for a dessert table. Fill the inside with heaps of whipped cream and fruit or ice cream and cake! Share the dessert and in the end, you can eat the bowl too!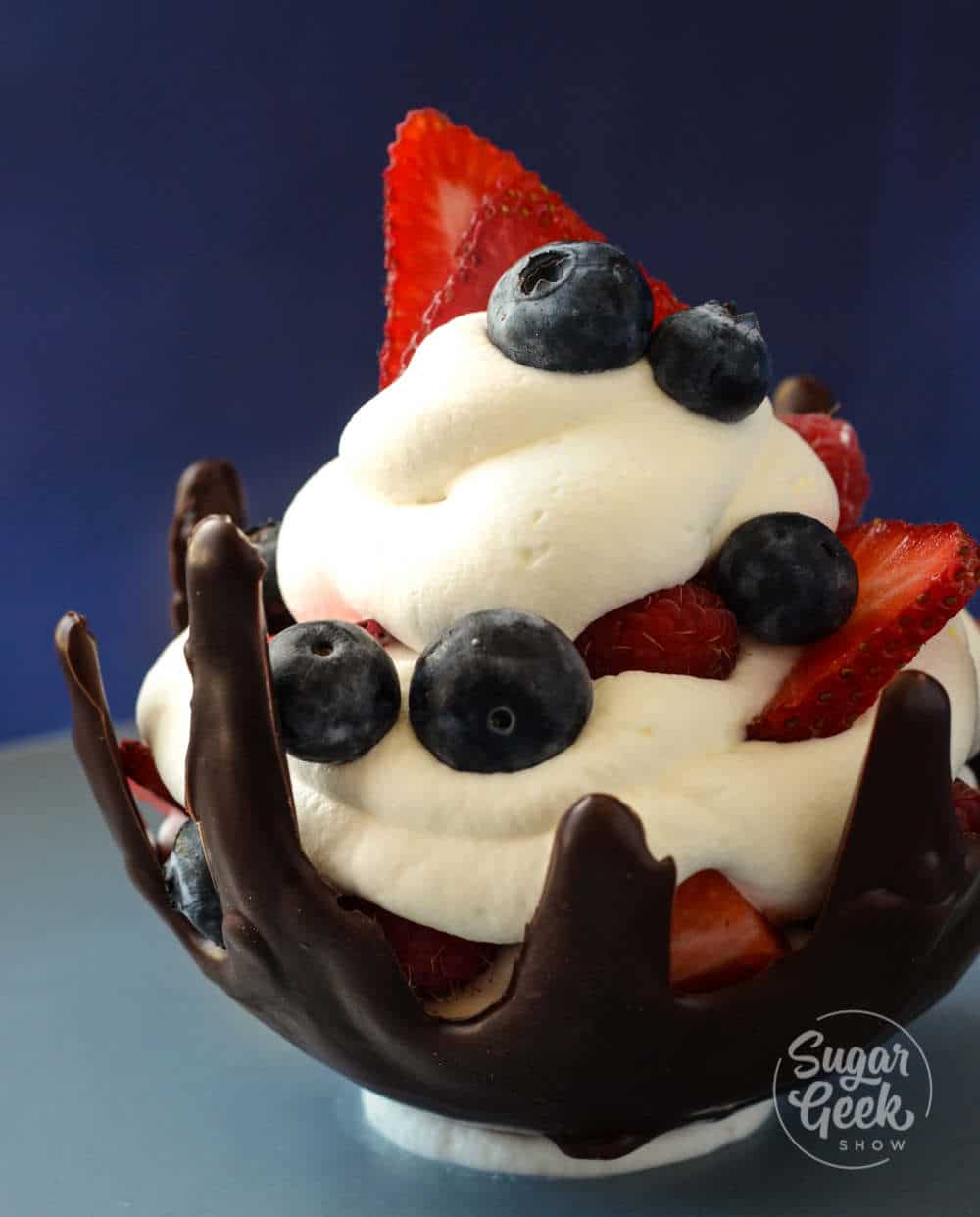 Inflate a regular sized balloon and place it in a bowl or cup upside down to keep it steady.
Place some plastic wrap over the top of the balloon.
Place your tempered chocolate (86ºF) or candy melts into a piping bag and pipe over the top of the plastic wrap.
It's ok to let some of the chocolate drip down the sides.
Place the balloon into the fridge to set for 10 minutes.
Carefully remove the balloon and plastic wrap from the chocolate.
Your chocolate decoration is now ready to to be filled with sweet treats!
I hope you enjoyed learning how to make these chocolate decorations! As always you can ask me questions in the comments if something isn't clear. If you tried this tutorial, let me know!
Recipe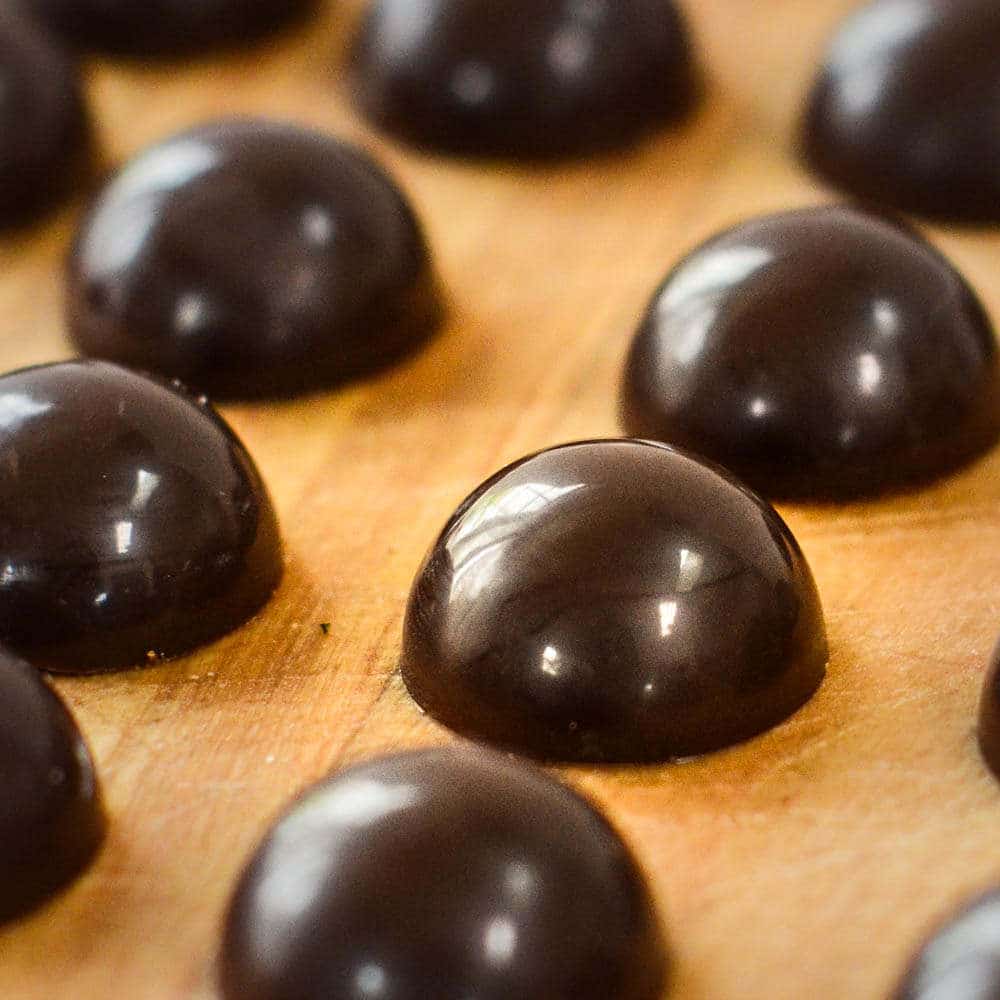 Ingredients
12

oz

chocolate

must contain cocoa butter
Instructions
Tempering Chocolate Instructions
Place your chocolate in a plastic or silicone bowl in the microwave and heat on high for 30 seconds. Then stir

Heat again for another 30 seconds, stir, then 15 seconds, stir, then 10 seconds, stir. Make sure your temperature never goes above 90ºF for dark chocolate. 86F for milk chocolate and 84F for white chocolate. DO NOT RUSH THIS

If your chocolate is not fully melted then only do another 5 seconds until it is melted

Now your chocolate is in temper and ready to use!
Nutrition
Calories:
144
kcal
|
Carbohydrates:
17
g
|
Protein:
1
g
|
Fat:
10
g
|
Saturated Fat:
6
g
|
Sodium:
5
mg
|
Potassium:
82
mg
|
Fiber:
2
g
|
Sugar:
15
g
|
Calcium:
7
mg
|
Iron:
0.8
mg