How to make a colorful heart lollipop cake with pastel striped buttercream frosting
Lollipop cakes are still trending and it's easy to see why. They are so easily customizable! I loved making my marble lollipop cake and my spring meringue pop cake. But I got a lot of questions asking how to make lollipops opaque.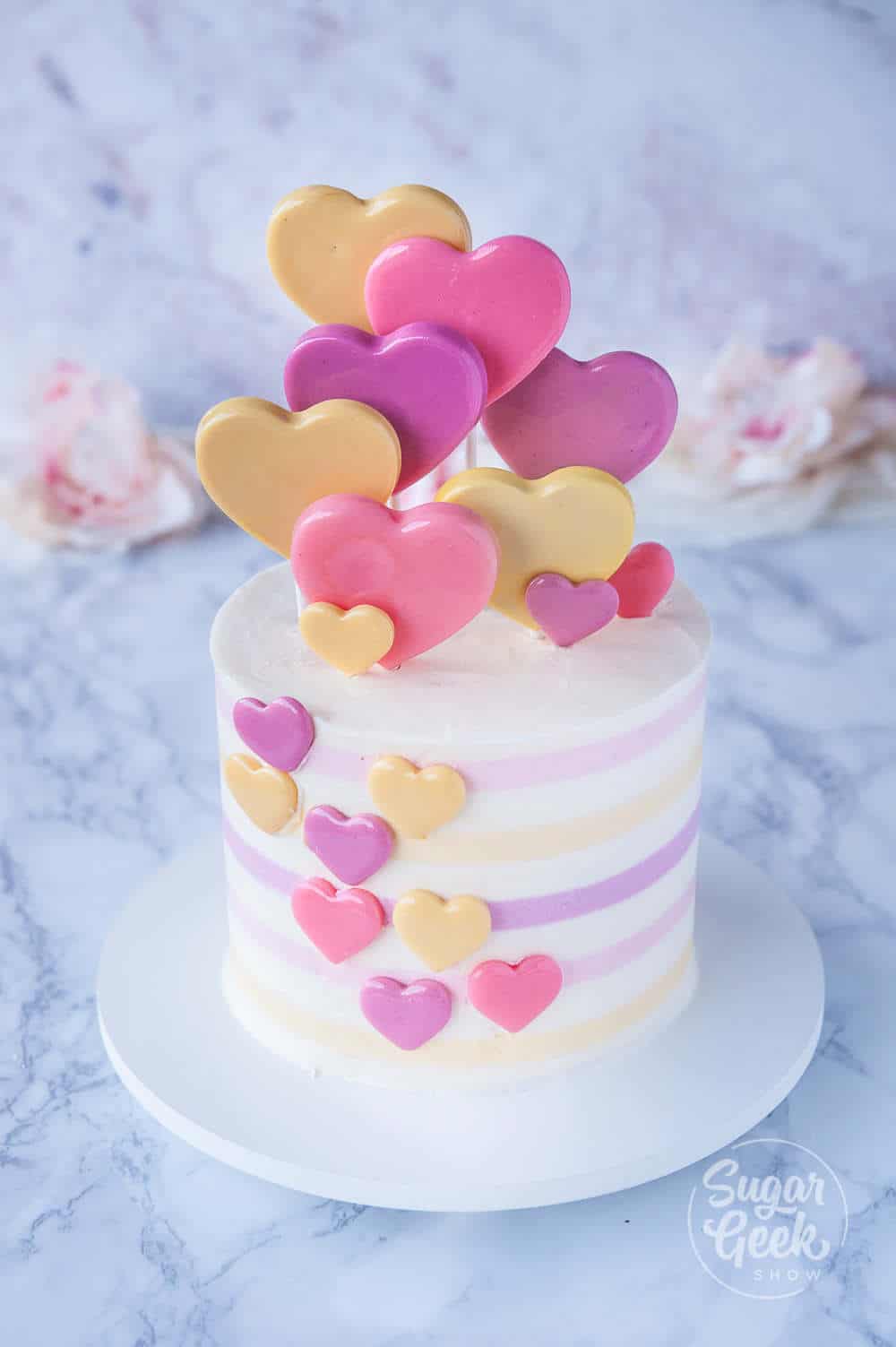 So in this tutorial not only am I going to show you how I make beautiful, opaque lollipops inspired by conversations heart candy, I'm also going to show you how to make some pretty stripes on buttercream.
You can take this basic cake design, switch up the colors, the lollipop shapes and flavors and make a completely different design. The possibilities are endless!
Materials list
lollipop sticks
food coloring (electric yellow, electric pink and electric purple)
white food coloring
candy thermometer
distilled water (to avoid yellowing in the sugar)
bench scraper
offset spatula
turntable
cardboard round
cake board or plate
Recipes used in this tutorial
Pink velvet cake (three 6″x2″ round cakes)
Italian buttercream
Heart lollipops
How to make your heart lollipop cake
The first thing we need to do is make our cake. I'm using my pink velvet buttermilk cake with Italian buttercream but really, you could use any cake flavor and frosting that you like!
Stack and fill your cake to the crumbcoat stage and then refrigerate it until it's chilled. If you need to know more about how to stack and fill a cake, you can watch my how to make your first cake tutorial.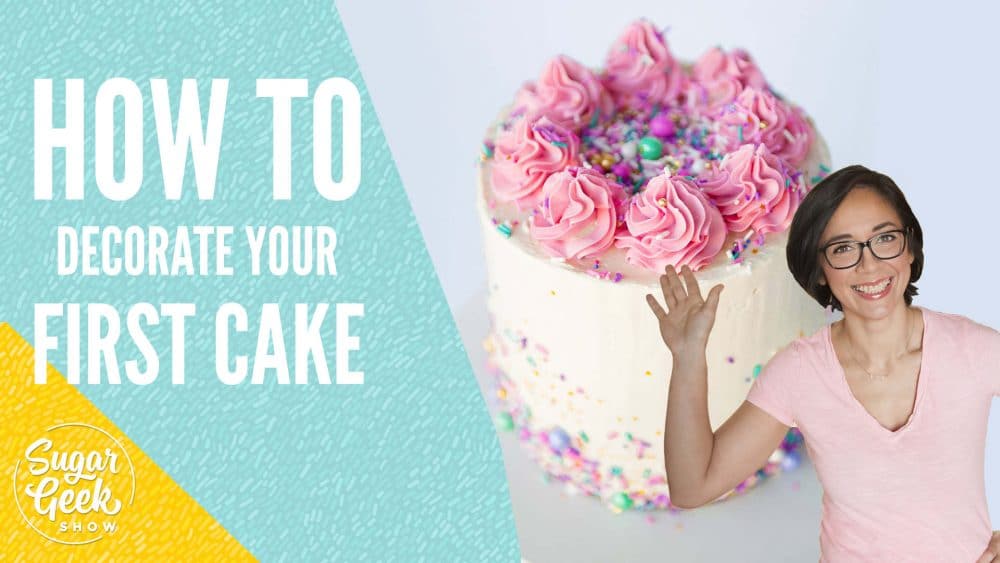 How to make your heart lollipops
To make your heart lollipops you'll need a heart mold! I used a Wilton heart mold (large and small). I cut a little x in the base of the mold to make room for my lollipop sticks and then taped down the sticks to keep them straight.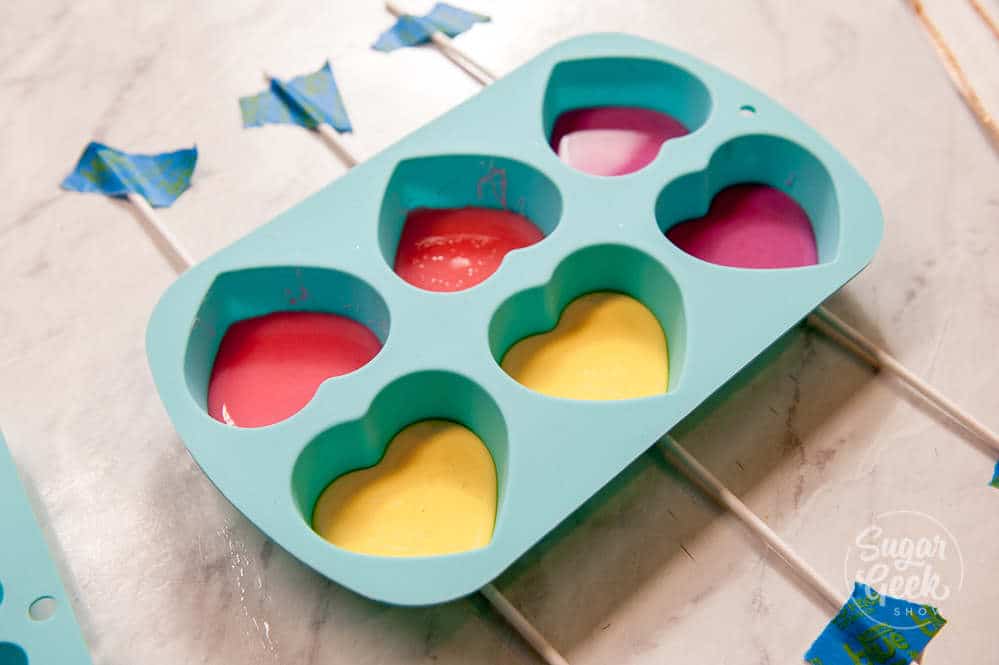 Make your lollipop candy mixture, add flavoring and color them. The key to getting opaque lollipops instead of transparent lollipops is to add a drop or two of white food coloring to the melted candy mixture.
If you live in a humid area then you will want to spray your lollipops with an edible glaze spray like PME glaze to keep the lollipops from getting sticky and melting.
I made 12 lollipops for my cake but only ended up using 7 so it's up to you if you want to make 6 or 7. I used the leftover sugar to make heart candies in the small heart mold to place down the front of the cake.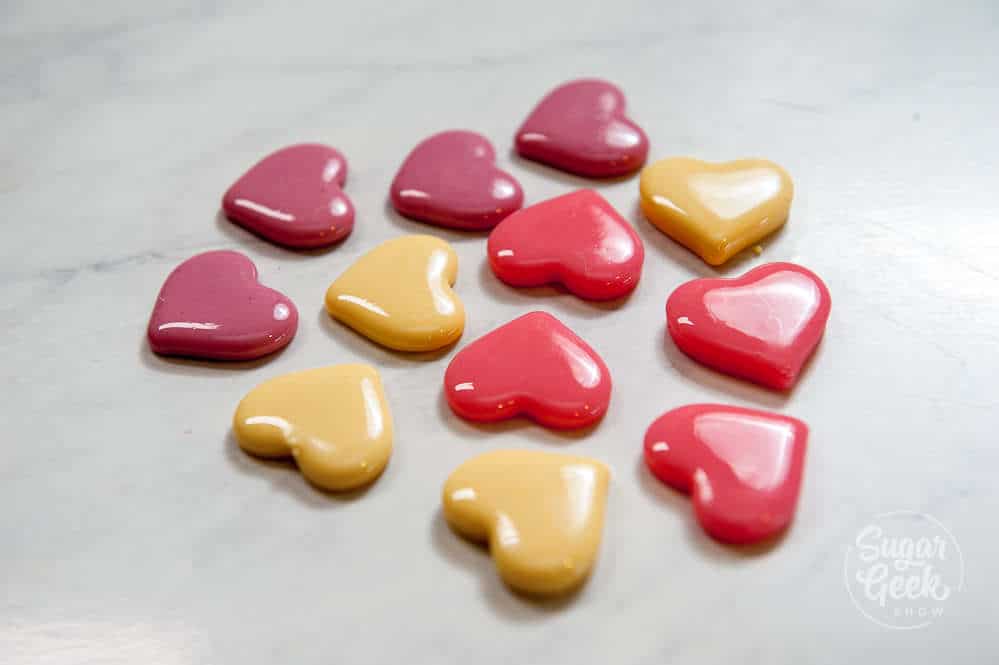 Once your candy hearts are made, time to finish up the cake.
Place about 1 cup of buttercream into three bowls. Color each bowl with some food coloring. I used electric yellow, electric pink and electric purple for my colors. The same colors I used for the lollipops.
Put the buttercream into piping bags and snip off the tip of the bag (about 1/4″ opening)
Apply another thick coat of buttercream to your crumb-coated cake. Straighten the sides with your bench scraper and smooth the top with an offset spatula.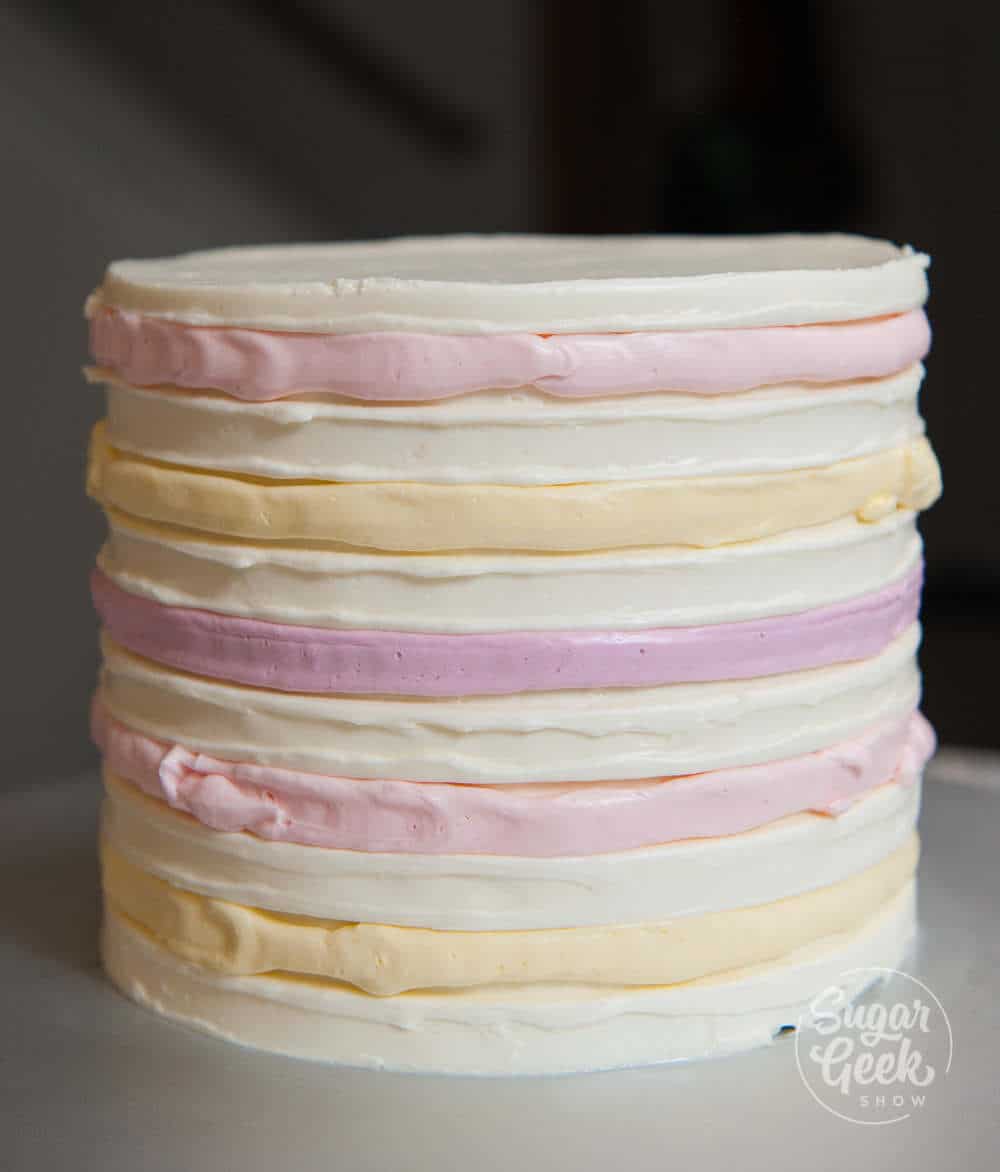 Use the Bengel strip comb to make the stripes in the side of the cake. Chill the cake for 15 minutes.
Use the piping bag to squeeze the colored buttercream into the indented spaces.
Use the bench scraper to slowly scrape away the excess buttercream until you can see the stripes clearly. Fill in any holes or gaps with more buttercream and continue scraping until everything looks nice.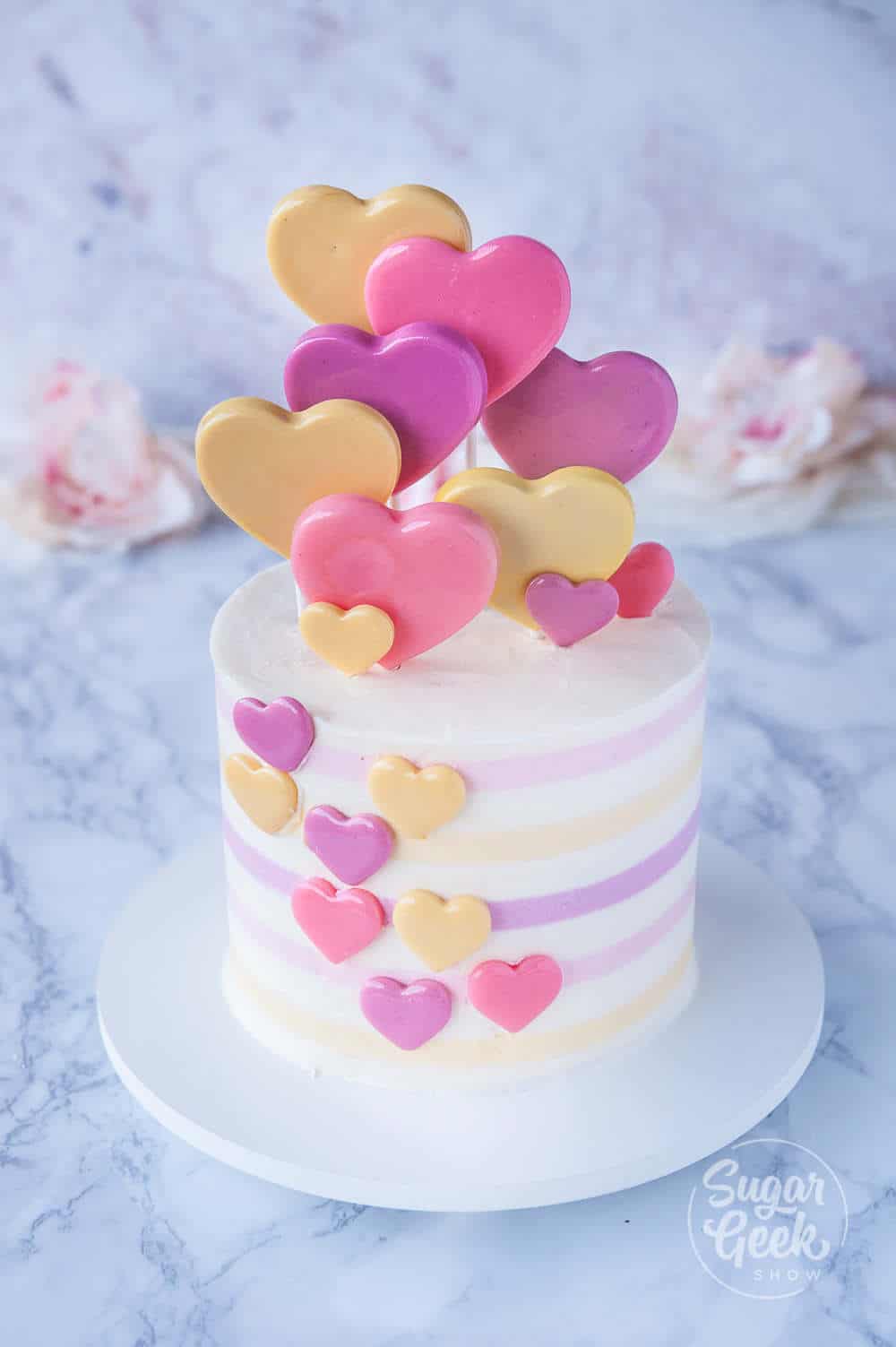 All that's left to do is insert your lollipops and place your heart candies on the cake and you're done!