Fondant stone texture on a cake with a gold geode crystal
Making a fondant stone texture on a cake is one of my favorite techniques because there's not really a wrong way to do it. Re-creating natural textures is super fun and easier than you think. This fondant stone texture was inspired by the work of Jasmine Rae Cakes who is pretty much the master of stone textures. I love the addition of the small flowers that she uses a lot in her work. It definitely softens the look of the stone texture.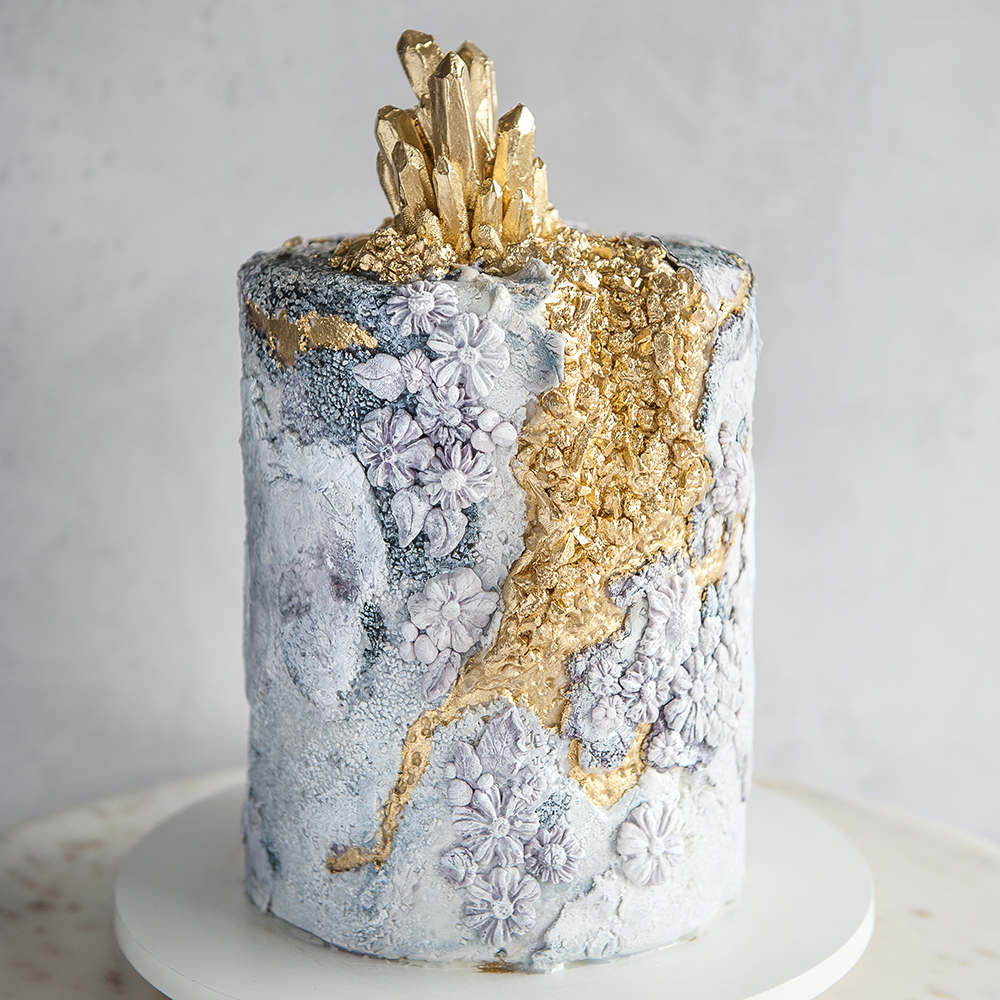 I am creating this stone texture with fondant but you can also make a stone texture with ganache or buttercream. My friend Christine Leaming has an awesome tutorial for making a marble buttercream texture on cakes.
Lately, cakes that resemble stone or concrete have really been taking off in popularity. I've made so many cakes that resemble rock and stone that I'm starting to think that stone texture on cakes is the new rustic birch cake. I'm 100% ok with that.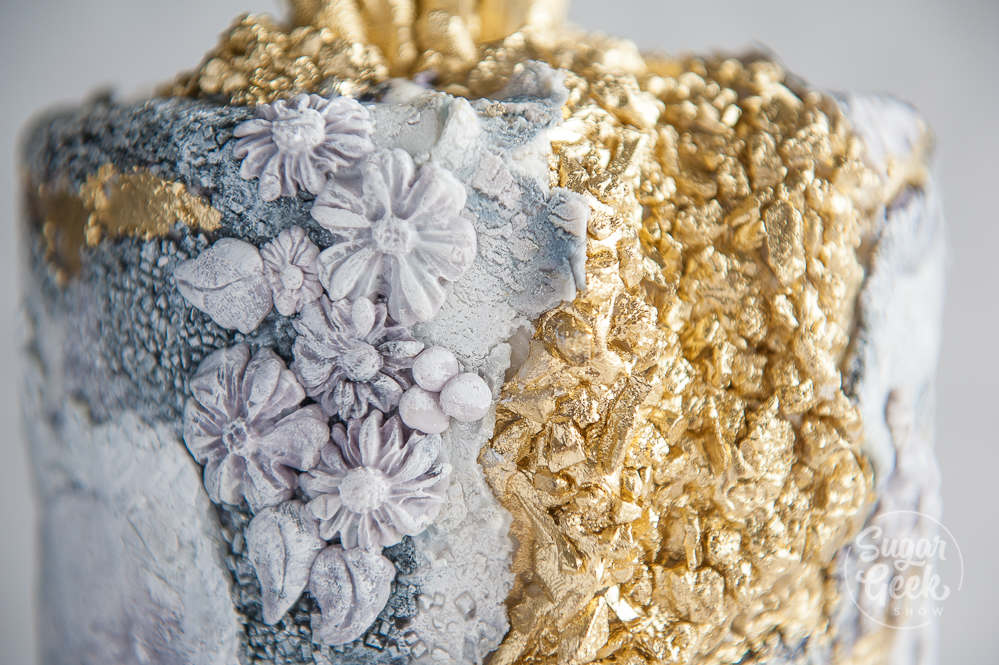 What tools do you need to make a fondant stone texture cake
Making the fondant stone texture is really easy. Like for real. This is what you need to make a stone textured fondant cake.
6" cake, frosted with buttercream and chilled until firm (watch my how to make your first cake tutorial)
White, black and grey fondant
Some old dried fondant (I left some grey in an open zip-lock bag for two days)
White food coloring
Gold dust (I use TMP super gold which is non-toxic or you can use edible artist decorative paints which is edible but not quite as shiny)
Rock candy
Geode crystal mold (optional)
Isomalt or lollipop sugar (about 6 ounces)
Aluminum foil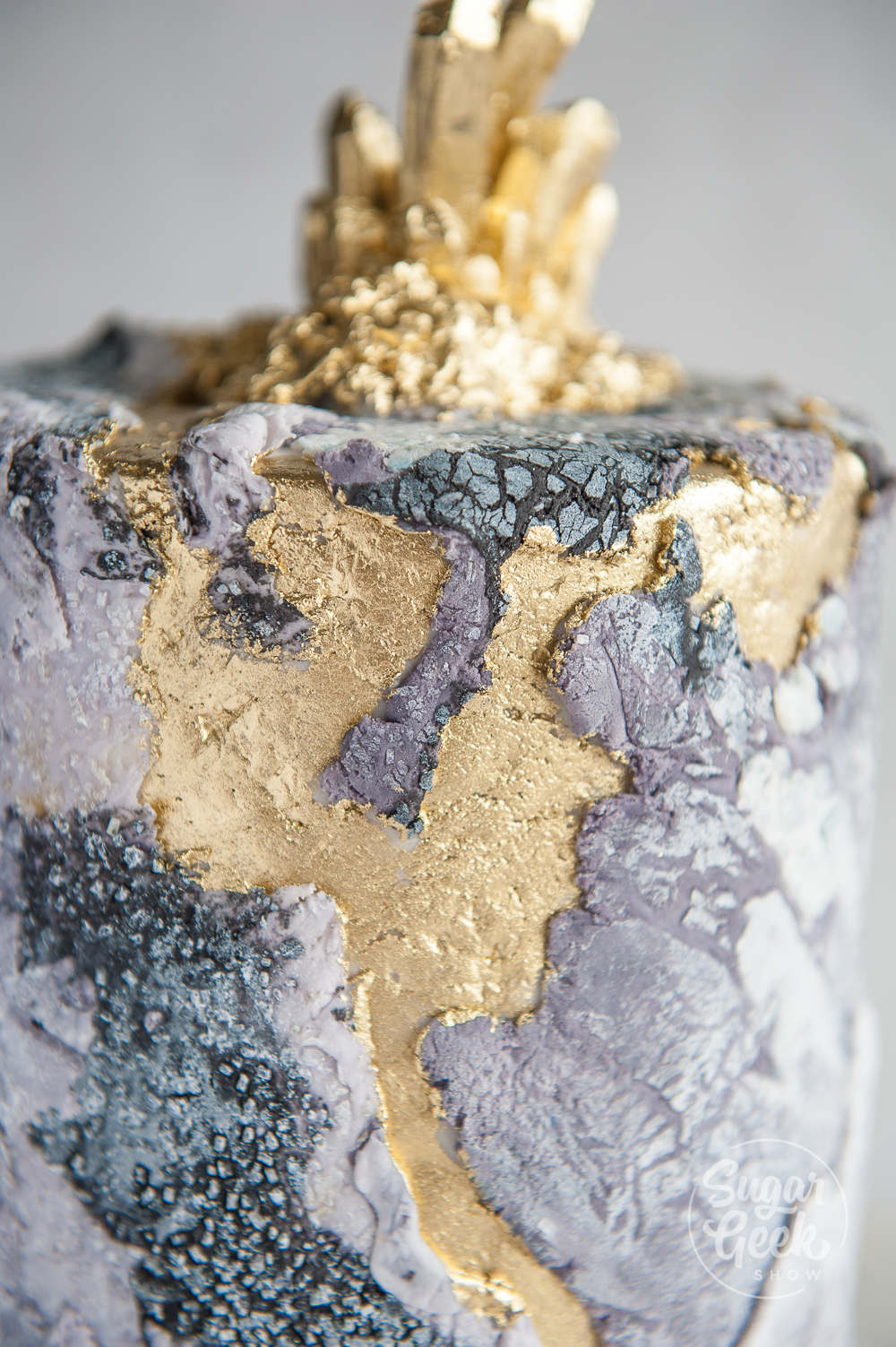 How to make the gold geode
The first thing we want to do is make the gold geode. I used to cut out a wedge of cake, add on some buttercream and then painstakingly add rock candy one by one! Such a mess! Now I just roll out a piece of fondant, push the rock candy into the surface and then apply that whole chunk to the area where I cut out the cake.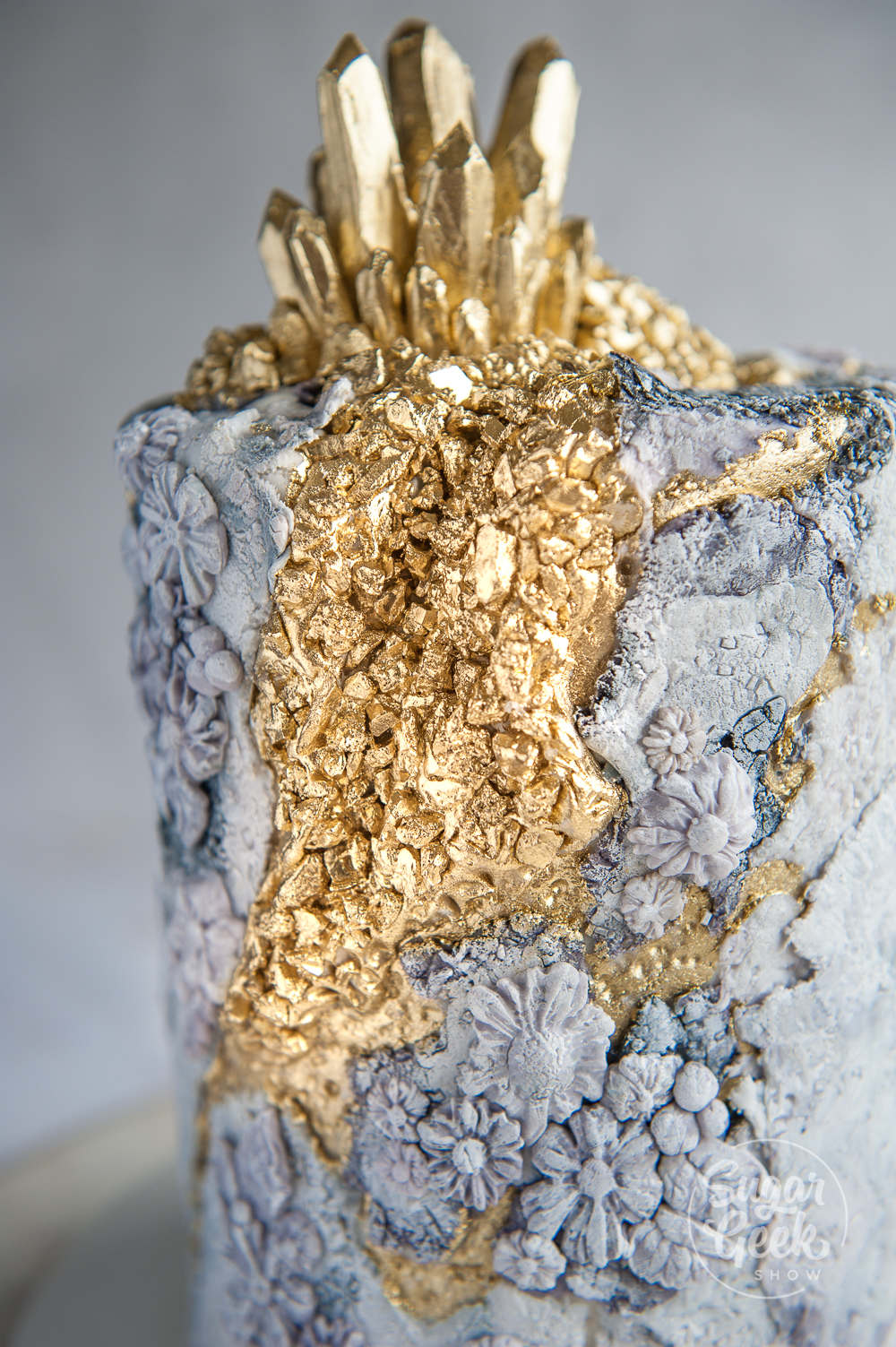 For the gold crystal on top of the cake, I poured some extra isomalt that I had leftover into my large crystal mold. This mold is kind of expensive because it's so big but there are two other sizes (medium and small) that would work just as well!
Let your sugar crystal cool completely before taking it out of the mold.
How to make the fondant stone texture
I'm adding some fondant to my chilled cake in pieces. Almost like we are paneling because you want to leave some of those raw and torn edges visible. Don't worry about any tearing or holes, those actually make the cake look better. Check out the full video tutorial below for a demonstration.
So to make the stone texture, all you have to do is kind of marble together some white, grey and a TINY bit of black with your dried out fondant. I rolled mine out to about ⅛" thick to start with.
Then add some sanding sugar on top and push that into the surface of the fondant with your rolling pin.
Next, you'll want to torch the surface of the fondant a bit so that you get a nice crackle texture when you roll it out more.
Lightly brush the surface of the fondant with some white food coloring.
Let it dry for a bit then roll out the fondant to 1/16" thick.
Attach the fondant to the cake (spray the buttercream with water if it's not sticking) Don't be afraid to let some natural tears and gaps happen.
Use some of your leftover fondant to make some flowers with your mold. Cluster them on top of the fondant with a little water anywhere you think looks nice. Finish by lightly brushing with some white food coloring.
Finishing the fondant stone texture cake
The last thing was placed the large sugar crystal mold on top of the cake. This kind of finishes the look of the cake and makes a nice focal point. I mixed some of my gold dust with some everclear until it's about the consistency of chocolate milk. Thick but not... too thick? you want it to cover the sugar evenly.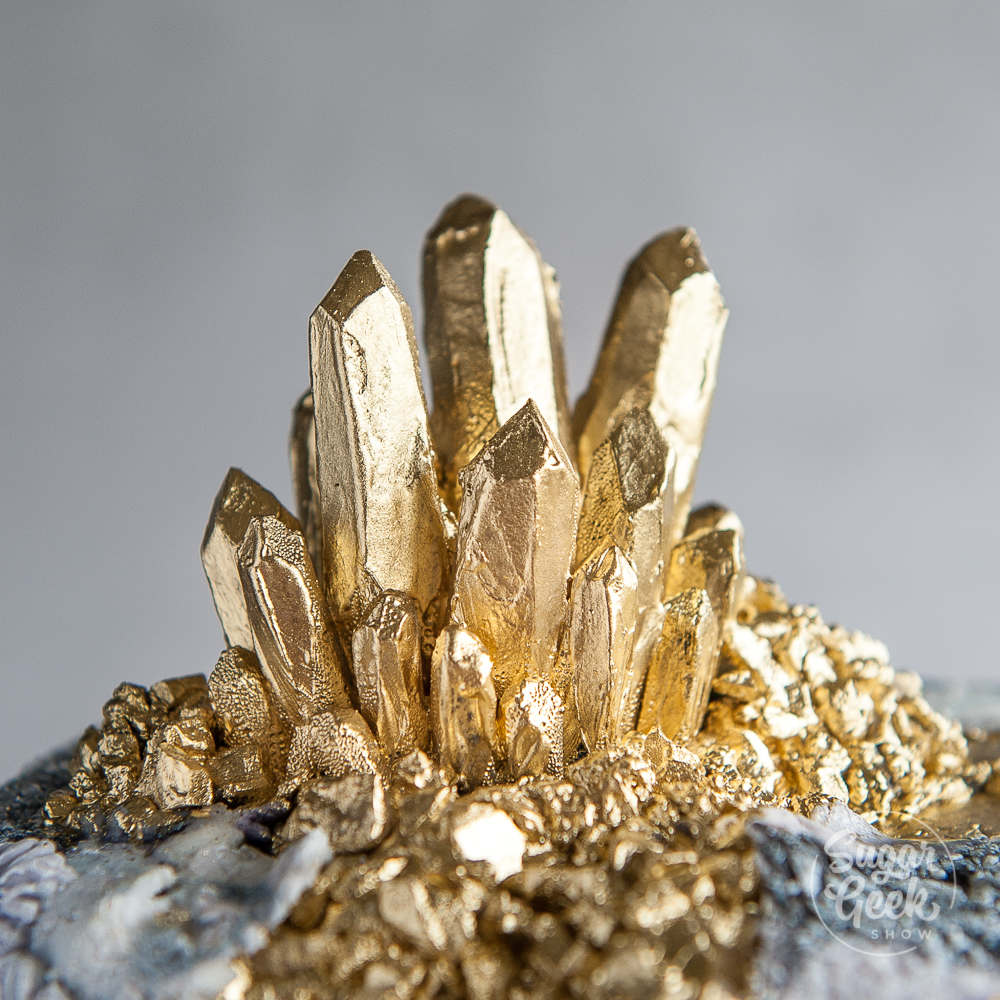 Then paint over the rest of rock candy geode and any of the areas where there are gaps in the fondant. This gives the illusion that there are veins of gold running through the stone.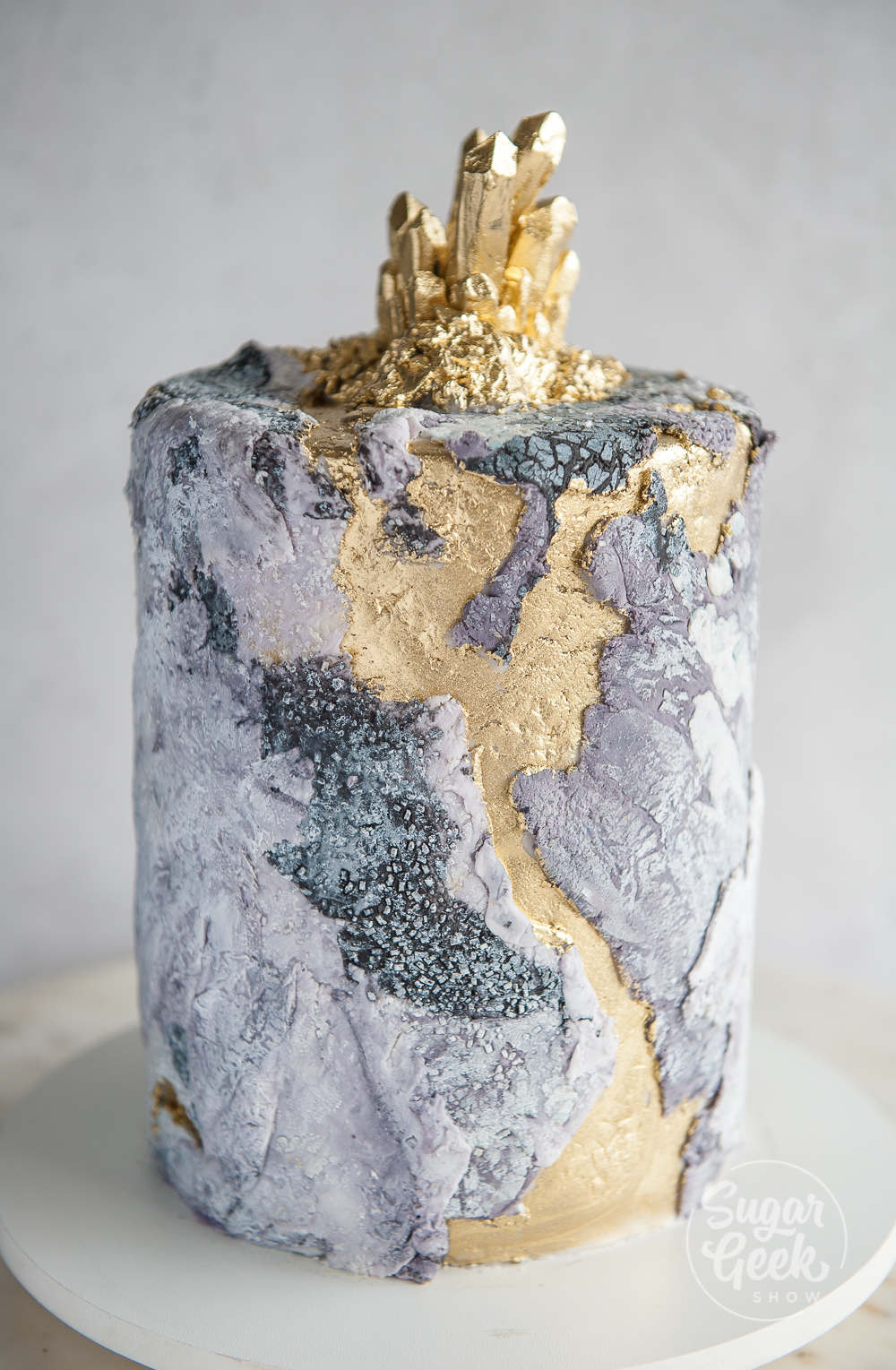 And that's it! That's how you make fondant stone texture on a cake. Obviously you can switch up this design and do a lot of creative things with that stone texture. If you use this tutorial, please tag me @sugargeekshow so I can see them! I love to see what you creative people can do!